1905 FA Cup Final Score: Aston Villa 2 Newcastle United 0
Match Venue: Crystal Palace, London
Date: Saturday 15th April 1905
Aston Villa Scorers: Harry Hampton 2.
Aston Villa Team: Billy George, Howard Spencer Alf Miles, Joe Pearson, Alex Leake, Jack Windmill, Billy Brawn, Billy Garraty, Harry Hampton, Joe Bache, Bert Hall
Newcastle United Team: Jimmy Lawrence, Andy McCombie, Jack Carr, Alex Gardner, Andy Aitken, Peter McWilliam, Jock Rutherford, James Howie, Bill Appleyard, Colin Veitch, Bert Gosnell
Referee: Patrick Robinson Harrower
Attendance: 101,117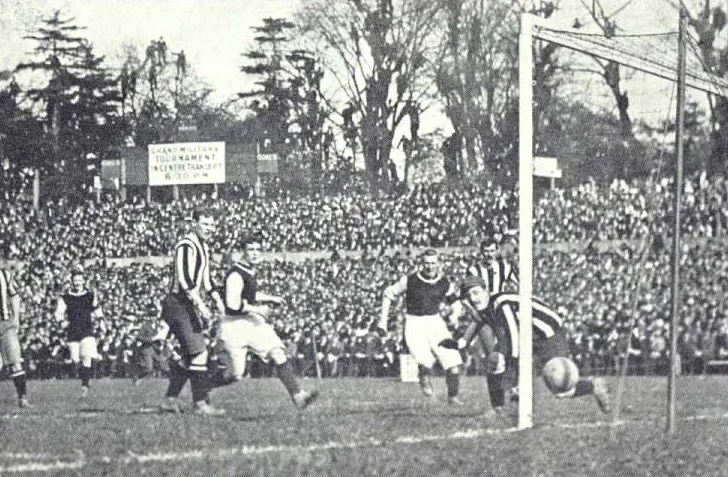 1905 FA Cup Final Match Report
This year saw the beginning of a significant era for Newcastle United, during which they played their way through to the FA Cup Final five times in seven years.
However, the Crystal Palace ground seemed to exert some mysterious 'hoodoo' over them, and they were never to show their true form there.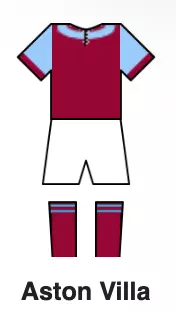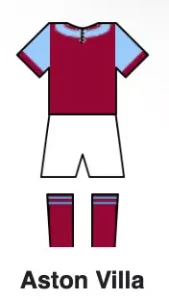 Another six-figure crowd saw Newcastle United, League champions, and hailed as favorites for the 1905 FA Cup final, do battle with famous Cup-fighters Aston Villa. Within three minutes of the start, center-forward Harry Hampton finished off a move started by Alex Leake, his center-half, to give Aston Villa a surprise lead.
The play swayed from end to end. With James Howie missing a golden chance to equalize for Newcastle before half-time, but for the most part, Aston Villa was on top. Near the end of the match, Bert Hall's long-shot rebounded from Newcastle goalkeeper Lawrence for the waiting Harry Hampton to clinch matters for Aston Villa.
The Match Winner
Better known as "The Wellington Whirlwind" or as "Happy" Harry Hampton, the prolific goalscorer is considered one of the greatest footballers to play for Aston Villa. He remains the club's all-time leading goalscorer with 215 goals from 339 appearances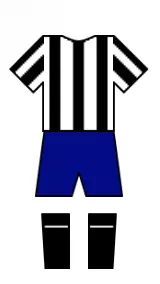 Villa's tremendous pace had, at times, bewildered Newcastle United. But, unlike their opponents, Aston Villa cast aside all the excellent theories of the short-passing game. Instead, the half-backs swept the ball out to the wingmen, and they followed with deep center backs almost in the goalmouth. Nor did the thick Crystal Palace turf suit Newcastle's style of play as it slowed up their ground passes.
1905 FA Cup Round By Round
First Round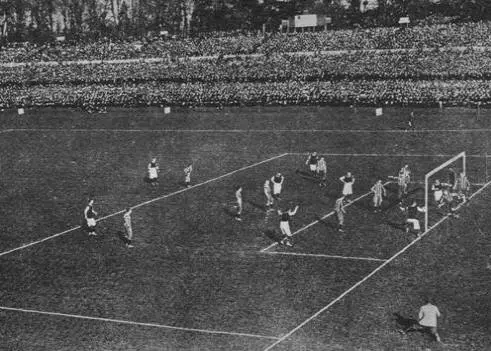 Lincoln City v Manchester City 1-2; Bolton Wanderers v Bristol Rovers 1-1,3-0; Middlesbrough v Spurs 1-1, 0-1; NEWCASTLE UNITED v Plymouth Argyle 1 -1, 1 -1, 2-0; Woolwich Arsenal v Bristol City 0-0, 0-1; Derby County v Preston North End 0-2; Blackburn Rovers v Sheffield Wednesday 1-2; Small Heath v Portsmouth 0-2; Stoke City v Grimsby Town 2-0; Liverpool v Everton 1-1, 1-2; Sunderland v Wolves 1-1,0-1; Southampton v Millwall 3-1; ASTON VILLA v Leicester Fosse 5-1; Bury v Notts County 1-0; Fulham v Reading 0-0, 0-0, 1-0; Nottingham Forest v Sheffield United 2-0
Second Round
Man C v Bolton Wand 1 -2; Spurs v NEWCASTLE UNITED 1 -1, 0-4; Bristol C v Preston North End 0-0, 0-1; Sheff Wed v Portsmouth 2-1; Stoke v Everton 0-4; Wolves v Southampton 2-3; ASTON VILLA v Bury 3-2; Fulham v Nott'm Forest 1-0
Third Round
Bolton Wand v NEWCASTLE UNITED 0-2; Preston North End v Sheff Wed 1 -1, 0-3; Everton v Southampton 4-0; ASTON VILLA v Fulham 5-0
1905 FA Cup Semi-Finals
NEWCASTLE UTD v Sheffield Wednesday 1-0; Everton v ASTON VILLA 1-1, 1-2