1914 FA Cup Final Score:  Burnley 1 Defeated Liverpool 0
Venue: Crystal Palace, London
Date: Saturday 25th April 1914
Burnley Team: Ronnie Sewell, Tom Bamford, David Taylor, George Halley, Tommy Boyle, Billy Watson, Billy Nesbit, Dick Lindley, Bert Freeman, Teddy Hodgson, Eddie Mosscrop
Liverpool Team: Ken Campbell, Ephraim Longworth, Bob Pursell, Thomas Fairfoul, Robert Ferguson, Donald McKinlay, Jackie Sheldon, Arthur Metcalf, Tom Miller, Bill Lacey, James Nicholl
Burnley Scorer: Bert Freeman
Referee: Herbert Bamlett
Official Attendance: 72,778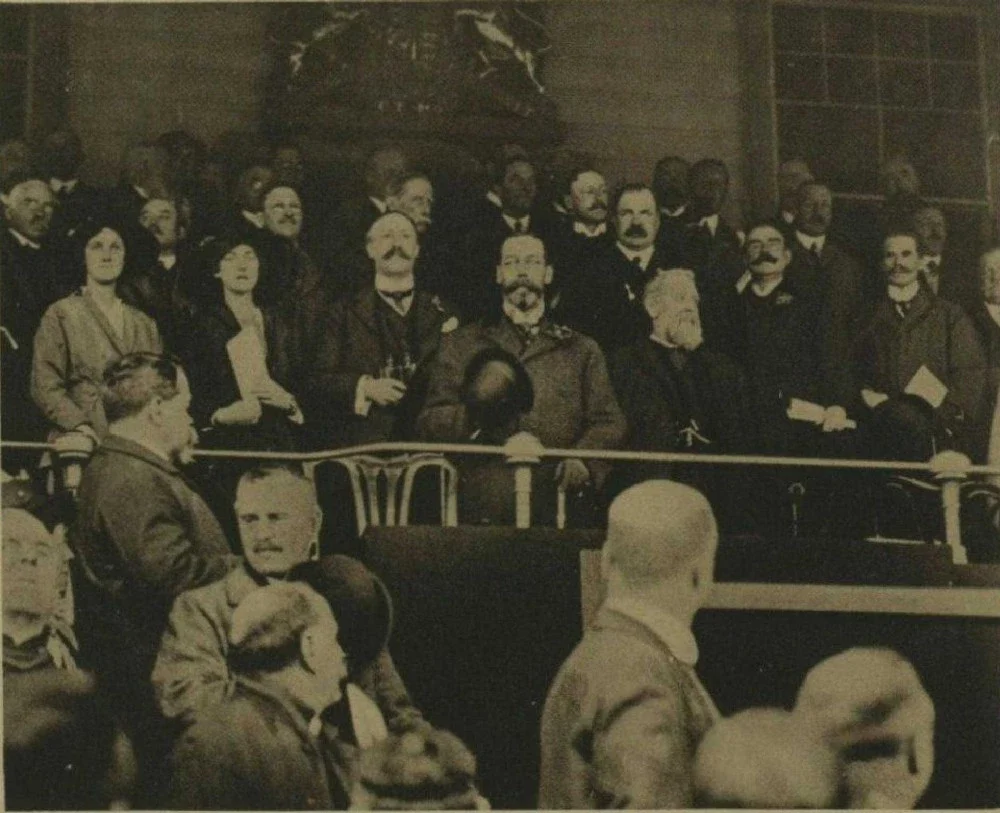 1914 FA Cup Final Match Report
By 1914 the qualifying competition had been increased from ten to twenty-four divisions. In the 43rd FA Cup season, from a record entry of 476 clubs, Burnley and Liverpool emerged as the two protagonists in a second all-Lancashire Final. It was also the first time these clubs appeared in the final.
For the first time, the 1914 FA Cup Final was honored by the presence of a ruling monarch. King George V – regal recognition of football's place in the nation's life.
A fierce shot just after half-time by center-forward Bert Freeman gave Burnley a narrow victory in an otherwise undistinguished match in which two teams in the League slogged it out in midfield. Neither set of forwards was capable of mounting a sustained attack.


After Bert Freeman had shot past Ken Campbell and put Burnley in the lead, the standard of play improved considerably. However, the last half-hour certainly had the crowd on its toes as Liverpool battled hard for an equalizer.
The Burnley players had been in the wars through the final.  David Taylor was injured first, then Tommy Boyle fell after colliding with Liverpool's Thomas Fairfoul. He suffered great agony and was carried to the side of the field for attention.
It took a few minutes for the skipper to resume. Following an accidental kick to the face, Teddy Hodgson was treated with a plaster on his face.
The Burnley defense remained relentless to the end, and their captain and center-half, Tommy Boyle, became the first man ever to receive the trophy from royal hands. It was the last Final to be played at the old Crystal Palace.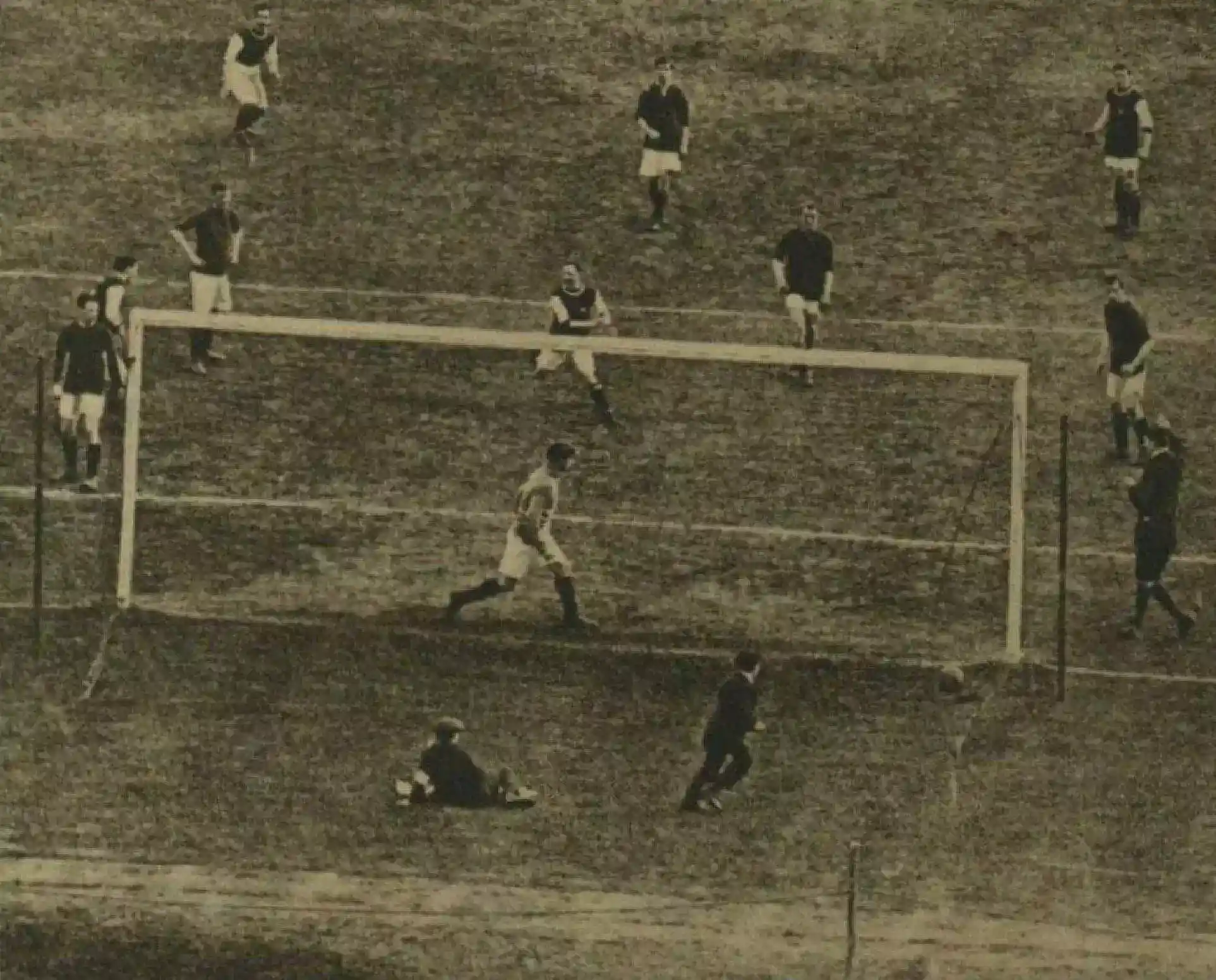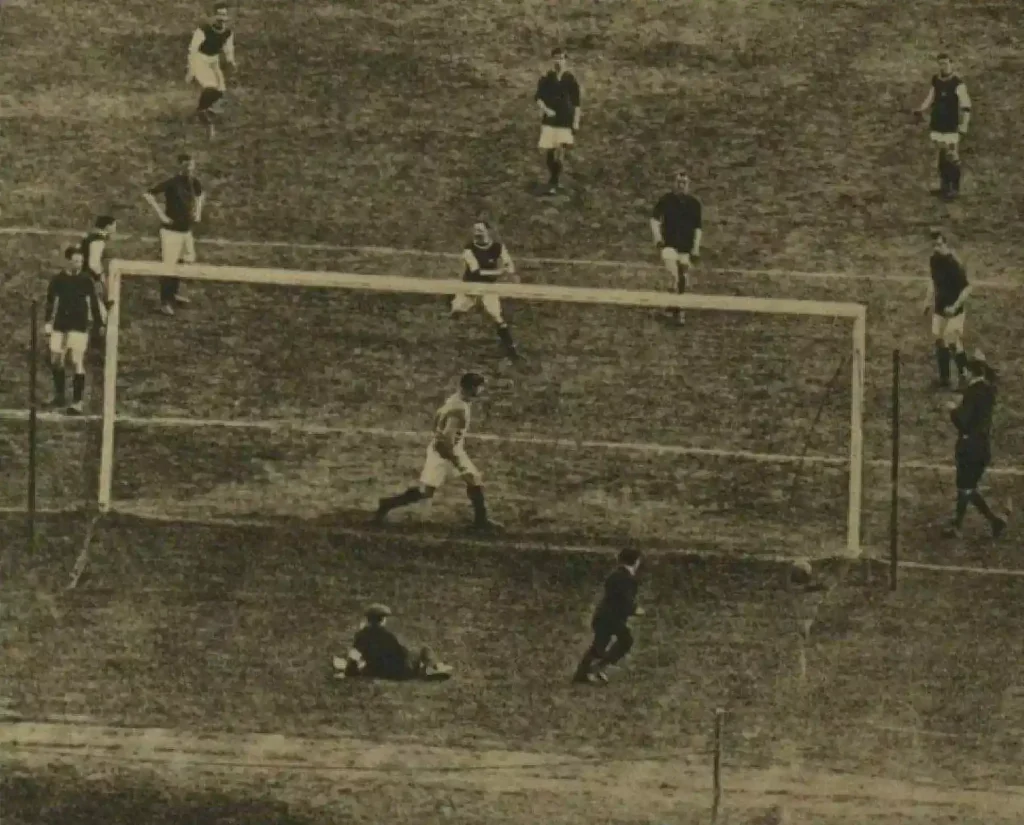 The Referee
The referee of the 1914 FA Cup Final career took a significant diversion after this match. Herbert Bamlett took over Oldham Athletic's management for seven years before managing Wigan Borough (1921–1923) and Middlesbrough (1923–1926).
In April 1927, Herbert Bamlett was appointed manager of Manchester United after taking a break from the game. However, his contract was not renewed due to United's relegation in 1931.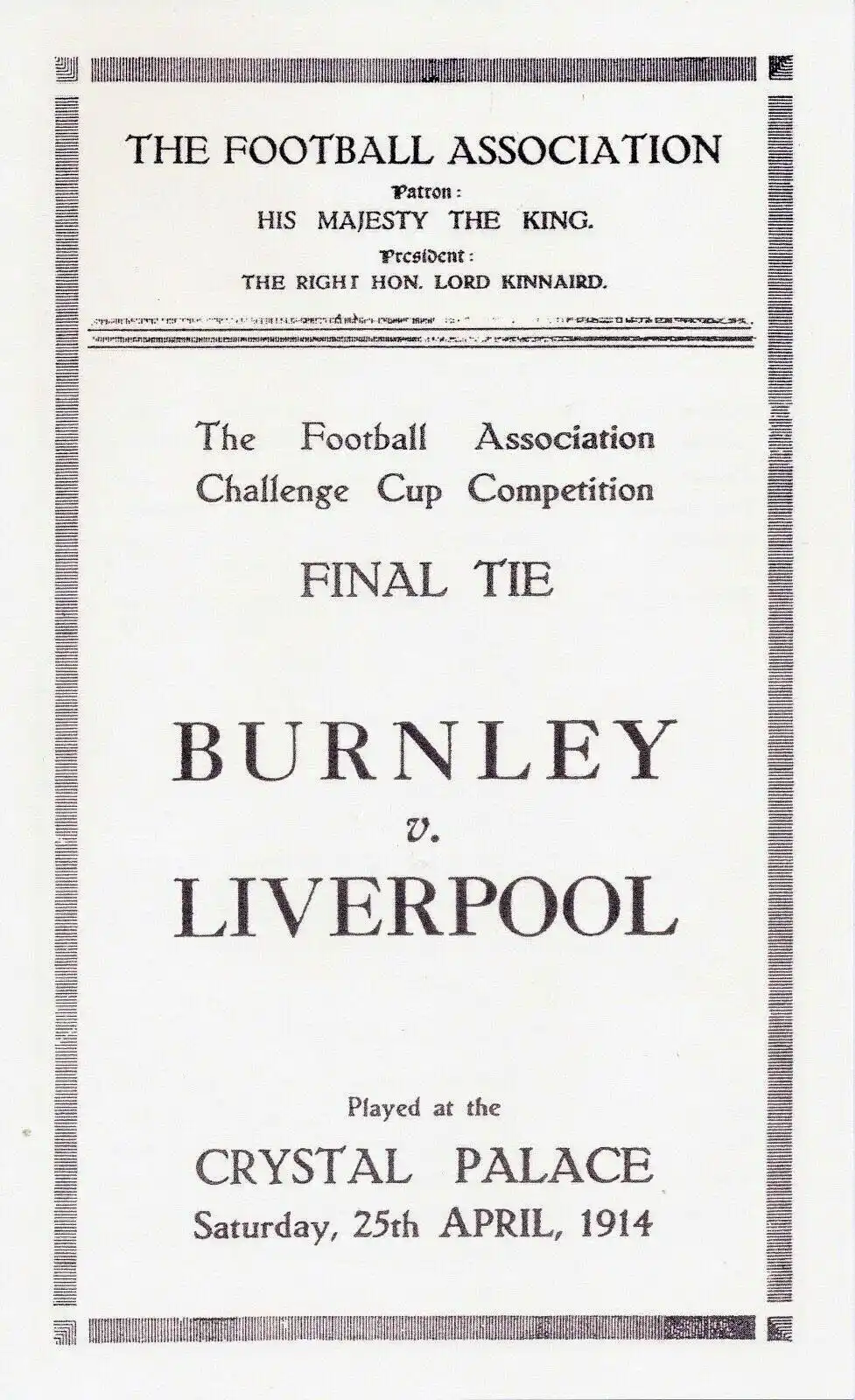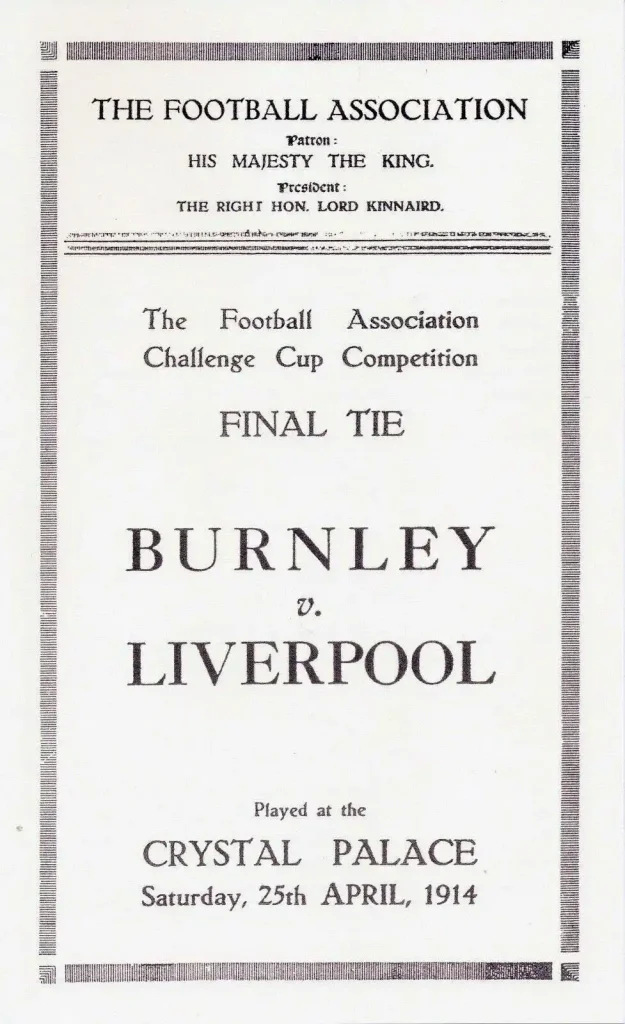 1914 FA Cup Qualifying Rounds
First Round
Newcastle United v Sheffield United 0-5; Bradford PA v Reading 5-1; Millwall Ath v Chelsea 0-0, 1-0; Bradford City v Woolwich Arsenal 2-0; Manchester City v Fulham 2-0; Leicester Fosse v Tottenham Hotspur 5-5, 0-2; Blackburn Rovers v Middlesbrough 3-0; Hull City v Bury 0-0,1-2; BURNLEY v South Shields 3-1; Derby County v Northampton Town 1-0; Bolton Wanderers v Port Vale 3-0; Swindon Town v Manchester United 1-0; Sunderland v Chatham 9-0; Plymouth Argyle v Lincoln City 4-1; Preston North End v Bristol Rovers 5-2; Glossop v Everton 2-1; Aston Villa v Stoke City 4-0; Portsmouth v Exeter City 0-4; WBA v Grimsby Town 2-0; Gainsborough Trinity v Leeds City 2-4; Sheffeild Wednesday v Notts County 3-2; Wolves v Southampton 3-0; Oldham Athletic v Brighton & Hove Albion 1-1, 0-1; Clapton Orient v Nottingham Forest 2-2, 1-0; LIVERPOOL v Barnsley 1-1, 1-0; Gillingham v Blackpool 1-0; West Ham v Chesterfield 8-1; Crystal Palace v Norwich City 2-1; Queens Park Rangers v Bristol Rovers 2-2, 2-0; Swansea Town v Merthyr Tydfil 2-0; Birmingham v Southend United 2-1; Huddersfield v London Caledonian 3-0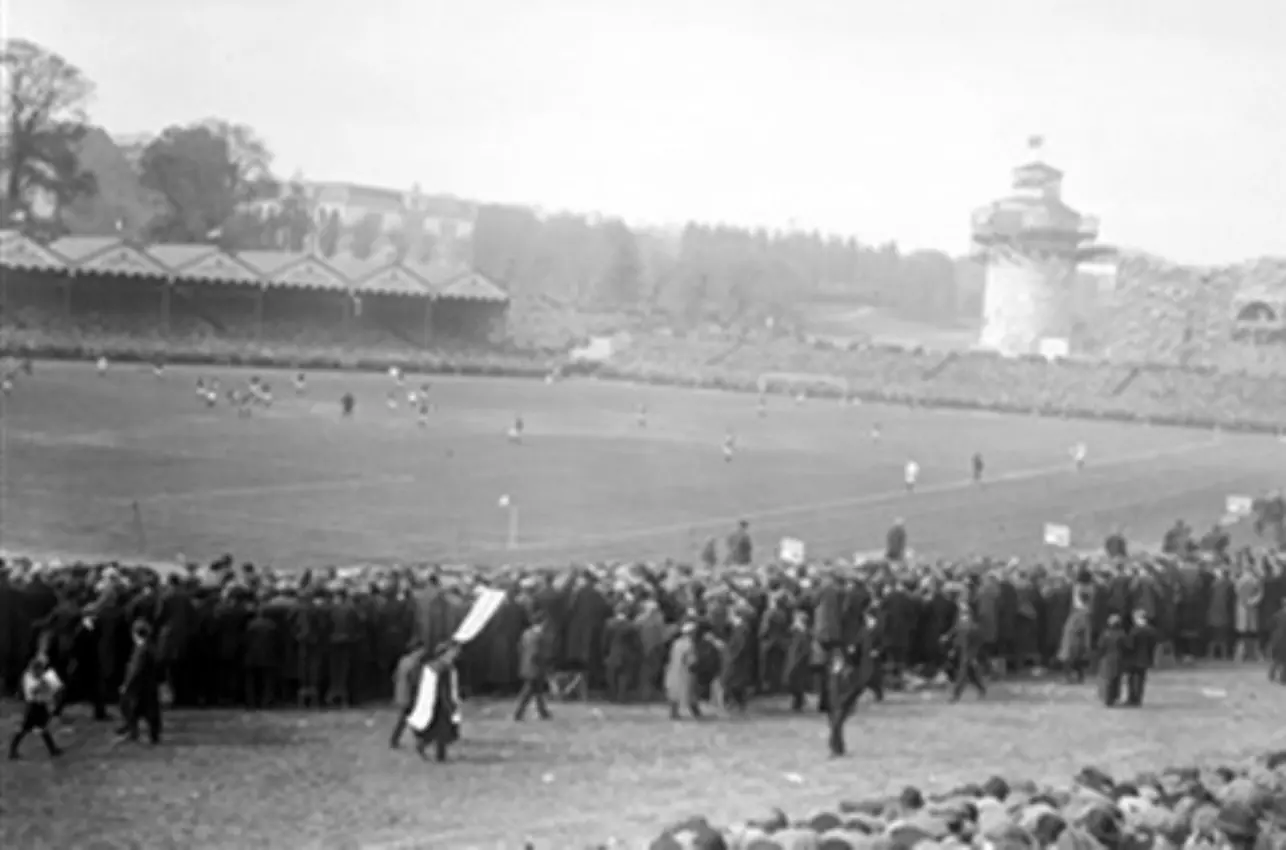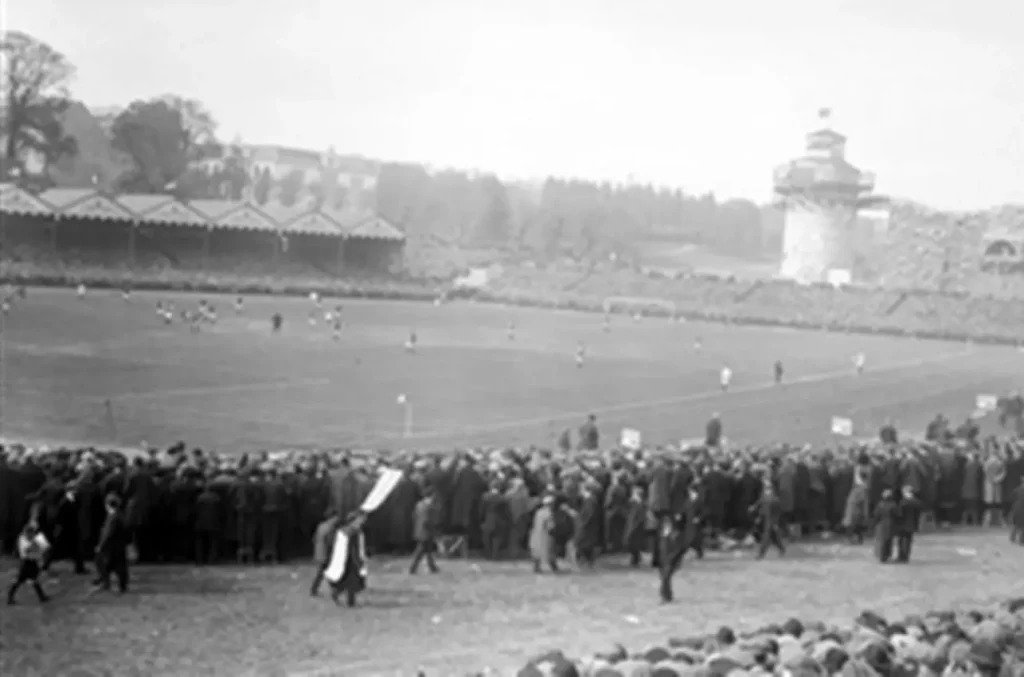 Second Round
Sheff Utd v Bradford PA 3-1; Millwall Ath v Bradford C 1-0; Man C v Spurs 2-1; Blackburn R v Bury 2-0; BURNLEY v Derby Co 3-2; Bolton Wand v Swindon T 4-2; Sunderland v Plymouth Arg 2-1; Glossop v PNE 0-1; Exeter C v Aston Villa History 1-2; Leeds C v WBA 0-2; Wolves v Sheff Wed 1 -1, 0-1; Brighton & H Alb v Clapton Orient 3-1; LIVERPOOL v Gillingham 2-0; W. Ham v Crystal Palace 2-0; Swansea T v QPR 1 -2; Birmingham v Huddersfield T 1-0
Third Round
Millwall Ath v Sheff Utd 0-4; Blackburn R v Man C 1-2; BURNLEY v Bolton Wand 3-0; Sunderland v PNE 2-0; Aston Villa v WBA 2-1; Sheff Wed v Brighton &H Alb 3-0; W. Ham v LIVERPOOL 1-1, 1-5; Birmingham v QPR 1-2
Fourth Round
Man C v Sheff Utd 0-0.0-0, 0-1; Sunderland v BURNLEY 0-0, 1-2; Sheff Wed v Aston Villa 0-1; LIVERPOOL v QPR 2-1
1914 FA Cup Semi-Finals
Sheff Utd v BURNLEY 0-0, 0-1; Aston Villa v LIVERPOOL 0-2

The Road To Crystal Palace For Burnley FC
For most folk, 1914 seems a long time ago.
Anyone reading this today who can lay claim to being around when the Clarets lifted the FA Cup will be an octogenarian at the very least.
Anyone who clearly remembers the occasion will probably have been the recipient of a Buckingham Palace telegram list. To be sure, this triumph in the history of Burnley FC is now a very healthy lifetime distant.
When researching the 1914 Fa Cup Final, I soon realized how deceptive (albeit entirely natural) it was to think of this as a world apart from our existence today. To illustrate: imagine the reaction if Burnley won their way through to the FA Cup Final today.
The press coverage, the excitement in the town, the colors in every shop window, the manufacture of Cup momentos, and all the logistics of arranging to travel to London.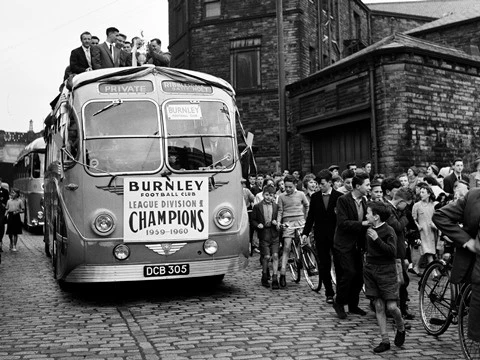 Traveling To London For 1914 FA Cup Final
Then on the big day – the mass exodus from town, the colors down Wembley Way, the singing, the pre-match entertainment, the vast crowd, the attendance of Royalty, and so on.
The articles I found reveal how similar the Cup-fever experience was for the lucky folk of Burnley in 1914.
In a fantastic article, "Up in London: the Lancashire invasion," a Burnley Express journalist details the determination of the Burnley fans to make the most of their visit.
After journeying to London overnight, the Claret fans boarded chartered buses to see the sights, and many took advantage of the invitation by Burnley's MP to a guided tour of the Houses of Parliament.
And if you thought that a journey to London and a Cup Final ticket would be beyond your average Burnley fan in 1914, forget it.
Thousands Of Burnley Supporters
Although the cost was undoubtedly prohibitive, over 15,000 supporters made the trek to Crystal Palace, turning the Royal route to the ground into a sea of claret and blue.
Like we would do today, the fans partied long and hard on the station platform while waiting for the train home.
This first-hand description makes a mockery of the flat cap and whippet image, and they're still peddling that one today!
In the parlance of football scribes, it could be said arguably that, in 1913-14, Burnley's name was "on the Cup."
Up to that point, the Clarets had little of a Cup tradition and had just lifted themselves back into the First Division. In League terms, the 1913-14 season was a season of mid-table consolidation.
Yet something special was brewing at Turf Moor. With promotion and a FA Cup semi-final behind them from the previous season's campaign, Burnley was fast earning a reputation for dynamic attacking football.
Their dynamism on the soccer field was matched by determination and vision in the boardroom.
Under Chairman Windle, the men behind the scenes gave manager John Haworth the resources to build a strong team, Burnley acquiring most of the Gainsborough Trinity defense in one deal.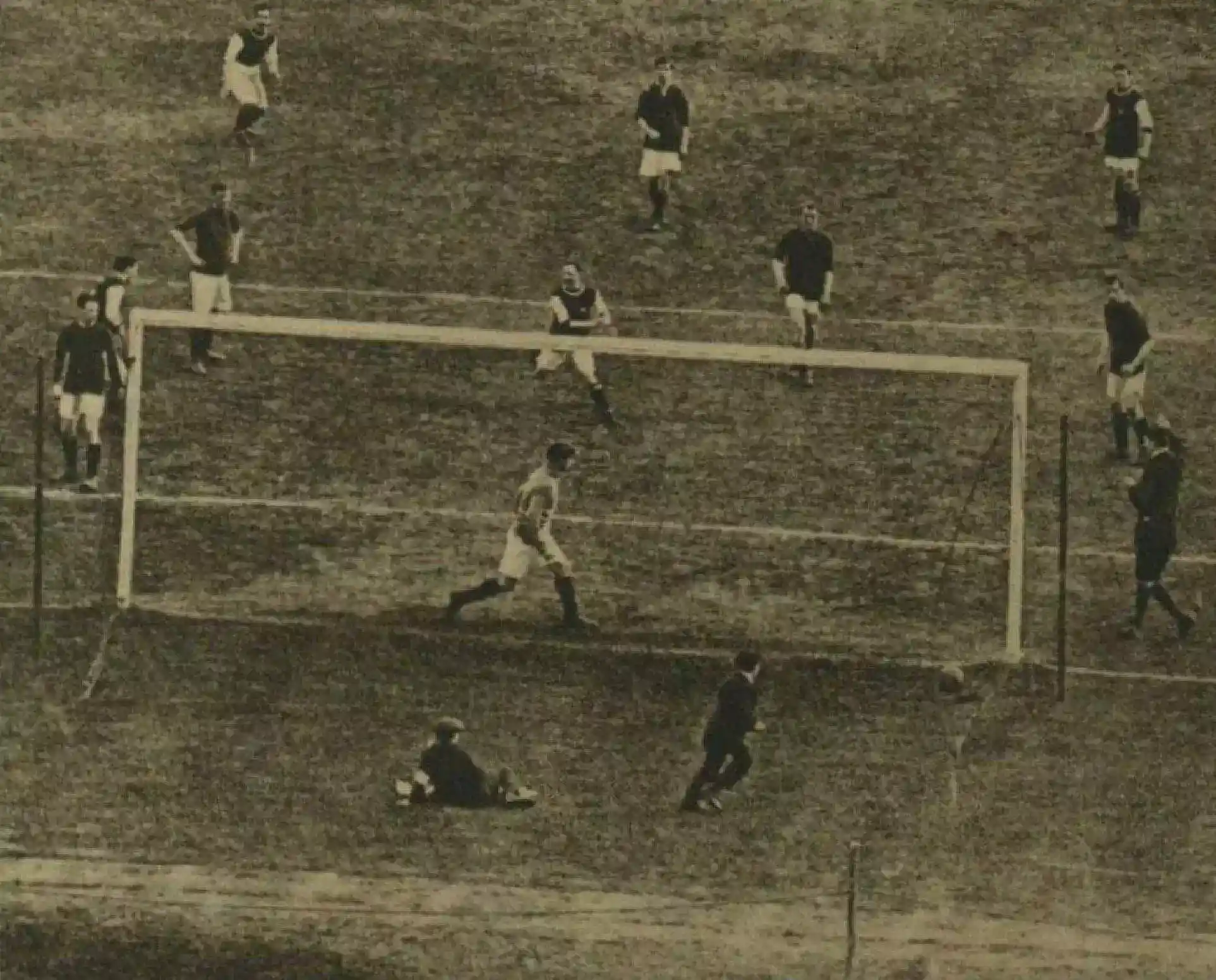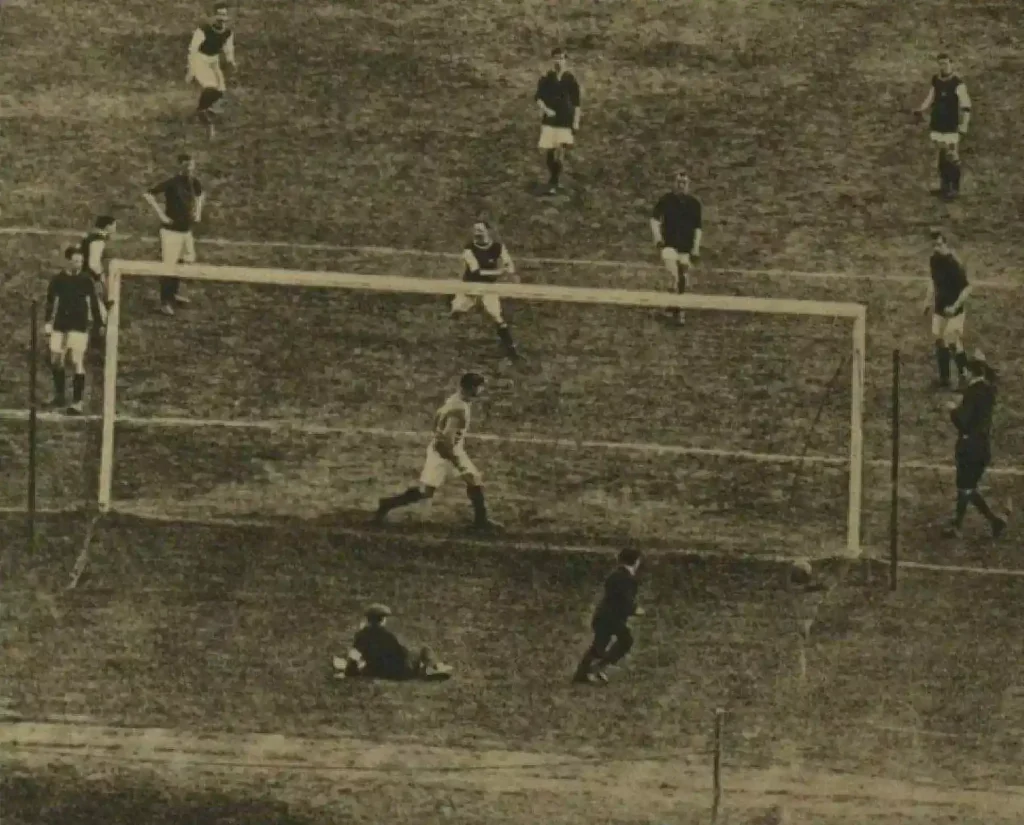 Ambition For Silverware
The ambition was palpable – all concerned talked openly to the press about their dream of bringing the League Championship to Turf Moor.
FA Cup success came first, despite a decidedly poor record in the competition. Having first made their mark in the Cup in 1888 (by which time Blackburn Rovers had won the Cup three times) with a first-round defeat of Old Westminsters, appearances in the last eight of the competition were rare, with first and second-round exits the routine.
Burnley finally graced the last eight in their Second Division Championship season of 1897-98 but went down to First Division Everton.
With their first significant honor behind them, the club returned to the First Division with high hopes of a good Cup run.
But it was in the League where the Clarets excelled, finishing the season in a highly creditable third position, behind Liverpool and champions Aston Villa.
Their FA Cup hopes were dashed by a tough draw to reigning League champions Sheffield United, although the Blades were having a poor season and were nearly relegated. Nonetheless, the Clarets went down 2-1 in a replay after a 2-2 draw.
The following season, 1899-1900, was to see the Clarets relegated and start a dismal 13 wasted years in the Second Division at a time when there were only two divisions.
Applying For Re-Election
During this period, the club's future looked uncertain, especially in 1903, when Burnley finished bottom of the Football League and had to apply for re-election.
But while struggling in the Second Division, the Clarets found a vein of FA Cup form.
A convincing win at Bristol Rovers was followed by a club record 9-0 demolition of Crystal Palace. Although not yet in the Football League, Palace had knocked out Cup holders Wolves in the previous round.
The third round saw the Clarets at Tottenham. At this point, Spurs were also a Second Division club but would go on to win promotion that season.
The Clarets traveled to North London and held the home team to a goalless draw before sending the Londoners home on the back of a 3-1 defeat in the replay.
Burnley drew reigning League Champions Manchester United at Turf Moor in the Third Round- the last eight.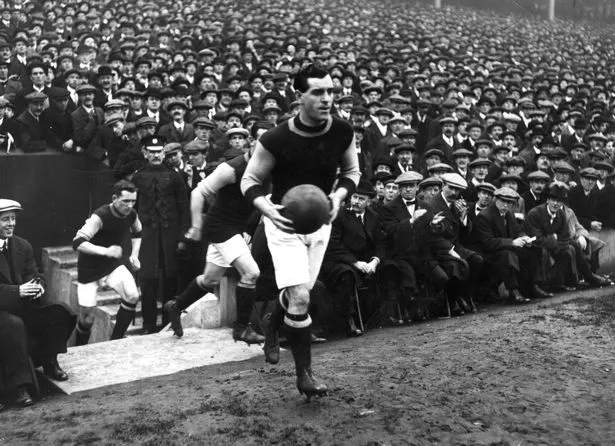 Controversial FA Cup Match
In highly controversial circumstances, the game was abandoned with only 18 minutes remaining and the Clarets holding a 1-0 lead. In the replayed game, United prevailed 3-2 and lifted the FA Cup that season.
By 1911, Burnley was beginning to show signs of real recovery.
A better-than-average League campaign was supplemented by another FA Cup run to the last eight, halted by defeat to the eventual winners Bradford City.
After narrowly missing out on promotion in 1912, the Clarets finally made it back to the top division the following season, finishing runners-up to Preston North End.
This season was also notable for the Clarets' first significant Cup run, which took them to the semi-final after defeats of First Division opponents Middlesborough and Blackburn Rovers.
FA Cup Semi-Final Match In 1913
In the semi-final, played at Bramhall Lane, they forced a goalless draw with League Champions Sunderland before going down 3-2 after a titanic struggle in the replay at St. Andrews.
The following season was one of League consolidation for the Clarets.
They finished a comfortable 12th in the First Division of 20 teams. But it was in the FA Cup that this team would distinguish itself.
After a straight 3-1 defeat of non-league South Shields in the First Round, the Clarets were blessed with the luck of home draws for the next two rounds, although they faced First Division opponents on each occasion.
Derby County was first up in the second round, and, although having a poor season, they made the Clarets fight for a 3-2 victory.
The Third Round appeared to be a different proposition as high-flying Bolton Wanderers were the visitors.
However, the Clarets turned in an inspirational performance and soundly defeated their opponents 3-0.
Unlucky Draw
The draw for the next round was to provide what many Burnley fans thought was an insurmountable obstacle – reigning League Champions Sunderland at Roker Park.
It was the tie of the round and a repeat of the previous season's semi-final clash.
As before, the first game ended in a goalless draw, but this time it was the battling Clarets who came out on top in the replay, 2-1, after a superb team performance.
In one of the other fourth-round ties, Liverpool had defeated non-league QPR at Anfield. This meant that all four semi-finalists were First Division clubs.
Three of them – Sheffield United, Burnley, and Liverpool – were middle-of-the-table clubs separated by only a few points.
The team to avoid was Aston Villa, reigning Cup holders and second in the table. This the Clarets did, being paired instead with Sheffield United.
But the defeat of QPR also meant something else: if Burnley were to lift the Cup that season, they would have to defeat five First Division clubs in one FA Cup campaign, a feat never before achieved.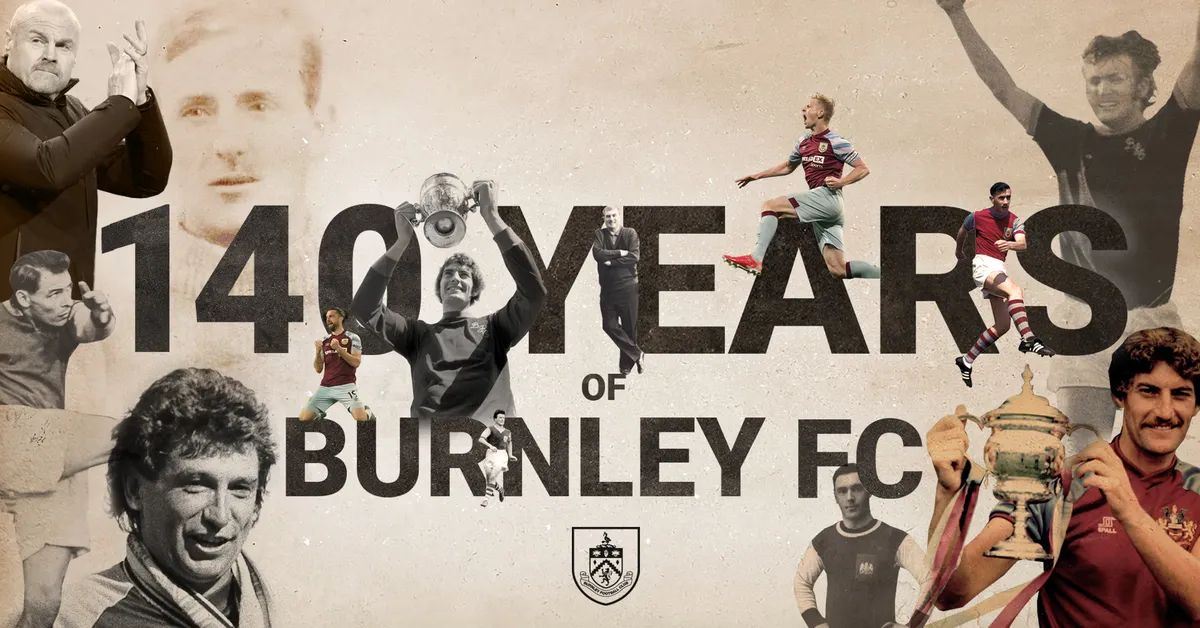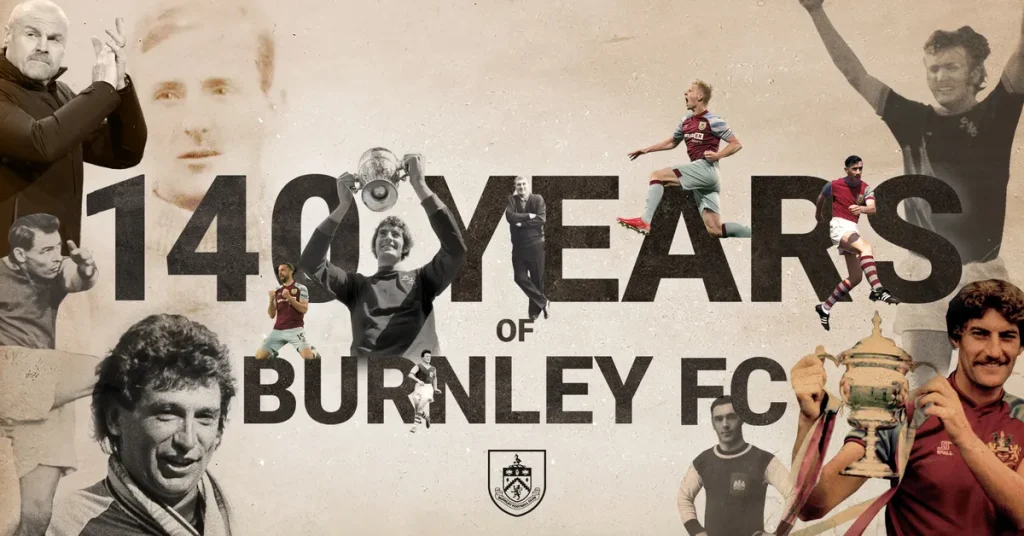 Could Burnley Succeed Where None Before Had?
With the experience of the previous season's semi-final behind them, the Clarets went into the semi-final perhaps with a slight edge on their opponents, who had done nothing in the Cup since 1902.
A goalless draw at Old Trafford meant a Wednesday replay at Goodison Park. With only 17 minutes of the replay remaining, a glorious strike by Boyle broke the deadlock and sealed Burnley's first-ever Cup Final appearance.
With everyone's Cup favorites Aston Villa being surprisingly beaten in the other semi-final played at White Hart Lane, the Clarets faced Liverpool in the Final at Crystal Palace, on the grounds of the park which housed the enormous glass structure at the heart of the Great Exhibition of 1851.
Liverpool had had an undistinguished season and had been given kind Cup draws at home to non-leaguers Gillingham, QPR, and Second Division Barnsley.
Still, they had also claimed a formidable scalp in the semi-final. Burnley, too, had overcome indifferent League form to defeat illustrious opposition in the Cup.
They had the most challenging series of games to reach the Final, overcoming the challenge of four other First Division clubs.
On The Way Up
They were also the club who were clearly on the up, on the cusp of significant and lasting achievements. And this observation is made not just with the benefit of hindsight.
The club had invested in new players; their directors had made their ambition known to the town.
And our predecessors on the terraces of Turf Moor discovered a new-found faith that their team would deliver, as this "Ode to Burnley," written on the eve of the 1914 FA Cup semi-final, testifies:
"Has Burnley seen her palmiest days?"
We thought so in the days of yore
When Lang and Bury were the backs,
And Friel was scoring goals galore.
But things have changed – "the good old days"
Have given way to strenuous times,
And football's taken serious now,
For all the town wear coloured lines.
But here we are and must abide,
For time brings changes in its wake,
And Turf Moor's altered in so much
The throng would make our fathers quake.
Mighty stands now take the place
Where once the people stood aground,
With ne'er a slope to raise them up,
For all the field was flat around.
Now to the teams let's take a look,
We will not dwell what's gone between;
Where Hillman stood now Dawson stands,
And keeps our prestige none less mean.
Our backs can go the pace, we know,
Although there's some who'll pin their faith
"To those old times," when mostly rush
And heavy charging count forthwith.
The "sugar basin's" now filled up,
Where Bryce was wont to play his tricks,
And many a back has been let in,
For "Tom" soon had them in a fix.
Pat Gallacher's dribbling was a treat –
McCrae and he were like a book;
And Friel went rushing through the backs,
To score with many a pot-shot hook.
But Friel's not Freeman, though we thought
We'd seen the best when first he came;
And wings are harder run today,
Though charging wild's not in the game.
The teams of bygone days fought hard
To keep the standard waving high,
With courage that was good to see,
With that strong spirit – do or die.
But Burnley's team today are great,
And homage to them must be paid,
For aren't they going to win the Cup?
Four teams already have been laid.
There Dawson stands between the sticks,
Prepared for all that comes his way;
The backs defend him while he strives
To make all shooters keep at bay.
And half-backs that cannot be beat,
Though search the country far and wide;
And forwards, too, that's shown by now
That combination makes a side.
So here's to Burnley and success,
May their last rounds be on their side.
Then if it is, we've got the Cup,
And Burnley will honour them with their pride.