1987 FA Cup Final Score: Coventry City 3-2 Tottenham Hotspur
Date: Saturday 16 May 1987
Venue: Wembley Stadium, London
Attendance: 98,000
Referee: Neil Midgley
Teams:
Coventry City: Steve Ogrizovic, David Phillips, Greg Downs, Lloyd McGrath, Brian Kilcline (Graham Rodger), Trevor Peake, Dave Bennett, Micky Gynn, Cyrille Regis, Keith Houchen, Nick Pickering
Tottenham Hotspur: Ray Clemence, Chris Hughton (Nico Claesen), Mitchell Thomas, Steve Hodge, Richard Gough, Gary Mabbutt, Clive Allen, Paul Allen, Chris Waddle, Glenn Hoddle, Osvaldo Ardiles (Gary Stevens)
1987 FA Cup Goal Scorers: Coventry City – Dave Bennett 9′, Keith Houchen 63′,  Gary Mabbutt 96′ (og), Tottenham Hotspur – Clive Allen 2′, Gary Mabbutt 41′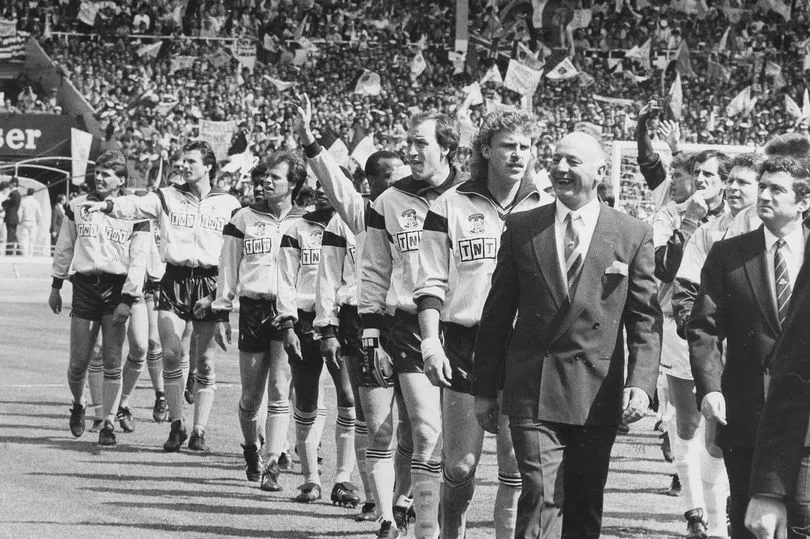 Sky Blues First FA Cup Victory
The Sky Blues of Coventry City recovered from the shock of going behind to a Clive Allen goal in under two minutes to win the 106th FA Cup Final in exciting style.
A classic match of fluctuating fortunes, hard on the emotions of the two sets of supporters, was finally settled by a desperate own goal six minutes into muscle-cramping extra time.
After their Fourth Round victory against Manchester United at Old Trafford, Coventry City coach John Sillett had declared that his club's name was "On The Cup."
Ultimately, he was proved right at Wembley as Coventry's skill, fitness, and burning desire to win brought them success in the first Final in their 104-year history.
Chris Waddle, who had a brilliant first half, set up Tottenham's opening goal by showing the ball to Greg Downs, dragging it away from him, and then firing over a center towards the near post, where Clive Allen clinically converted with a close-range header.
Scores Are Level
But within seven minutes, City was level through Dave Bennett, the Mancunian who was their only player with Cup Final experience (for Manchester City in 1981).
Keith Houchen's headed flick-on had caused panic in the Spurs defense, and as Thomas and Hodge both left the ball for goalkeeper Ray Clemence, Bennett nipped in to tap it over the line.
Coventry had an amazing let-off after a comedy of errors in the 30th minute in the 1987 FA Cup final.
Trevor Peake's under-hit back-pass failed to reach the penalty area and their giant goalkeeper, Steve Ogrizovic, had to dribble the ball out of danger.
His attempted left-footed clearance was blocked by Glenn Hoddle, who then immediately tried to chip the ball into the empty goal but only found the frantically back-pedaling Peake.
The Coventry defender then compounded his earlier error by merely side-footing the ball to Tottenham's most lethal finisher, Clive Allen. Fortunately for Coventry, the 49-goal man shot into the side netting.
Retaking The Lead
Tottenham did retake the lead five minutes before half-time when Ogrizovic recklessly advanced to meet a Hoddle free-kick from the right, which he had little hope of reaching.
The ball fell between Brian Kilcline and Gary Mabbutt, and as both players lunged for it, the latter almost involuntarily turned it into the net.
With Tottenham threatening to take control midway through the second period, Coventry suddenly fashioned a superb equalizing goal that ultimately took this memorable 1987 Cup final into extra time.
The Coventry City footballer Dave Bennett broke away down the right and sent in an inviting cross, with Keith Houchen propelling himself forward right in front of the goal to head powerfully and wonderfully past Clemence. A stunning goal, brilliantly taken.
Having shackled Tottenham's ace-in-the-pack, Glenn Hoddle, for most of his farewell performance before moving to Monaco, Coventry's 22-year-old midfielder Lloyd McGrath turned FA Cup match-winner six minutes into the extra half-hour.
At the end of a surging run down the right wing, he hit over a hopeful cross-cum-shot which took a wicked deflection off Mabbutt's outstretched leg and looped over the hapless Clemence's head into the far corner of the goal. Coventry had won The FA Cup.
Many pundits consider the 1987 FA Cup Final one of the greatest in the competition's history. John Motson of BBC TV praised the final for being "the finest I've ever commented on."