1990 FA Cup Replay Final Score: 1-0
Date: Thursday 17 May 1990
Venue: Wembley Stadium
Attendance: 80,000
Referee For Both Matches: Allan Gunn
Team Details
Manchester United: Jim Leighton, Paul Ince, Lee Martin (Clayton Blackmore), Steve Bruce, Mike Phelan, Gary Pallister (Mark Robins), Brayan Robson, Neil Webb, Brian McClair, Mark Hughes, Danny Wallace (Les Sealey replaced Jim Leighton for the replay when no substitutes were used)
Goals: Bryan Robson 35′, Mark Hughes 62′ and 113′
Crystal Palace: Nigel Martyn, John Pemberton, Richard Shaw, Andy Gray (David Madden), Gary O'Reilly, AndyThorn, Barber (Ian Wright), Geoff Thomas, Mark Bright, John Salako, Alan Pardew (Ian Wright substituted Phil Barber and David Madden for John Salako in the replay)
Goals: O'Reilly 18′, Ian Wright 72′ and 92′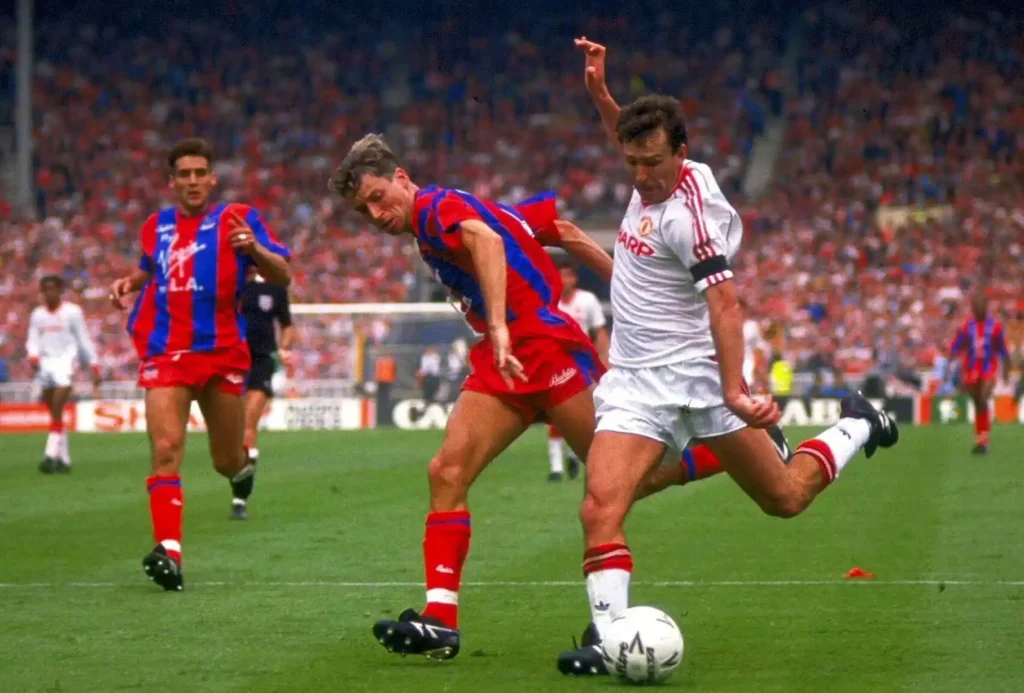 A Classic FA Cup Final
Appearing in their first FA Cup Final, Steve Coppell's Crystal Palace came within seven minutes of lifting the famous old trophy in a classic first match against a Manchester United 1990 team that had reputedly cost £13 million to assemble.
Then Crystal Palace lost in a hard-fought replay five days later to a goal by a United defender who had cost nothing.
The 1990 FA Cup final matched two sides that had finished in the lower half of the First Division – United were 13th and Palace 15th – and which had emerged respectively from two tremendously exciting semi-final ties against Liverpool (4-3 after extra time) and Oldham Athletic (3-3 after extra time and 2-1 in the replay) that had enthralled millions on television.
United was attempting to join Aston Villa and Tottenham Hotspurs as seven-time winners of the FA Cup Final, while Palace was in uncharted territory for them – their best run before had been to a semi-final under Allison and fedora in 1976.
Palace Explosion
Palace came out to an explosion of red and blue balloons as Wembley went 'all-seater' for the first time for a FA Cup Final, and 18 minutes and 26 seconds after the start, they went ahead.
Barber swung in a left-footed free-kick from the right and Gary O'Reilly got above the taller Pallister to loop in a header that the flailing Leighton and lunging Bruce could not keep out.
The Londoners continued to play confidently, despite a scare when Bright's wayward header almost beat his own £1 million goalkeeper, Nigel Martyn.
Then Gray was dispossessed just inside the Palace half on 35 minutes and, as the move developed via Wallace's lay-off to Brian McClair and a cross for Bryan Robson's downward header, it was an unlucky deflection off Pemberton's right shin that finally defeated Martyn.
A lapse in concentration in the second half, as Crystal Palace passed up several opportunities to clear the lines, was punished by United's Mark Hughes lashing the ball in after Thorn's attempted clearance had struck Webb's outstretched foot and rebounded conveniently into the Welshman's stride.
Half of Palace's traditionally prolific Wright-Bright partnership had suffered two leg fractures during the season and was not expected to be fit for the Final. Yet, with 20 minutes left, Ian Wright came bounding on to replace Barber, and his first touch saw him collect Bright's short pass, avoid challenges from Phelen and the flat-footed Pallister, and in turn inside to coolly steer the ball under the diving Jim Leighton.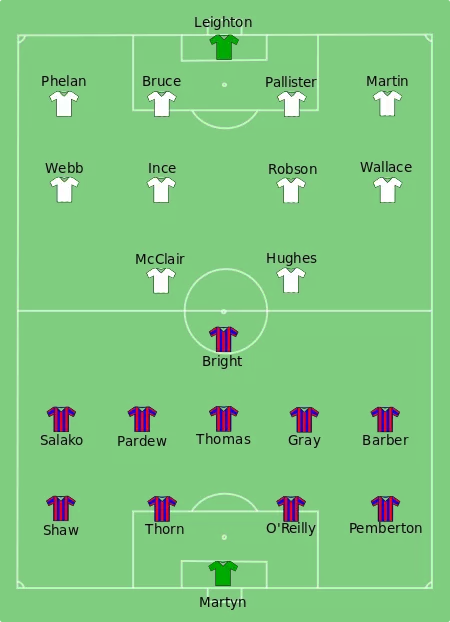 Extra Time
After the teams had finished normal time locked at 2-2, Ian Wright's next trick was to volley Palace in front two minutes into the extra period as Salako's center drifted beyond Leighton at the far post.
But back came Mark Hughes to round off another memorable afternoon of Cup football, running onto Wallace's short pass through the middle and squeezing the ball past O'Reilly and Nigel Martyn as they closed in.
The 1990 FA Cup Final Replay
Manchester United won the replay, a different kind of match, with Palace criticized afterward for their physical approach, with a 59th-minute goal from an unlikely source – 22-year-old left-back Lee Martin, who had not scored all season and had been substituted in normal time in the first match.
Neil Webb's long pass from the center of the field dipped past Gray on the United left and found Lee Martin racing into the penalty area. His shot was hard and true and left Martyn with no chance. Captain Marvel, Bryan Robson lifted the FA Cup trophy for the third time as captain.
The match itself was not as eventful as the first game, although Man U fans did not mind as their team was 1990 FA Cup champions.