Champions: Manchester United
Runners-up: Aston Villa
Champions League places: Manchester United
UEFA Cup places: Aston Villa, Norwich City, Sheffield Wednesday (FA Cup finalists)
Cup Winners Cup places: Arsenal
Teams Promoted (from 1991/92): Ipswich Town, Middlesbrough, Blackburn Rovers
Teams Relegated: Nottingham Forest, Middlesbrough, Crystal Palace
Leading Scorer: Teddy Sheringham (Tottenham Hotspur) 22 goals
1992 – 1993

Premier League Table
| Pos | Team | Pld | W | D | L | GF | GA | GD | Pts |
| --- | --- | --- | --- | --- | --- | --- | --- | --- | --- |
| 1 | Manchester United | 42 | 24 | 12 | 6 | 67 | 31 | +36 | 84 |
| 2 | Aston Villa | 42 | 21 | 11 | 10 | 57 | 40 | +17 | 74 |
| 3 | Norwich City | 42 | 21 | 9 | 12 | 61 | 65 | -4 | 72 |
| 4 | Blackburn Rovers | 42 | 20 | 11 | 11 | 68 | 46 | +22 | 71 |
| 5 | Queens Park Rangers | 42 | 17 | 12 | 13 | 63 | 55 | +8 | 63 |
| 6 | Liverpool | 42 | 16 | 11 | 15 | 62 | 55 | +7 | 59 |
| 7 | Sheffield Wednesday | 42 | 15 | 14 | 13 | 55 | 51 | +4 | 59 |
| 8 | Tottenham Hotspur | 42 | 16 | 11 | 15 | 60 | 66 | -6 | 59 |
| 9 | Manchester City | 42 | 15 | 12 | 15 | 56 | 51 | +5 | 57 |
| 10 | Arsenal | 42 | 15 | 11 | 16 | 40 | 38 | +2 | 56 |
| 11 | Chelsea | 42 | 14 | 14 | 14 | 51 | 54 | -3 | 56 |
| 12 | Wimbledon | 42 | 14 | 12 | 16 | 56 | 55 | +1 | 54 |
| 13 | Everton | 42 | 15 | 8 | 19 | 53 | 55 | -2 | 53 |
| 14 | Sheffield United | 42 | 14 | 10 | 18 | 54 | 53 | +1 | 52 |
| 15 | Coventry City | 42 | 13 | 13 | 16 | 52 | 57 | -5 | 52 |
| 16 | Ipswich Town | 42 | 12 | 16 | 14 | 50 | 55 | -5 | 52 |
| 17 | Leeds United | 42 | 12 | 15 | 15 | 57 | 62 | -5 | 51 |
| 18 | Southampton | 42 | 13 | 11 | 18 | 54 | 61 | -7 | 50 |
| 19 | Oldham Athletic | 42 | 13 | 10 | 19 | 63 | 74 | -11 | 49 |
| 20 | Crystal Palace | 42 | 11 | 16 | 15 | 48 | 61 | -13 | 49 |
| 21 | Middlesborough | 42 | 11 | 11 | 20 | 54 | 75 | -21 | 44 |
| 22 | Nottingham Forest | 42 | 10 | 10 | 22 | 41 | 62 | -21 | 40 |
1992/93 Season Review
The inaugural Premier League season in 1992/93 kicked off to a backdrop of rocketing transfer fees and record deals. Clubs had profited from the lucrative contract signed with satellite broadcaster BskyB to televise matches and were making the most of their newfound wealth.
England striker Alan Shearer joined ambitious Blackburn Rovers from Southampton for a British record of £3.5million in July. He scored 16 goals in 21 league games before his season was cut short by injury. Rovers, backed by millionaire owner Jack Walker, were big spenders and also brought in Graeme Le Saux, Stuart Ripley, and Kevin Gallagher.
Another significant deal took England's Teddy Sheringham from Nottingham Forest to Tottenham Hotspur just a week after scoring his side's first-ever Premier League goal in a 1-1 draw with Liverpool. Sheringham cost £ 2 million and justified the price tag by finishing as the league's top scorer with 22 goals.
But it was Manchester United who would walk away with ultimate glory as they finished top of the 1992/93 Premier League table.
A 2-1 defeat to Sheffield United on the opening day, a match which saw Brian Deane score the Premier League's first-ever goal, did not bode well. United also trailed 2-0 at Liverpool in October before a sublime lob from Mark Hughes and a strong finish from a Ryan Giggs cross three minutes from time salvaged a precious point.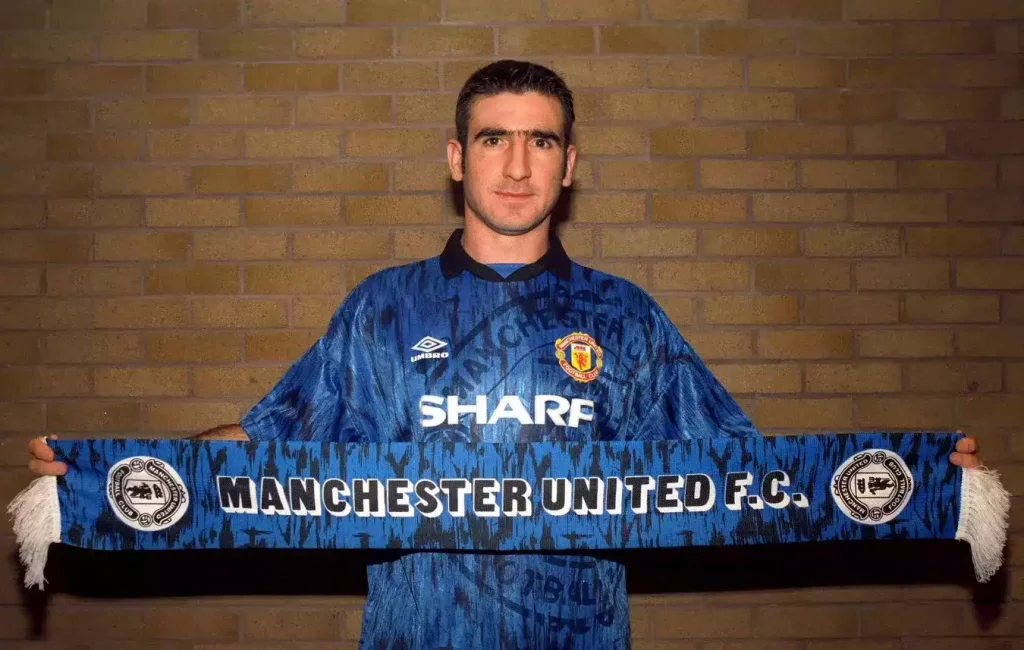 Eric The King
The signing of Eric Cantona for a cut-price £1.2 million from Leeds United in November was a significant catalyst for the Red Devils' title success. "He has flair, he has class, and we have now provided him with the biggest of stages upon which to perform," said manager Alex Ferguson. "I believe this deal to be value for money." Cantona proved the missing link, with his ability to create chances and score goals a significant factor in the club's first title triumph in 26 years.
The flamboyant Frenchman was not the only player with a taste for the spectacular. Aston Villa striker Dalian Atkinson won the Goal of the Season award after running with the ball from deep inside his half and scoring with a delightful chip against Wimbledon at Selhurst Park.
Villa ended the 42-match season in second place, ten points behind United. Norwich City Football Club recovered from an early 7-1 thrashing at Blackburn and gained the remaining UEFA Cup place by finishing third. The ban on English clubs playing on the continent following incidents involving Liverpool supporters in the Heysel disaster had only been lifted in 1990, and European positions were at a premium.
Overseas players were also few and far between. Just 11 players in the starting line-ups of the season's first game came from outside the United Kingdom and the Republic of Ireland.
Two unlikely sources played a massive role in pushing the title closer to Old Trafford. In April, Steve Bruce converted a deflected cross from fellow center-back Gary Pallister to hand United a 2-1 win over Sheffield Wednesday in the seventh minute of injury time.
At the other end of the 1992/93 Premier League table, Nottingham Forest, Middlesbrough, and Crystal Palace were relegated, with a fine late run-saving Oldham Athletic who escaped on goal difference.
The goal of the season went to Dalian Atkinson of Aston Villa. He started his dribble from within his own half, beating three defenders and chipping the Wimbledon goalkeeper. He had two goals nominated this season.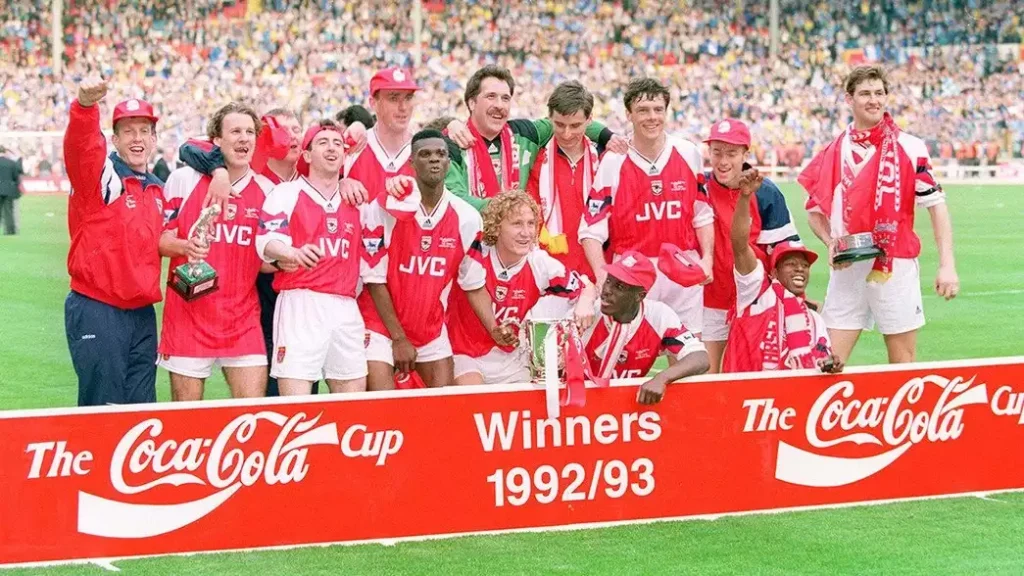 1992/93 Cup Results
1992/93 FA Cup Winners: Arsenal [Final – Arsenal 1-1 Sheffield Wednesday] [Replay – Arsenal 2-1 Sheffield Wednesday (aet)]
1992/93 League Cup Winners: Arsenal [Final – 2-1 Sheffield Wednesday]
1992/93 Champions League Winners: Marseille [Final – Marseille 1-0 AC Milan]
1992/93: UEFA Cup Winners: Juventus [Final – First-leg – Borussia Dortmund 1-3 Juventus], [Second-leg – Juventus 3-0 Borussia Dortmund]
1992/93 Cup Winners Cup Champions: Parma [Final – Parma 3-1 Royal Antwerp]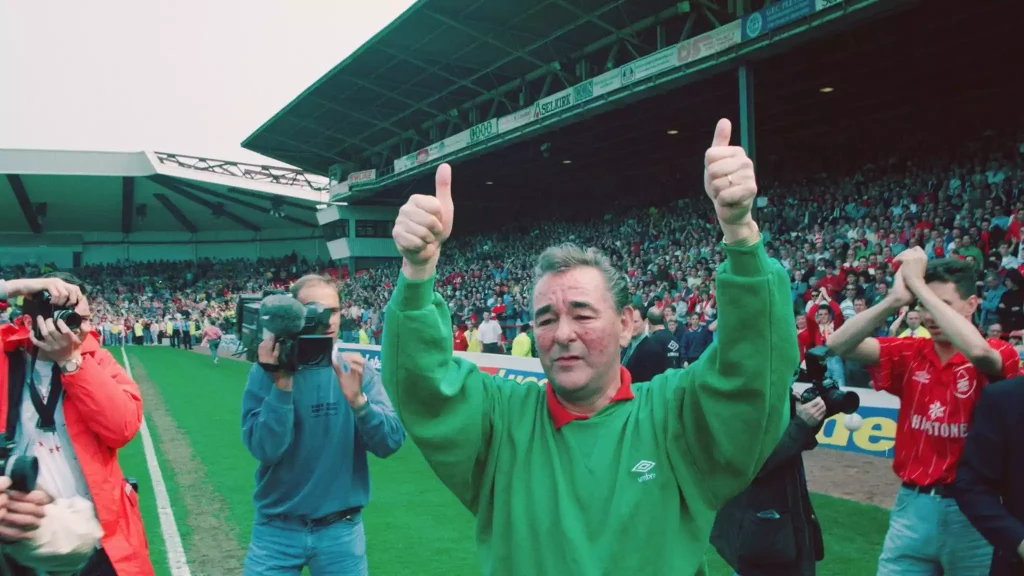 1992/93 Managerial Changes
Chelsea: Ian Porterfield out, David Webb in
Coventry City: Terry Butcher out, Bobby Gould in
Crystal Palace: Steve Coppell out, Alan Smith in
Norwich City: Dave Stringer out, Mike Walker in
Nottingham Forest: Brian Clough out, Frank Clark in
Tottenham Hotspur: Peter Shreeves out, Doug Livermore and Ray Clemence in
Wimbledon: Peter Withe out, Joe Kinnear in