2020 FA Cup Final Score: Arsenal 2-1 Chelsea
Date: Saturday 1st August 2020 (rescheduled from 23rd May due to COVID restrictions)
Venue: Wembley Stadium
Attendance: 0 (Played behind 'closed doors')
Referee: Anthony Taylor
Teams:
Arsenal
Emiliano Martinez, Hector Bellerin, Kieran Tierney, Dani Ceballos, Alexandre Lacazette, Pierre-Emerick Aubameyang (C), Ainsley Maitland-Niles, Rob Holding, Nicolas Pepe, David Luiz, Granit Xhaka
Manager: Mikel Arteta
Goal Scorer/s: Pierre-Emerick Aubameyang 28′ (pen) & 67′
Chelsea
Willy Caballero, Antonio Rudiger, Marcos Alonso, Jorginho, Kurt Zouma, Mateo Kovacic, Olivier Giroud, Mason Mount, Christian Pulisic, Reece James, Cesar Azpilicueta (C)
Manager: Frank Lampard
Goal Scorer/s: Christian Pulisic 6′
The 139th FA Cup Final
The 2020 FA Cup Final was the 139th final of the competition.
Wembley Stadium hosted the match contested between Arsenal and Chelsea on Saturday 1st August 2020.
During the 2019/20 season Chelsea won 20 games in total, drawing six times and losing on twelve occasions to finish 4th in the Premier League. Arsenal ended up finishing 8th in the Premier League having registered 14 wins, 14 draws and ten losses.
Arsenal's run to the final saw them beat Leeds United in the third round, Bournemouth in round four and Portsmouth in the fifth round. They defeated Sheffield United in round six and then beat Manchester City in the semi-finals.
Chelsea reached the final having defeated Nottingham Forest in round three, Hull City in the fourth round and Liverpool in round five. They beat Leicester City in the sixth round and were victorious against Manchester United in the semis.
Match Report
Aubameyang had the first opportunity to score for Arsenal after Ainsley Maitland-Niles played in a cross but the Gunners striker headed wide.
In the sixth minute, Chelsea took the lead through American midfielder Christian Pulisic. He passed the ball to Mount, who carried it into Arsenal's penalty area, passing to Giroud who returned it to Pulisic to score from close range.
Three minutes later, Pépé struck from distance but it was saved by Chelsea goalkeeper Willy Caballero who was assured across the entire game.
In the 28th minute, Azpilicueta fouled Aubameyang as he ran in towards Chelsea's goal. Arsenal were awarded a penalty, which Aubameyang took himself, beating Caballero and making the score 1–1.
Straight from the kick-off, Pulisic dribbled past Arsenal's defence to strike but his shot went wide.
Chelsea dominated in the early stages of the second half and in the 62nd minute Pedro passed to Reece James who shot off-target.
In the 67th minute, Pépé battled for a loose ball and quickly passed to Aubameyang on the left side of Chelsea's penalty area. The Gunners forward went past Chelsea defender Kurt Zouma before expertly lifting the ball over Caballero to give Arsenal a 2–1 lead.
On 73 minutes, Kovačić was sent off after fouling Xhaka and being shown a second yellow card. As a result, Chelsea were reduced to 10 men and this caused Arsenal to push forward towards the end of the game.
Blues winger Pedro went down through injury and was attended to by medical staff. After several minutes of treatment, the Spaniard left the field on a stretcher.
Following 14 minutes of stoppage time, the FA Cup final was brought to a close, with Arsenal winning 2–1 and collecting a record 14th trophy.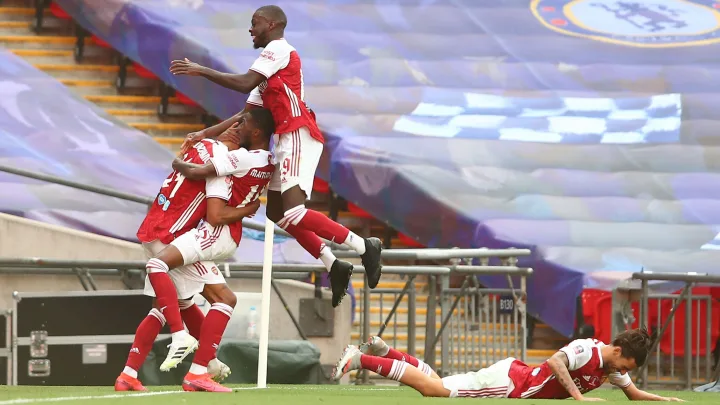 Facts
This was Arsenal's 21st FA Cup Final appearance which was more than any other side. The Gunners have won the competition more often than any other side – 14 times in total.
This was also Chelsea's 14th FA Cup Final appearance and their seventh since Wembley Stadium was re-opened in 2007. The Blues had won seven of their last nine Finals with both defeats in that time coming against Arsenal.
This was the third time Arsenal and Chelsea had faced each other in the Final with the Gunners winning the previous two (in 2002 and 2017) – no fixture has been played more in the Final – excluding replays.
Mikel Arteta became only the second man to manage Arsenal in an FA Cup Final having also played for the Gunners after George Graham. He also became the first person to win the FA Cup with Arsenal as both a captain and a manager.
Arsenal's Pierre-Emerick Aubameyang scored five goals in just three FA Cup appearances with the Gabonese striker netting both of the Gunners' goals in their semi-final victory against Man City.
2020 FA Cup Results
Semi Final
Arsenal 2-0 Manchester City, Manchester United 1-3 Chelsea
Sixth Round
Norwich City 1-2 Manchester United, Sheffield United 1-2  Arsenal, Leicester City 0-1 Chelsea, Newcastle United 0-2 Manchester City
Fifth Round
Portsmouth 0-2 Arsenal, Chelsea 2-0 Liverpool, Reading 1-2 Sheffield Utd, West Brom 2-3 Newcastle, Sheffield Wednesday 0-1 Man City, Leicester City 1-0 Birmingham, Tottenham 1-1 Norwich City (2-3 pens), Derby County 0-3 Man Utd
Fourth Round
QPR 1-2 Sheffield Wednesday, Northampton Town 0-0 Derby County, Hull City 1-2 Chelsea
Southampton 1-1 Tottenham, Brentford 0-1 Leicester, Millwall 0-2 Sheffield Utd, Reading 1-1 Cardiff City, West Ham 0-1 West Brom, Burnley 1-2 Norwich, Coventry City 0-0 Birmingham City, Newcastle Utd 0-0 Oxford United, Portsmouth 4-2 Barnsley, Tranmere Rovers 0-6 Manchester United, Shrewsbury Town 2-2 Liverpool, Manchester City 4-0 Fulham, Bournemouth 1-2 Arsenal
Third Round
Bristol City 1-1 Shrewsbury Town, Birmingham City 2-1 Blackburn Rovers, Rochdale 1-1 Newcastle United, Rotherham United 2-3 Hull City, Millwall 3-0 Newport County, Burnley 4-2 Peterborough United, Preston North End 2-4 Norwich City, Brighton 0-1 Sheffield Wednesday, Southampton 2-0 Huddersfield Town, Cardiff City 2-2 Carlisle Utd, Reading 2-2 Blackpool, Watford 3-3 Tranmere Rovers, Fulham 2-1 Aston Villa, Oxford United 4-1 Hartlepool United, Brentford 1-0 Stoke City, Bournemouth 4-0 Luton Town, Wolves 0-0 Manchester United, Fleetwood Town 1-2 Portsmouth, Manchester City 4-1 Port Vale, Leicester City 2-0 Wigan Athletic, Chelsea 2-0 Nottingham Forest, Burton Albion 2-4 Northampton Town, Charlton Athletic 0-1 West Brom, Sheffield United 2-1 AFC Fylde, Crystal Palace 0-1 Derby County, QPR 5-1 Swansea City, Bristol Rovers 2-2 Coventry City, Crewe Alexandra 1-3 Barnsley, Middlesbrough 1-1 Tottenham, Liverpool 1-0 Everton, Gillingham 0-2 West Ham, Arsenal 1-0 Leeds United