Alan Kelly Jnr is a former international goalkeeper for the Republic of Ireland and is now a goalkeeping coach who has been involved in over 1,000 matches during his career.
Where It All Began

He was born in Preston in August 1968, the son of Alan Kelly Senior, who was at the time playing for Preston North End, making over 500 appearances for them as well as making 47 appearances for the Republic of Ireland. Not surprisingly Alan Jnr began his career at the same club, but as a defender, playing a few games in that position in the Preston academy as a 14 and 15-year-old.
One day Preston's youth team 'keeper Glen Campbell broke his finger and Alan stepped in as a replacement. He did well and enjoyed it, so that became his position for the rest of his career.
After serving an apprenticeship as an electrician with British Leyland, he signed a professional contract with Preston North End in September 1985.
Despite following in his father's footsteps, it didn't go down well with the family. Alan Snr had learnt a trade as a plasterer and a hairdresser before clinching a pro football career and he wanted his son to do something similar, as something to fall back on.
Alan Jr wasn't to be denied though and Dad backed down. His father was the Everton goalkeeping coach at the time, and as Everton were short of a youth team 'keeper for a tournament in Viterbo in Italy, Alan the son was persuaded to play three games for them, two of the games being against AC Milan and Sampdoria.
He progressed well at Preston and was called up for his debut at home to Crewe Alexandra in March 1986. Preston were struggling at the time and a few games later slipped to the bottom of the Fourth Division.
They then won 5 in a row to scramble to 23rd, their lowest-ever finishing place where they had to seek re-election, as it was the last season before automatic relegation was introduced.
Alan made 13 appearances that season and had also been chosen to represent the Republic of Ireland at U18 level, qualifying through his father's birthplace.
Bittersweet Promotion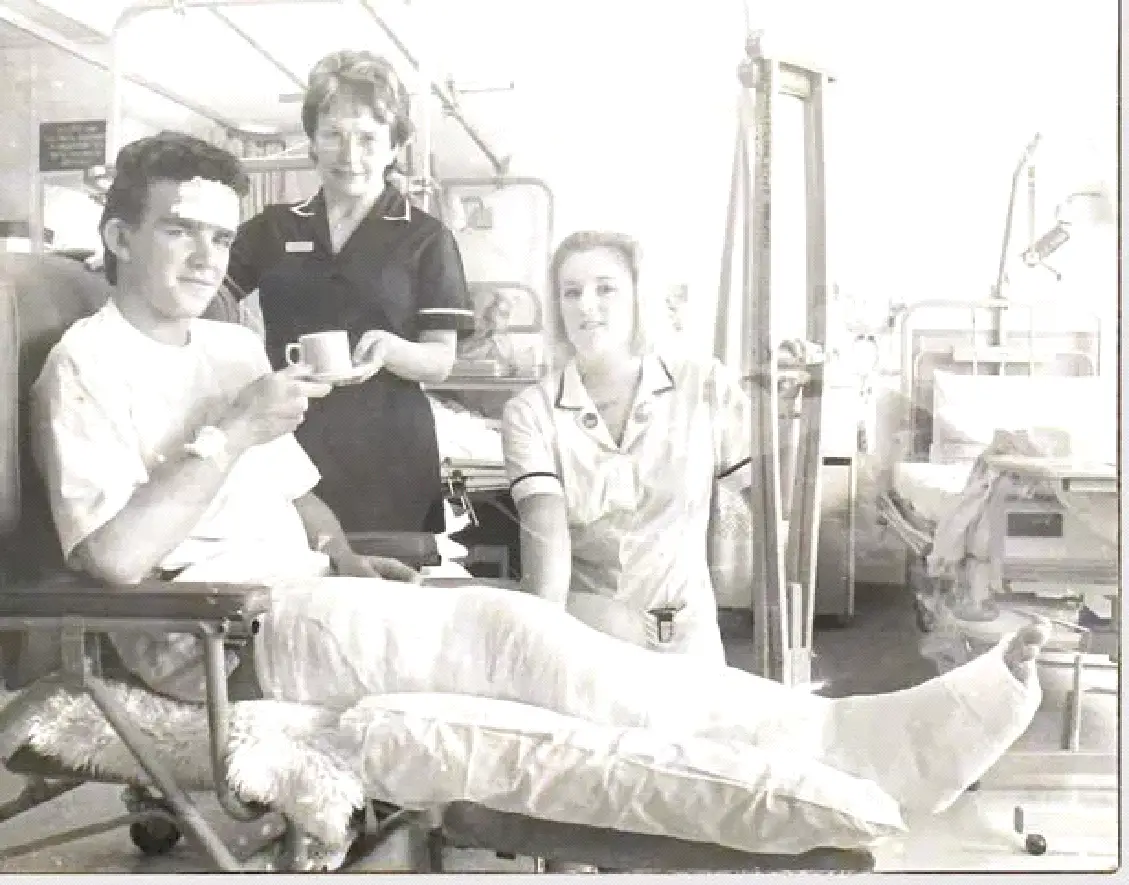 The following season, 1986/87, Preston had a new manager in charge, former Southampton central defender John McGrath and turned their fortunes around.
He signed Sam Allardyce to play centre half and later in the season, 38-year-old striker Frank Worthington, and they went on to finish as runners-up to gain promotion.
Alan had played 28 times and in February 1987 he made his debut for the Republic of Ireland U21s, v Scotland at Hibernians Easter Road ground.
He continued to keep goal for Preston but then was ruled out of the game for a year through a traffic accident.
His mother was a florist, and Alan used to pick her up from work. In April 1988 he went to pick up some new gloves, as that evening Preston were due to play Burnley in a Sherpa Vans Trophy semi-final, but as he came out of the shop a motorbike swerved to avoid a car and ploughed straight into him.
He was unconscious for an hour, broke his leg and had to have 50 stitches, some of them in a head wound. He was lucky to be alive at the age of 19, and the injury ruled him out of the game for 11 months.
When he made his comeback in a memorial match for former teammate Mick Baxter he collided with Alex Bruce, son of Steve Bruce and broke his leg again.
It meant a further six months on the sidelines and it was thought he might not play football again, and one of the Preston directors offered him a job selling cars. Although he was in agony, that was a motivation to prove everybody wrong and with the help of Preston physio Andy Jones, he battled his way back to fitness.
Three days after being discharged from the fracture clinic Preston manager McGrath told Alan he was playing in the next game at Leyton Orient as they had lost their first four games.
A Premier League Move
He went on to make 47 appearances that season as Preston narrowly avoided relegation from Division Three, and he also won his only U23 cap for the Republic of Ireland.
He played two more seasons before moving to Sheffield United for £150,000 in July 1992 after playing 164 times for Preston. Sheffield United were members of the very first Premier League, 1992/93, and Alan was on the substitutes bench as they defeated Manchester United 2-1 on the opening day of the new league.
His big chance came in the sixth game as regular 'keeper Simon Tracey was sent off with five minutes remaining in a game at Tottenham Hotspur and so Alan came on for his club debut. Three weeks later he made his first start in a 1-1 draw with Arsenal at Bramall Lane.
He made 41 further appearances for the Blades that season as he became their regular number one, and they also had a run to the semi-finals of the FA Cup. Their opponents in that semi were local rivals Sheffield Wednesday but in Alan's first appearance at the stadium they were beaten 2-1, but he did have an excellent game.
International Call-up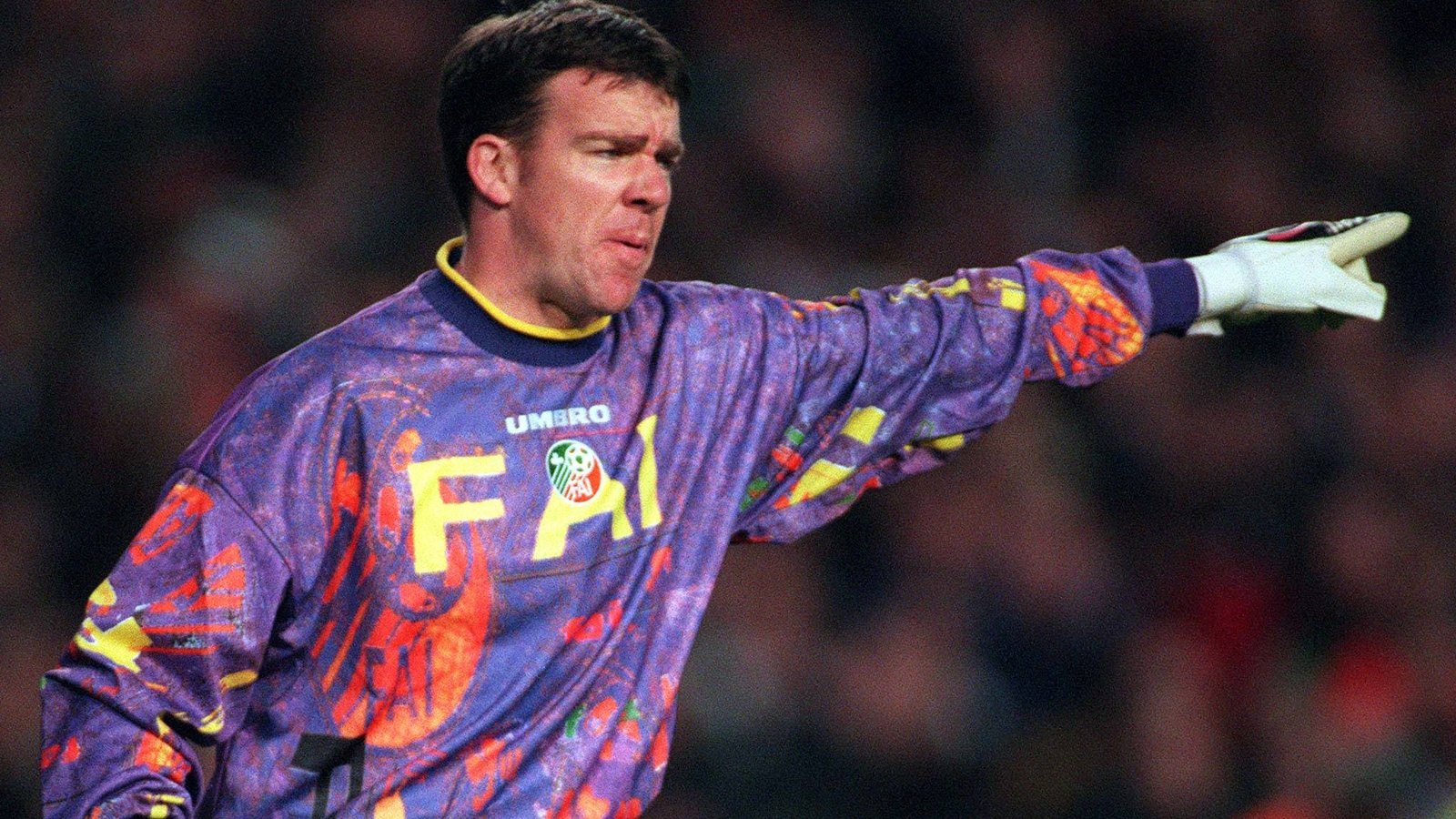 More honours came his way in February 1993 as Republic of Ireland manager Jack Charlton called him up to the senior squad for a friendly against Wales at Tolka Park, Dublin. He began on the bench but replaced Packie Bonner at halftime as the Irish won 2-1.
In the 1993/94 season Sheffield United were relegated in dramatic circumstances. Alan was a regular in their goal and going into the last day they stood fifth from the bottom ahead of a trip to Chelsea. If Everton lost at home to Wimbledon the Blades were safe no matter what, and they went 2-0 down but recovered to win 3-2.
That meant that Sheff U needed a point, but despite taking a half-time lead, they eventually lost 3-2 through a 90th-minute goal from Mark Stein, which meant relegation.
At the end of that season, Alan was chosen to be in the Republic of Ireland's 1994 World Cup squad in the USA.
He was understudy to Bonner and was on the bench for all of their games, a great experience.
He remained a regular in the Sheffield goal as they battled to regain their place in the Premier League, and they came very close in 1996/97.
They finished in 5th place in the Championship and reached the play-off final v Crystal Palace, but Alan missed the final after being injured in the semi-final v Ipswich Town. They lost the final 1-0 to a 90th-minute goal. Alan was selected in the PFA First Division team of the season for both 1995/96 and 1996/97.
Shoot out Success
Alan had a night to remember in March 1998 when an FA Cup quarter-final v Coventry City ended in a 1-1 draw after a replay to go to a penalty shoot-out. Alan saved three spot kicks from Dion Dublin, Simon Haworth and David Burrows as Sheffield won 3-1. In the semi-finals, they lost 1-0 to Newcastle United at Old Trafford.
They reached the playoffs again although injury kept Alan out as they were beaten in the semi-finals by Sunderland.
Alan played 29 times in the 1998/99 campaign as United finished 8th, but the main controversy came in the FA Cup when in a tie at Arsenal, the home side scored instead of throwing the ball back to Sheffield after a player injury.
Blades manager Steve Bruce attempted to take his players off the field but the game continued as Arsenal won 2-1.
Arsenal manager Arsene Wenger offered uniquely to replay the game, and Arsenal again won 2-1. Alan had a particularly good spell in goal for the Republic during their qualifiers for the 2000 European Championships and was elected the FAI's International Player of the Year for 1999.
After 257 appearances for the Blades, Alan moved to Blackburn Rovers for £675,000 in July 1999. He made a good start for this new club as they were undefeated in his first ten games, but then ironically, they lost 2-1 at his old club, Sheffield United.
He played 35 times as they finished 11th in what is now called the Championship.
He only played 9 games in 2000/01 and ended the season with a month's loan with Stockport County. In August 2001, he made what proved to be his 34th and final appearance for the Republic of Ireland, a 2-2 draw against Croatia at Lansdowne Road, Dublin.
From Playing to Coaching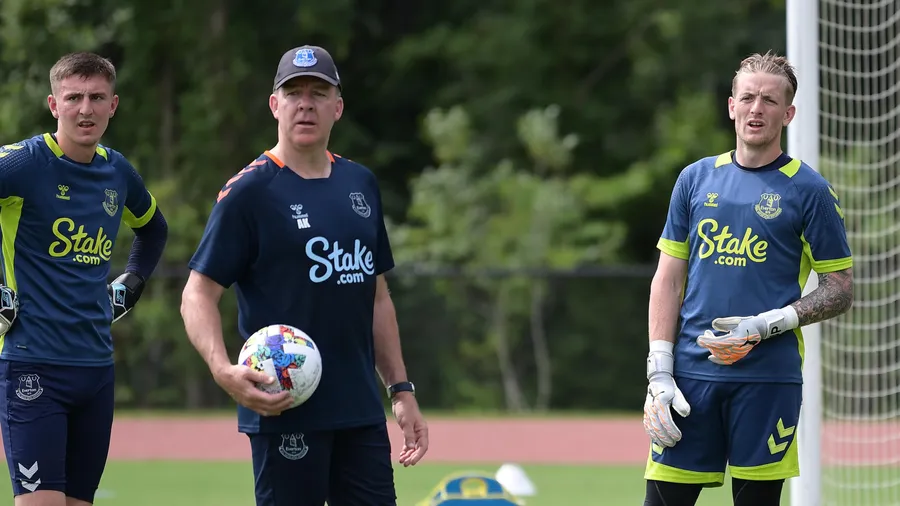 He began the 2001/02 season on loan at Birmingham City and returned to make sporadic appearances for Blackburn. He was still chosen as a member of the 2002 Republic of Ireland World Cup squad in Japan and was on the bench for all of their games.
He injured his finger at the start of the 2003/04 season and announced his retirement in March 2004, almost 18 years to the day since his senior debut. He had played over 500 games altogether.
In 2006 he was a goalkeeping coach for various Soccer-Academy camps in America before returning to his roots to take up a role in the academy at Preston North End which lasted for 18 months. He also became a goalkeeping coach for the Republic of Ireland.
He then became goalkeeping coach with Preston in 2011 under David Unsworth, leaving in August 2017. One of the players he looked after was Jordan Pickford.
Two months later he joined Everton as goalkeeping coach, under new caretaker manager Unsworth, and he has remained there ever since despite many managerial changes, renewing acquaintances with England's keeper Pickford.
He resigned from his role at the Republic of Ireland in January 2021 after 15 years.