Alan Shearer was never a one-club man like Paolo Maldini, nor could he boast the same silverware as some of his compatriots and peers. What he did have, however, was an unshakable loyalty to his hometown club, Newcastle United.
As a result, throughout his ridiculously prolific career, he achieved godlike status on Tyneside and throughout the country whenever he played for England.
As he has affectionately become known, Big Al retired from the game as Newcastle United's greatest goalscorer of all-time and, perhaps with it, their greatest ever player.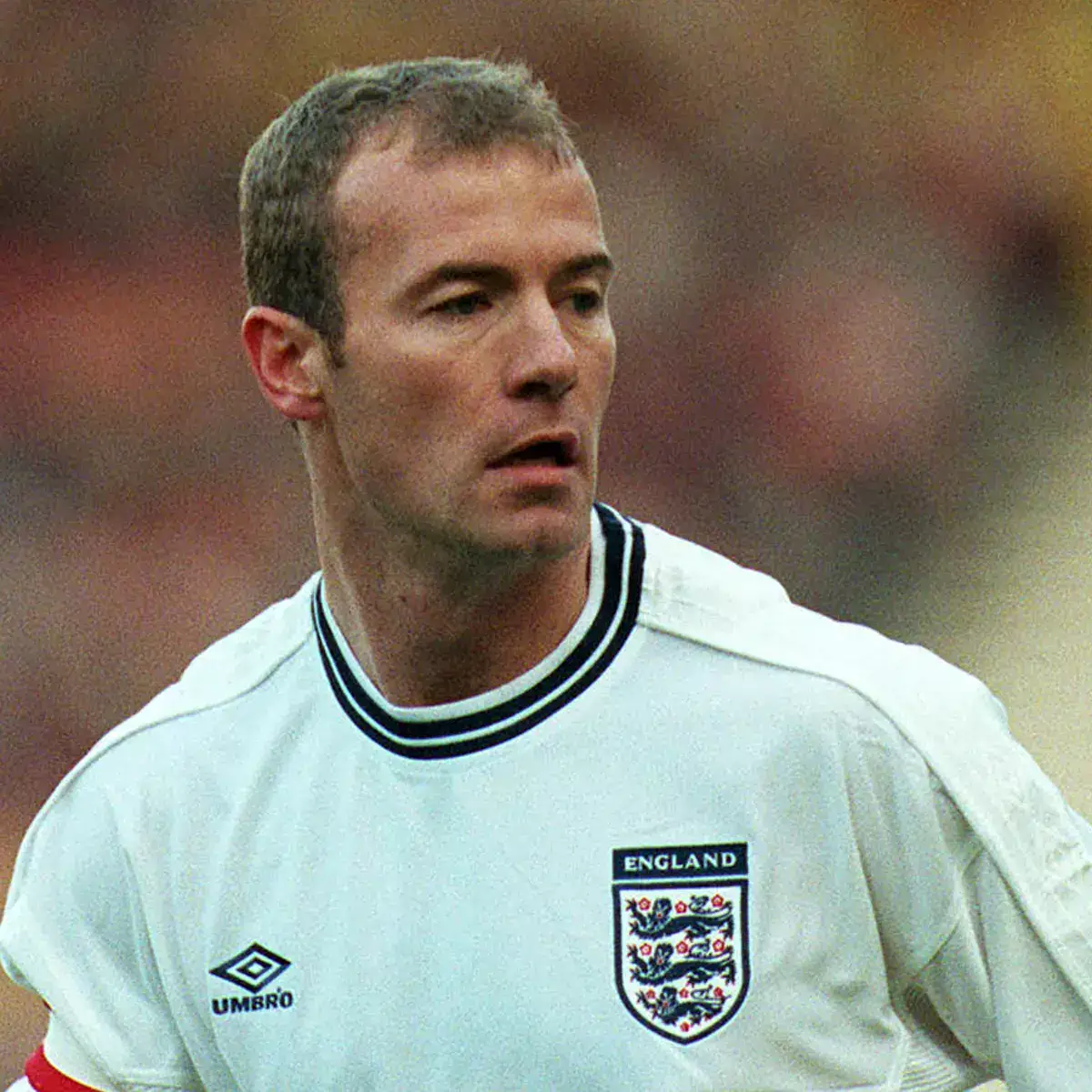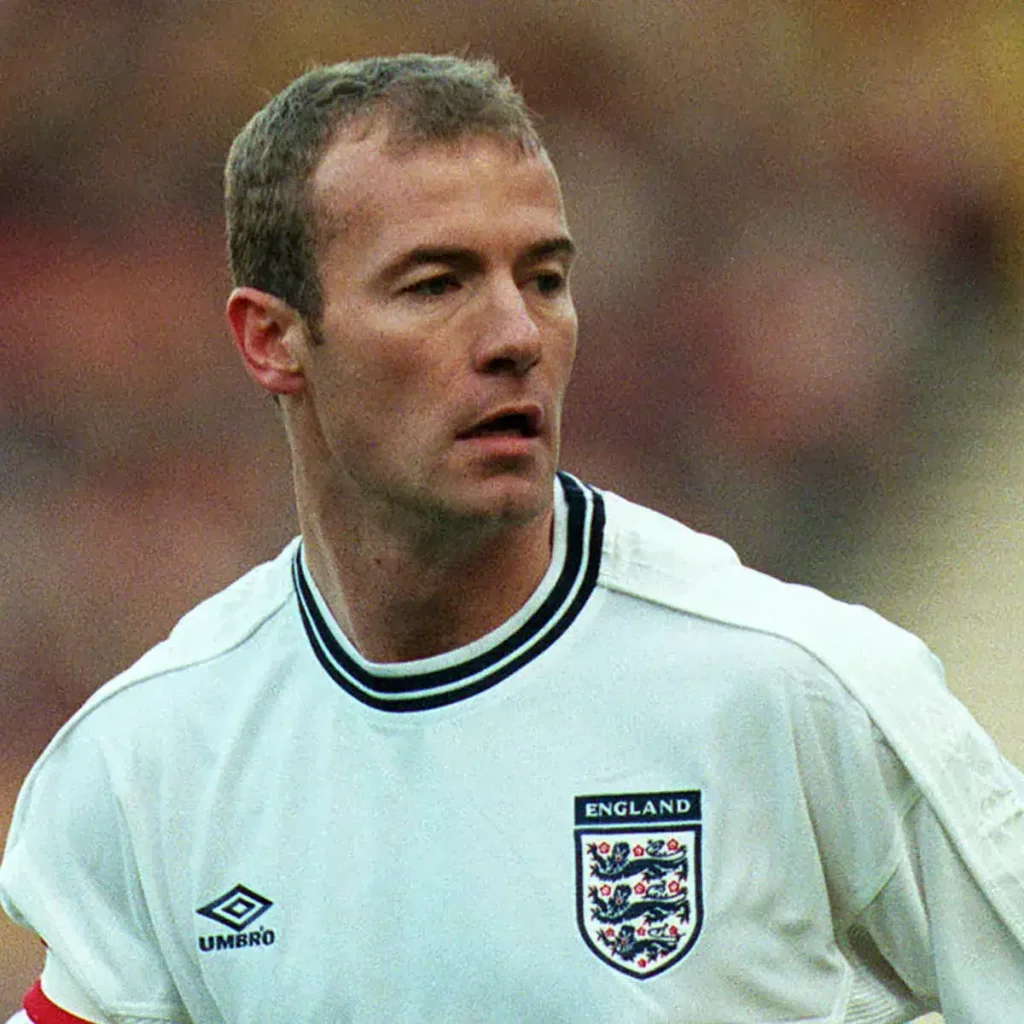 Starting Out
Born in Newcastle and brought up on a small rough council estate in Gosforth, Alan Shearer – the son of a sheet metal worker (also of the same name) and from a working-class family – first took an interest in the game at the early age of just six.
Like most kids his age in the area, stottin the baal off a brick wall or playing kick-aboot on some lop-sided patchy bit of grass with mates was a way of life. And really, that's where it all began for him. On mucky fields and concrete paths in the back alleyways throughout the city of Newcastle.
Every day he would practice, and a football was never too far away or a game, often against older and much bigger lads. Alan Shearer was a prominent United fan who dreamed of wearing the Black & White shirt one day.
It wasn't just a pipe dream for the skinny youngster either. From the very moment he could first kick a ball, he wanted to play the game for real. Deadly passionate about the sport and heart set on becoming a professional footballer, Shearer soon realized he had a real chance if he stuck at it.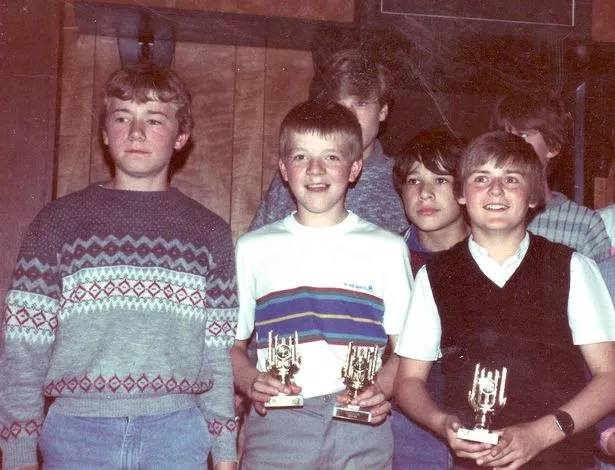 School Team
Taking his hobby to a more serious level – he got involved with his local school team Gosforth High at the age of 12, captaining the side. He would play in several positions, often in midfield, but up front as a striker is where he excelled best, scoring 13 goals in one match for his team.
He had something extra special about him and was encouraged to try his luck with the renowned Wallsend Boys Club, a step up from schools football and famous for nurturing talents such as Peter Beardsley, Steve Bruce, and in later years to come, Steve Watson, Lee Clark, Robbie Elliott, Michael Carrick, and Alan Thompson.
Shearer made sure his name would be on the list, becoming a central fixture of the side before a goal-laden year with Cramlington Juniors FC.
Stick thin with dirty blonde curly hair, Alan Shearer stood out, but it wasn't his appearance that made others take notice. Instead, his powerful running, strength, and prowess in front of goal had football experts in the North East drooling at the mouth.
Scouting Alan Shearer
Being involved with such prominent local youth teams as he was, it was only a matter of time before Newcastle United Boys were alerted to the raw but promising Shearer, who spent a period 'on trial' at the club.
With injuries to others in the camp, the Geordie lad never really got a chance to impress his boyhood idols, though, amazingly playing in goal on a few occasions. Nevertheless, it proved an unsuccessful trial, which the club would regret and pay heavily for in later years.
With respected North East scout Jack Hixon looking after the young hotshot, however, Shearer knew he'd find a professional club sooner rather than later. Such was his talent and confidence in Hixon, who had first become aware of Shearer when the striker was 13.
Traveling up and down the North East to watch him and eventually forge a close relationship with his young starlet and parents to represent him.
Like Alan, Jack was a fellow Geordie and had many contacts in the game, working for various clubs as a scout, and he saw Alan Shearer as more than a precocious talent. The two got on very well, and in later years Jack would become an extended part of Big Al's family.
Despite his burgeoning reputation, Shearer was also turned down by West Bromwich Albion, Sunderland, and Manchester City, but Jack eventually got his boy a trial with Southampton – at a cost.
He would have to move away from his native Tyneside and, more significantly for Alan Shearer, his family and friends in the most critical years of his life. Nevertheless, the challenge excited him, and he was determined to grab the opportunity of a trial with both hands.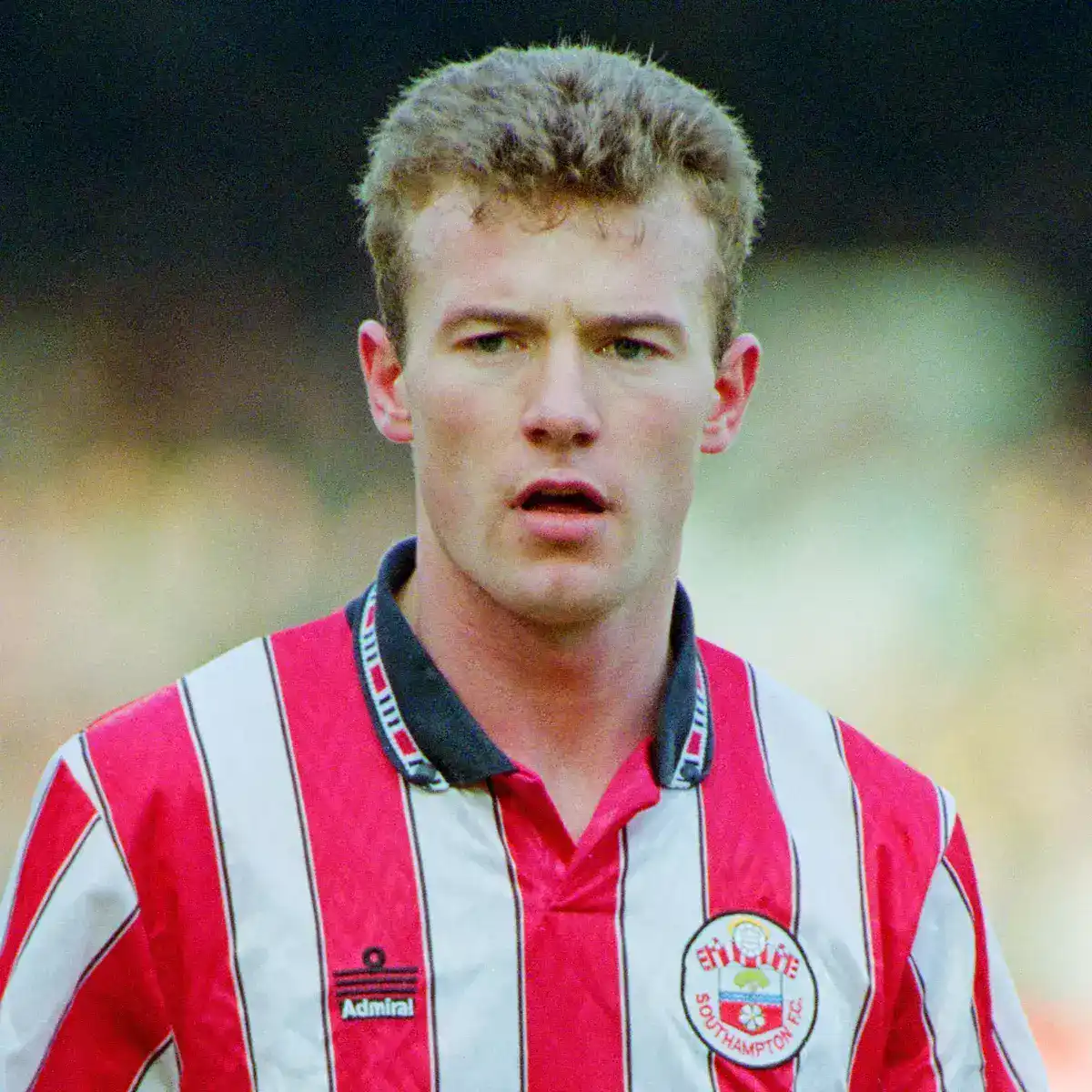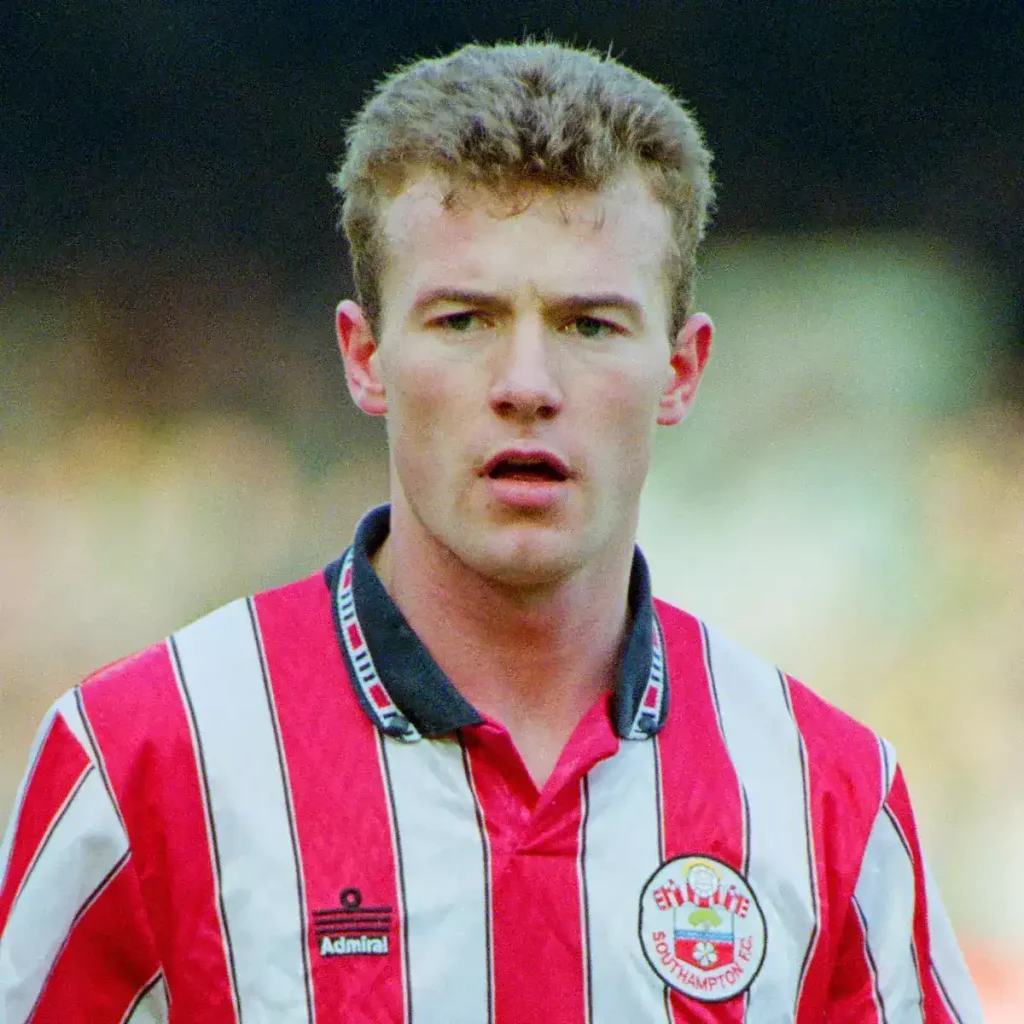 Alan Shearer The Saint
After a successful trial, Alan Shearer signed apprenticeship terms with the 1st Division club at the age of 15.
Despite being so far away from home, there were Geordie faces at the club in the shape of youth-team coach Dave Merrington, midfielder Tommy Widdrington, and Lawrie Mcmenemy's influence; Alan Shearer felt comfortable in Hampshire.
And whenever he did get homesick, the club allowed him to return to Newcastle at weekends. Southampton had a good reputation for looking after their youngsters, which significantly influenced Shearer's decision to sign for them.
His first 15 months at the Dell were all about growing up for him, really, and he reveled in being his own man and the independence of looking after himself. He even found himself a future wife on the South coast, meeting the lovely Lainya in a pub after an arranged blind date.
It was football, however that occupied Shearer's thoughts more than romance, he was intent on settling down early so he could concentrate on his future fully, and love, at first sight, was a massive help to him in that sense. S
o with that out of the way, the striker would do extra work away from training and club hours, going on 3-mile runs, lifting weights, and preparing himself mentally for first-team football.
Something he was very confident of achieving but despite his supreme self-assurance and mental strength even at such a young age, it still came as a massive surprise to him when he was penciled in to make his first-team debut for Southampton just two years after leaving home.
The Debut Dream
April 9th, 1988 was the date, and the opponents at the Dell were Championship contenders Arsenal no less. They were bringing the meanest defense in the Premier League, partly thanks to their formidable England center-half Tony Adams – the rock at the back.
As fate would have it, striker Danny Wallace had failed a fitness test on the morning of the Gunners game.
The manager Chris Nicholl didn't have many options open to him, so when he tapped on Shearer's shoulder and told him to prepare for his baptism of fire, to which Alan Shearer replied, "I'm ready, boss."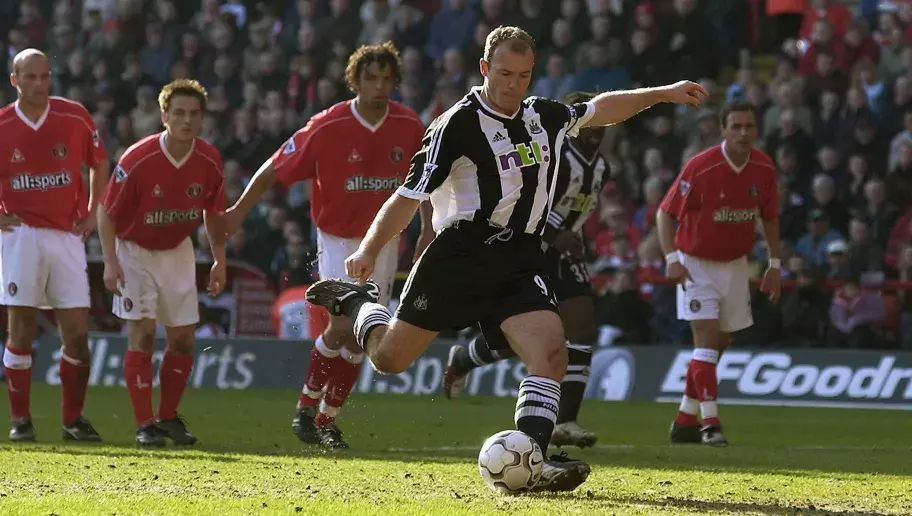 Just 5 minutes into his first-ever professional game, against a team of Arsenal's caliber, in the top-flight and Southampton desperate for three points in their fight to stay up, Shearer made the net bulge, and a second time and then for the third time.
He had grabbed himself a hat-trick in an impressive 4-2 win for the Saints and become the youngest ever player at 17 years and 240 days of age to do so. Shearer mayhem followed, and so did a professional contract at £25 a week basic pay.
Life as he knew it had changed forever, and he was the talk of English football, plastered all over the back pages of the papers for days afterward.
However, to put a lid on the frenzy and protect his exciting jewel, Nichol gave Shearer just four more games that year and the following season, a mere 10. Having scored an incredible 3 in just one game, Alan Shearer failed to find the net in any of those games.
Holding Back The Beast
Understandably unhappy at being demoted back into the reserves after his fantastic debut, Shearer understood that the club had his and their best interests at heart. However, he begrudgingly accepted his fate nonetheless.
Assured he would get more action and eventually become a first-team regular, he just had to bide his time and take any chance that came his way like he would a goalscoring opportunity.
And that's precisely what he did in his third season as a professional, playing a total of 35 games and scoring five goals. While more had been expected of him in front of goal (from the media primarily), those who knew him best weren't concerned by his poor return.
He had shown he was much more than a goalscorer and the Saints fans took the young 20-year-old to their hearts for his all-action, hardworking performances.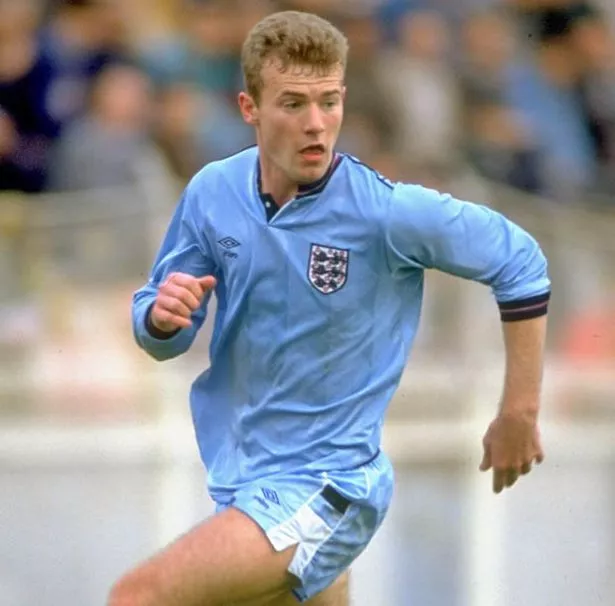 Alan Shearer himself wasn't concerned either. He was satisfied with just playing so many games and knew the goals would soon follow and follow they did in his fourth season at the club, 14 in total from 48 games in all competitions.
A healthy return for the striker and enough to see him selected for the England Under-21 side to represent the nation at the Toulon Tournament.
It was a fantastic competition for the player and his country. England won it beating France in the Final, and Shearer scored in that game, ending the tournament as the top goalscorer with seven goals in just four games. He was voted the most valuable player too.
Hot Property
By then, Shearer was regarded as one of the hottest properties in English football. The media were touting him as a future full England international and Gary Lineker's long-term replacement. High praise indeed!
Unfazed by all the hype, Shearer underlined the country's faith in him with an even better season at the Dell in 1991-92, where he notched 20 times in a mammoth 60 games, which saw him rewarded with an international match for England as had been predicted, scoring one and setting up another in a 2-0 win over France at Wembley in a friendly. The Geordie lad was once again the talk of the nation.
More international experience quickly followed with inclusion in Graham Taylor's ill-fated England squad for the European Championships in Sweden. Still, the striker only made one appearance and spent most of the tournament injured as the Three Lions were dumped out.
With just two caps to his name, Alan Shearer, in part to Lineker's retirement and injuries to others, was considered England's No.1 striker.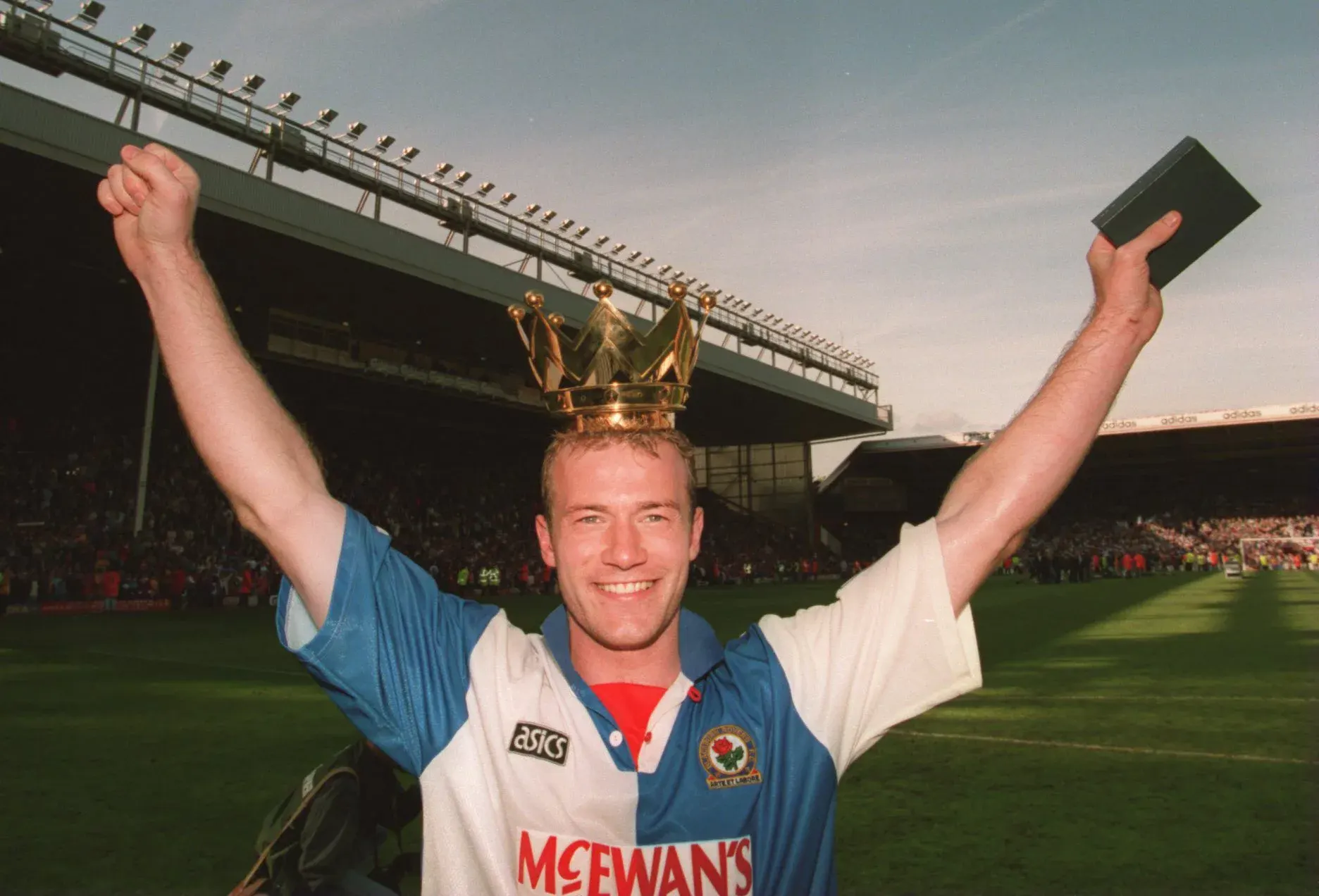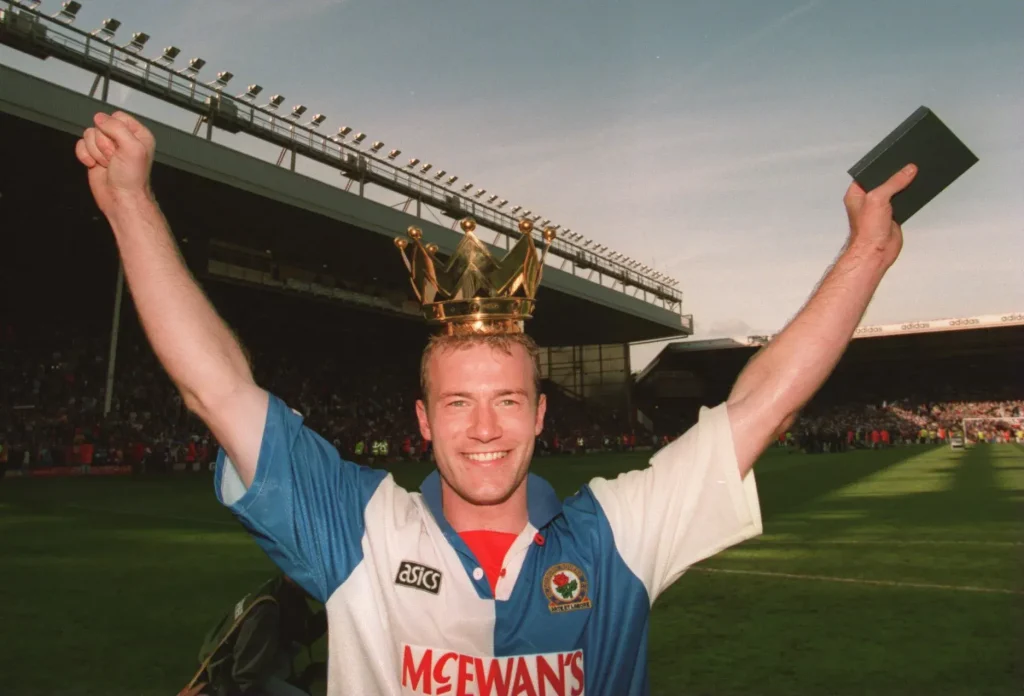 Becoming A Rover
In the summer of 1992, the hotshot was a wanted man. Southampton claimed that their new England striker was not for sale. However, they eventually cashed in on their prized asset after a British record transfer fee of £3.3 million proved too tempting an offer.
They were in no position to turn such a vast and unprecedented sum of money down. With Manchester United and Blackburn Rovers waiting to swoop, Alan Shearer picked Blackburn Rovers as they were the first to talk to him.
Although he listened to what Man Utd had to say out of respect, his mind was already made up. So he and his seven months pregnant wife traveled to Lancashire for the next chapter in their lives.
What wasn't public knowledge back then was that Newcastle United, inspired by Kevin Keegan's appointment as manager and free of debt after Sir John Hall and his Magpie Group took control and looking to gain promotion to the top-flight themselves, had also enquired about Shearer.
But the ink was dry on his Rovers contract for any u-turns to happen.
Despite being a Newcastle United fan, it remains pure conjecture whether Alan Shearer would have chosen United ahead of Rovers at the time.
The Toon were then a 2nd Division club where, as Blackburn Rovers had just won promotion to the new Premiership and were backed by the millions of local businessman Jack Walker. A formidable side under the guidance of manager Kenny Dalglish was being fashioned, and Big Al was the icing on the cake.
Indeed it was a massive coup for Dalglish, who knew a thing or two about strikers, having been one of the best in his playing days for Celtic, Liverpool, and Scotland. He saw Shearer as the man to lead them to major honors.
Manchester United Missed Out
Alex Ferguson, on the other hand, his Manchester United counterpart, was privately devastated that he had lost out on his number one target.
Their loss proved to be Blackburn's gain, and on his debut, Shearer scored two stunning goals in a 3-3 draw against Crystal Palace at Selhurst Park as the new brave dawn of English football in the shape of the newly set up Premier League began.
With hooliganism rife in England and the awful tragedy of Hillsborough still haunting the thoughts of match-day fans, UK football had been at an all-time low, and the recovery was slow and painful for many.
The Premiership, backed by the millions from Sky Television's deal to transmit live matches, the campaign to make stadiums all-seater, and the emergence of exciting young talent, was trumpeted as the rebirth of a national game that had lost its appeal.
The game was changing; hefty transfer fees and big wages were to become everyday affairs, and Alan Shearer paved the way. Blackburn Rovers themselves were big players in the ever-transforming face of the game, spending heavily and adding other big names at high prices to the acquisition of their Geordie man.
For all their money, they couldn't prevent their No.1 player from suffering a severe injury that saw him miss the remainder of the season and parts of the following 1993-94 one. Shearer damaged his cruciate ligaments in a Boxing Day clash with Leeds United, keeping him out of action for nine months.
His loss wasn't felt at Ewood either, but at Wembley too. Deprived of his leading front man, Graham Taylor's England team failed to qualify for the '94 USA World Cup in his absence. So Alan's dreams of wearing the white of his country on the biggest stage of them all had to wait a few more years.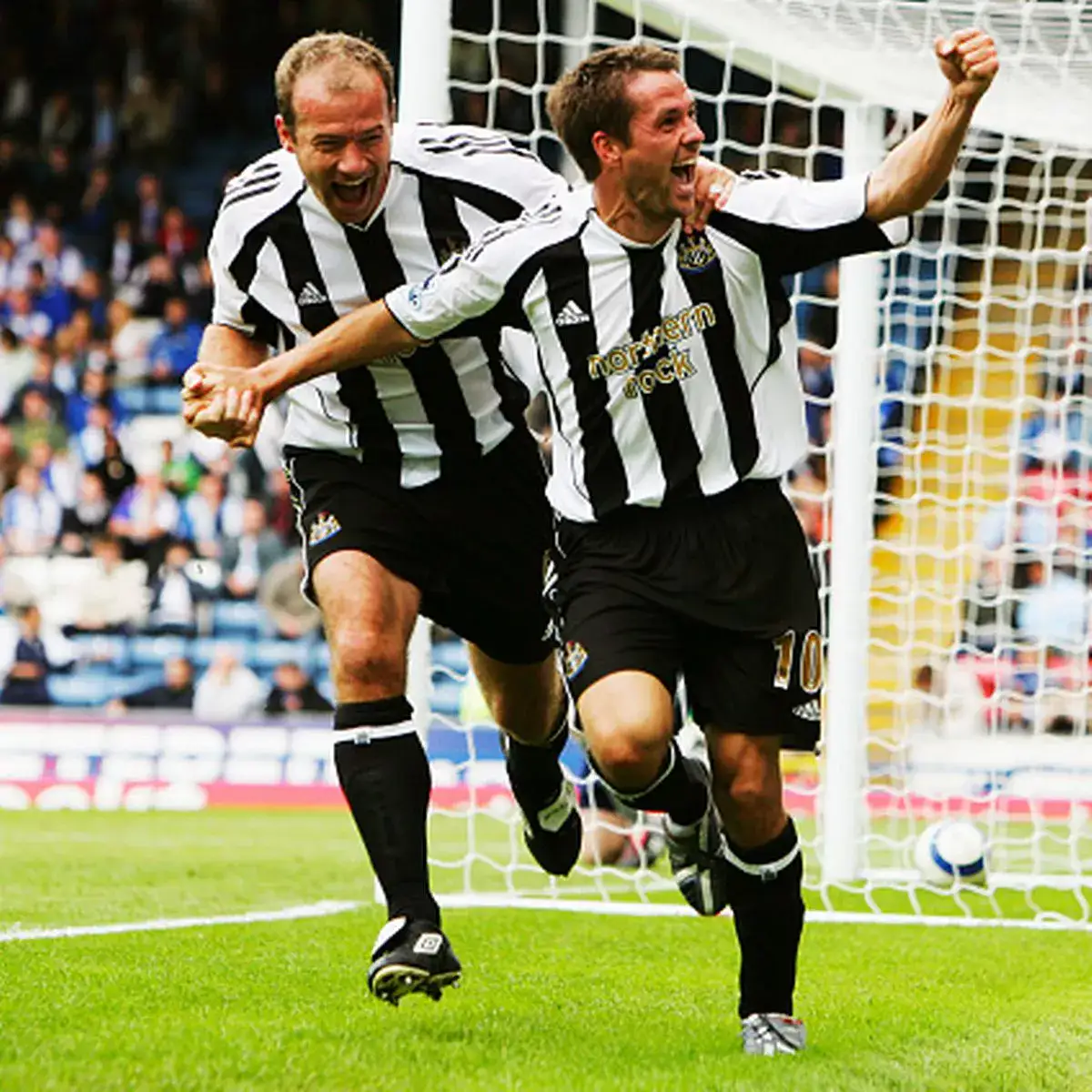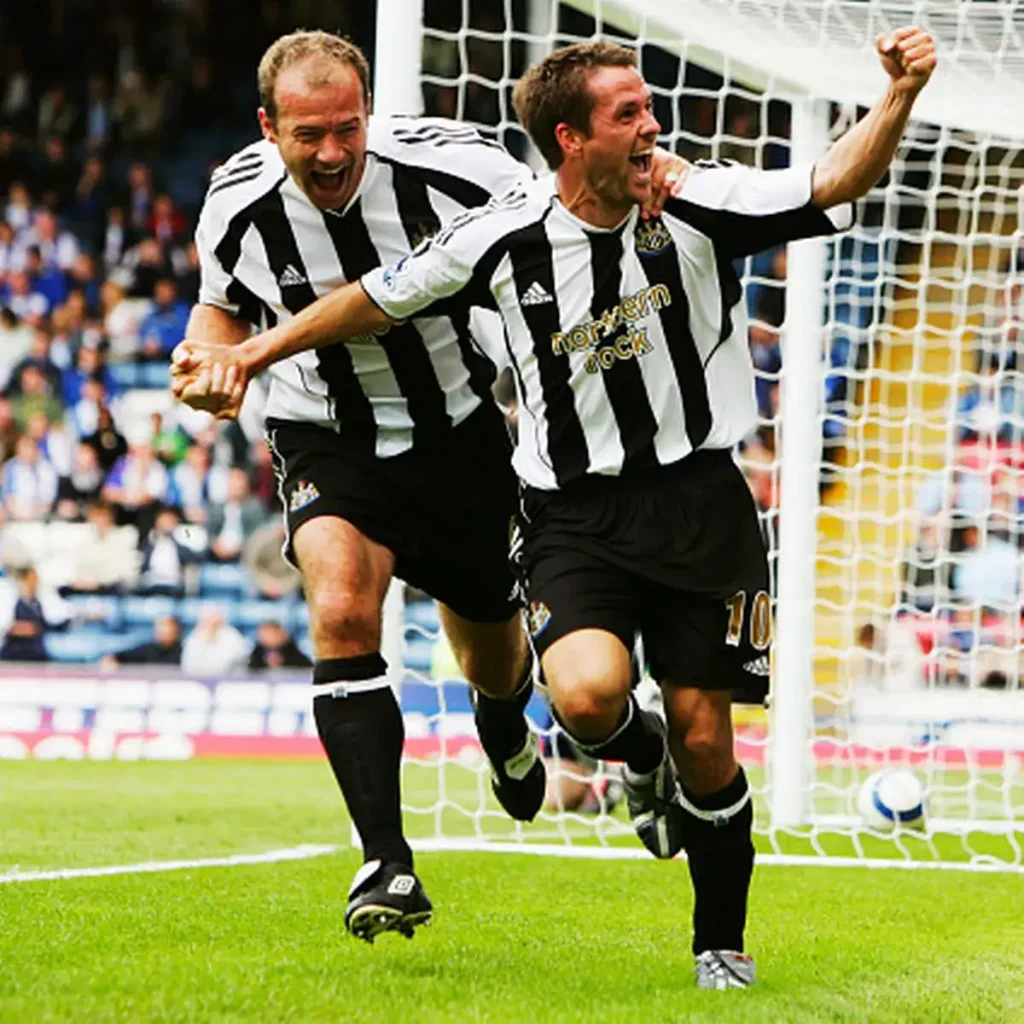 Back In Action
He did get to fulfill another dream, but not as he had initially set out to do as a youngster back in Gosforth. On his much-anticipated return from injury, Shearer grabbed Blackburn Rovers an equalizer at St. James' Park in a 1-1 draw against newly-promoted Newcastle United.
Despite missing the first month of the season, he was unstoppable. After firing Blackburn into second place with an incredible 31 Premier League goals, many critics who argued he wouldn't be the same player after his injury and that it would take him time to regain his strength were all left to eat humble pie.
And to rub it in further, Shearer's magnificent haul of goals won him the Footballer of the Year award to cap off a fantastic return to full fitness. He was not only the most expensive player in the country, the No.1 striker in the Premiership, and for England, he was also head and shoulders the best player in the Premier League.
SAS
1994-95 was an even better year for Alan Shearer and his Blackburn Rovers side. His 34 Premier League goals won them the Premiership title, their first success in 81 years.
The signing of fellow striker Chris Sutton at £5m gave Big Al the ideal partner to play off, and the two became known as the SAS in a deadly double act that blew away all before them.
Adding to his winner's medal, Shearer was also crowned the PFA Player of the Year, a prestigious award his fellow professional footballers voted for. His decision to snub Man Utd had proved the right one.
Having won the Title, Blackburn had qualified for the lucrative Champions League. Still, Shearer missed most of their group stage games with an injury, and without their leading goalscorer, they were eventually eliminated.
In the Premier League, they didn't live up to their billing as Champions either, failing to defend their crown successfully. Dalglish, the man who masterminded their rise from the old 2nd Division to Premier League winners, had taken on another role at the club under the dubious description of 'Football Director.'
Unheard of in English football at the time, it was yet further proof of the changing landscape of the game. One thing that didn't change was Shearer's goal celebrations.
Loved Scoring Goals
Despite finishing 7th in the Premiership, he still hit the 30-plus goal mark for Blackburn Rovers for the third season running.
To underline his credentials as a world-class center-forward, he scored five goals to win the Golden Boot for England in their run to the semi-finals of the Euro 96 Championships, which were staged on home soil.
Having recently signed a new contract with Blackburn and declaring he would not leave, Alan Shearer was again at the center of more media frenzy during the pre-season of 1996. Not for breaking goalscoring records, though, but for leaving Ewood Park and becoming the world's most expensive footballer at £15m.
After his Euro 1996 exploits, Shearer was regarded as the best all-around center-forward on the planet and was at the top of the shopping list for most clubs, including Barcelona of Spain, Juventus and Inter Milan of Italy, Manchester United and his boyhood heroes Newcastle United.
There would only ever be one winner for his signature, though. So Shearer was coming home in a massive deal that shocked the world of football and left Alex Ferguson's face red in rage, not for the first time.
Snubbing Man Utd for a second time and declining overtures from the continent, the Geordie striker would finally get his wish ten years after leaving the City and fulfill a lifelong dream – to play for his beloved Toon.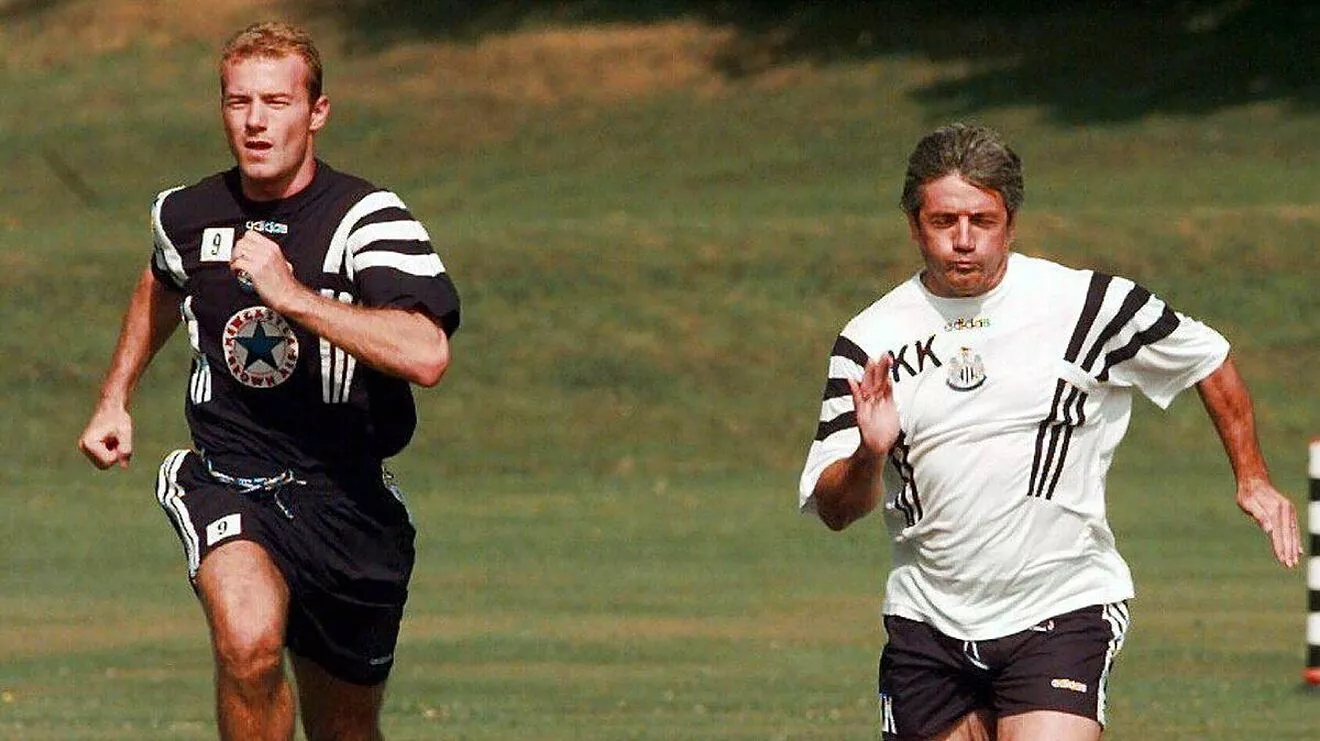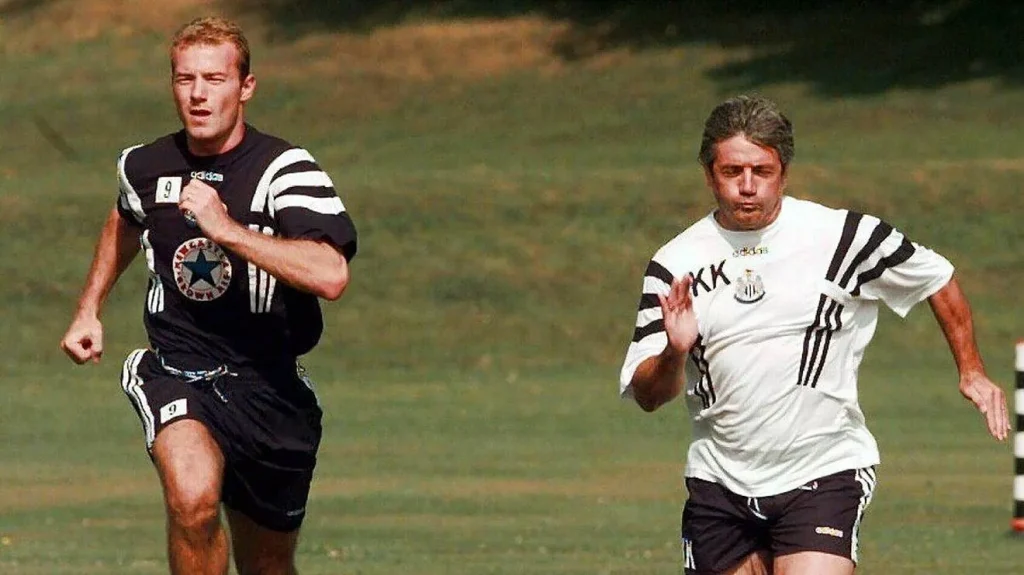 A Wild Reception
20,000 Geordies skived work, skipped school, and extended dinner breaks on a rain-swept but warm day to gather outside of St. James' Park to greet the return of one of their own.
'Shearer's coming home' punctured the Tyneside air, and huge cheers erupted when the new No.9 appeared. It was an unreal experience for everyone involved and something never to forget on one of the most incredible days in the club's history, not topped since.
Alan Shearer always looked out for Newcastle's results even as a Blackburn Rovers player and had supported the club as a bairn, standing at the Gallowgate End with his father and once queuing 9 hours to get in to witness Kevin Keegan's debut back in 1984.
And now he was signing for his big hero, who, as manager, had transformed the club from a sleeping giant to genuine Title challengers in the space of 4 years, just missing out the previous season on winning their first Title since 1927.
Signing Shearer was the missing piece in the jigsaw Keegan claimed and gave Newcastle a formidable forward line of Les Ferdinand, David Ginola, and Peter Beardsley. United were red hot favorites to win the Premier League and end those years of pain.
But it was the Reds of Manchester who Newcastle United would have to overcome if they were to lift the Premiership, and a 4-0 hammering at Wembley in the Charity Shield showed that the team of the 1990s were intent on defending their crown, with or without Shearer.
In only his second Premier League game for his new club, the Geordie hitman's dreams were finally realized. He scored at St. James' Park, curling in a 30-yard free-kick against Wimbledon before peeling away to the delight of thousands who showered him with chants of 'Shearer-Shearer.'
A chant still going strong to this day. Life had come full circle for Big Al. From dreaming of wearing the Black & White shirt to scoring for his beloved United, he was living the dream.
Pipped At The Post
However, Newcastle's dreams of lifting the Premiership were not to materialize, with Man Utd again proving just too good.
Revenge for the previous campaign where the Old Trafford side overhauled United's 12-point lead at the top was sweet, though, as the Magpies beat the Red Devils 5-0 at St. James's, Alan Shearer scoring one of them in a famous victory.
Spending his boyhood years trying to emulate Kevin Keegan, Shearer, like every other Geordie, was shocked when the man heralded as the messiah by fans, the man who signed him, left the club in January 1997.
Newcastle United was second in the Premier League and had just thrashed Tottenham Hotspur 7-1 in a master-class performance. Nobody could understand why King Kev, as he had become known, had suddenly left.
For Shearer, in particular, it was a bitter blow. He had enjoyed working with Keegan briefly at the club and had become firm friends away from football. A relationship still strong today.
But the familiar face of Dalglish, who was appointed Keegan's successor that same month, was a welcome one for the striker, he and Shearer were bosom buddies, and together it was hoped they could repeat what they did at Blackburn Rovers.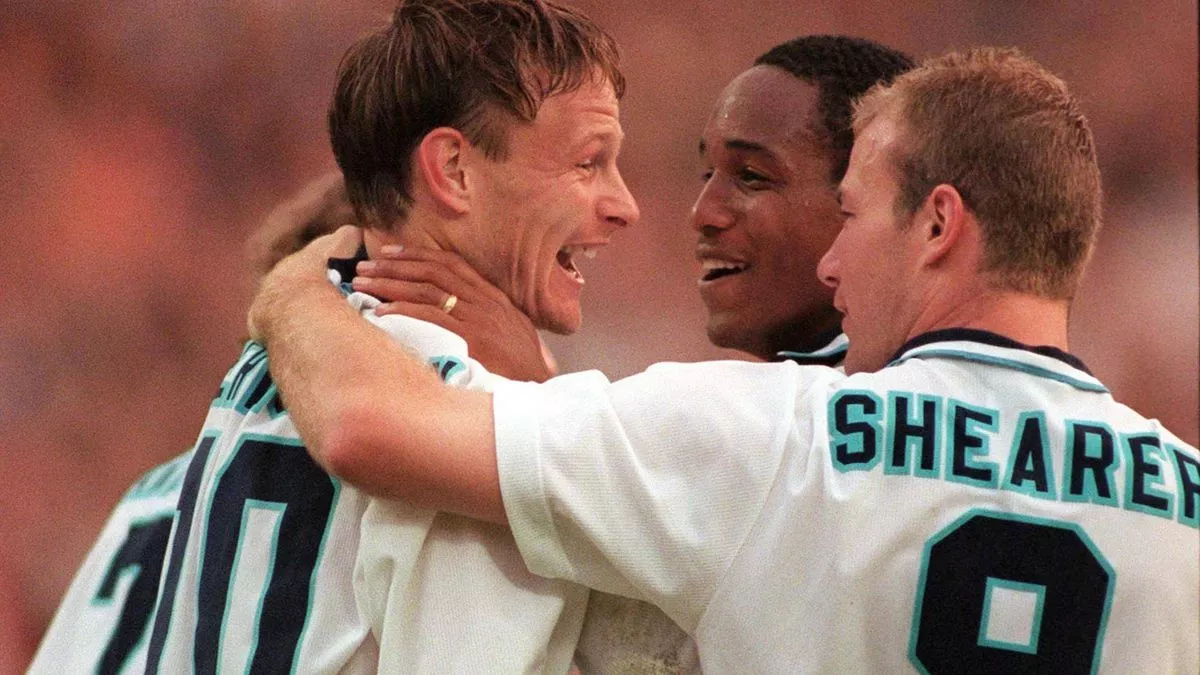 World Player Of The Year Awards
In the following months, Dalglish steered Newcastle United to their second successive 2nd place finish and Champions League qualification for the first time in the club's history.
For Alan Shearer, it had been a great season as an individual, scoring 28 Premier League goals, winning the PFA Player of the Year again, and coming 3rd in the World Player of the Year awards.
This after missing two months to a groin injury. He also took over the captaincy of England, his goals firing England to the top of their World Cup qualifying group.
Once again, Newcastle United was expected to challenge the Title the following term in 1997-98. However, their plans suffered a double blow before the season had even kicked off.
First, Les Ferdinand was sold, one-half of a 60 goals plus partnership, and then Shearer himself suffered a sickening injury, breaking his ankle in a friendly game at Goodison Park against Chelsea.
An injury that saw the United man miss seven months of the campaign and lose the remaining bit of pace he had left in his game.
The season was turning into a disaster. The long-awaited return of Shearer well ahead of schedule as a substitute at home to Bolton in January promised better things. Yet his return to fitness could do little to halt the slide down the table, with the Toon finishing in 13th place.
For Shearer, there was no time for moping about or feeling sorry. Instead, he had a World Cup to look forward to, having regained his fitness just in time to be selected for Glenn Hoddle's England side for France '98.
But even with their talismanic striker and the emergence of Michael Owen, the Three Lions failed to get past the second round.
Frustrating Time Up North
The following season was just as traumatic as the previous one for Shearer and Newcastle United. Dalglish was sensationally sacked in August, just three games into the season, and was replaced by flamboyant Dutchman Ruud Gullit, ex-Chelsea manager and former World Player of the year.
Gullit's Chelsea were renowned for playing good technical football. United fans were excited by the promise of 'sexy football.'
Still, another disappointing Premier League campaign saw Newcastle United finish out of the top 10 for a second successive season with Alan Shearer, the leading scorer, on 21.
In the FA Cup, Newcastle was determined to go one better and once again made it to the Final with Shearer, the man of the semi-final once more, scoring twice to see off Spurs to set up a mouthwatering finale against Manchester United.
Many had predicted the Red Devils would have one eye on their Final in Barcelona against Bayern Munich, to be played a few days later. They proved too strong for a depleted Newcastle side who lost 2-0. That elusive trophy would have to wait for Shearer.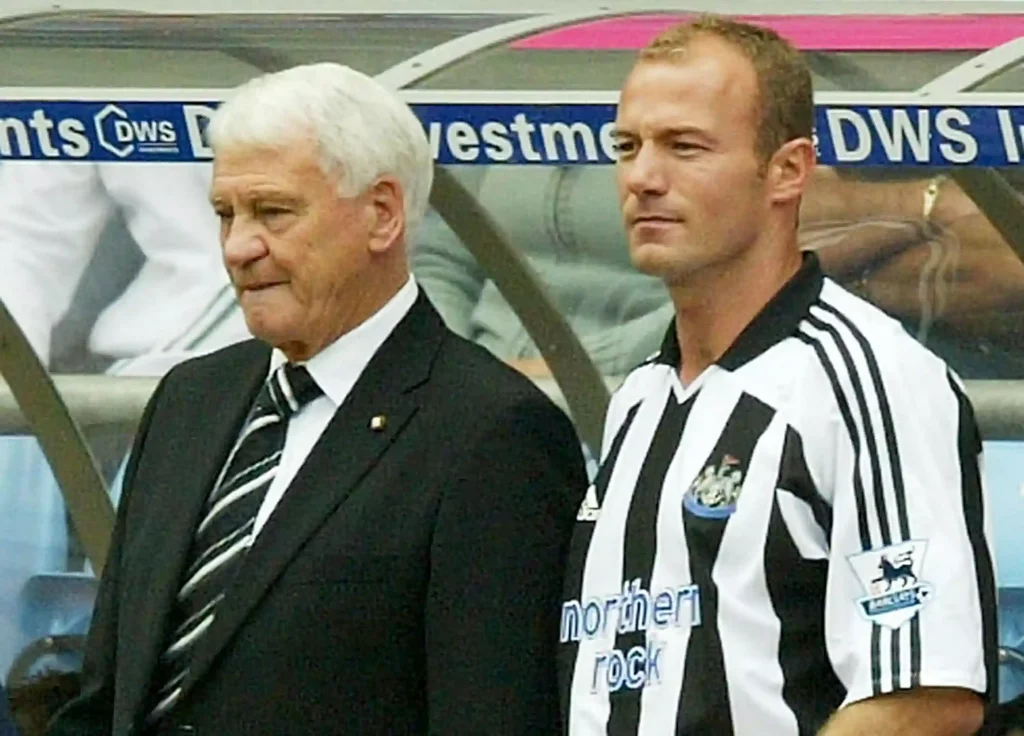 Bobby Robson
Fellow Geordie and one-time England boss Bobby Robson was appointed to succeed Gullit, and his first task was to get Shearer back to doing what he did best – scoring goals. In Robson's first home game in charge, his newly named captain did just that with an incredible 5 goal salvo in an 8-0 demolition of Sheffield Wednesday.
It wasn't long before Newcastle United were off the bottom of the table and climbing, eventually finishing 11th with the captain claiming his best season in a Black & White shirt, scoring 30 goals in all competitions.
More heartbreak at Wembley, losing to Chelsea in the FA Cup Semi, couldn't even dampen life. However, things were finally looking up for the striker and his club.
That summer also saw Shearer team up with former manager Keegan once again, who had taken over as England manager after a stint at Fulham by then.
On the eve of the Euro 2000 Championships, however, Alan Shearer dropped a bombshell and caused more headlines by declaring he was to quit international football once the competition ended to concentrate on playing for United. The tournament was to be his final swan song for the Three Lions.
Despite claiming two goals, one of them a famous diving header to beat Germany 1-0, England was dumped out, and a tearful, head bowed Shearer waved goodbye to his shirt for good, as he had promised.
He would never play for England again, despite many calls to come out of retirement from the same fickle media who would often criticize him while wearing the shirt.
Back at Newcastle the following campaign, Bobby, a fiery patriot, was privately delighted with his skipper's decision and backed his leading man, as were United fans.
Putting club before the country was the ultimate act of loyalty at the club level and for Shearer, such a proud Englishman, to put Newcastle first proved he loved the club as much as any fan. But then that's what he was underneath – a Toon fan.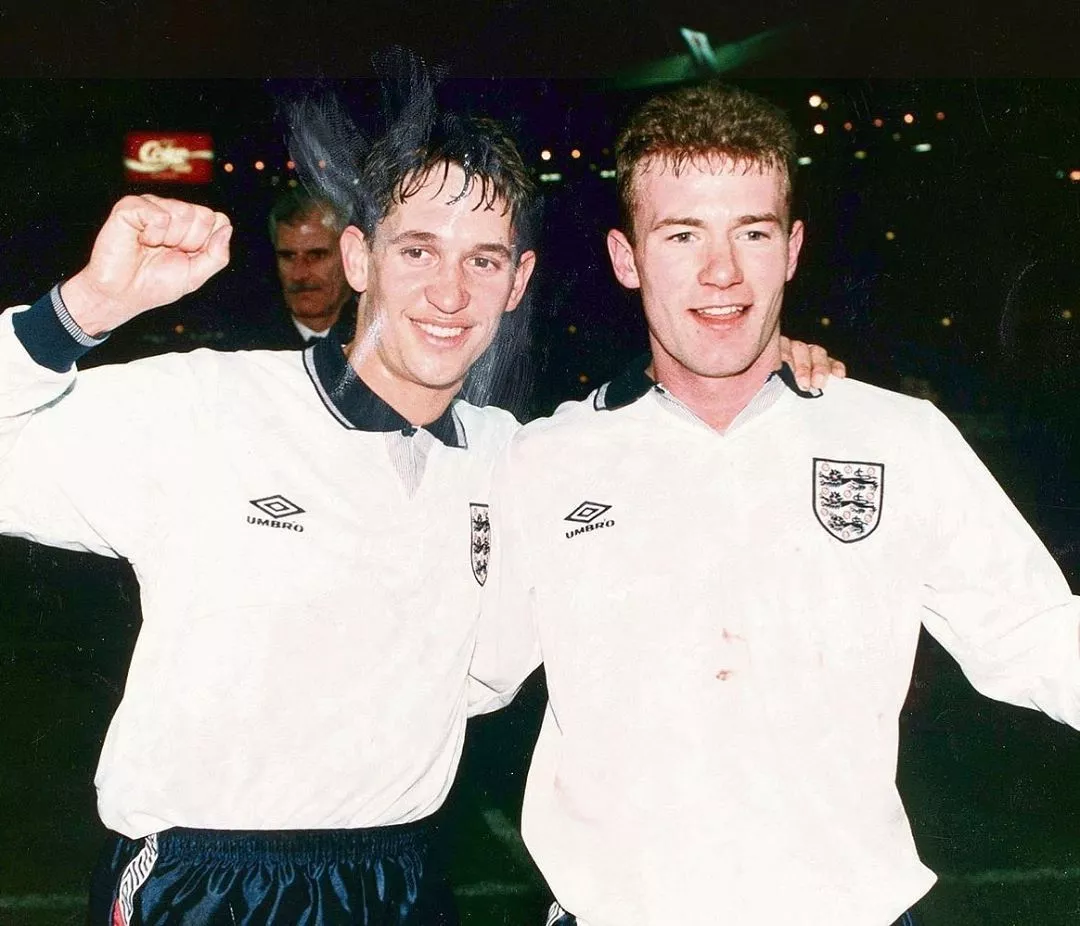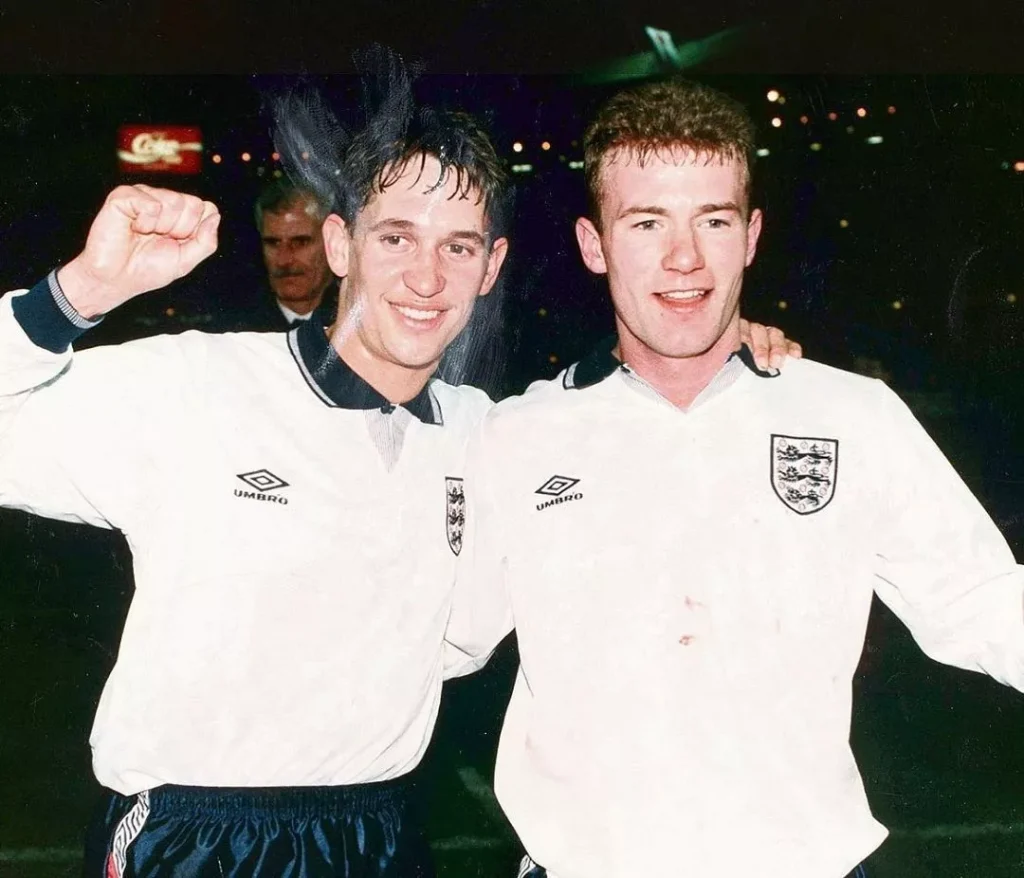 Alan Shearer The Lion
Only injuries kept him out since he broke into the full England squad in 1992. No challenger came near him despite the numerous top strikers available for selection.
Wearing the shirt with pride, Big Al was a throw-back to the old days when players saw playing for their country as the pinnacle of their career.
Despite the criticism and sheer weight of expectancy on his shoulders, he delivered the goods, scoring an impressive 30 goals in 63 games. Had injuries not played such a massive part in his career, he may have become England's top goalscorer of all time.
Captaining England 34 times, Alan Shearer led by example and played in four major tournaments for his country and under four different managers. His record is made all the more remarkable given he rarely had a regular partner to play off.
Alan Shearer – The King Of Tyneside
Alan Shearer fired the Magpies into the Champions League in 2002 and again the following year. Unfortunately, that was as far as he could take them.
After a decade at Newcastle United, he retired in 2006 as the club's and the Premier League all-time record goalscorer, while also enjoying a status of divine reverence in his hometown that even his ill-fated managerial stint in 2009 couldn't tarnish.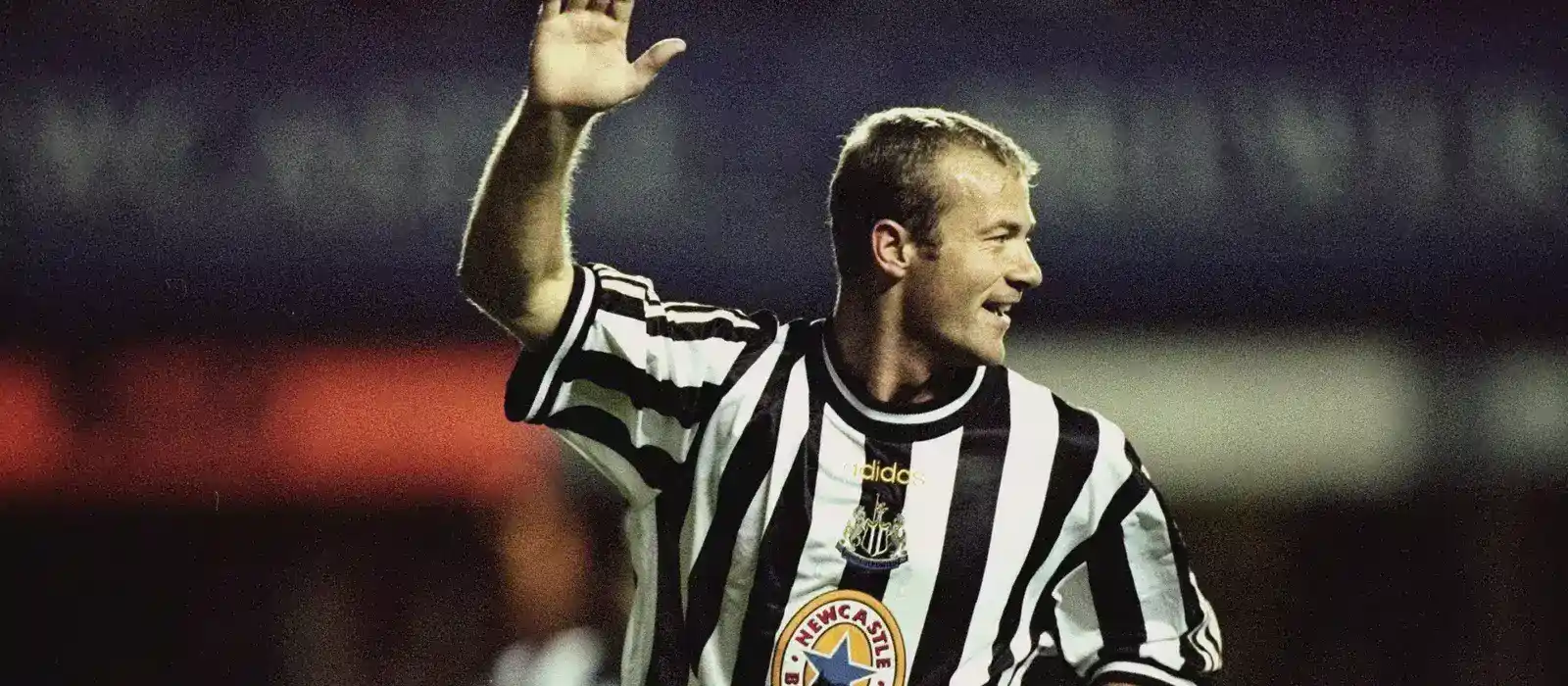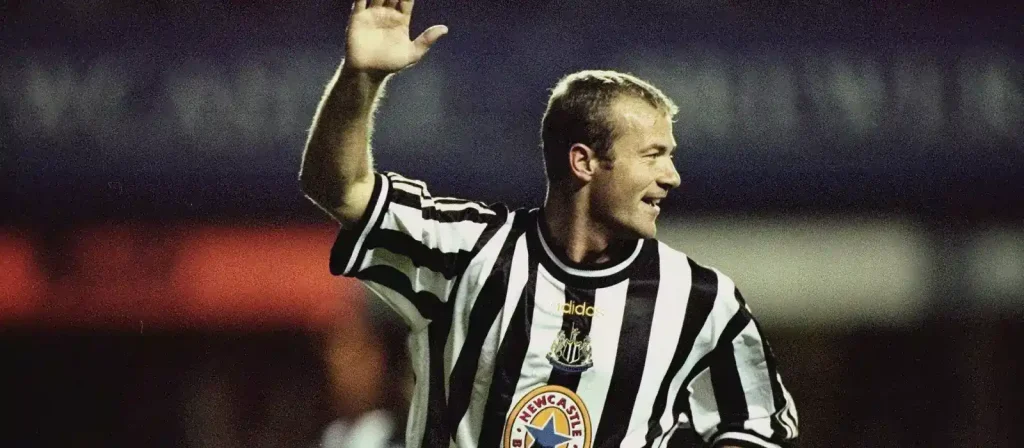 Alan Shear Facts And Figures
Full Name: Alan Shearer
Birthdate: 13/08/1970
Birthplace: Newcastle upon Tyne, England
Playing Career:
Southampton 1988–1992
Blackburn Rovers 1992–1996
Newcastle United 1996–2006
Total Appearances: 559 matches, 283 goals
National Team Career:
England 1992–2000 (63 caps, 30 goals)
Playing Honors:
Blackburn Rovers
1994–95 Premier League Champions
Individual Honors:
1996: UEFA European Championship Golden Boot And UEFA European Championship Team of the Tournament
1996: Ballon d'Or (Third place)
1994–95 and 1996–97: PFA Players' Player of the Year:
1991–92, 1992–93, 1993–94, 1994–95, 1995–96, 1996–97, and 2002–03 : PFA Team of the Year
2021: Premier League Hall of Fame
Individual Records:
Premier League history's most goals: 260
The most Premier League goals in a season: 34
56 penalties have been scored in the Premier League
227 Premier League goals have been scored from inside the box
The most Premier League goals in a single match: five
The fewest matches to score 100 Premier League goals were 124
Newcastle United's top goalscorer: 206
The most European goals a Newcastle United player has scored: 30
Images:
https://www.premierleague.com/hall-of-fame/inductees/alan-shearer (main images)
Richard Sellers/Sportsphoto
https://www.mirror.co.uk/sport/football/news/pride-sport-awards-shearer-carrick-4420261
Getty Images
https://www.90min.com/posts/6227241-5-players-who-have-scored-40-or-more-premier-league-goals-for-newcastle-united
https://www.premierleague.com/news/339246
Laurence Griffiths/Getty Images
https://www.chroniclelive.co.uk/sport/football/football-news/newcastle-alan-shearer-kevin-keegan-20378878
Imago
https://www.chroniclelive.co.uk/sport/football/football-news/steve-clarke-bobby-robson-shearer-23191187
News Group Newspapers Ltd