One can only truly appreciate art once it's been finished, but as Andres Iniesta applies the final touches to his magnificent body of work, let's take a moment to acknowledge the man behind the craft.
Dedication From An Early Age
His remarkable ability with the ball at his feet was obvious even when the young Iniesta graced his hometown team of Albacete as a 12-year-old.
Playing at a youth tournament in Madrid, he was quickly spotted by some visiting FC Barcelona scouts and soon after was offered a place in Barcelona's La Masia Training Academy. Though still a boy, Iniesta needed no second invitation, and in 1996 he left his family home in Fuentealbilla to chase a distant dream in Cataluna.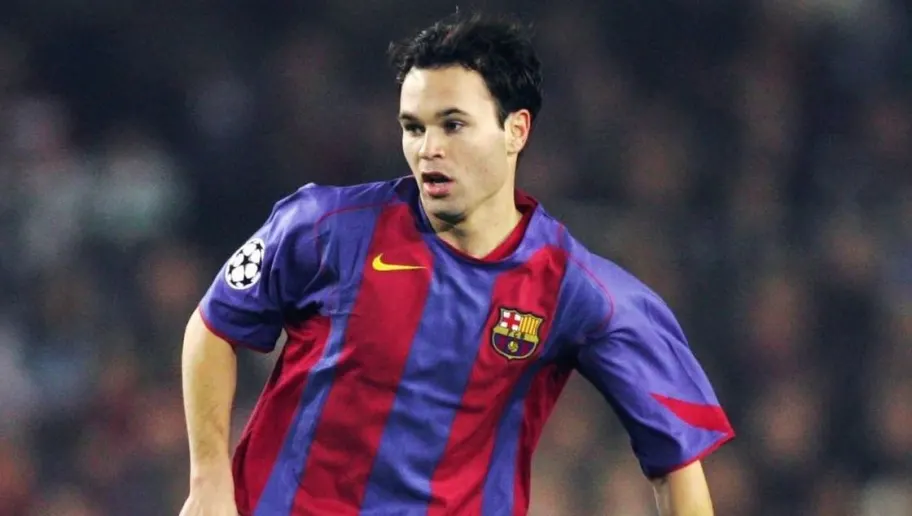 Once installed at the Barcelona youth academy, his personal and footballing development continued apace, and he gradually made his way through the various La Masia youth sides. By 16, he was already the undisputed focal point of the FC Barcelona B team.
Along with many other hopefuls battling away in the youth and second teams, Andres Iniesta remained utterly focused on his ultimate goal of making it into the club's first team. As fate would have it, the Spaniard would not have long to wait.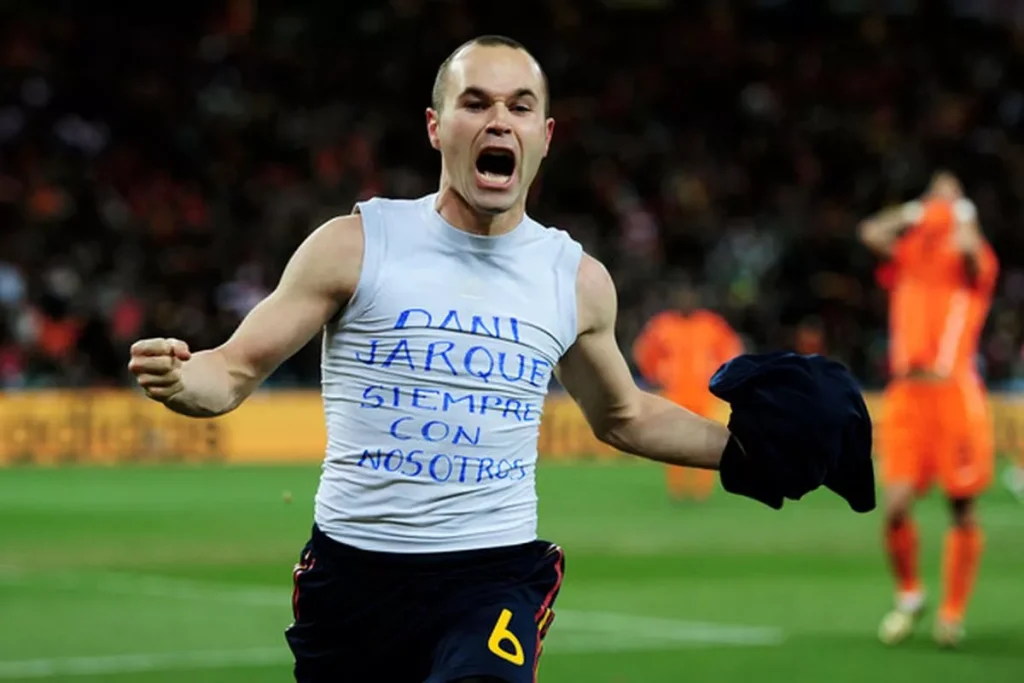 Andres Iniesta Playing Senior Football
He made his debut with the senior first-team in their victorious UEFA Champions League tie against Bruges in October 2002, almost capping the occasion with a goal. [1] The then coach Louis Van Gaal, keen to nurture the youngster's development, called him up to train with the senior squad from time to time.
Two of the player's best traits are his patience and quiet effectiveness, which have helped establish him in the first team. There has never been any doubt about his footballing ability, as he proved at the under-age level with the national team. Iniesta was a key member of the Spain U-16 side that won the 2001 UEFA European Championship before moving up to the U-19s, who he helped them fire to European glory in 2002.
Although it was Van Gaal who first opened the door for the midfielder at FC Barcelona, another Dutchman invited him in. Under the astute guidance of Frank Rijkaard, Iniesta was given more and more first-team football and assumed an increasingly important role, particularly in the championship-winning 2004/05 season, when he made 37 appearances in La Liga (Iniesta scored 2 goals) and another 8 in the Champions League.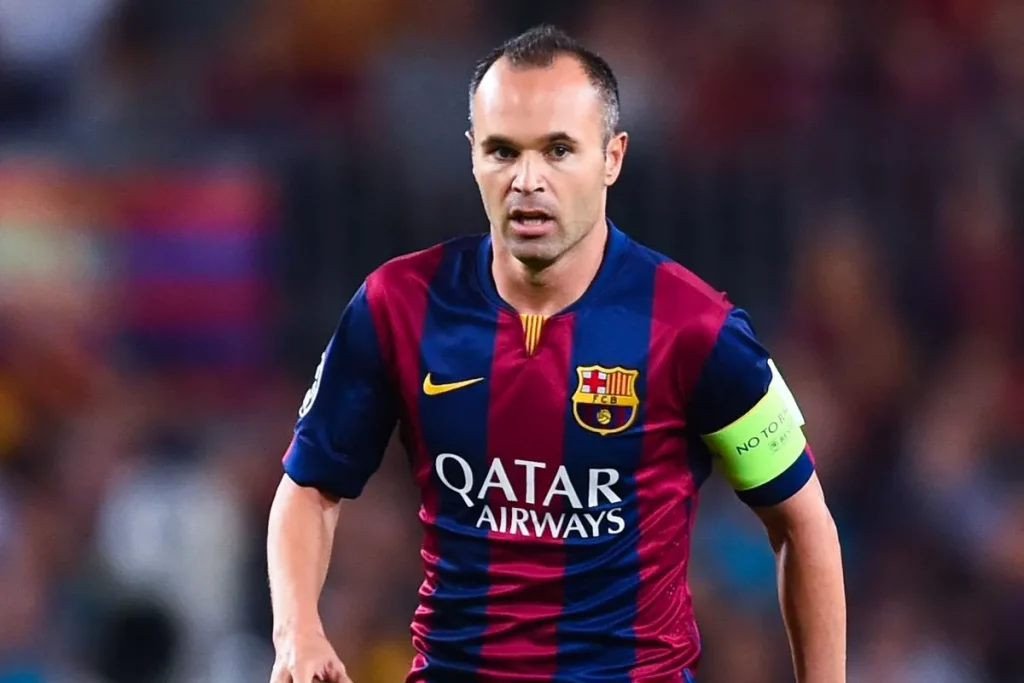 Bossing The FC Barcelona Midfield
A serious injury to fellow midfielder Xavi allowed Iniesta to consolidate his position in the center of the FC Barcelona midfield. A regular starter both at home and in Europe, the man from Albacete made a significant contribution to the team's Spanish and Champions League double, even if he did suffer the disappointment of not starting last May's thrilling final against Arsenal.
He became a regular starter both at home and in Europe, and the man from Albacete made a significant contribution to the team's Spanish and Champions League victories. He played in 37 of 38 league games – more than any other player – after securing a permanent spot in the first team in the 2004/05 season. [2]
Iniesta is a versatile midfielder capable of playing in a variety of positions. Sometimes he plays as a holding midfielder, sometimes as a creative midfielder. With excellent passing and movement skills, along with a sound football brain, the young Iniesta showed good skill while in possession of the ball. In addition to tackling hard and fair, he has an excellent passing technique that has unhinged many resolute defenses over the early years of his career.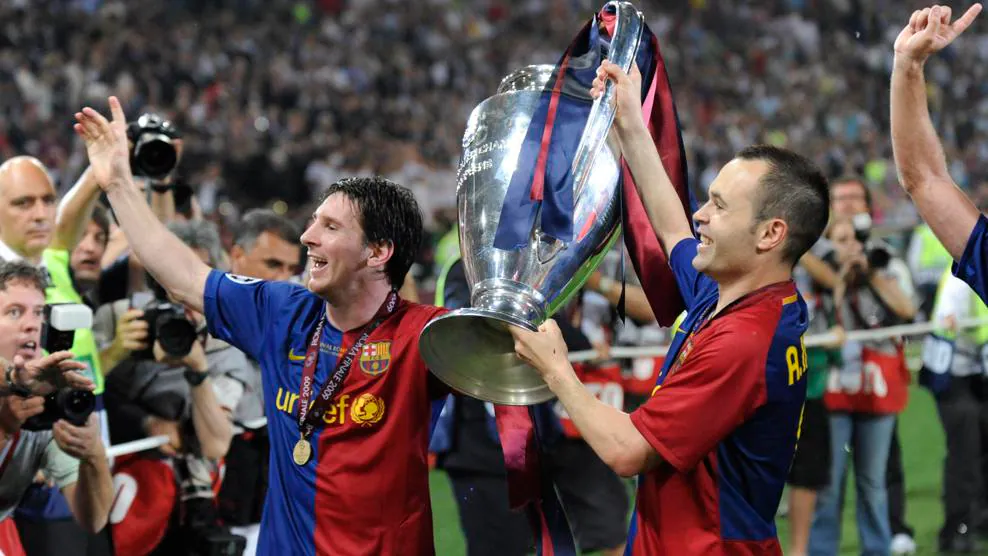 Keeping It Simple
Nor is he one to get caught up in media controversy either, preferring to sidestep the cameras in much the same way he does tackles in a game. For the unassuming Iniesta, football is what happens on the pitch, not off it.
"If I were the coach, I'd pick myself all the time, but I have to put myself in the manager's shoes," he said in an interview in 2006. "It can't be easy with a squad full of players who want to play weekly. We all need to be at our best when our turn comes and make sure that, with our contribution, the team stays at its current high level."
His exploits also earned him another prize: a call from Spain coach Luis Aragones to join the squad for the 2006 FIFA World Cup. In a friendly against Russia, he won his first cap for the Spain national team, coming on at half-time. Andres Iniesta made his competitive debut in the team's final group game against Saudi Arabia.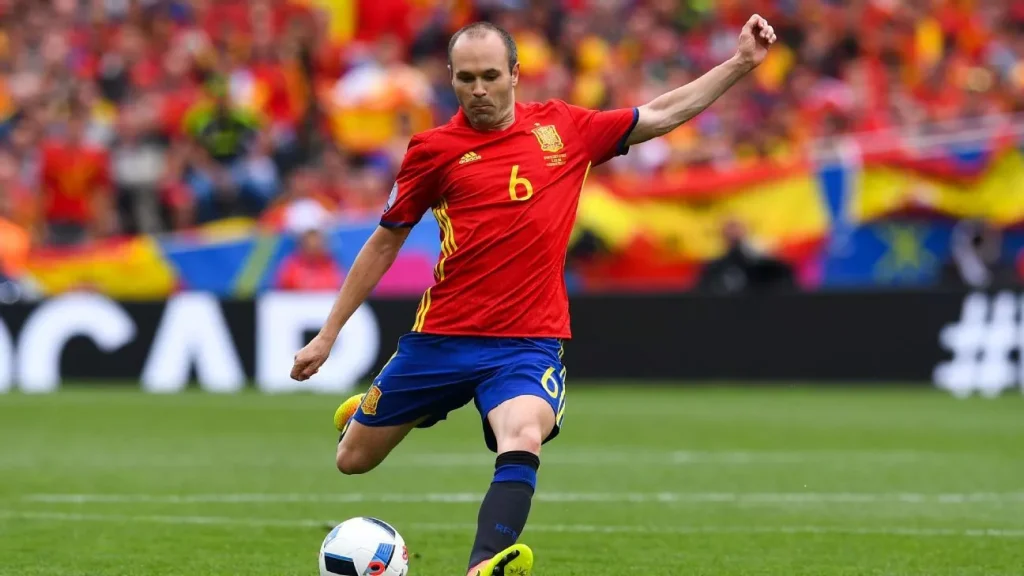 Spanish National Team
Iniesta was a regular in the national team by the UEFA EURO 2008 tournament. He played the duration of the final in Spain's 1–0 win over Germany and was named in the Team of the Tournament. [3]
Iniesta was selected for Spain in the 2010 World Cup. He scored the winning goal against The Netherlands in the 116th minute of the World Cup final to give Spain their first FIFA World Cup tournament victory.
During EURO 2012, Iniesta won the man of the match award in 3 matches in this tournament. [4] Spain won the final 4–0 against Italy and was again named man of the match. Iniesta was also named the UEFA Euro 2012 Player of the Tournament.
The defensive midfielder was involved in the 2014 and 2018 World Cups and EURO 2016 tournaments. Although Spain was unsuccessful during this period, the world-class player started all the World Cup matches. He was an integral part of the national team for over a decade.
At his international retirement, he was Spain's fourth-most capped player in senior internationals with 131 appearances. He played in four World Cup tournaments and was involved in 14 matches. He scored two crucial World Cup goals and lifted the World Cup trophy in 2010.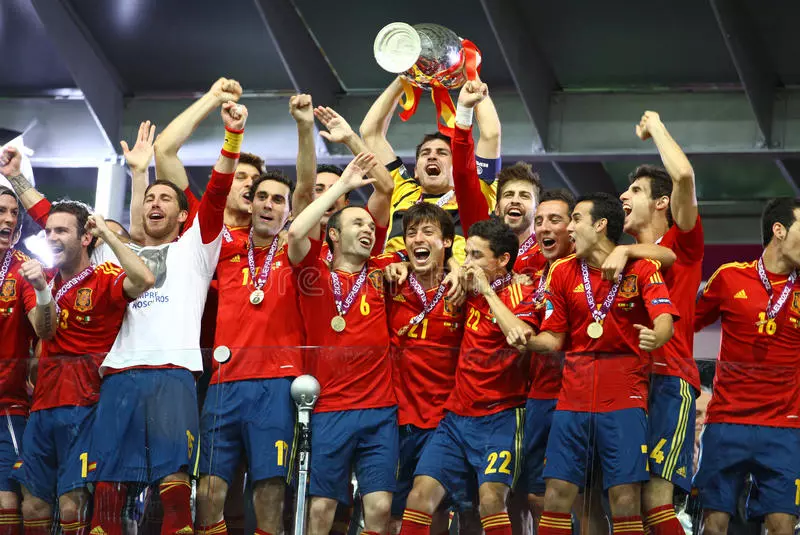 Xavi And Andres Iniesta Partnership
During his early days at FC Barcelona, Andres Iniesta often felt lonely and underappreciated. Having to coexist with world-class midfielder Xavier Hernández (a.k.a., Xavi), who later would become his partner in crime, always seemed to diminish Iniesta's value in the eyes of fans.
People questioned whether a system with two small playmakers could work. Still, the two complemented each other perfectly and developed an almost telepathic understanding that allowed them to dominate the field.
Between them, they knew exactly what the other was thinking and took it in turns to dictate the midfield. Other professional soccer players and managers have praised their interplay as they gained reputations of being big age players.
What made them unique as a central midfielder pairing was that either one was willing to play anywhere on the soccer field, even with their back to their goals. If Xavi was the heartbeat of that Barcelona team, then Andrés Iniesta was the brain. The two made FC Barcelona and the Spain national team tick and helped turn both teams into unstoppable La Liga juggernauts during his prime years.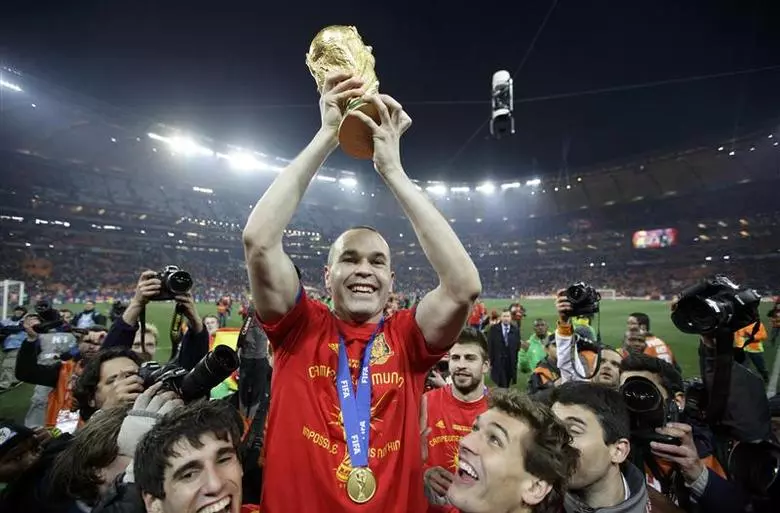 A Generational Talent
Andres Iniesta is often portrayed as an undersized, elegant playmaker with an unrivaled passing range. While that is undoubtedly accurate, seeing him as just a diminutive maestro is doing him a disservice.
One of the greatest passers and playmakers in world football history had grit, determination, and an engine that lasted the full 90 and beyond in his prime. Because of his intelligence, he's never had to rely solely on athleticism to get the job done. He is, in many ways, the whole package—a playmaker and box-to-box midfielder rolled into one.
The Spaniard has never been a goalscoring threat, but he has always come through in the clutch. From scoring in the 1999 Nike Cup final as a 15-year-old to putting it in the back of the net at the 93rd minute in that infamous Champions League semi-final win against Chelsea and culminating in him scoring the all-important goal in the 2010 World Cup final against the Netherlands, he has always performed on the big stage.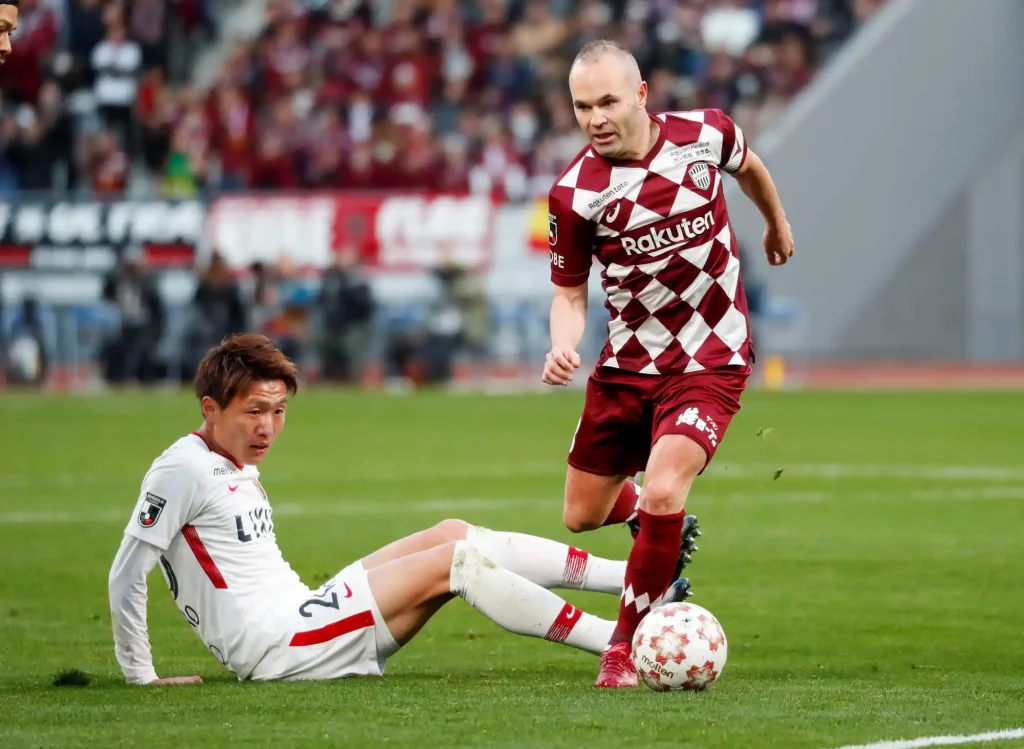 Andres Iniesta Swan Song
Close to retirement, Andrés Iniesta is applying the last strokes of the brush on the canvas that is his illustrious career. Now competing in Japan with Vissel Kobe, he has recently signed a new two-year deal to continue playing soccer until 39 years of age. His planning for retirement at the end of this contract.
Andres Iniesta made 674 appearances for FC Barcelona. He won 9 La Liga Championships, 6 Copa Del Rey trophies, 4 Champions Leagues, and three FIFA Club World Cups. He was part of arguably the greatest club team ever to grace the soccer field, winning trophy after trophy and playing awe-inspiring football.
He performed a vital role for the Spanish national team in achieving the unprecedented: capturing the World Cup and winning back-to-back European Championships.
Even with peers like Leo Messi and Xavi and influential manager Pep Guardiola, Andres Iniesta is easily one of the greatest artists of his generation. He is pure fútbol. And we couldn't wait for El Ilusionista to finish his masterpiece before we paid our respects.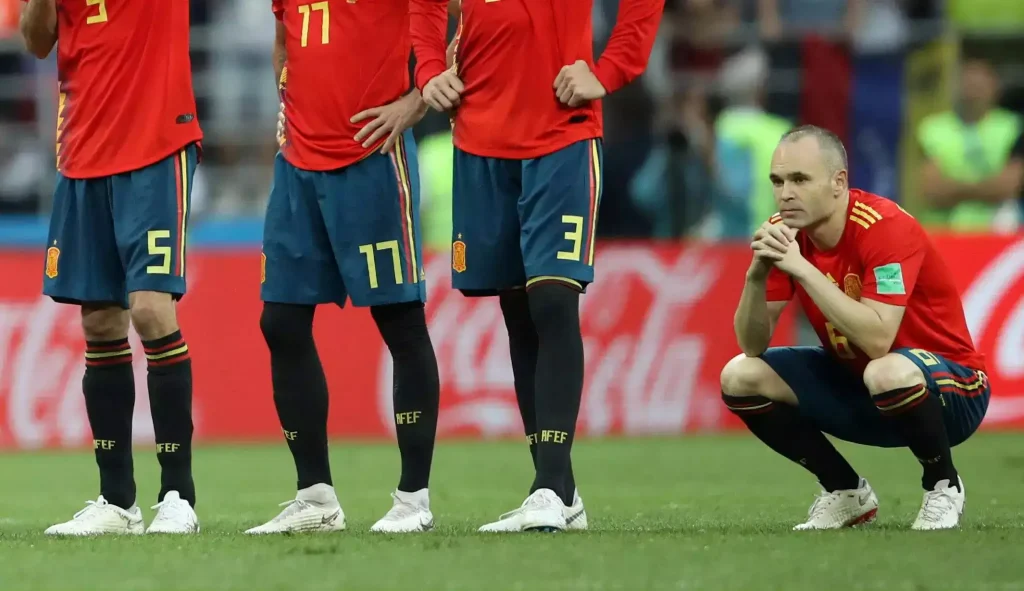 Andres Iniesta Stats, Facts, And Figures
Full Name: Andrés Iniesta Luján
Birthdate: 11/05/1984 (Current Age: 38 years old)
Birthplace: Fuentealbilla, Spain
Club Playing Career:
FC Barcelona 2002–2018
Vissel Kobe 2018–
International Playing Career:
Spain National Team 2006–2018 (131 appearances, 13 goals)
Playing Honors:
FC Barcelona
2004–05, 2005–06, 2008–09, 2009–10, 2010–11, 2012–13, 2014–15, 2015–16, and 2017–18: La Liga Champions [5]
2008–09, 2011–12, 2014–15, 2015–16, 2016–17, and 2017–18: Copa del Rey Winners
2005, 2006, 2010, 2011, 2013, and 2016: Supercopa de España Domestic Cup Winners
2005–06, 2008–09, 2010–11, and 2014–15: UEFA Champions League Winners
2011 and 2015: UEFA Super Cup Winners
2009, 2011, and 2015: FIFA Club World Cup Champions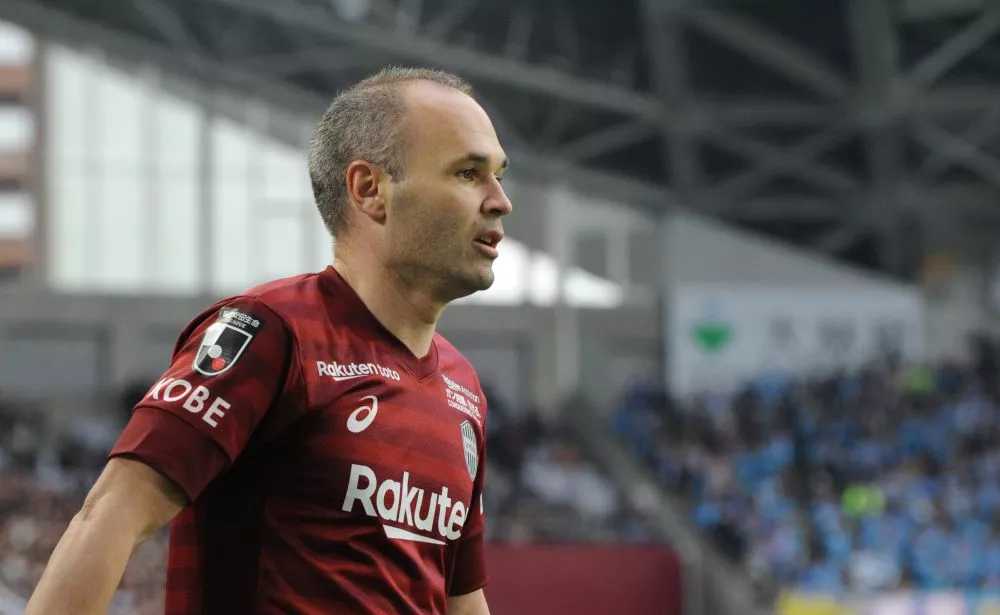 Vissel Kobe
2019: Emperor's Cup:

 

2020: Japanese Super Cup
Spain National Team
2010: FIFA World Cup Winners
2008 and 2012: UEFA European Championship Winners
Individual Honors:
2008 and 2012: UEFA Euro Team of the Tournament:

 

2009: La Liga Best Spanish Player
2009, 2011, 2012, 2013, 2014: La Liga Best Midfielder
2009, 2010, 2011, 2012, 2015, 2016[: UEFA Team of the Year
2012: UEFA Men's Player of the Tournament
2014–15 and 2015–16: UEFA Champions League Squad of the Season
2019 and 2021: J.League Best XI
References:
[1], [2], [3], [4], and [5]: https://en.wikipedia.org/wiki/Andr%C3%A9s_Iniesta
Images:
https://commons.wikimedia.org/wiki/File:Spain_-_Chile_-_10-09-2013_-_Geneva_-_Andres_Iniesta_7.jpg (main image)
www.90min.com/posts/6043092-revealed-when-a-young-andres-iniesta-was-close-to-leaving-barcelona-for-real-betis
Getty Images
www.beinsports.com/en/football/news/barcelona-v-malaga-iniesta-reveals-inspiratio/26197
Bob Thomas Sports Photography
Getty Images
https://www.dreamstime.com/royalty-free-stock-photo-spain-winner-uefa-euro-2012-image25781975
Kai Pfaffenbach / Reuters
Reuters
Carl Recine / Reuters
www.sportmob.com/en/article/905057-facts-about-andres-iniesta