Chile started the 2010 World Cup in a refined style, winning the first two group games 1-0 against Honduras and Switzerland. These six points were enough to qualify for the round of sixteen knockout stages. However, in the final group game, Chile lost 2-1 to Spain, who would go on to lift the World Cup trophy in this tournament.
The Brazilians won 3–0 against the Chile national football team on 28 June 2010 at Ellis Park Stadium in Johannesburg to advance to a quarter-final match against the Netherlands. But, as Chile's manager Marcelo Bielsa conceded after the game, there was "little one can do" when facing a team of Brazil's quality.
Throughout the tournament, the team struggled to find the net as they only scored three goals and were ill-disciplined as they ended up with 15 yellow cards in four games.
Chile Goalkeepers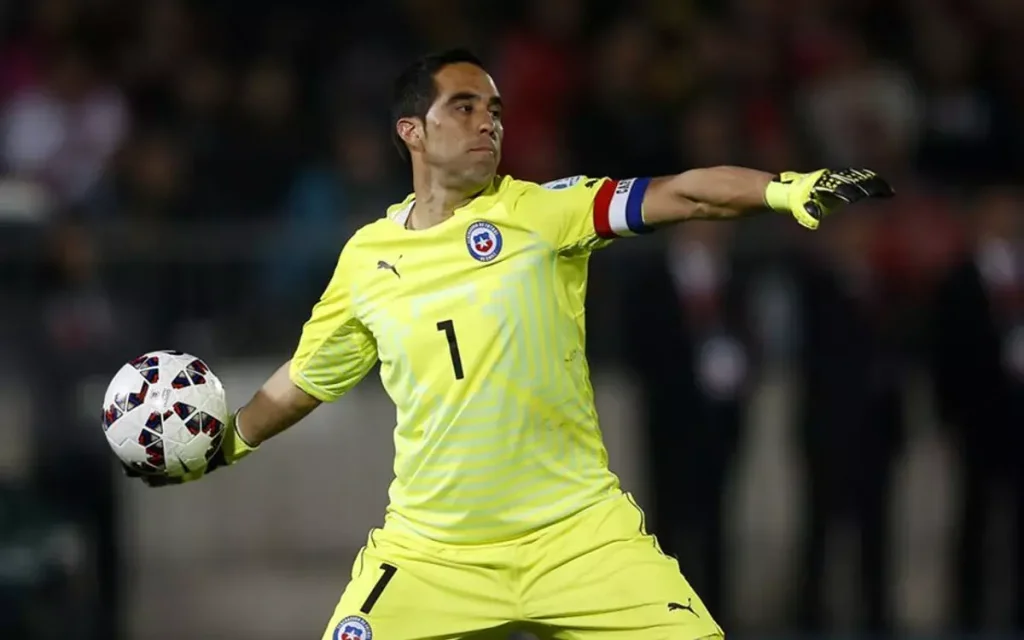 Claudio Bravo
Date of Birth: 13 April 1983
Height: 183 cm
Shirt number: 1
Position: Goalkeeper
First international: Paraguay – Chile (11 July 2004)
Miguel Pinto
Date of Birth: 4 July 1983
Height: 180 cm
Shirt number: 12
Position: Goalkeeper
First international: Chile – New Zealand (27 April 2006)
In 2009, the Uruguayan newspaper El Pais voted Miguel Angel Pinto South America's best goalkeeper. He was a reliable pair of hands for both the Universidad de Chile and the Chilean national team. A one-club man, Pinto has modeled his game on flamboyant former Paraguay No1 Jose Luis Chilavert – though without the penchant for scoring from set-pieces – and has been a critical player at Universidad since his debut in 2002.
A regular in the Chilean senior national team set-up since Argentinian coach Marcelo Bielsa took the reins in 2007. However, he is yet to displace La Roja's first-choice shot-stopper and skipper, Claudio Bravo. Indeed, Bravo was ever-present throughout Chile's successful 2010 FIFA World Cup qualifying campaign.
"I dream of playing some part at the World Cup if Claudio (Bravo) lets me," said Pinto, who made his name on the South American scene during the 2009 editions of the Copa Libertadores and Copa Sudamericana. And thanks to those sterling displays against the likes of Brazilian heavyweights Gremio, Internacional de Porto Alegre, Cruzeiro, and Fluminense at the continental level, La Roja supremo Bielsa knows he will have a solid and reliable backup keeper in South Africa.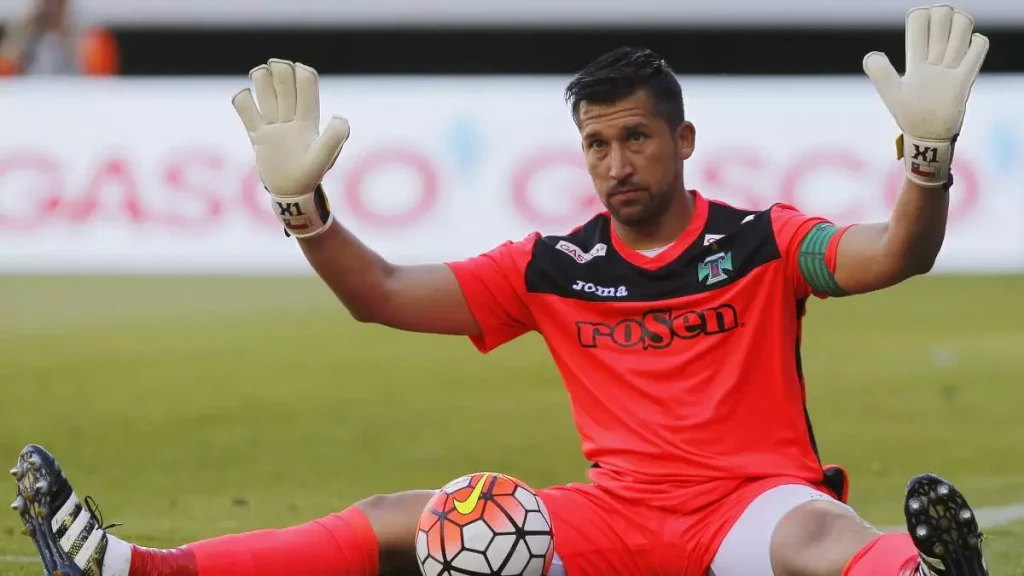 Luis Marin
Date of Birth: 18 May 1983
Height: 186 cm
Shirt number: 23
Position: Goalkeeper
First international: Chile – Venezuela (31-03-2010)
The 27-year-old Luis Marin is one of the surprise names in Marcelo Bielsa's squad for the 2010 FIFA World Cup South Africa. The Union Espanola goalkeeper has enjoyed a rapid promotion after failing to feature in the Chilean team qualifying matches. However, he did make his international debut in a friendly against Trinidad and Tobago in May. His inclusion certainly caught the national media unawares, with most pundits tipping the young Cristopher Toselli for the third goalkeeping slot. Marin, who will be competing to become Claudio Bravo's second choice, had several setbacks at the start of his career, including rejections from Santiago Wanderers and Colo Colo in 2002.
Despite having great reflexes and a robust frame, Luis Marin couldn't make it to the Chilean top-flight until six years later, signing for Union Espanola after trying his luck with Audax Italiano and Lota Schwager. "Maybe I just didn't have that little bit of luck earlier in my career, although I don't regret any of my choices," he said after joining the Santiago club. However, in a 2009 Apertura championship match against Everton, Marin achieved the notable feat of saving two penalties in his side's 1-0 victory.
Chile World Cup Team 2010 Defenders
Ismael Fuentes
Date of Birth: 4 August 1981
Height: 181 cm
Shirt number: 2
Position: Defender
Chilean supporters are particularly fond of Ismael Fuentes, partly due to his goal and ensuing 'donkey ears' celebration against Colombia in the first match of the recent South American qualifying phase for the 2010 World Cup.
After coming through the youth system at Linares, a small club some 300 kilometers south of Santiago, 'El Chupalla' (a traditional horseman's hat worn in the Chilean countryside) has evolved from provincial packhorse to football thoroughbred.
A sturdy center-back, what Ismael Fuentes lacks in finesse, he makes up for with tenacious man-to-man marking. Previous employers such as Talca-based Rangers, Colo Colo, Jaguares, and Atlas in Mexico and his current club Universidad Catolica have all benefitted greatly from his fighting spirit and professionalism.
The first time he played international football was in 2003, representing Chile national football team in the qualifiers for the 2004 Olympic Football Tournament in Athens. The following season, he broke into the top side. Still, he was denied an entire run in the squad until the 2007 Copa America in Venezuela, where he was named to coach Nelson Acosta's starting lineup for three of La Roja's matches.
In the eight matches that led to South Africa 2010, current coach Marcelo Bielsa has regularly selected Ismael Fuentes. The inclusion of the defender in the team for the international championship came as no surprise.
Waldo Ponce
Date of Birth: 4 December 1982
Height: 183 cm
Shirt number: 3
Position: Defender
A reliable and versatile defender able to line up centrally or on the right of coach Marcelo Bielsa's favored three-person backline, Waldo Ponce poses an aerial threat in the opposition box and also takes a mean set-piece.
Now a virtually certain starter under 'El Loco' Bielsa, Ponce's development was aided by a brief spell in Germany's Bundesliga at Wolfsburg, who he joined from Universidad de Chile in 2003 at the age of just 20. Though he returned to his first club just six months later, Ponce had matured as a player and person and in 2008 enjoyed another foreign sojourn at Argentina's Velez Sarsfield, where he won the 2009 Clausura. In January 2010, he returned to his homeland and to Universidad Catolica after losing a starting berth at Velez.
Waldo Ponce appeared in 13 of Chile's 18 qualifiers on the road to the 2010 FIFA World Cup, grabbing a vital goal in the 4-2 win over Colombia in Medellin that sealed La Roja's passage to the finals. "We've got a tough group, but it's not insurmountable," said Ponce, who is likely to start Chile's Group H opener against Honduras in Nelspruit.
"There are no strong or weak opponents: we have to try and beat them all and go as far as we can. We won't be intimidated just because we're in the same group as Spain."
Mauricio Isla
Date of Birth: 12 June 1988
Height: 177 cm
Shirt number: 4
Position: Defender
First international: Switzerland – Chile (7 September 2007)
The curious case of Chile's Mauricio Isla brings to mind another South American who found success abroad, namely Argentina's Javier Mascherano, who also shares the distinction of being capped for his country before having played a single professional match at club level.
This unusual turn of events came about on the back of satisfactory performance by Mauricio Isla at the U-20 World Cup in Canada, in which the Chile squad would ultimately secure third place. National coach Marcelo Bielsa, seeing in the defender-cum-midfielder a future star, offered him his first cap in a friendly defeat by Switzerland a few months later.
Isla initially turned out for Universidad Catolica's youth sides as a forward, where he made a name for himself with his mazy dribbles and excellent link-up work. However, given his height and slight frame, his coaches persuaded him to drop back into defense, where he still plays today, for the Italian club Udinese.
While his appearances in Chile's 2010 FIFA World Cup qualifying matches were scarce, Mauricio Isla has been able to count on the continued backing of ex Argentinian coach Bielsa, who has always included him in his squads and regards him as a wild card using him at full-back, center-back, and even defensive midfielder.
The following statement can measure his strong personality: "Chile won't be going to the World Cup 2010 as a surprise package. We fully realize that other countries are wary of us and are a match for any team. That is clear from the respect that we are now being shown."
Pablo Contreras
Date of Birth: 11 September 1978
Height: 178 cm
Shirt number: 5
Position: Defender
First international: Switzerland
At 31 years of age, Pablo Contreras is one of the most experienced players in the Chilean squad, earning him the nickname 'El Abuelo' (Grandad). This elegant and versatile defender has stamped his stylish brand of football on several South American and European clubs since 1997.
Having served his apprenticeship in his homeland with Colo-Colo, Contreras made his full international debut in a friendly against Guatemala in February 1999, with Nelson Acosta at the helm. From then on, he became an automatic choice for the senior side and won bronze with the U-23s at the Olympic Football Tournament Sydney 2000, where he was voted the competition's top defender.
Pablo Contreras represented La Roja in the Copa America 2004 and qualifying matches for the 2002 FIFA World Cup and Germany 2006. However, during the 2007 Copa America in Venezuela, acts of indiscipline meant he was handed a suspension of 20 games by the National Association of Professional Football (ANFP).
Marcelo Bielsa brought him back into the international fold in 2008, sending him on for a few minutes against Colombia in a South Africa 2010 qualifier. But, in no time, he was back in La Roja's squad and is now a key figure at the 2010 World Cup.
As far as his club career is concerned, Pablo Contreras leaped directly from Colo-Colo to Monaco in 1999, which speaks volumes for his quality. Following his time in France, his career has taken in spells at Racing Club de Avellaneda, Osasuna, Sporting Lisbon, Celta Vigo, Sporting Braga, and current employers PAOK Salonika of Greece.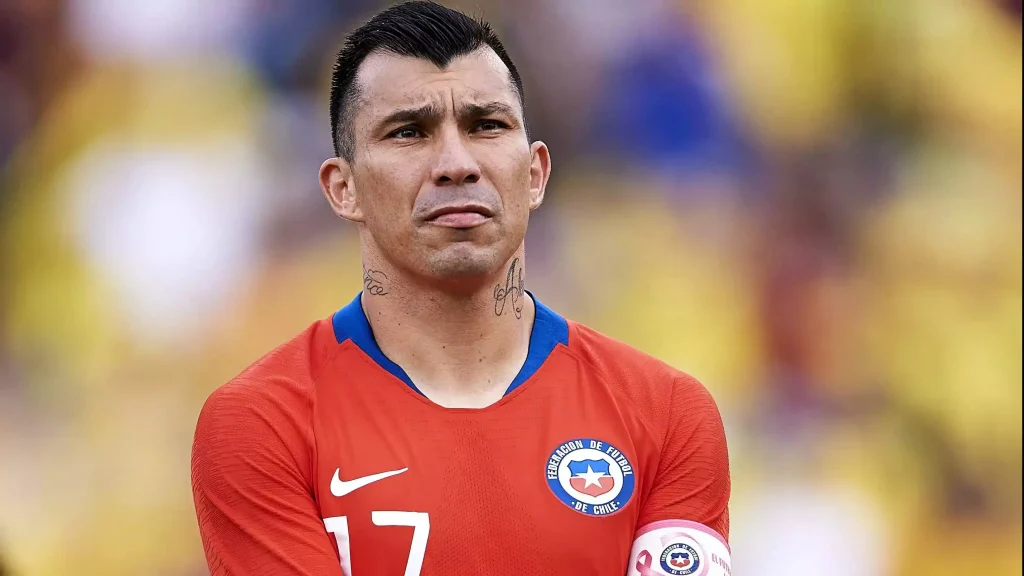 Gary Medel
Date of Birth: 3 August 1987
Height: 171 cm
Shirt number: 17
Position: Defender
Gonzalo Jara
Date of Birth: 29 August 1985
Height: 177 cm
Shirt number: 18
Position: Defender
First international: Chile – New Zealand (25-04-2006)
A classy, elegant footballer, Gonzalo Jara is the latest in a long line of cultured Chilean center-backs. He has become known for his impressive aerial ability and calm reading of the game, qualities that have turned him into a sure starter under Chile coach Marcelo Bielsa.
His first professional club was Huachipato in Talcahuano, Jara's native city. From there, he moved on to Colo-Colo, where he spent three successful seasons. He then crossed the ocean in 2009 to join West Bromwich Albion in England, where he flourished until a recent unfortunate injury.
The versatile defender, who played in the 2005 FIFA U-20 World Cup in the Netherlands, appears to enjoy Bielsa's complete confidence. The Argentinian has called him up consistently since taking over the Chilean national team. As part of the qualifying campaign for the 2010 FIFA World Cup, Gonzalo Jara played 13 matches, contributing two valuable goals against Venezuela and Colombia.
A broken metatarsal suffered while performing for his club in mid-February seemed to have put his FIFA World Cup hopes in jeopardy. However, despite being sidelined for months, Jara recovered to take his place on the plane to South Africa. As one of La Roja's key men, Chilean fans, as well as Marcelo Bielsa, will be mightily relieved.
Chile World Cup Team 2010 Midfielders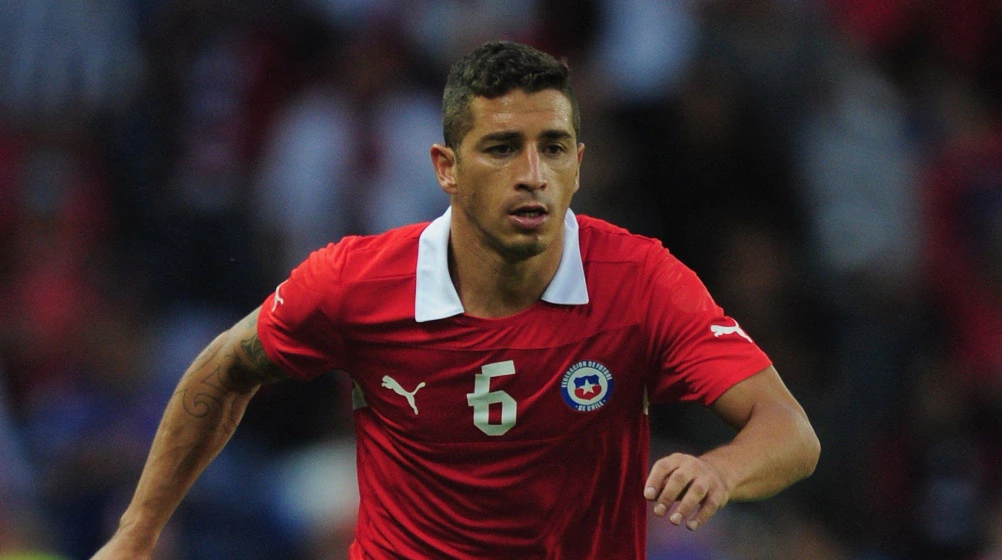 Carlos Carmona
Date of Birth: 21 February 1987
Height: 179 cm
Shirt number: 6
Position: Midfielder
First international: Chile – Guatemala (4 June 2008)
In addition to his experience at the FIFA U-20 World Cup tournaments in the Netherlands in 2005 and Canada in 2007, Carlos Carmona is one of the most experienced Chilean national players of his generation. He was blessed with exceptional physical strength and a powerful shot. He earned his place in Marcelo Bielsa's side at 23 after winning a runners-up medal in the 2008 Toulon Tournament.
Having thoroughly impressed the Argentine-born supremo, he has since held on firmly to his starting place in the La Roja midfield. Representing Chile seems to suit Carmona very well. In 2007, he captained the U-20 team, which took third place in Canada, and he was one of the key members of the team that qualified for the 2010 World Cup.
Although he does not possess silky skill in abundance, Carlos Carmona more than compensates with his selfless and tireless work rate, which allows him to keep running and closing down opponents for the entire 90 minutes. In addition to midfield, he is also comfortable playing at right-back, where again he has never been outshone or given the runaround.
Born in the port of Coquimbo, Carlos Carmona has sported just three sets of club colors in his career. However, Coquimbo Unido and O'Higgins in Chile knew all about his tremendous work rate before leaving for Reggina in Italy, where he currently plays in Serie B.
Arturo Vidal
Date of Birth: 22 May 1987
Height: 178 cm
Shirt number: 8
Position: Midfielder
First international: Venezuela – Chile (7 February 2007)
Able to operate effectively in defense or midfield, Vidal played a crucial role in Chile's successful 2010 qualification campaign for the FIFA World Cup.
The Santiago-born striker came up through the ranks at Chilean heavyweights Colo-Colo before making his top-flight debut in 2005 when he was just 18. He is quick, powerful, skillful with the ball, and a solid aerial threat. Within a year, Arturo Vidal was a regular starter for El Cacique, helping it win the domestic Apertura and Clausura championships and the Copa Sudamericana.
As a result of winning another club title in 2007, Vidal was Chile's top scorer in the 2007 South American qualifying tournament for the FIFA U-20 World Cup. The legendary striker Rudi Voller noticed him while playing on Canadian soil, where he finished third. After that, Bayer Leverkusen signed him, where he had maintained a high level of prominence.
Not a part of the Chile squad that traveled to the 2007 Copa America in Venezuela, Arturo Vidal had secured a starting berth by the early stages of South Africa 2010 qualifying. Then, however, inconsistency began to creep in, with Bielsa leaving him out for nearly a year following the historic victory over Argentina in Santiago. Brought back from the cold in time for the final run-in, Vidal's fine performances underlined how important he would be to La Roja's cause come this summer's showpiece.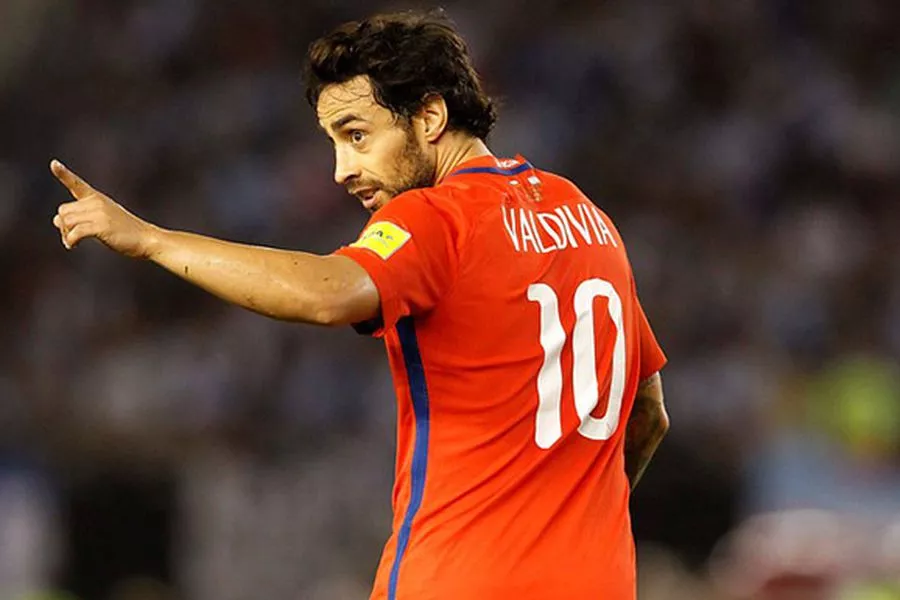 Jorge Valdivia
Date of Birth: 19 October 1983
Height: 173 cm
Shirt number: 10
Position: Midfielder
A player who has wowed fans of clubs in his homeland Chile, during his impressive sojourn in the fiercely competitive Brazilian league and now at current side Al Ain in the United Arab Emirates, Jorge Valdivia is a No 10 in the traditional sense. Dubbed 'El Mago' (The Magician), Jorge Valdivia blends silky skills with a fiery disposition. Unfortunately, this trait has proved his undoing on more than one occasion.
Equally adept at laying on goalscoring opportunities for his teammates and eluding defenders to fire off a shot himself, El Mago came up through the youth ranks at Colo Colo. However, it was on loan with Universidad de Concepcion that he made his top-flight debut in 2003. Unable to secure regular first-team football, he made another loan move to Spanish side Rayo Vallecano in 2004, followed by Swiss outfit Servette FC the following year, though made little impact at either.
However, on his return to Chile and Colo Colo, he coincided with the likes of Alexis Sanchez, Humberto Suazo, Matias Fernandez, and Arturo Vidal. All of them will line up alongside him at the 2010 FIFA World Cup. This stellar lineup stormed to the Apertura 2006 title, with Valdivia's performances earning him a big-money move to Palmeiras. El Mago ended up winning the 2008 Paulista state championship, a victory that won him the hearts of O Verdao's faithful, who even forgiven his departure for the Emirates soon afterward.
Jorge Valdivia made his debut in the national team set-up at the U-23 level, being a team member that failed to qualify for the 2004 Men's Olympic Football Tournament in Athens under coach Juvenal Olmos. Although Olmos did not take this player to Peru for the Copa America that year, he did use him in six qualifying matches for Germany 2006. Again, a tournament La Roja missed out on as well.
However, he was a mainstay of Nelson Acosta's era as Chile coach and was called up for the 2007 Copa America in Venezuela. However, the act of indiscipline he committed at that event cost him a 20-match ban, which was subsequently reduced to ten, forcing him out of Marcelo Bielsa's early tenure with the club.
His return for La Roja came in defeat against Brazil in a South Africa 2010 qualifier in September 2008. Although he received a red card in that match, Bielsa continued to hand him opportunities for the remainder of qualifying. Jorge Valdivia repaid that faith with a goal in the 4-2 away win over Colombia that clinched Chile's place at the finals.
Marco Estrada
Date of Birth: 28 May 1983
Height: 174 cm
Shirt number: 13
Position: Midfielder
First international: Switzerland – Chile (7 September 2007)
Marco Estrada is an accomplished all-rounder whose shooting power and free-kick execution set him apart from his peers. Capable of playing at left-back as well in the center of defense if necessary, his versatility has enabled him to become a key performer in the eyes of Chile coach Marcelo Bielsa.
Exhibiting a loyalty rare in modern football, Estrada has played at just two different clubs in his career, Vina del Mar-based side Everton and Universidad de Chile of Santiago, where he earned the affectionate nickname 'The blue gunboat.' However, in January 2006, he represented the Chile squad in a U-23 match versus Denmark for the first time, seizing the occasion to score on his debut.
The proficiency of Marco Estrada's left foot is highly regarded in South American football circles. Coach Bielsa encourages the full-back to hit long, cross-field balls to his strikers or bring his wingers into play. The only goal for the full national team was a fierce free-kick in a 4-0 victory over Bolivia in June last year.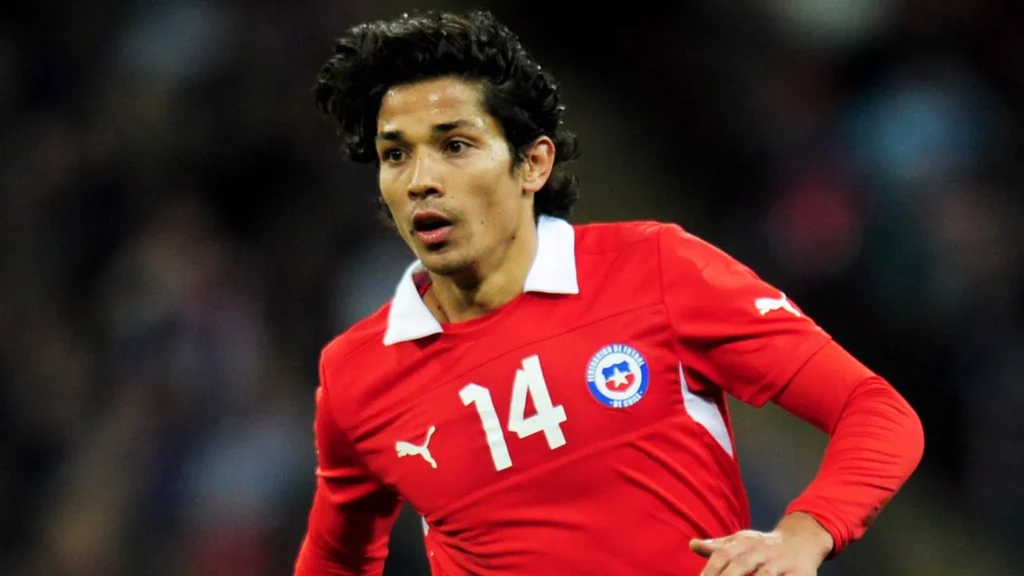 Matias Fernandez
Date of Birth: 15 May 1986
Height: 176 cm
Shirt number: 14
Position: Midfielder
Matias Fernandez was named South American Player of the Year in 2006, and he plays a crucial role in the tactical approach of Chile coach Marcelo Bielsa.
Despite being extremely talented with the ball at his feet, 'Matigol' was born to Chilean parents in the Argentine city of Buenos Aires, where he spent his first four years before returning to Chile. He first began knocking a ball around in the streets of La Calera and turned professional at Santiago-based Colo Colo at the age of 17.
Claudio Borghi, the former Los Albos coach, is often credited with providing Matias Fernandez with the ideal environment to flourish. By aligning him alongside future Chile stars such as Jorge Valdivia, Arturo Vidal, Humberto Suazo, and Alexis Sanchez, Borghi's team won the Apertura and Clausura championships in 2006 and made it to the Copa Sudamericana final that same year.
Matias Fernandez's abilities were worthy of a grander stage, which would present itself in the form of a transfer to La Liga's Villarreal the following season. In Spain, the Chilean playmaker was burdened by heightened expectations and could not reproduce the same form that had initially prompted the move. After three inconsistent seasons at El Madrigal and in desperate need of a change of scenery, Fernandez signed for his current club Sporting Lisbon in 2009, where he has since been able to reproduce the type of play that made him a star back in Chile.
He usually prefers to let his feet do the talking, a quiet, low-profile footballer, as he did at the FIFA World Youth Championship in 2005, where the Chile squad managed to qualify for the last 16. However, he is now regarded as a critical player with the senior side, thanks to his crucial goals and outstanding all-round performances, such as in the landmark away victories over Peru and Paraguay during the qualifying phase for the 2010 FIFA World Cup. These displays virtually guaranteed that he would continue to fill the attacking midfield slot while Bielsa remains in charge, despite intense competition from Valdivia.
Fernandez's consistency for his country is remarkable. His game seems to click into place when he pulls on the famous red shirt, whether in the attacking third or when tracking back, an additional duty that he is not usually asked to perform at club level.
He has developed a near-telepathic understanding with Sanchez and Suazo, his closest teammates on the field of play. "Sometimes we don't even look – each of us instinctively knows where the others will be on the pitch," says Matias Fernandez of his teammates.
Gonzalo Fierro
Date of Birth: 21 March 1983
Height: 171 cm
Shirt number: 19
Position: Midfielder
First international: Chile – Colombia (16 August 2006)
Rodrigo Millar
Date of Birth: 3 November 1981
Height: 182 cm
Shirt number: 20
Position: Midfielder
First international: Turkey – Chile (17-04-2002)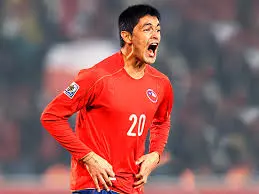 Rodrigo Millar is a skillful Chilean midfielder of considerable experience, known for his well-timed runs into the box and his ability to pick out the right ball at the right time. After national coach Marcelo Bielsa brought the player back into the Chile squad in the final stretch of qualifying matches for the 2010 World Cup, Millar rapidly proved his worth to the team, and has now been rewarded with the ultimate prize of a slot in the final 23-man group.
Known as "Payasito" (the little clown) due to his habit of wearing a red clown nose when celebrating goals, the Arauco-born midfielder joined Huachipato at the age of 18 in 1999. Seven seasons later, he signed for Colo-Colo, where he won two trophies in 2007, before moving to the Colombian side Once Caldas on loan for a spell. As soon as he returned to the Santiago-based club the following season, he produced some of the best football of his career, leading Colo-Colo to further accolades and earning him the 2009 Chilean Player of the Year award.
Rodrigo Millar's involvement in the national set-up dates all the way back to the 2001 FIFA U-20 World Cup in Argentina. Different coaches have called him up to the top side intermittently since then. He was included in Juvenal Olmos' 2004 Copa America squad but failed to establish himself as a regular in the competition's aftermath. He was also unable to break through under Olmos' successor Nelson Acosta.
The key that truly opened the door to La Roja for Millar was his satisfactory performance at the Kirin Cup, a friendly tournament in which Chile only fielded players plying their trade in the country's domestic league. Nevertheless, Rodrigo Millar seized his opportunity and, in return, was provided with considerable playing time in the last six matches of Chile's qualifying campaign for South Africa 2010, during which he even managed a crucial goal, scoring the equalizer in a 2-2 draw with Venezuela.
Rodrigo Tello
Date of Birth: 14 October 1979
Height: 171 cm
Shirt number: 21
Position: Midfielder
First international: Chile – Bulgaria (12 February 2000)
Though Besiktas midfield man Rodrigo Tello is one of the most experienced members of the Chilean national squad, he will be playing in his first FIFA World Cup as the country has missed the tournament for 12 years.
The versatile 31-year-old can line up at left-back or on the left side of midfield, where his pinpoint set-piece delivery and fierce left-foot shooting can be employed to full effect. His big break came with hometown outfit Universidad de Chile, making his first-division debut in 1999 and being voted Chilean football's best midfielder the following year.
The nine champions' medals in his trophy cabinet are proof of his winning mentality: three from Universidad, four from Sporting Lisbon, and two from Besiktas. Rodrigo Tello was also part of the Sporting squad, which finished runners-up in the 2004/05 UEFA Cup.
On the national team scene, Rodrigo Tello was a vital component of the Chile side that claimed bronze at the Men's Olympic Football Tournament Sydney 2000. Subsequently, a regular member of La Roja's senior squad made 13 appearances in qualifying for Korea/Japan 2002 under Juvenal Olmos and three on the road to Germany 2006 with Nelson Acosta at the helm, Chile missing out on the finals on both occasions.
And despite making just one appearance in South Africa 2010, qualifying against Peru in Lima in March 2009, his experience and versatility are valued by Chile's current boss, Argentinian strategist Marcelo Bielsa.
Chile World Cup Team 2010 Forwards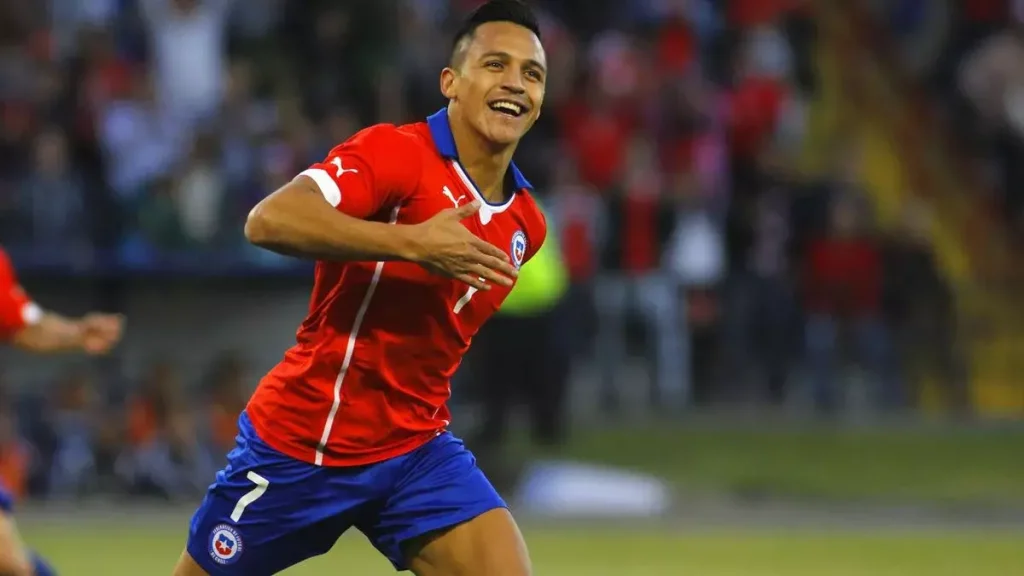 Alexis Sanchez
Date of Birth: 19 December 1988
Height: 168 cm
Shirt number: 7
Position: Forward
First international: Chile – New Zealand (27-04-2006)
Humberto Suazo
Date of Birth: 10 May 1981
Height: 171 cm
Shirt number: 9
Position: Forward
There can be little doubt that Humberto Suazo has been one of the best-known players on the Latin American football scene in recent years, thanks to scoring feats such as his chart-topping ten-goal haul in South American qualifying for the 2010 World Cup. And though at first glance Suazo does not look like a typical No.9, his keen positional sense, cool head, and ability to finish with either foot have helped him to over 150 goals at club level.
Nor did the San Antonio-born striker enjoy an easy route to the top, having nearly been driven to give up the game in frustration very early in his career following a series of rejections by big clubs. However, after taking his first steps on the footballing ladder at Nublense in 2000, Humberto Suazo passed through modest Magallanes, San Antonio Unido, and San Luis, where his exploits in finishing top of the Chilean third-division scorers' charts earned him his big break at Audax Italiano.
In 2006, Chilean giants Colo-Colo swooped for Suazo, who scored a record 51 goals in a calendar year. El Chupete topped the goalscorers' standings in three competitions at El Cacique, including the 2006 Copa Sudamericana, before a 2007 switch to Monterrey of Mexico. The same year he was named the best player in the Mexican league, he led his team to victory in the Clausura 2008 and won the Apertura 2009.
Former Chile coach Juvenal Olmos gave Humberto Suazo his senior international debut in 2005, and he shone for his country at the 2007 Copa America. Argentine coach Marcelo' El Loco' Bielsa has established him as a first-choice for La Roja. During his lethal stay at Colo-Colo, Matias Fernandez, Alexis Sanchez, Jorge Valdivia, and Arturo Vidal, all former teammates, successfully join forces.
A key figure in Real Zaragoza's successful fight against relegation from Spain's top flight since joining in January, could the moment be ripe for Suazo to cement his place as one of South America's finest goalscorers at South Africa 2010?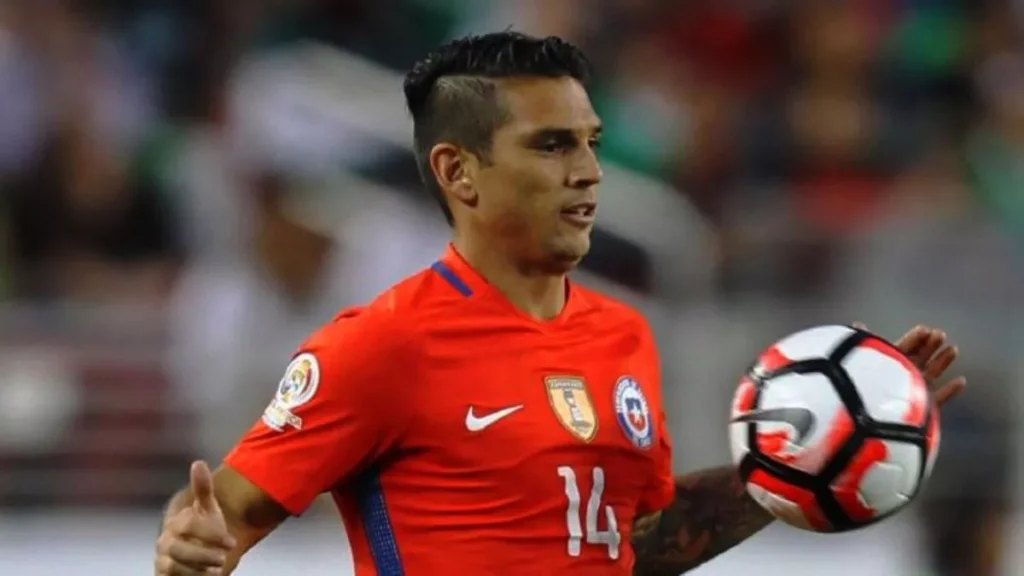 Mark Gonzalez
Date of Birth: 10 July 1984
Height: 175 cm
Shirt number: 11
Position: Forward
First international: Costa Rica – Chile (08-06-2003)
Jean Beausejour
Date of Birth: 1 June 1984
Height: 178 cm
Shirt number: 15
Position: Forward
First international: Mexico – Chile (18 February 2004)
Most at home along the left flank, Jean Beausejour has strength and power in abundance and is a real ace in the pack for the Chilean team. Born of Mapuche and Haitian parents, he can feature in midfield or on the left side of attack in Marcelo Bielsa's formation. He regularly gets into goalscoring positions in either of the two roles.
A relaxed character and popular with the fans, 'Bose' never represented his country at youth level, but this gave him the time to arrive on the big stage with a decided bang. He learned his trade in the youth ranks at Universidad Catolica, making his professional debut in 2002, catching the eye not just through his ability to take people on but also for his speed and power.
After spending time at Universidad de Concepcion, where he remained until 2003. Jean Beausejour went abroad to Servette of Switzerland and then to Gremio of Brazil, where he honed his skills. Having not had much luck on his travels overseas, he went back home to Chile. He enjoyed his best campaigns at Cobreloa and O'Higgins, which earned him a move to Club America of Mexico and a call-up from Bielsa to La Roja, where he is a permanent fixture in the squad.
He was on target just once in 2010 FIFA World Cup qualifying, a pinpoint header from a Matias Fernandez pass against Bolivia in Santiago. That goal helped to earn the support of the demanding Chilean fans. "We can't always play at the tempo that people want us to," he stated on that occasion, perhaps trying to lighten the load of the weight of expectation.
Fabian Ariel Orellana
Date of Birth: 27 January 1986
Height: 168 cm
Shirt number: 16
Position: Forward
First international: Chile – Panama (07-06-2008)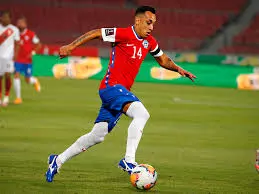 Chile forward Fabian Ariel Orellana may have struck just twice during his country's successful 2010 FIFA World Cup South Africa qualifying campaign. Still, both goals will live long in the memory of La Roja's followers. The first clinched a 1-0 win over Argentina in Santiago, the first time Chile had ever beaten La Albiceleste in FIFA World Cup qualifying action, and the second came in the 4-2 away win against Colombia in Medellin, which sealed La Roja's spot at this summer's finals.
These goals earned Fabian Ariel Orellana a place in the hearts of Chilean football followers despite never having played for one of his homeland's traditional big clubs. Indeed, three years after making his debut for modest outfit Audax Italiano, he was snapped up by Italy's Udinese in mid-2009, who sent him on loan to La Liga club Xerez for the duration of the 2009/10 season.
On a curious note, after being voted the competition's fourth-best player following Chile's runners-up finish at the 2008 Toulon International Youth Tournament, Orellana's speed, trickery, finishing ability, and slim frame saw him nicknamed the 'White Robinho' in honor of the Brazilian superstar.
Those displays on French soil led to Chile supremo Marcelo Bielsa granting him a more significant number of opportunities during South Africa 2010 qualifying, with Fabian Ariel Orellana quickly proving himself up to the task of filling in for flying forward Alexis Sanchez. His vital goals repaid Bielsa's faith, and his reward is a place on the plane to this summer's showpiece.
Esteban Paredes
Date of Birth: 1 August 1980
Height: 179 cm
Shirt number: 22
Position: Forward
First international: Chile – Colombia (16 August 2006)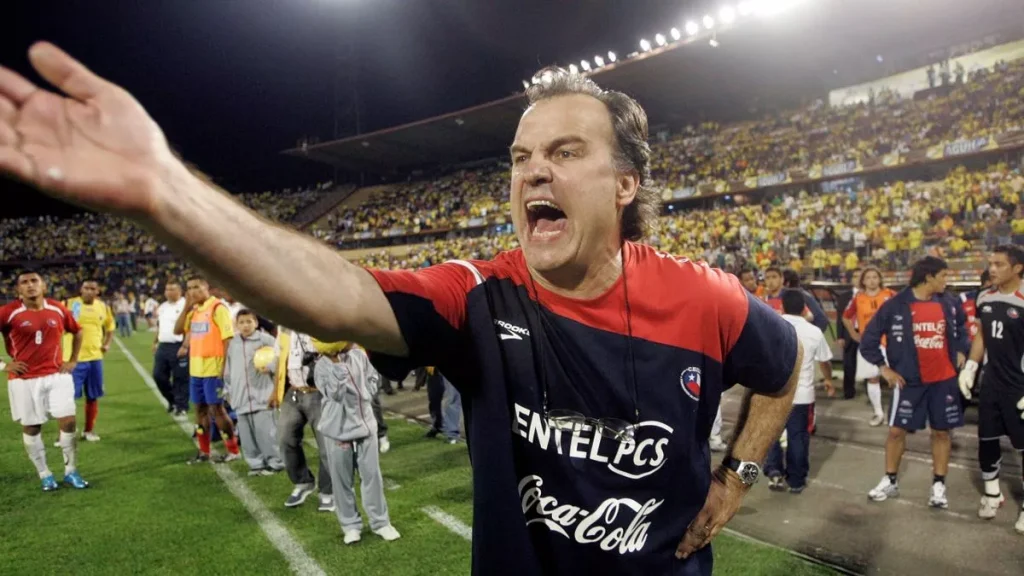 Chile Coach
Name: Marcelo Bielsa
Country: Argentina
Date of Birth: 21 July 1955