Formerly known as Christie Rampone, Christie Pearce was regarded as one of the best defenders in women's soccer. She has been leading the United States Women's National Team for almost two decades.
Pearce has won three Olympic gold medals and two FIFA Women's World Cup titles. In addition to playing in four Olympics women's football tournaments, the American center-back has appeared in five FIFA Women's World Cup finals.
At 40, Christie Pearce Rampone was the oldest player to appear in a FIFA Women's World Cup game until Brazilian soccer player Formiga participated at 41 in 2019. Among soccer players with more than 300+ caps, Pearce is third with 311.
Pearce is commonly known as Captain American or the Ultimate Soccer Mom.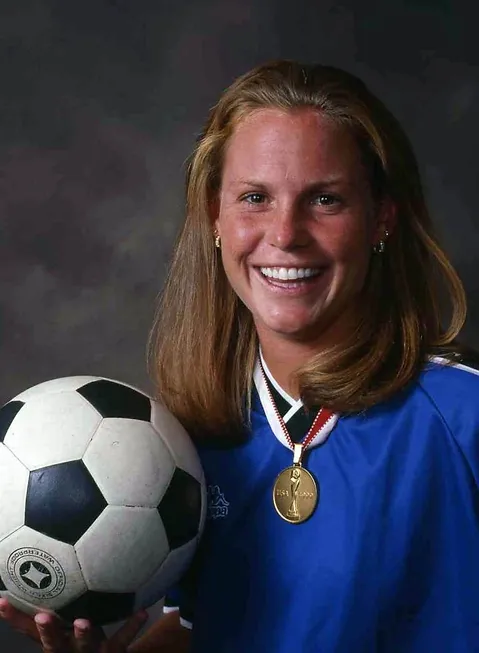 Christie Pearce Beginnings
As a child, Christie grew up in Point Pleasant, New Jersey, but she was born in Fort Lauderdale, Florida. She was the New Jersey High School Female Athlete of the Year while a senior at Point Pleasant Boro High School.
For the first time in state history, Pearce led her conference in scoring in three different sports during her senior year. The 5foot, 6inch player earned All-State honors in all three sports because of this astounding achievement.
Athletes from New Jersey still revere Christie as one of their best. Among the Top 50 High School Athletes of the 20th Century, she was ranked No. 4.
Christie Pearce Rampone is the only impact player from a small university on the Women's National Team. Pearce chose Monmouth University over nearly every major college in the country after being highly recruited by almost everyone. Having the opportunity to compete in multiple sports at Monmouth made her choose them.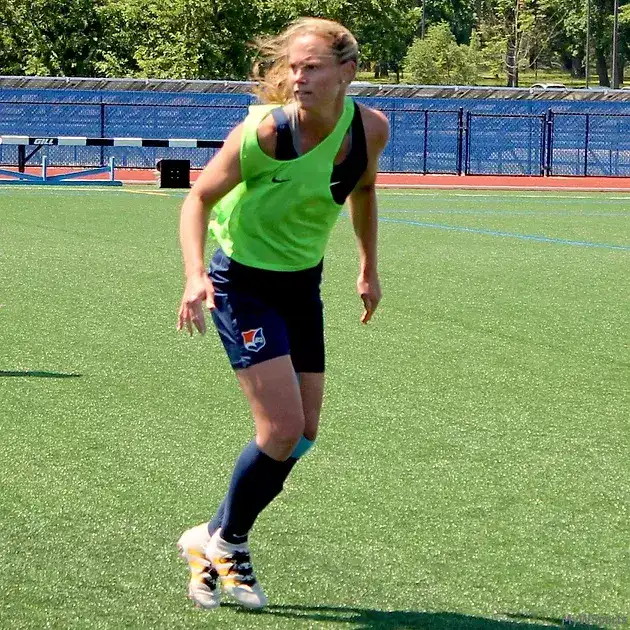 Attending Monmouth University
The three-sport athlete excelled at Monmouth University by competing in soccer, basketball, and lacrosse. In 1995 and 1996, she was named Player of the Year by the Northeast Conference and First Team All-Mid-Atlantic.
During her final three years as a Hawk, Pearce scored 212 points with 79 goals and 54 assists; she led the team to a combined 51-11 record.
With two NEC championships and three ECAC tournament titles, she finished her career as Monmouth's all-time leading goal scorer, assists, and points scorer. A degree in Special Education was earned by Pearce in 1996 from Monmouth University.
During her college career, Christie Pearce Rampone played midfield. After switching positions, she excelled as a defender.
When not studying or playing sports, Christie volunteered as a soccer coach and basketball coach at the middle school where she was student teaching.
In 2005, the university honored her with an Honorary Doctorate in Public Services for her heroic achievements and for bringing worldwide fame to her alma mater.
As far as male and female athletes born, raised, and educated in Monmouth County are concerned, the versatile defender is the most decorated and accomplished.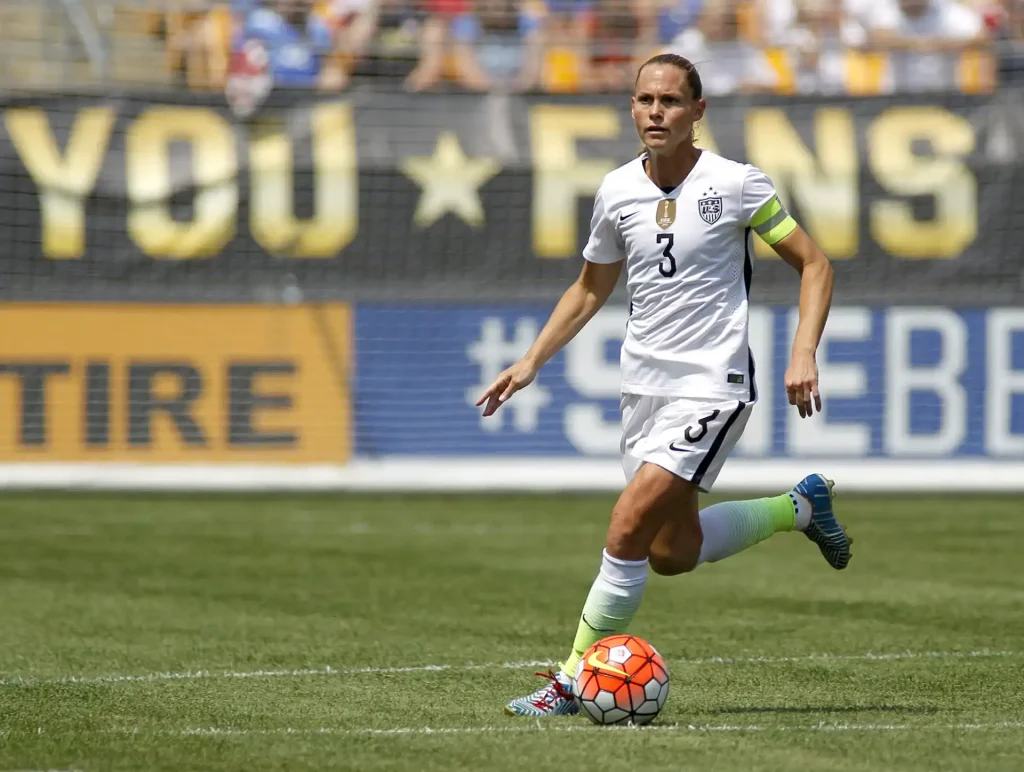 US Women's National Team
Christie made her international debut on 28 February 1997 against Australia in Melbourne. She played the entire second half in Melbourne, then all 180 minutes of matches in Bathurst and Canberra, and her international career was off and running.
Christie started 16 out of 18 games in her first season with the US National Team and was third overall in minutes played. In addition to the USWNT, Pearce played professionally in the W-League, the top-division women's soccer league in Australia, for a season.
Her performance at the Goodwill Games helped the US Women's National Team win gold in 1998. During the 1999 US Women's World Cup, Pearce was also a member of the team that won the championship.
During the 2000 Olympics, she played in all five matches, helping the US Women's National Team earn a silver medal, starting in 30 of 33 games.
When Christie Pearce played for the National Team in 2001, she tore her right ACL after only four games. Her 100 caps in US Women's Soccer history were earned after she recovered from her injuries in 2003.
During the 2003 Women's World Cup, she played every minute of every match for the US team. As a member of Team U.S.A. at the 2004 Olympics, Pearce started every minute of the five games the versatile defender played in.
In 2007, Pearce Rampone moved to California for two years to prepare for the 2007 World Cup and the 2008 Olympics to be closer to her teammates.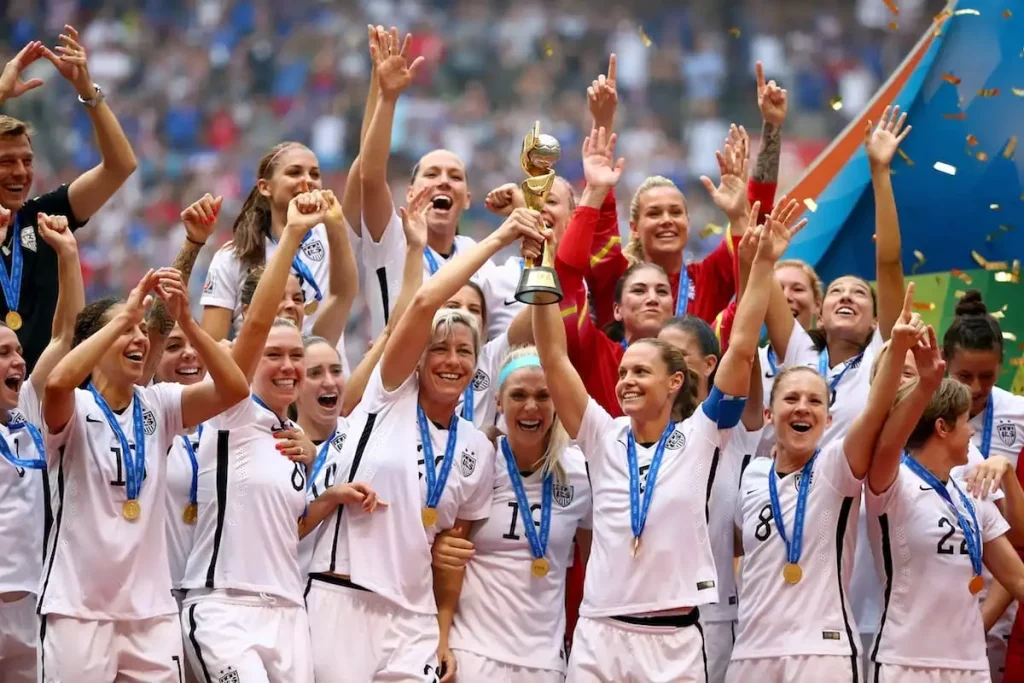 Women's United Soccer Association
Christie played for the New York Power from 2001-2004 and was a founding member of the Women's United Soccer Association. In 2006, Pearce returned to the Women's National Team stronger than ever after giving birth to her daughter Rylie in 2005. As a member of the US Women's National Soccer Team, she earned more caps than any other defender.
Christie Pearce Rampone had a stellar year in 2008. First, the Women's National Team named her captain in January, making her the ninth player to hold that role. The center-back started all 35 matches in which she played and sett a USA record for minutes played in a calendar year.
During the 2008 Beijing Olympics, her leadership paid immediate dividends as her team won the gold medal.
The Games also marked Pearce's 200th cap, placing her second only to Kristine Lilly in most career caps.
Women's Professional Soccer League
As the inaugural captain of New Jersey's Sky Blue FC in the Women's Professional Soccer League, Christie maintained her momentum in 2009. During the middle of the season, Christie became interim player/ head coach following unexpected coaching changes.
As a result of her leadership, the team went from last place to earning the final playoff spot and ultimately made it to the championship game despite all odds.
Christie Pearce Rampone and her team stunned the league by beating the season-long favorites Los Angeles Sol on August 22, 2009. As a result, the league association named her Sportswoman of the Year after she played on the WPS All-Star team.
After playing with Sky Blue in 2010, the New Jersey native moved to Florida-based club magicJack for the 2011 Women's Professional Soccer season.
The following year, Pearce was assigned to the new NWSL club Sky Blue FC, where the professional player played until her retirement in 2017.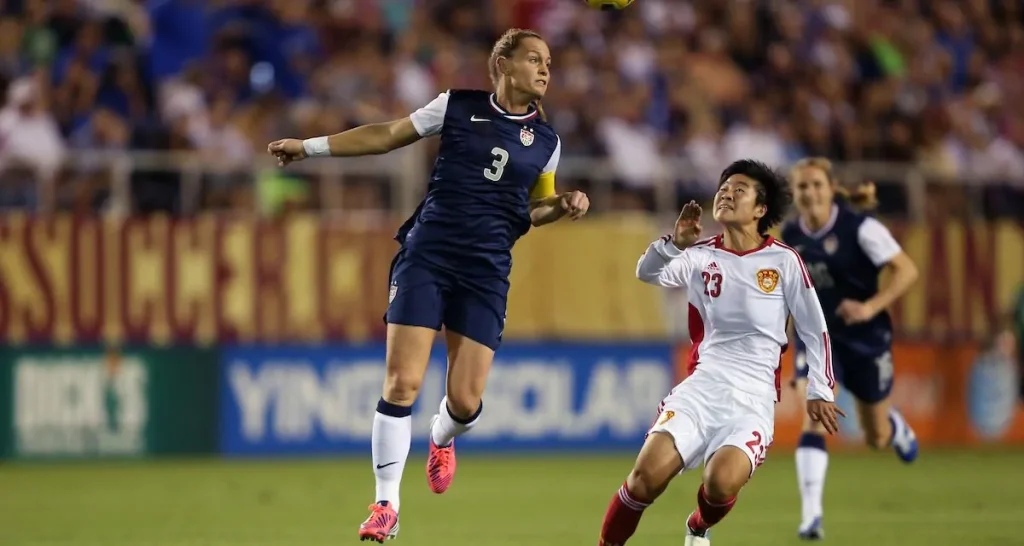 Record Holder
At the 2011 FIFA Women's World Cup, Pearce captained the USA to second place, losing 1–3 to Japan in the penalty shootout after extra time had ended 2–2.
As captain of the USA team, Christie Pearce captained the team to a 2–1 gold medal win over Japan in the 2012 London Olympics.
When the Jersey Shore native came on as a substitute, the captain became the oldest woman to play in a FIFA Women's World Cup final and any tournament game.
Christie Pearce Great Grandfather
It was recently announced the great-grandfather of US captain Christie Pearce Rampone came over to the USA from Scotland and played professional soccer here, or at least what version they had just after the turn of the century.
William Dowie was born in 1886 and made his debut for RaithRovers in Scotland at 19. He came to the United States at the age of 34, which would have been in 1920, five years after he finished his career at Raith Rovers.
He was once described in a match report: Rovers' young goalkeeper Dowie was a veritable octopus in goal and gave a marvelous display of fistic prowess, punching the ball clearly in all directions and repeatedly over the bar.
National Soccer Hall Of Fame
Her USWNT career concluded with 24,011 minutes played. In her first year of eligibility, Pearce was inducted into the National Soccer Hall of Fame. Christie Pearce Rampone requested it would be delayed to 2022.
Pearce has two daughters with her ex-husband Chris Rampone. They are Rylie and Reece. As soccer supporters, we hope they both follow in their Mum's footsteps and have a career in soccer, basketball or lacrosse.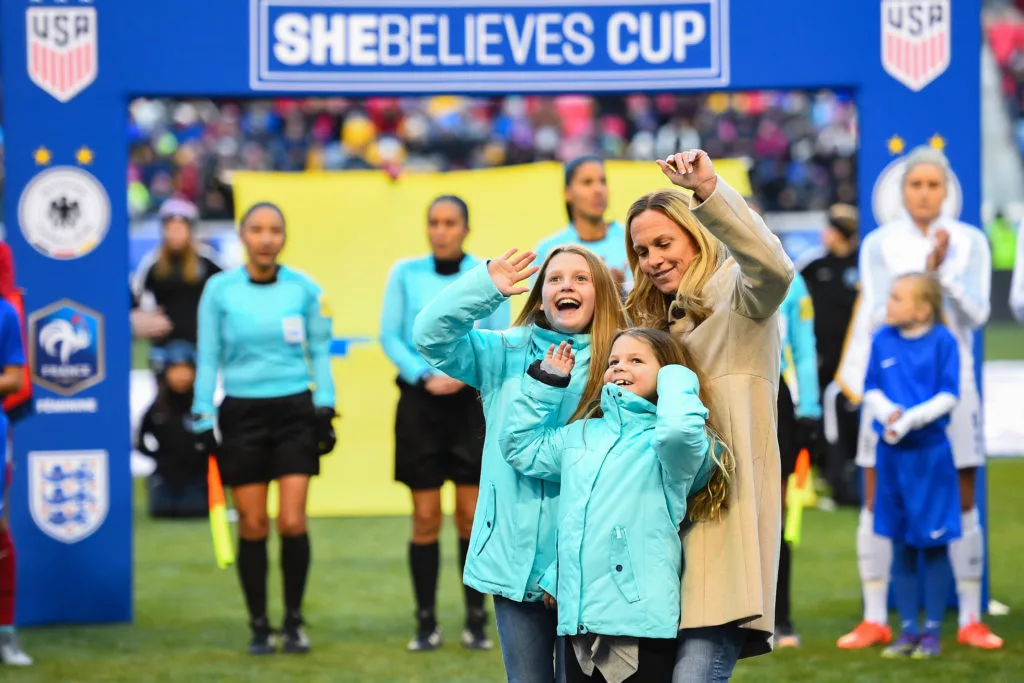 Christie Pearce Rampone Facts And Figures
Full Name: Christie Patricia Pearce
Birthdate: 24/06/1975
Birthplace: Fort Lauderdale, Florida
College Soccer Career:
Professional Soccer Career:
Central Jersey Splash 1997
Buffalo Fillies 1998
New Jersey Lady Stallions 1998
New York Power 2001–2003
Sky Blue FC 2009–2010
magicJack 2011
Sky Blue FC 2013–2017
International Career:
Total Appearances: 311 matches, four goals
Managerial Career:
Sky Blue FC (caretaker player/manager) 2009
Playing Honors:
1999 and 2015: World Cup Winner
2000: Olympic Silver Medalist
2004, 2008, and 2012: Olympic Gold Medalist
Individual Honors:
1992: New Jersey High School Female Athlete of the Year
1994: College Soccer Association of New Jersey – First Team
1995: Northeast Conference Player of the Year
1995: First Team All-Mid-Atlantic Region
1996: Northeast Conference Player of the Year
1996: First Team All-Mid-Atlantic Region
2003: Becomes the 15th player in USWNT History to achieve 100 caps
2009: Women's Professional Soccer League All-Star selection
2009: Hint Water Sportswoman of the Year
2009: NJSWA New Jersey Sportswoman of the Year
2009: Big Apple Soccer Pro Player of the Year
2009: WPS Sportswoman of the Year
2016: New Jersey Hall of Fame