Christine Sinclair is a forward for the Canadian Women's national soccer team and has been for 21 years. She has scored 190 goals, more than any other international female soccer player. The Portland Thorns striker is only 5′ 9″ (175 cm) but has still been widely successful in the 306 games for the Canadian national team.
Sinclair has played in 5 World Cups and 4 Olympic Games. She was a nominee for the Ballon d'Or award in 2021. This is considered one of the most prestigious individual soccer awards to win. It is given to a player who was believed to have had the strongest overall performance that year.
Given her consistent accomplishments across a long career, Christine Sinclair has been considered one of the best female soccer players of all time.
Following a 1-0 win over Panama on Friday (July 8, 2022), the girl from Burnaby and her Canadian teammates qualified for the FIFA Women's World Cup 2023. During her tenure in red and white, Sinclair will appear in her sixth FIFA Women's World Cup in Australia and New Zealand.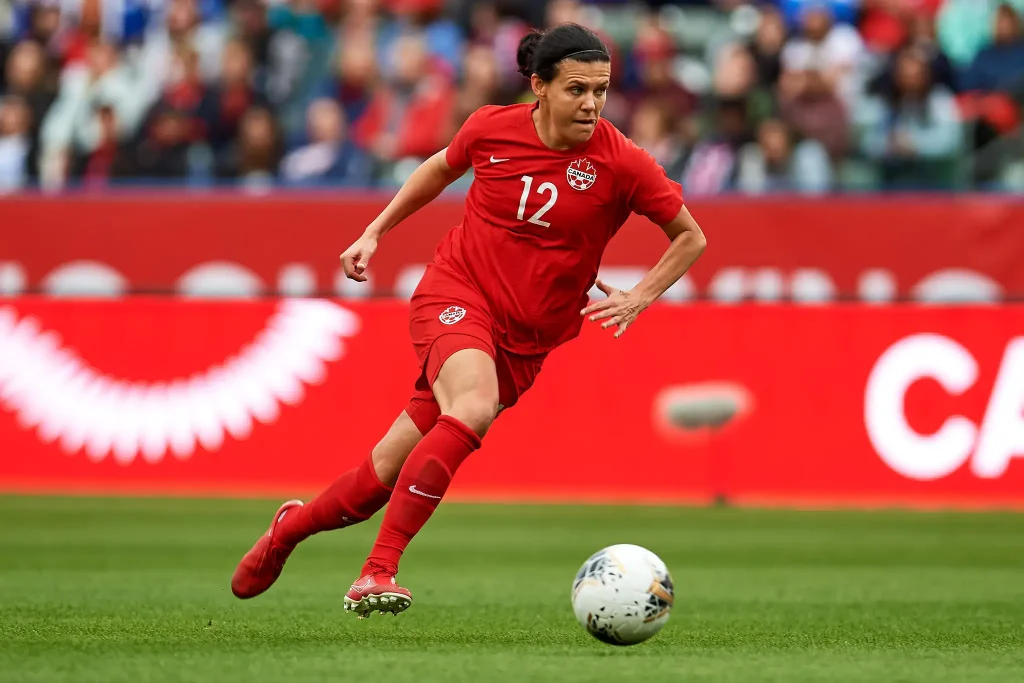 How Old Is Christine Sinclair
The Canadian female soccer plater was born on June 12th, 1983. The five-time World Cup participant was introduced to soccer right away in her childhood because both of her uncles, Brian and Bruce Gant, played professionally.
Christine started playing when she was four years old, and her talent quickly escalated from there. She scored her first goal for the Canadian team at the age of sixteen. Cristine Margaret Sinclair has kept her personal life and relationships private.
Although this is true, we know that she is not currently married. At 38 years old, Sinclair is just one year younger than Carli Lloyd was when she retired.
Even though the Portland Thorn's captain is older than most other professional soccer stars, the world's all-time leader for international goals continues to show that she deserves a spot on the soccer fields.
Christine Sinclair Olympics Journey
Christine Sinclair has made four Olympic appearances, and in those summer games, has won three medals. She received a gold medal in the 2020 Games, which was the first time the Canadian women's soccer team won the tournament. Sinclair also received a bronze medal in the 2016 Games and another bronze in the 2012 Olympic Games. Between all of those appearances, she scored twelve goals in fifteen matches.
However, those numbers made her two goals shy of beating the all-time Olympic scoring record of fourteen goals held by Brazilian striker Cristiane Rozeira de Souza Silva.
Six World Cups
Sinclair has been a part of five World Cups and is one of only nine female players who have done this. She is also the second soccer star of either gender to score at five World Cup tournaments. The other soccer star is Marta.
The Canadian soccer icon has the opportunity to appear in her sixth FIFA World Cup now Canada soccer team has qualified for the 2023 World Cup.
Across all of her World Cup matches, Sinclair scored a total of 10 goals. Team Canada placed fourth at the 2003 FIFA Women's World Cup thanks to Sinclair's three goals including a game winning goal.
In her first World Cup in 2007, the new girl in the squad scored a brace in the match against Ghana helping Canada win 4–0. She scored another goal against Australia to take her tournament tally to three goals. In the 2011 World Cup, she scored Canada's only goal in the tournament.
The captain scored the team's only goal of the first group stage match against China in the 2015 World Cup and scored another in the quarter-finals again England.
Sinclair scored one goal against the Netherlands in the 2019 FIFA Women's World Cup, her tenth goal in five World Cup editions—an accomplishment only Brazilian Marta has achieved.
Honors And Records
Sinclair has earned many honors and holds an international record. She has been nominated for the FIFA player of the year eight times and won the Canadian Player of the Year award fourteen times. She also received the Golden Boot Award, given to the leading tournament goal scorer, in the 2012 Olympics by scoring six goals.
In addition, the 8-time FIFA World Player of the Year nominee broke the international goal-scoring record among males and females in July 2022 by scoring 190 times in her career.
Christine Sinclair had said, "When I was growing up, you didn't know there was a women's national soccer team. Now girls grow up dreaming of playing for Canada soccer team." There is no doubt that Sinclair contributed to the building popularity of women's soccer throughout North America.
The Canadian national player annual soccer salary is $380,000 (USD). Still, with all of the awards won and records she has broken, the 2020 Olympic Games gold medal winner has added earned additional income through speaking engagements and endorsements, putting her net worth at over two million dollars.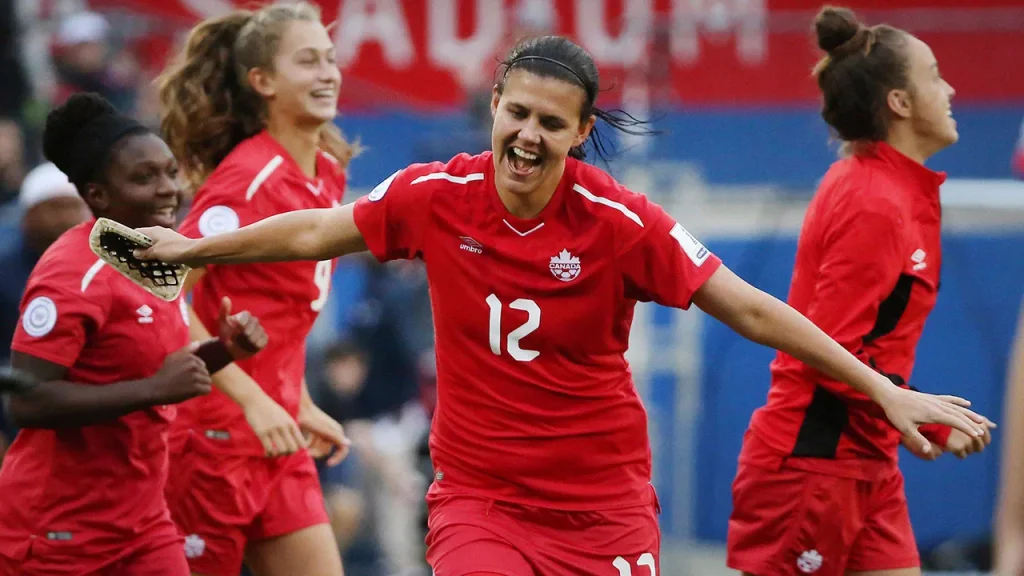 Fun Facts
Canada's female athlete has played 315 caps, the fourth most in women's soccer history.
The Canadian forward broke her nose in the first game of the 2011 World Cup but continued to play in the rest of the tournament wearing a fiberglass mask.
Before a game, the forward always listens to Michael Jackson's song, "The Man in the Mirror."
The three-time Olympic medallist was introduced into the Canadian Walk of Fame in 2013
The 5 foot, 9-inch striker scored her first goal for the Canadian team at the 2000 Algarve Cup when only 16 years old.
Having played for the senior national team for over 20 years, the veteran was named the best Canadian female soccer player of the year 11 times in a row from 2004-2014.
She was inducted into Canada's Walk of Fame in 2013 and was named an Officer of the Order of Canada in 2017.
When Will Christine Sinclair Retire
Despite Sinclair's continued success on the soccer field, given her age, there is much speculation about when she will retire. However, in 2016 Sinclair said, "I had one of my more successful years as a soccer player. So people that are talking about my retirement should go and watch some of my games."
This was stated when Sinclair was 33 years old, and the athlete of the year has not shown any interest in retiring just yet. Her love and passion for the game have kept her playing, and the more people say she is too old, the more the Golden Ball winner wants to prove to them that she deserves a spot on the field.
Christine once said, "Aim higher. Follow your crazy dreams. For me, it's soccer. It happened to be sports. To this day, I don't think I've 'worked' a day in my life. When you're so passionate about what you do, you're willing to put in the extra work."
Many rumors are going around that the Olympic gold medalist will retire soon, but soccer experts believe that Canada's soccer favorite player will keep playing until the 2023 World Cup is held in Australia and New Zealand.
If Canada's greatest soccer player does continue, Portland's all-time leader will be one of only three female players to make it to 6 or more World Cups. However, making it that far would put her in second place for the all-time highest female international caps.
Given her passion and commitment to the game, will she try to beat Kristine Lilly's record of 354 caps too? As of November 2022, Christine Sinclair's caps for the Canada national team is 315 appearances.
Christine Sinclair Facts And Figures
Full Name: Christine Margaret Sinclair
Birthdate: 06/06/1983
Birthplace: Burnaby, British Columbia
Playing Career:
Playing Honors:
FC Gold Pride
2010 Women's Professional Soccer (WPS) Championship
Western New York Flash
Portland Thorns FC
2013, 2017 and 2022 National Women's Soccer League (NWSL) League Championships
National Team Career:
National Team Honors:
2012 and 2012 Olympic Bronze Medals
2020 Olympic Gold Medal
Individual Honors:
8-time FIFA World Player of the Year nominee (5th in 2012)
14-time Canadian Player of the Year
2002 FIFA U-19 Women's World Championship Tournament MVP and Golden Boot Winner
2001 Soccer America Freshman of the Year