The current president of FIFA is Swiss-Italian Giovanni Vincenzo Infantino. The 2016 FIFA Extraordinary Congress elected him FIFA President in February 2016. The FIFA President was re-elected in June 2019. Furthermore, the International Olympic Committee elected him as a member in January 2020.
Current President Of FIFA Background
A lawyer, Gianni Infantino, served as secretary general for the International Centre for Sports Studies (CIES) at the University of Neuchatel before joining UEFA. He has also advised several football leagues, including the Italian, Spanish and Swiss ones.
Mr. Infantino came to UEFA in August 2000, working on a range of legal, commercial, and professional football matters, and was appointed as Director of UEFA's Legal Affairs and Club Licensing Division in January 2004, moving on to become Chief Executive ad interim, then Deputy General Secretary and finally General Secretary in October 2009.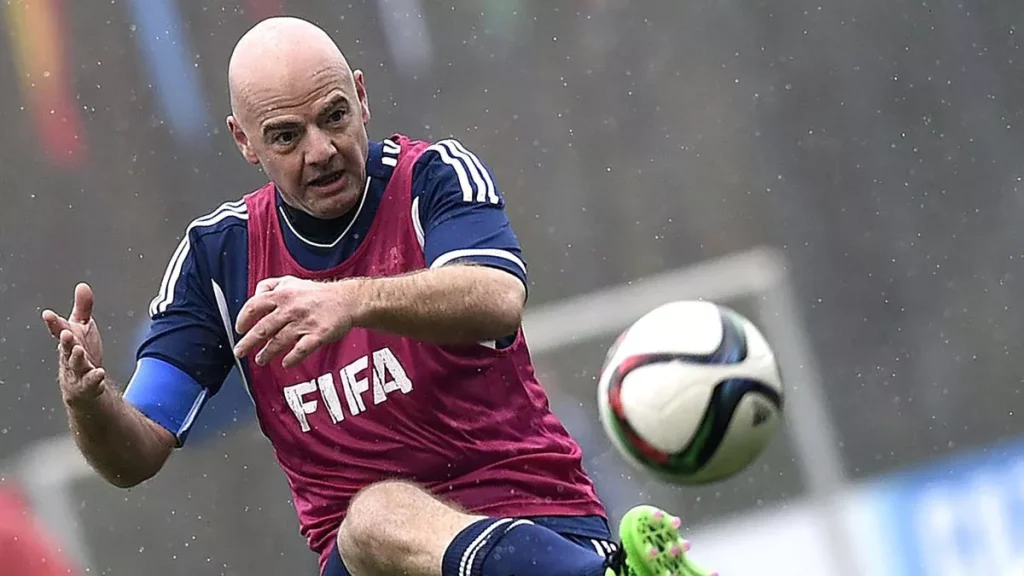 Previous UEFA Roles
UEFA named Infantino Director of Legal Affairs and Club Licensing in January 2004 after he started working for the organization in August 2000. In 2007, the lawyer became UEFA's Deputy General Secretary. In October 2009, he became the organization's, Secretary General.
It was under his leadership that UEFA introduced Financial Fair Play to the game and improved commercial support for smaller national associations.
With his help, UEFA Euro 2016 was expanded to 24 teams and UEFA Nations League and Euro 2020 were conceived, which took place in thirteen countries.
2004-2007: Director of Legal Affairs and Club Licensing
February-May 2007: Chief Executive ad interim
2007-2009: Deputy General Secretary and Director of Governance and Legal Affairs Division
Gianni Infantino Becomes Current President Of FIFA
During the Extraordinary FIFA Congress held in Zurich in February 2016, Gianni Infantino was elected as FIFA's President for the remainder of the current term (until 2019). 115 of the 207 total votes cast made him the ninth FIFA President. Following the conclusion of the Congress, the new FIFA President began his mandate.
At the beginning of the proceedings, Congress confirmed that 207 FIFA member associations were entitled to vote (the member associations of Indonesia and Kuwait could not vote due to their respective suspensions). The candidate, Tokyo Sexwale, withdrew from the election after his address to Congress.
Earlier in the day, the Extraordinary FIFA Congress approved a set of landmark reforms to FIFA's governance structure, including improvements to global football governance, separating commercial decision-making from political decision-making, focusing on women in football and human rights, and increasing scrutiny of senior officials.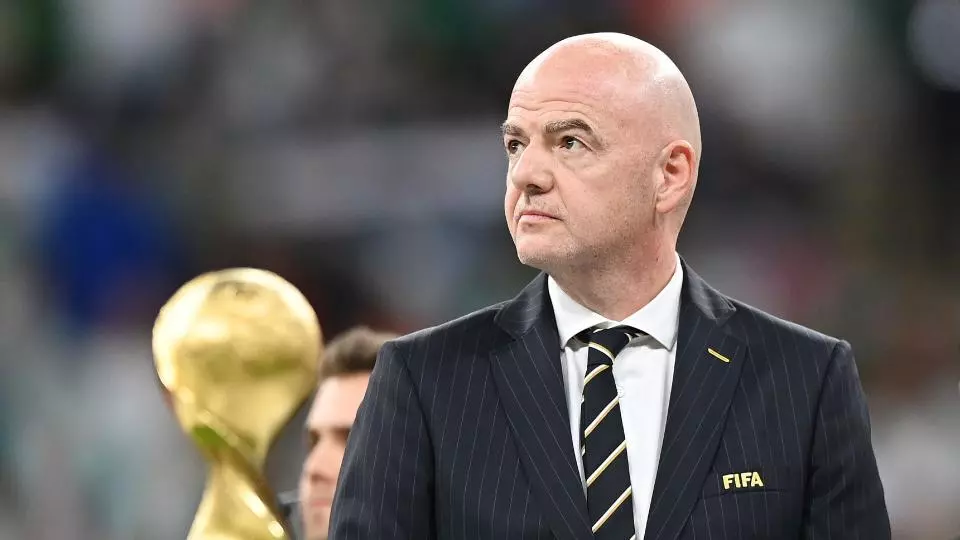 Results of the 2016 elections for the office of FIFA President:
Ballot 1:
HRH Prince Ali Bin Al Hussein: 27 votes
Shk. Salman Bin Ebrahim Al Khalifa: 85 votes
Jérôme Champagne: 7 votes
Gianni Infantino: 88 votes
Ballot 2:
HRH Prince Ali Bin Al Hussein: 4 votes
Shk. Salman Bin Ebrahim Al Khalifa: 88 votes
Jérôme Champagne: 0 votes
Gianni Infantino: 115 votes
Before being elected FIFA President, Gianni Infantino was the UEFA General Secretary since October 2009, joining the organization in 2000. Over 400 staff members worked under him, helping UEFA's role as a credible and respected international governing body and national teams and clubs across Europe.
Through his leadership of UEFA's administration and collaboration with the Executive Committee, he intensified the efforts to provide UEFA's European football with an environment conducive to democracy and sustainability.
A number of initiatives were implemented to achieve this, such as Financial Fair Play, improved commercial support, and a more active role in the decision-making process for all UEFA member associations, as well as the expansion of UEFA's competitions at all levels of the game – including the exponential growth of the UEFA Champions League and the development of the UEFA European Football Championships.
As the current president of FIFA, Gianni fought racism, discrimination, violence, and hooliganism in football and match-fixing in Europe.
Time In Football Timeline
Joined UEFA in August 2000
Since January 2004, he has been Director of UEFA's Legal Affairs and Club Licensing Division. In addition, he fostered close contacts between UEFA and the European Union, the Council of Europe, and governmental bodies.
Gianni was promoted to Deputy General Secretary before becoming General Secretary in 2009
Appointed to the 2016 FIFA Reform Committee in August 2015
He has been an adviser to various football bodies in Italy, Spain, and Switzerland before joining UEFA as Secretary General of the International Centre for Sports Studies (CIES) at the University of Neuchâtel.
The Inter Milan fan became the current FIFA president in February 2016.
Taking over from Sepp Blatter in 2016, The Swiss-Italian was re-elected in 2019 for another term until 2023.
According to a FIFA statement released before the 2022 World Cup, only one candidate will be for the 2023 FIFA presidential election allowing him to do a third term as the FIFA leader.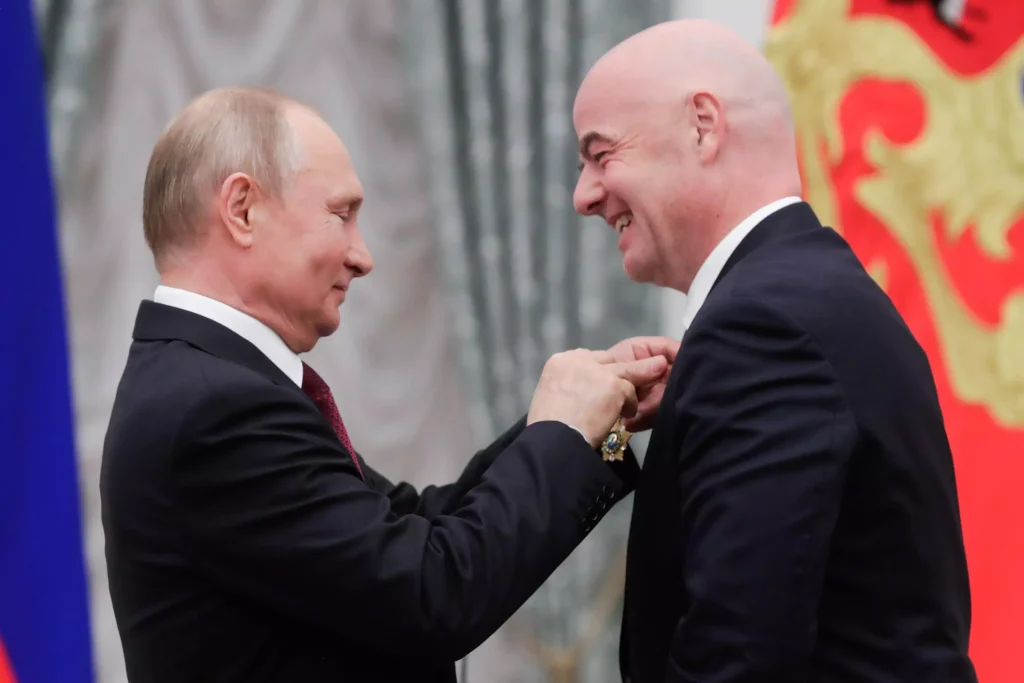 Current President Of FIFA Facts And Stats
Full Name: Giovanni Vincenzo Infantino
Birthplace: Brig, Switzerland
Birthdate: 23/03/1970
Nationality: Swiss/Italian
Marital Status: Married to Lina Al Achkar Infantino, four children (Alessia, Sabrina, Shanïa Serena, and Dhalia Nora)
Education: University of Fribourg
Mother Tongue: Italian/French/Swiss/German
Other Languages: English/Spanish/Portuguese/Arabic
Ethic Investigations: The current President of FIFA was suspected to have broken the FIFA code of ethics and was interviewed by the investigatory chamber of the FIFA Ethics Committee in 2016. Gianni Infantino was cleared of any wrongdoing and stated it was an internal compliance issue rather than an ethical matter.