A handful of Dutch legends gathered for a dinner in an Amsterdam house. As the night wore on, the conversation inevitably turned to 'who was the greatest Dutch player of all time?' Instantly, the great striker Jan Mulder chose a player who had come close but never won the Ballon d'Or or even a Champions League medal. "Dennis Bergkamp," Mulder announced, "He had the finest technique." The room went silent, Guus Hiddink nodded in agreement, and the matter was settled.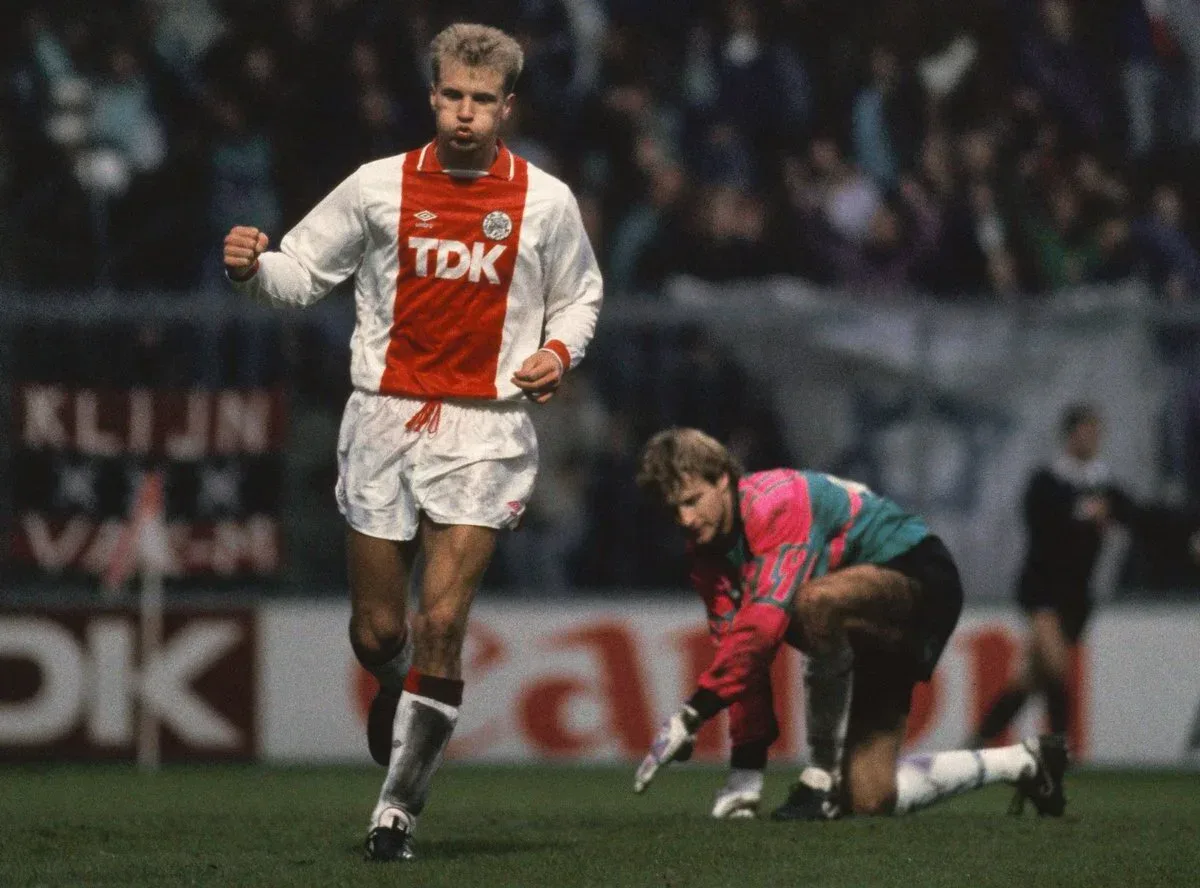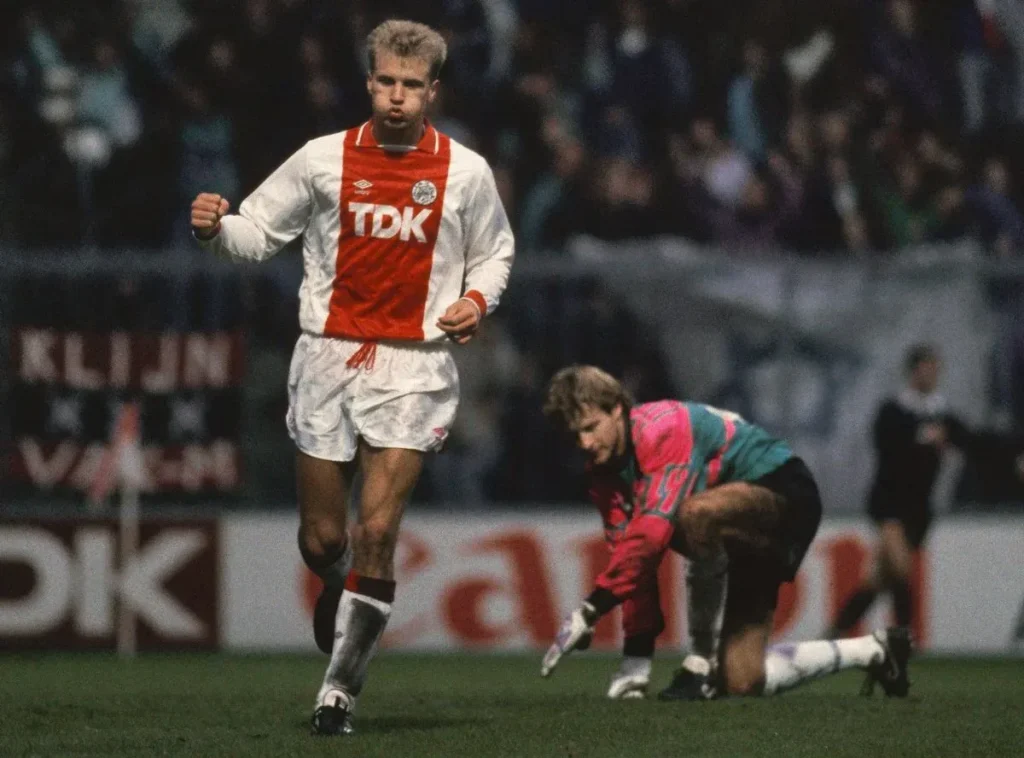 The Talent Of Dennis Bergkamp
Dennis Nicolaas Maria Bergkamp was born on the 10th May 1969 in Amsterdam, Netherlands. From an early age, his talent was apparent, earning him a place at the famous Ajax youth academy at the tender age of 12.
Honing his technical ability through the Ajax ranks, Bergkamp made his full senior professional debut at 17, going on to make 14 appearances that season. Glenn Hoddle was his childhood football hero, who he admired for his soft touch, and Johan Cruyff was another who once coached home in his Under 12 team while at Ajax. Johan Cruyff was the manager when Bergkamp had his debut against Roda JC.
The following season he became an integral part of the Ajax first team and achieved a number of honors, winning the Dutch League in 1990, the UEFA Cup in 1992, and the KNVB Cup in 1993.
Dennis Bergkamp was also the leading scorer in the Eredivisie for three consecutive seasons (1990-91 to 1992-93)  and was voted Dutch Footballer of the Year in 1992 and 1993. The Dutchman scored 122 goals in 239 games for his hometown club before making a £12 million pound move to Internazionale in Milan.
The Best League In The World
Bergkamp's transfer made him the second most expensive player at the time, behind Gianluigi Lentini. At this time, Serie A was the best league in the world.
Despite winning another UEFA Cup in 1994, his time at Internazionale was much less successful. The Italian press criticized Dennis Bergkamp severely for his poor form and inability to adapt to the Italian style.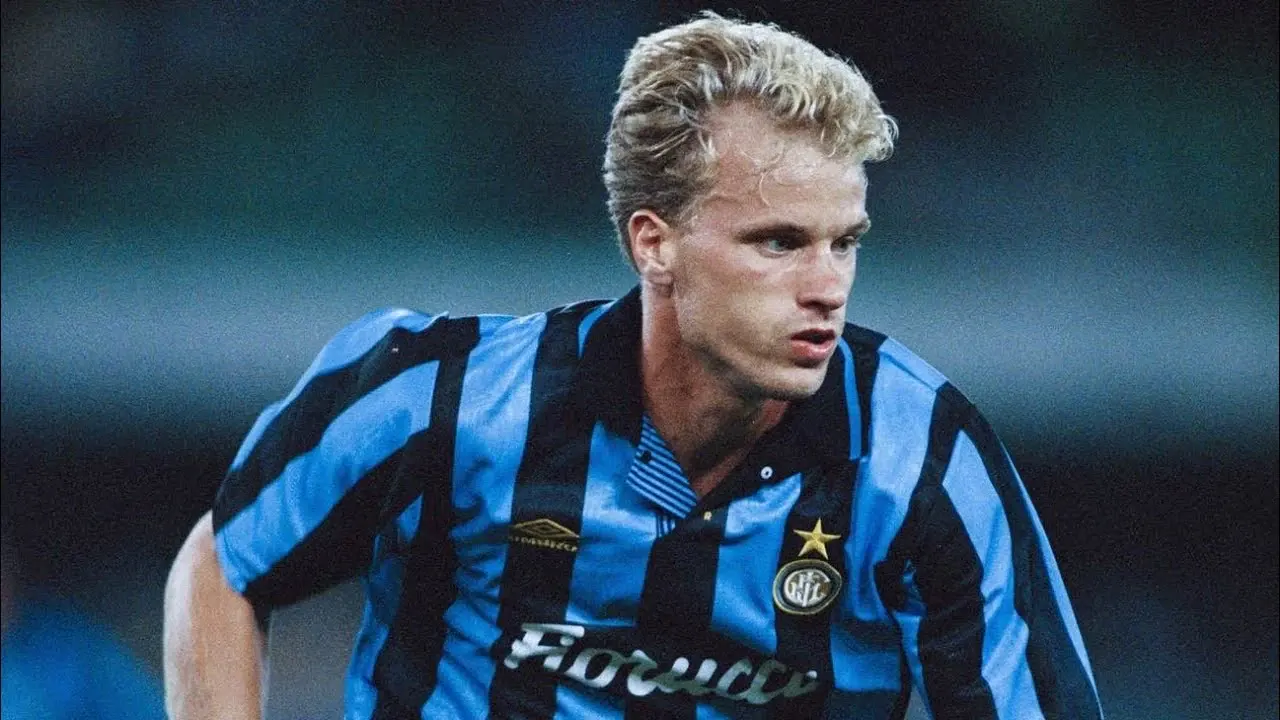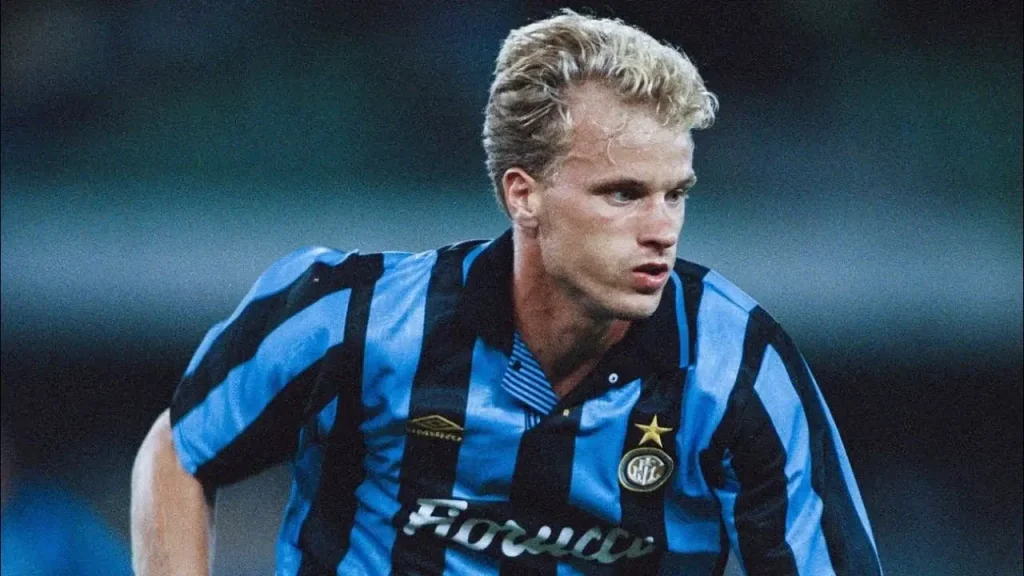 Unhappy Years In Italy
They even renamed the "donkey of the week" (an award given to the worst player) the "Bergkamp of the week" award. Bergkamp spent two miserable years in Italy at Inter Milan before moving to Arsenal, where he would truly show the world what a great player he was.
Bruce Rioch replaced George Graham as Arsenal Football Club manager and signed Bergkamp for £7.5 million pounds in June 1995. Previously the Gunners were labeled as "Boring, Boring Arsenal" under George Graham.
The signing of Dennis Bergkamp proved the beginning of a new, more beautiful Arsenal side in the Premier League. It took him seven games before he got his first goal, but slowly but surely, Dennis Bergkamp found his form scoring a brace against Southampton and never looking back.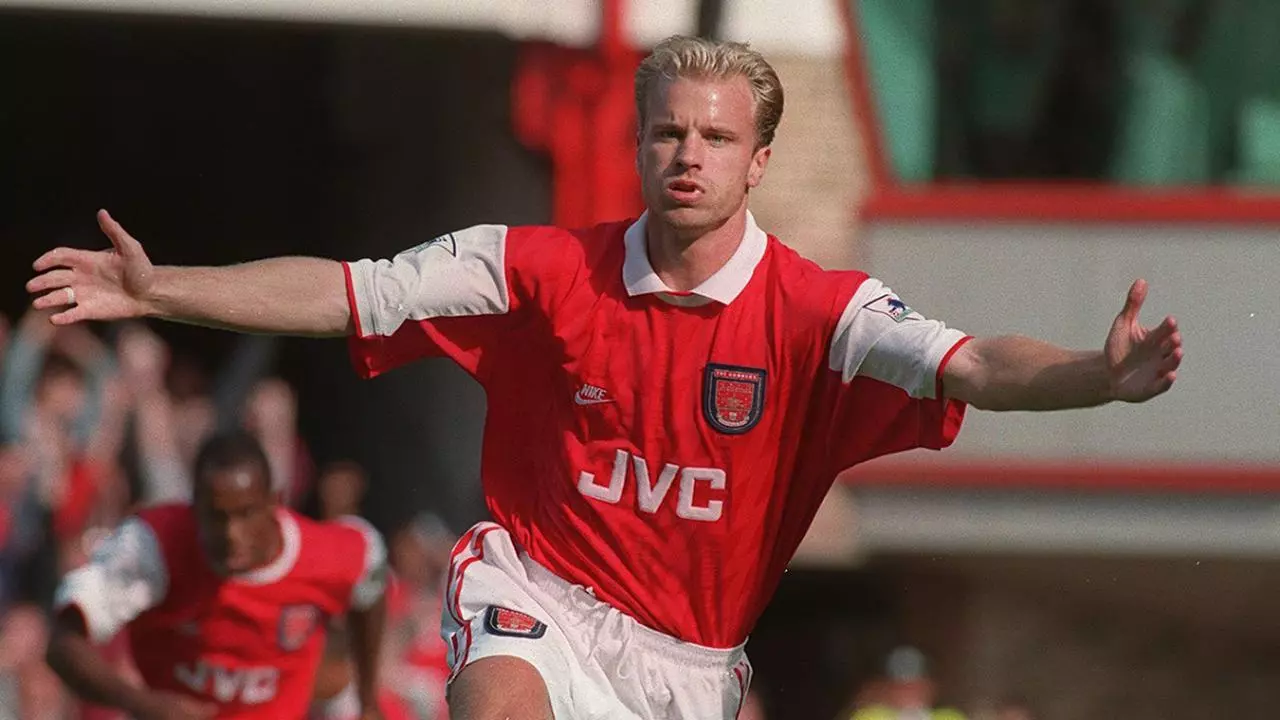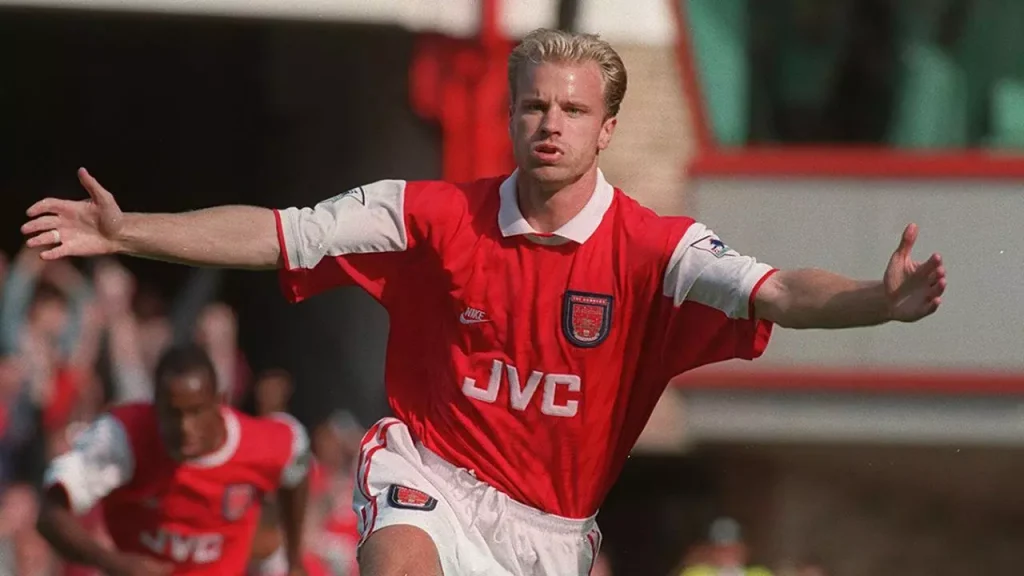 Arsenal Wenger And Dennis Bergkamp
Rioch's time at Arsenal ended abruptly, and in 1996 Arsene Wenger took the reins. This was when Bergkamp found his best form, and as a focal point of Arsene's revitalized Arsenal, his technique, vision, and class was the main contributor to Arsenal's return to success after a brief period of mediocrity in the mid-1990s.
Deployed as a second striker behind Ian Wright, the two strikers created a formidable partnership, landing the Gunners the Premier League and the FA Cup in the 1997-1998 season, with Dennis Bergkamp voted the PFA Player of the Year.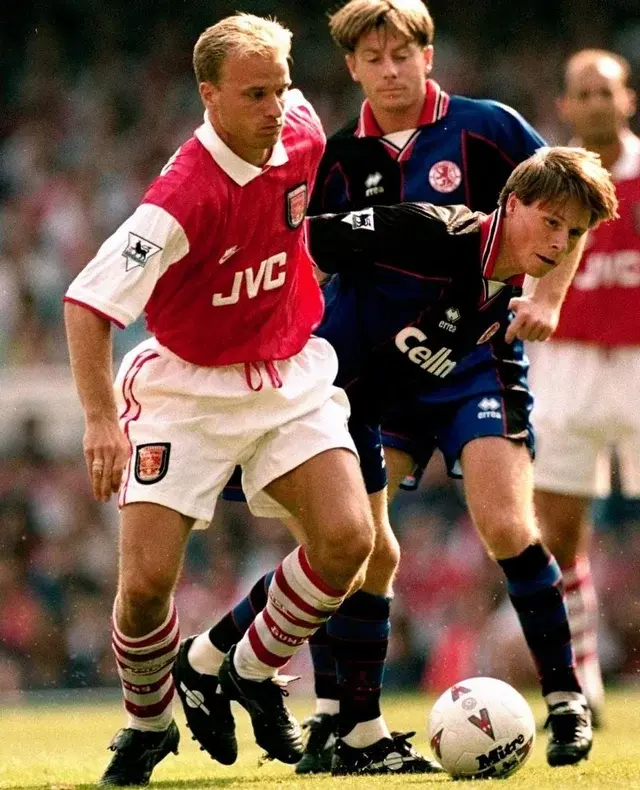 Hat-Trick Of Goals Of The Month Awards
In September 1997, Bergkamp became the first and so far the only player to have come first, second and third in Goals of the Month (including two goals from his hat-trick against Leicester City and one against Southampton).
Dennis Bergkamp picked out the third goal of his hat-trick as his favorite goal of all time. The Arsenal legend was quoted saying, "It was one of those occasions when everything went exactly as I planned it in the second before it happened – the movement, the control, the finish."
Bergkamp's success at Arsenal continued, winning the Double (League Title and FA Cup) again in the 2001-2002 season. He scored the Premier League Goal of the Season with his ingenious flick against Newcastle United.
With another FA Cup victory in 2003, an unbeaten Premier League winning season in 2004, and the FA Cup in 2005, Bergkamp's illustrious career ended in the 2006 season.
While Arsenal failed to retain the Premier League title in 2006, Bergkamp still had a productive campaign, scoring eight goals and providing 13 assists. A 36-year-old hitting those numbers says a lot about his fitness levels, but more importantly, his speed of thought, which compensated for any lack of pace in his later years.
The Arsenal fans bid an emotional farewell to Highbury and one of the most talented and influential players in the club's history. Dennis Bergkamp scored a total of 120 Premier League goals in 411 games. Not bad for a player who doesn't do tap-ins.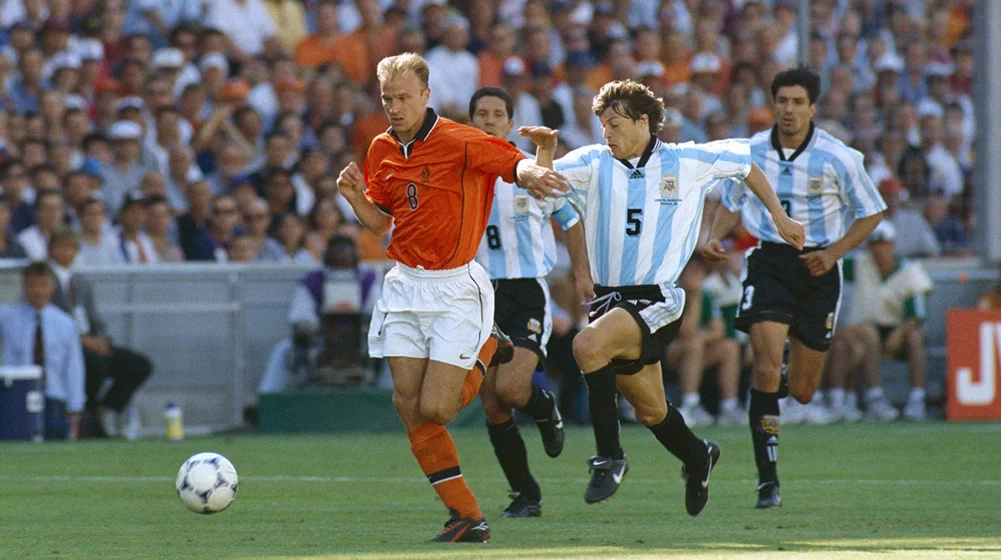 International Football
Making his international debut in 1990, The Dutch striker did not enjoy nearly as much success for the Netherlands, but the Arsenal number 10 still produced some great moments on the biggest stage. As a substitute for Frank de Boer, Bergkamp made his international debut for the Netherlands against Italy on 26 September 1990.
Although impressing at the 1992 Euros and the 1994 World Cup, Dennis Bergkamp found his best form at the 1998 World Cup for the national team, scoring one of the most memorable goals of all time in a quarter-final against Argentina.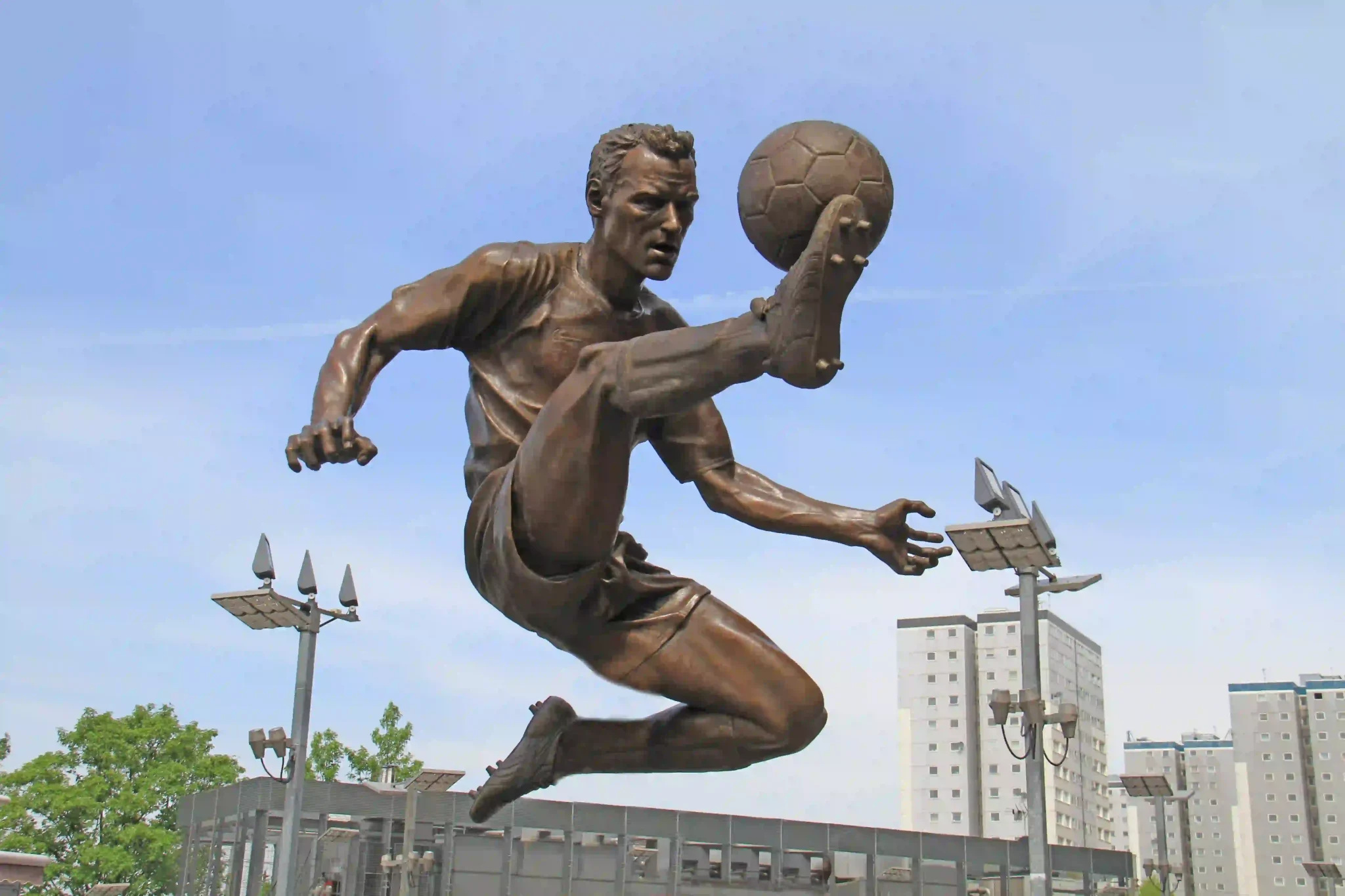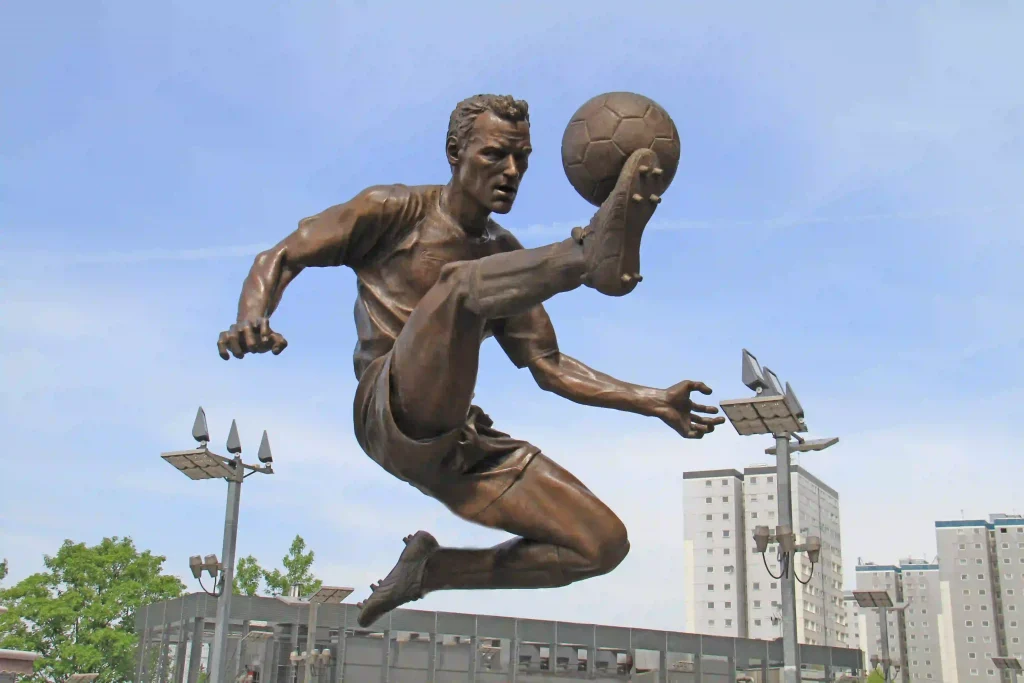 Dennis Begkamp Retirement
The next major tournament, the 2002 World Cup, would be played in Japan and South Korea. Bergkamp's fear of flying would prevent him from traveling, so he announced his international retirement after the EURO 2000 championship. The Arsenal supporters nicknamed him 'The non-flying Dutchman.'
He ended his international career first on the all-time list of goal scorers for the Dutch national team, with 37 goals in 79 games, although Patrick Kluivert later surpassed this record.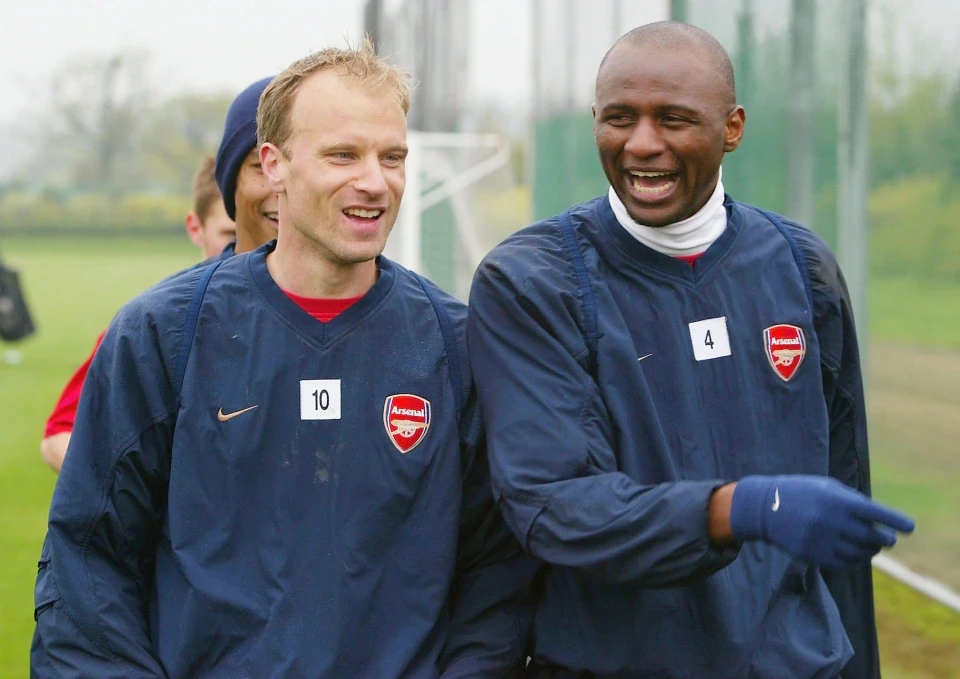 Dennis Bergkamp After Football
Even though Bergkamp stated he didn't wish to be a soccer coach, he served as an assistant at Ajax between 2011 and 2017. Bergkamp is destined for a future in coaching or management, reiterating his ambition to one day return to Arsenal.
A coaching reshuffle led to his dismissal in December 2017 by General Manager Edwin van der Sar and Technical Director Marc Overmars after a series of poor results. Mitchel, his son, was playing for Dutch side Almere City.  He started coaching there part-time for a few years before his son moved to England.
Whatever Dennis Bergkamp did on a football pitch oozed class with a textbook technique, a magnificent footballing brain, and an eye for a killer pass. He played the sport effortlessly and produced some of the classiest and most beautiful football Europe has ever seen.
A natural talent who made the sport into an art, Dennis Bergkamp is the true "Dutch Master." Always stylish, sometimes breathtaking, and occasionally a bit naughty. He transformed the image of Arsenal Football Club from his debut until his retirement.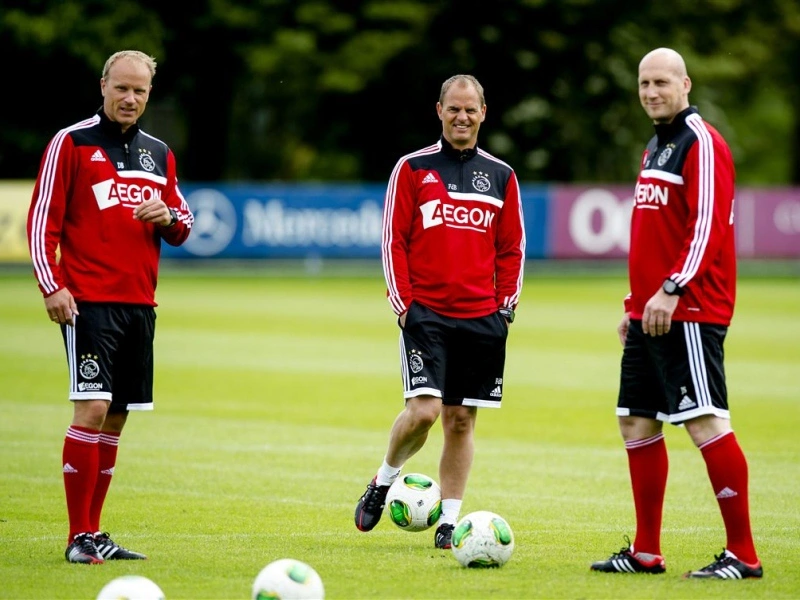 His Favourite Game Of All Time
ARSENAL v MIDDLESBROUGH (Premier League on 22 August 2004 at Highbury Stadium)
It was not a Championship clincher or a Cup final or even a 1-0 dogfight with Manchester United, but the 5-3 walloping of Middlesbrough in a Premier League match, when Arsenal recovered from a 3-1 deficit to win with attacking football that bordered on the delirious.
"That was special," Bergkamp says. "I was captain for the day – I felt like I was a leader on the pitch."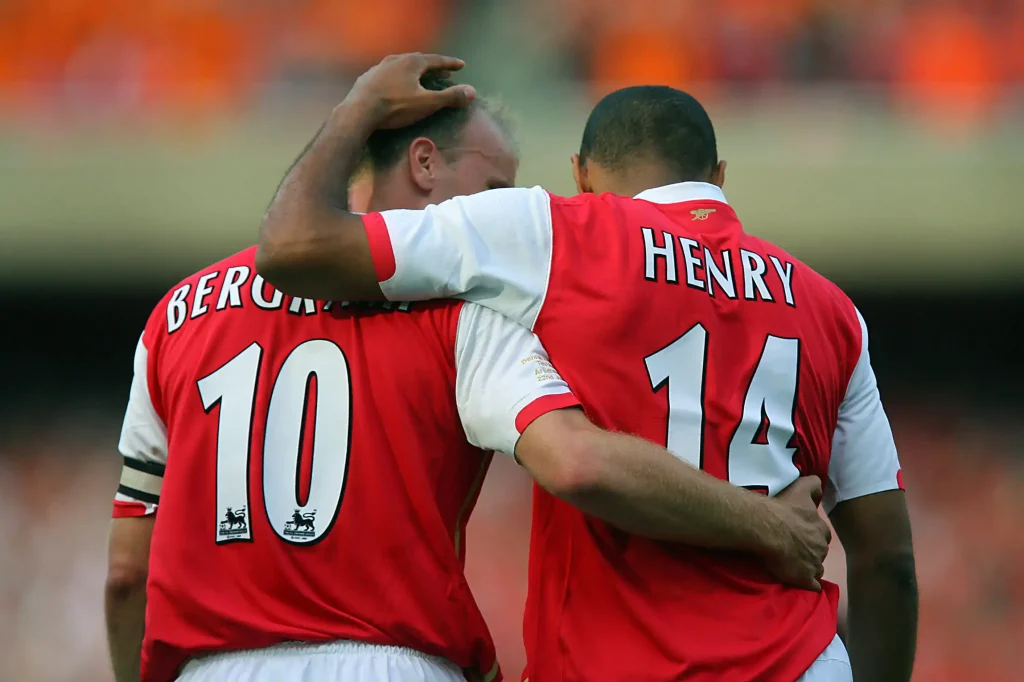 What They Said About Dennis Bergkamp
"If Ryan Giggs is worth £20m, Dennis Bergkamp is worth £100m" – Marco Van Basten
"Can you not say he is the best player in the world right now? If there is a better one, then I have not seen him" – Arsene Wenger
"I have always said Dennis Bergkamp will remain the best partner I have ever had. He is a dream for a striker" – Thierry Henry
"I mean, I've seen it a lot of times and still can't find my mistake in that move. In the area, I did not make any mistake. There is incredible control by him." – Roberto Ayala on Bergkamp's 2-1 goal on Argentina in the 1998 World Cup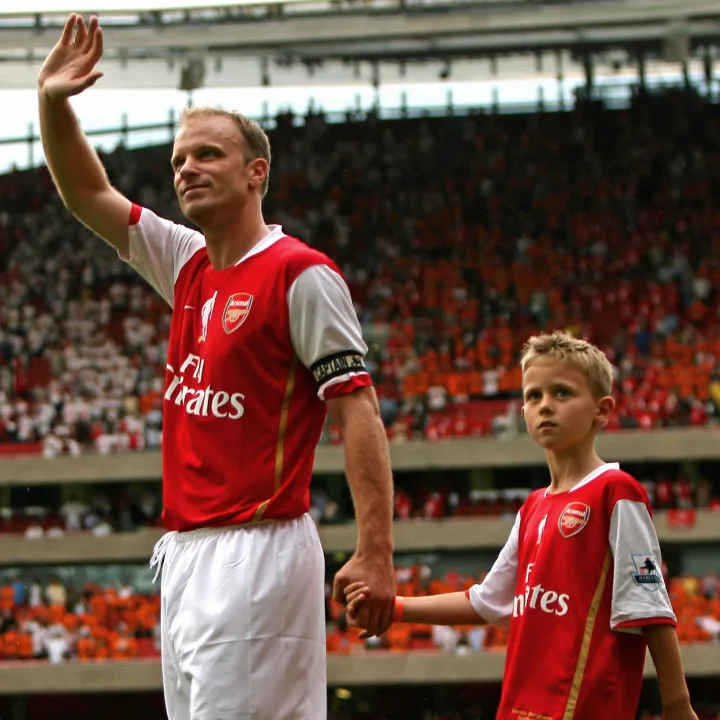 Dennis Bergkamp Facts And Figures
Full Name: Dennis Nicolaas Maria Bergkamp
Birthdate: 10th May 1969
Birthplace: Amsterdam, Netherlands
Bergkamp's Career Statistics
Playing Career:
Ajax 1986–1993
Inter Milan 1993–1995
Arsenal 1995–2006
Total Games: 552 Appearances And 201 Goals
National Playing Career:
Netherlands National Team (79 Appearances, 37 Goals)
Coaching Career:
Ajax (Assistant Coach) 2011-2017
Playing Honors:
Ajax
1986–87: European Cup Winners' Cup
1986–87 and 1992–93: KNVB Cup
1989-90: Eredivisie Champions
1991-92: UEFA Cup Winners
Inter Milan
1993-94: UEFA Cup Winners
Arsenal
1997–98, 2001–02, and 2003–04: Premier League Champions
1997-98, 2001–02, 2002–03, and 2004–05: FA Cup Winners
Individual Honors:
1991 and 1992: Dutch Footballer of the Year
1990–91, 1991–92, and 1992–93: Dutch Eredivisie Top Scorer
1992: UEFA European Championship Team of the Tournament
1992: Ballon d'Or third place
1993: Ballon d'Or second place
1997-98: PFA Team of the Year, Football Writers of the Year, and PFA Players' Player of the Year
2021: Premier League Hall Of Fame
Interest Facts About Dennis Bergkamp
Bergkamp, the son of an electrician, started playing soccer as an amateur in Amsterdam. His father Wim named him after Scottish striker Denis Law.
His family has four children: Estelle Deborah, Mitchel Dennis, Yasmin Naomi, and Saffron Rita. In February 2021, his son Mitchel joined the Watford Under 23 squad.
Bergkamp began his career as a wide midfielder, but he was soon moved to the center of the striker's box, where he played most of his career.
Dennis Bergkamp often stated that assisting goals was more satisfying than scoring them, so he preferred to play this deeper role.
As a result of an engine failure during a flight with the Netherlands national team at the 1994 World Cup, he became terrified of flying. Arsenal supporters nicknamed him the "Non-Flying Dutchman."
In his honor, Arsenal played Ajax at the brand-new Emirates stadium on 22 July 2006.
As the first and only Dutch player to receive the honor, he was inducted into the English Football Hall of Fame in 2007.
In 2021, Bergkamp was inducted into the Premier League Hall of Fame.
At the time of his signing, he broke Arsenal's transfer fee record of £2.5 million.
During the 25-year history of the Premier League, Dennis Bergkamp's goal against Newcastle United in 2002 was voted the finest goal of all time.