Diego Simeone, one of Argentina's greatest football stars, has had an illustrious playing career spanning two decades. As manager of Spanish club Atlético de Madrid, Simeone has written a new and enchanting chapter in the club's history.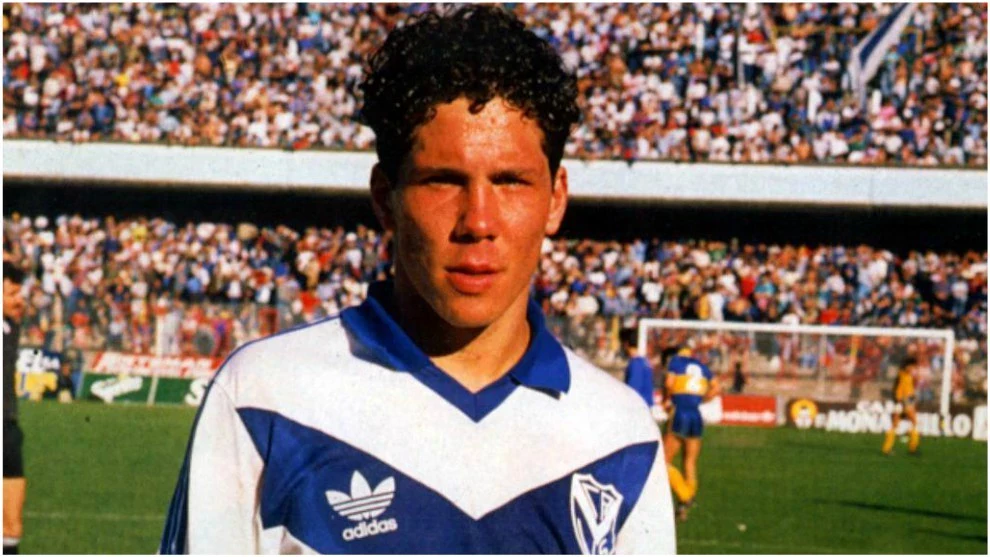 'El Cholo'
Diego Pablo Simeone was born on the 28th of April 1970 in Buenos Aires, Argentina. A product of the Velez Sarsfield youth academy, he made his senior début with the club in 1987, at 17 years of age, and remained at the club until 1990.
As a youngster, Diego Simeone acquired the nickname 'Cholo', but contrary to popular belief, it was not given to him by his first coach. It happened when one of his primary school teachers Oscar Nesi called Diego Simone and it just stuck.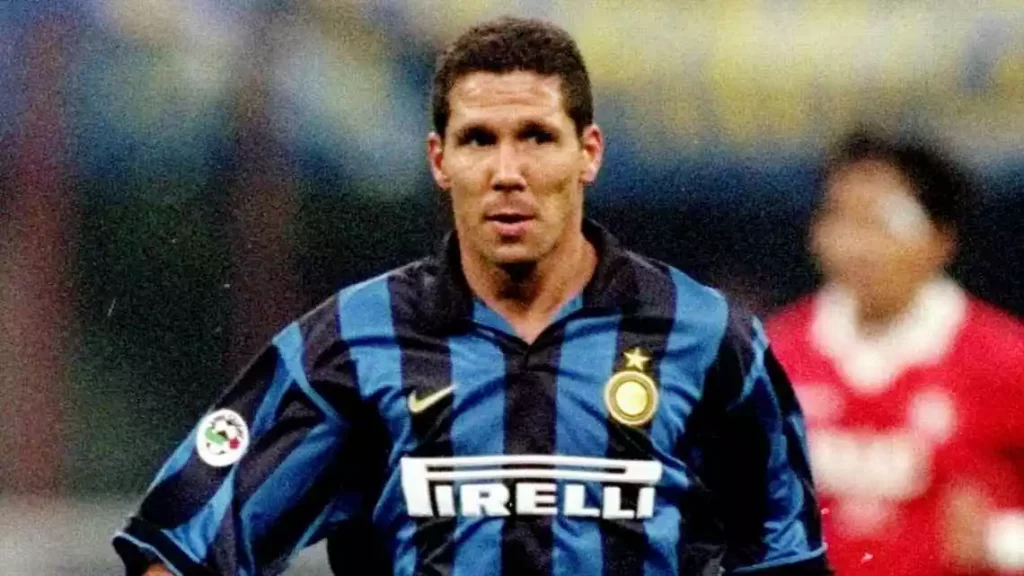 European Voyage With A Historic Double!
Most of Simeone's playing career as the vibrant and battling defensive midfielder he was, transpired in Europe. In 1990, the Argentine arrived at the Italian club Pisa, where his European adventure began.
By 1992, after two seasons at the Italian club, Simeone moved to Spain's Sevilla FC, where he remained until 1994, playing in the La Liga. Thereafter he transferred to Atletico Madrid.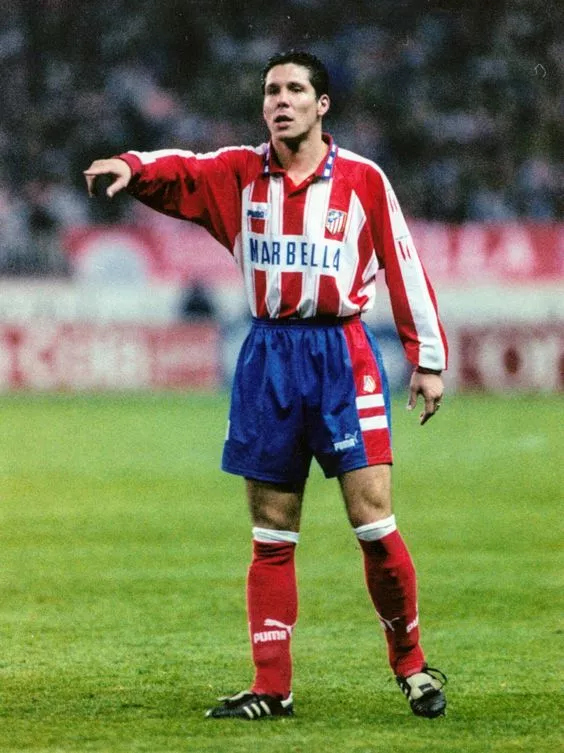 As part of the Atletico team, Simeone won the double in 1996 – the La Liga title and the Copa del Rey – for the first time in the club's history.
By the end of the 1996-1997 season, after having netted 21 goals in 98 league appearances, it was time for Diego Simeone to move on again.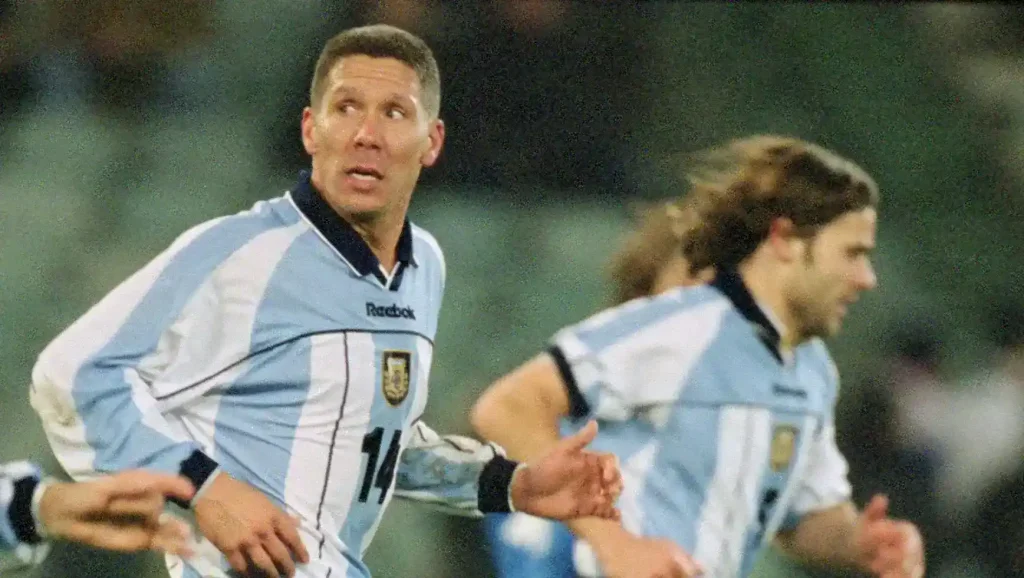 Diego Simeone Leaves
After a two-season stint with Italian side Inter Milan, the Argentine acquired European silverware – the UEFA Cup in 1998, after thrashing fellow Italian side Lazio by 3-0 in the final.
Interestingly, Simeone's next destination was Lazio in 1999. Prior to the Argentine's arrival, I Biancocelesti had come within inches of winning the Scudetto.
This time around though, with Diego Simeone on board, Lazio won the Serie A title (1999-2000) in a thrilling fashion after an arduous season.
League leaders Juventus went into the last match of the season with a 2-point lead. In a surprising twist, Juventus suffered defeat, while Lazio, on the other hand, celebrated with a victory and sealed their Serie A title with just a point over Juventus!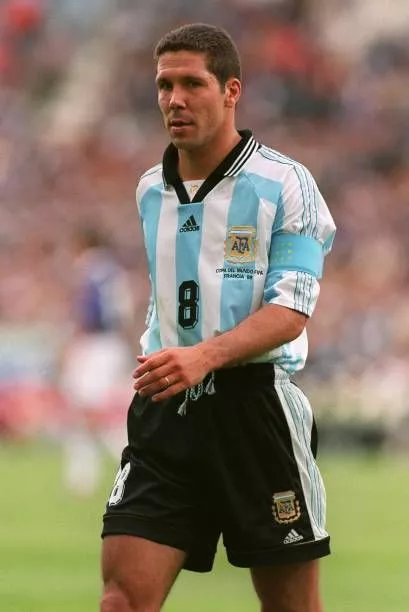 In securing I Biancoceleste's double, Lazio also won the Coppa Italia in May 2000, beating Inter 2-1 on aggregate (Diego Simeone scoring a goal in the 1st leg's 2-1 victory). To this was added the Supercoppa Italia that same year.
In 2003, after the Argentine's second stint (2 seasons) with Atletico Madrid, Diego Simeone returned to his homeland and joined Racing Club in 2005. It was there where he would hang up his boots in 2007 after 84 goals in 513 league appearances during his memorable playing career.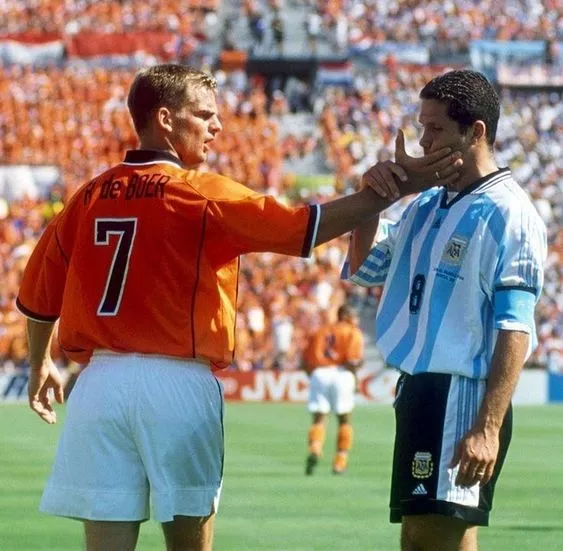 Sky Is The Limit
During Simeone's playing days, he was known to be a bustling, fiery and spirited player who not only commanded the midfield but was also an expert passer of the ball. He had an unyielding passion for the world game, and he pushed himself to the extremes in pursuit of glory.
He never feared anyone – player nor team – only himself. It was crucial to be mentally prepared and to give 100% in every game because if that was not the case, then he didn't feel as though he was the same player.
His qualities of skill, determination, intelligence, and hard work as a player have spilled into his managerial roles. In turn, it is these same qualities that are visible in his players, and which spun together have created the core of his current team.
Honoring The Albiceleste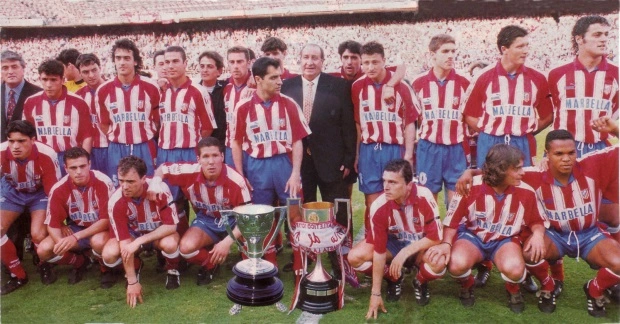 Simeone's period as an international for Argentina began in 1988 and spanned over 14 years (1988 – 2002). During this time, he made 4 appearances for the Under-20 team in 1989, won 2 editions of the Copa América with Argentina (1991and 1993) and the FIFA Confederations Cup (King Fahd Cup) in 1992, hosted by Saudi Arabia.
Diego Simeone and the Albiceleste also traveled to the 1996 Summer Olympics in Atlanta, where they became silver medallists.
Simeone also represented the Argentina national team in 3 FIFA World Cups, in 1994, 1998, and 2002. In having accumulated 106 caps (scoring 11 goals) for his country, at one stage, Simeone was Argentina's most capped player, even having surpassed Diego Maradona.
This was until his record was broken by both Roberto Ayala and Javier Zanetti.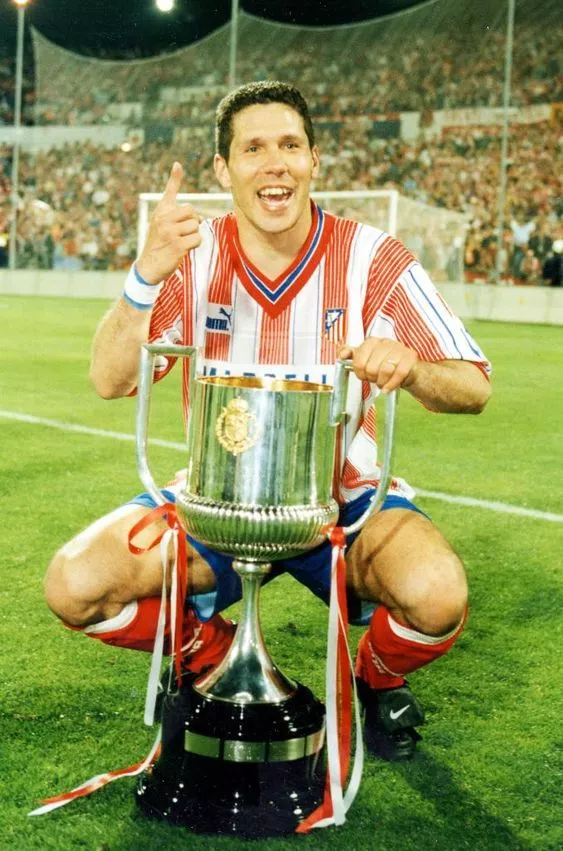 Flurry Of Emotions
The 16th edition of the FIFA World Cup was hosted by France, and it was the first time in the tournament that the Group Stage was expanded to 32 teams from 24.
In the Group Stage, Argentina finished in the top spot after having won all of their matches, against Croatia, Jamaica, and Japan. Argentina was to meet England in the Round of 16, at the Stade Geoffroy-Guichard, Saint-Étienne, on the 30th June.
With pride at stake and a quarter-final spot up for grabs, the clash began in a lively fashion.
Both teams overflowed with talent – Argentina had the likes of Gabriel Batistuta, Diego Simeone, and Javier Zanetti. England had David Beckham, Paul Ince and Alan Shearer.
It was Argentina who took an early lead. As Simeone sped goal-bound, England's goalkeeper David Seaman advanced from his line and dived for the ball, simultaneously bringing Simeone to the ground – inside the box!
The referee immediately pointed to the spot and Batistuta scored the penalty in the 6th minute. In response, England scored both their goals, from Shearer and Michael Owen, in close proximity a few minutes later, taking the scoreline to 2-1.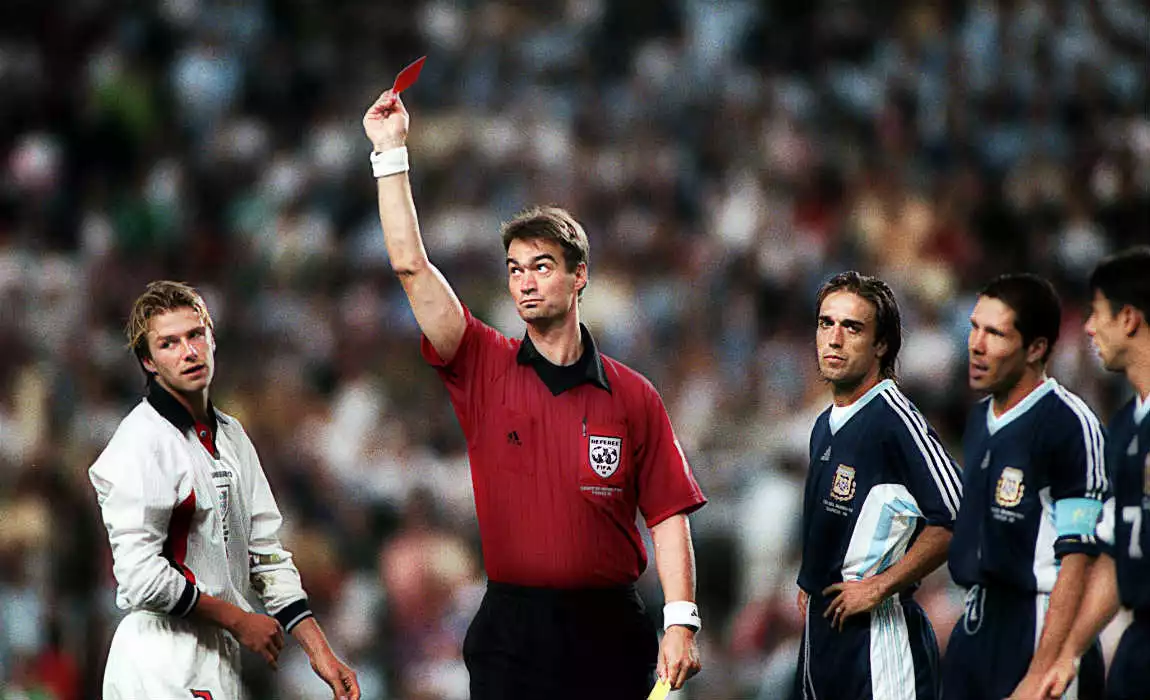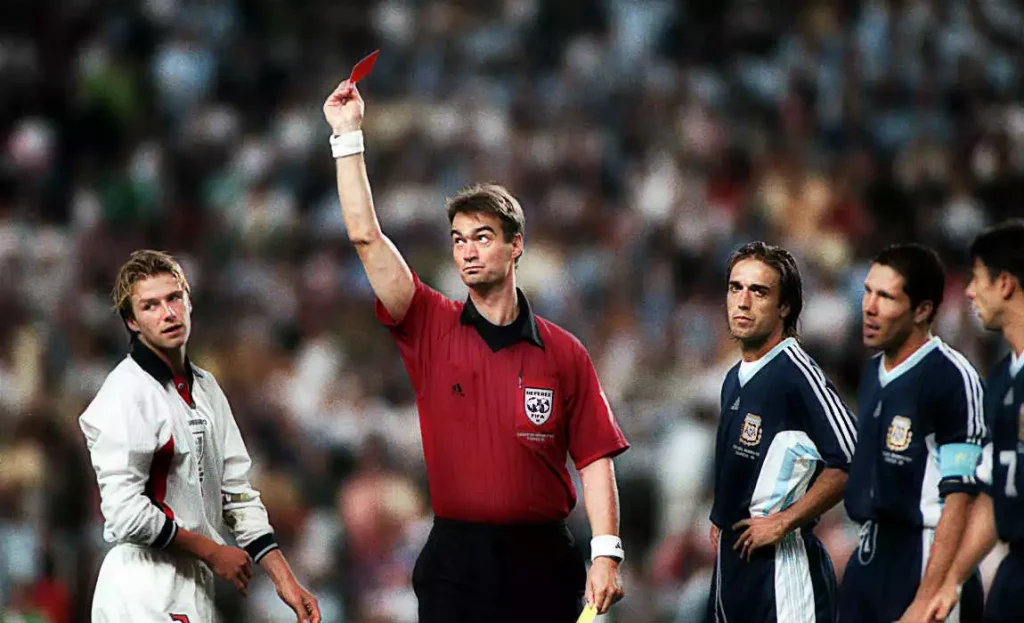 Chaos After Half Time
All were level just before half-time when Zanetti scored Argentina's 2nd.
The critical moment in the match came a few minutes after the start of the second half when Simeone tackled Beckham. As the Englishman fell to the ground, he flicked out his boot at the Argentine – Beckham received a red card and Simeone a yellow.
The incident fuelled the hard-fought contest, with both sides evenly matched and still level at 2-2, after extra time. A penalty shootout resulted in which Argentina was victorious, with a 4-3 scoreline. As England was left distraught, Argentina rejoiced.
It was in facing the Netherlands in the quarter-finals that Diego Simeone suffered an injury as a result of a tackle.
The wonderous 2nd goal of the Netherlands, scored by Dennis Bergkamp in the dying minutes of the match, sealed Argentina's fate, and they were sent home after a 2-1 defeat.
The final on the 12th of July at the Stade de France, Saint-Denis, in front of 80,000 fans, was won by the hosts, France, who glided past Brazil with a 3-0 victory.
This was France's 1st World Cup title, and they became the 6th nation to win the tournament on home soil.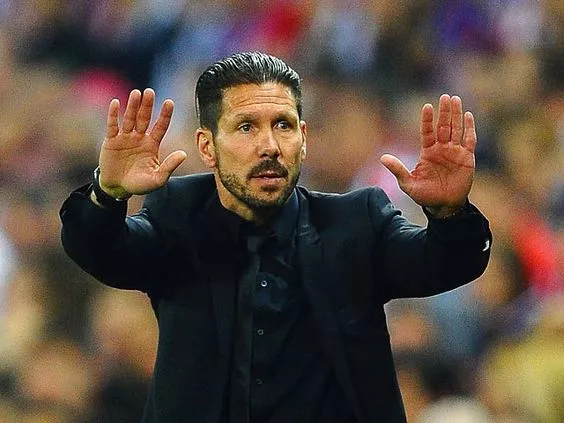 Reflections On The David Beckham Incident
In reflecting on the Diego Simeone and David Beckham incident, it is believed that although the Argentine did later admit to having provoked Beckham in order to get a reaction out of him, it was by no means done to get him red-carded.
Simeone's worst moment of his career came prior to the 2002 World Cup hosted jointly by South Korea and Japan when he broke his knee during one of Lazio's Champions League matches.
After a difficult recovery process, he was, fortunately, able to participate in the tournament.
Argentina suffered a disappointing campaign with elimination in the Group Stage, having narrowly beaten Nigeria (1-0), drawn against Sweden (1-1), and lost to England (1-0). This marked Simeone's last international campaign.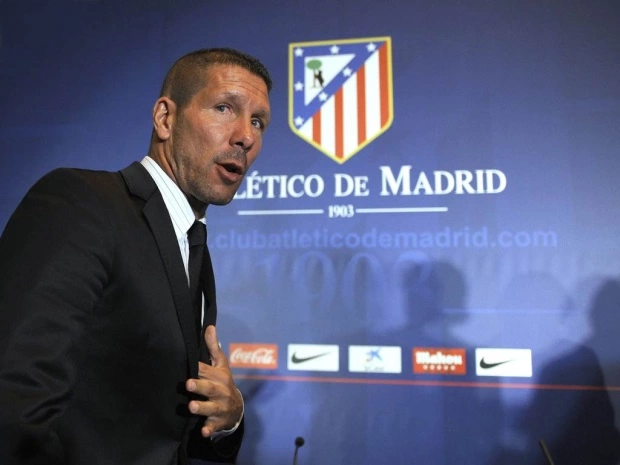 Becoming A Manager
Diego Simeone ended his playing career at Racing Club, the team he supported as a youngster, in February 2006 and made the transition to manager.
His early days in charge were by no means smooth sailing but by the time he left the club in May of that year, Racing was safe from relegation.
During the rest of his managerial career, he experienced varying degrees of success. Remaining in his homeland, Diego Simeone took on the coaching role at Estudiantes (2006-2007), and, although he was there for only one season, he guided his team to their 1st Primera División title in 23 years, when they overcame Boca Juniors 2-1 in the December 2006 final.
This was followed by a year at River Plate (2008), San Lorenzo (2009-2010), and later, Catania (2011).
Simeone returned to Argentina and began his second spell at Racing Club. Just 6 months later in December 2011, he was in Spanish football and the La Liga. once again.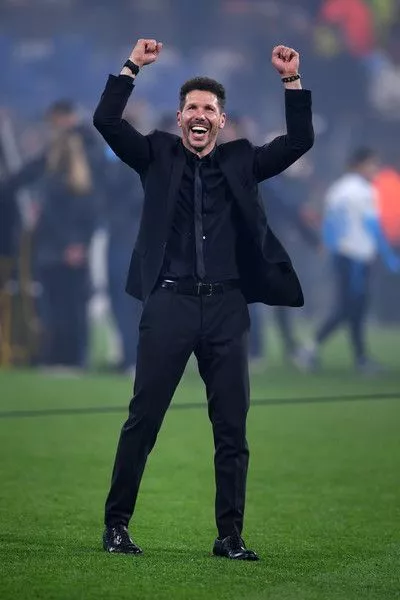 Meant To Be
On the 23rd of December 2011, Diego Simeone was unveiled as the new Atletico Madrid manager, having succeeded Gregorio Manzano.
The new Atlético Madrid coach was quoted upon this arrival, "I always had it as an objective to return as the main coach. I'm going to bring the work ethic and enthusiasm I have always had. The responsibility is enormous but it doesn't scare me. It excites me. I have always risen to challenges and this is just one more."
'El Cholo' arrived during a difficult time – the club had the ambition but did not have the ideal person to steer them in the right direction.
The players flourished with quality but lacked intensity and drive, which was reflected in their below-par performances and inconsistent results.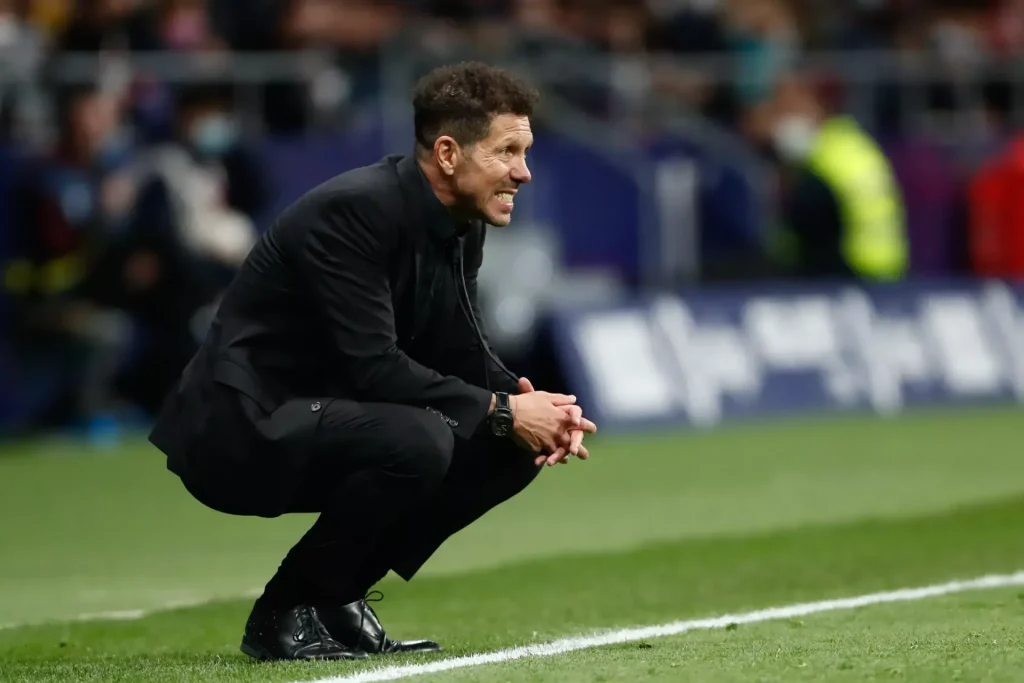 Los Rojiblancos had not had a domestic trophy since 1996; they had finished in 9th place in 2009-2010 followed by 7th spot in 2010-2011.
The club did savor glory when Atletico team won both the UEFA Europa League and the UEFA Super Cup. But, this was accompanied by a 2-0 loss to Sevilla Football Club in the Copa del Rey final in May 2013
The influence of Diego Simone was immediate, and it took him only a few matches to start showing signs of the positive transformation taking place.
During his time at the club, he had already guided Atlético Madrid to 8 trophies: two UEFA Europa League trophies, two UEFA Super Cup winners medals, two La Liga Champions, one Copa del Rey trophy, and Supercopa de España.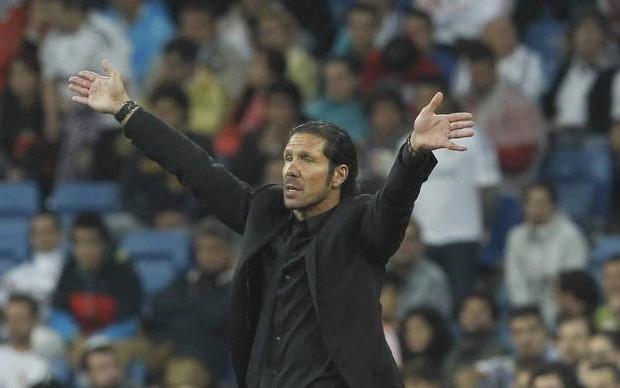 Inspired Winning Strategy
Diego Simeone has been a breath of fresh air at the club and has completely revolutionized the Atletico Madrid playing style.
The team over the past decade now plays with passion, a winning mentality, and a love for the game, which is encompassed with flowing, attacking, creative and dynamic football, which is grounds for many victories to come.
'El Cholo' also has a knack for bringing out the best in his players, with each one of them given full opportunity to shine as individuals and within the team, making them a force to be reckoned with.
There is an admirable fighting spirit and belief that everything is possible through hard work, determination, positivity, and, of course, their never-say-die attitude.
The winning strategy is definitely in Simeone's philosophy of 'taking it one game at a time' and 'playing each match as though it was a final'.
here exists a reciprocal trust between Diego Simeone and his players that together they will achieve all their goals, but with their feet placed firmly on the ground, and respect for their opposition, no matter who it may be.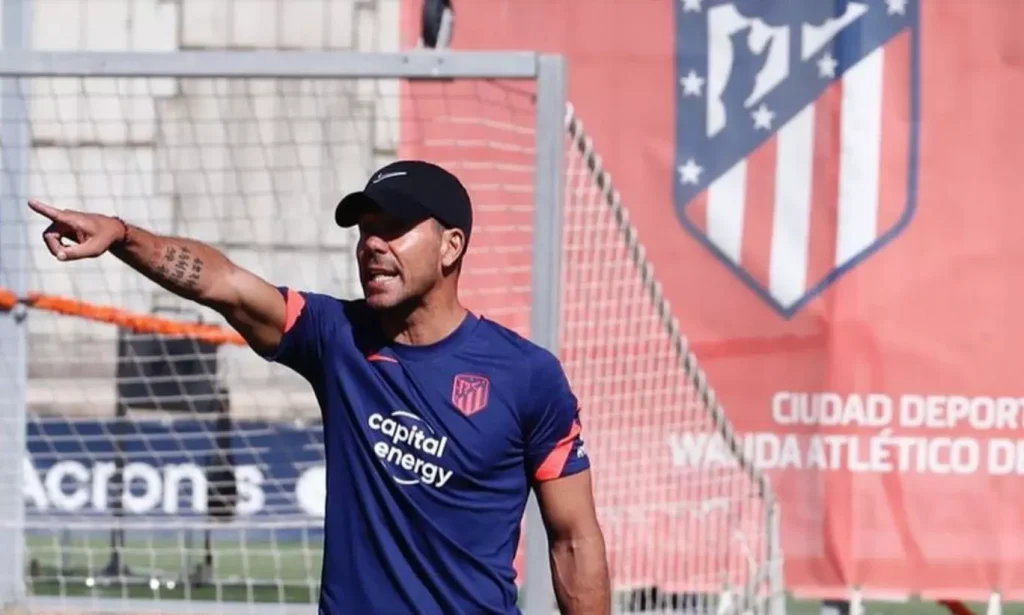 The Heart And Soul Of Atlético Madrid
Atletico Madrid is a football team bursting with some of the most talented players in the world. Diego Simeone has just taken his first steps in guiding his team to even greater future success.
One thing is certain though, no matter what happens from here on out, 'El Cholo' has already earned admiration and respect – victories and silverware aside – for the most important reason…heart.
Deigo Simeone does what he does wholeheartedly. It is most evident when we witness him watching from the sideline during matches.
He lives each second of every game through his players – fighting for every ball, willing his team on, and celebrating each goal scored. Now that's a passion for the game!
Thus far, Atlético Madrid has already exceeded all expectations and is making history for all the right reasons, with Simeone at the helm.
It seems destined that Los Rojiblancos' hero has returned when the club needs him most. Respected, loved and admired by the players and Metropolitano stadium fans alike, his popularity ever-increasing, with Atletic Madrid blood in his veins.
Diego Simeone is the inspiration, warrior, hero, and heartbeat of Atletico Madrid.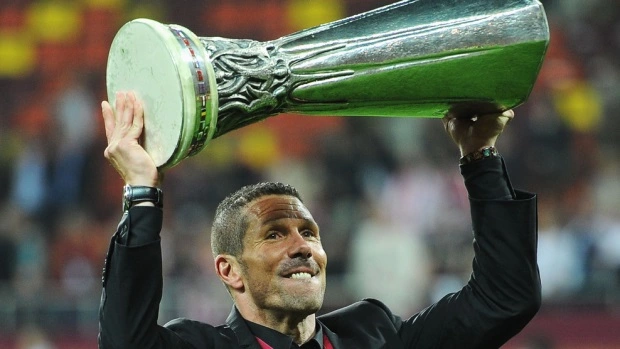 Interesting Facts About Diego Simeone
Diego Simeone hopes to become the third Argentine coach to win the Champions League. He has guided his Atlético Madrid team into the last 16 of the European football major trophy six times. They have been involved in the Champions League final twice and lost.
With 108 caps for the Argentina national team, he is Argentina's equal 5th most capped player sitting behind Lionel Messi, Javier Mascherano, Javier Zanetti, Roberto Ayala, and equal with Ángel Di María.
Simeone became the second Argentine manager, after Helenio Herrera, to lead Atlético Madrid to the Spanish championship.
The Argentine-born manager, Diego Simeone, has overtaken the legendary Atletico Madrid manager, Luis Aragonés, as the club's most successful manager.
El Cholo current managerial contract ends in 2024.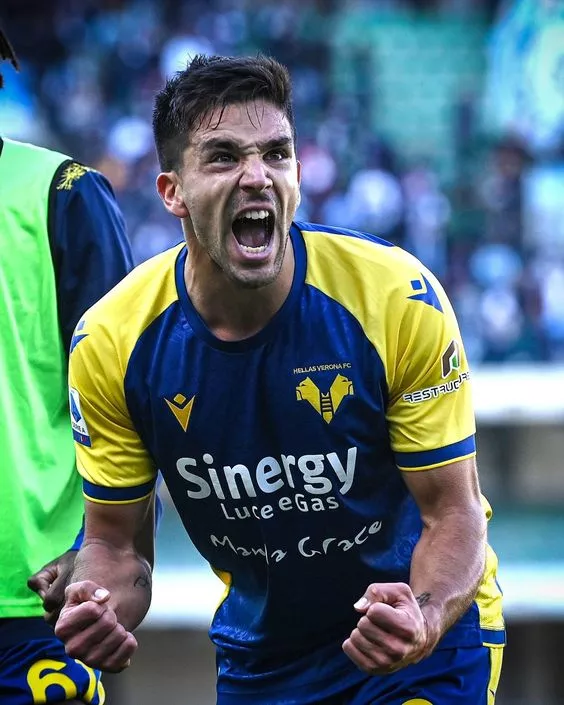 The three sons of the former Argentine player are all professional footballers: Giovanni, Gianluca, and Giuliano.
A Simeone goal against former club Inter Milan on the final day of the 2001–02 campaign effectively ended his old employers' title race hopes. The Inter fans still love him.
Simeone has named Carlos Bilardo, Marcelo Bielsa, Radomir Antic, Sven-Goran Eriksson, Luigi Simoni, Alfio Basile, and Victorio Spinetto are his coaching influencers.
The current 52-year-old main rivals in La Liga are city rivals Real Madrid and FC Barcelona.
This Christmas, Cholo will celebrate his eleventh season in charge of Atlético Madrid (He was appointed on 23rd December 2011).
Having stayed as the Atletico manager for over a decade, Simeone is currently the longest-serving manager in La Liga.
Team owner Miguel Ángel Gil Marín has made Diego Simeone the highest paid manager in world football. L'Equipe says the coach earns 40 million per season on his current contract.
Simeone has promised to return to Inter Milan at some point to coach the Serie A club. He made this statement in 2016.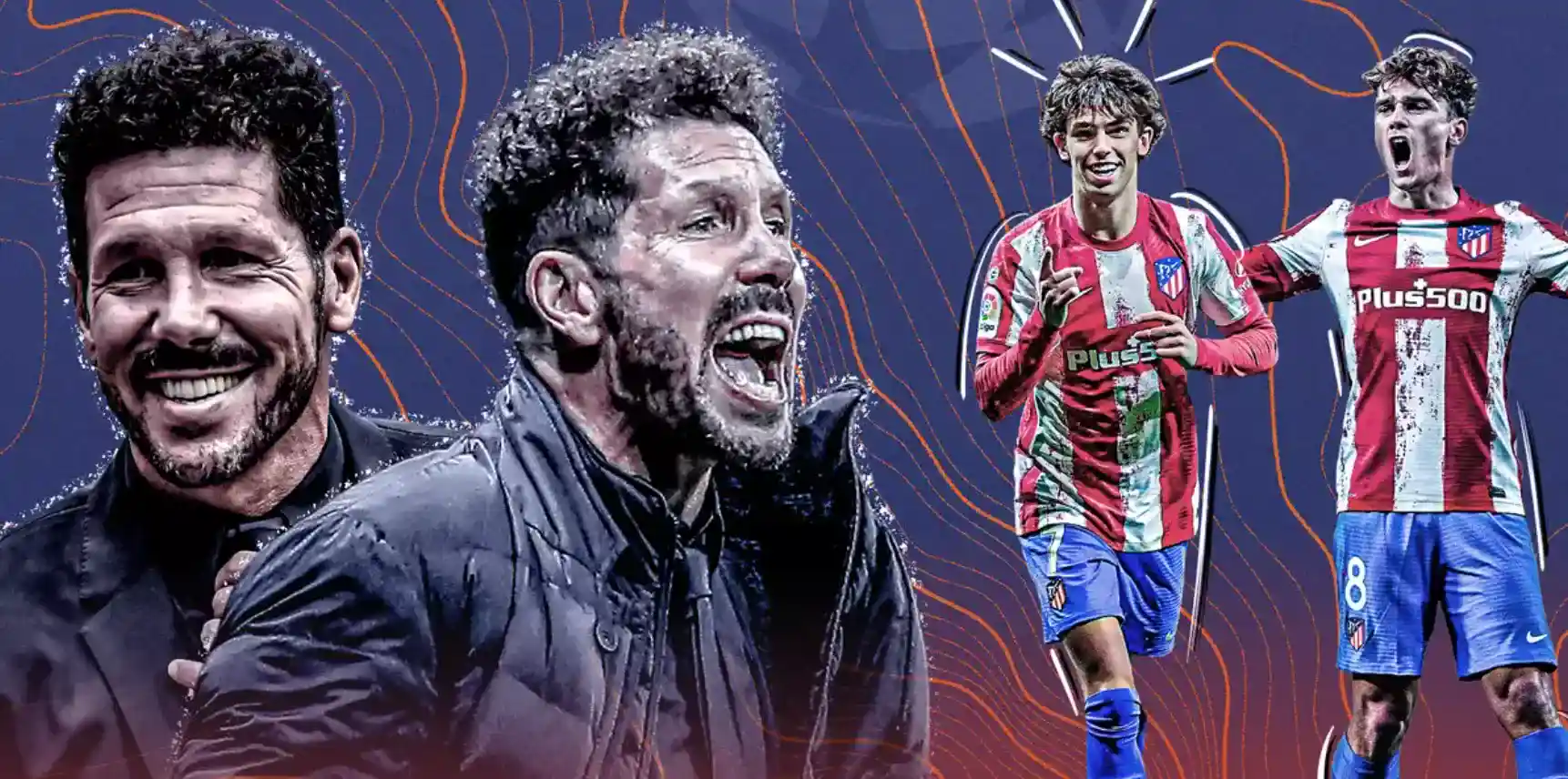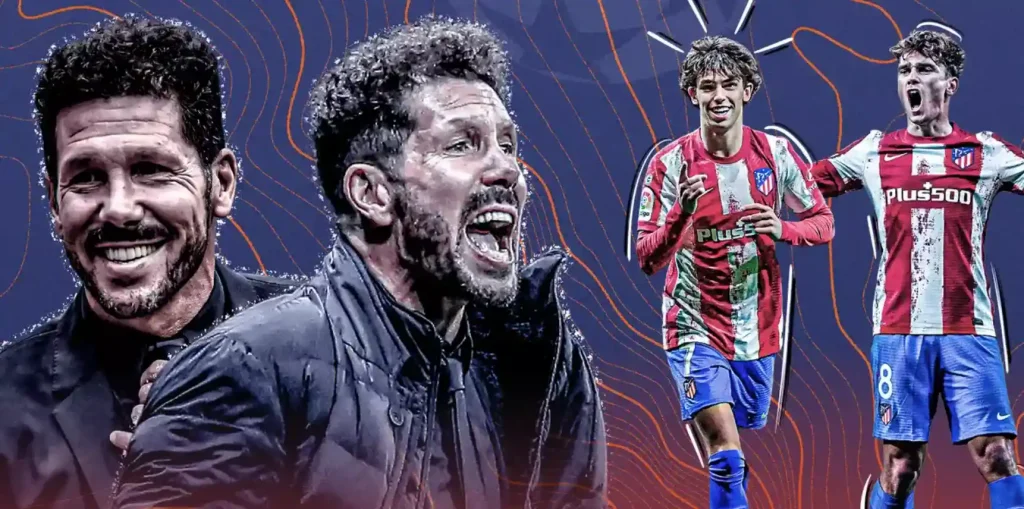 Diego Simeone Career And Honors
Full Name: Diego Pablo Simeone González
Birthdate: 28/04/1970
Birthplace: Buenos Aires, Argentina
Playing Career:
Vélez Sársfield 1987–1990
Pisa 1990–1992
Sevilla 1992–1994
Atletico Madrid 1994–1997
Inter Milan 1997–1999
Lazio 1999–2003
Atletico Madrid 2003–2005
Racing Club 2005–2006
Total Appearances: 513 matches, 84 goals
National Team Career:
Argentina (108 appearances, 11 goals)
Diego Simeone Teams Coached:
Racing Club 2006
Estudiantes 2006–2007
River Plate 2007–2008
San Lorenzo 2009–2010
Catania 2011
Racing Club 2011
Atlético Madrid 2011-current
Playing Honors:
Atletico Madrid
1995–96: La Liga Spanish Champions
1995–96: Copa del Rey winners
Inter Milan
1997–98: UEFA Cup Winners
Lazio
1999–2000: Serie A League Champions
1999–2000: Coppa Italia
2000: Supercoppa Italiana
1999: UEFA Super Cup Winners
Argentina National Team
1991 and 1993: Copa América:
1992: King Fahd Cup
1993:Artemio Franchi Trophy
1996: Summer Olympic Silver Medal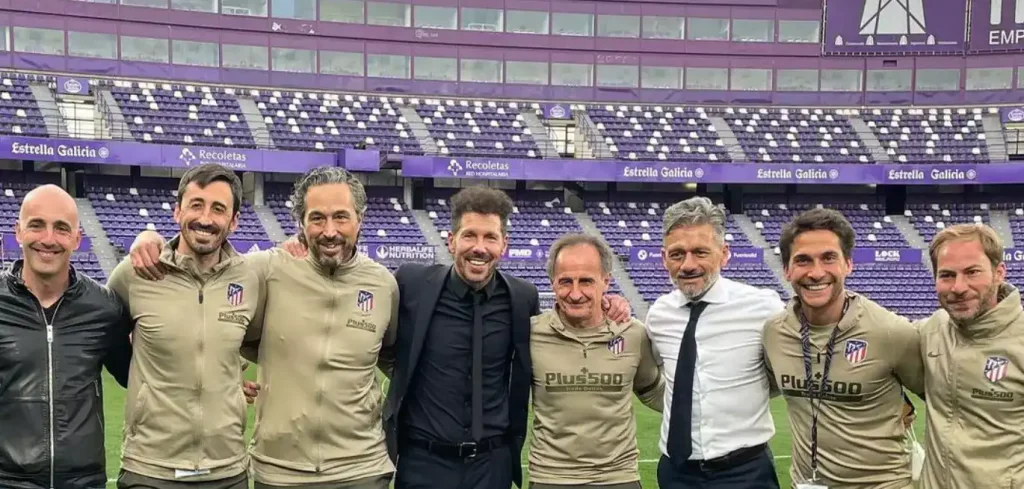 Managerial Honors:
Estudiantes La Plata
2006: Torneo Apertura – Argentine Primera División Champions
River Plate
2008: Torneo Clausura – Argentine Primera División Champions
Atlético Madrid
2011–12 and 2017–18: UEFA Europa League Winners
2012 and 2018: UEFA Super Cup Winners
2013–14 and 2020–21: La Liga Spanish Champions
2012–13: Copa del Rey Trophy Winners
2014: Supercopa de España
Individual Honors:
2011–12: European Coach of the Season
2012–13, 2013–14, 2015–16, 2020–21: La Liga Coach of the Year
2013–14, 2015–16, and 2020–21: Awarded The Miguel Muñoz Trophy