Dino Zoff, the former goalkeeper made 570 appearances in Italy's Serie A from his debut on 24 September 1961 up until his retirement on 2 June 1983. An unassuming man, he enjoyed a hugely successful career at both club and international level. Zoff also made 332 consecutive Italian top-flight appearances for Juventus, without a single absence through injury in 11 years, even if he does admit to having played with broken ribs on some occasions.
"I could list all the victories that you managed to achieve through your skill, talent, and ability to overcome almost effortlessly any obstacle in front of you," wrote FIFA President Joseph S. Blatter in a birthday message to Dino Zoff.
On the pitch, Zoff went about his business in the same cool-headed, efficient manner that he still shows in everyday life. And when asked why he chose the high-risk profession of goalkeeping, his answer is quite simple: "I've never been an artist."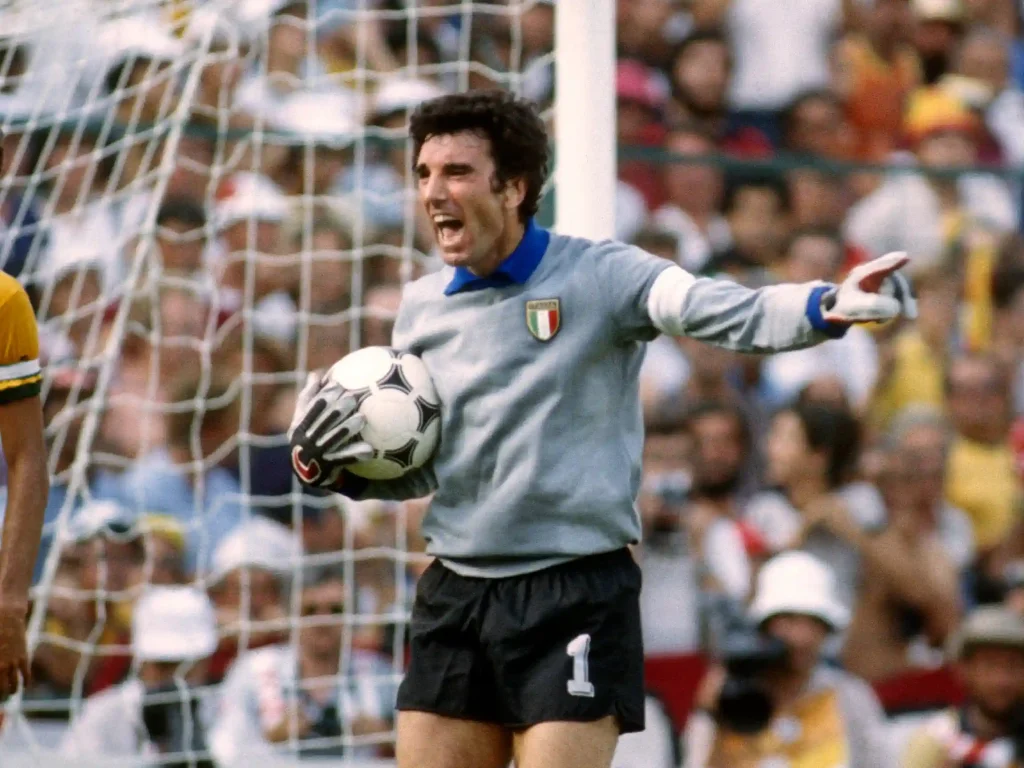 Outstanding Reflexes
Never one for over-the-top dives or unnecessarily showy saves, Dino Zoff was revered for his exemplary positioning, great sense of anticipation, outstanding reflexes, and flawless handling. Thanks to a combination of commitment and hard work, the man from northern Italy is to goalkeepers what Franz Beckenbauer is to defenders and Pele is to forwards: a legend. His most memorable achievement is, without doubt, captaining Gli Azzurri to glory in Spain 1982 at the age of 40, after having made one particularly extraordinary save against Brazil.
"It takes courage to play in a World Cup past the age of 40," Sepp Blatter once said in a press conference. "It is not the age that counts, but the quality. Dino made an incredible save to stop Oscar's header from finding the corner. They will remember it in Brazil for a long time."
"Dino always protected me as if I were his little brother."

Gaetano Scirea, Juventus and Italy legend
Dino Zoff always went about his training in a quiet and unfussy manner, while constantly looking for ways to improve. And despite never being the most vocal presence, he still has a remarkable ability to get his ideas across.
"His authenticity is the quality I most admire," added Blatter. "Being seen but not noticed. In an increasingly noisy world, you have always made yourself heard by using measured, balanced, and fair words. There is no need to raise your voice to make people listen. It is the substance that is important."
Indeed, Zoff may be a man of few words, but when he did open his mouth he always has something to say. "It's true, I don't speak much," he said. "But, in the Friuli region where I'm from, we are rather reserved in the way we express our emotions."
Much Loved By Football Supporters
Forty years after he retired from playing and nearly a decade after the end of his brilliant career as a coach and director, Dino Zoff is still very much loved in Italy. The famous game of cards he played on the return flight from Madrid to Rome alongside Italian president Sandro Pertini, coach Enzo Bearzot and Franco Causio, with the FIFA World Cup Trophy sitting on the table next to him, perfectly captures his straightforward, honest and fair approach to life.
In our interview, Zoff still mourns the untimely death of his friend and former team-mate, Gaetano Scirea, a player with whom "a glance was enough to gain an understanding". And he still has respect for former Juventus owner Giovanni Agnelli, who would often drop into the Bianconeri dressing room for a "quick coffee" at half-time during home games. "He never came to interfere on a tactical or technical level," Dino Zoff explained. "Just to give encouragement. He was a completely discrete presence."
Dino Zoff revealed "Michel Platini, Jose Altafini and Omar Sivorni were the best players" he played with, while in terms of those he coached, he said: "Francesco Totti, to whom I gave his international debut, has phenomenal technique and power, and had the ability to leave an even greater impression."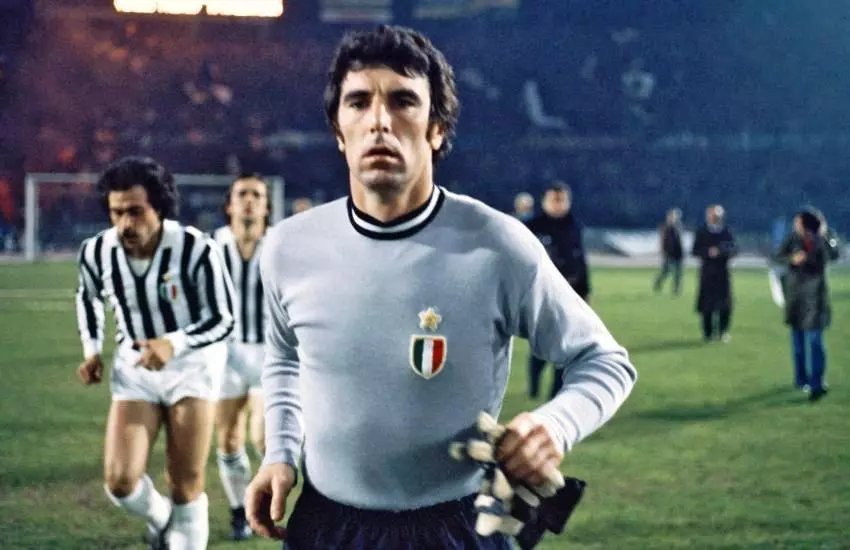 Our Interview With Dino Zoff
Dino Zoff's stellar career spans three decades. At the age of 40 years, four months, and 13 days, Zoff is the oldest player to have won the World Cup, which he won as captain of the Italian national team in 1982. For his performances, he was also named to the team of the tournament and won the award for being the best goalkeeper. Dino Zoff is the only Italian player to have won both the World Cup and the European Championship.
Likewise, Dino Zoff won six Serie A titles with Juventus, two Coppa Italia titles, and a UEFA Cup.
He ranks among the very best goalkeepers in the history of the sport. After retiring as a player, Dino Zoff became a soccer manager, coaching the Italian team, which lost to France in the Euro 2000 (European Championship) final. During the 1989-90 season, he led Juventus to a double of UEFA Cup and Coppa Italia, trophies he had won both as a player and as a manager.
In an interview with The History Of Soccer, the famous Italian goalkeeper talks about his greatest glory between the goal posts at Spain 1982.
What does the FIFA World Cup mean to you?
Dino Zoff: For me, the words 'World Cup' evoke the happiest and most beautiful days of my sporting life. I played at a few World Cups and brought the curtain down on my playing career with victory at one of them (1982). So you can imagine the sense of satisfaction and pleasure the competition brings to mind.
"Dino was Italy's most important player in 1982. He was the one who truly represented the team. He was an example to all of us, myself more than anyone."

Paolo Rossi, adidas Golden Ball and adidas Golden Shoe winner at Spain 1982
Have you maintained close ties with the players you shared your World Cup adventures with?
Dino Zoff: Club soccer brings some of us together from time to time, and we still have a strong bond that comes from sharing victory at the World Cup. Something like that is unforgettable, so, typically, friendships forged in those circumstances should endure. Occasionally, I also meet some of the guys I played against in those days, and it's always nice to have a few words with them.
What was your secret? Did you have some special psychological preparation, or did that steely focus and poise come naturally?
Dino Zoff:  No, not at all. You prepare for a World Cup, as it's the ultimate in football. So by the time you arrive there, you're already entirely focused. Moreover, we Italians have a very competitive and demanding domestic championship, which is why I say concentration is a given. I'd say the greatest danger would be an inability to deal with this tension, but the Azzurri have always gone into the World Cup with maximum focus.
Played In Three World Cups
You played in three FIFA World Cups, and it might have been four had you not lost out to Albertosi in 1970.
Dino Zoff: I'm happy with what I achieved, even if I was annoyed not to play at Mexico 1970, the first World Cup finals I was selected for. I had played in the side that won the European Championship in Rome two years earlier, so I thought I'd start in Mexico. However, in the end, I didn't, and that was down to coach Valcareggi and his first choice Albertosi, who, I should add, was a great goalkeeper. I was pretty upset at the time, but I was able to play a full part in 1974, 1978, and 1982.
How do the three FIFA World Cups you played in compare?
Dino Zoff: Well, in 1974, the Italian team arrived in Germany with great expectations. I'd even made the cover of Newsweek magazine, as I hadn't conceded an international goal for two years (1972-74). But that World Cup didn't go well, not necessarily for me, as I think I more or less did my job, but for the team in general. I think it was because we were sort of between generations at the time. Several players were coming to the end of their careers, and the coach had several directors at the FA, heaping pressure on him. Of course, everyone knows that an army doesn't fare very well when there are too many generals.
In 1978, on the other hand, we had a great World Cup – everyone, that is, except me. I wasn't in great shape physically and so didn't perform as I should have. Even today, I'm still blamed for letting in that long-range effort (from Arie Haan in our game against the Netherlands). Nowadays, strikes like that are hailed as wonder-goals, but back then, everyone blamed the goalkeeper. I accept I could have done better and that we could have reached the Final, though I doubt we could've won it. Argentina was mighty at the time, plus they had a home advantage. But, yes, I could have done more. But then, there was 1982.
Can we stay with 1978 for a moment longer? Rossi and Gentile told us it was in Argentina that the all-conquering team of Spain 82 began to come together.
Dino Zoff: Without a doubt, the 1982 team took shape in 1978. We also had Bettega, who unfortunately missed the Spain World Cup because of injury. He was a great player and a massive loss for us. But the team's nucleus was the same as 1978, and that's when the seeds of the 1982 success were sown. The finals in Spain were an extraordinary experience. We had that frustrating start with all the ensuing criticism and then came the instructions not to talk to the press. Generally speaking, Italy are slow starters in major tournaments, which stems from the enormous pressure we're under and a fear of not getting past the first round.
1982 World Cup
Nonetheless, there was a mechanism in place.
Dino Zoff: Yes, there was, but there was still an awful lot of tension in the (first) group phase, those opening three games. After the Argentina finals, the start of the 1982 edition was tough because everyone knew if we didn't survive the group stage, it would be construed as a colossal failure and be accompanied by howls of protest. Consequently, the pressure was so intense that the team was unable to express itself freely. However, once we got past that stage, we had a superb World Cup.
The defense had to shoulder much of the responsibility in those opening three games.
Dino Zoff: I wouldn't say the defense was on the rack or anything, just that we weren't playing as we could. We were too reserved and too measured in our overall play. I mean to say that there wasn't the freedom there that you need to play well. Once we got over that, well, everyone knows what happened.
As captain, how did you get messages across to your teammates during the games?
Dino Zoff: Messages? Well, I was 40 years old and their captain, so I had the authority to make my voice heard. In truth, though, it isn't easy to give messages to your teammates in highly pressurized situations. But, once we got things in hand and had stopped talking to the press, we could communicate more directly.
"He was a level-headed goalkeeper, capable of staying calm during the toughest and the most exhilarating moments. He always held back both out of modesty and respect for his opponents. At the end of the Brazil match, he came over to give me a kiss on the cheek, without saying a single word. For me, that fleeting moment was the most intense of the entire World Cup."
Enzo Bearzot, Italy coach at Spain 1982
Enzo Bearzot Relationship
Would it be fair to say you and Bearzot had a close relationship?
Dino Zoff: Yes, you could say Bearzot confided in me and that there was certain complicity, but I don't mean that in a negative sense. I've always believed that everyone should be where they belong. Bearzot was the coach and the man ultimately responsible. I'm convinced it was because of him we won the World Cup. He managed to maintain unity in the side and knew when to take the flak for us at difficult moments. He was almost like a father to me – we're from the same part of Italy – and there was always a deep respect for each other's position.
Aren't the people from your region famed for talking little but working a lot?
Dino Zoff: Yes, what characterizes we Friulans, or at least what used to, is that we place more importance on facts than words. We're not talkative people by nature. Bearzot believed as I do that words have their own weight. When you say something, you have to be accountable for it. But, unfortunately, nowadays, words have been devalued. You can see that in all these false prophets who talk endlessly but say nothing.
Were you privy to Bearzot's instructions?
Dino Zoff: No, because I didn't want to be. I've always believed in respecting other people's work, and the coach has to be the one responsible. As captain, I had a different kind of responsibility. Occasionally he would say something to me or confide in me, but it wouldn't have gone any further than that.
Could you see Tardelli's goal (in the Final against Germany) from where you were?
Dino Zoff: Yes, but more than the goal, I saw Tardelli's reaction. After scoring, he went crazy? He was a very passionate and intuitive man, and so his response was only to be expected.
When you finally won the world title, did you give free rein to your emotions?
Dino Zoff: Well, I never lost my composure, although I was naturally thrilled with our win. If you think about it – it's the World Cup, I'm 40 and the captain, and we have all these great results – we couldn't but be euphoric and do laps of honor. But, that said, I've never been one for exaggerated celebrations or over-enthusiasm on the pitch.
But was it the culmination of your career?
Dino Zoff: That's true, but I'm a great believer in reasonable behavior, out of respect for my adversary. I'm not too fond of exaggerated gestures of exasperation and enthusiasm. I always try to think about how my opponent must be feeling (when I win).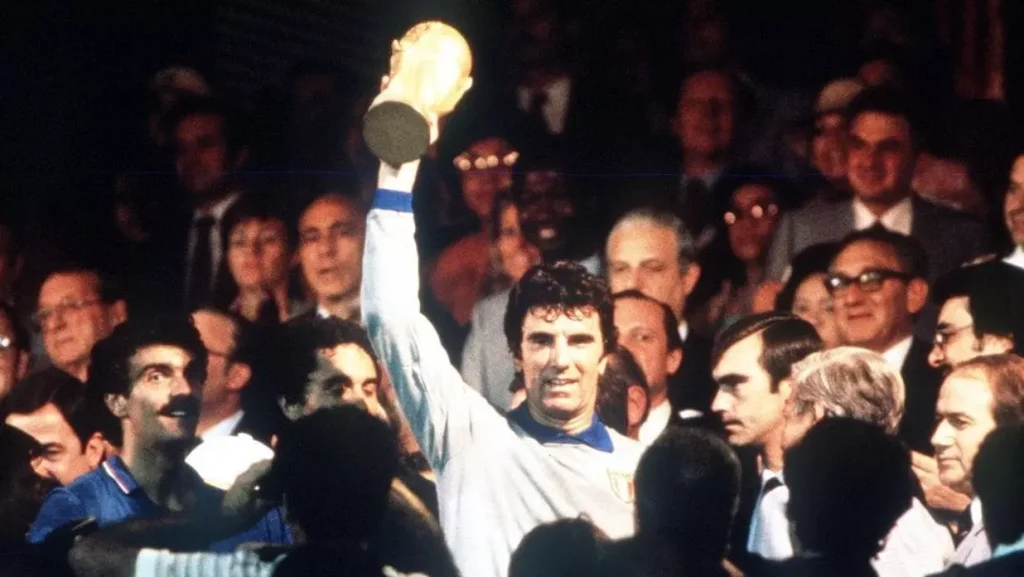 Did you ever dream you would bow out with the FIFA World Cup Trophy tucked under your arm?
Dino Zoff: Well, there was a fair bit of controversy surrounding the team going into that tournament, and my inclusion, at the age of 40, had a lot to do with it. The criticism leveled at us was greatly exaggerated, and no one does exaggeration like we Italians. Despite that, we believed in ourselves. Bearzot was a down to earth individual who did not get swayed by the media or what was going on around him. He saw things a certain way and refused to be influenced by the circumstances. When Paolo Rossi was unable to score, Bearzot came under fire, with everyone telling him he'd have to drop him and change this and change that. Instead, what he did was extraordinary: he persevered with him, and look what happened. I think he did exceptionally well in that regard.
Records
You have a whole host of records to your name, even if Paolo Maldini took one off you. There is your mark of 1,142 minutes without conceding an international goal, for example.
Dino Zoff: Yes. Paolo Maldini overtook me as the most-capped player. I had 112 caps, but he went well past that. But, you know what, records are made to be broken. Moreover, to lose that record to Paolo Maldini was almost a pleasure, as he's a genuinely extraordinary player.
Am I right in saying that one of your proudest records is the one you hold for consecutive games?
Dino Zoff: Yes. Some of my records have been broken, but I'm very proud of my history of 332 consecutive games (in Serie A), that is, 11 straight years in my national championship. I will always be able to say that I was there, that I was ever-present, and that's very satisfying.
Your international football career was only four games old when you won the European Championship, and you bowed at the age of 40 as world champion.
Dino Zoff: From beginning to end, my adventure with the national team was extraordinary. You couldn't ask for anything more, from the European Championship in 1968 to the World Cup in 1982.
"Zoff protected his goal with absolute rigour, whereas I have a different style. I honestly think goalkeepers are people who are a little crazy. Our role is special, atypical, and we have a different make-up."

Gianluigi Buffon, Italy's FIFA 2006 World Cup – winning goalkeeper
Goalkeepers Dino Zoff Admired
You knew Lev Yashin well, I understand. What about today's goalkeepers? Do you follow them much?
Dino Zoff: Yes, I knew Yashin. We were good colleagues, but I wouldn't say friends, as we lived too far apart for that. However, I'll always be grateful to him for coming to my testimonial game. He, (Joel) Bats, and many others were there that night in San Remo when I bowed out. What's more, he was one of the most excellent keepers of all time.
You have a lot of admiration for Bats too, don't you?
Yes. Bats was a complete keeper: alert, quick, and with total command of his area. I've always held him in the highest esteem.
Do you think the role of keepers nowadays is different, what with the current rules on feet-first tackles and back-passing?
Dino Zoff: No, I don't think the goalkeeper's role has changed that much. There was a time when keepers were obliged to come out and make that kind of tackle. Nowadays, the goalkeeper's position is a bit more complex. If they come out along the ground, they're frequently penalized. Often they'll get yellow cards or concede penalties, or the striker, instead of trying to score, will push the ball out wide, hoping the keeper will make contact with him. I think we had it better in that respect, as we could come out feet first and with conviction. There was more sportsmanship back then: the striker tried to score as opposed to provoking a penalty. That's a change for the worst because it limits the keeper's ability to intervene. Now he has to constantly wait and not commit, as the slightest contact and he could be facing a yellow or red card and a penalty. So I'd say keepers today are in a weaker position.
Dino Zoff Best Save
If you had to choose the best save you have ever made, which would it be?
Dino Zoff: The best save I ever made was when I stopped the ball on the line from a header by Oscar in the dying minutes of our game against Brazil (in 1982). As I smothered the ball, the Brazilian players were claiming a goal, and I had this horrible feeling the referee would get it wrong and adjudge it to have crossed the line. It was a feeling of absolute terror, so I just stayed down, holding onto the ball for dear life and waiting for the referee to see precisely where the ball was. I'd had a similar experience nine years earlier in Romania, also with the national team, only on that occasion did the ref get it wrong and awarded a goal. Those four or five seconds against Brazil were sheer terror, as I couldn't spot the referee and was praying he'd seen it hadn't gone in.
Is there any save you would like to have made at the World Cup?
Dino Zoff: Well, actually, I did make a pretty spectacular diving save against Germany at Argentina 78. People always said I wasn't showy or spontaneous enough. Well, that was my answer to them.
Can you tell us what it was like flying back to Rome on President Pertini's plane after the 1982 World Cup Final?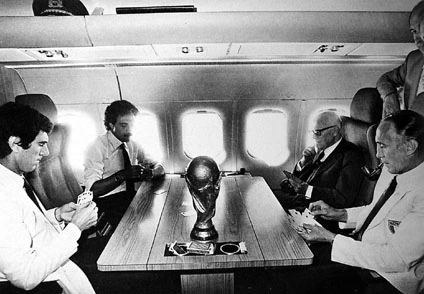 Dino Zoff: That World Cup was an incredibly intense experience for all of Italy. We were flown back to Rome by President Pertini, who got caught up with all the emotion at the stadium. I ended up playing cards with the President, Bearzot, and Causio, and that's how we spent the hour-and-a-half flight. Pertini was the type of person who made you feel relaxed in his company, and he seemed just like another member of the group. It was incredible.
When we landed in Rome, there was chaos until we arrived at the Presidential Building in Quirinale. Pertini then insisted we stay for something to eat. I remember him saying: "I'll sit here, and I want Bearzot on one side and Zoff and all the players on the other. If we have room for the ministers and deputies, well and good. If not, then they'll have to go to a restaurant." He knew how to express himself, did Pertini.
Do you think a single game of football warranted all that outpouring of passion, all those celebrations in the street?
Dino Zoff: As a people, we've always had this passion for football. It's incredibly popular here and straddles all the social classes. That's why victories like that of the World Cup are celebrated in that way. We delivered during that World Cup, and we got to the final doing things the right way. Along with responsibility, correctness was one of the things that typified Bearzot. We achieved our goal by winning that title and flying the Italian flag high. That was a pleasure, and it's only fitting that the people should have celebrated as they did.
We have a small surprise for you. Do you remember this?
(Holding our very own FIFA World Cup Replica Trophy) Goodness me! How did that get here? Yes. Notice how heavy it is. I remembered it as being much lighter. In Spain, in all the excitement, it didn't seem to weigh anything. Now, though, you can feel its weight, its importance.
Would you value the World Cup Trophy aesthetically, or is it of more sentimental value to you?
Well, the memories it evokes are sentimental. Aesthetically, I think it's a beautiful Cup, not at all like your average trophy. It's extraordinary.
Thank you, Dino Zoff for taking the time to speak with the History Of Soccer team. Now aged 79 (DOB: 28 February 1942), Zoff is enjoying retirement. The soccer goalie had a health scare back in 2015 that has slowed down his mobility. He still likes to attend occasional games but watches most soccer on the television. He does feel that modern football "places too much importance on the physical side and on creating a spectacle, to the detriment of technique."
Still as sharp at 79 years old, Zoff's days are now divided between golf, tennis, swimming, and family life. Dino Zoff published his Italian autobiography Dura solo un attimo, la gloria ("Glory Only Lasts A Moment") back in 2014 and is a wonderful read for anyone who loves Italian soccer.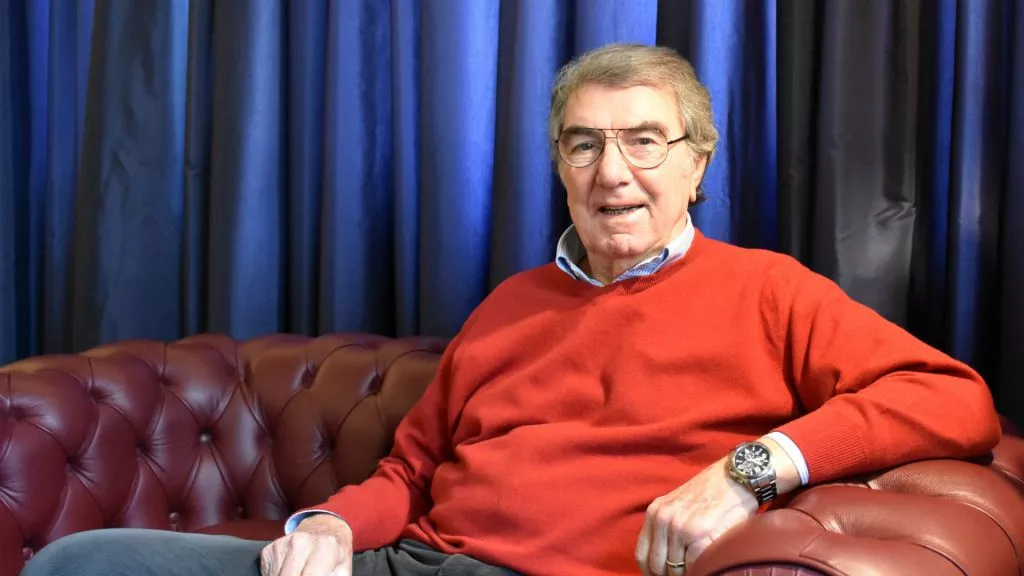 Dino Zoff Facts And Figures
Full name: Dino Zoff
Birthdate: 28/02/1942
Birthplace: Mariano del Friuli, Italy
Club Playing Career:
Udinese 1961–1963
Mantova 1963–1967
Napoli 1967–1972
Juventus 1972–1983
Total Appearances: 642 matches
Club Playing Honors:
Juventus:
Serie A Champions – 6 times
Coppa Italia – 3 times
UEFA Cup – 1977
National Team Career:
Italy 1968–1983 (112 Appearances)
National Team Playing Honors:
FIFA World Cup – 1982
European Championships – 1968
Managerial / Coaching Career:
Juventus 1988–1990
Lazio 1990–1994
Lazio 1996–1997
Italy National Team 1998–2000
Lazio 2001
Fiorentina 2005
Manager Honors:
Juventus:
UEFA Cup – 1990
Coppa Italia – 1990
Individual Honors:
Ballon d'Or Runner Up – 1972
FIFA World Cup All-Star Team – 1982 (

best goalkeeper of the 

entire World Cup)
5th In UEFA Golden Jubilee Poll (behind Zinedane Zidane, Franz Beckenbauer, Johan Cryff and Marco Van Basten)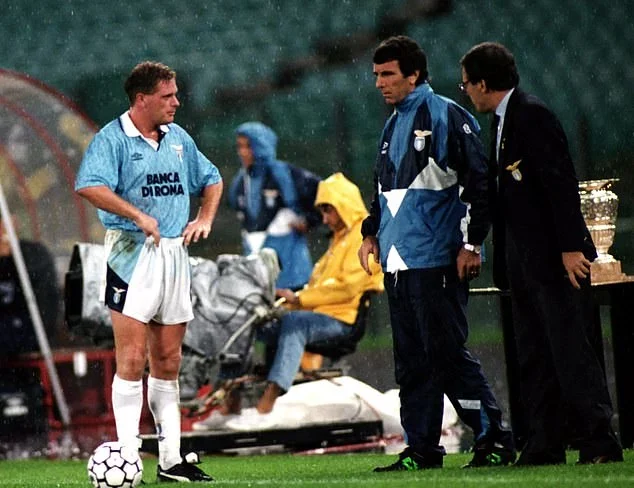 Current Records Dino Zoff Still Holds:
At 40 years, 4 months, and 13 days in 1982, Dino Zoff is the oldest player to play in and win a final at a World Cup.
The oldest player to play in a European Cup/Champions League final, aged 41 years and 86 days in 1983.
For Juventus, Dino made 332 consecutive appearances in Serie A (1972-1983).
During international tournaments and matches, 1142 minutes went by without conceding a goal.
In the European Championship including qualifying matches, Dino Zoff has the record for the most consecutive minutes without conceding a goal (784).
He only conceded 1 goal in a European Championship tournament that his team won (alongside Iker Casillas).
He was one of four goalkeepers to win the FIFA World Cup as captain: 1982 (along with Hugo Lloris, Gianpiero Combi, and Iker Casillas).
Dino Zoff is the only Italian player to have won both the World Cup and the European Championship.