A hat-trick is quite an achievement. Many great players would consider just scoring one to be a significant achievement. Others however, were less content to stop at 3. Whether it came down to gluttony, pure brilliance or a footballing form of Sado-masochism, these players were not content to stop at a single Hat-trick, instead scoring 6 because no amount of goals could ever sate them.
As Erling Haaland seems set to one day join them in the hall of Double Hat-tricks (He's scored a triple Hat-trick at youth International level) it seems a great time to explore the strikers young Erling hopes to one day live up to.
Featuring footballing legends and even a Premier League flop, a mere hat-trick could never impress these 5 players.
Dieter Müller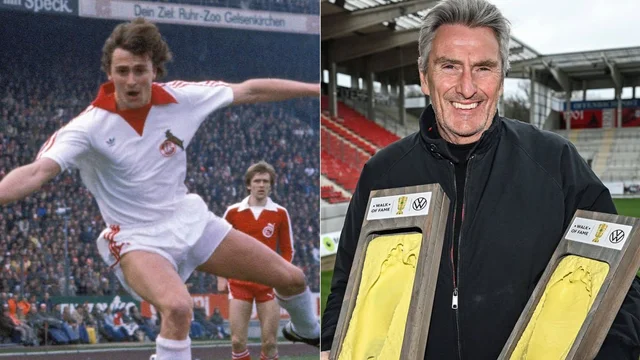 Fc Koln's biggest icon, ahead of even Lukas Podolski, Muller was a prolific goal scorer, proven through his spot at 7th in the Bundesliga top scorers of all time. With 177 goals in 303 games. A player overshadowed by counterparts, Gerd Muller, Klaus Fischer and Jupp Heynckes, who were all in their own prolific form at the same time, for the most part keeping Dieter out of the West German National team.
Nonetheless, a Bundesliga winner with Koln, and most importantly in this instance, managing one of footballest rarest feats. The Double Hat-trick. It would happen the 17th of August 1977, as Koln faced FC Werder, battering them 7-2. Scoring his first hat-trick of the game in just 32 minutes, his hunger for goals was never sated.
Come the 86th minute, he grabbed his sixth, setting a record for most goals in a Bundesliga match that still stands today. I'd love to describe in some way the nature of the goals, and how this monumental feat came to be. Unfortunately, this happened to be the day that German cameramen were striking, meaning there is no known footage of Müller's goals. 
Of all days for there to be a strike… Muller himself claims he could have scored more that day, the 2 chances he spurned still etched in his mind. 
Eusebio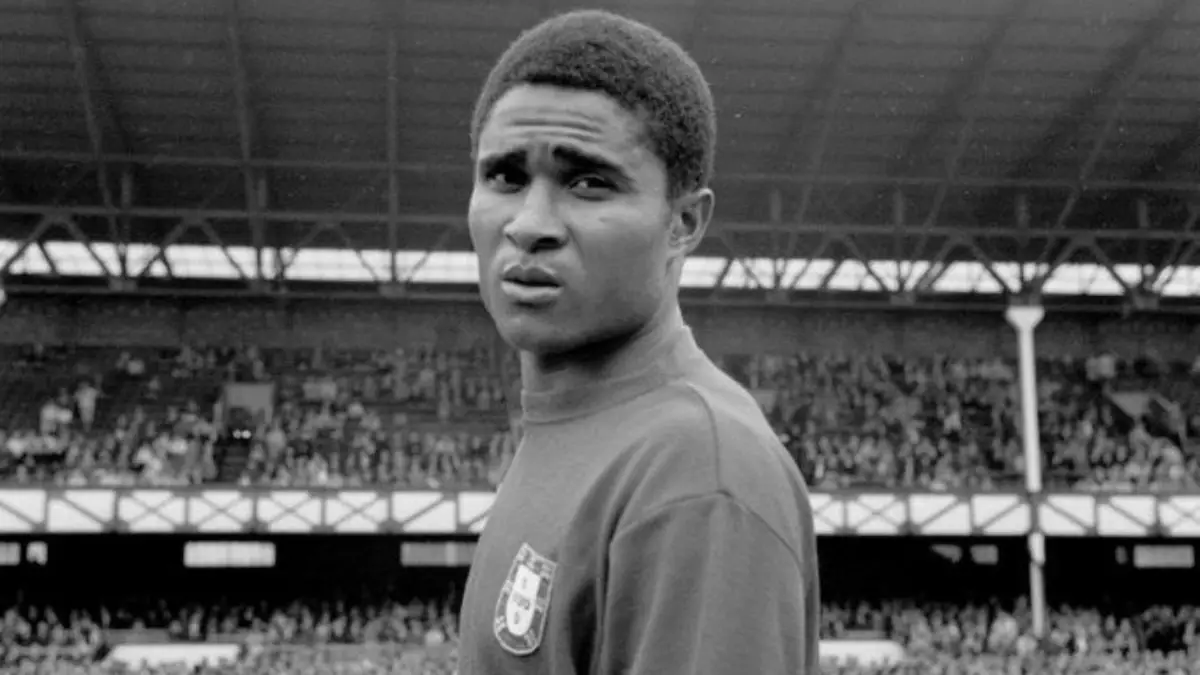 One of the greatest to ever play the game, it's no surprise Eusebio finds himself on this list, with the exclusion of Pele, who I felt was too obvious for this article. He's comfortably the most celebrated player to ever score a double Hat-trick, and he did it 3 times! 
One of the most famous rags to riches stories, Eusebio grew up in poverty, skipping school as a child to play barefoot football with improvised footballs on rudimentary football pitches. But after rejection from his favourite team, having not been given a chance to even trial. 
He would go score 77 goals in in 42 for Sporting Lourenço Marques in the Mozambique first Division, earning a move to Benfica after being spotted by former Brazilian player José Carlos Bauer. He would of course go on to be a Football and Benfica legend, with 3 Double Hat-tricks to his name.
His first ever came in 1964 against Seixal in a 10-0, in a record breaking victory as Eusebio would complete his hat-trick after just 15 minutes, Seixal being 4-0 down by this point. It would take 65 more minutes to do the double, but finally on the 81st minute, Eusebio would complete a feat that had only been done across world football a handful of times.
His next would be even more impressive. Benfica would face Varzim in the league, with Eusebio would grab his first goal in the last minute of the first half, after being unable to find himself with many scoring opportunities. Over the half-time break, something stirred inside him as in the 63rd minute he'd cement his Hat-trick, completing it  just 18 minutes after his first goal of the match.
He wouldn't get a 4th till the 80th minute. With time running out, and a second career Double Hat-trick in his sights, just 4 years after his last, he'd score 2 in the space of 2 minutes in the 87th and 89th minute. The match would finish 8-0. His other would come against Boavista, in October of 1969, only a year after his last. A truly unheard of talent, with an insatiable appetite for goals rarely seen to such a degree.
Afonso Alves
A name Heerenveen fans will remember with fondness, and Middlesbrough fans will remember with frustration. Alves was a Brazilian forward that prior to his Heerenveen move, had enjoyed a successful spell in Sweden, with the young striker building a reputation for himself as a talented goal scorer, helping Malmo to a Swedish title, and being the sides top scorer 2 years in a row.
Whilst a step up from the Swedish League to the Dutch league may seem daunting and take many a striker a few years to adapt to, Alves was instantly ready, playing far beyond the relatively high expectation placed on him, following the 4.5 million price tag Herenveen had forked over for him.
In his first season, he would smash the scoring feats of Ronaldo and Romario, scoring 34 goals in the league, in just 31 games. He would become only the second Brazilian after Rondaldo Nazário to score 30 or more in the Dutch league. 
During his season and a half at Heerenveen he would score a frankly ridiculous, and unheard of, 45 goals in 39 League appearances. His overall stats were slightly bolstered in his second season, in which he would break the Dutch record for most goals by a single player in the league by scoring 7 goals, vs Heracles Almelo, in a 9-0 victory.
His performance was so incredible that despite the Heerenveen manager having used all of his subs, he would elect to take him off the pitch in the 89th minute, so the fans, staff and players could give him a roaring standing ovation for what to some could be the performance that marks the meteoric rise of the next Brazilian legend.
Sadly, his career would very much peak at this point. Alves would skip training and fall out of favour in the very same season, with the player unhappy to remain at a small club. He would explain that members of the Brazilian squad would "make fun" of him and disregard him due to his employment at what was deemed a "small club" by the stars of the Brazilian side. Why Middlesbrough were his choice to escape this "bullying" I really don't know.
He would get a chance to play in the world's most famous league at the time, the Premier League, with Middlesbrough, the club breaking their transfer record to bring in. Both the club and Alves himself must have expected to quickly attract the attention of bigger sides, with the player very much looking like the next Rivaldo from his Heerenveen days.
It wouldn't work out. He would score 10 in 42, and following Middlesbrough's relegation, left for Qatari club Al-Sadd, spending the rest of his career in the Middle-East.
Hans Krankl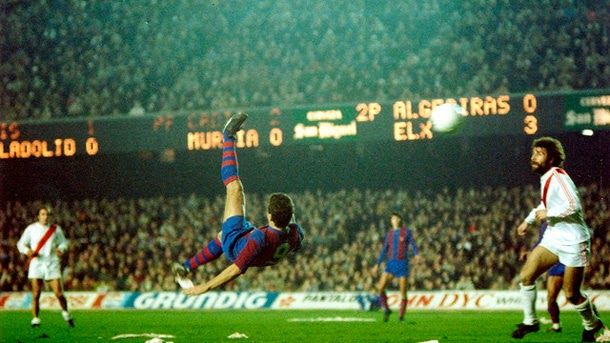 One of Austria's greatest ever players, Krankl made his start where most great Austrian players come through, Rapid Wien. He would make his debut at 18, starting 6 games in his first season. But the following year, he would be loaned to FC Weider, scoring 27 in 26. Content with his explosive progression, Krankl earned a chance in the 72-73 season aged just 20, he'd take to the Austrian First Division comfortably, scoring 14 in 30 in his breakthrough season.
In a truly monumental second full season, he would score 36 in 32, in the league alone, with 42 in 42 in all competitions. It was very quickly apparent that Krankl was a truly unique talent. He would continue to perform, earning call ups to the national team for the first time in 1973, his debut coming in a friendly against Brazil.
Despite Interest from abroad, he would stay in Austria for 8 years, his time at Rapid Wien spanning from 1970-78, in which he would score 185 in 252 across all competitions. His record breaking match would come in the 76-77 season. 
In a trouncing of Grazer AK in the league, Rapid Wien winning 11-1 at home Krankl would score 7.  This would be the first of 3 career double Hat-tricks, managing a poultry 6 the other two times. A legend of Austrian football, Krankl won the European Golden Boot playing for Vienna, enticing Barcelona to sign him.
He impressed in Spain, bringing home the league's golden boot with 29, but after just three years returned to the club closest to his heart, Rapid Wien. Making another 145 appearances and scoring 107 goals, he would help them to three consecutive Austrian titles in his second stint there.
He also found musical success in the mid 80's with his track "Lonely Boy" reaching number 2 in the Austrian Music charts. Having listened to it, the song is… of its time, good thing he was such a good footballer.
Fernando Gomes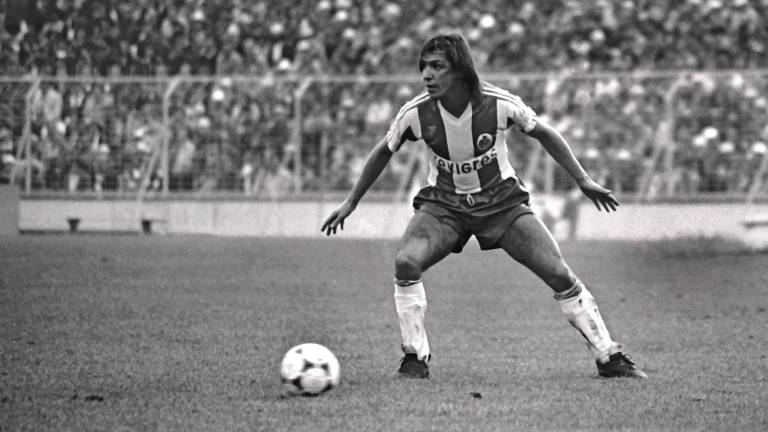 To repeat Eusebio's unchallengeable feats in the same league, just 7 years after he did would be unthinkable, but in 1976 Gomes would score one of the quickest Double Hat-tricks in history, scoring 6 goals between the 23rd and 77th minute. 6 in 54 minutes in the Portuguese top flight. Gomes was an incredible goal scorer, with his game centred entirely around finding the net. He had an uncanny positional sense, with the striker being prolific in finding space around the 6 yard box. 
At 5 ft 9' he was a typical poacher, ghosting around the box and feeding off any snap shot of half-chance that came his way. His lust for goals was so much, he was once quoted as saying " Scoring a goal is like having an orgasm". He must have been quite sore after his 6 in 54 minutes in that case.
His 6th was a penalty, with their regular penalty taker Teófilo Cubillas conveniently substituted 7 minutes prior to the penalty, allowing Fernando to match Eusebio's record for most goals in a Primera Liga match. The match would finish 8-2, with one hoping for the sake of his missus' that his appetite for goals was not reflective of his appetite in the bedroom.