Ecuadorian footballer Enner Valencia plays for Fenerbahce as a forward and captains the Ecuadorian soccer team. A total of six goals have been scored by him in the finals of the World Cup (three in 2014 and three in the 2022 Qatar World Cup).
Enner Valencia is one of the most explosive talents to emerge from Ecuador over the last few years. Despite starting as an attacking right-sided midfielder, the 33-year-old Ecuador national football team captain now plays as a left winger or striker and is a speedy dribbler with two good feet and a keen eye for goal.
Superman, as he is nicknamed in Ecuador, made his professional debut and came to prominence at Emelec, where he quickly established himself as a starter.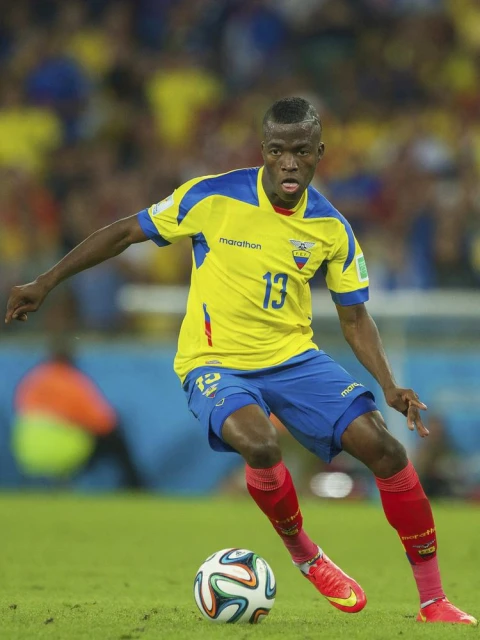 Enner Valencia Is A Natural Goalscorer
His impressive form made him the top goalscorer in the 2013 Copa Sudamericana and helped seal a move to Pachuca in Mexico. Valencia adapted quickly to his new surroundings and ended his first season at Pachuca among the league's highest scorers.
His Ecuador career began in the youth teams, and he was part of the Tri squad at the 2011 Pan American Games in Mexico. His debut for the senior side came in 2012 in a friendly against Honduras, and he was a crucial player in the qualifiers for Brazil in 2014, starting three games on the road to the World Cup.
His first two international goals also arrived in preparation for Brazil. The captain of Ecuador showed all of his qualities in the friendly against Australia in March as he bagged an assist, won a penalty, and scored the winner in a 4-3 victory.
CONCACAF Champions League
Enner Valencia earned the Golden Boot award after finishing as the top scorer in the 2019 CONCACAF Champions League with seven goals.
The Ecuadorian striker consistently found the back of the net for the Felinos during the tournament, scoring three goals in the Round of 16, a goal in the Quarterfinals, and another three in the Semifinal round.
Top Scorers by Year
2008/09: Javier Orozco, Cruz Azul (7 goals)
2009/10: Ulises Mendivil, Pachuca (9)
2010/11: Javier Orozco, Cruz Azul (11)
2011/12: Oribe Peralta, Santos & Humberto Suazo, Monterrey (7)
2012/13: Nicolas Muñoz, Isidro Metapan & Carlos Darwin Quintero, Santos (6)
2013/14: Raul Nava, Toluca (7)
2014/15: Dario Benedetto, Club America & Oribe Peralta, Club America (7)
2015/16: Emanuel Villa, Queretaro (6)
2016/17: Hirving Lozano, Pachuca (8)
2018: Jonathan Osorio, Toronto FC (4)
2019: Enner Valencia, Tigres (7)
2020: André-Pierre Gignac, Tigres UANL (5)
2021: Kacper Przybylko, Philadelphia Union (5)
2022: Juan Dinenno, UNAM Pumas (9)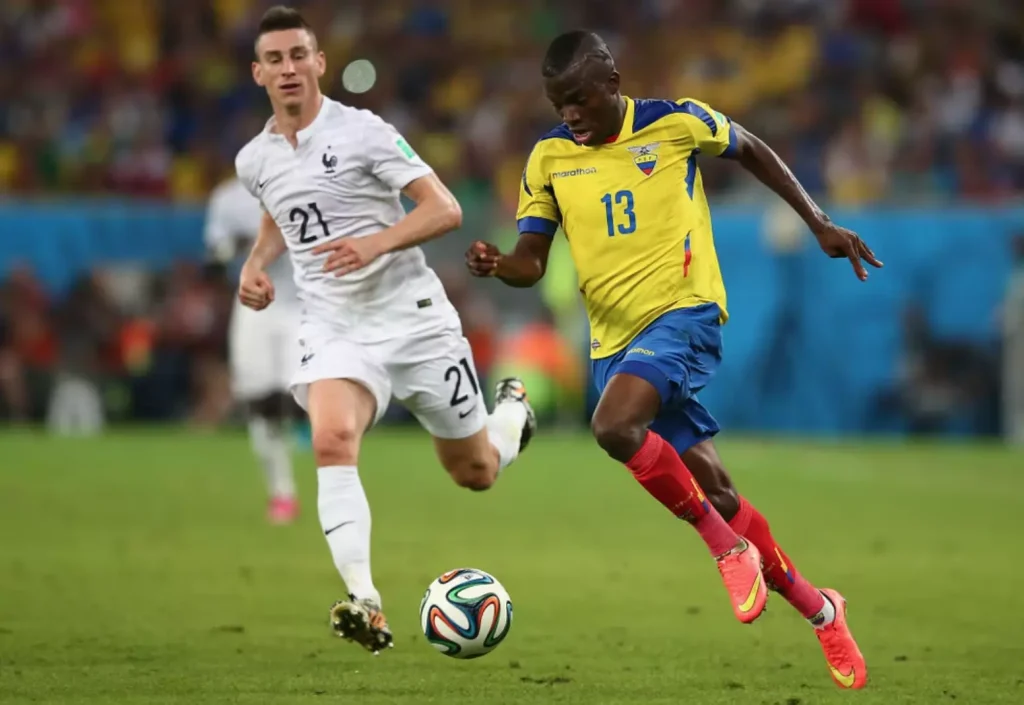 Ecuador Record Goalscorer
Ecuador's Enner Valencia moved six goals clear of Agustin Delgado in becoming Ecuador's all-time top scorer after scoring two goals against Qatar in the World Cup opener.
Against Honduras on 12 February 2012, the 33-year-old striker made his international debut under Colombian Reinaldo Rueda. Here are some of the key statistics from his career.
7 – He scored for La Tri on 19 November 2013 in a friendly against Honduras. He was 24 years old at the time, and it was his seventh appearance.
694 – A brace he scored against Trinidad and Tobago on 14 November 2019 equaled Delgado's record. It took him six hundred and ninety-four days to score for his country again to take sole possession of the record.
113 – The all time top scorer scored his 32nd and 33rd goals within one hundred and thirteen seconds. Ecuador went on to win 3-0.
World Cup Goals
Enner Valencia, who's previously played in the Premier League for Everton and West Ham, is the country's record scorer at World Cups with five goals.
In 2014 in Brazil, he made his FIFA World Cup debut in the team's opening match against Switzerland and scored with a header in a 2–1 defeat.
In the first 2022 World Cup tournament match, the captain scored both goals in the first half to defeat Qatar 2-0. Superman became Ecuador's record goalscorer at World Cup final tournaments, with five goals.
In the second game against the Netherlands, the Fenerbahce striker scored to help Ecuador draw one-all. During World Cup Group A clash, he was carried off the pitch on a stretcher late in the game
Enner Valencia Facts, Stats And History
Full Name: Enner Remberto Valencia Lastra
Birthdate: 4/11/1989
Birthplace: Esmeraldas, Ecuador
Playing Career:
Emelec 2010–2013
Pachuca 2013–2014
West Ham United 2014–2017
Everton (loan) 2016–2017
UANL 2017–2020
Fenerbahce 2020–current
International Career:
Total Appearances: 76 matches (38 goals)
Playing Honors:
Emelec
2013 Ecuadorian Serie A Champions
Tigres UANL
Apertura 2017, Clausura 2019: Liga MX
2018: Campeones Cup
Individual Honors:
2013: Serie A Best Player
2013: Copa Sudamericana top scorer
Clausura 2014: MX top scorer:
Apertura 2017: Liga MX Best XI
2019: CONCACAF Champions League Golden Boot:
2019: CONCACAF Champions League Team of the Tournament