From Ademir to Zico, we celebrate and remember the best forwards in soccer to have played in a World Cup tournament since its inauguration in Uruguay in 1930.
This Hall of Fame represents a shamelessly subjective selection that will inevitably provoke disagreement. Few would question the places of great forwards in soccer such as Pele, Diego Maradona, Karl-Heinz Rummenigge, or Ronaldo, but beyond the top handful of legendary names, the criteria for inclusion becomes fuzzier.
Then are the players who have enjoyed their moments in the limelight, like Cameroon's Roger Milla who wiggled his way into World Cup history in 1990. Others owe their places to single moments of unexpected brilliance as a center forward. Saudi Arabia's Saeed Owairan wouldn't register on a list of great players but his solo effort against Belgium in 1994 remains one of the tournament's greatest goals.
Ademir
Country: Brazil
World Cup Record: 1950 (2nd)
The story goes that Brazilian league coaches created the 4-2-4 formation to counter Ademir's deadly goalscoring skills.
Considered one of Brazil's greatest ever forwards in soccer, Ademir scored nine goals as the host nation blazed its way through the 1950 finals, hitting four in a 7-1 win over third-placed Sweden and two in a 6-1 demolition of Spain in the final group phase.
But in the greatest upset in World Cup history, Brazil – needing only a draw in front of an expectant 200,000 in the Maracana – lost 2-1 to Uruguay. Despite setting up the opening goal for Friaca, Ademir the center forward failed to add to his impressive tally for the tournament. He later claimed the Brazilian team had lost because it had been forced to go to Mass at 7 am on the day of the World Cup final.
The teams centre forward finished as the top scorer, but Brazil would have to wait eight years to see another generation finally win the Jules Rimet Trophy.
Roberto Baggio
Country: Italy
World Cup Record: 1990 (3rd), 1994 (2nd), 1998
Italy's "Little Prince" exploded onto the World Cup stage with a beautiful solo goal against Czechoslovakia during Italy's thrilling but anti-climactic run to the semifinals on home soil in 1990.
But it was four years later, in California's Rose Bowl, that center forward Roberto Baggio met his moment of World Cup destiny.
Despite struggling with a hamstring injury, Baggio had virtually single-handedly carried his side from an opening game defeat to Pat Bonner's Republic of Ireland to the World Cup final. His late equalizer and extra-time winner had saved Italy in the second round against Nigeria, and three more goals followed against Spain and Bulgaria. But at 3-2 down in the sudden-death shootout, Roberto Baggio was called on to save his country yet again. Famously, the soccer forward shot high over the goal before sinking to his knees in the losing effort against Brazil.
Baggio enjoyed a moment of personal redemption during a quarterfinal shootout with France in 1998. Still, his successful spot-kick was not enough to prevent Italy's third straight World Cup exit on penalties.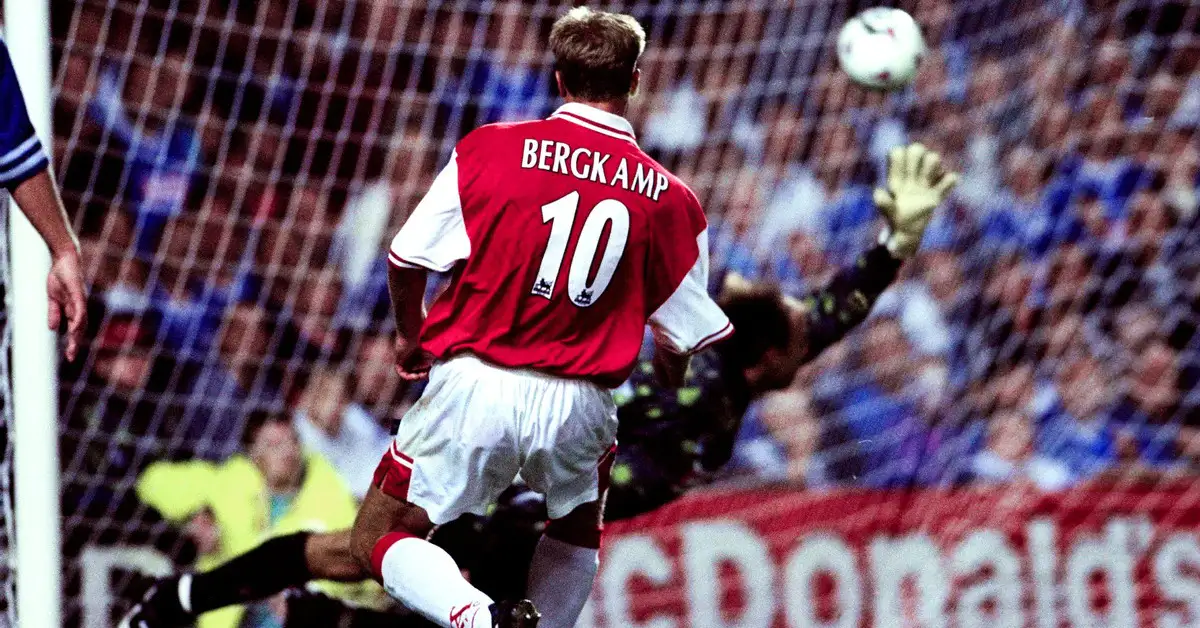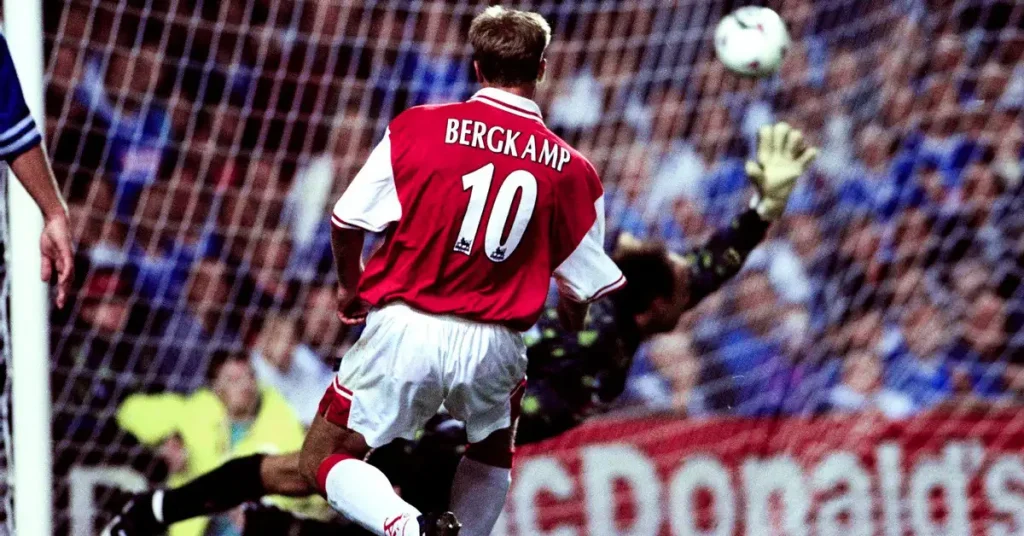 Dennis Bergkamp
Country: Netherlands
World Cup Record: 1994, 1998 (4th)
The Netherlands may have failed to qualify for the 2002 finals. Still, Dennis Bergkamp's unwillingness to step onto a plane, ever since a bomb scare aboard a Dutch squad flight during USA 1994, meant the Arsenal forward was never likely to have put in an appearance in the Far East.
Bergkamp single-handedly sculpted one of the great moments in World Cup soccer history to help the Dutch reach the semifinals at France '98. Tied at 1-1 against Argentina and with injury-time looming, the center forward ran onto a 60-yard pass from Frank de Boer, brought the ball under control, wrong-footed the Argentine defense, and slotted it home without breaking stride.
It was a World Cup wonder goal, but in the semifinals, the Dutch lost out to Brazil on penalties, although Dennis Bergkamp's three goals for the tournament were enough to make him the Netherlands' leading all-time goalscorer.
Four years earlier, the Brazilians had ended another promising Dutch World Cup campaign at the quarterfinals stage. In that competition, Bergkamp chipped in with important goals against Morocco to help the Dutch win their first-round group and in their second-round win over Ireland. The soccer forward sparked a brave Dutch fightback to 2-2 in the quarterfinal before Branco's freekick won it for the Brazilians.
Zbigniew Boniek
Country: Poland
World Cup Record: 1978, 1982 (3rd), 1986
Boniek scored twice against Mexico to secure Poland's place in the quarterfinals at the 1978 World Cup in Argentina when most people had assumed the Poles were a side in decline after their impressive third-place finish in 1974.
The fact that Poland repeated that feat four years later was primarily due to Boniek's blossoming into one of the deadliest forwards in soccer. A 5-1 win over Peru earned the Poles a place in the second round, where Zbigniew Boniek, after just one goal in the opening stage, came to life.
Against Belgium, the center forward opened the scoring with a fierce blast from the edge of the box with just four minutes on the clock and completed his hat trick with one of the great individual performances in World Cup history. Unfortunately, Boniek picked up his second yellow card in the dying minutes of Poland's game against the Soviet Union. Without its suspended talisman, Poland was no match for Italy in the semifinal. Zbigniew Boniek returned to help beat France in the third-place playoff.
By 1986 Poland was in decline, and the professional soccer player too was living on past glories. Having dropped back to sweeper, his defensive deficiencies were harshly exposed first by England and then by Brazil in a 4-0 second-round defeat.
Emilio Butragueno
Country: Spain
World Cup Record: 1986, 1990
For a country boasting a rich soccer heritage, Spain's World Cup record is an embarrassment of early exits, humiliating defeats, and agonizing missed opportunities.
But Emilio Butragueno was responsible for one of Spain's finest moments in the competition when the center forward scored four times in his country's 5-1 win over heavily fancied Denmark in the second round of Mexico '86.
Nicknamed "The Vulture" for his deadly abilities as a poacher around the penalty area, Butragueno intercepted a backpass for his first, completed his hat trick with two opportunist close-range finishes, and capped one of the outstanding individual performances in World Cup history with a penalty to make our list of the best forwards in soccer World Cup history.
Typically, the competition would end in disappointment for Spain, slipping out on penalties after a 1-1 draw with Belgium in the quarterfinals.
By the 1990 finals in Italy, Butragueno played a deeper forward soccer positions and failed to add to his World Cup tally as Spain went out in the last 16 against Yugoslavia. Emilio Butragueno enjoyed more success in club soccer, the highlight being five straight league titles between 1986 and 1990 during his long career with Real Madrid.
Careca
Country: Brazil
World Cup Record: 1986, 1990
Careca's game was based on unmatchable pace and unstoppable shooting power, a combination that made him Brazil's most prolific forwards in soccer throughout the 1980s. An injury kept Careca out of the 1982 finals when a Brazilian team that was considered by many to be as talented as its 1970 predecessor fell short of expectations by failing at the second round stage.
In Mexico, four years later, the center forward was fit, in form and hungry for goals. He scored five times as Brazil reached the quarterfinals. But his World Cup campaign again finished frustratingly as France eliminated Brazil on penalties after their classic 1-1 draw in Guadalajara, in which Michel Platini canceled out Careca's early goal.
After the World Cup, Careca would team up with Diego Maradona at Napoli, firing the goals that lifted the southern side to the Italian title and the UEFA Cup.
The 1990 finals in Italy started promisingly for the great forward as he scored twice in Brazil's opening win over Sweden. But the goals dried up, and Brazil suffered another disappointing exit in the second round against Argentina.
Teofilo Cubillas
Country: Peru
World Cup Record: 1970, 1978, 1982
The Peruvian forward ranks among the most prolific forwards in soccer World Cup history and remains the only professional soccer player to score five goals in two tournaments. Teofilo Cubillas combined typically quick South American feet with bullying physical strength and incredible shooting power and was twice voted South America's player of the year.
As a precocious 21-year-old, Cubillas enjoyed a memorable tournament in Mexico in 1970. The center forward scored the winning goal as Peru rallied from two goals down to beat Bulgaria 3-2 in its opening game and was also on target against Morocco and West Germany as his country advanced to the quarterfinals. Although Peru lost 4-2 to Brazil, Cubillas scored one of the goals of the tournament.
In Argentina eight years later, Teofilo Cubillas may have been slower, but his skills were now complemented by experience as a soccer player. Five more goals followed – a memorable freekick among two against Scotland and a hat trick against Iran. But the goals dried up against sterner opposition in the second round. Peru failed to score and controversially departed the tournament with a 6-0 loss to host Argentina.
Peru returned to the finals in Spain but went home early after a disappointing first-round performance. Cubillas failed to score and won the last of his 117 caps in a 5-1 defeat by Poland.
Preben Elkjaer
Country: Denmark
World Cup Record: 1986
Sepp Piontek's "Danish Dynamite" side had reached the semifinals at the European Championships in 1984 and made its World Cup debut in Mexico in 1986 briefly promising even more.
Preben Elkjaer formed an explosive forward partnership with Michael Laudrup by combining speed and strength with a natural goalscorer's predatory instinct. The second striker scored the only goal as Denmark beat Scotland in its opening match, but it was against Uruguay that Elkjaer and his teammates would emerge as serious contenders.
Elkjaer ran riot against a tough and resilient Uruguayan side that had held West Germany to a 1-1 draw in its opening game. The center forward scored a hat trick and could have had even more in the two-time world champion's 6-1 demolition. This game alone was enough to be added to the greatest forwards in soccer top 50 list.
Preben Elkjaer failed to add to his tally in the 2-0 win over West Germany that followed, but the result seemed to confirm that the Danes meant business.
What happened next was as much of a surprise as Denmark's win over Uruguay. The Scandinavians took an early lead against Spain in the second round but simply seemed to run out of steam. The Spaniards, led by the deadly Emilio Butragueno, ran out 5-1 winners to crush the Danish dream.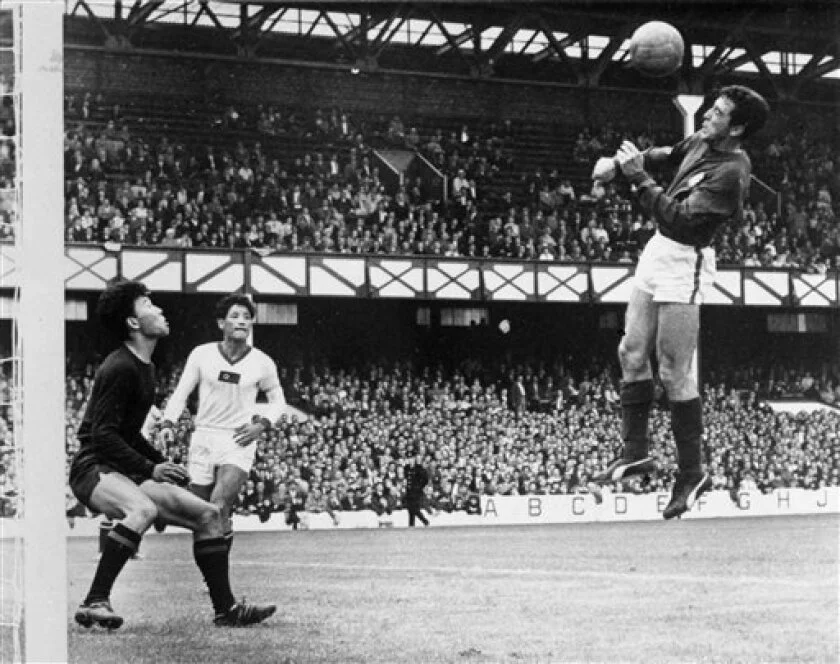 Eusebio
Country: Portugal
World Cup Record: 1966 (3rd)
Eusebio, known as the "Black Panther" for his pace and agility, was a legendary forward in African soccer. Born in Mozambique, he rose to fame playing for Lisbon's Benfica and was considered one of the greatest of all time.
He was a fierce scorer with a powerful shot and a knack for finding the net from seemingly impossible angles. In 1966, Eusebio's Portuguese team made a strong showing in the England World Cup finals, with Eusebio earning awards for his standout performance.
He dominated the competition, scoring two goals in the quarterfinals against North Korea and delivering a crushing defeat against Brazil. His iconic moment came when he scored four goals in a comeback victory against North Korea. Despite Portugal's loss to England, Eusebio's emotional reaction captured the hearts of the British people, and he was soon honored with a wax figure at London's Madame Tussauds.
Just Fontaine
Country: France
World Cup Record: 1958 (3rd)
Just Fontaine's feat of scoring 13 goals in just six games during the 1958 World Cup in Sweden is a record that is likely never to be broken and solidifies his place among the greatest forwards in World Cup history.
The Moroccan-born striker, who started his career in Marrakesh, was not even a regular member of the French national team before the tournament but got his chance due to an injury to teammate Rene Bliard.
Teaming up with Raymond Kopa, Fontaine quickly formed a lethal partnership with the Real Madrid playmaker setting him up with countless opportunities.
In the opening match, Fontaine scored a hat-trick in France's 7-3 victory over Paraguay, followed by two more goals in their loss to Yugoslavia. He also scored the decisive goal in France's 2-1 win against Scotland, securing their place in the quarterfinals.
Fontaine added two more goals in France's 4-0 demolition of Northern Ireland and continued his scoring streak in the semifinals against Brazil. In the third-place playoff, he scored a remarkable four goals in France's 6-3 victory over West Germany.
Joe Gaetjens
Country: United States
World Cup Record: 1950
Nicolas "Joe" Gaetjens scored the lone goal in perhaps the biggest upset in World Cup history, helping the U.S. defeat England 1-0 in 1950 at Belo Horizonte, Brazil. The center forward headed goal humiliated world powerhouse England, and big Joe was carried off the pitch by the locals in celebration – but it was only fourth-page news back home in the New York Times sports section.
Many on the USA soccer team had hoped to manage only a respectable defeat against England. But after Joe Gaetjens dived to deflect a shot by Walter Bahr that beat defenders and goalkeeper Burt Williams in the 38th minute, the USA managed to withstand England's onslaught for a shocking shutout.
Born in Port-au-Prince, Haiti, to a Belgian father and Haitian mother, Joe Gaetjens moved to the USA in the late 1940s on a Haitian government scholarship to attend Columbia University, also working as a dishwasher. The center forward won the 1950 scoring title playing in New York for Brookhattan in the American Soccer League, going on to play in France after the World Cup, reportedly with Paris Racing Club and Troyes.
Gaetjens returned to Haiti, where he operated a dry-cleaning business and continued to play soccer on weekends. He even represented his country in a World Cup qualifier in 1953. Despite his achievements, Gaetjens never obtained US citizenship as the eligibility rules for playing in the World Cup were less strict during that era.
On July 8, 1964, the US soccer forward was arrested by the Tontons Macoutes, Haiti's notorious secret police, which his family considered retaliation for their political activism. He is believed to have been shot to death two days later. Joe Gaetjens was inducted into the US Soccer Hall of Fame in 1976.
Nandor Hidegkuti
Country: Hungary
World Cup Record: 1954 (2nd)
The Hungarian side of the early 1950s was not just brilliantly talented but also tactically innovative. With a system that encouraged freedom of movement, the "Magical Magyars" arguably pioneered "total football" 20 years before the Dutch.
Nandor Hidegkuti's re-invention of the center forward's soccer positions was crucial in Hungary's success. By dropping deep, he exploited the rigidly defined space between defense and midfield, pulling opposing sides apart and creating space for the fluid movements of Ferenc Puskas and Sandor Kocsis.
By the time of the 1954 finals in Switzerland, Hungary was unbeaten for four years. It had won Olympic gold in 1952 and famously destroyed England 6-3 at Wembley a year later, a game in which Nandor Hidegkuti scored a hat trick.
The Hungarians quickly justified their status as favorites by beating South Korea 9-0, and the center forward scored twice in their 8-3 win over West Germany. He was on target again in the quarterfinal as Hungary beat Brazil 4-2 in the "Battle of Berne" – a match that ended with both teams fighting each other in their dressing rooms – and in Hungary's 4-2 win over Uruguay in their classic semifinal.
Hungary raced into a two-goal lead in the final, but a West German side galvanized by its earlier humiliation refused to buckle. After 18 minutes, the score was level. Hungary continued to attack, and Nandor Hidegkuti struck the post in the second half, but good fortune had deserted it. With six minutes left, Helmut Rahn sealed West Germany's remarkable victory.
Four years later, Hidegkuti was on the side that went to Sweden, but the uprising of 1956 had deprived Hungary of many of its great players, and it failed to make an impression. Although this ended in disappointment, the deep center forwards deserves to be on our best forwards in soccer list.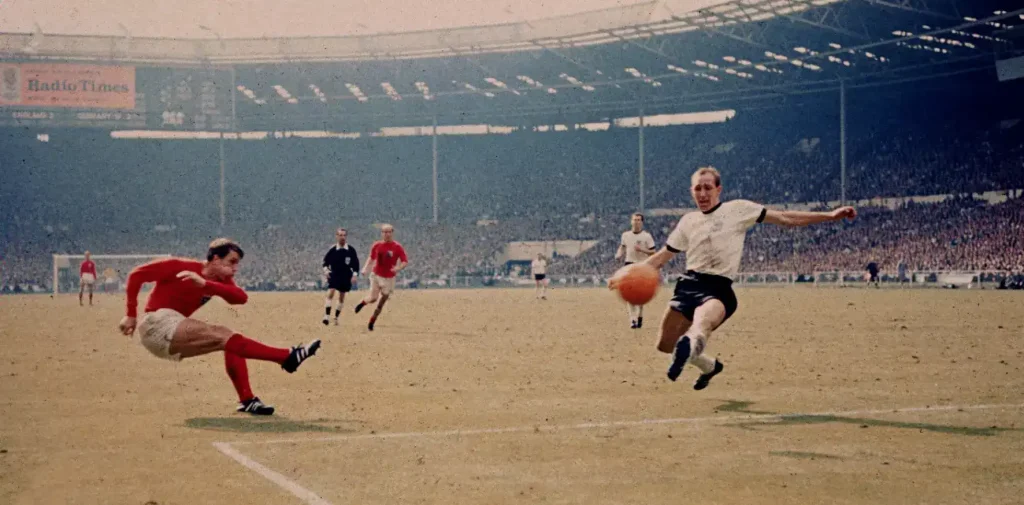 Geoff Hurst
Country: England
World Cup Record: 1966 (Winner), 1970
Geoff Hurst remains the only man to have scored a hat trick in a World Cup final, a feat he achieved in England's 4-2 win over West Germany at Wembley in 1966.
The West Ham center forward was an instant national hero and would later receive a knighthood for his achievement. Yet Geoff Hurst made his debut for England just five months before the tournament and only got his chance because of the prolific Jimmy Greaves injury.
The English center forward made an instant impression in his first game, against the bad-tempered quarterfinal against Argentina, grabbing a late winner to send the South Americans, whose spoiling tactics had got captain Antonio Rattin sent off, home in disgrace.
Bobby Charlton fired England to a 2-1 win over Portugal in the semis, but Hurst performed so well that Ramsay preferred him to the fit-again Jimmy Greaves for the final. The centre forwards hat trick was not without some good fortune. His first, which brought the score level, was a header, but if the West Germans hadn't equalized in the last minute of normal time, Martin Peters would be remembered as the man who won the World Cup for England.
His second, in extra time, controversially bounced straight down off the bar — whether it crossed the line remains a source of debate. The third, and most famous, was scored on a break in the dying seconds when, as BBC commentator Kenneth Wolstenholme memorably put it, there were "some people on the pitch."
Geoff Hurst scored England's next World Cup goal, the winner in its 1-0 win over Romania in Mexico in 1970, but he failed to add to his total as the West Germans gained revenge with a come-from-behind victory in the quarterfinals.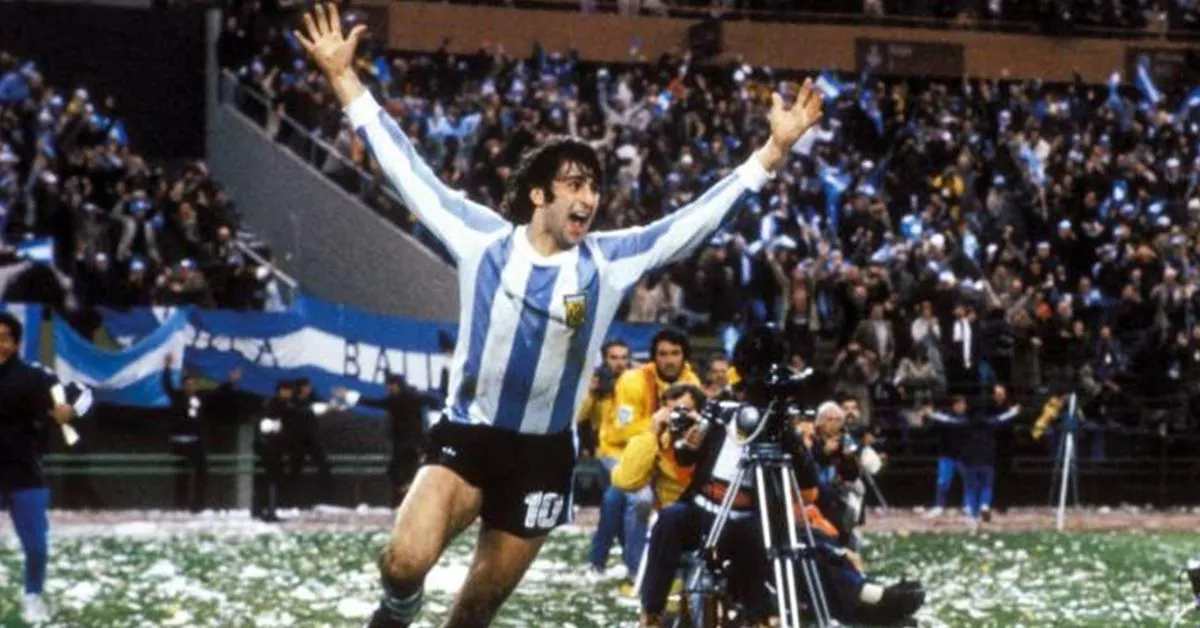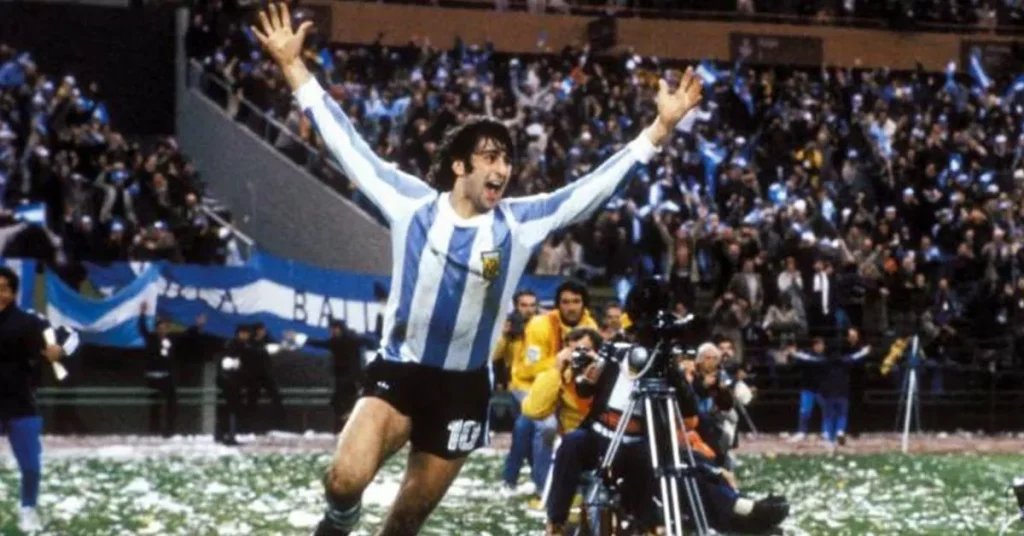 Mario Kempes
Country: Argentina
World Cup Record: 1974, 1978 (Winner), 1982
The Argentine center forward was the star of the 1978 tournament and produced one of the tremendous match-winning performances in a World Cup final as the host nation beat the Netherlands 3-1.
Mario Kempes' brilliant first-half finish put Argentina ahead, but it was after a late Dutch equalizer and an even later scare in injury time that he came to the fore. The center forward danced through the Dutch defense, beating three men to score a superb solo goal. Then, later in extra time, he applied the coup de grace, running again at the by-now beleaguered Dutch to set up Daniel Bertoni's third goal for Argentina.
With outstanding balance and tremendous ball skills, Mario Kempes was a typical South American forward. He provided a silky counterpoise for Argentina while captain Daniel Passarella marshaled a regime of steel from the defense.
Yet, it wasn't until the later stages that Kempes lived up to his star billing as one of the greatest forwards in soccer. He had failed to score in 1974, and he didn't get off the mark in 1978 until his two-goal blast against Poland in the second round. But two more goals followed in the vital 6-0 win over Peru. With his pair in the final, Kempes finished as the top scorer with six.
In 1982 Argentina was a disappointment, and Kempes was no exception. The professional soccer player failed to score goals as the champion's defense ended in the second round.
Juergen Klinsmann
Country: West Germany / Germany
World Cup Record: 1990 (winner), 1994, 1998
A world champion in 1990, Juergen Klinsmann was still one of the world's deadliest center forwards in soccer eight years later in France, despite the damaged reputation of German soccer. Playing alongside Rudi Voeller, Klinsmann contributed three goals at the 1990 finals in Italy as West Germany rolled to the title.
As defending champion and a finalist three tournaments running, Germany's 2-1 defeat by Bulgaria in the quarterfinals in 1994 was considered a humiliating failure. Still, the tournament was a personal triumph for the silky center forward, who scored five goals.
In 1996 he led Germany to the European Championship title in England and, at 34 and with more than 100 caps and nearly 50 international goals to his name, Juergen Klinsmann was still the mainstay of the German attack at the 1998 finals in France. Again Germany could only reach the last eight before losing 3-0 to Croatia, but the ever-prolific Klinsmann had added three more goals to his World Cup tally by then.
Klinsmann played for clubs in Germany, Italy, France, and England, a generous and warm character before retiring to the United States. His goals in three consecutive World Cups were the first by a player, later followed by those of Ronaldo of Brazil and his compatriot Miroslav Klose.
Sandor Kocsis
Country: Hungary
World Cup Record: 1954 (2nd)
By himself, Sandor Kocsis was a remarkable goal machine, scoring 75 goals in 68 games for Hungary. He helped the "Magical Magyars" become the most feared soccer team in the world in the early 1950s, along with Ferenc Puskas and Nandor Hidegkuti. All three of them have made our list as the greatest center forwards in soccer World Cup history.
In 1954, Hungary was a hot favorite for the finals because of their Olympic gold in 1952 and their decimation of England in 1953. It was an explosive performance by the second striker and his team. During the first round of the World Cup, he scored a hat trick against South Korea, four times against West Germany, and then two more against Brazil in round two.
Against Uruguay in the semifinals, Sandor Kocsis played the hero role in a classic drama. The Hungarians were able to win 4-2 in extra time after Uruguay had canceled out their two-goal lead late in the game.
The Magyar magic ran out in the final. Hungarians briefly threatened a repeat of their eight-goal first-round performance by taking a two-goal lead against West Germany. However, after battling back against the exhausting Hungarians, West Germany defeated them 3-2. The center forward couldn't add to his 11 goals for the tournament but finished as the top scorer by some distance.
He appeared only once at the World Cup. However, he chose not to go back home when the 1956 uprising began, eventually settling in Spain with Barca. The uprising occurred while his Honved side was on a Spanish tour in 1956.
Miroslav Klose
Country: Germany
World Cup Record: 2002 (2nd), 2006, 2010, 2014 (Winner)
Miroslav Klose is renowned as one of the top goal-scorers among his peers. He holds the record for most World Cup goals, having scored an impressive 16 in four tournaments.
The center forward first shot into the limelight during the 2002 World Cup. The 182cm striker, famous for his aerial prowess and good heading ability, scored a total of eight goals during Germany's run to the final. His tally included five headed goals and a hat-trick in the 8-0 mauling of Saudi Arabia. However, he couldn't protect his country from a 2-0 defeat against Brazil in the final.
In 2006, Germany was the favorite to win the World Cup as hosts, and Miroslav Klose led their attacking charge. The lanky center forward scored four goals during the group stage – two braces in wins over Costa Rica and Ecuador. He also scored the equalizer against Argentina in the quarterfinals. Miroslav won the recipient of the Golden Boot with five goals, but Germany bowed out to Italy in extra-time of their semi-final clash.
Klose continued his goalscoring form into the 2010 World Cup. He found the net in the opening group game against Australia. However, Klose received two yellow cards within 37 minutes of the next group game – against Serbia. Hence, he missed the group clash against Ghana. However, the German center forward was back on target against England and Argentina in the last 16 and last-eight victories over England and Argentina, respectively. He scored a total of four goals, but Germany made another exit in the semi-finals.
Ahead of the 2014 World Cup, Miroslav Klose announced that it would be his last World Cup. By now, Klose wasn't an automatic starter for Germany and usually made appearances as a substitute for Joachim Löw's side. This limited role in the side didn't stop him from scoring vital goals against Ghana and Brazil. Klose also started the final against Argentina and played 88 minutes before he was substituted for Mario Gotze. Klose proved to be fourth-time lucky as Germany ended up winning the World Cup final.
Currently, Klose is not only the leading World Cup top goalscorer; he also holds the record to be the only player to score goals at least four goals in three different World Cups. He's also the only player to appear in four separate World Cup semi-finals.
Raymond Köpa
Country: France
World Cup Record: 1954, 1958 (3rd)
The son of Polish migrants, Kopa almost followed his father into a mining career and only escaped after an accident left him with a damaged hand. Instead, Raymond Kopa became France's most remarkable center forward before Michel Platini and a member of Real Madrid's great multiple European Cup-winning sides of the late 1950s.
Kopa's finest performances for Les Bleus came at the 1958 finals in Sweden, where the center forward played alongside Just Fontaine as France scorched a path to the semifinals and then crushed West Germany 6-3 to claim third place.
While Just Fontaine scored the goals – his 13 goals are still a tournament-best, Kopa was the true star and deserves his spot in the list of the greatest center forwards in soccer. Although he contributed only three goals, his beguiling skills provided the ammunition for his prolific teammate. As a result, Raymond Kopa, rather than Fontaine, was rewarded with the European Footballer of the Year prize.
Kopa had previously appeared at the 1954 finals in Switzerland, although a late penalty in France's final first-round game against Mexico was his only contribution.
Grzegorz Lato
Country: Poland
World Cup Record: 1974 (3rd), 1978, 1982 (3rd)
Polish soccer enjoyed a golden period ending a decade later with third place at the World Cup in Spain, repeating the nation's impressive result from 1974. Grzegorz Lasto's career paralleled this period almost precisely. The 1974 finals in West Germany were the highlight of Grzegorz Lato's career. A right-winger with an eye for goal, he scored two in a 3-2 win over Argentina that helped Poland advance as winners from a group including Italy.
In the second round, the attacking midfielder goals sealed wins over Yugoslavia and Sweden, although a 1-0 defeat by the host nation cost the Poles a place in the final. Lato secured the consolation of finishing as top scorer with a brilliant goal- his seventh competition to beat Brazil in the third-place playoff.
In 1978 Grzegorz Lato added two more goals to his World Cup tally as Poland again won its first-round group but then lost out in the second round to Argentina and Brazil.
By 1982 Zbigniew Boniek was Poland's new hero. However, the attacking midfielder was still a permanent presence, contributing one goal, as the Poles rolled to another bronze medal, losing out to eventual winner Italy in the semifinals.
Michael Laudrup
Country: Denmark
World Cup Record: 1986, 1998
Denmark's most incredible ever player graced two World Cups 12 years apart. A supremely imaginative forward, Michel Laudrup broke into the Danish side as an 18-year-old in 1982. By the time he made his World Cup debut in Mexico in 1986, as part of the "Danish Dynamite" team that set the first round of the tournament alight, the center forward was already an international star at Juventus.
While forward partner Preben Elkjaer scored the goals, Michael Laudrup took on the creative duties and scored just once in Uruguay's 6-1 first-round demolition. Having scorched through its first-round group, Denmark came unstuck in the second round against Spain, losing 5-1.
That could have been Michael Laudup's only contribution to World Cup history. The Danes failed to qualify in 1990 and 1994. Then, after falling out with coach Richard Moller-Nielsen over his defensive tactics, the soccer forward missed their unexpected success at the 1992 European Championship.
But Laudrup was back in the Danish squad for the 1998 finals in France. He celebrated his 34th birthday during an impressive run to the quarterfinals that included a 4-1 win over Nigeria in the second round. Michael Laudrup played in Denmark's 3-2 quarterfinal defeat against Brazil, and his performances in the competition earned him a spot in FIFA's all-star team for the tournament and our list of the greatest forwards in soccer.
Leonidas
Country: Brazil
World Cup Record: 1934, 1938 (3rd)
Nicknamed the 'Black Diamond,' Leonidas was Brazil's most significant contribution to the pre-war history of the World Cup. An incredibly agile center forward, Leonidas is credited with having invented the bicycle kick, which he showed off on his Brazilian debut against Uruguay in 1932 with two goals.
Leonidas' tricks and ball skills amazed Europeans when he came to Europe for the 1934 finals in Italy, but an unforgiving knockout format meant the Brazilians' stay was short. Leonidas scored their only goal in a 3-1 first-round defeat by Spain.
Four years later, in France, Leonidas stamped his mark more permanently on the tournament. The soccer forward became the first player ever to score four goals in a World Cup game by narrowly beating Ernst Willimowski, playing for part of the game in bare feet during Brazil's 6-5 win over Poland in the first round.
In the second round, Brazil endured a brutal clash with Czechoslovakia, which went to a replay after a 1-1 draw in which three players were sent off, and five players were injured. Leonidas got the goal and then grabbed Brazil's first in a 2-1 win in the replay. In a bizarre move, Brazil's over-confident coach Ademar Pimenta decided to rest his star player for the semifinal against Italy, claiming he wanted him fresh for the final.
Brazil was beaten 2-1 by the defending champion, and Leonidas instead was fresh for the third-place playoff against Sweden, in which he scored twice in a 4-2 win to finish with eight goals for the competition.
Gary Lineker
Country: England
World Cup Record: 1986, 1990 (4th)
Gary Lineker was the deadliest center forwards of his era inside the penalty area and preferably inside the six-yard box. Combining pace with the instinctive positioning, Lineker was well established as England's top goalscorer by the 1986 finals and had already agreed to a move to FC Barcelona from Everton for the following season.
His new employers would be impressed by their investment in Mexico. Against Poland in the decisive group game, the center forward scored a hat trick from close range to secure a 3-0 win and a place in the last 16.
He scored two more in a 3-0 win over Paraguay, but England's next opponent was Argentina. After the "Hand of God" goal and its stunning sequel England looked dead and buried. Late in the game, Gary Lineker connected with a header from John Barnes' cross to raise English hopes.
A few minutes later, Barnes repeated the trick. The soccer forward was again waiting in front of the goal. Somehow he failed to connect, and England was out, with Lineker taking home the top scorer's golden boot for his six goals as consolation.
Gary Lineker scored England's next World Cup goal four years later in Sardinia, as Bobby Robson's side began its 1990 campaign with a 1-1 draw against the Republic of Ireland. This time it would make the semis, with Lineker keeping a cool head to slot home two penalties in the tense 3-2 quarterfinal win over Cameroon.
Against West Germany, he somehow managed to turn a late half-chance into the equalizer to Andreas Brehme's deflected freekick. Still, England's night and tournament were destined to end in misery in the penalty shootout.
Lineker retired in 1992 with 48 international goals, just one short of Bobby Charlton's England record. He is the second Englishman in the greatest forwards in soccer world Cup history.
Diego Maradona
Country: Argentina
World Cup Record: 1982, 1986 (winner), 1990 (2nd), 1994
Diego Maradona, soccer's flawed genius, was a man of heroism and tragedy who first played great but later was shamed in front of the world. As a result, the little Argentine won the World Cup, literally beating England in the quarterfinals when he scored the famous "Hand of God" goal, punching the ball past goalkeeper Peter Shilton.
In the second half, Diego took advantage of a mistake by England and fired in a goal that is generally considered to be the best of all time. It was no less emphatic for the center forward in the semis against Belgium, as two more superb individual efforts sealed a 2-0 victory.
West Germany's obsession with Diego Maradona opened up space for his teammates in the final. Argentina led by two goals. As the West Germans hit back from two corner kicks, it appeared that the match would go to extra time. A perfect pass by Maradona for Jorge Burruchaga, who fired the winning goal with six minutes left, was perhaps his most remarkable play. The soccer forward had his greatest World Cup successes in 1986, but he also fell to his lowest lows.
Maradona won the 1978 championship as a 17-year-old on home soil but was snubbed by his national team. Then, in the second round of Argentina's loss to Brazil, he was sent off in disgrace for a wild lunge during his tournament debut in Spain four years later.
Argentina made it to the finals once more in 1990, but it was hard to sympathize with the tearful Diego Maradona following his side's 1-0 defeat to West Germany. Rather than the aggressive flair of 1986, a brutal cynicism replaced it. As a result of his injury, the soccer forward failed to recreate the magic of Mexico.
Cocaine was found in Maradona's system the following year. After a 15-month ban, his soccer playing career never recovered.
In Argentina's opening match of the 1994 World Cup, Maradona's wild celebrations following a goal against Greece typified his career. But then, his participation in the tournament was humiliatingly terminated after he failed another dope test for ephedrine. After retiring from playing, he became the star of the ongoing soap opera that was his life. He was one of the first names nominated on our list for the greatest all-time forwards in soccer.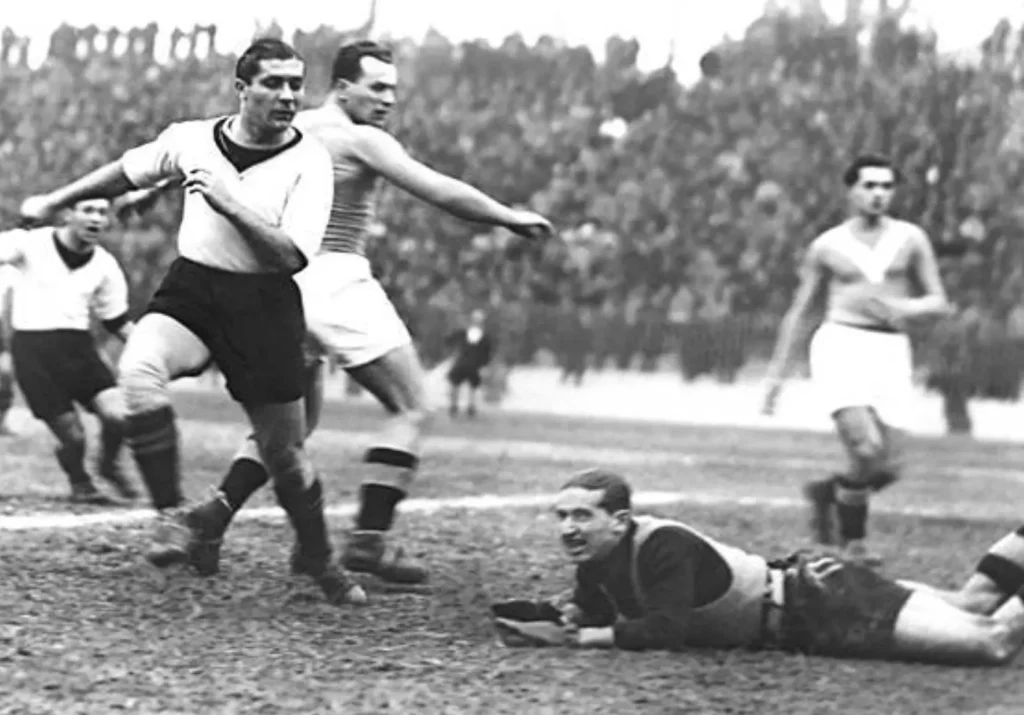 Giuseppe Meazza
Country: Italy
World Cup Record: 1934 (winner), 1938 (winner)
Giuseppe Meazza was a deadly goalscorer for Italy, scoring 33 goals in 53 games. Still, his most remarkable performances for the Azzurri came after he was moved to inside forward by coach Vittorio Pozzo. With Meazza creating chances for his teammates and scoring them himself, Italy swept to the World Cup title on home soil in 1934 and then retained the title in 1938 in France.
In 1934, the center forward was on target in a 7-1 win over the United States in the first round and scored the winner in Italy's 1-0 win in the second-round replay with Spain, which followed their tough 1-1 draw the previous day. But Meazza's most telling contribution was saved for the final. A late, freakish equalizer had denied Czechoslovakia a deserved victory, and in extra time Giuseppe Meazza laid on the cross from which Schiavio eventually grabbed the winning goal.
Four years later, the soccer forward was captain of the world champions. He had been joined in attack by the talented Silvio Piola. The Italians struggled past Norway in its opening game. However, Piola's two goals helped them beat France in the second round. In the semifinals, Italy took advantage of Brazil's decision to rest the prolific Leonidas. As a result, it earned a 2-1 win to return to the final, with Meazza striking the winning goal from the penalty spot.
If Italy's win in 1934 had been fortunate and tarnished by its appropriation for propaganda purposes by Mussolini's regime, its performance against Hungary established it as a deserving champion in the final tournament before the interruption of war. Meazza assisted on goals for Piola and Gino Colaussi in a comfortable 4-2 win.
Roger Milla
Country: Cameroon
World Cup Record: 1982, 1990, 1994
Roger Milla danced his way into soccer folklore in 1990, celebrating each of his four goals in Cameroon's thrilling campaign with a "World Cup wiggle," the shimmy by the corner flag that became one of the competition's defining images.
Even without the heroics of 1990, the center forward would have been remembered as one of Africa's great players. By then, he was 38 and at the end of a long career in the French league. He had already won 81 caps for his country and had been African Footballer of the Year in 1976.
In 1982, the soccer forward scored six goals in the qualifiers to lead Cameroon to its first World Cup in Spain, where it acquitted itself better than anyone could have hoped with draws against Peru, Poland, and Italy. There was only one goal between Italy and Cameroon that prevented them from making the second round.
For Cameroon's return to the World Cup stage, Roger Milla was tempted out of retirement. He didn't feature in the African side's opening win over Argentina but came on as a substitute to score twice against Romania.
Two more goals followed against Colombia in the second round, including the extra-time winner when Milla stole the ball away from eccentric Colombian goalkeeper Rene Higuita as he wandered around near the halfway line.
Cameroon's glorious run ended in the quarterfinals but not before England had been given a scare. Milla set up a goal and then earned a penalty as his side took a 2-1 lead, but Gary Lineker's two penalties sealed their elimination.
There was an epilogue to the Roger Milla story at the 1994 finals where, at the official age of 42 (ever since 1990, rumors had circulated that Milla was even older than he claimed), he scored against Russia in a 5-1 defeat, becoming the most aged man to score goals at a World Cup and joining the list of the greatest 50 forwards in soccer world Cup history.
Gerd Muller
Country: West Germany
World Cup Record: 1970 (3rd), 1974 (winner)
Gerd Muller's predatory instincts earned him the nickname "Der Bomber." Certainly, nobody has been deadlier with a soccer ball than the West German forward. In 62 internationals, he scored 68 goals. The 14 goals he banged in during the 1970 and 1974 tournaments make him the most prolific goalscorer in the competition's history.
In Mexico in 1970, Gerd Muller was unstoppable. The center forward scored the winner against Morocco in West Germany's opening game and then blasted successive hat tricks against Bulgaria and Peru. Finally, Muller scored the winner in the quarterfinals against England as West Germany came from two goals down to win 3-2.
Muller scored twice more in the classic semifinal against Italy, but the West Germans went down 4-3 after extra time. The goals only dried up in the third-place playoff, in which West Germany won 4-3 over Uruguay, but the soccer forward comfortably finished as the top goalscorer with ten goals and won the European Footballer of the Year award.
In 1974, Muller was far less prolific, but he saved the most crucial goal of his international career for last. Having scored just three times as West Germany reached the final, Muller wriggled free of the Netherlands' tight marking and fired home an opportunist shot that gave the host nation a 2-1 lead.
It was typical of the hundreds of goals Muller had scored at the Olympic Stadium for Bayern Munich. The only difference was that it won the World Cup for West Germany.
Saeed Owairan
Country: Saudi Arabia
World Cup Record: 1994, 1998
Saeed Owairan shot to fame in 1994 when he scored one of the most impressive individual goals ever seen at a World Cup and fired Saudi Arabia into the last 16. The Saudis were not expected to make an impact on their World Cup debut. In their final group game against Belgium, nobody gave them a chance despite beating Morocco 2-1.
With just five minutes gone, Saeed Owairan picked up the ball inside his half. After cutting through the midfield, he found himself trapped as defenders crowded around him. Nevertheless, Owairan managed to slam the ball into the Belgian net after emerging with the ball inside the penalty area.
For 85 minutes, Saudi Arabia kept its head and earned a famous win. Although Sweden proved too strong in the second round, Saeed Owairan's goal made him the first soccer superstar from the Middle East.
When the center forward visited Egypt with club side Al-Shabab in 1996, Saeed Owairan was photographed in a nightclub in Cairo. Owairan had been banned from the national team for six months before being able to resume playing.
In 1998, Owairan played in the finals, but he was just a shadow of the sensational player who shocked the world in 1994, and the Saudis failed to advance.
Bert Patenaude
Country: United States
World Cup Record: 1930 (3rd)
Bertram Albert "Bert" Patenaude is at the center of one of the significant statistical discrepancies in World Cup history – who scored the first-ever hat trick?
The Massachusetts-born center forward played a key role in leading the United States to its best World Cup performance in 1930, where they placed third ahead of Yugoslavia, due to conceding fewer goals. The first World Cup did not feature a third-place match.
Patenaude scored the final goal in the United States' first World Cup match, a 3-0 win over Belgium on July 13, with Bert McGhee registering the first two.
Bert Patenaude is often credited with scoring the first World Cup hat trick four days later in a 3-0 victory against Paraguay at the Parque Central Stadium in Montevideo. Some sources, including the US Soccer Federation, credit the soccer forward with all three goals. Others credit one of the tallies to Thomas Florie.
Argentina's Guillermo Stabile hit a hat trick two days later in a 6-3 win over Mexico. Patenaude had begun his American Soccer League career with Philadelphia in 1928 and went on to play soccer for J&P; Coats, Fall River Marksmen, Newark Americans, New York Yankees, and New York Giants.
Bert Patenaude scored 114 goals in 158 league matches from 1928 to 1931 in the ASL. He won the U.S. Open Cup in 1930 and 1931 with Fall River and scored five goals in the first leg of the 1931 final against Chicago Bricklayers. He won a third Open Cup in 1935 with St. Louis Central Breweries.
Bert was inducted into the U.S. National Soccer Hall of Fame in 1971 and our second American in our list of the top 50 all-time forwards in soccer.
Pele
Country: Brazil
World Cup Record: 1958 (winner), 1962 (winner), 1966, 1970 (winner)
Pele is regarded as one of the greatest soccer players of all time, an icon in the sport rivaled only by Muhammad Ali. Throughout his career, Pele played in four World Cups and won three, showcasing his skill and creativity.
In 1958, as a 17-year-old, he burst onto the scene at the World Cup in Sweden, scoring the game-winning goal in the quarterfinals against Wales. Pele solidified his legend in the final with a spectacular performance, scoring one goal and setting up another.
Despite setbacks in the 1962 and 1966 World Cup tournaments, Pele and Brazil bounced back in 1970, producing an unforgettable run to the championship. Pele's moments of brilliance, like his attempts on goal and a perfect pass to Carlos Alberto in the final, captivate fans to this day.
Pele, the 17-year-old prodigy who lit up the 1958 World Cup, has been an emblem of soccer for over six decades. His unmatched skill on the field was rivaled only by boxing legend Muhammad Ali in the sporting world.
Throughout his illustrious career, Pele played in four World Cups, winning three, and continuously entertained fans with his innovative tricks and extravagant moves. Pele's play always dictated the outcome, whether it was a friendly match for Santos, his club in Sao Paolo, or a World Cup final.
In 1958, Pele's star shined brightest, scoring the only goal in the quarterfinals against Wales and completing a hat-trick in the semifinals against France. In the 1958 World Cup final, he left the Swedish defense in awe with a remarkable goal, flicking the ball over their heads and volleying it into the net.
He then sealed Brazil's victory with a backheel pass that set Mario Zagallo free on the wing, leading to the final goal. The match left spectators in awe, with Sigge Parling later recalling, "After the fifth goal, I felt like applauding."
Although the 1962 and 1966 World Cup finals were less successful for Pele and Brazil, they bounced back in 1970, showcasing their near-perfect soccer with impressive performances.
With eight goals against England, Czechoslovakia, and Romania in the first round, a 4-2 victory over Peru in the last 16, and a 3-1 win against Uruguay in the semifinals, Brazil swept through the tournament with style.
Pele's passing was a particular highlight of the 1970 World Cup. While he scored against Czechoslovakia and Romania, as well as the first goal against Italy in the final, his two-yard square pass to Carlos Alberto for the winning goal stood out. The effortless beauty of such a simple play solidified Pele's legacy as a soccer icon.
Silvio Piola
Country: Italy
World Cup Record: 1938 (winner)
Simply called "Silvio gol", SilvioPiola was a formidable center forward for Lazio and Italy, scoring 30 times in 34 internationals, including two in the 1938 World Cup final in Paris, when the Azzurri retained their title with a 4-2 win over Hungary. Had it not been for World War II, the soccer forward would have scored many more.
Piola was the perfect foil for a playmaker and captain Giuseppe Meazza at the 1938 finals with quick feet and a deadly shot. In the first round, the defending champion struggled against Norway, but Piola scored in extra time for a 2-1 win.
In the second round, Silvio Piola was on target twice in Italy's 3-1 win over host France, setting up a semifinal with the in-form Brazilians. The South Americans managed to stop Piola's scoring streak. But he still succeeded in winning a penalty, which Meazza converted for a 2-1 win.
In the World Cup final, Piola shared Italy's goals with Gino Colaussi. He finished an intricate move to keep Italy in front after the Hungarians had equalized and then crashed in Italy's fourth late in the game to kill the threat of a Hungarian fightback. The Italian makes out the list of the greatest forwards in soccer.
Ferenc Puskás
Country: Hungary/Spain
World Cup Record: 1954 (Hungary, 2nd), 1962 (Spain)
The outstanding football team of Hungary in the early 1950s was led by the legendary Ferenc Puskas, renowned for his unique left-footed prowess. In 1952, Puskas captained the "Magical Magyars" to victory at the Olympics, comprised of Hungarian Army soldiers. The following year, they famously defeated England 6-3 at Wembley.
The Hungarians were unbeaten for four years leading up to the 1954 World Cup, showcasing a revolutionary style of play that emphasized player expression and mobility. Despite the team's innovative "total football" tactics, the system was always secondary to the talented players, including Puskas, Hidegkuti, and Kocsis.
Hungary made a strong start at the tournament, thrashing South Korea 9-0 and decimating West Germany 8-3. Tragically, Puskas suffered an injury in the match against the West Germans and was forced to sit out. Despite this, the team battled to reach the final, defeating Brazil and Uruguay.
Puskas was known for his overconfidence, bordering on arrogance, and he refused to sit out the World Cup final. Within 6 minutes, he scored, giving Hungary a 2-goal lead. However, West Germany made a surprising comeback to win 3-2. Puskas' late disallowed goal and decision to play while injured led to criticism upon the team's return to Budapest.
In 1956, Puskas and Honved were touring Spain when the Soviet invasion occurred in Hungary. He eventually signed with Real Madrid and, alongside Alfredo di Stefano, helped win the European Cup in the late 1950s. Despite returning to the World Cup in 1962 with the Spanish team, Puskas needed help to lead them past a group including eventual finalists Brazil and Czechoslovakia.
Helmut Rahn
Country: West Germany
World Cup Record: 1954 (winner), 1958 (4th)
Helmut Rahn's World Cup career got off to an inauspicious start in West Germany's 8-3 defeat by Hungary at the 1954 finals in Switzerland. Yet within days, he was a world champion and the hero of the stunning 3-2 win over the mighty Hungarians.
Rahn's cunning wing play was the creative focus of a West German side whose principal virtues were hard work and resilience. After spectacularly losing, West Germany rebuilt its campaign with impressive wins over Turkey, Yugoslavia, and Austria to set up a rematch with Hungary that few thought Rahn and his teammates could win.
Predictably, the West Germans were two goals down after just eight minutes. But Max Morlock immediately hit back. Then, on 18 minutes, the center forward capitalized on a goalkeeping error to bring the scores level. For the rest of the match, West Germany resiliently blocked the Hungarians' attacks. Finally, with six minutes left, Helmut Rahn picked up a loose clearance on the edge of the box and crashed the ball home for a famous victory.
Rahn's life went off the rails in the years after the World Cup, and he spent a spell in prison for a drink-driving offense. Despite the conviction, the soccer forward was picked for the 1958 finals and repaid the faith that had earned his recall with goals. In addition to his two goals against Argentina, he also netted against Czechoslovakia, Northern Ireland, and Yugoslavia before West Germany lost 2-1 to host Sweden in the semifinals.
Rahn is one of six German centre forwards to make the list of the best 50 forwards in soccer.
Luigi Riva
Country: Italy
World Cup Record: 1970 (2nd), 1974
Italy's most prolific goalscorer, Luigi Riva, scored 35 times in the blue shirt, even though he preferred to play soccer as a left wing forward. Had he not been injured, or had he chosen one of Italy's big clubs over Cagliari, the Italian soccer player may have scored more goals.
Riva was a surprise omission from Italy's squad for the 1966 finals. But the situation turned to his advantage when Italy was humiliated by North Korea and arrived home to a chorus of derision.
Two years later, Luigi Riva fired the goals that helped restore Azzurri's pride as Italy won the European Championships, and he carried the centre forward role burden into the 1970 finals in Mexico. The Italians started slowly with a 1-0 win over Sweden and goalless draws against Israel and Uruguay. However, Riva found his form in the second round and scored twice in Mexico's 4-1 demolition.
Italy took an early lead in its semifinal against West Germany. However, the match only came to life when the Italians conceded a late equalizer. From then on, the sides exchanged goals. Luigi Riva's contribution came with a formidable shot for a 3-2 lead, and Italy finally triumphed 4-3. But in the final, Riva and his teammates were outclassed by Pele's Brazil.
By 1974, Riva was a waning force and struggling to recover from the second broken leg of his career. Although the soccer forward started the tournament, his goalscoring talents had deserted him, and he was dropped for Italy's final match against Poland.
Romario
Country: Brazil
World Cup Record: 1990, 1994 (winner)
Romario's World Cup calling has been no bed of roses despite his status as one of the world's deadliest snipers in the penalty area. A national hero in 1994, the veteran centre forward World Cup career began with just one game in Italia 1990 as the Argentines unceremoniously knocked out the Brazilians in the second round.
Romario came into his own when he led his country to victory in the United States in 1994. A blistering header against Sweden 10 minutes from time ensured the Brazilians' passage into the final, where they beat Italy on penalties to lift their fourth World title. His winning partnership with lethal second striker Bebeto helped him notch up five goals during the tournament, finishing as the overall third top scorer.
But it was all to end in tears on the eve of France 1998 when a niggling calf muscle injury forced Romario out of the Brazilian squad. Although to this day, the soccer forward insists he was fit to play. The professional soccer player's frustration compounded as Brazil capitulated 3-0 to France in the final.
Romario's dream of one last World Cup is sadly not to be after he was left out of the 2002 team, sparking national uproar. Despite finishing as top scorer in last year's Brazilian championship and averaging a goal a game this year, his shock exclusion from the squad has been deeply unpopular. At 36 years of age, Romario remains one of the world's best, and his grace and ability made him a guaranteed selection among the best forwards in soccer World Cup history list.
Ronaldo
Country: Brazil
World Cup Record: 1994 (winner), 1998 (2nd), 2002 (winner), 2006
Before Cristiano Ronaldo, there was another Ronaldo who captured the imagination of soccer fans worldwide. Ronaldo Luís Nazário de Lima, or simply Ronaldo, is still regarded by many as the greatest player in modern soccer.
The mercurial centre forward was already a star in the Brazilian force by the age of 17. In 1994, he was selected for the Brazil national team for his first World Cup. The South American nation went on to lift the trophy, but Ronaldo didn't feature on the pitch. However, he helped Brazil win Copa America, Confederations Cup, and Olympic Bronze over the next four years.
By the time the 1998 Word Cup came around, Ronaldo was already the biggest star in soccer. As expected, he lit up the tournament in France and scored four goals as Brazil made their way to the final. However, Ronaldo suffered a fit before the final and almost didn't make the squad.
This incident sent shockwaves throughout the sporting world and remains a controversial topic among soccer fans and pundits. Regardless, Ronaldo was a bystander in the game as Brazil suffered a 3-0 defeat to hosts France. Around the turn of the century, Ronaldo suffered multiple severe knee injuries, which would impact his career.
However, soccer forward recovered in time for the 2002 World Cup. It was a different story as he scored eight goals and helped Brazil lift the trophy. Besides the quarterfinal win over England, Ronaldo scored in every game, including a brace in the 2-0 win over Germany in the final. This success was seen as the redemption for the star who had suffered a tragedy in the last Cup.
In the 2006 World Cup, Ronaldo was past his peak, but he still contributed with three goals. Brazil went out to France in the quarterfinals. The Brazilian star scored a total of 15 goals in World Cups – a record broken by Miroslav Klose in 2014. Ronaldo is one of eight Brazilian center forwards to make the forwards in soccer top 50 list.
Cristiano Ronaldo
Country: Portugal
World Cup Record: 2006, 2010, 2014, 2018
Cristiano Ronaldo needs no introduction to soccer fans. The Portuguese superstar is arguably the most famous soccer player of the 21st century so far.
He made his World Cup debut in 2006. The centre forward or wing forward (in his early yearly years) scored a penalty in the group game against Iran, and by doing so, he became the youngest Portuguese player to score goals in a World Cup at 21 years and 132 days. The soccer forward failed to add to his tally, but he did play a controversial role in getting Wayne Rooney sent off in the quarterfinal win over England. Portugal lost 1-0 to France in the semi-finals.
At the 2010 World, Ronaldo captained the Portugal national team. Leading by example, he claimed Man of the Match accolades in all three group games. However, he could only score a solitary goal at the Cup in the 7-0 win over North Korea. Portugal eventually lost 1-0 to Spain in the Round of 16.
Ahead of the 2014 World Cup, Ronaldo struggled with a thigh injury. However, it didn't stop him from playing for 90 minutes in the opening game against Germany – a 4-0 defeat. His only strike came in the 2-1 win over Ghana. However, it was a disappointing end to the tournament for the Portuguese contingent as they bowed out during the group stage.
Ronaldo made a sensational start to the 2018 World Cup as he bagged a hat-trick in the 3-3 draw with Spain. By doing so, Ronaldo became the oldest soccer player to score a hat-trick at a World Cup. The ultimate professional became the only player to score goals in five  World Cups. He also scored the winner in the 1-0 group win over Morocco. However, Portugal again fell short in the Round of 16 as they lost 2-1 to Uruguay.
Ronaldo hasn't been able to replicate his club-level success in World Cups. However, he did lead his country to victory in the 2016 Euro Championships, and this remains Portugal's only major success in international soccer so far.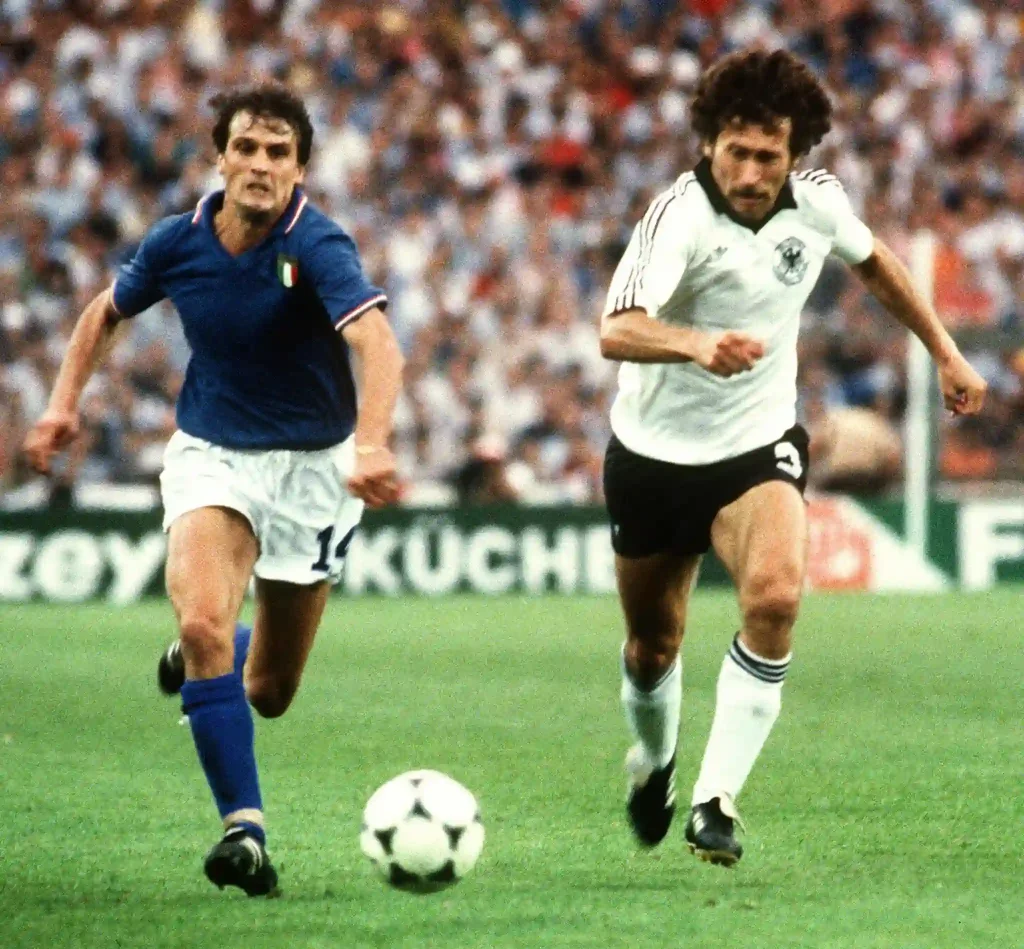 Paoli Rossi
Country: Italy
World Cup Record: 1978 (4th), 1982 (winner)
Paolo Rossi's promising debut at the World Cup in 1978, where he scored three times as Italy finished fourth, was overshadowed in 1980 by a three-year ban for alleged match-fixing.
But Italian coach Enzo Bearzot remained a massive admirer of Rossi's skills as a penalty area predator. Therefore, when the Juve striker's ban was conveniently reduced to two years just before the 1982 World Cup, he had no hesitation in taking Rossi to Spain.
Bearzot's gamble almost backfired spectacularly. The centre forward was well short of match fitness and failed to score goals as Italy was held to draws by Poland, Peru, and Cameroon and only advanced by virtue of having scored one more goal than the African side.
With the Italian press screaming for Rossi to be dropped, Enzo Bearzot stood by his man. A 2-1 win over world champion Argentina earned him some breathing space, and then, against the favorites Brazil, Paoli Rossi exploded into life.
After heading the Italians ahead after five minutes, Rossi took advantage of a defensive mistake to claim his second. Brazil, needing only a draw to reach the semifinals, equalized twice in a classic duel between South American skill and European pragmatism. But with 15 minutes left, Paoli Rossi pounced on a loose ball to claim his hat trick and seal a 3-2 win.
With his confidence restored, the soccer forward poached two more close-range efforts to beat Poland 2-0 in the semifinals, and his headed goal set the Italians on course to a 3-1 win over West Germany in the final.
Rossi's six goals earned him the golden boot and later the European Player of the Year award. Finally, Italy's "prodigal son" had silenced his critics once and for all. Many soccer purists would rate him as the best of the seven Italian forward position players to make our list of the best forwards in soccer World Cup history.
Karl-Heinz Rummenigge
Country: West Germany
World Cup Record: 1978, 1982 (2nd), 1986 (2nd)
Karl-Heinze Rummenigge may not have been as prolific as Gerd Muller, his striking partner at Bayern Munich in the early years of his career, but he was a better all-around player. Goals came quickly enough, but Rummenigge was also a brilliant creative influence.
Three goals at the 1978 World Cup heralded Rummenigge's emergence as an international forward, and by 1982 centre forward was a European champion with West Germany and the two-time reigning European Footballer of the Year.
West Germany's 1982 campaign got off to a shocking start with a 2-1 defeat against Algeria, but Karl-Heinze Rummenigge blasted a hat trick in a 4-1 win over Chile in the next game and a controversial 1-0 win over a sympathetic Austria. That one-goal win would ensure their passage into the second round.
By the second phase, Karl-Heinz Rummenigge was struggling with injuries. The soccer forward came off the bench to score goals as West Germany fought back from 3-1 down to beat France on penalties in one of the best semifinals of all time. But there were serious doubts over his fitness.
Rummenigge was recalled for the final, but coach Jupp Derwall's judgment was questioned when the forward limped off during the second half after failing to make an impression and with Italy already two goals toward a 3-1 win.
In 1986 Rummennigge was mainly used as a substitute. It was another fraught tournament for West Germany, but somehow it advanced to the final, and, once again, Karl-Heinze Rummenigge was chosen for the final.
Again he would finish on the losing side, but this time in more heroic circumstances. At a goal down against Maradona's Argentina, Rummenigge managed to steer home a corner midway through the second half to spark a comeback. An equalizer followed, but almost immediately, Diego Maradona sent Jose Burruchaga through for the winner.
György Sárosi
Country: Hungary
World Cup Record: 1938 (2nd)
Ferencvaros' great center forward led Hungary to the final of the 1938 World Cup. Nicknamed "The Doctor" – György Sárosi had a law degree and was one of Hungary's most prolific players, scoring 42 goals in 61 games.
The knockout format of the finals in France gave the highly fancied Hungarians an easy route to the championship match. Sarosi scored twice in a 6-0 win over the Dutch East Indies in the first round. A 2-0 win over Switzerland followed, and in the semifinal, the centre forward was on target again in a 5-1 rout of Sweden. Hungary's dominance was so complete that a blackbird is said to have spent most of the match sitting on its crossbar.
But in the final, György Sárosi and his teammates came up against world champion Italy. The Italian Silvio Piola came out on top in a battle between two of the era's most significant center forwards in soccer history. Although Sarosi scored to bring Hungary back to 3-2, the Italians finished 4-2 winners.
The outbreak of war ended György Sarosi's international career, and the soccer forward fled the country after the communist uprising in the late 1940s, settling into a successful coaching career in Italy.
Hector Scarone
Country: Uruguay
World Cup Record: 1930 (winner)
Hector Scarone was called "The Magician" because he pulled goals out of a hat. He was famous for his ability to improvise and particularly for his heading ability. Despite his short stature, Scarone seemed to jump earlier and hang in the air longer than opponents.
By the time he played in the inaugural World Cup in 1930, the centre forward had already won Olympic gold medals for Uruguay in 1924 and 1928.
The finals on home soil marked a fitting climax to Scarone's international career. Although the soccer forward scored just one goal in Uruguay's first-round 4-2 win over Romania, his all-round play contributed to the host nation's success. Uruguay's victory was a repeat of the 1928 Olympic final victory over Argentina, 4-2.
Hector Scarone retired from international soccer after the World Cup, and Uruguay wasn't to return to the World Cup stage until 1950. But Scarone enjoyed a long club career, including a spell at FC  Barcelona, and eventually finished playing after returning to Penarol at the age of 55.
Juan Schiaffino
Country: Uruguay
World Cup Record: 1950 (winner), 1954 (4th)
"Pepe" Schiaffino was Uruguay's tall, lean, and hugely skillful center forward of the 1950s.
In the 1950 World Cup, host Brazil needed only to draw its final game with the Uruguayans to be crowned champion. With the home side leading 1-0, all seemed well in the Maracana, but Juan Schiaffino ghosted into the penalty area and headed Uruguay level.
The target forwards goal silenced the crowd and threw Brazil into disarray. However, Uruguay pressed forward, and Alcide Ghiggia scored the winner to send the Jules Rimet trophy back to Montevideo.
Juan Schiaffino finished the tournament as the second top scorer with five goals, although the other four came in an 8-0 first-round win over Bolivia.
In 1954, Schiaffino again impressed as Uruguay traveled to Europe for the first time. The centre forward scored against Czechoslovakia and also in the quarterfinal win over England. But in the semifinals, the defending champion came up against the mighty Hungarians. Uruguay was beaten 4-2 in extra time after fighting back from 2-0 down, its first-ever defeat at the World Cup.
But Schiaffino's performances earned him a world-record US$100,000 transfer from Penarol to AC Milan, where he became one of the great players in the Italian league. Along with Hector Scarone, they are the two Uruguayans to make the best forwards in soccer top 50.
Angelo Schiavo
Country: Italy
World Cup Record: 1934 (winner)
A tough, physically imposing center forward, Angelo Schiavio scored the goal that won the World Cup for Italy on home soil in 1934. Schiavio was approaching the end of a successful career at Bologna. Still, playing alongside the great Giuseppe Meazza and prompted from midfield by Luis Monti, the second striker remained one of Italy's most prolific goalscorers.
He scored a hat trick in a 7-1 win over the United States in Italy's opening game, but its passage to the final was far from plain sailing. The next round needed a replay to beat Spain before edging out the dangerous Austrians 1-0 in the semifinal.
The final threatened to embarrass the home side as Czechoslovakia took the lead midway through the second half and then pressed forward in search of a match-winner.
But in the dying minutes, Raimondo Orsi conjured an Italian equalizer to send the game into extra time. Italian coach Vittorio Pozzo repeatedly swapped Angelo Schiavio with right-winger Enrico Guaita to conserve the pair's energy and confuse the beleaguered Czech defense with the home side pressing forward.
The ploy quickly paid dividends. Just five minutes into extra time, Guaita crossed, and the soccer forward found time and space in the penalty area to beat his marker and shoot home Italy's winner.
Salvatore Schillaci
Country: Italy
World Cup Record: 1990 (3rd)
The 1990 World Cup marked the rise of Toto Schillaci from obscurity to fame. Before the tournament, he was a relatively unknown player, having just made his debut for Italy and only gained recognition after a single successful season with Juventus, despite having spent most of his career in lower league clubs.
However, by the end of the World Cup, the Sicilian had become a beloved national icon and a household name in the soccer world.
With Italy's opening game against Austria deadlocked, Salvatore Schillaci came off the bench and grabbed a late winner. The centre forward was used as a substitute again against the United States. However, he did enough to start in Italy's final match against Czechoslovakia, scoring again in a 2-1 win and linking up well with Roberto Baggio.
Having displaced Gianluca Vialli from the team, Salvatore Schillaci couldn't stop scoring. First, another opportunist close-range strike set Italy for a 2-0 win over Uruguay in the second round. Then, in the quarterfinals, the soccer forward scored the only goal of the game against Ireland and had another effort disallowed and thumping a shot against the bar.
Schillaci scored again in the semifinal with Argentina in Naples. Still, Italy's thrilling run ended abruptly as Claudio Caniggia's equalizer sent the match to penalties, which Italy lost.
For Schillaci, the golden boot was a consolation, which he clinched with a penalty against England in the third-place playoff, his sixth goal of the competition. After that, he never was able to reach the heights of 1990 again and drifted out of Serie A, finishing his career in the J-League.
Uwe Seeler
Country: West Germany
World Cup Record: 1958 (4th), 1962, 1966 (2nd), 1970 (3rd)
Uwe Seeler's misfortune was that his international career spanned the gap between West Germany's first World Cup success in 1954 and its victory on home soil in 1974. He played in all four tournaments with distinction but never tasted success, despite playing in three semifinals and captaining his country to the final at Wembley in 1966.
The centre forward lacked natural ability, but hard work and an eye for a chance made him West Germany's leading forwards in soccer for 18 years. He was never a golden-boot winner, yet he is the only man other than Pele to have scored in four tournaments.
Uwe Seeler scored twice as West Germany reached the semifinals in 1958 before losing to host Sweden. He was on target twice again four years later, but West Germany's campaign stalled against Yugoslavia in the quarterfinals.
By 1966 Seeler was West Germany's key player, and supporters simply chanted "Uwe, Uwe" as the famous captain led his team to the final with goals against Spain and in a 4-0 quarterfinal win over Uruguay. The Soviet Union was beaten in the semifinals. But in the final, host England ran out 4-2 winners.
By 1970, the goalscorer's burden had passed to Muller, while Seeler adopted a deeper, more creative role as an attacking midfielder. He still scored three times, most famously when his speculative back header looped embarrassingly over England goalkeeper Peter Bonetti to pull the West Germans' level from two goals down en route to a 3-2 win in the quarterfinals.
But Uwe Seeler had become accustomed to World Cup disappointment, and he was to be a loser again as West Germany lost a classic semifinal with Italy 4-3.
Guillermo Stabile
Country: Argentina
World Cup Record: 1930 (2nd)
Like all great center forwards in soccer, Guillermo Stabile was in the right place at the right time. Not even a first choice for Argentina at the start of the 1930 World Cup, Stabile got his chance when captain Manuel Ferreira was injured in his side's opening game, a 1-0 win over France.
In a 6-3 win over Mexico, Stabile became the first man to score a hat trick at the World Cup – though that remains the source of some disagreement. Nevertheless, it was enough to secure his place in the team, and two more goals followed in a 3-1 win over Chile that sealed Argentina's place in the semifinals.
Guillermo Stabile's greatest asset was his sprinter-like pace. It brought the soccer forward two more goals as the United States was brushed aside 6-1 to set up a clash with host and arch-rival Uruguay, which had beaten Argentina in the 1928 Olympic final in Amsterdam.
Stabile raced through to stun Montevideo's Estadio Centenario by giving Argentina a 2-1 first-half lead, but Uruguay fought back vigorously in the second half. Trailing 3-2, Guillermo Stabile was denied an equalizer when the centre forward hit the crossbar, and Uruguay ran out a 4-2 winner.
After the tournament, Stabile moved to Italy to play for Genoa before moving on to the Parisian team Red Star and ending his international career with a handful of appearances for France.
Hristo Stoithkov
Country: Bulgaria
World Cup Record: 1994 (4th), 1998
A volatile mix of arrogance and charisma, Hristo Stoitchkov possessed all the Eastern European folk hero attributes. At the 1994 finals in the United States, his goals and inspirational leadership transformed Bulgaria's ragbag collection of journeymen into World Cup semifinalists.
Having never previously won a game at the finals, Bulgaria started severely by losing to Nigeria. Still, Hristo Stoitchkov scored two penalties in a 4-0 win over Greece, and then the centre forward fired his side to a stunning 2-0 win over an Argentine side still reeling over the loss of Maradona.
In the second round, Mexico was beaten on penalties after Stoitchkov had scored in a 1-1 draw, setting up a quarterfinal with Germany.
What followed were the most memorable 90 minutes in recent Bulgarian history. As expected, the Germans took the lead, but Stoitchkov dragged his side level with a deadly freekick, and Yordan Letchkov's sealed victory with a flying header.
The Bulgarians were rumored to have celebrated their famous win long into the night, and it showed in a lackluster performance against Italy in the semis. Hristo Stoitchkov scored his golden boot-winning sixth goal of the tournament from the penalty spot, but Roberto Baggio had scored twice by then. With the magic drained from his soccer cleats, the Bulgarians crashed to a 4-0 defeat to Sweden in the third-place playoff.
Davor Suker
Country: Croatia
World Cup Record: 1998 (3rd)
Upon declaring its independence in 1990, Croatia swiftly became a success on the international stage, qualifying for the 1998 World Cup in France. To the world's surprise, it bagged third place in a hotly contested playoff against the Netherlands.
The nation's hero was Davor Suker. He won the coveted golden boot ahead of stalwart Argentine forward Gabriel Batistuta and Italian forward Christian Vieri with six goals to his name. The centre forward scored crucial goals in almost every game, converting a controversial penalty to defeat Germany in an epic quarterfinal and putting eventual champion France 1-0 down in the semis.
Davor Suker had first made a name for himself on the world stage at Euro 1996, netting 12 goals in 10 games in qualifying and then lighting up the finals with an exquisite chip over Denmark's Peter Schmeichel in the group stages. And before Croatia's independence, Suker helped lead Yugoslavia to the World Youth Championships in Chile in 1987. With Suker alongside Alen Boksic, Robert Prosinecki, and Goran Vlaovic, Croatia poses a genuine threat to any shaky defense in this year's competition.
Vava
Country: Brazil
World Cup Record: 1958 (winner), 1962 (winner)
A goalscoring hero of Brazil's World Cup successes in 1958 and 1962, Vava was the first to score goals in two tournament finals. Only Pele and Paul Breitner have emulated his achievement since.
Vava was moved from inside left to center forward to accommodate the 17-year-old Pele in Brazil's team during the 1958 finals. The switch was to his benefit. Mane Garrincha and Mario Zagallo worked their tricks on the wings. The tall, strong Vava was the perfect man to convert their crosses into goals.
He had already scored twice in a 2-0 win over the Soviet Union, and in the semifinal against France, the centre forward scored the first of Brazil's five goals in the first minute. Two Garrincha crosses brought two more goals for Vava in the final, a 5-2 demolition of host Sweden.
Like all great center forwards in soccer, Vava was recalled by Brazil for its title defense in Chile four years later, having spent a disappointing spell with Atletico Madrid in the years in between. With Garrincha and Zagallo still dominating the Brazilian flanks, the goals once again came from the wings.
Vava scored in the 3-1 win over England in the quarterfinals and then scored with two headers as Chile was beaten 4-2 in the semis. Finally, Czechoslovakia was destroyed 3-1, with Vava taking advantage of a goalkeeping error to score Brazil's third and ninth World Cup goal.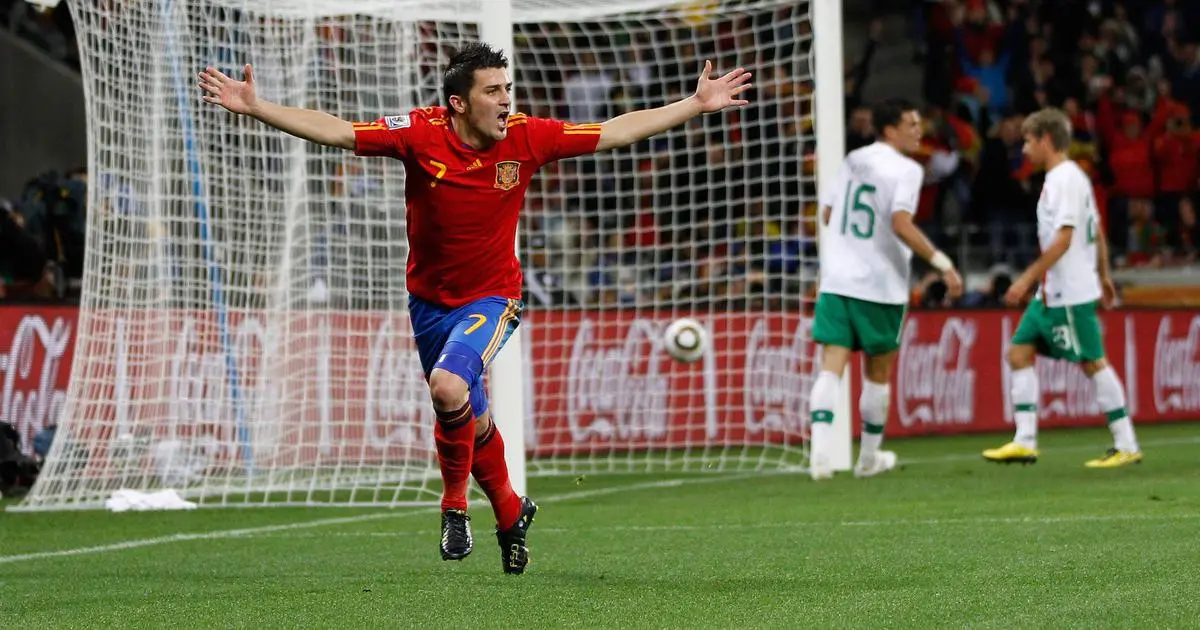 David Villa
Country: Spain
World Cup Record: 2006, 2010 (Winner), 2014
David Villa was an integral component of the Golden Generation of the Spanish side that claimed all possible major honors in international soccer. Villa earned his first World Cup call-up in 2006. Spain was among the favorites for the tournament, but they had often failed to live up to expectations in World Cups. This trend continued as La Roja made an early last-16 exit from the tournament.
Regardless, David Villa made an immediate impact and scored a brace in Spain's first group game – a 4-0 win over Ukraine. Villa added another goal to his tally in the last-16 encounter with France. However, Spain ended up losing the tie 3-1.
Spain's fortunes changed in 2010 when they claimed their maiden World Cup trophy. The centre forward was one of the joint top-scorers in the tournament with five goals. However, Thomas Muller (Germany) won the Golden Boot due to a higher number of assists. However, David Villa had the last laugh as Spain defeated Netherlands 1-0 in the final to win the Cup. Villa's goals were particularly crucial in last-16 and last-eight 1-0 wins over Portugal and Paraguay, respectively.
Villa endured a disappointing World Cup in 2014 as Spain exited the group stage. The soccer forward was not an automatic starter for La Roja anymore but did manage to find the net once. He scored in the 3-0 win over Australia, but this was a dead fixture as Spain were already out of the tournament. With nine goals, Villa is currently Spain's leading goalscorer in World Cups.
Besides his World Cup exploits, Villa also helped Spain win Euro Championships in 2008.
Zico
Country: Brazil
World Cup Record: 1978 (3rd) 1982, 1986
After the cautious and unsuccessful campaigns of 1974 and 1978, Brazil sought to rekindle the spirit of 1970 with a squad of players dedicated to reviving Pele's "beautiful game."
With his swerving runs and powerful shooting, Zico was the archetypal samba superstar, but in 1978 niggling injuries and tactical disagreements had spoiled the centre forwards campaign. However, Brazil had still managed to finish third. In 1982 he formed a buccaneering attacking midfielder quartet with Socrates, Falcao, and Cerezo that set the tournament alight.
After beating the Soviet Union, a trademark freekick from Zico set Brazil on course to a 4-1 win over Scotland, and the attacking midfielder scored two more in a 4-0 win over New Zealand.
Brazil played the best soccer of the tournament, but it was pitched into an unforgiving group with Argentina and Italy in the second phase. Zico was magnificent against Argentina and scored from a rebounding freekick to set up a 2-1 win and a decisive match against Italy that Brazil only needed to draw.
Zico set up Socrates to score in a classic match and constantly prompted Brazilian attacks, but Italy's resilience complemented by Paolo Rossi's opportunism won the day, and Brazil was beaten 3-2.
By 1986, Zico's cavalier style was again out of favor as Brazil returned to the more pragmatic school of the mid-70s. He made just three substitute appearances, and the last ended in disaster when he missed a penalty that would have sent Brazil through to the semifinals at France's expense. Instead, the game finished 1-1, and Brazil lost out on penalties.
Although his name is last on the list, he was one of the most threatening forwards in soccer world Cup history.