Regarded as the greatest Italian player of all time, Giuseppe Meazza was much more than a football genius.
With his triumphs on the pitch and his excesses off it, he was long seen as a symbol of social success in Italy, rising from a modest background to become a two-time world champion and legend of the game before giving his name to Milan's famous football stadium.
"Having him in your team meant you started every game 1-0 up," his Italy team coach Vittorio Pozzo once said. "He was a born striker. He could read the game, understand situations and make the whole attack work by applying a game concept based entirely on technique."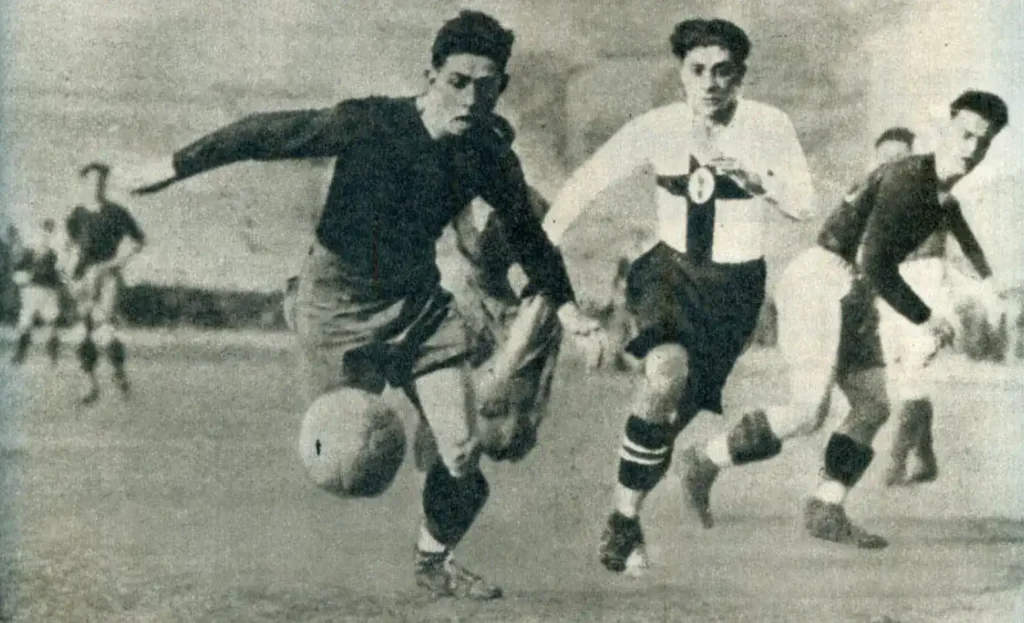 The Inimitable Giuseppe Meazza
Hailing from the Milan suburb of Porta Vittoria, the diminutive Meazza had to find his way in life following his father's death on the Italian front in 1917.
A football fanatic from an early age, Giuseppe Meazza spent a significant part of his formative years on the makeshift pitches that dotted the city's outskirts, learning to master improvised footballs made from rags.
His first taste of the game on a proper pitch came when he made his debut at 12 for Gloria FC. After being spotted by some AC Milan fans, the frail-looking youngster earned a trial with the club but was turned down because of his slight frame.
I Rossoneri's loss quickly became Inter Milan's gain when the influential Fulvio Bernardini, one of their former players, took a shine to the young prodigy and introduced him to the Hungarian coach Arpad Weisz, then in charge at Inter.
Throughout the next three seasons, Giuseppe Meazza would hone his skills with the Inter youth team, which then went by Ambrosiana-Inter. He made his first-team debut as a 17-year-old against Milanese Unione Sportiva, scoring twice to set his illustrious career in motion.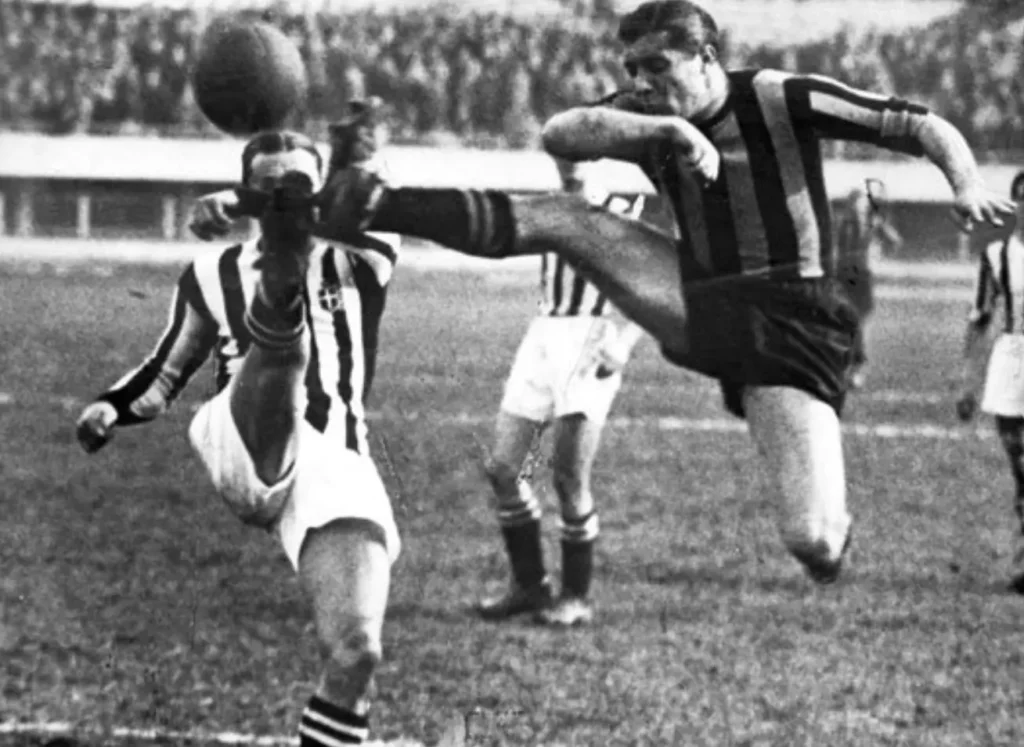 A Showman Is Born
It took the teenage tyro less than a season to become the darling of Italian football. Outrageously talented and capable of making the difficult look effortless, the slight Meazza took a mischievous delight in provoking the opposition with his skills, attempting and invariably pulling off the most dazzling of tricks.
On occasion, Giuseppe Meazza would run the entire length of the soccer field with the ball glued to his feet, swerving past opponent after opponent only to stop in front of the keeper, urge him to come off his line, and sell him one last dummy before sliding the ball into the empty net.
Party pieces such as those earned him the admiration of the fans and the ire of his rivals. Nevertheless, there was more to the intuitive Meazza's game than impish trickery. As well as striking viciously dipping free-kicks, he was a precise ball passer.
And, despite standing only 1.69 meters tall, his timing in the air often helped him get the better of much taller opponents, his heading prowess bringing him many goals throughout his career.
In his first two seasons in the Inter first team, Giuseppe Meazza scored 64 goals in a prodigious tally that included a double hat-trick in one game against Venice in May 1929 and two five-goal hauls.
Even the ordinarily implacable Pozzo fell under his spell, giving the 19-year-old Meazza his international debut against Switzerland in Rome in February 1930.
The kid they called La Balilla immediately repaid Pozzo's faith, scoring twice in a 4-2 win. His first masterclass in the blue of Italy came three months later in the final of the International Cup against the mighty Hungary in Budapest.
Giuseppe Meazza scored a hat-trick in a superb individual display as La Nazionale ran out 5-0 winners. Still, to turn 20, he had achieved a record ten goals in seven appearances by that time.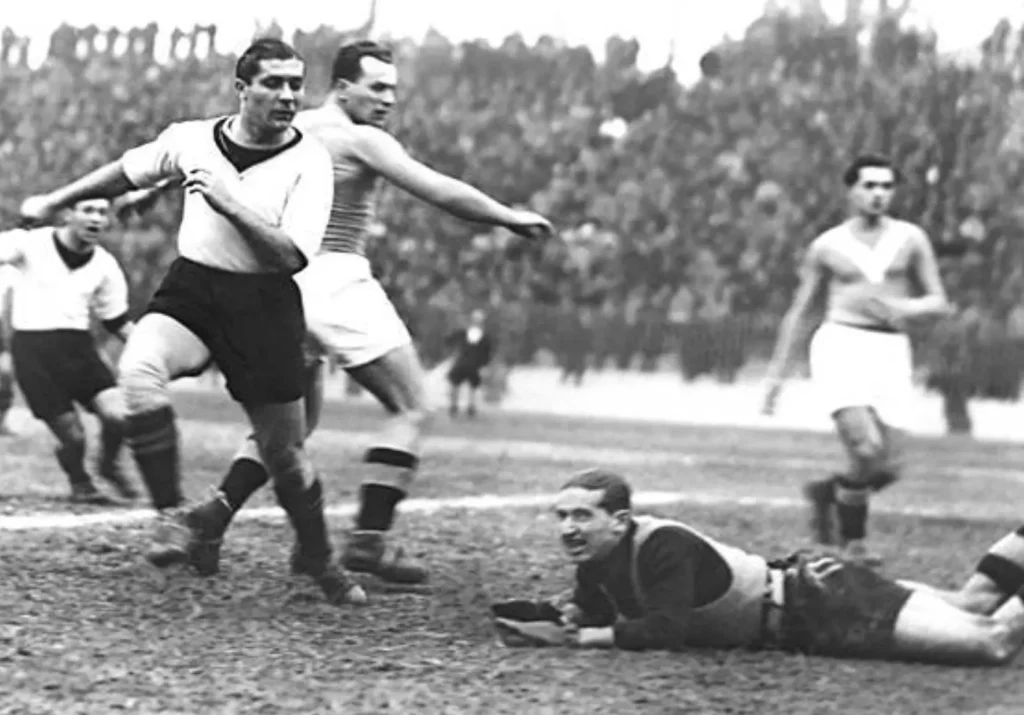 Touched With Greatness
Meazza was 24 and had around 20 caps to his name when Italy hosted the 1934 FIFA World Cup. Such were the team's attacking riches, so Pozzo decided to switch him from the center-forward position to the right wing, where his elusive dribbling would unsettle defenses and create openings for his teammates.
Benito Mussolini deemed victory an imperative for Pozzo's side. Still, despite the pressure weighing on the players, Meazza went into the tournament in a relaxed frame of mind and would play a decisive role in their eventual success.
After scoring in a 7-1 defeat of the USA in Italy's opening match, Giuseppe Meazza was on target again in a quarter-final replay against Spain, hitting the only goal of the game.
He then set up Enrique Guaita for the solitary goal of a tense semi-final meeting with Austria, with the Italians going on to face Czechoslovakia in the Final.
Despite picking up an early injury, the Inter star soldiered on. With the teams locked at 1-1 in extra time, Czech coach Karel Petru sensed that he was flagging and instructed his defenders to focus their attention elsewhere.
It proved a fatal error, Giuseppe Meazza instigating the move that led to Angelo Schiavio's winner.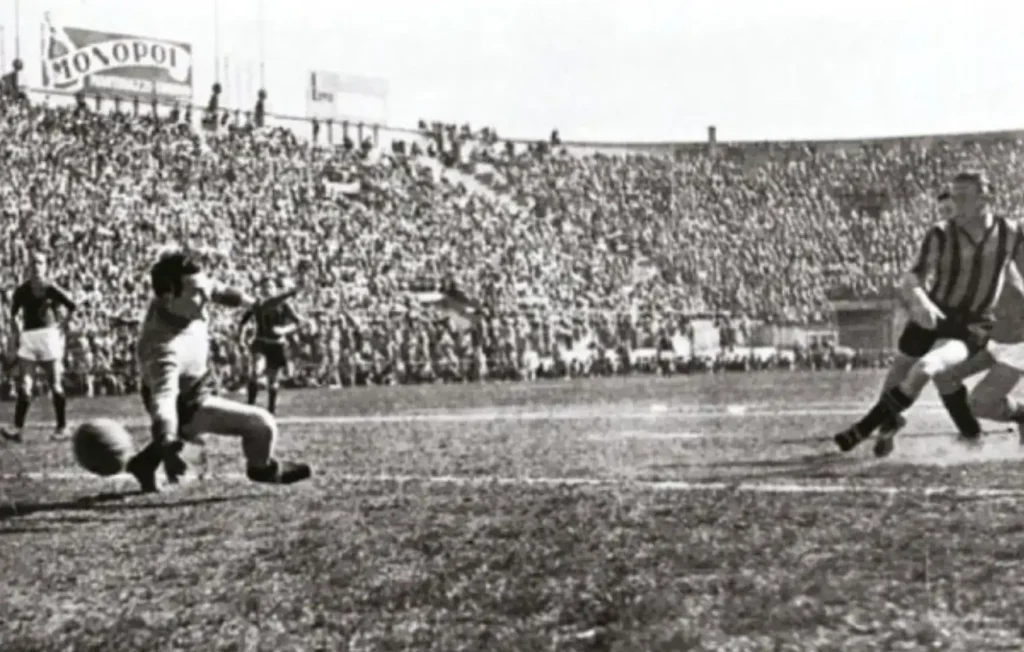 The Battle of Highbury
Five months later, Italy traveled to London for a match billed as the "real" World Cup final owing to England's continued absence from the World Cup proper.
In a memorable meeting known as The Battle of Highbury, Italy was quickly reduced to ten men after Luis Monti limped off with an injury, with an aggressive England side storming into a 3-0 lead.
Earning the respect and admiration of the fans with a great display, the irrepressible Meazza salvaged Italian pride with two second-half goals, allowing the world champions to leave the English capital with their heads held high.
The Italian wizard scored his finest goal for his country in May 1936, a friendly against Austria in Rome. Bearing down on goal after collecting a through ball, he saw two opposing defenders advancing towards him from either side before suddenly coming to a halt, putting his foot nonchalantly on the ball.
Unable to stop in time, the defenders collided with each other, leaving Giuseppe Meazza free to sidestep the keeper with customary ease and roll the ball home for a goal that would not look out of place in one of today's video games.

World Title Number Two For Giuseppe Meazza
The Italian legend was still in prime form when he captained his country during their world title defense at France in 1938, having hit 28 goals in 30 matches that season alone.
His only goal of the finals came from the penalty spot in the 2-1 semi-final win over Brazil and proved to be his last in the famous blue jersey.
However, his value to the side was undiminished, with the lion's share of tournament top-scorer Silvio Piola's five goals being set up by the skipper.
Making relatively comfortable progress to the Final, the Italians retained their crown with a stunning 4-2 defeat of Hungary in Paris.
Even in the critical phases of his football career, Giuseppe Meazza enjoyed living life to the full. A renowned ladies' man, he loved gambling and dancing the Tango with a white gardenia tucked behind his ear and was the only player to smoke openly in front of Italy coach Pozzo.
After leaving Inter Milan in 1940, he played for a handful of other clubs over the next few years, spending two seasons with city rivals AC Milan before returning to coach the Inter youth team.
There, he uncovered a similarly bright young star in Sandro Mazzola, who, like his mentor, had also lost his father at an early age.
On his death in 1979, and with the agreement of AC Milan, Inter decided to rename their San Siro stadium in his honor, an indication of his standing in the game and the tremendous impact he had on the club and Italian football in general.
Giuseppe Meazza Highlights
Before his debut game in Inter Milan's first team, the slight 17-year-old Giuseppe Meazza was named "Balilla" by the Nerazzurri striker Leopoldo Conti. The inspiration for the soubriquet came from the youth organization Opera Nazionale Balilla, which took in children aged eight and 13. The frail teenager went on to score twice in that maiden outing, but the nickname stuck for the rest of his life.
Playing against Roma in Milan on 27 April 1930, Meazza scored a hat-trick inside the opening three minutes.
Giuseppe Meazza turned 16 on 23 August 1926, when his hero, the famous Italian actor Rudolf Valentino, died. In tribute to him, the young footballer slicked his hair back in the style of the time, which also helped Meazza reinforce his image as a "Latin lover."
Meazza was 16 when he was given his first football boots by a well-wisher who had seen him playing on makeshift pitches in a Milan suburb. In those days, boots cost three times the average monthly salary.
A feat he accomplished at the age of 23 years and 32 days was scoring 100 goals in Serie A. This makes him the youngest person to accomplish such a feat.
With 31 goals in his first Serie A season, Giuseppe Meazza still holds the record for most goals scored in a debut season.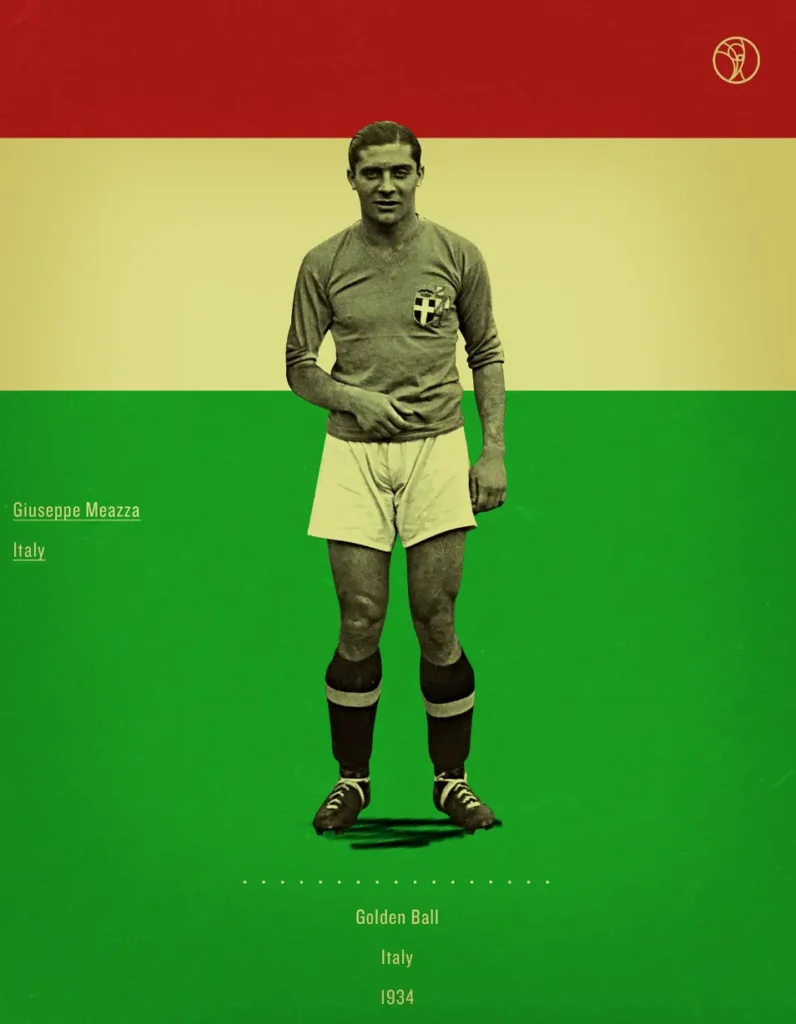 Italy Player Loses Shorts
In the semi-finals of the FIFA World Cup France 1938 against Brazil in Marseille, Meazza broke the elastic in his shorts while trying to take a penalty. Undeterred, the Italian simply held his shorts up with one hand before sending the keeper the wrong way from the spot with his trademark feint.
Only four Italian players have won two World Cups: Giovanni Ferrari, Guido Masetti, and Eraldo Monzeglio. On home soil in 1934 and as captain in 1938. As the most outstanding player at the 1934 World Cup, Giuseppe Meazza was named to the All-Star Team and won the Golden Ball Award.
On 20 July 1939, nine years after his debut, he captained Italy to a 3–2 victory over Finland at the Olympiastadion in Helsinki. Between 1930 and 1939, Giuseppe Meazza played 53 times for Italy, winning 33 matches and losing only six.
Italian footballer Meazza became internationally famous and became the first Italian footballer to have personal sponsors.
He died two days before his 69th birthday from pancreatic failure on August 21, 1979, in Lissone, Italy. Milan's Monumental Cemetery is where he is buried.
Giuseppe Meazza Facts, Stats, And Highlights
Date of Birth: 23 August 1910
Place of Birth: Milan
Deceased: 21 August 1979
Position: Striker and attacking midfield
Clubs:
Inter Milan (1927-40)
AC Milan (1940-42)
Juventus (1942-43)
Varèse (1944)
Atalanta (1945-46)
Inter Milan (1946-47)
National Team: 53 appearances (33 goals)
Coached:
Atalanta (1945-46),
Inter Milan (1946-48)
Besiktas 1948-49)
Pro Patria (1949-51)
Italy (1952-53)
Inter Milan (1955-57)
Career Highlights Of Giuseppe Meazza:
FIFA World Cup winner (1934, 1938)
International Cup winner (European Nations Championship) (1930, 1935)
Italian championship winner (1930, 1938, 1940)
Italian Cup winner (1939)
Serie A top goalscorer (1929, 1930, 1936, 1938)
Inter Milan's all-time leading goalscorer (287 goals)
Third-highest all-time Serie A goalscorer (216 goals in 367 matches)