The MLS has been attracting a lot of big names though many dub it a "retirement league". Players like Thierry Henry and Steven Gerrard moving over to the States to retire after pretty incredible club careers in Europe. More recently, players like Gareth Bale have moved over from Spain to play for Los Angeles FC and perhaps the biggest name of them all, Lionel Messi, after winning everything there is to win in Spain and a couple of league titles in France, has now decided that, since he has an apartment in Miami, he will be spending the last years of his unmatched career with David Beckham's MLS Franchise, Inter Miami.
With these big names drawing more and more eyes to the league, today we'd like to take a look at a pretty new rivalry within the MLS, the New England Revolution versus Inter Miami. The Revs were founded in 1995 but Inter Miami are the youngest Franchise in the MLS, only founded very recently in January 2018. So as you can imagine, there isn't a whole lot to talk about here. However, the small record allows us to dive deeply into the record!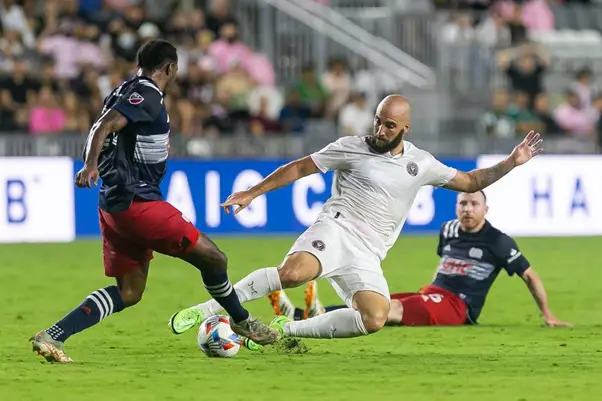 Can the Revs get a vital 3 points against Inter Miami in their upcoming game?
Source: ESPN
So, to begin with, the New England Revs have met Inter Miami 5 times in the MLS. Inter Miami lead with a 3-3 record overall. The last time these two teams met was in June 2023, The Revs hosted Inter Miami and saw out a 3-1 win, An early penalty helped them go in 2-0 at half time with Inter Miami only notching a goal via a penalty also.
Here is a table breaking down the 5 previous meetings between these two clubs.
| | | |
| --- | --- | --- |
| Date | Location | Result |
| April 9, 2022 | Gillette Stadium | New England Revolution 2, Inter Miami CF 0 |
| May 21, 2022 | Gillette Stadium | New England Revolution 1, Inter Miami CF 0 |
| July 31, 2021 | DRV PNK Stadium | Inter Miami CF 2, New England Revolution 0 |
| September 11, 2021 | DRV PNK Stadium | Inter Miami CF 1, New England Revolution 0 |
| May 13, 2023 | DRV PNK Stadium | Inter Miami CF 2, New England Revolution 1 |
| June 10, 2023 | Gillette Stadium | New England Revolution 3, Inter Miami CF 1 |
As you can see, home field advantage seems to be a huge factor when it comes to meetings between these clubs. With the Revs' three wins over Inter Miami coming at the Gillette Stadium. In the meeting on April 9th 2022, Adam Buksa and Damian Rivera scored the goals for the Revs and in the Revs' only other win on May 21st 2022, the only goal in that game was scored by Adam Buksa again. Seems like he loves a goal against Inter Miami doesn't it? Finally the most recent game in the rivalry was June 10th. New England won 3-1 at the Gillette Stadium with goals from Carles Gil, Matt Polster and Bobby Wood while the only goal from Inter Miami came from an 84th minute penalty scored by Josef Martinez.
On the other side of the coin, the three wins that Inter Miami have got have all come at the DRV PNK Stadium, the first of which came on July 31st 2021. Lewis Morgan was the only name on the scoresheet in a 2-0 win. The second was September 11 2021 where again, only one name was on the scoresheet, this time it was Gonzalo Higuain whom some of you may remember from his days playing at Real Madrid, Napoli and Juventus. This one went down as a 1-0 win and finally, the game we've already mentioned. A 2-1 win with David Ruiz and Josef Martinez getting on the scoresheet, with Ruiz also being shown a red card. The goalscorer for the Revs was Carles Gil who some of you may remember for his time with Elche or Aston Villa.
The Revs and Inter Miami are two of the most evenly-matched teams in MLS. The Revs have won the Supporters' Shield twice in the last three years, while Inter Miami is still a relatively young team. The upcoming matches between the two teams are sure to be exciting.
Speaking of their upcoming games, the Revs next play Inter Miami at the Gillette Stadium on the 10th June. As we've shown today home field advantage seems to play a huge part in deciding the outcome between these two teams, so with the Revs having home field advantage this time round, it will be interesting to see what kind of odds the experts have given both of these teams. While we're here we're also going to be taking a look at the odds for both of these teams to win the MLS Cup as well as the top 3 favorite teams according to the experts!
Speaking of their upcoming games. Both of these teams play on this upcoming Saturday! The New England Revs get to keep their home-field advantage alive as they host Orlando City who are floating on the edge of a guaranteed place for the Final Series, while Inter Miami travel to Philadelphia to take on the Union. The Union are currently sitting third in the Eastern Conference, comfortably in the places while Inter Miami are still rock bottom.
To get our odds for this one, we took a look at all of the top sites for sports betting in Massachusetts and these are the odds we found! The MA locals, New England Revs come into this one as quite the favorite at -125, returning $9 from $5, for Orlando they find themselves as +300 underdogs returning $20 from the same stake of $5. For Inter Miami, who haven't won in their last 5, they find themselves heavy underdogs at +400 returning $25 from $5, while Philadelphia come in at -150 returning $8.33 from $5!
When it comes to winning the MLS Cup, you might be surprised at the odds here, all returns in this segment will be based on the same $5 stake as above. The New England Revs find themselves as fifth favourite to lift the cup at +1600, returning $85 while Inter Miami who are currently bottom of the Eastern Conference come in at +1400 returning $75. The top 3 favourites however are Nashville SC at +600 returning $35, FC Cincinnati at +450 returning $27.50 and in first place, the favourites to lift the cup this season are Los Angeles FC at +350, returning $22,50!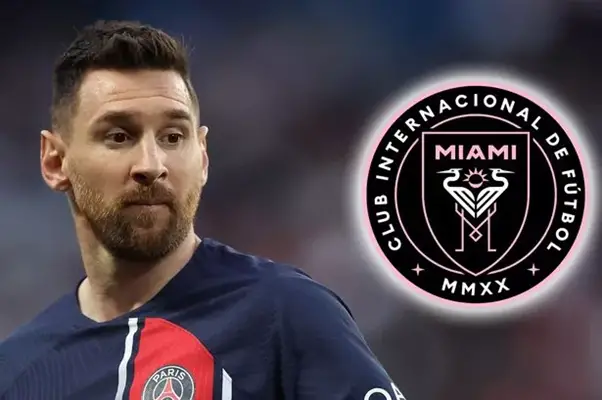 How big of an impact is Messi going to have on this Inter Miami team?
Source: Football London
So football fans from Miami and New England, how have we been enjoying this rivalry so far? Do you folks pay attention to head-to-head rivalries like this or do you prefer to look at the bigger picture? For Inter Miami fans, being bottom of the Eastern Conference with the third worst points total in the entire MLS isn't ideal, but how big of a difference is Lionel Messi going to make to your season? A Final Series Playoff place isn't completely out of the question for you guys really, if Messi can hit the ground running in the MLS I'd be seriously surprised if they didn't at least make the playoff for it.
As for the Revs, they're doing okay with a record of 7-6-3 in 16 games, putting them sat comfortably in the Final Series places right now, but with around 18 games left to play anything can happen. How confident are we of remaining in those places and, providing they do stay in the final series places, how confident are we of pushing on and making a run deep into the MLS Cup? Is a Conference Final a possibility or dare you dream and have hopes of making it all the way to the Cup Final game?