Argentina have been a top-side ever since the 80's, producing some of the finest players to grace the pitch. Yet, their most recent triumph was, in part, due to fearlessness in the face of the dreaded penalty shoot out. After winning some of the biggest games in their history through penalties, the obvious question is: How good have they been historically?
 How Good are Argentina at Penalty Kicks?
The short answer is very good – a football team filled with players able to keep their composure and shoot with precision under immense pressure, it's no surprise the current iteration of the national team seems so unflappable in football's most feared trial.
If you look at some of Argentina's big victories in the past few years, we can see a pattern, with much of their success due to this level-headedness.
Copa America 2021 – Argentina vs Colombia
In the 2021 Copa America semi-finals, both sides were level after 120 grueling minutes. With a penalty shootout a certainty, Argentina would have to dig deep to progress to the final. 
During the shootout, Colombia would only manage 2 goals thanks to Juan Cuadrado and Miguel Borja. Argentina scored 3 which were tucked away by Lionel Messi, Leandro Paredes, and Lautaro Martinez, but the hero here, as is often the case, was Martinez in goal, who would save Yerry Mina and Marc Cardona's penalties to cement Argentina's place in the Copa America Final. They would go on to beat Brazil.
FIFA World Cup 2022 – Argentina vs Netherlands
In the biggest soccer event of 2022, Argentina secured their spot in the semifinals with a penalty shootout win against The Netherlands. With the match tied at 2-2, Messi, Paredes, Montiel, and Martinez scored 4 to go through, but it was thanks to another legendary display by Emiliano Maritnez between the sticks that The Netherlands would only manage to convert 3, the Aston Villa goalkeeper decisively saving Van Dijk and Berghuis's spot kicks.
FIFA World Cup 2022 – Argentina vs France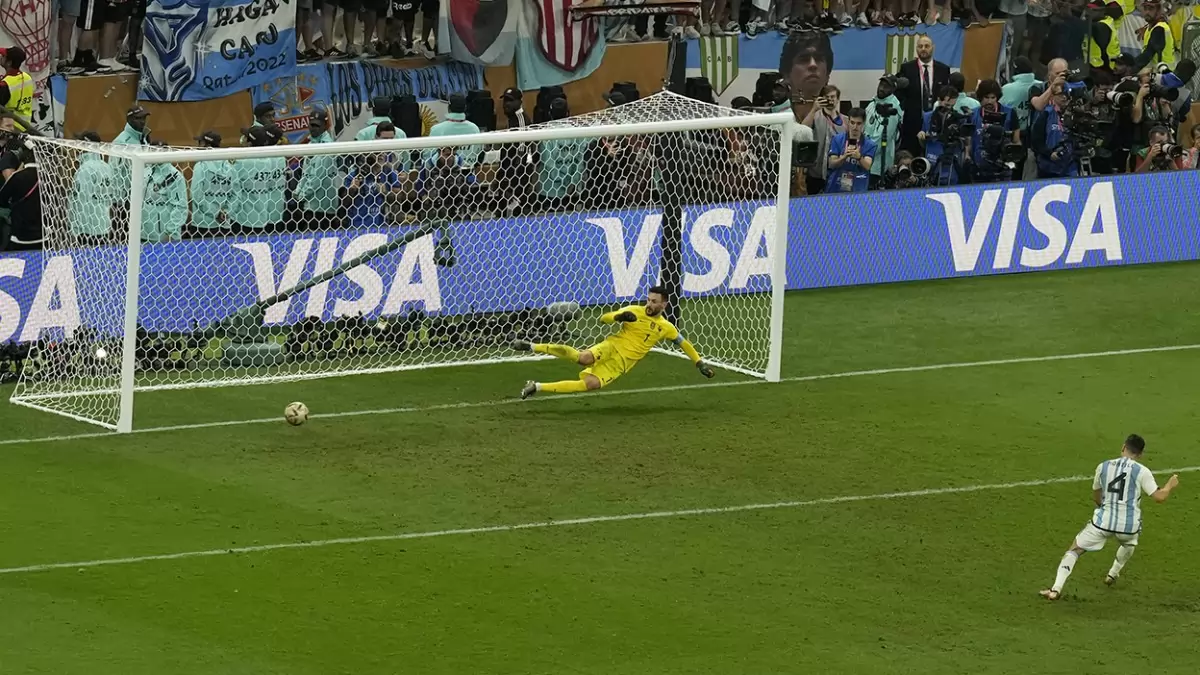 In their biggest match with football immortality on the line, Argentina once again triumphed through penalties and taking the World Cup to Buenos Aires. 
The thrilling match ended with Argentina winning 4-2 thanks to the goals from Lionel Messi, Paulo Dybala, Leandro Paredes, and Gonzalo Montiel, who all displayed exceptional skill and composure under intense pressure to clinch victory for the team. Messi's cool, audacious penalty personified Argentina's composure, and with Martinez once again getting under the skin of the opposition, Argentina's penalty victory never looked in any doubt.
Why Emi Martinez Is So Good at Saving Penalty Kicks
The Argentina national team has some of the best penalty-takers in the world, but the team also boasts an exceptional goalkeeper that becomes a monster when facing penalty kicks. The man all strikers fear, Emi Martinez. 
His incredibly fast reflexes, amazing ability to guess the right direction of incoming shots, and unwavering focus makes him one of the best goalkeepers in the world. But most important to his more recent success is his uncanny ability to get inside the heads of his opponents.
His Provoking Words
Aggression can be harmful on the sports field, but there are times when you can use it to your advantage. During the 2021 Copa America semi-final shootout, the stadium microphones picked up some of the intimidating words that Martinez was shouting to the opposition strikers to gain an upper hand over them. 
For example: 
"I am sorry, but I will stop you, bro."
"I'm eating you up, brother. I'm eating you up, brother."
"You're laughing, but you're nervous."
These verbal taunts would prove to be successful, with all 3 takers missing their respective penalties. 
Though some may see it as unsportsmanlike, it's completely legal and doesn't cross any ethical lines. Trash-talking is a common technique most goalkeepers use to distract the penalty takers, rising above and handling this added pressure is part of the dance that is penalty shoot outs.  
Mind Games
During the 2022 World Cup match against the Netherlands, Martinez used a piece of clever gamesmanship to destroy the penalty taker's focus and timing. 
When Steven Berghuis was about to shoot, Martinez deftly took the ball from the ground. However, Martinez shrugged off any accusation of wrongdoing and acting innocent as he returned the ball later to Berghuis.
That delaying move was a game-changer as Berghuis missed the penalty, sealing his team's fate.
Knowing Exactly When to Move
Typically, goalkeepers dive when the striker approaches the ball. But when Netherland's Van Dijk approached the ball for the penalty kick, Martinez did not move an inch and only put forward his right leg the moment Van Dijk kicked the ball.
That gave Martinez enough time to anticipate the right direction and also generate the momentum to make the critical save. 
Conclusion
There's no doubt that Argentina is one of the best teams for penalty shootouts. They have some of the best penalty-takers in addition to a fine goalkeeper with unconventional methods to make the blocks. 
Having a killer combination of these is what enables them to come out on top when it really matters.