As one of Mexico's greatest footballers of all time, Hugo Sánchez celebrated his stellar years in Spain. Also known as 'Hugol' and 'Pentapichichi,' Sánchez's journey began with a wish.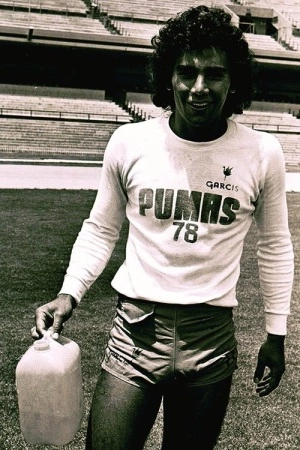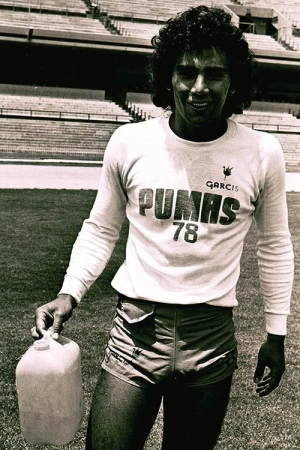 The Early Years
Hugo Sánchez Márquez was born in Mexico City, Mexico, on 11th July 1958. Although small in stature, the young Hugo more than made up for it with his skills in front of goal, combined with his gift for acrobatics garnered during his school years in which he was a promising gymnast.
The beautiful game was part of Hugo's life – his father, Héctor Sánchez, had played as a semi-professional center-forward, and his older brother was a goalkeeper and had played for several Mexican clubs.
Hugo was a perfectionist, and when it came to his football.  Hugol would train tirelessly, practicing his moves and finishing continuously until they were polished and flawless.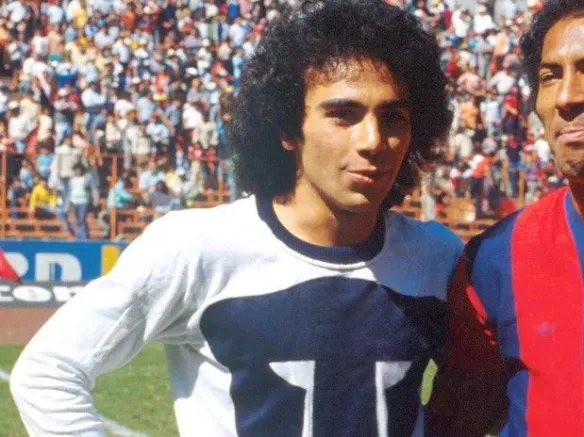 Hugo Sánchez Golden Aspirations
For Hugo Sánchez, it all began while watching his brother's training sessions with Mexico's amateur side as a 15-year-old.
The youngster, who was born in Mexico City, would plead with the coaching staff to allow him to join in, and although he was repeatedly refused due to his age, they did eventually succumb to his wishes.
Upon witnessing his terrific abilities, there was only one thing for them to do – invite him to join the team!
With Sánchez on board, and his exquisite performances in the Toulon Tournament and victory in the 1975 Cannes Youth Tournament, he earned the nickname 'Niño de Oro' (Golden Boy). [1]
Hugo Sánchez had become a prized youth player of Club Universidad Nacional (UNAM) Pumas during his early years at the club (1972-75).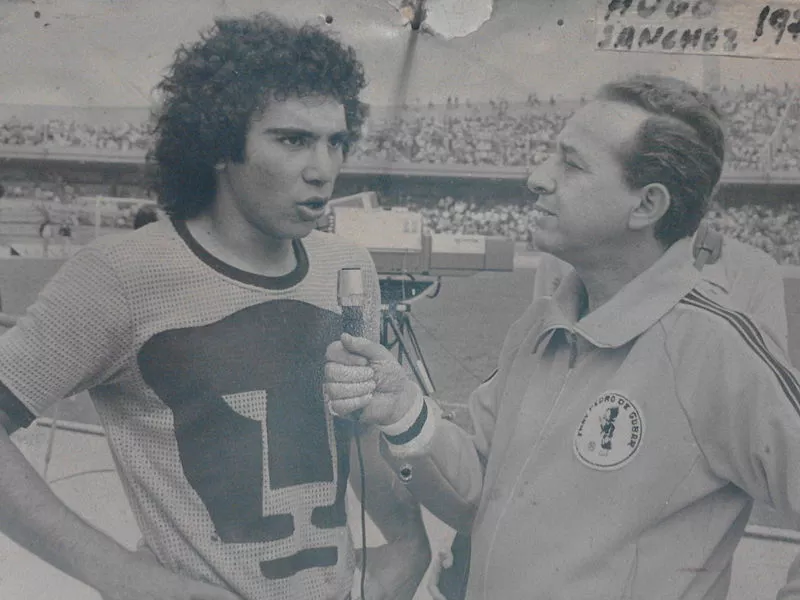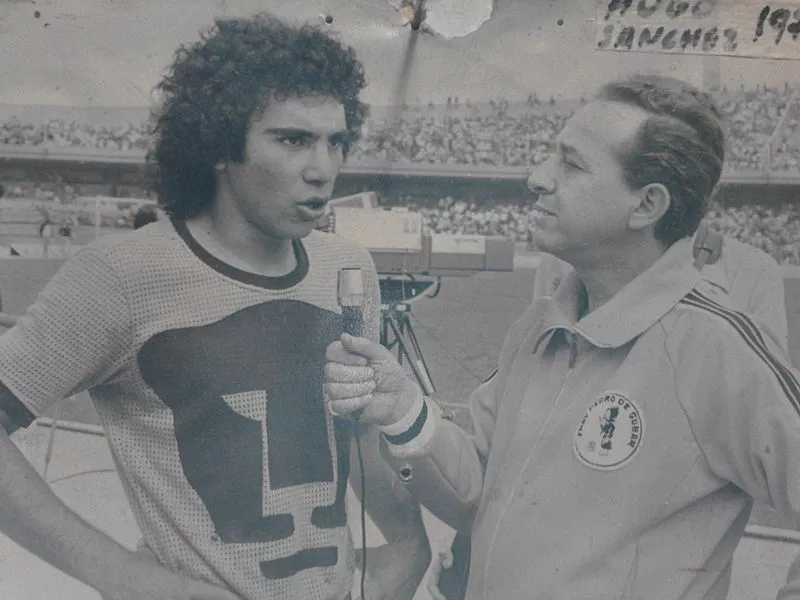 GOOOOOAL!
In 1976, the 18-year-old signed his first professional contract with UNAM Pumas, a professional team representing the National Autonomous University of Mexico (UNAM).
Hugo Sánchez, not having lost sight of his studies, was on his way to attaining a Dentistry degree while playing for the first team.
Interestingly, Sánchez had started his career playing as a left-winger until his coach Velibor "Bora" Milutinović's enlightened decision to make Sánchez the driving force of the attack.
It was claimed that whenever Hugo Sánchez scored, as the Mexican commentator at the stadium cried, "Goooooooal!" Sánchez would see how many backflips he could perform during those seconds!
With UNAM Pumas, Sánchez got to play regular football, scoring 99 goals in 183 matches in the domestic league alone.
During his five seasons at the club, they won 2 Mexican Primera División championships ('77 and '81), the CONCACAF Champions' Cup ('80), and the Copa Interamericana ('81).
During this period, Haugo Sánchez also won the CONCACAF Gold Cup in '77 with Mexico's national team.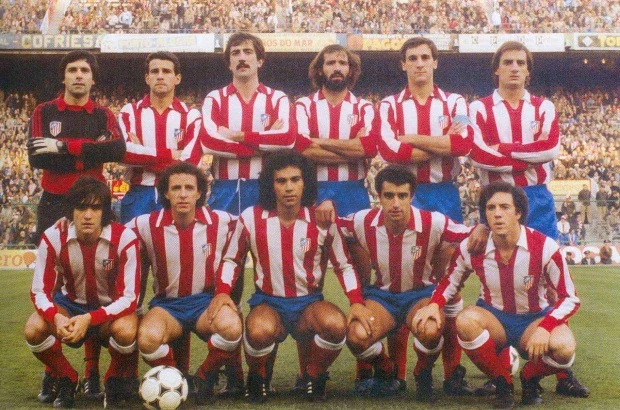 Madrid's Calling For Hugo Sánchez
Sánchez's exploits in front of goal caused quite a stir, and so, when Spain's Atlético de Madrid came knocking, Hugo Sánchez answered.
In 1981, Sánchez transferred to Atlético Madrid for USD $396,000 after turning down many offers, including that of English side Arsenal Football Club.
But the youngster struggled to adapt to the style of play and lifestyle during his first year at the club. With a low goal tally and too much time on the bench, many thought that he would return to Mexico.
Rumors were further stirred by the Mexico national team (El Tri's) shock elimination from the qualifiers for the 1982 FIFA World Cup in Spain.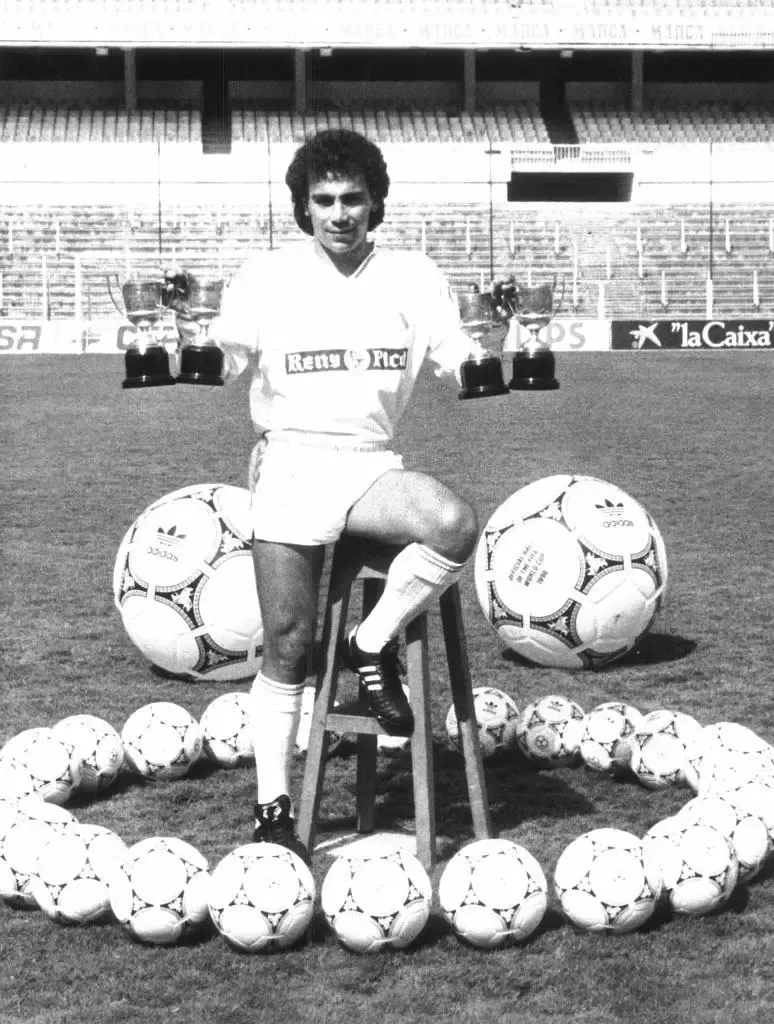 It was thanks to the support and encouragement from Atlético Madrid's president, Vicente Calderón, who enabled Sánchez to finally find his feet and realize his dreams.
As Sánchez's playing time and goal tally rose, the number 9 launched his journey to stardom and had a positive effect on Atlético Madrid's end-of-season standings.
In 1981-'82, Los Rojiblancos had finished the season in the 8th spot, but for each of Sánchez's following seasons, the team never finished below the 4th position.
By the time the 1984-'85 season had arrived, it would ring in his best and last with Atlético Madrid.
Los Rojiblancos won the Copa del Rey, finished 2nd place in La Liga behind FC Barcelona, and won the Supercopa de España.
And to top it all off, Hugo Sánchez won his 1st Pichichi trophy as La Liga's top goalscorer of the season, with 19 goals. [2] By 1985, his tally with the club had reached 65 goals in 134 appearances in all competitions.
With all eyes on this marvel, it was not long before a club from nearby was bound to steal him away.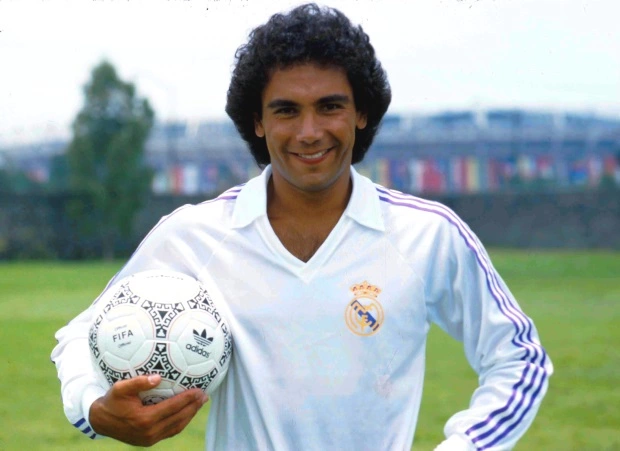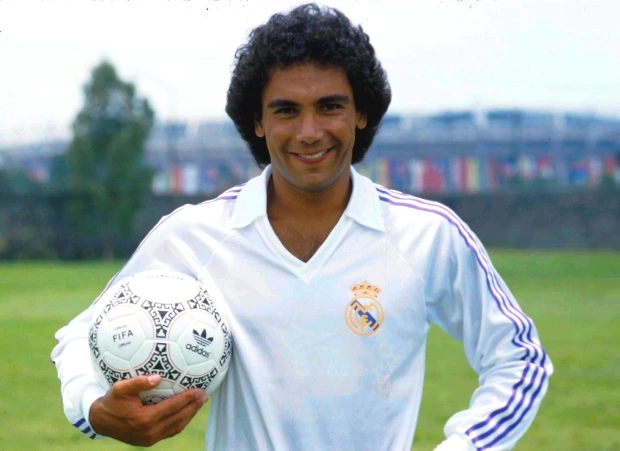 Crossing Into Enemy Lines
By the time the 1985-'86 season came around, Sánchez was in a Los Blancos shirt at the Santiago Bernabéu – the timing of his arrival was impeccable as Real Madrid got Sánchez at his absolute best for only $1.32million transfer fee.
Hugo Sánchez Márquez was surrounded by superstars, playing alongside the team's nucleus, La Quinta del Buitre ('Vulture's Cohort'), consisting of Butragueño, Michel, Vázquez, Sanchís, and Pardeza.
Real Madrid was in the midst of a highly successful period in Spain and Europe during the latter part of the 80s, and Sánchez was given the platform on which to flourish!
Sánchez rallied glamourous performances. Often regarded as one of the most complete players ever to grace the football pitch, Pentapichichi had superb pace, was lethal in the air and from long range, and his perceptiveness guaranteed him to be in the ideal spot to receive the ball.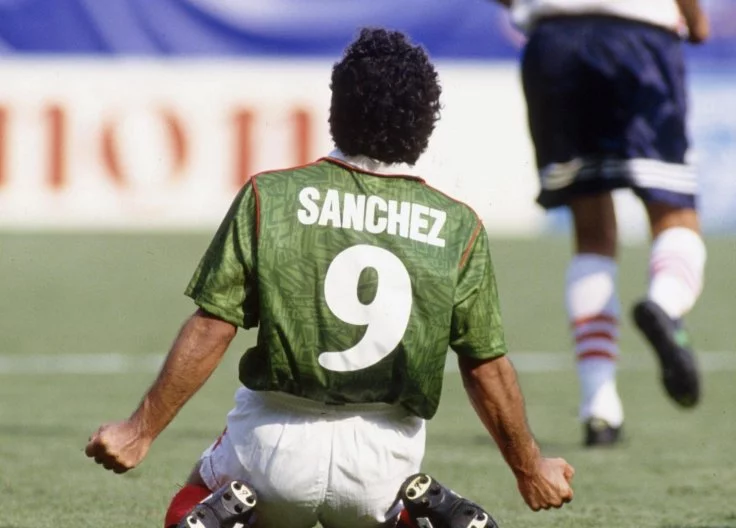 Bicycle Kicks And Somersaults
All this, accompanied by a sublime touch and enthralling acrobatics, made Sánchez quite the catch for any club.
His memorable bicycle kicks (Huguinas) are followed by celebratory somersaults (dedicated to his gymnast sister) and fist pumps immediately afterward, creating a spectacular show for the fans, including the opposing goalkeeper who happened to have the best seat in the house!
For Sánchez, the 1989-'90 season with Los Blancos could not have been more perfect.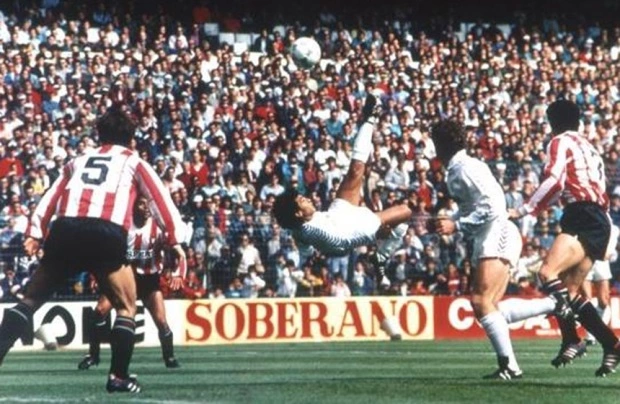 His 5th Pichichi (4th with Real Madrid) earned him the nickname 'Pentapichichi' and made him only one of two others, Di Stéfano and Quini, to have 5 Pichichi trophies. (Only the legendary Telmo Zarra has 6.)
Hugo Sánchez was also awarded the European Golden Shoe, equalling Zarra's (1950-'51) Spanish league season's record of 38 goals.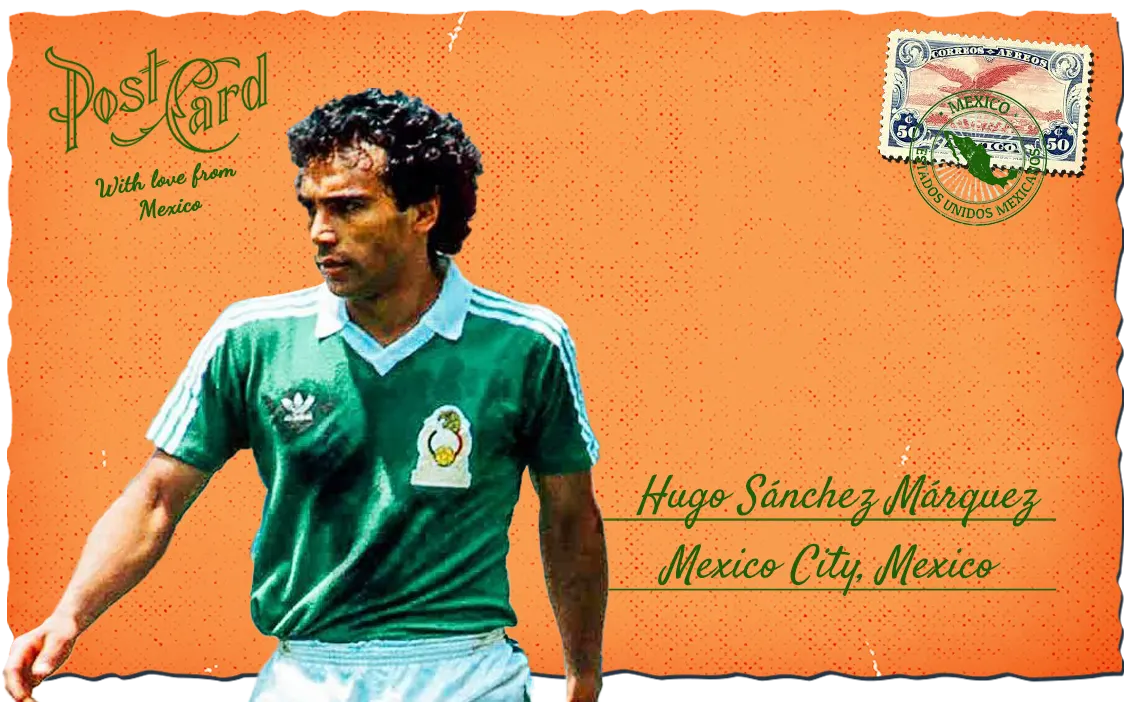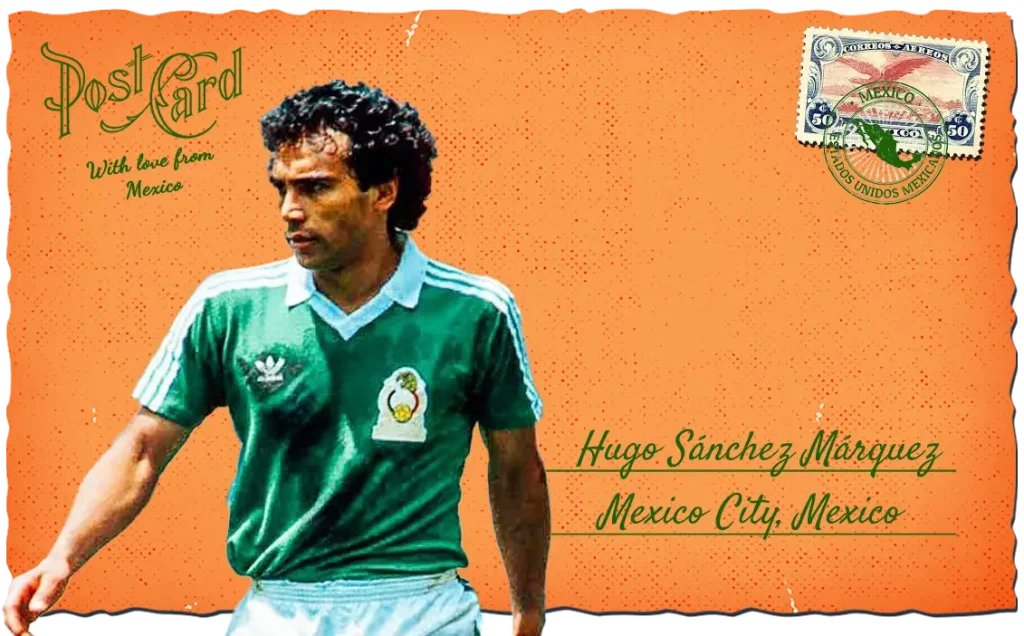 Records Are To Be Broken
It took 21 years for this record to be broken by Cristiano Ronaldo in 2011 when he scored 40 in La Liga.
During this season, Sánchez scored one of his most extraordinary goals-against Logroñés – an impeccably executed overhead kick, which later became labeled the 'Señor Gol' ('Great Goal').
His glorious 7-year spell with Real Madrid ('85-'92), consisting of 207 goals in 283 games (in all competitions), earned the club five consecutive La Liga titles ('86-'90); 1 Copa del Rey ('89); 3 Supercopa de España ('88, '89 '90); and 1 UEFA Cup ('86).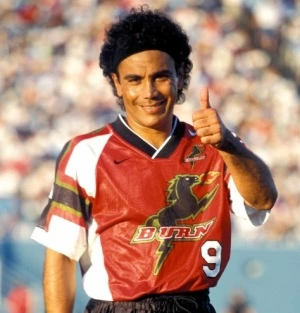 Swift Expeditions
The next few years saw Hugo Sánchez travel around the globe to play for various clubs, but alas without any repeats of his previous form: Mexico City-based club America ('92-'93), winning the CONCACAF Champions Cup with the team in '92; Rayo Vallecano ('93-'94); Atlante ('94-'95), Linz ('95-'96); Dallas ('96); and finally, Atlético Celaya ('97), where, after 450 goals in 756 career appearances, he retired aged 39.
Before his retirement, Real Madrid had organized a tribute match to honor one of their legends.
On the 29th of May 1997, in a packed Santiago Bernabéu stadium – the match against Paris Saint Germain – Hugo Sánchez found himself in the place where he had achieved fame and which was overcome with memories of his glittering spell with Spanish football.
Real Madrid was victorious, with Sánchez scoring a hat-trick in their 4-1 win, sealing one of his goals with a soaring scissor-kick!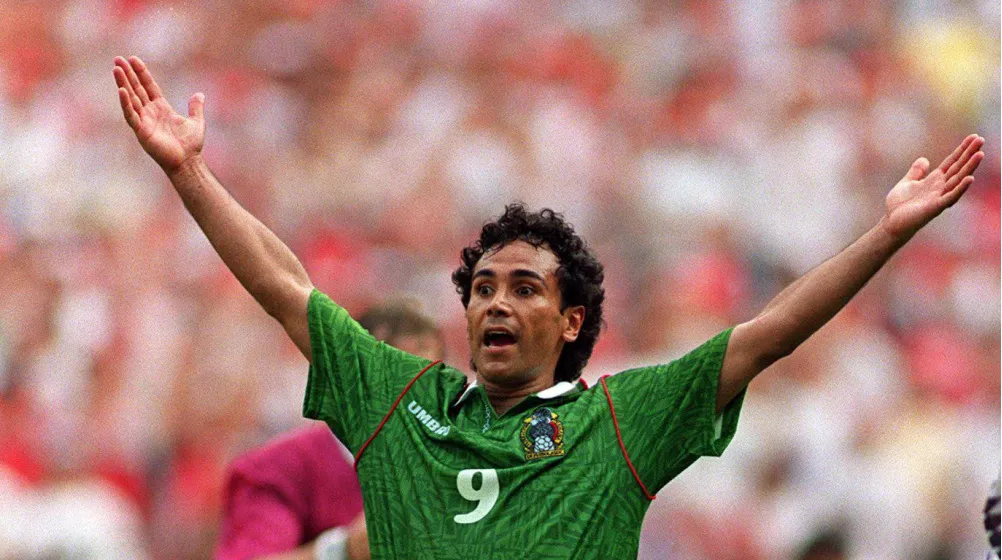 Hugo Sánchez Trials and Misfortunes
In 1977, Sánchez was selected to play for the senior Mexico national team. By 19, he represented his country at the 1978 FIFA World Cup in Argentina.
It proved to be a disappointing campaign as El Tri finished bottom of their group without any points, after having suffered defeats to Poland, West Germany, and Tunisia.
Despair for Mexico ensued as they did not qualify for Spain in 1982, receiving much criticism from their national media. They were disqualified from the 1990 FIFA World Cup, including all other international competitions, due to having utilized over-age player/s in qualifying for the 1989 FIFA World Youth Championship. [4]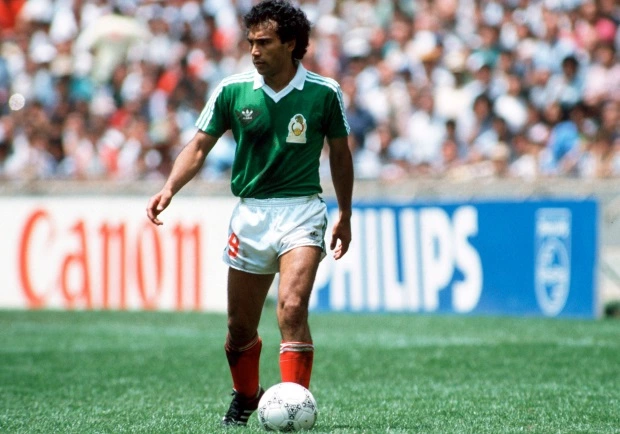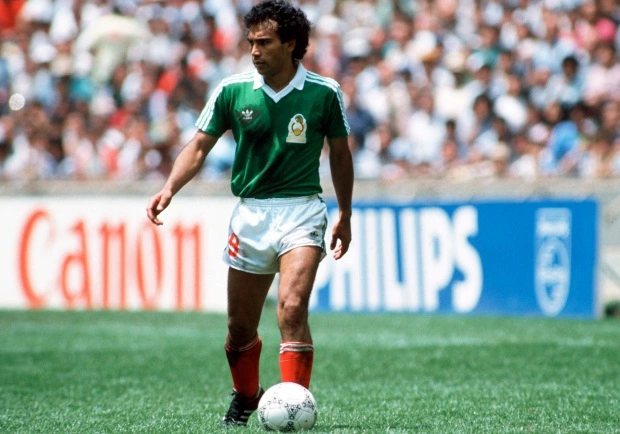 Wave of Hope
Eight months before the FIFA World Cup hosted by Mexico, the country was hit by a severe earthquake in September '85. As no damage had been caused to the stadiums, the preparations for the tournament continued.
Mexico's hosting of the event did not put pressure on El Tri; rather, the fans' support was a huge motivational factor for the players.
This World Cup, which began in May 1986, was not only the year declared by the United Nations as the International Year of Peace, but it also gifted the world with the phenomenal Mexican wave!
Although Hugo Sánchez missed a penalty in the group phase, in a 1-1 draw with Paraguay, it had no consequence on the outcome of their group.
Paradoxically, although Sánchez was heartbroken to have missed the penalty, the famous Mexican soccer player felt it showed people that he was only human, especially after his incredible performances in Spain.
With Milutinović at the helm, the Mexico national team wrapped up their group stage in the top spot, followed by a 2-0 triumph over Bulgaria in the knockout stage. His native Mexico lost to West Germany 4-1 on penalties in the quarter-finals, after extra time's 0-0 scoreline – Mexico having had a legitimate goal disallowed.
At this tournament, the world also witnessed Argentina's captain, Diego Maradona, score the famous 'Hand of God' goal in the quarter-finals against England. Argentina went on to win the trophy after beating West Germany 3-2 in Mexico City's Estadio Azteca.
From 1977 until 1994, Sánchez was capped on 58 occasions and netted 29 goals. [3]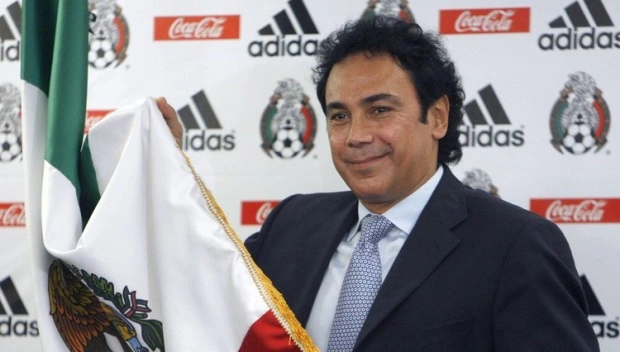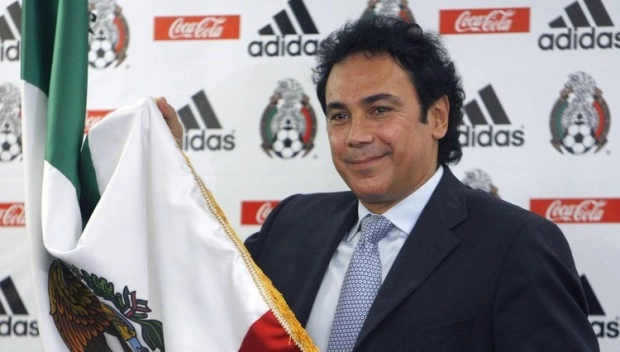 New and Challenging Experiences
In 2001, Hugo Sánchez turned his attention to coaching and returned to UNAM Pumas.
He successfully guided his team to 2 Mexican Primera División championships (Apertura and Clausura in 2004), and the Trofeo Santiago Bernabéu.
After Sánchez's resignation in November 2005, he joined the Mexican club, Necaxa, in 2006.
But his stay was to be a short one as the greatest Mexican soccer player was called up to be Mexico's national team coach, replacing Ricardo La Volpe, after El Tri's early exit from the FIFA World Cup in Germany.
Sánchez led the Mexico national team to the final of the CONCACAF Gold Cup on 24th June 2007 but suffered a 2-1 defeat to the United States.
In the 2007 Copa America, Sánchez managed to lead his team to the semi-finals where their campaign ended after a 3-0 defeat at the hands of Argentina. In a fight for the 3rd spot against Uruguay, El Tri came out victorious (3-1) and claimed the bronze trophy.
In March of 2008, Sánchez's stint with El Tri came to an abrupt end due to poor results. Soon thereafter, Sánchez was appointed coach of Spanish side UD Almería in 2009.
Despite the announcement of his contract renewal in June 2009, Sánchez was released 6 months later due to poor results once again. In 2012, Sánchez coached Mexican club Pachuca Club de Fútbol.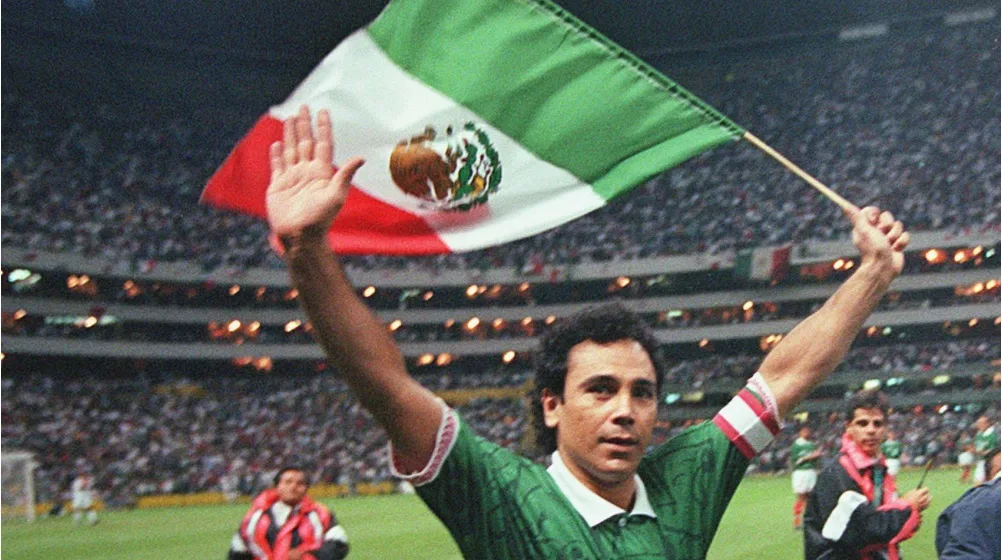 Honouring Mexico's Best
This legendary Mexican footballer has been honored over the years, to mention a few accolades: Hugo Sánchez was named by IFFHS (International Federation of Football History and Statistics) as the 20th century's best footballer of North and Central America, and the best footballer in Mexico for the same period.
In Pelé's list featuring the top 125 living footballers, released in 2004, Sánchez was the only soccer player from Mexico City.
In September 2007, a street in Puebla, central Mexico was inaugurated with his name. And, most recently, in October 2013, Hugo Sánchez was named the LFP (Liga Nacional de Fútbol Profesional) Ambassador to the Americas.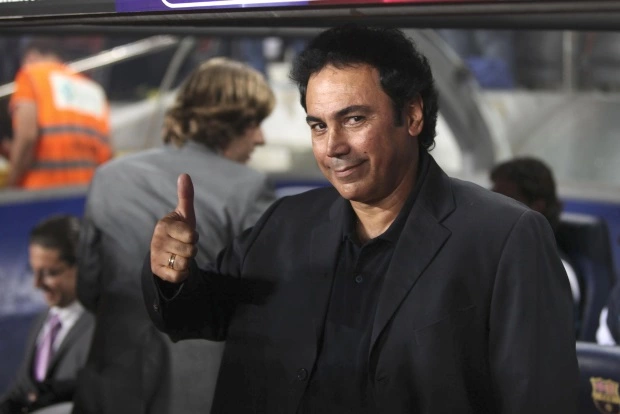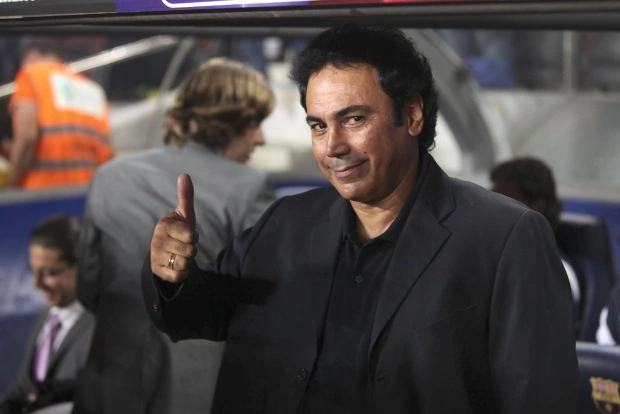 Hugo Sánchez Dream
According to FIFA, when Sánchez was asked what he would say to children who hoped to one day follow in his footsteps, the most famous Mexican soccer player answered, "First of all, self-improvement is key, and a good education is a must.
They should finish their studies and have psychological support from a specialist who can prepare them for the difficulties they may face along the way as a person and a sportsman.
And, most of all, they should be very ambitious because you never lose the dreams you have as a kid."
Hugo Sánchez not only completed his studies and attained his degree, but he also lived his other dreams, his football ones…those treasured childhood ones, which lie secretly in the corners of our imaginations, waiting for the perfect moment to overwhelm us as they are revealed before our eyes.
And as Sánchez journeyed through hard work, struggles and celebrations, the footballer was transformed from wunderkind to legend. His dreams, one by one, became reality.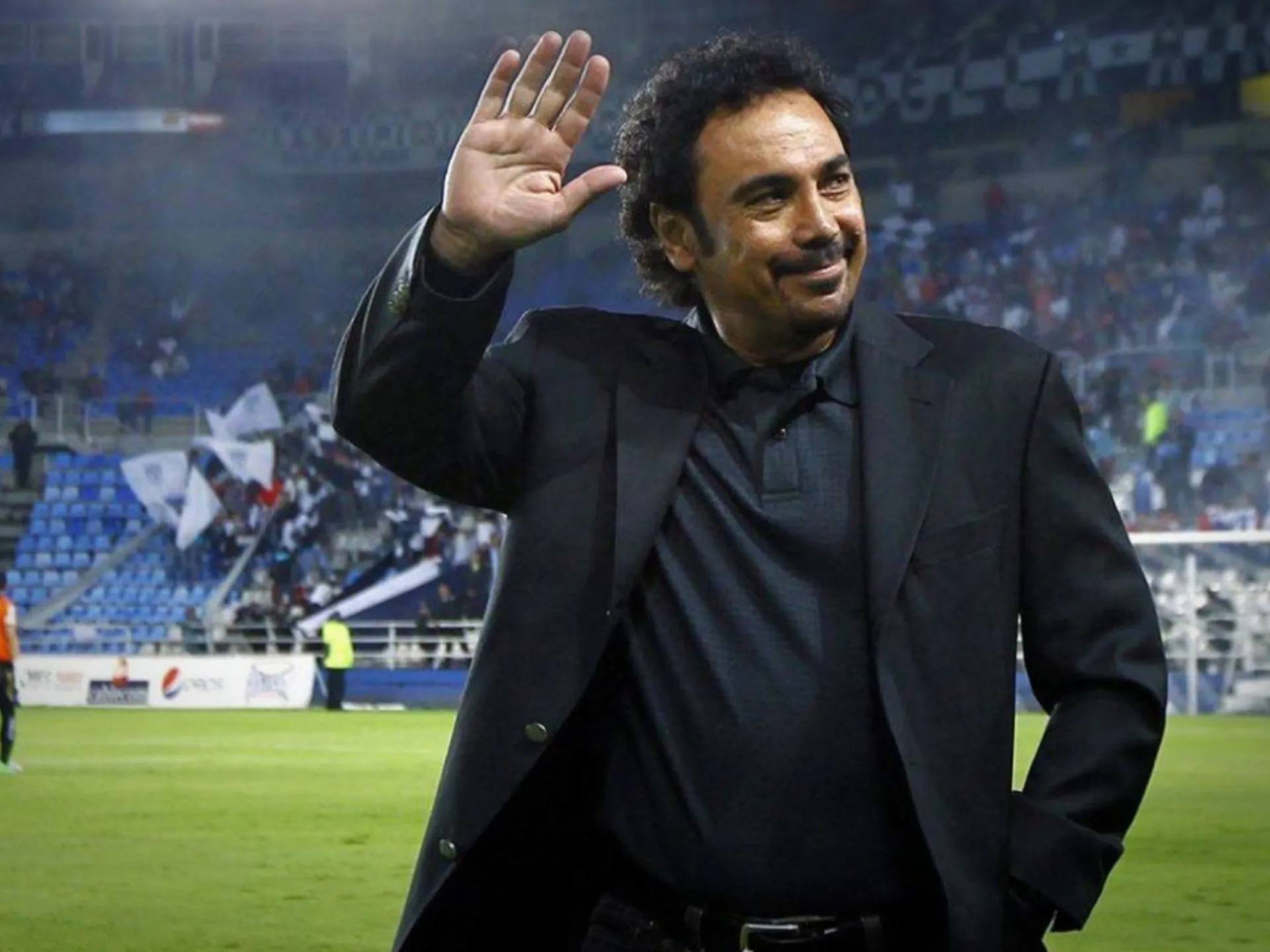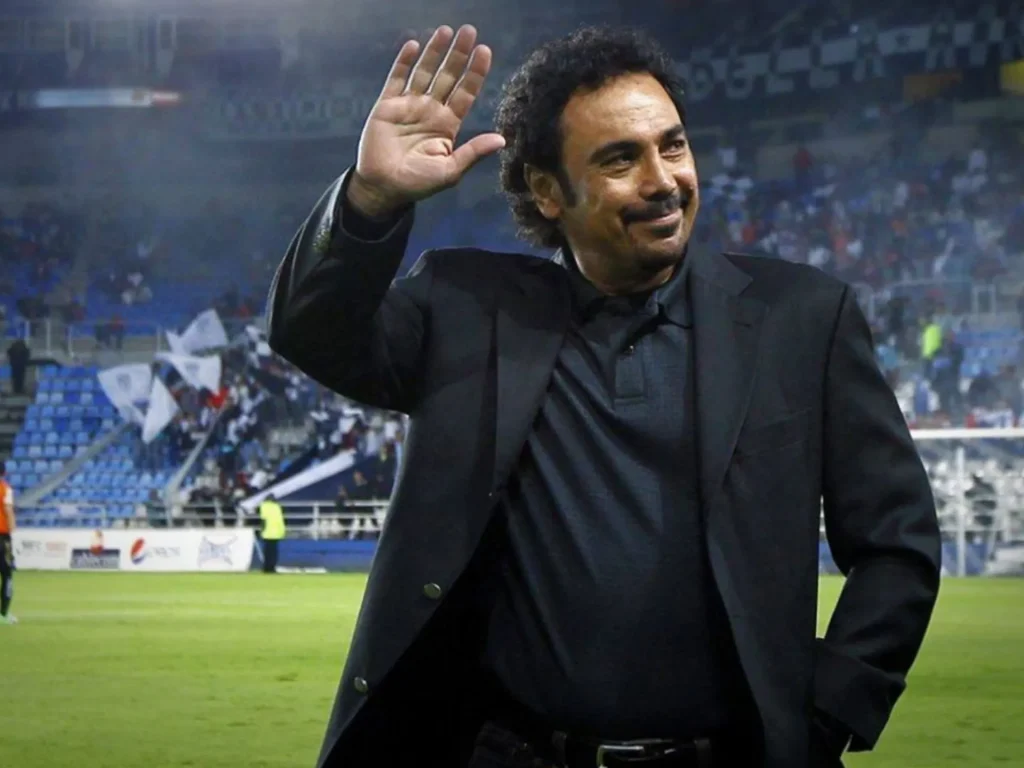 Hugo Sánchez Facts And Figures
Full Name: Hugo Sánchez Márquez
Birthdate: 11/07/1958
Birthplace: Mexico City
Playing Career:
Club Universidad Nacional 1976–1981
Atlético de Madrid 1981–1985
Real Madrid 1985–1992
Club America 1992–1993
Rayo Vallecano 1993–1994
Atlante 1994–1995
Linz 1995–1996
Dallas Burn 1996
Atlético Celaya 1997
Total Appearances: 681 matches, 397 goals
National Team Career:
Mexico 1977–1998 (58 internationals, 29 goals)
Management Career:
Club Universidad Nacional 2000
Mexico National Team 2000
Club Universidad Nacional 2001–2005
Necaxa 2006
Mexico National Team 2006–2008
Mexico U23 2008
Almería 2008–2009
Pachuca 2012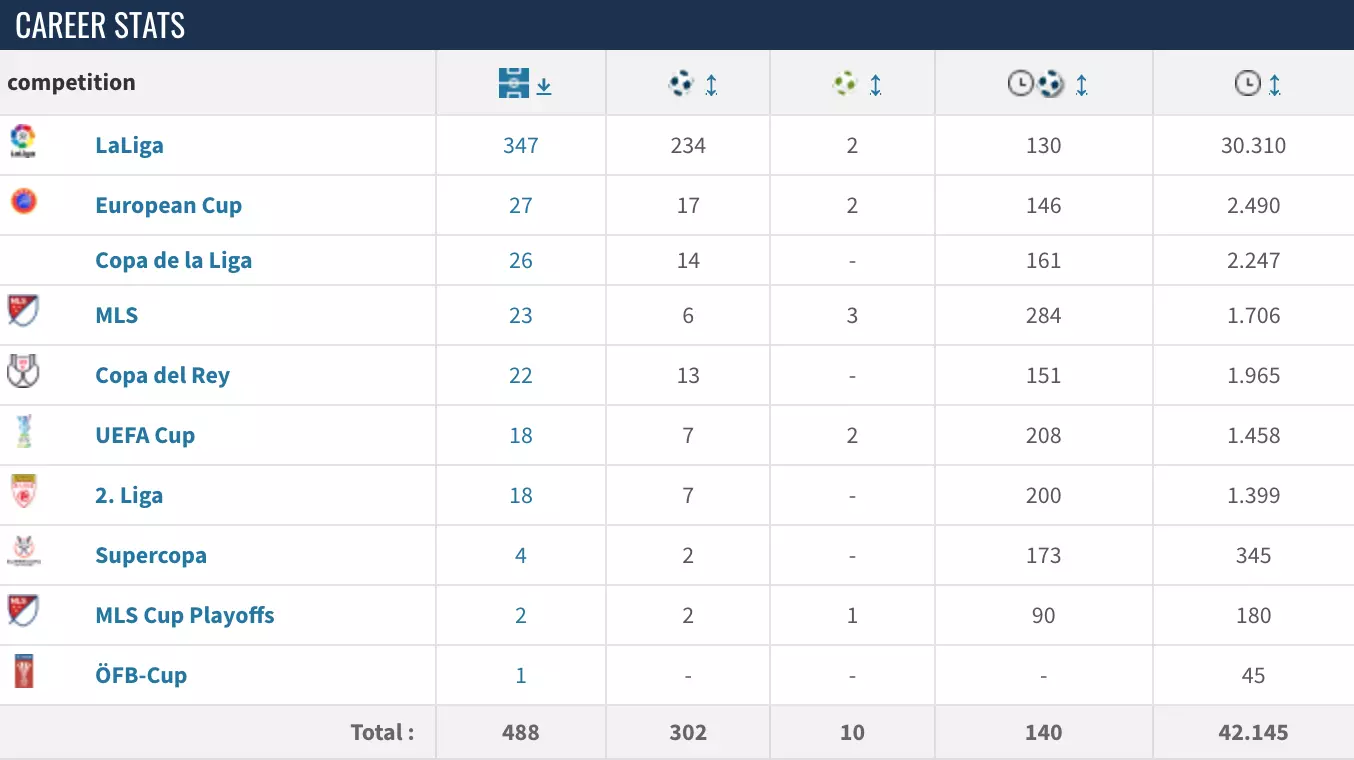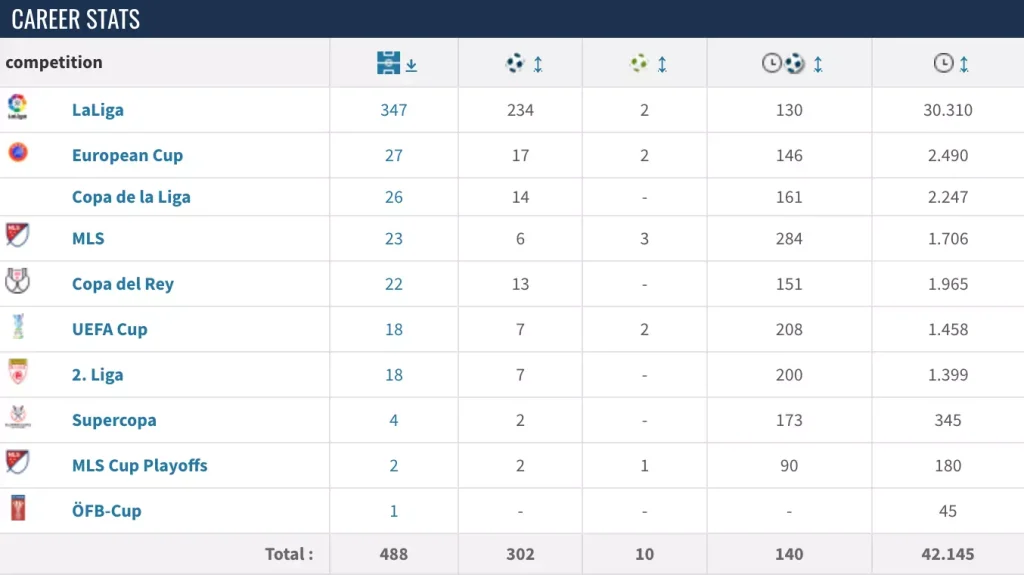 Playing Honors:
Club Universidad Nacional (UNAM)
1976–77 and 1980–81: Mexican Primera División Champions
1980: CONCACAF Champions' Cup Winners
1981 Copa Interamericana Winners
Atlético de Madrid
1984–85: Copa del Rey Trophy Winners
Real Madrid
1985–86, 1986–87, 1987–88, 1988–89, and 1989–90: La Liga Champions (Five consecutive league titles)
1988, 1989, and 1990: Supercopa de España Winners
1988–89: Copa del Rey Trophy Winners
1985–86: UEFA Cup Winners
Club America
1992: CONCACAF Champions' Cup Champions
Linz
1995–96: First League Champions
Mexico National Team
1975: Pan American Games Winners
1977: CONCACAF Championship Winners
Managerial Honors:
Club Universidad Nacional (UNAM)
2004: Mexican Primera División Champions
2004: Campeón de Campeones Winners
Mexico National Team
2007: CONCACAF Gold Cup Runners-Up
2007: Copa America Third-Place
Individual Honors:
Participated in

three World Cups
Voted Best Foreign Player In Spain
References:
[1], [2], and [3]: https://en.wikipedia.org/wiki/Hugo_S%C3%A1nchez
[4]: https://en.m.wikipedia.org/wiki/Mexico_national_football_team
Images:
https://www.beinsports.com/us/soccer/galleries/hugo-sanchez-cristiano-ronaldo-and-the-pichic/46312 (main image)

Hugo Sánchez: La Liga's Underrated Goal Machine
https://free-images.com/display/fray_pedro_de_gubar.html

https://www.realmadrid.com/en/news/2016/11/historic-goals-hugo-sanchez
https://www.foottheball.com/players-in-focus/hugo-sanchez-player-profile-real-madrid-atletico-legend-mexico-stats-career-goals-record-pentapichichi/
Hugo Sanchez playing for MLS side Dallas Burn 1996 pic.twitter.com/NuNktW7bVY

— VintageFooty (@VintageFooty) May 19, 2015

https://twitter.com/JuanG_Arango/status/1486091324256399373/photo/1?ref_src=twsrc%5Etfw%7Ctwcamp%5Etweetembed%7Ctwterm%5E1486091324256399373%7Ctwgr%5E168709b5fab89663ef2bf8d6169e132e1cf95c15%7Ctwcon%5Es1_&ref_url=https%3A%2F%2Fwww.marca.com%2Fen%2Fworld-cup%2F2022%2F11%2F20%2F6379674422601d8c608b4593.html
'Hugo Sanchez: the goal and the glory': the documentary that puts Mexicans in front of the mirror of their complexes

https://www.espn.com/soccer/fifa-world-cup/story/4106301/messi-or-maradona-donovan-or-dempsey-you-decide-soccers-goats-in-these-countries
http://www.footballtop.com/players/hugo-sanchez