People knew she would make history when Carli Lloyd grabbed a hat trick in the sixteenth minute of the 2015 World Cup final against Japan. The game is still one of the most memorable for her and soccer fans everywhere. After an illustrious career spanning seventeen years and a whopping 316 caps, Carli Lloyd hung her boots on October 21st, 2021.
After the game, Carli said that she was overwhelmed by a sense of peace and contentment after the emotional journey. Aged 39 at the time of retirement, she said she had left it all on the field and could now begin the next chapter of her life. Carli was one of the best U.S. women's soccer players, scoring 134 goals and 61 assists. Only two other players surpassed this record.
Carli Lloyd's final match for the United States was against South Korea. It resulted in a 6-0 victory for her team. Despite being unable to score in the game, Carli made a planned exit from the pitch in the 65th minute, giving way to Alex Morgan, who scored in the 69th.
Carli returned to her hometown of Delran, where she was treated to the biggest party that the town had ever organized. Numerous fans attended her retirement party. The crowd was chock-full of young girls aspiring to follow in her footsteps by becoming professional soccer players.
Carli continues to set records even after retirement. The Burlington County Board of Commissioners set October 14th as Carli Lloyd Day in her honor.
After receiving 134 flowers from her long-time friend and mayor's wife, Tammie, Carli joked that she had asked the mayor for something low-key for her retirement party. But the mayor was not done with her yet. At the tail-end of the party, he announced that the party was being held at the future Carli Lloyd Field.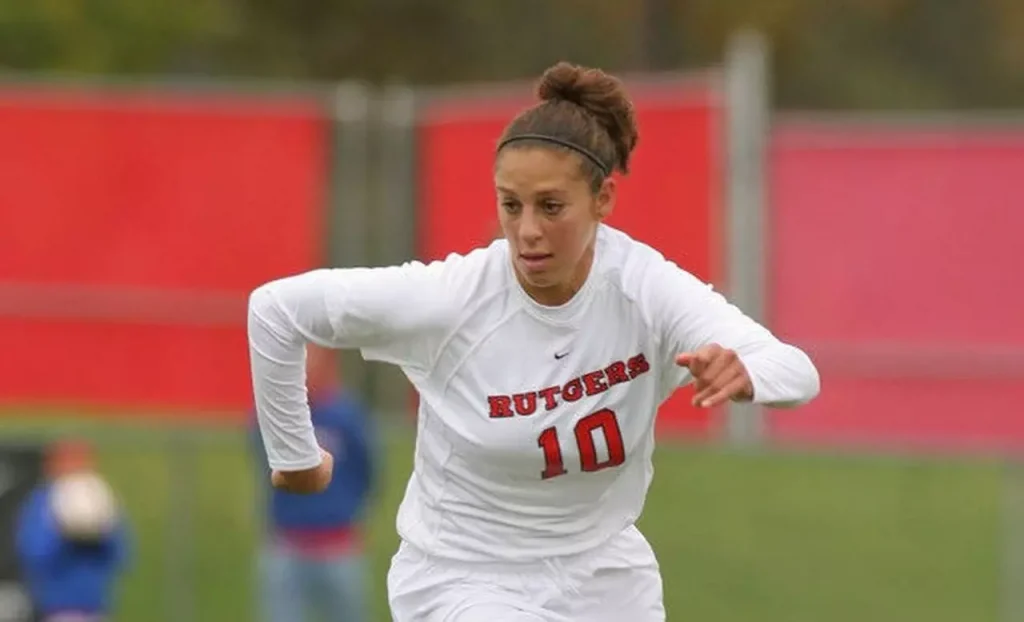 College Years and W League
Carli Lloyd has played soccer since she was five. She was one of the fortunate ones to transfer her passion into a profession. We follow her journey through her various stages of education and professional soccer.
Carli's Time in the W League
When she was five years old, Carli Lloyd developed a passion for soccer and frequently played among the boys in her neighborhood. Thanks to her love for the game, her soccer journey started to take a professional direction in high school. Carli played in the Delran High School team between 1997 and 2000.
In 1999, she began playing for W-league teams. She played for Central Jersey splash and New Brunswick Power in 1999 and 2000. In 2001 she joined the South Jersey Banshees. Before her senior year in 2004 at Rutgers University, she played a solitary game for the New Jersey Wildcats.
College Soccer at Rutgers
Carli played college soccer at Rutgers University between 2001 and 2004. She played for the Rutgers college team called the Scarlet Knights. She was the First-Team All-Big East four years in a row in her college career–a first for the team. She earned 117 points, 50 goals, and many shots throughout her college career.
Carli started every match as a freshman and scored the most goals (15) to earn her team 37 points. She was added to the Soccer America all-freshman team and was honored as the Rookie of the Year–something that no other Rutgers player could boast. When she was a sophomore, she scored the most goals for the team (12) and gained 31 points.
The 165-centimeter midfielder got to the final of the Hermann Trophy, one of the most significant accolades in the career of a collegiate soccer player. In the third season at Scarlet Knights, Carli garnered 13 goals and 28 points to become the Big East Academic All-Star.
In her senior year of college, she featured in the starting lineup in all but two of the twenty games. Her total goals were 10 with two assists, raking in 28 points. She became the Big East Midfielder of the year.
Carli Lloyd was studying for a bachelor's of Exercise Science and Sports Studies at Rutgers. She graduated in 2004 and had won a combined 50 goals, 117 points, and eight shots. Carli led the college's top-scorer board for two years in a row. Years after leaving college, she was inducted into the Rutgers Hall of distinguished alumni.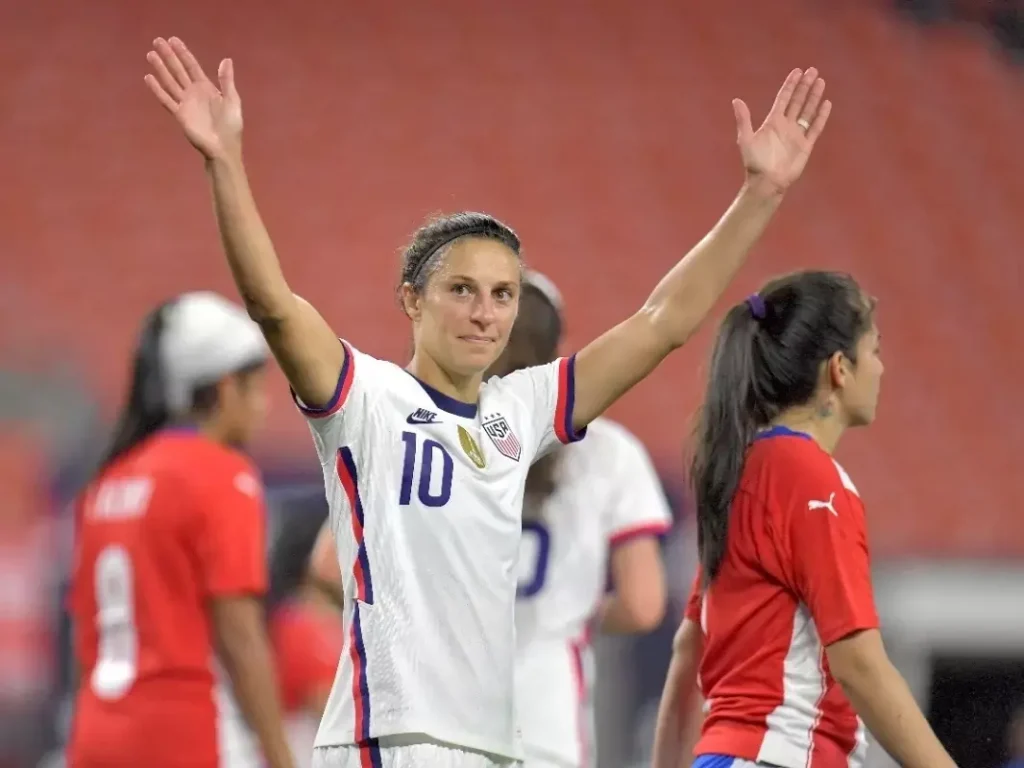 WPS and National Women's Soccer League Years
Carli gained the most growth and exposure to professional soccer starting from her years in college. She was cut from the women's under-21 U.S. national team and was on the brink of quitting soccer until she met her coach and mentor, James Galanis.
Chicago Red Stars
Top-flight women's professional soccer returned to the U.S. in the Women's Professional Soccer form. In 2008, Carli was assigned to the Chicago Red Stars. Lloyd started in all but two of the season's 16 games. The team finished the season in the sixth position, having won five, lost ten, and drew in five games. Carli contributed two goals during that season out of 1,313 minutes of gameplay.
Sky Blue F.C.
At the end of the first WPS season, Carli became a free agent and Sky Blue F.C., which hails from her home state, signed her in 2010. Sky Blue won the championship in 2009. Tragedy struck in April 2010 as Carli was playing against her former club. She took a bad fall, breaking her ankle, and could not get back on the pitch until five months later.
Atlanta Beat
Later that year, in December, Carli joined the Atlanta Beat to begin playing 2011. It was the first season for the team in the WPS. James Galanis, the Beat head coach, noted that he had followed her career since college. He said he had a chance to train her and help her improve her game. He praised her professionalism and said she had sacrificed a lot off the field.
In the 2011 season, while playing for the Atlanta Beat, Carli scored twice in the ten games she participated. The Beat finished the season in last place with one win, thirteen losses, and four draws.
Western New York Flash
Carli Lloyd joined the National Women's Soccer League in January 2013 as an allocation to the Western New York Flash by the league. She was coming from a shoulder injury sustained earlier in the year. In May, Carli played her first game, in which they lost 2-1 to F.C. Kansas City. However, she proceeded to help the Flash to a 3-0 triumph over her former club, Sky Blue F.C.
Carli's form continued to improve as she snagged a hat trick against the Washington Spirit and was recognized as the NWSL player of the week.
Carli was the third-best goal scorer with ten goals by the end of the season. The Western New York Flash won the 2013 regular season. In the playoffs, Carli scored both goals in the Flash's 2-0 win over her former club, Sky Blue F.C. The Flash lost 2-0 in the final against Portland Thorns F.C. In October 2014, the Flash traded Carli to the Houston Dash for three players.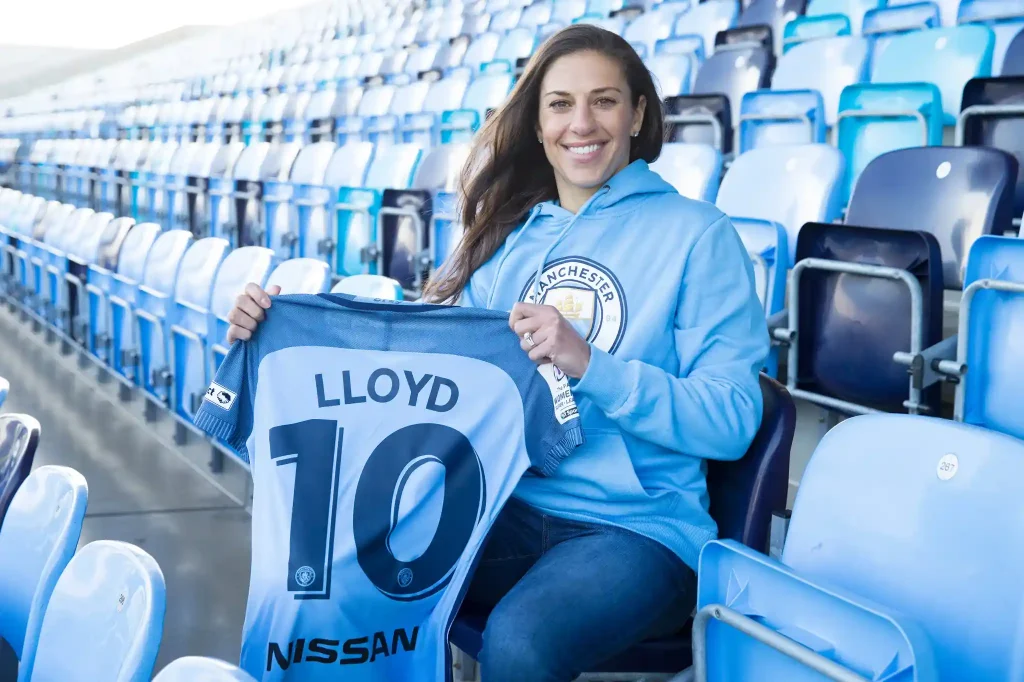 Manchester City (Loan)
Houston Dash loaned Carli Lloyd to Manchester City in 2017 for the F.A. Women's Soccer League Spring Series. Manchester city placed second in the series but won the F.A. Women's Cup with a goal from Carli in the final.
NJ/NY Gotham FC
In January 2018, Carli Lloyd joined NJ/NY Gotham FC in a three-way team trade. She scored the solitary goal in NJ/NY's only win of the season.
Carli Lloyd Retirement Plans
In keeping with her promise to help grow the game of soccer, Carli Lloyd established the CL10 Soccer Clinic. It is a program she developed to help people improve their soccer skills and teach them how to succeed in life and sports.
She also plans to leverage her experience in professional soccer to motivate and inspire people through public speaking engagements.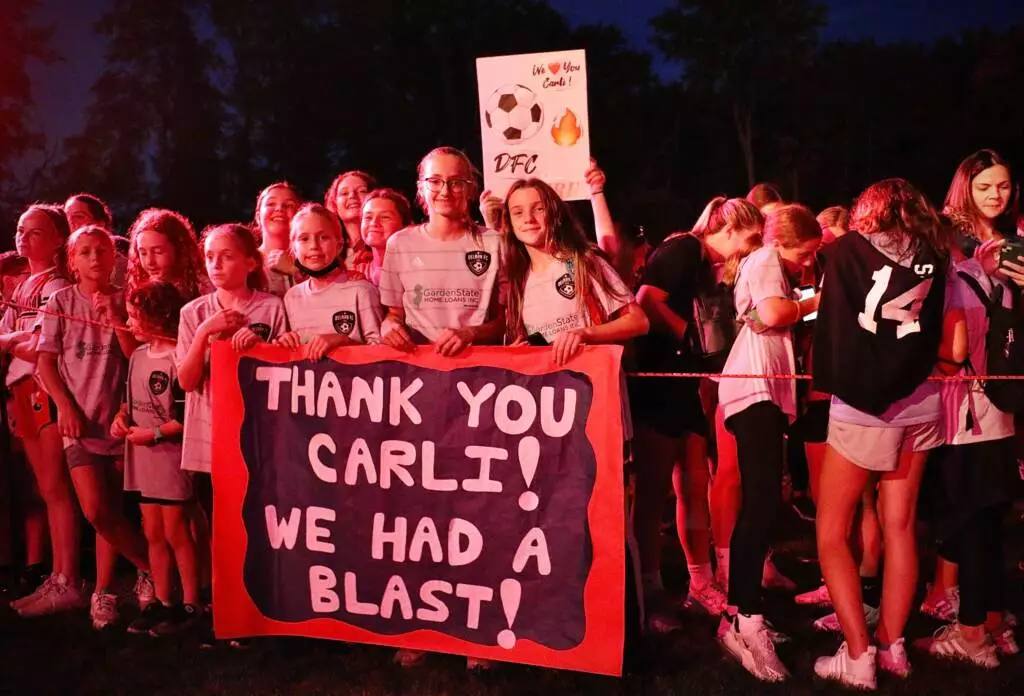 Carli Lloyd's next great transition pulls her back into competitive sporting. She stumbled upon a new game called Teqball. The game is a marriage between soccer and table tennis. It is table tennis played with a soccer ball on a table that arches downward away from the rigid net. Many professional soccer players already play Teqbal, including Messi, Ronaldo, Beckham, and Neymar.
Carli is Teqball USA's first celebrity ambassador. They plan to develop Teqball into an Olympic sport by 2028.