Many players have worn the Italy number 10 shirt for the national team over the years. Some of the most famous and successful players to wear the number 10 for Italy include Adolfo Baloncieri, Francesco Graziani, and Antonio Cassano. Currently, the number 10 for the Italian national team is worn by Lorenzo Insigne.
Why Is The Italy No. 10 Shirt So Popular?
The Italy national football team has a long and successful history, with a reputation for producing talented players and attractive, attacking football.
The Italian national team has won the FIFA World Cup four times, and the number 10 shirt has traditionally been worn by some of the team's most influential and talented players.
This has contributed to the popularity of Italy's number 10 shirt, as fans and players associate it with excellence and success on the pitch.
Additionally, the Italy national team has a large and passionate fan base, which has helped to boost the popularity of the team's kit and merchandise.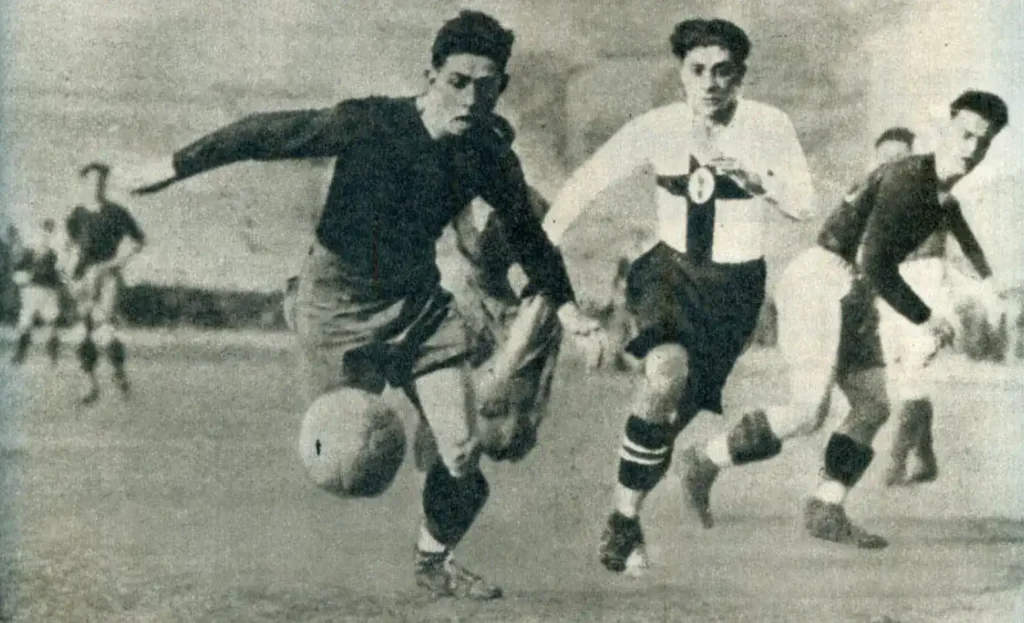 1. Giuseppe Meazza
Considered the greatest Italian player of all time, Giuseppe Meazza's 33 Goals in 53 international appearances are only a snapshot of his influence on the Italian national team.
Meazza was a bona fide football genius on the pitch, with the center forward integral in attacking play. He led the Azzurri to 2 world cup triumphs in 1934 and 1938.
Giuseppe Meazza ranks among the game's most gifted technicians, a show pony who consistently delivered jaw-dropping goals and magical football moments.
He also captained Italy to the 1938 World Cup victory. The San Siro stadium, officially the Stadio Giuseppe Meazza, is named in his honor, with the electrifying forward bagging a brace on his debut aged 17.
Meazza subsequently scored 30 goals in every season, ending with 242 club goals in 265 games. He could play as the nine or drop in the 10, pulling strings in devastating attacking plays.
He also famously scored a brace against England at Highbury despite Italy being a man down in what is commonly called the battle of Highbury – considered the most aggressive, violent game of all time.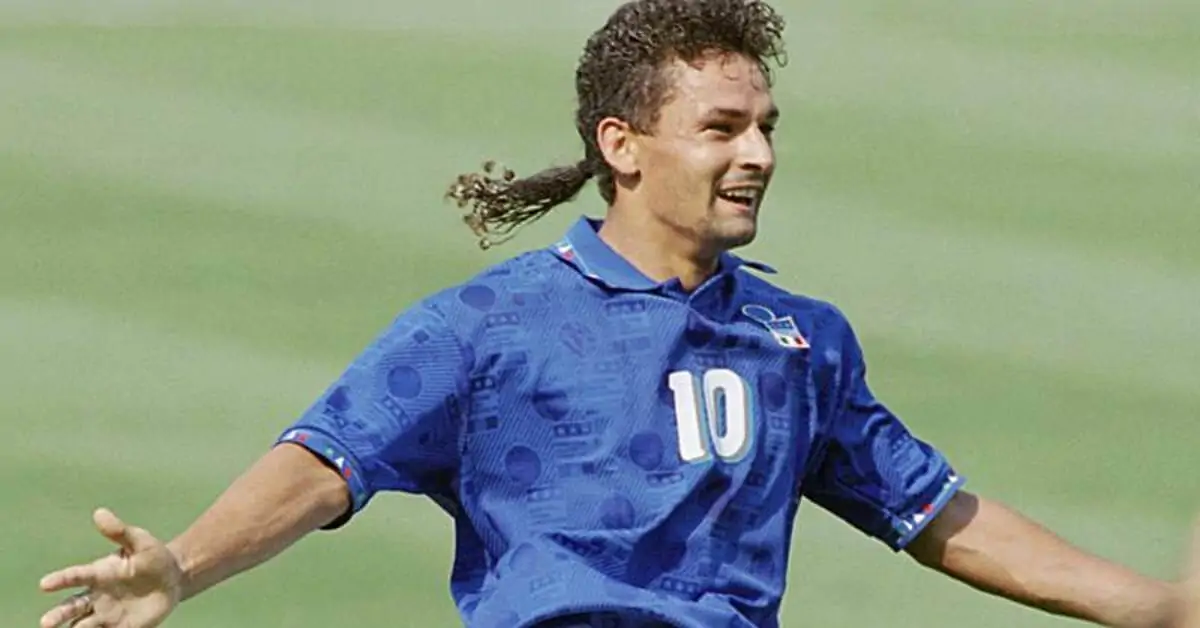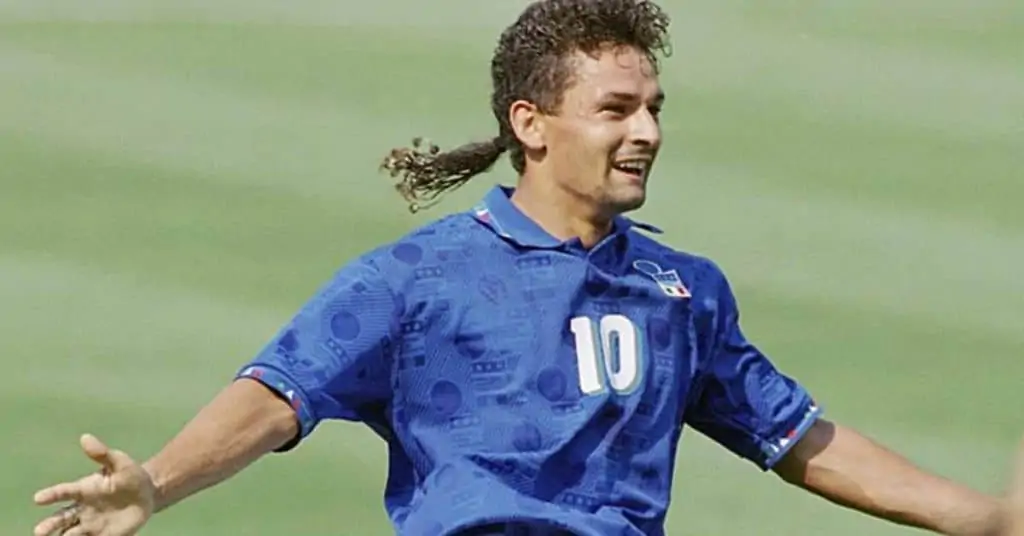 2. Roberto Baggio
Roberto Baggio was one of Italy's most exhilarating fantasistas — a creative number 10 capable of goals and magic in spades. He scored 27 goals in 56 appearances for the Azzurri, placing him joint fourth-highest goalscorer alongside talisman Alessandro Del Piero.
Baggio was a prominent member of the Italy team, which finished third at the 1990 FIFA World Cup with two goals. He also featured at the 1994 world cup, losing the final match to Brazil on penalties, and the 1998 edition held in France.
In total, Roberto Baggio scored 9 goals across the three World Cup tournaments, making him one of the most decisive players of his generation.
He was a technically gifted creator and set-piece specialist synonymous with dribbling, goalscoring, and ferocious curling free-kicks. He was highly decorated at the club level, winning two Serie A titles, a Coppa Italia, and a UEFA Cup with seven Italian clubs.
With Paolo Rossi and Christian Vieri, Baggio remains the top-scoring Italian at FIFA world cup tournaments but failed to win anything with the Azzurri.
Some of his individual accolades include the 1994 world cup Silver Ball, 1993 World Player of the Year, UEFA Cup Winners' Cup top score (1990-91), and Ballon d'Or (1993), among others.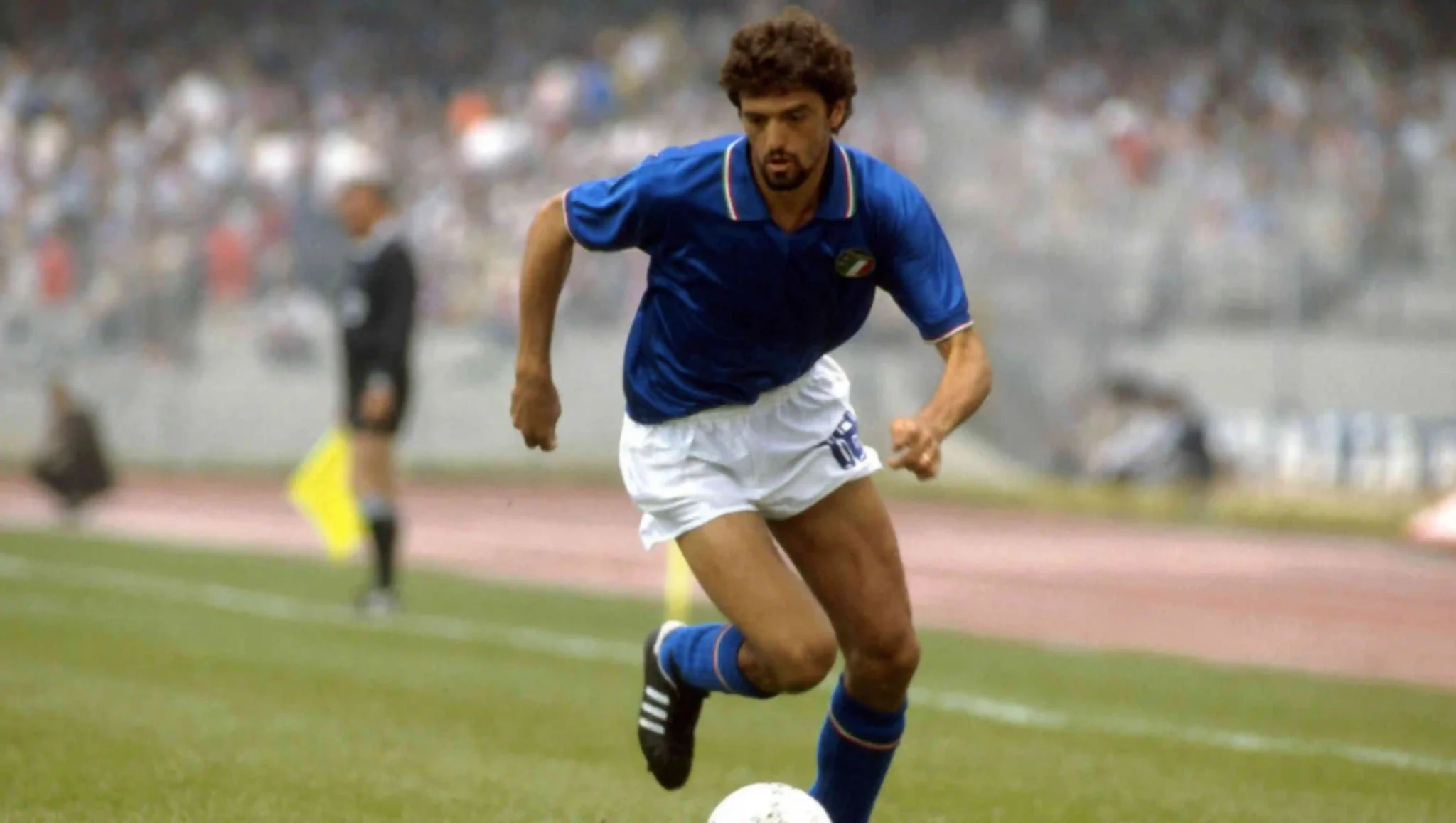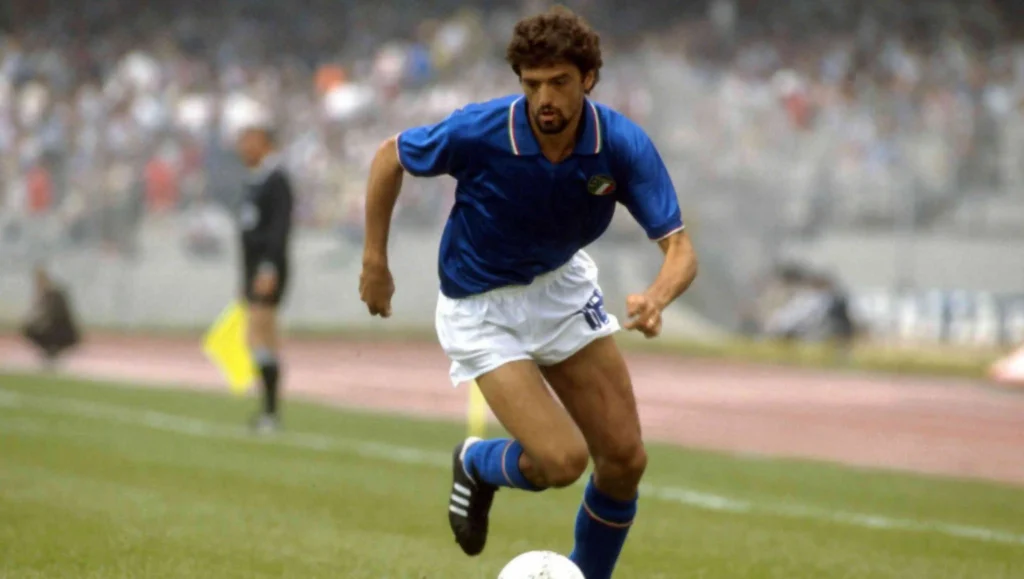 3. Alessandro Altobelli
Nicknamed Spillo ("Needle") because of a slender build, Alessandro Altobelli managed 61 caps for the Azzurri between 1980 and 1988, scoring 25 international goals.
Altobelli was a prolific goalscorer for club and country and is the sixth-highest goalscorer for the Italian national team. 
He's also the all-time top scorer in the Coppa Italia, notching 56 goals in 93 appearances, ending his career with nearly 300 goals.
He scored 209 goals in 466 appearances at Inter, winning the scudetto in 1980, 2 Coppa Italia titles in 1978 and 1982, and finishing topping the scoring charts during the 1978-79 European Cup Winners' Cup campaign with 7 goals as Inter reached the quarters. [1]
Altobelli scored the third goal of the match as Italy beat West Germany 3-1 during the 1982 world cup victory, having come on in the 7th minute to replace the injured Francesco Graziani. Spillo also featured at Euro 88 and helped the Azzurri finish fourth.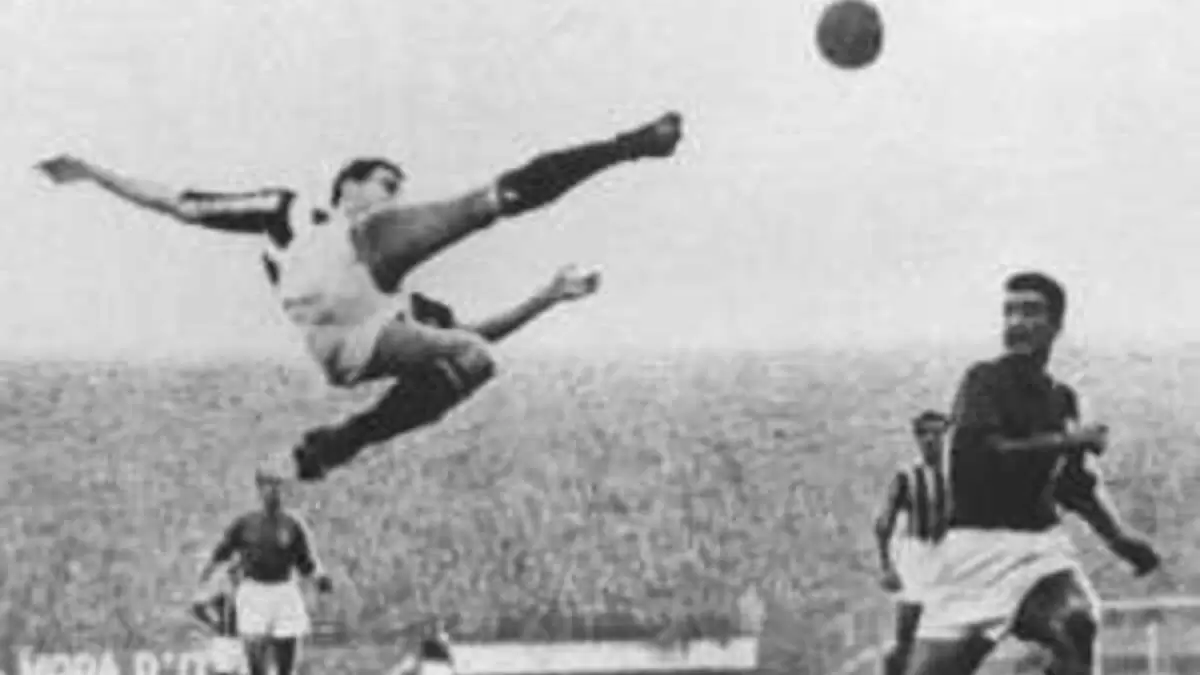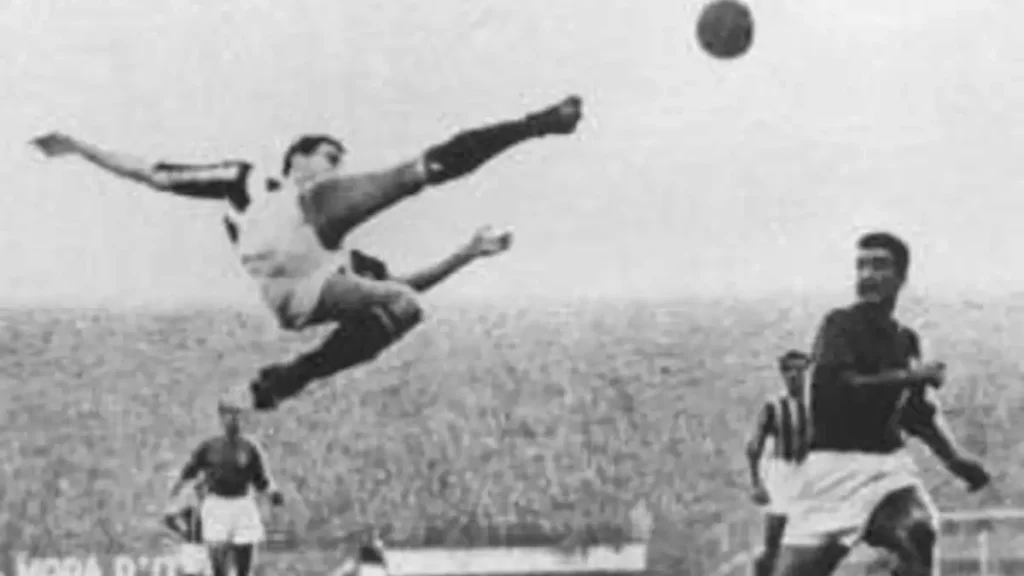 4. Silvio Piola
After making 34 international appearances and scoring 30 goals for the Italian national team, Silvio Piola remains one of the team's most productive forwards. Piola also captained the national team between 1940 and 1947.
Silvio Piola made his Italy debut in 1935, scoring a brace in his first match – a 2-0 win over Austria.
In 1938, Piola's Italy won the FIFA world cup, with the striker scoring two in the 4–2 triumph over Hungary. He was named the tournament's second-best player, having also finished as the second-best top scorer to earn a spot in the Team of the Tournament.
In 1939, Piola used his hand to score in a 1-1 draw with England, 47 years before Diego Maradona's infamous 'Hand Of God' goal. Piola remains Italy's third-highest goalscorer, with the most away goals alongside Luigi Riva.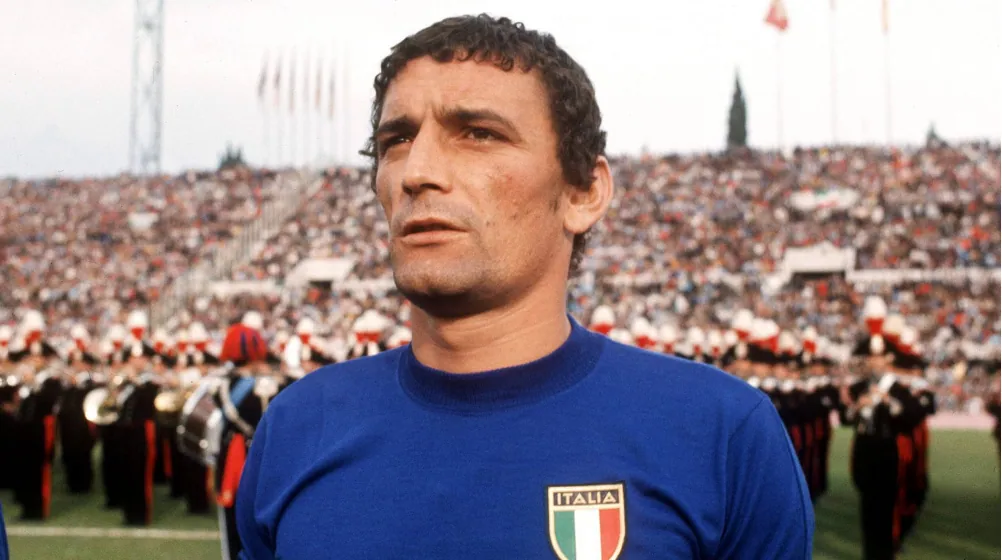 5. Gigi Riva
Luigi "Gigi" Riva made his debut for the Italy team on 27 June 1965. For the next nine years, the center forward played 42 games for the Italy national team and scored a breathtaking 35 goals. He's still Italy's all-time leading goalscorer, despite retiring from international football in 1974.
Except for his solitary debut year at Legnano, Luigi Riva played the entirety of his career with Cagliari, helping the club win promotion from Serie B to the top-flight Serie A.
Riva was a strong striker with a powerful left foot and uncanny aerial ability to go with cold-hearted composure in front of goal. These attributes and a strong team helped Riva to 207 career goals in 374 club games.
On 10 June 1968, Gigi Riva led Ferruccio Valcareggi's Italy team to win the UEFA Euro 1968 final match against Yugoslavia, winning 2-0 in the second leg after a 1-1 in the first leg. Riva also played in the 1974 FIFA world cup. 
His other notable accolades include being the Serie A top scorer in 1966-67, 1968-69, and 1969-70, Ballon d'Or runner-up in 1969, and the UEFA European Championship Team of the Tournament in 1968. [3]
6. Paolo Rossi
Paolo Rossi enjoyed a storied football career, playing for top Italian clubs and the Italy team. Rossi was a prolific goalscorer, notching 20 international goals in 48 caps for the Azzurri.
Rossi's goalscoring exploits at Vicenza prompted his move to Juventus in a co-ownership deal for a world-record transfer fee. He remained at Vicenza on loan and topped the Serie B scoring charts before moving to Juve and scoring 24 goals to become the first player to top the Serie A and Serie B scoring charts in consecutive seasons.
Paolo Rossi's goals led Italy to the 1982 FIFA World Cup title. The striker's six goals helped him to win the Golden Boot as the tournament's top goalscorer and the Golden Ball. [2]
In 1982, Paolo Rossi claimed the 1982 Ballon d'Or, awarded to the best European Footballer of the Year. No player has ever clinched these four titles in a single year.
Together with Roberto Baggio and Christian Vieri, Paolo Rossi is Italy's top goalscorer in world cup tournaments, with nine goals to his name.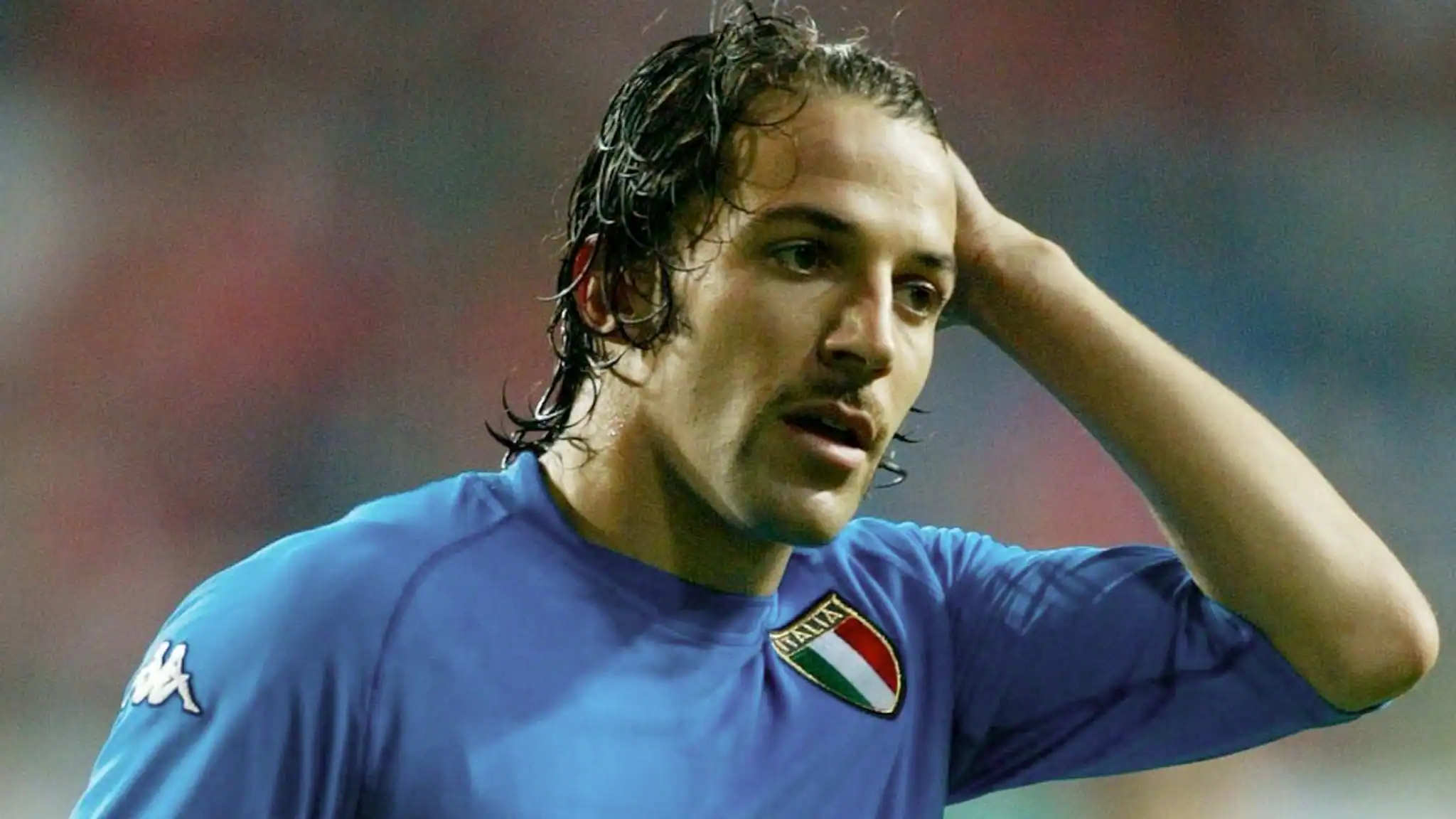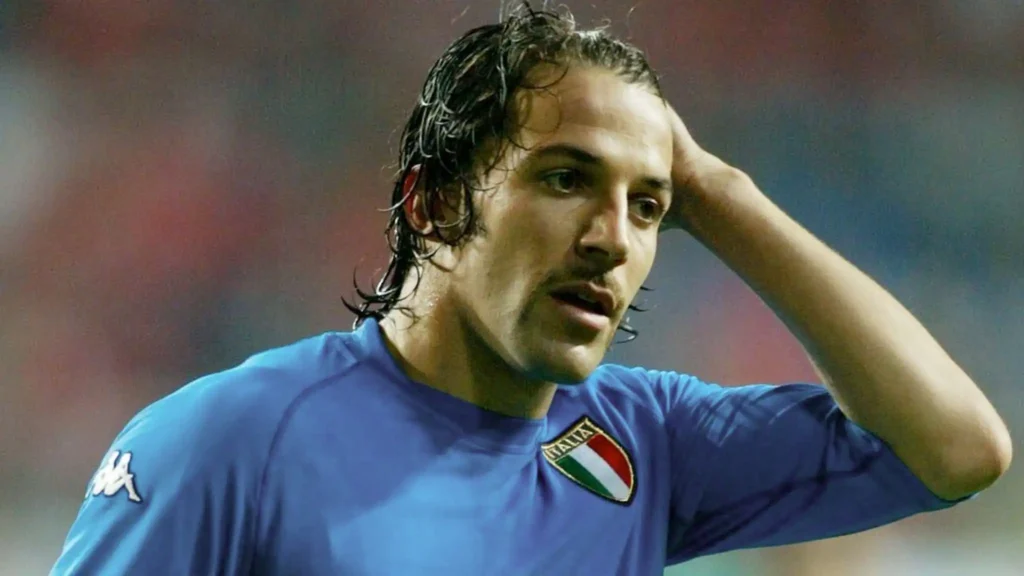 7. Alessandro del Piero
A legendary Juventus forward, Alessandro Del Piero forged a reputation as a devastating second striker capable of playing numerous offensive positions.
The immensely gifted attacker was also a deadly free-kick specialist. Del Piero also holds the record for most substitute appearances for the Azzurri with 30.
Del Piero is famous for scoring in every competition he has participated in, winning numerous goalscoring awards. He tallied 316 club goals in 777 games across his spells at Padova, Juventus, Sydney FC, and Delhi Dynamos. He also notched 27 goals in 91 international appearances for Italy.
He has the all-time appearances record in Juventus history (705 games), the all-time top scorer for Juve (290 goals), the most goals in a season for Sydney FC (14 goals), and the all-time Italian player with the most free-kick goals (52 goals).
Del Piero is just as decorated. He's a six-time Serie A title winner with Juventus, one Coppa Italia, four Supercoppa Italiana, one Serie B, and the 1995-96 UEFA Champions League.
Del Piero also lost a champions league final match on three occasions, winning the Intercontinental Cup (1996), UEFA Intertoto Cup (1999), and the UEFA Super Cup (1996).
Led by Marcello Lippi, Del Piero won the 2006 FIFA world cup in a talented Italy squad that included top playmakers like Francesco Totti, Andrea Pirlo, and Daniele De Rossi, among others.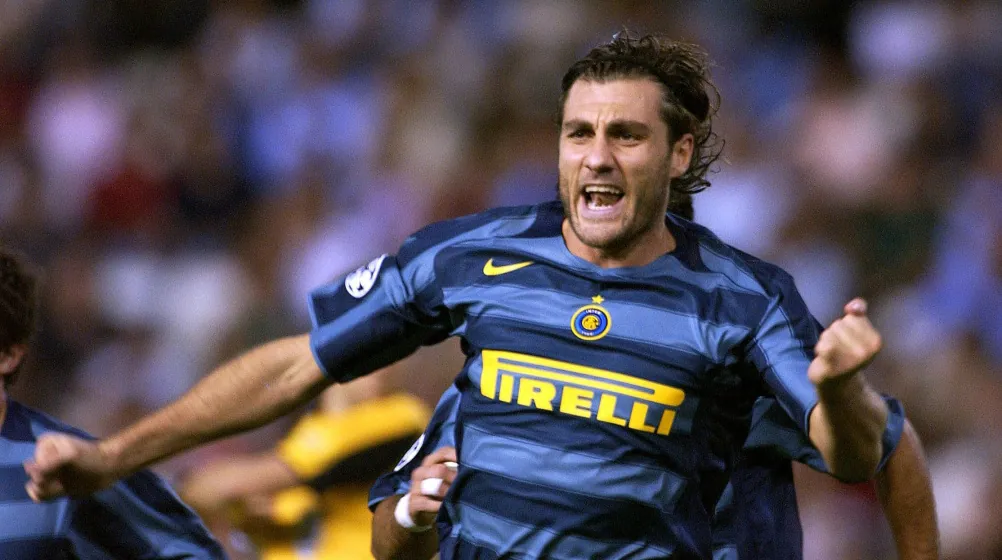 8. Christian Vieri
Italy striker Christian Vieri had a nomadic career, an unusual feat for a productive goalscorer. He only played one season at eight clubs between 1991 and 1999 before settling at Inter Milan.
This was unusual as Vieri kept finding the goals, including 12 in 32 games at Ravenna, 12 in 22 games at Lazio, and 24 in 24 at Atletico.
This form continued on the international stage, where Vieri represented Italy with 23 goals in 49 games between 1997 and 2005. He played for Italy at the 1998 World Cup, scoring five times, and the 2002 World Cup, scoring four times.
Vieri joined Inter Milan in 1999, spending the next 6 years at San Siro, scoring 103 goals in 143 games. Even though the striker's nomadic career returned, the goals never flowed as often.
Like other top Italian fantasistas, Vieri enjoyed a glittering career. He won a Coppa Italia with Torino; Serie A, UEFA Super Cup, and Intercontinental Cup at Juventus; the Supercoppa Italiana and UEFA Cup Winners' Cup at Lazio; and Coppa Italia at Inter.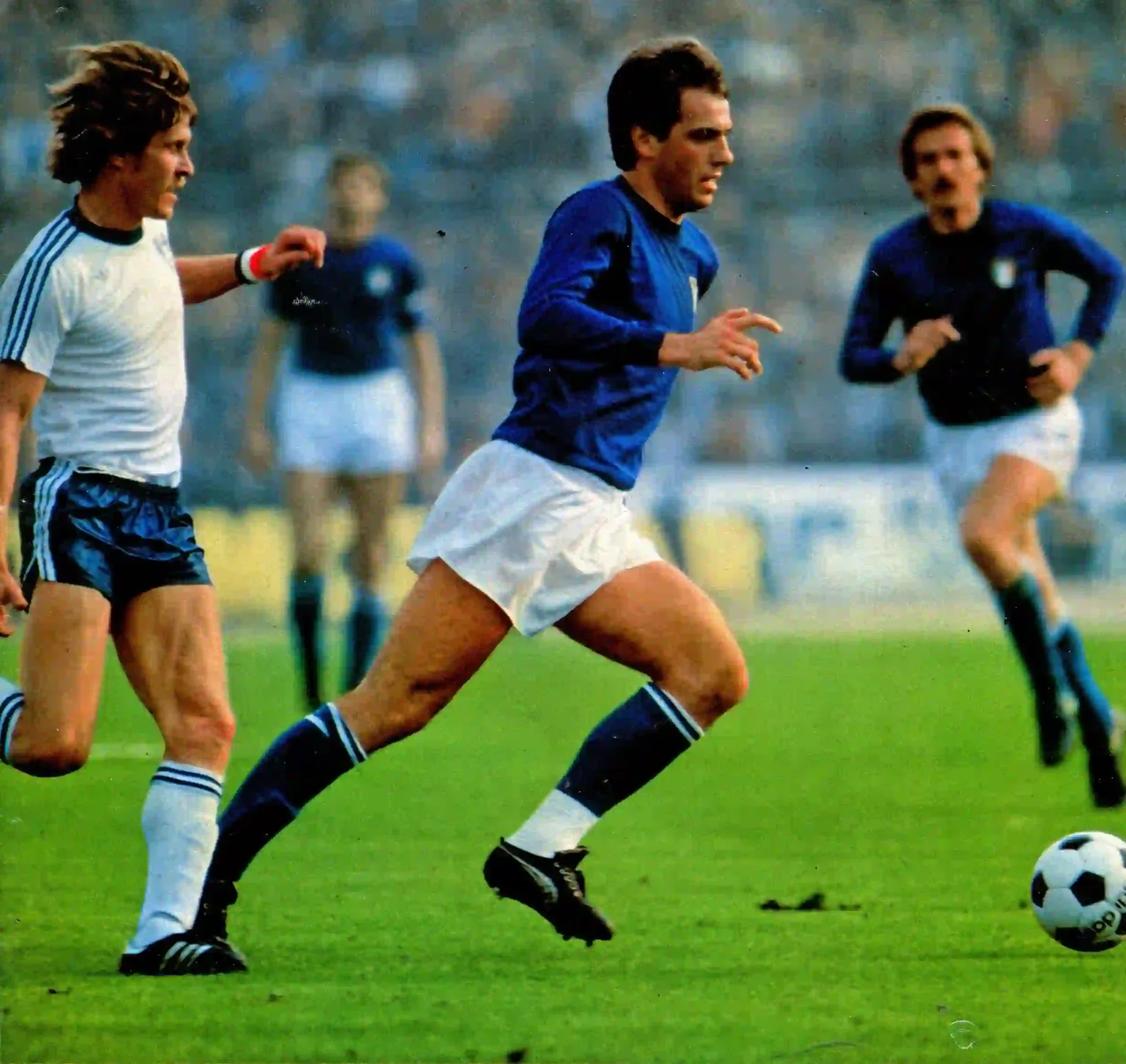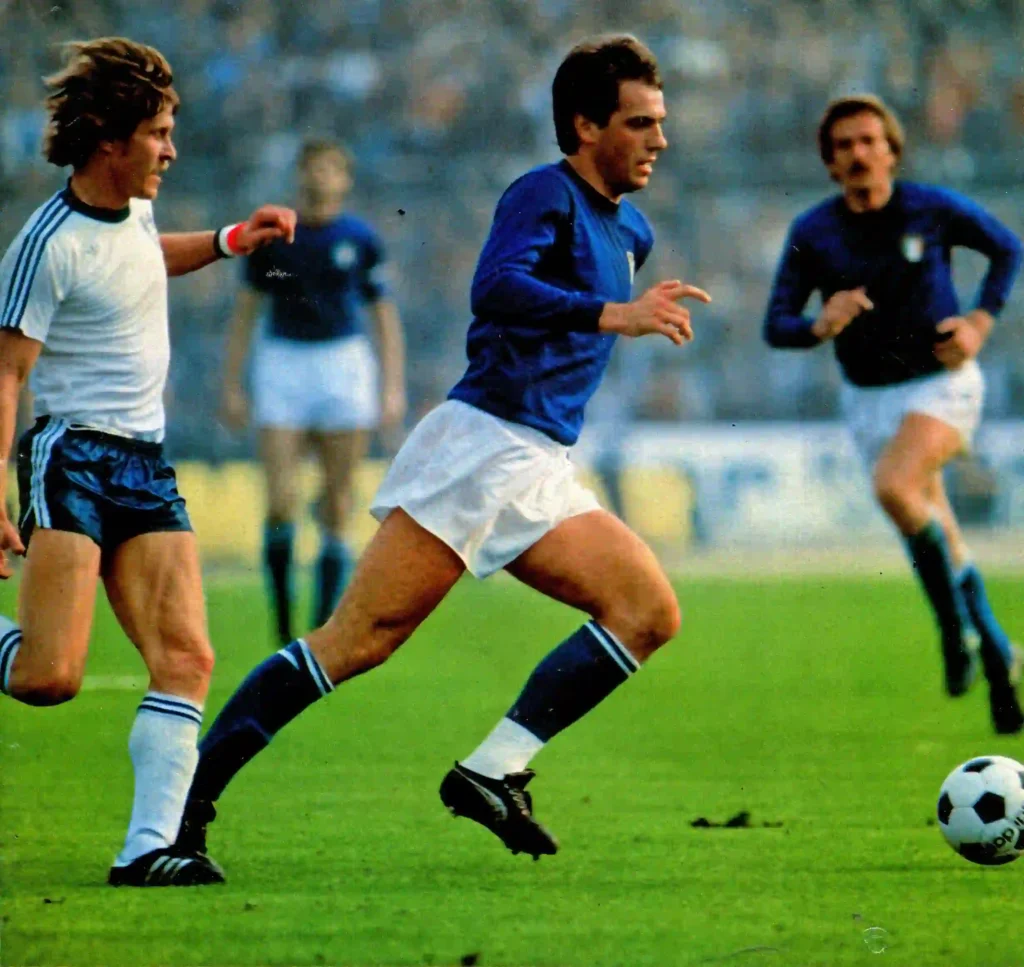 9. Roberto Bettega
Roberto Bettega's 19 goals in 42 international matches in an Italy shirt made him one of the country's best players between 1975 and 1983.
Bettega enjoyed a successful career at Juve, his hometown club, winning numerous titles. He was part of Italy's squad for the 1978 FIFA world cup and the 1980 European Championships, with the Azzurri finishing fourth at both tournaments.
He missed out on the 1982 Italy squad that went on to win the world cup title.
Bettega spent 14 years with the Bianconeri, scoring 129 goals in 326 matches. He scored 13 in 30 while on loan at Varese and 11 in 48 in a year at Toronto Blizzard.
While in Turin, Roberto Bettega won 7 Serie A titles, one Coppa Italia, and the 1976-77 UEFA Cup. He lost the 1973 Intercontinental Cup final and European Cup (1972-73 and 1982-83).
He won the 1969-70 Serie B title at Varese and reached the semi-finals of the FIFA world cup (1978) and UEFA European Football Championships (1980).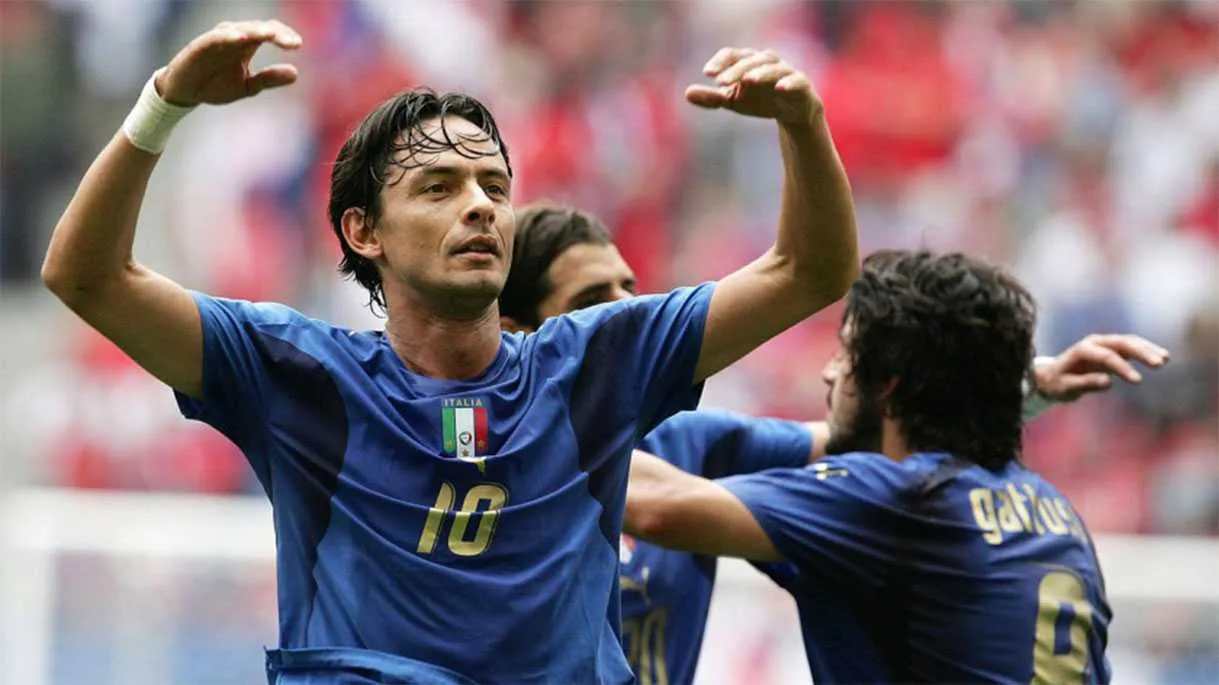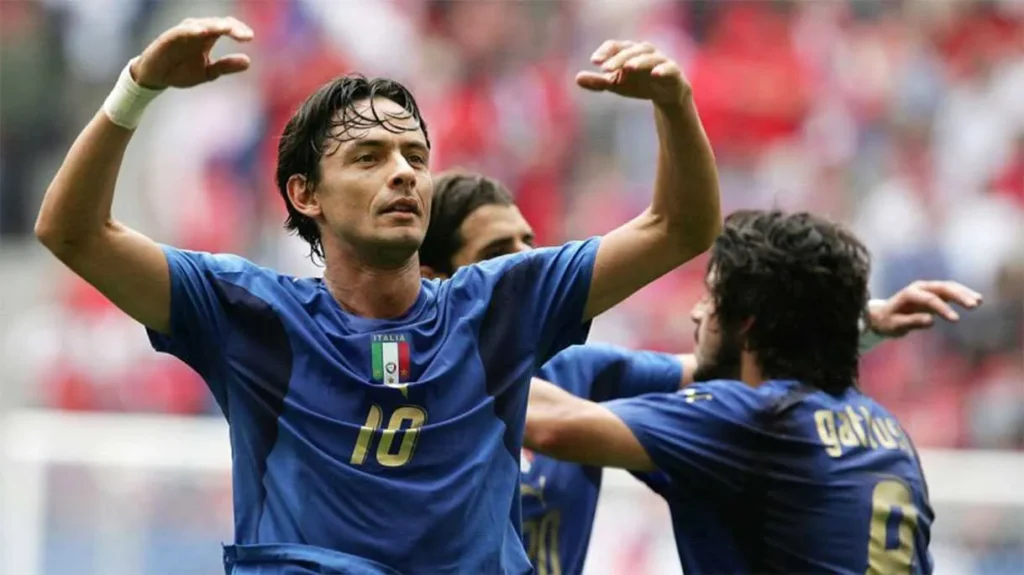 10. Filippo Inzaghi
Filippo Inzaghi was an influential striker in several triumphant Italian clubs. This competitive streak was also evident on the international stage, scoring 25 goals in 57 international matches between 1997 and 2007. 
In his decade of active service, Inzaghi's Italy team competed in three FIFA World Cups.
He won the 2006 edition under Marcello Lippi in a squad that included Francesco Totti, Andrea Pirlo, Daniele de Rossi, and other Italian football greats. He also won the UEFA Euro 2000 runners-up medal.
Pippo Inzaghi was extremely prolific. The striker notched 313 goals in official matches to place him seventh-highest scorer in Italian football history and has the most hattricks in Serie A with 10.
His accolades include the 1997-98 Serie A, 1997 Supercoppa Italiana, and 1999 UEFA Intertoto titles at Juve and the 1994-98 Serie B (Piacenza).
At Milan, Inzaghi won 2 Serie A titles, one Coppa Italia, 2 UEFA Champions Leagues, 2 UEFA Super Cups, and the 2007 FIFA Club World Cup.
References:
[1]: https://kids.kiddle.co/Alessandro_Altobelli
[2]: https://www.geni.com/people/Paolo-Rossi/6000000136544536851
[3]: https://en.wikipedia.org/wiki/Gigi_Riva
Images:
https://www.vintagefootball-jerseys.com/products/italy-1994-baggio-10-world-cup-away-r-jersey (main image)
https://www.facebook.com/giuseppe.meazza.page/
https://twitter.com/ilovemadeitaly/status/1157352943546445826/photo/3
imago images
https://sportmob.com/en/article/979903-top-facts-about-silvio-piola-the-best-serie-a-goalscorer-ever
imago images
https://www.thesun.co.uk/sport/football/6208939/paul-breitner-west-germany-bayern-munich-legend-communist/
https://www.skysports.com/football/news/12022/10875434/italy-and-juventus-legend-alessandro-del-piero-confirmed-for-star-sixes-in-london
imago images
https://www.figc.it/en/fans/news/2019-happy-birthday-to-roberto-bettega-who-is-69-today/
11contro11.it/mondiale-2006-la-storia-di-filippo-inzaghi/