There are very few players that can claim to have fundamentally changed football. Many would think of Pele's skillful playstyle and prolific goal scoring record; or Maradona's virtuosic performances dazzling onlookers. But whilst both names are deservedly among the greatest to play the game, neither had anywhere close to the impact that Johan Cruyff had on the beautiful game. 
How many other players have changed the way people play with just a single moment?  One simple faint and one simple touch. It's among the first on the ball skills taught to kids around the world, arguably no single moment has had as much influence on football as the famous Cruyff Turn.
A move so brilliant in its simplicity, leaving his man in his wake. Perhaps the greatest testament to this moment, is the fact The Netherlands didn't even score, nor would they fashion more than a half chance to shoot out of it. It was the brilliance and spontaneity of it, the simplicity, a move anyone can do, yet no one had done before. His influence is unmatched, his legacy untouchable.
An impact transcending his playing days, an innovator on and off the field, Cruyff may be the greatest combined player and manager of all time. Vision, skill, and leadership personified, he was cunning on the ball, and seemed to be 2 steps ahead of everyone else on the field.
His skill was only matched by his astute understanding of the game, a footballing intelligence unrivalled by any during his playing days. 
A Difficult Childhood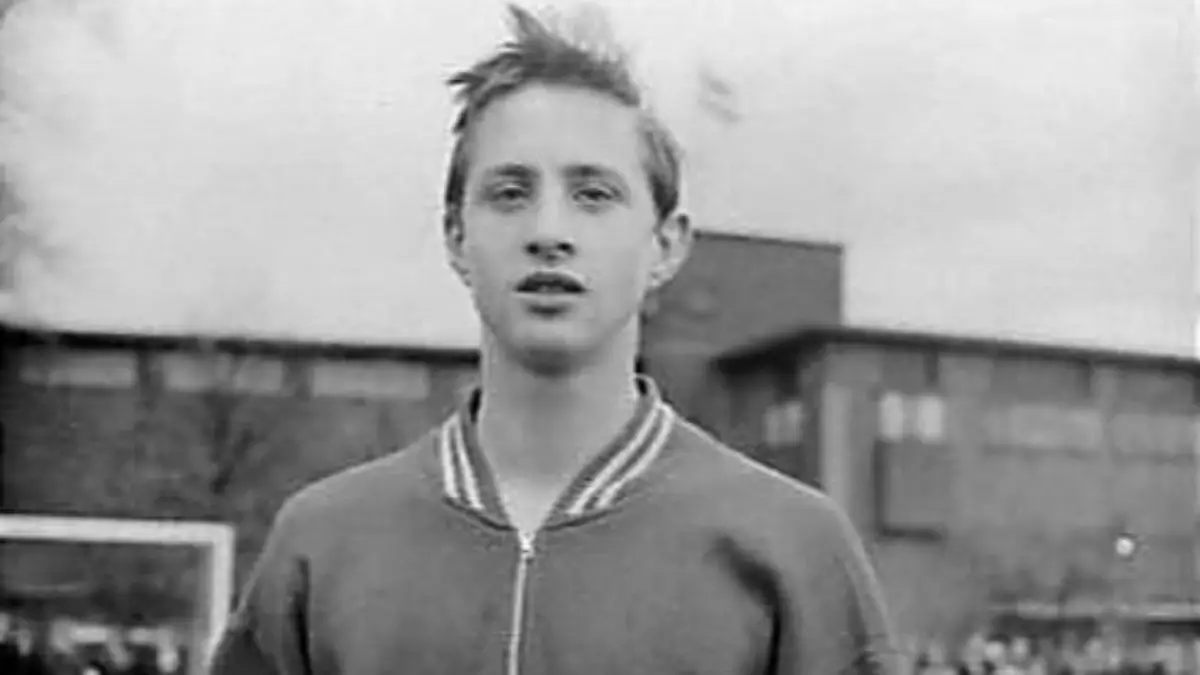 Cruyff grew up in a working-class neighbourhood in Amsterdam, growing up just a few minutes away from Ajax's Akkerstraat stadium. His early footballing inspiration was Faas Wilkes, a Dutch forward known for his on the ball ability. 
He would be noticed, aged 10, through playing football in a nearby playground with friends, a detail that you'd expect in a script for some sort of underdog Hollywood film. With Ajax youth coach Jany van der Veen, noticing his significant gulf in ability compared to his peers, he would offer him a place in Ajax's academy on the spot, deeming his ability so good that no formal trial would be required.  
In 1959, with Cruyff 12 years old, his father passed away due to a cardiac arrest. It would fundamentally change Johan's entire outlook on life, with a lurking feeling that he too would die, like his father at age 45.  This hyper awareness of his own mortality likely motivated Cruyff even further, to strive to succeed while he could.
His focus on football was driven by the opportunity to pay tribute to his football-loving father by succeeding in the very sport his father had originally pushed him to play.  The death of his father would make his upbringing all the harder thanks to his Mother having to provide and raise him alone for much of his remaining adolescence.
Despite his footballing talent however, his real love at the time was Baseball, a sport he would only give up 5 years later at the age of 15, through his coaches at Ajax pressuring him to focus on football. It would prove to be a worthwhile sacrifice, as just 2 years later he would make his first-team debut at the age of 17 in 1964. 
An early breakthrough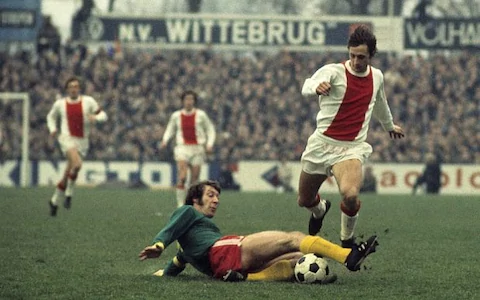 Of course he would score on his debut, but it would be bitter sweet, with his goal being Ajax's only goal of the match as they lost 3-1 to GVAV (The original Groningen team) . As Cruyff was breaking into the team, Ajax were in their worst period in their history, as in Cruyff's breakthrough 64-65 season, the team would finish 13th.
If there you have any doubt at just how good Cruyff was, the next season Ajax would win the championship, Cruyff quickly establishing himself as a regular, and helping himself to 25 goals in just 23 games. In his first Professional season…
His next season would prove even better, topping the Eredivisie scoring charts with 33. He would win his first Dutch Double, as Ajax became back to back champions and took home the KVNB trophy.  Always outdoing himself, his next season would take him and Ajax to the European Cup final. Things wouldn't go to plan as Milan would trounce Ajax 4-1, but this only further inspired Cruyff and his Ajax side.
More league titles, Dutch player of the years, KVNB cups and even European player of the year would follow in the coming years as Ajax began to enter their period of total footballing dominance. 
Total Dominance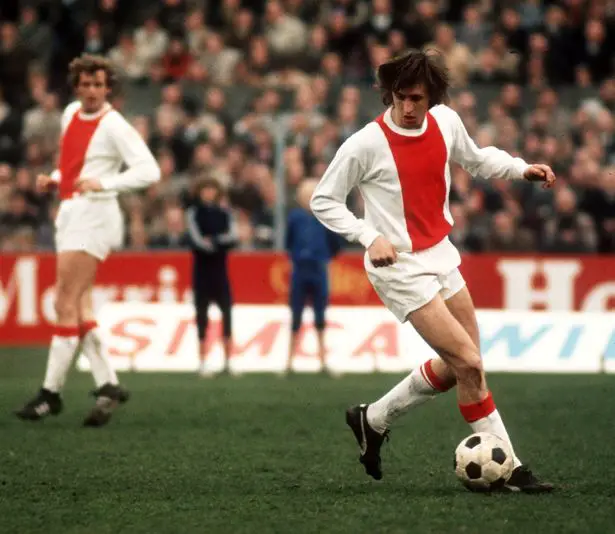 1970 would prove a huge year for the now 23 year old, he would take up the number 14 shirt following an injury, a now iconic shirt number. At the time it was unusual to wear a number above 11 for obvious reasons.
Cruyff would become even more of a monster in this shirt, scoring 6 in one game,  winning European footballer of the year, and winning a European Cup, as they beat Panathinaikos 2-0 in the final. 
The next year, another European cup followed, this time Ajax would triumph over Inter Milan, 2-0, with this game marking the start of the world's infatuation with "Total Football". Cruyff would score both goals in the final, and terrorise Internazionale's infamous defence.
Not content with just conquering Europe's most prestigious competition, Cruyff and Ajax would take everything home. A 3-2 win over ADO Den Haag in the KVBN Cup final, Champions of the Eredivisie; Cruyff scored 25.
Still not done, they won the intercontinental cup, a much bigger deal at the time, beating Argentina's Independiente over 2 legs. Finally, they beat Rangers in the first European Super Cup, although at the time this competition was unofficial and not yet backed by UEFA.
All in all it would be a quintuple, with 5 trophies and just to ice the cake, a seven year contract on top for Cruyff. Unsurprisingly, they would once again win a European cup, and an Eredivisie title the following year.
A Record-breaking Move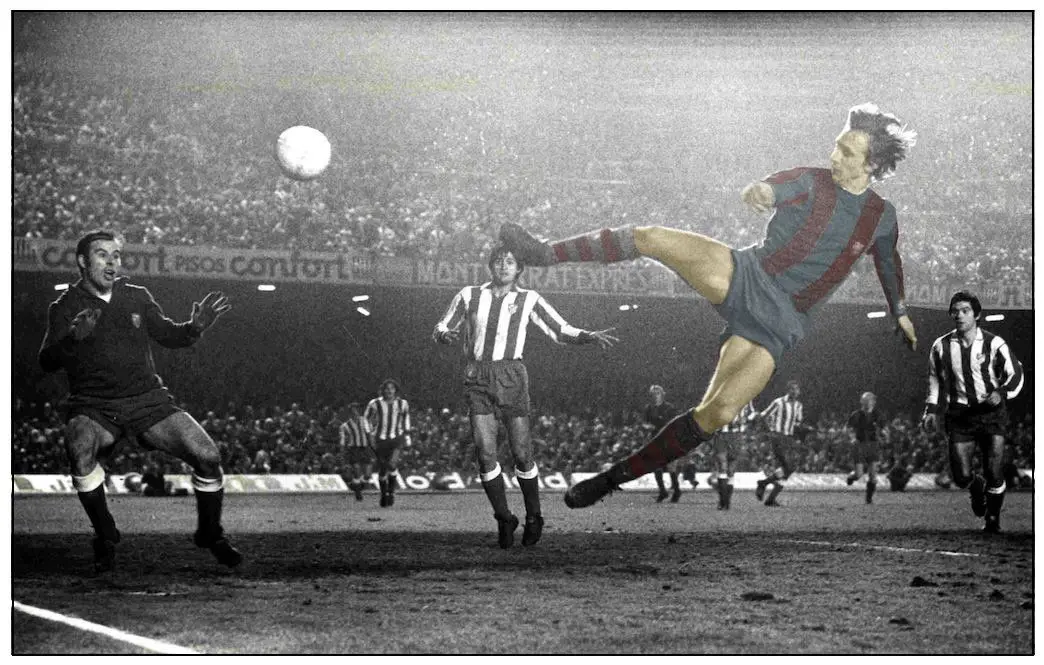 Having done it all with Ajax, at the start of the 73-74 season, Cruyff would sign for Barcelona for an at the time,  World record fee of 2 million Dollars (6 million Guilders). Barcelona were not the powerhouse they had once been, the side having failed to win a league title since 1960. Thanks to the arrival of Cruyff, this would quickly change.
A season packed with celebration would follow, as Barcelona would lift the league title, beating fierce rivals Real Madrid 5-0 along the way. Naturally, Cruyff would win another European Player of the year (Ballon D'Or), with the player quickly becoming an icon to fans of the Catalan club.
He would score his most iconic goal during his time at Barca, an incredible, Kung-Fu like volley. With the ball around head height, and seemingly already out of danger, fizzing wide past the far post, Cruyff leapt majestically to meet the ball with his foot at the back post. Imagine a combination of Marco Van Basten's famous volley and Ibrahimović's signature acrobatics, and then remember that Cruyff was just 5ft 10'. 
Despite his brilliance, their league title in his first season would be their only league title in Cruyff's 5 year spell there, with success in the Copa Del Rey a caveat to his final season there.
Cruyff managed to make a huge contribution to Barcelona off the pitch during his playing time here, suggesting the idea for Barcelona's world renowned La Masia academy, a youth system that would be imperative to Barcelona's modern success.
The academy is responsible for some of the greatest talents of the last 40 years, featuring names such as: Mikel Arteta, Cesc Fabregas, Sergio Busquets, Pep Guardiola, Carles Puyol, Andres Iniesta, Xavi and of course the little magician himself, Lionel Messi.
The Twilight of a Genius
Following the 77/78 season, he announced his shock retirement, at just 31.
It wouldn't be long before he wound up back on a football pitch though. He had lost millions through multiple bizarre and unsuccessful investments, one being Pig Farming, which had proved a very costly endeavour.
Millions in the hole, he returned to football, signing for the Los Angeles Aztecs in America on a Lucrative deal. He would of course win player of the year in that season. It was clear Cruyff still had it, and following interest from first division English clubs Arsenal and Leicester, Levante would pry him back to Spain.
This would mark the first time Cruyff was unable to make an impact on a tea, stricken by injury and Levante in serious financial woes, much like Cruyff, he would make 10 appearances and score 2 goals, before financial woes and injuries forced the club to let Cruyff go, as his Levante side would fail to secure promotion to the Spanish First Division, leaving them unable to keep him on the books
Another stint in America followed, with the Washington Diplomats, before he would return to Ajax. He would win 2 more league titles there, making 36 appearances and netting 14 times, before signing for Feyenoord.
He would help them to their first league title, and win the KNVB Trophy, showing an Ajax team that no longer wanted him what they were missing. Cruyff fittingly retiring for good following this last laugh.
A Prolific International Career
Cruyff famously is considered the best player never to win a world cup, the Dutchmen had a storied National career however, earning 48 caps and scoring 33 goals, during a time where far fewer national games were played.
His debut would come at just 19, scoring to rescue a draw against Czechoslovakia in a Euro Qualifying match. This would set the start of a mind-blowing trend and statistic, in which the national side would never lose a game that he scored in.
Fast forward 6 years and The Netherlands and Cruyff found themselves in a World Cup final after a series of brilliant performances against the likes of Argentina, East Germany and Brazil. 
Facing the powerhouses of West Germany, Cruyff would fail to score, despite winning a penalty that was converted. Maybe had he taken it, the outcome could have been different, with Netherlands unbeatable were he to score.
They would lose 2-1, Cruyff failing to win Football's biggest prize. It would prove his last chance, as the next time around he would exclude himself from the squad. He would reveal until years later, in 2008, that his family had been subject to kidnapping attempt in 1977, affecting his mentality and likely contributing to his brief early retirement.
His Dutch team mates would once again achieve second place in a World Cup, leaving football fans across the globe wondering, what could have been had he played.
Cruyff was much more than just a player, with a managerial and philanthropic side that has so much more to uncover. If his playing style was influential, his managerial nuance was at the time untouchable…