On 13 November 2002, Juan Alberto Schiaffino, one of the best Uruguayan footballers died aged 77. He scarcely looked a footballer being dark-haired, pale, and thin. Still, Juan Alberto Schiaffino Villano possessed superb control and exceptional positional play amalgamated to a talent for spotting openings for others and the ability to find them with precision passes.
And he could score goals as well. Moreover, he was an elegant player who rarely finished a game with a hair out of place. His only flaw was his temperament, reflected in his nickname of 'Pepe the Devil.'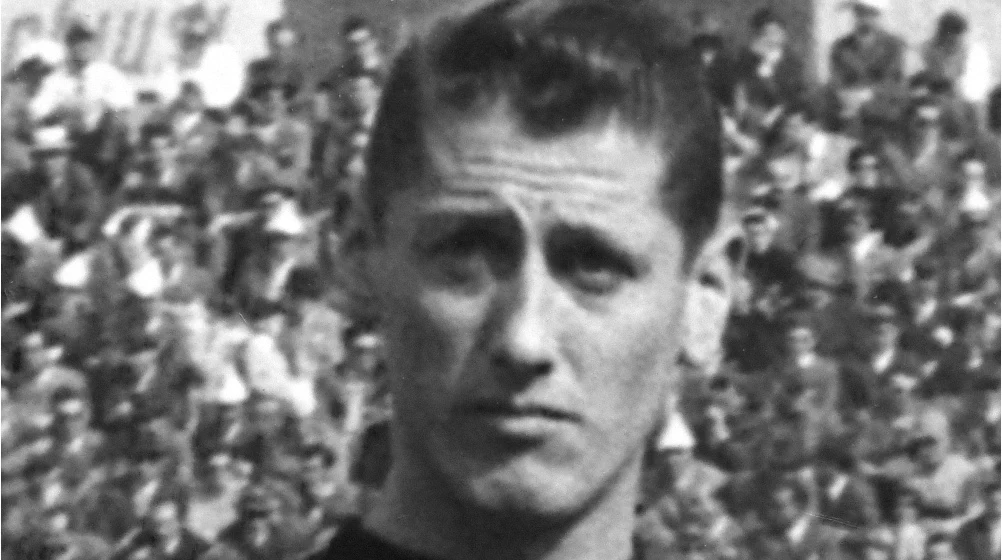 Early Years Of Juan Alberto Schiaffino
He was born in the Nacio district of Montevideo, Uruguay, on 28 July 1925. His father was an Italian immigrant, and his mother was a Paraguayan. Juan Alberto Schiaffino participated actively as a youth for Palermo, then Olimpia before joining his older brother, Raul, at Nacional.
When his brother's career was cut short by injury, Juan Alberto switched allegiance to their great rivals Penarol. It was 1943, and he was just 17.
However, he progressed swiftly through the junior teams and, in 1944, was part of the squad that won the First Division championships. They won again in 1945, with Juan Alberton being the domestic league's joint-top scorer with 19 goals.
Although his slender frame was better suited to be an inside-forward or attacking midfielder, he was a center-forward, a role he was to fill in later years.
Making The Uruguay National Team
In 1949, Penarol won the title once more with the help of his eleven goals, and by 1950 he had also become a fixture in the national team. He played a dramatic part in the World Cup finals in Brazil. An opening game 8-0 win over Bolivia in which he scored four, was followed in the final pool by a 2-2 draw against Spain, a 3-2 win against Sweden and, a 2-1 victory over Brazil.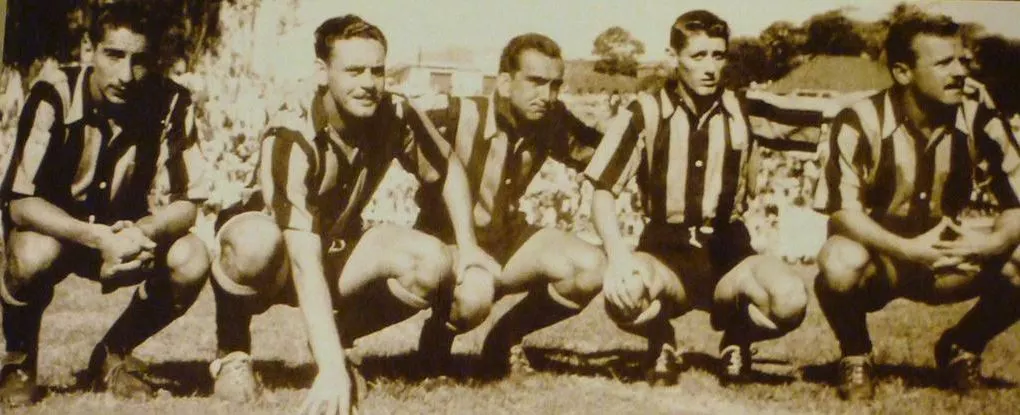 This game was effectively the World Cup final as the winner would top the final pool table and thus take the trophy. Brazil scored first through Friaca, and it was Schiaffino who scored the decisive equalizer when he crashed in an unstoppable shot. Juan Alberto Schiaffino finished the tournament's second top scorer with five goals and was the best Uruguayan footballer of the tournament.
By the time he had left Penarol in 1954, Juan Alberto had scored 88 goals and the club had won further domestic titles in 1951, 1953, and 1954. At the World Cup finals in Switzerland in 1954, he was an important member of the team. Uruguay opened their group games with a 2-0 win over Czechoslovakia with Schiaffino scoring the second.
This was followed by Scotland's 7-0 thrashing when he tormented his marker, Tommy Docherty. In the quarter-finals, they played England and defeated them 4-2 with the attacking midfielder scoring the third.
This victory brought the best Uruguayan footballer and his team to a semi-final against Hungary in what is considered to be one of the finest games in the history of the World Cup.
Many who saw the match state that he was outstanding but could not prevent the Magical Magyars from winning 4-2 in extra time. The disappointment of this defeat led to a lackluster display in the match for third place as Uruguay lost 3-1 to Austria.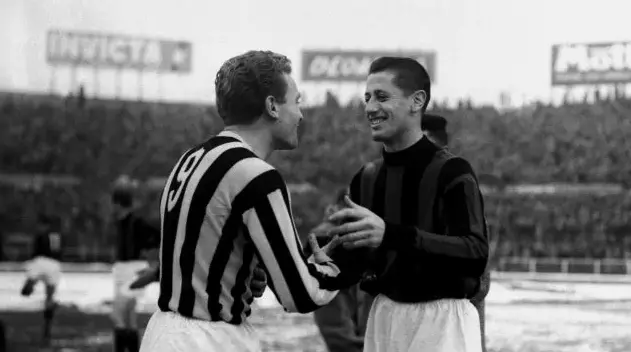 Move To AC Milan
This was his last international appearance for Uruguay. After the 1954 World Cup, Juan Alberto Schiaffino was transferred to AC Milan for a world record fee of £72,000 ($115,000). However, it was not his last international game. Within six months, the attacking midfielder was playing for Italy as they took advantage of the fact that he had an Italian father to play him against Argentina in a friendly in Rome.
Italy won 2-0. Not surprisingly, he was far from a success and the Italians did not include him again for a further three years. Finally, he was selected for the friendly against Northern Ireland in Belfast in a 2-2 draw. Juan Alberto appeared in two more appearances in the 1958 World Cup qualifying games against Portugal and Northern Ireland. This marked the end of his international career.
AC Milan won the Italian League (Serie A) in 1954-55 by six points. Schiaffino played in 27 games scoring 15 goals.
He scored 16 goals in 29 games the following season, but the Milan team could only finish second to Fiorentina. They regained the Serie A title in 1956-57 (29 games – 9 goals).
In the following years, Juan Alberto Schiaffino became more the mid-field general and creative playmaker, and less the goal-scorer, as the following figures illustrate.
1957-58: 17 games – 3 goals (9th)
1958-59: 27 games – 2 goals (Champions)
1959-60: 20 games – 2 goals (3rd)
In the 1957-58 European Cup, he played a prominent part in AC Milan's run to the final.
However, Milan lost to Real Madrid 3-2, Juan Alberto Schiaffino scoring one of the goals. After defeating Manchester United in the semi-final, Schiaffino scored Milan's only goal at Old Trafford (lost 2-1) and netted twice in the home leg (won 4-0).
Juan Alberto Schiaffino Move To Roma
At the end of the 1959-60 campaign, he was transferred to AS Roma, playing 29 games and scoring three goals in 1960-61 but used sparingly in essential games in the following season (10 games 0 goals).
He returned to Uruguay in 1962, where he moved into the real estate business interspersed with a bit of scouting and coaching. He coached his beloved Penarol for a while and had a brief spell in charge of the Uruguayan national team.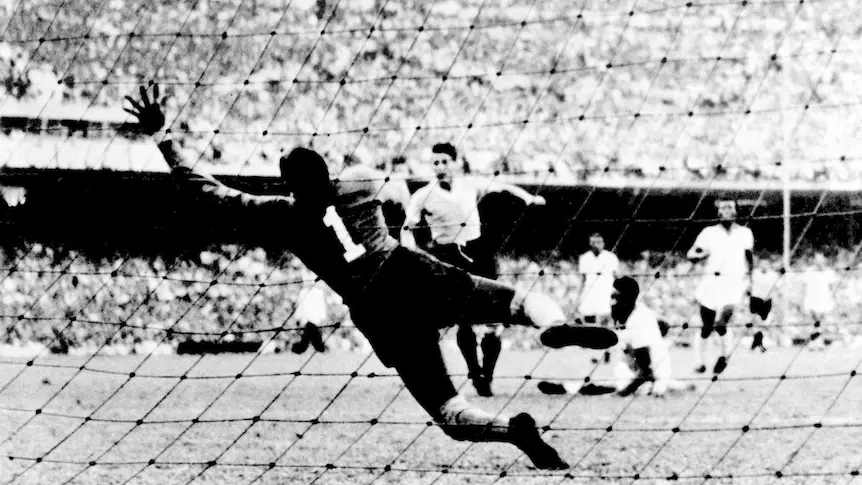 Italian Uruguayan Footballer
 With the Uruguay national team, Juan Alberto Schiaffino won the 1950 FIFA World Cup. Schiaffino represented Uruguay in the 1954 FIFA World Cup where they finished 4th. His paternal grandfather came of Ligurian descent and came from Genoa enabling him to represent Italy.
Schiaffino is widely regarded as the greatest Uruguayan footballer of all time. He was a highly skillful inside-left who was proficient as a creative playmaker and excellent technical ability.
Juan Alberto Schiaffino Facts And Figures
Full Name: Juan Alberto Schiaffino Villano
Birthdate: 28/07/1925
Birthplace: Montevideo, Uruguay
Death: 13/11/2002
Club Career:
1943–1954: Peñarol
1954–1960: Milan
1960–1962: Roma
Total: 415 Appearances, 138 goals
Club Honors:
Peñarol
1949, 1951, 1953, 1954: Uruguayan Championship (Primera División Uruguaya)
Milan
1954–55, 1956–57, 1958–59: Italian Championship (Serie A)
Roma
1961: Inter-Cities Fairs Cup
National Teams:
1946–1954: Uruguay (21 appearances)
1954–1958: Italy (4 appearances)
National Honors:
1950 World Cup Winner
1950 FIFA World Cup All-Star Team
1950 FIFA World Cup Silver Ball
1954 World Cup (4th place)
Management Career:
1974–1975: Uruguay
1975–1976: Peñarol
Images:
imago images
https://mobile.twitter.com/ccalcistica
https://www.abc.net.au/news/2014-05-15/history3a-brazil2c-1950/5449650