It is said that we only truly appreciate something once it has gone. They now realize just how good they had it during the Karel Poborsky era in the Czech Republic.
Along with close friend Pavel Nedved, Karel Poborsky was the common thread running through an unforgettable decade for the Czechs and their 'golden generation of soccer players.'
In 1996, both players were part of the team that came close to being crowned UEFA European champions, and while Pavel Nedved went on to become the nation's poster boy, Karel Poborský quietly achieved great things.
He continued to serve his country after he retired from international football in May 2007. Since retiring from professional football, Karel Poborsky has served as technical/academy director of the Czech Football Association.
"I do not miss the game," he said. "My time is over. My main complaint is the lack of opportunities to move around and keep fit. But I am happy to play a different role within soccer, and I appreciate that I am still involved in it in some capacity."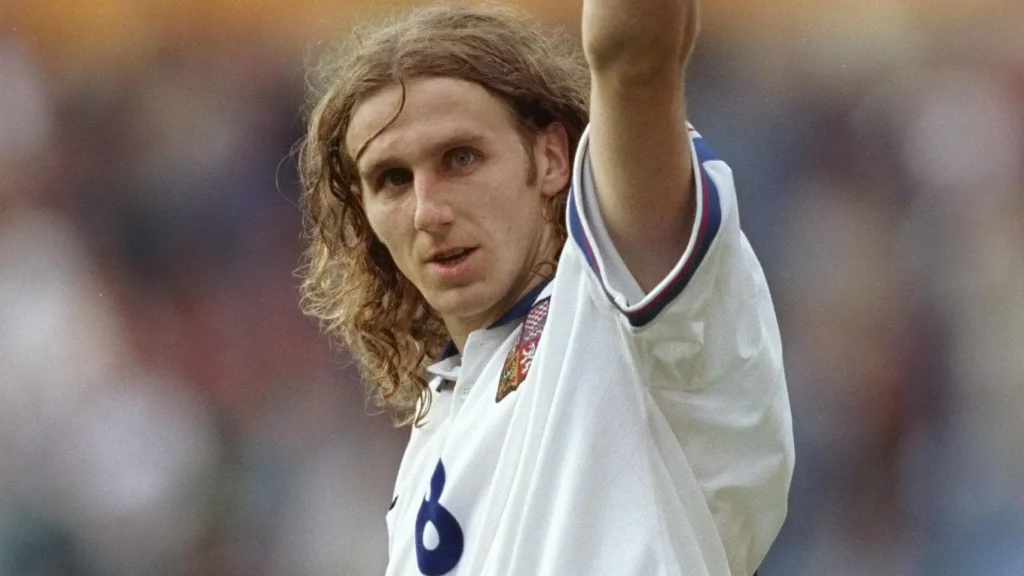 Karel Poborsky Memories
The memories and emotions associated with Karel Poborsky's playing career still evoke vivid memories and contrasts. Regrets? The play-off defeat denied the Czech Republic national team a place at the 2002 World Cup Korea/Japan.
"We messed up in those games," he grumbled about Belgium's defeats in both homes and away games. Nevertheless, his international career still leaves him glowing with pride despite a few setbacks here and there.
"I represented my country for 12 years and participated in four major finals – this was a wonderful experience." Karel Poborsky mentioned. EURO 96 in England stood out as the most successful tournament. We won every match despite being underdogs and made it to the final.
I also enjoyed the 2004 European Championships in Portugal. We had the best European team at that stage, even though we lost to Greece in the semi-finals."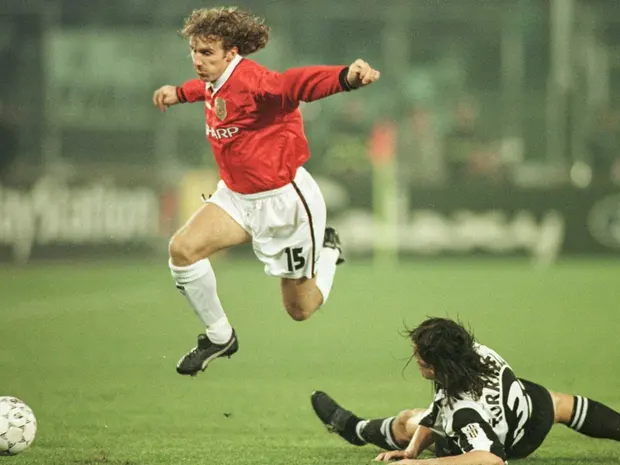 EURO 1996
During Euro 96, a global audience became aware of Karel Poborsky as the Czech Republic reached the final. Despite his many contributions, the quarter-final at Villa Park remains synonymous with a legendary scooped lob over Portugal goalkeeper Vitor Baia.
Since then, Karel Poborský has been synonymous with this goal, and the fact that it is still regarded as a trademark of his certainly gives him great satisfaction. "This is a great honor for me," he said. I still find it a rewarding experience to think about that moment in my career."
Now when other soccer players perform it, they call it 'The Poborsky!'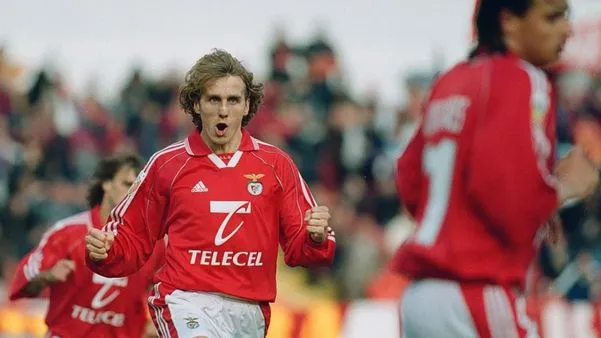 Most Assists
Although the Czech is still known for this lob 25 years later, he has the record for the most assists in European Championship history with 8.  Cristiano Ronaldo is on 6 assists followed by David Beckham on 5 assists. History tends to overlook the men who set up the goalscorers.
By the end of Euro 96, Karel Poborsky had become one of the most sought-after players in Europe, and Manchester United won the race to sign him. But, for the then-24-year-old, the challenge he faced at Old Trafford and in England's Premier League came too soon.
On his first visit to England, he found it "a closed, cold country," but the Manchester United players and staff made him feel welcome. He recalls feeling as if everything was upside down. "There was a spinning sensation in my head."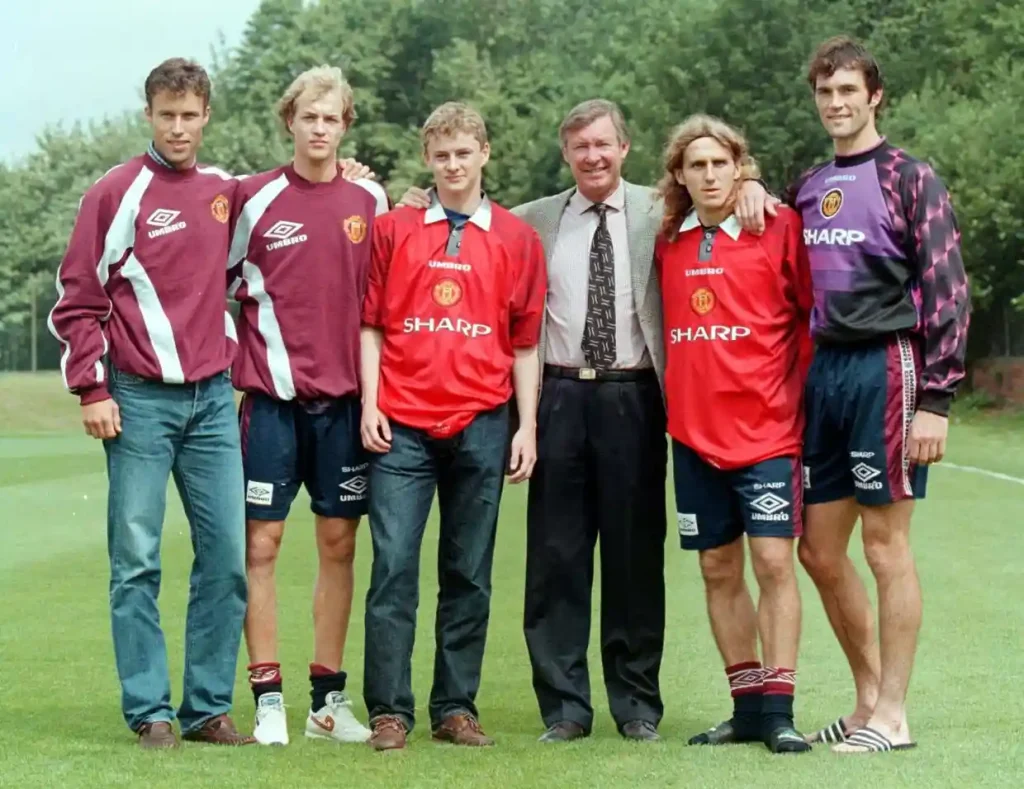 Karel Poborsky Playing In Europe
Despite his best efforts, the Czech failed to make an impact at Old Trafford over the course of two seasons as he was challenging for the same position as David Beckham. "Because of my inexperience and inability to speak English, I had a lot of difficulties there at Man Utd," he recalled. "In addition, the Premier League had plenty of talent already."
Later, the players nicknamed the 'Express Train' enjoyed happier times at Benfica – "I loved living in Portugal". During his time at Benfica, Poborsky scored a similar goal against Porto (again with Vitor Baia in goal).
The next move was to the Italian club Lazio, which Karel Poborský described as the peak of his club career. After returning to his homeland in 2002, he signed with Sparta Prague, where he became the highest-paid player in the Czech Republic. Having spent three seasons at Sparta, Karel decided to conclude his career at the club where he began, Dynamo České Budějovice.
When considering the best player he teamed up with during his illustrious career, there is no need to look to England, Portugal, or Italy. The decision is difficult because I always feel proud of playing with players like Eric Cantona and Manchester United legend Peter Schmeichel. Pavel Nedved is the one I would mention if I had to pick just one."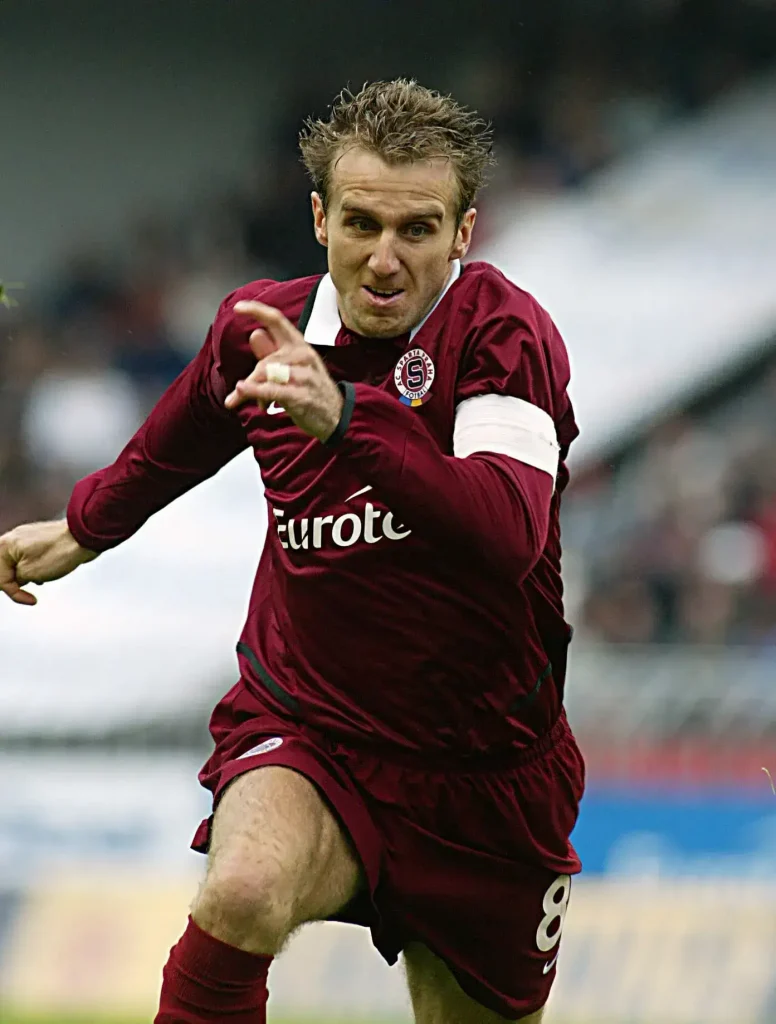 Life Threatening Coma
After contracting a brain infection in 2016, Karel Poborsky was placed in a medically-induced coma, leaving the muscles in his face paralyzed and hypersensitive to light. The retired Premier League player still has no idea what caused the infection to this day.
For three weeks, the hospital staff kept him on strong antibiotics. He was unable to eat and was blindfolded.  The doctors suggested that he may have been bitten by a tick living in his beard. The retired Old Trafford favorite was scared and unsure of the outcome.
However, he has fully recovered and is preparing the Czech Republic team for Qatar's 2022 World Cup later this year. "Now that I've made a full recovery, I'm giving all my attention to our preparation for the World Cup competition," said the Czech.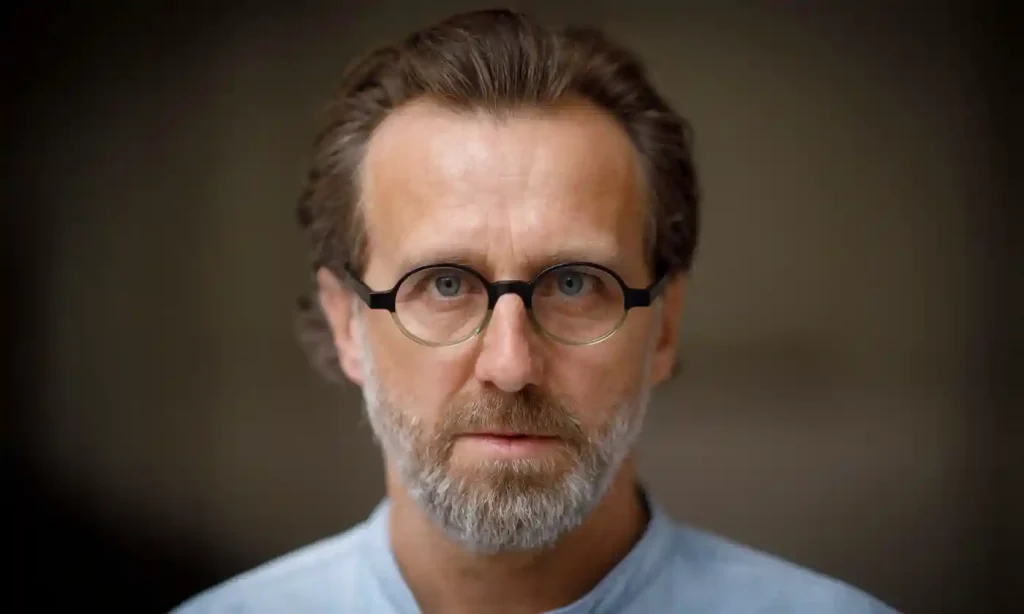 Karel Poborsky Stats, Facts, And Figures
Full Name: Karel Poborský
Birthdate: 30/03/1972
Birthplace: Jindřichův Hradec, Czechoslovakia
Position: Winger
Club Playing Career::
Ceske Budejovice (1991-94)
Viktoria Zizkov (1994-95)
Slavia Prague (1995-96)
Manchester United (1996-97)
Benfica (1998-2000)
Lazio (2001-02)
Sparta Prague (2002-05)
Ceske Budejovice (2006-07)
Total Appearances: 388 matches, 93 goals
National Team Career:
Czech Republic  (118 appearances, 8 goals)
Club Honors:
Slavia Prague
1995–96: Czech First League Champions
Manchester United
1996–97: FA Premier League Champions
Sparta Prague
2002–03 and 2004–05: Czech First League Champions
2003–04: Czech Cup winners
Czech Republic
1996 UEFA European Championship runners-up
1997 FIFA Confederations Cup third place
Individual Honors:
1996: Czech Footballer of the Year
1996: UEFA Team of the Tournament