While reorganizing the Liverpool team in his first season, new manager Bill Shankly released 24 players and converted a boot storage room into a meeting room for strategy meetings.
As a result of winning the Second Division title in 1961–62, the club was promoted to the First Division. A league championship was won by Liverpool two seasons later. Liverpool won the FA Cup the following season.
This article reviews some of Liverpool Football Club's greatest moments, and trophies won during this period of three seasons.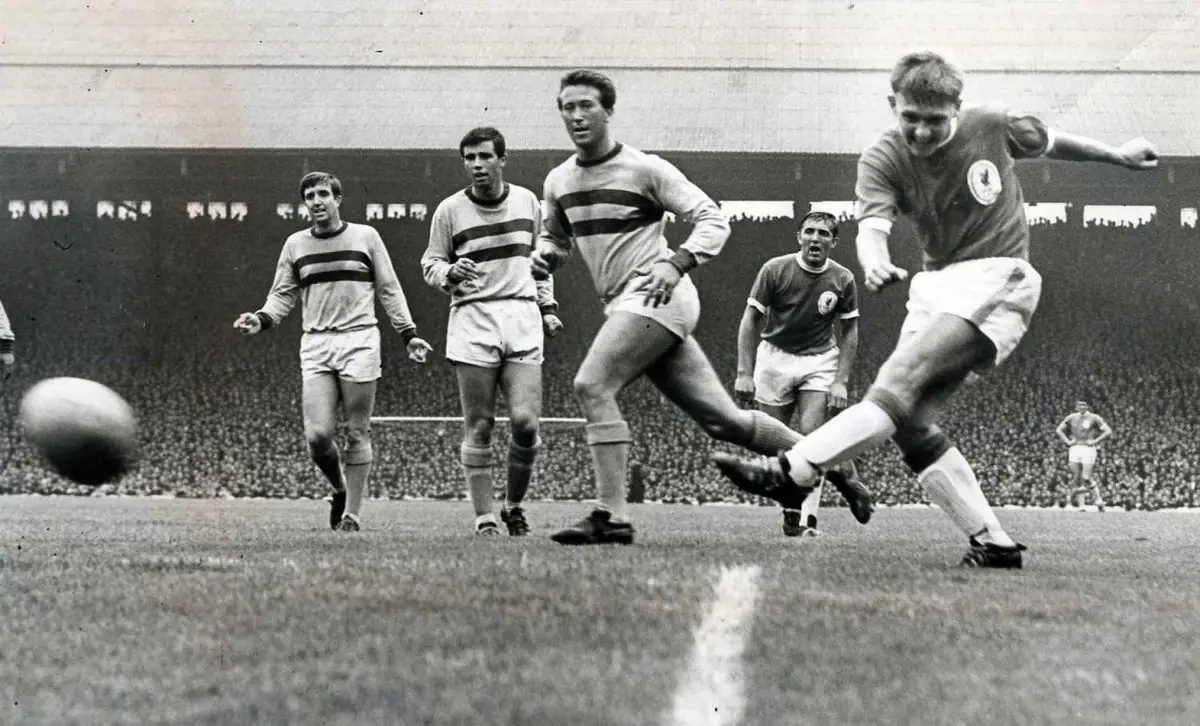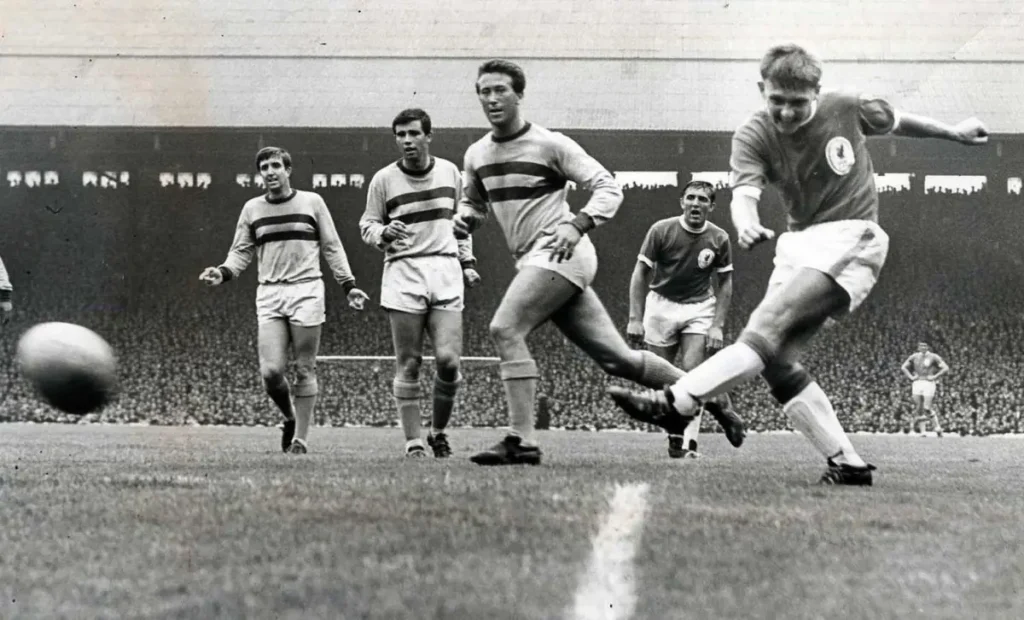 15 April 1964
The first piece of silverware in a genuinely historic season arrived before the kick of a competitive ball as Liverpool, and West Ham played out a 2-2 draw to share the Charity Shield.
Anfield hosted the fixture, for in those days, the glorified friendly was played at the home of the champions.
Goals from Gerry Byrne and Gordon Wallace on either side of the break ensured Liverpool shared the spoils, but the game was equally significant because it witnessed the club's first recorded substitution.
Rule changes by the FA allowed Bill Shankly to swap Alf Arrowsmith for debutant Phil Chisnall after 15 minutes.
Remarkably, the Reds had just two days after West Ham to prepare for their first-ever European game – at which time they also had to find their way to Reykjavik in Iceland.
Liverpool went on to reach the European Cup semi-finals in May 1965 – but that was trumped by the club's first FA Cup triumph following victory over Leeds United, Ian St John, the hero in extra-time.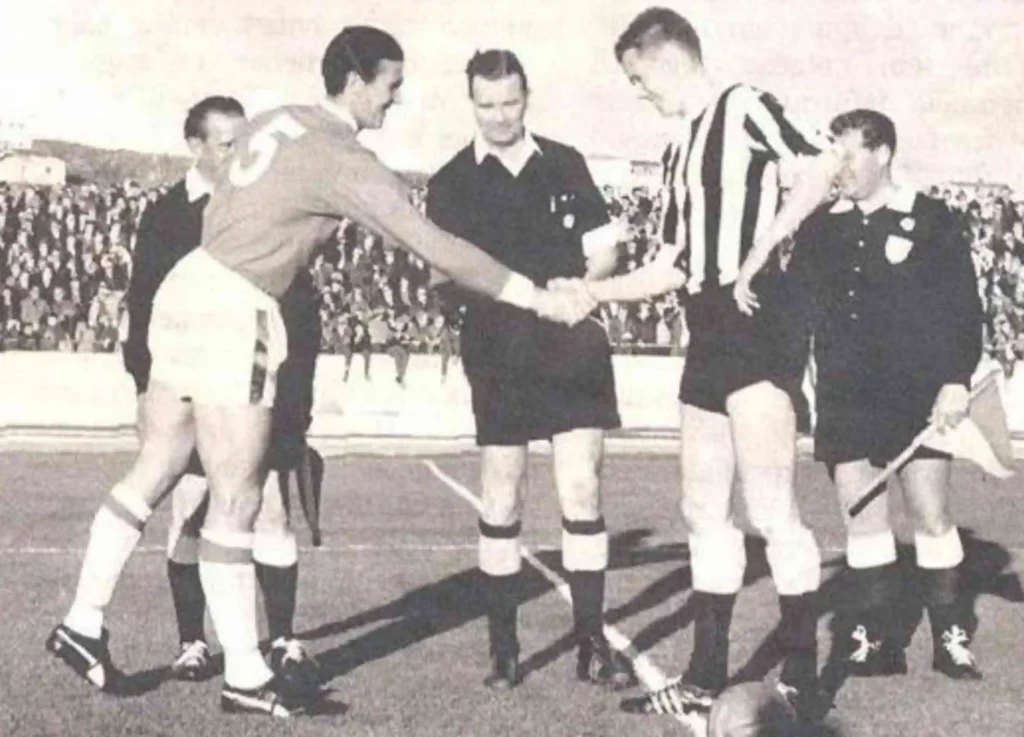 Europe Welcomes Liverpool For The First Time
17 August 1964
On the morning of 16 August 1964, Ron Yeats, Ian Callaghan, Roger Hunt, and co clambered aboard a coach outside Anfield – thus beginning a European odyssey which, more than 40 years on, is unrivaled in the British game.
The Reds' first port of call after finally subscribing to continental football was Iceland. If you thought getting to Istanbul was tortuous, it was nothing compared to what Bill Shankly's league champions had to endure to play their first European Cup match.
After boarding a plane at Speke Airport, the squad flew first to London, then Glasgow, before eventually taking off for Reykjavik.
No wonder they got off to a 'flying' start when kick-off finally arrived.
Three minutes in, reserve forward Gordon Wallace scored Liverpool's first goal in continental competition. Four more followed on the night, and another 6-1 demolition at Anfield secured an 11-1 aggregate win. A good start.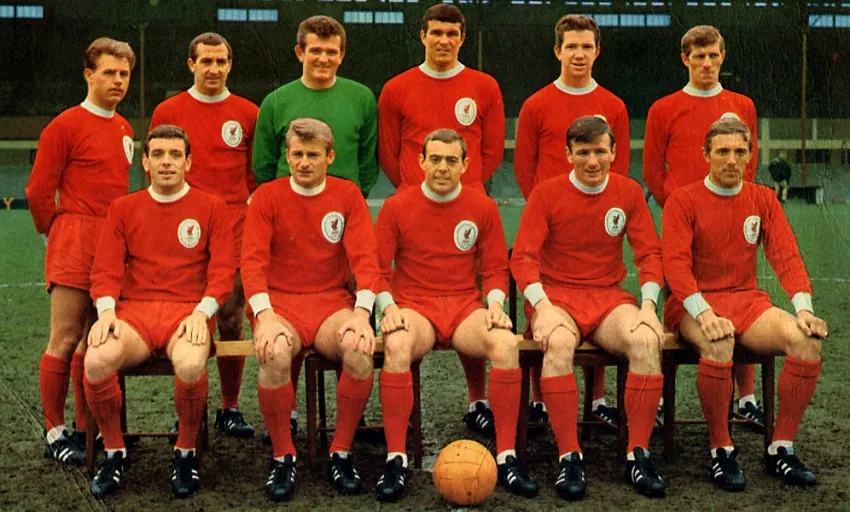 Reds Sport All-Red Kit For The First Time
25 November 1964
In November 1964, Bill Shankly had a brainwave: to send his team out in all red.
In doing away with white socks and trim, Shanks thought his team would be more intimidating. He was right.
In his autobiography, Ian St John wrote about the change: "Shankly thought the color scheme would carry psychological impact – red for danger, red for power.
"He came into the dressing room one day and threw a pair of red shorts to Ronnie Yeats. 'Get into those shorts and let's see how you look,' he said. 'Christ, Ronnie, you look awesome, terrifying. You look 7ft tall.'" St John went on to claim the red socks were his idea.
Anderlecht was beaten 3-0 in the European Cup in the kit's first outing, with Roger Hunt scoring as well as St John and Yeats.
The first FA Cup was won by Liverpool six months later at Wembley.
The trophies Leeds won over the next 25 years prove that Shanks' brilliant decision was among the most influential in the club's history. But we will never know if Leeds was intimidated by their opponents' attire on the day.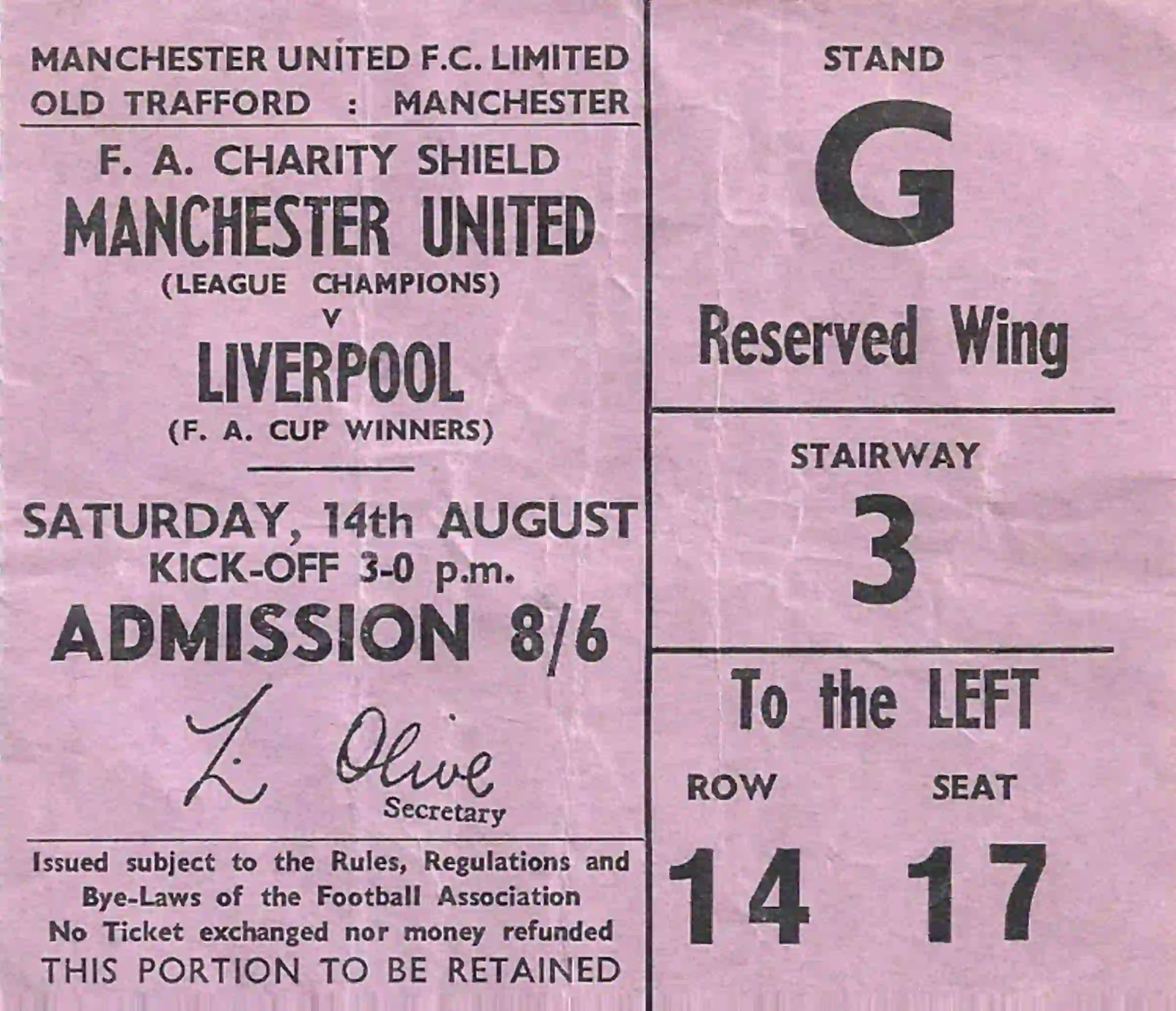 14 August 1965
Liverpool shared the Charity Shield for the second consecutive year following another 2-2 draw in English football's most important friendly.
Manchester United were the opponents, with the fixture playing out in front of 48,502 spectators at Old Trafford because Matt Busby's men had clinched the title three months earlier.
On the back of their first FA Cup triumph, Liverpool held their own in front of a hostile crowd, with skipper Ron Yeats and Willie Stevenson finding the back of the net.
It was the start of another memorable season for the red half of Merseyside, with a seventh League Championship trophy finding its way back to Anfield come May 1966 and a European Cup Winners' Cup final appearance to boot.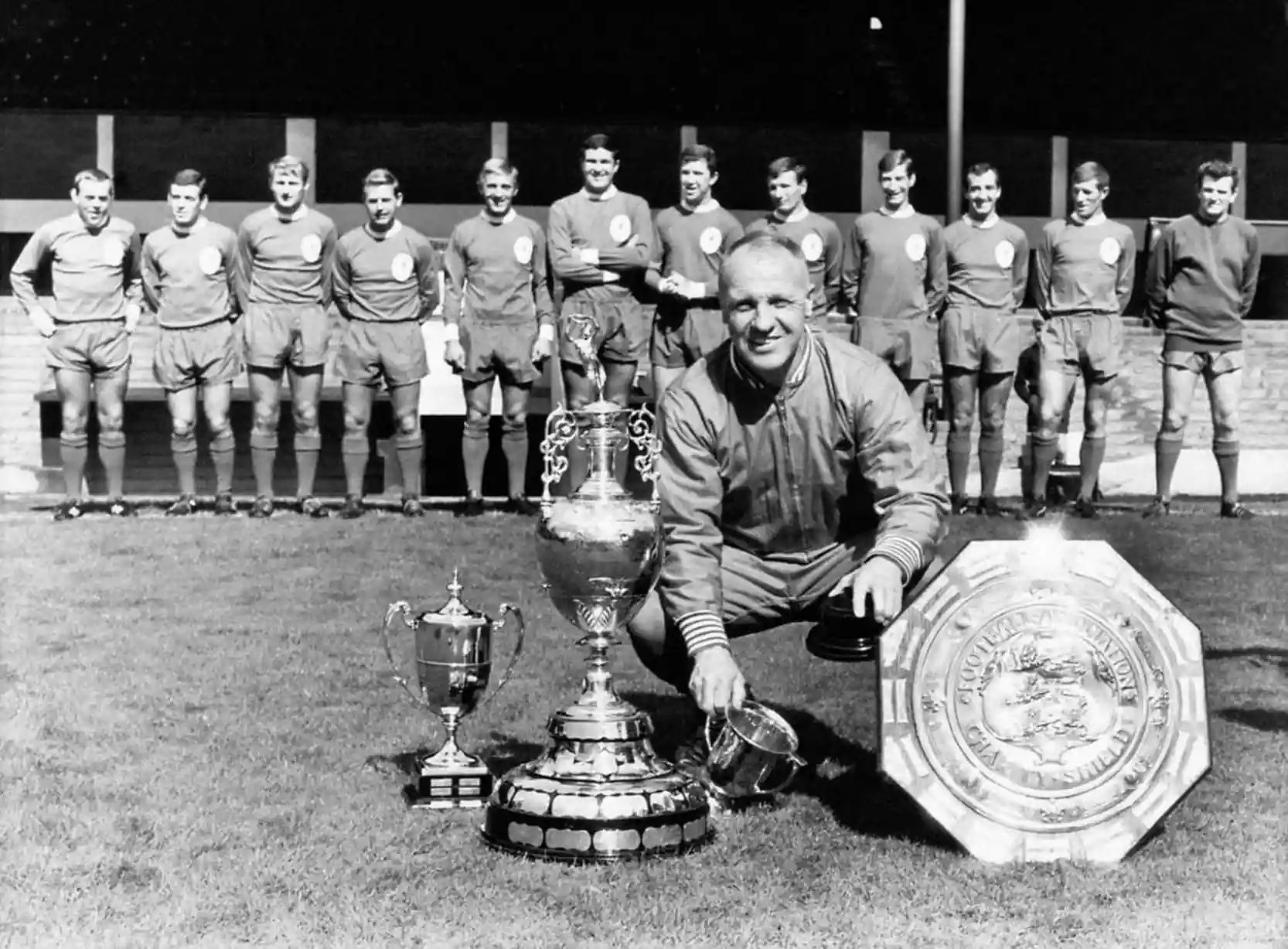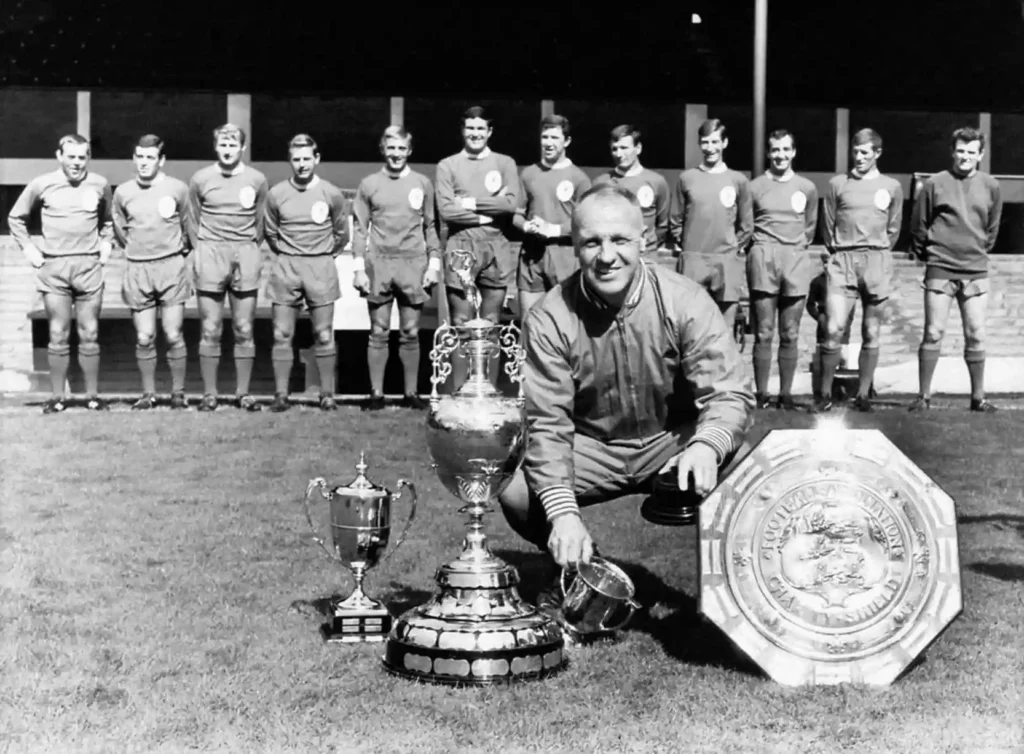 Title Reclaimed After Chelsea Win
30 April 1966
Having won the FA Cup for the first time in 1965, Bill Shankly knew he'd crafted a side capable of scaling the heights of English football.
So confident was he of mounting a serious title challenge that the only significant signing ahead of the 1965-66 campaign was reserve goalkeeper John Ogston, who went on to play just a single league game for the club.
Instead, Shanks put his trust in Cup heroes like Ian St John, Ron Yeats, Ian Callaghan, Roger Hunt, Peter Thompson, and Tommy Smith.
It all began with the Charity Shield, which had to be shared with north-west rivals Man Utd following a 2-2 draw at Old Trafford.
The Reds had Roger Hunt to thank for their early-season form, with the prolific marksman netting 10 in nine games, including an eight-minute hat-trick against West Ham. Of course, Hunt would end the campaign with a World Cup winner's medal to boot.
One of the highlights of the 1965-66 season came in front of 53,557 spectators at Anfield, who gleefully witnessed a 5-0 demolition of bitter rivals Everton.
The Reds could have been five up within 10 minutes, but it took Smith until just after the half-hour mark to open the scores when he headed home an in-swinging free-kick from Thompson.
The floodgates opened only after the break when quickfire lobs from Hunt and Willie Stevenson made it 3-0. Sir Roger made it four, prompting a round of 'We want five' from a jubilant Kop. St John duly obliged in the 89th minute, by which time Everton had all but given up.
At the back, a foursome of Gerry Byrne, Chris Lawler, Ron Yeats, and Tommy Smith, not to mention custodian Tommy Lawrence, were proving impregnable. A spring run of seven consecutive clean sheets is among the best sequences in the club's history.
As a sizeable lead over Leeds United began to open up at the top, it became clear that this would be a particular season for Bill Shankly and his loyal men. On top of their league exploits, Liverpool progressed past the likes of Celtic, Juventus, and Standard Liege to reach the European Cup Winners' Cup final.
Incredibly, just 15 players were used throughout this momentous campaign, with Byrne, Callaghan, Lawrence, Smith, and Yeats all ever-present.
By May, they were six points clear of their Yorkshire rivals, with a full house present at Anfield to witness a 2-1 victory over Chelsea, which sealed the League Championship.
Not that they expected anything less. Before kick-off, a proud Liverpudlian emerged from the terraces and planted a replica trophy on the center circle.
With a Hunt brace ultimately securing victory, the day ended with a round of 'Ee-aye-addio, we've won the League' from all sides of the ground.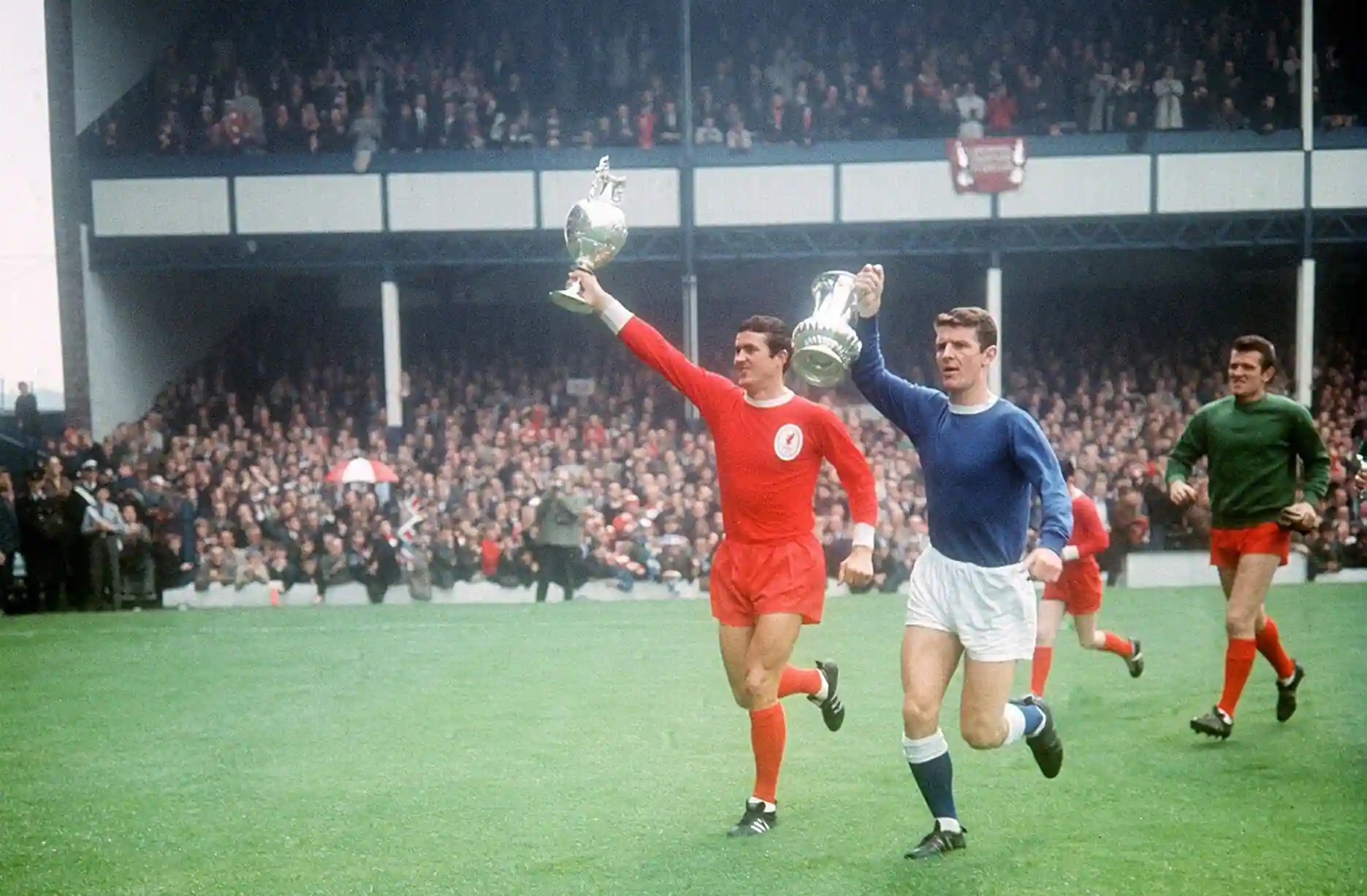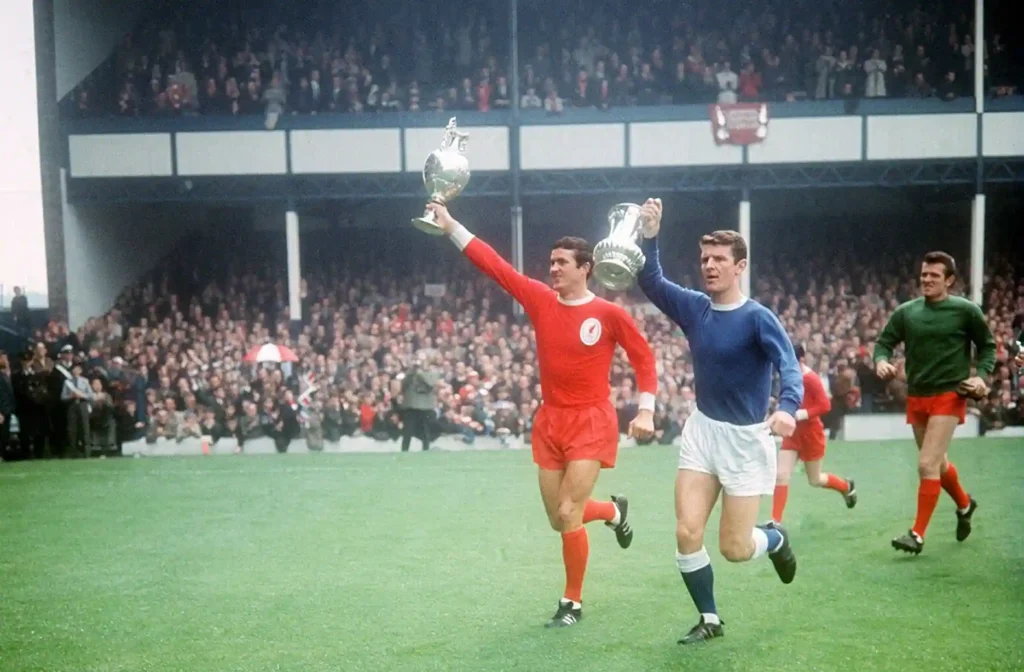 Shield Success For Liverpool Reds
13 August 1966
The curtain-raiser for the 1966-67 season was a special occasion for Merseyside.
It pitted Bill Shankly's First Division champions against Everton and Harry Catterick's FA Cup winners, a clash that saw the city of Liverpool unite in its boast that we had the best two football teams in the country.
All that remained to be seen was which side would head into the new campaign with the local bragging rights, and it came as no surprise that Roger Hunt was the man who decided it in favor of the Reds.
The England forward, fresh from his World Cup success with Sir Alf Ramsey's side, fired in an unstoppable 25-yard drive after just nine minutes to clinch a 1-0 win for Liverpool and secure the FA Charity Shield outright for the first time in the club's history.
While the victory ensured yet more silverware for Shankly's men, it is an occasion that is perhaps best remembered for the pre-match festivities inside Goodison Park.
The 63,329 supporters crammed inside the ground were treated to the sight of club captains Ron Yeats and Brian Labone parading both the Division One title and FA Cup, respectively, before England's World Cup-winning heroes Hunt and Ray Wilson emerged from the tunnel to surprise the fans with a lap of honor with the Jules Rimet trophy.