Luis Figo, over his 20-year playing career, established himself as not only one of the best Portuguese players to grace the pitch but as a footballer in general, though with his success came a whole heap of controversy.
Attesting to his talent, he is his nation's fourth all-time appearance holder, having made his international bow way back in 1991 against Luxembourg and will forever be loved and remembered as a footballing cult hero.
His playing career was more than colourful and won honours in Portugal, Spain and, eventually, Italy. Somewhat of a perennial winner.
Early Career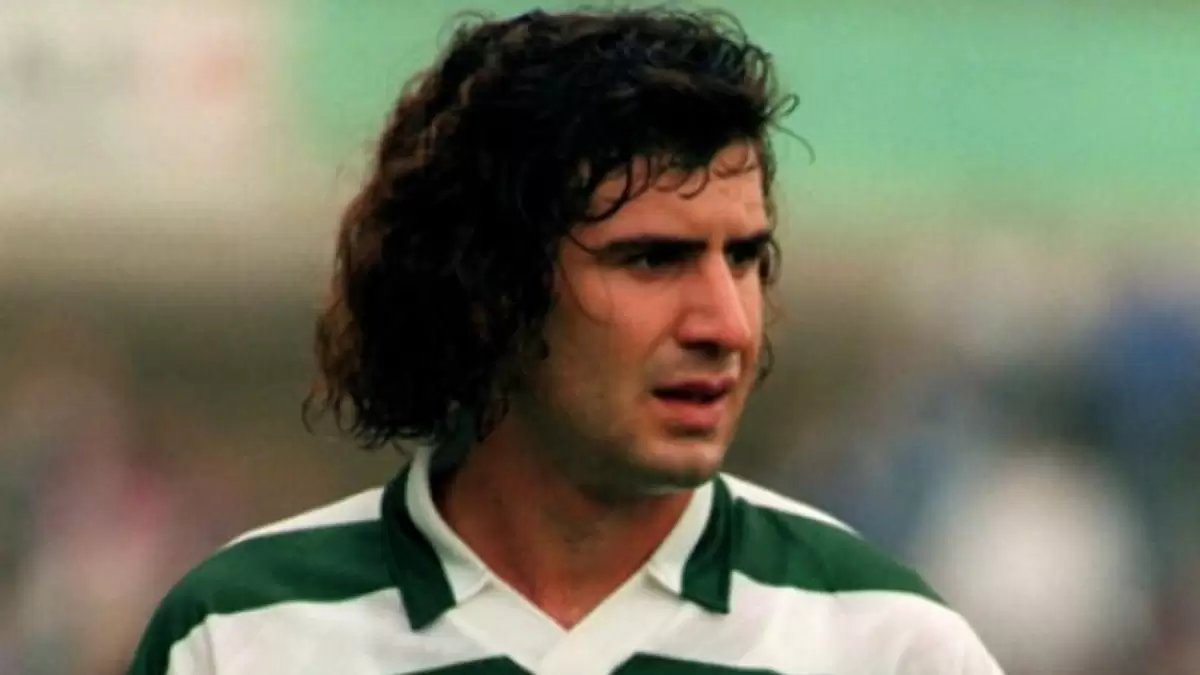 Growing up as an only child would have thrown troubles Figo's way, especially when it boiled down to playing sport and in this particular situation – football. He grew up in the working-class district of Cova da Piedade, Almada and began embracing his love of the game on the streets at U.F.C. Os Pasthilhas.
His undeniable talent didn't go unnoticed, however, as the gem of Portuguese football eventually became a product of the fabled Sporting Lisbon youth set-up.
The renowned Portuguese outfit picked him up at the tender age of 12, though he did allow time in his schedule to perfect his futsal skill set. But, it's fair to say that his fortunes on the footballing side of things pulled through.
After breaking through at Sporting in the number 7 shirt, Figo quickly made his way through some of Europe's elite clubs to generate one of the best-looking CV's in the history of football.
Style Of Play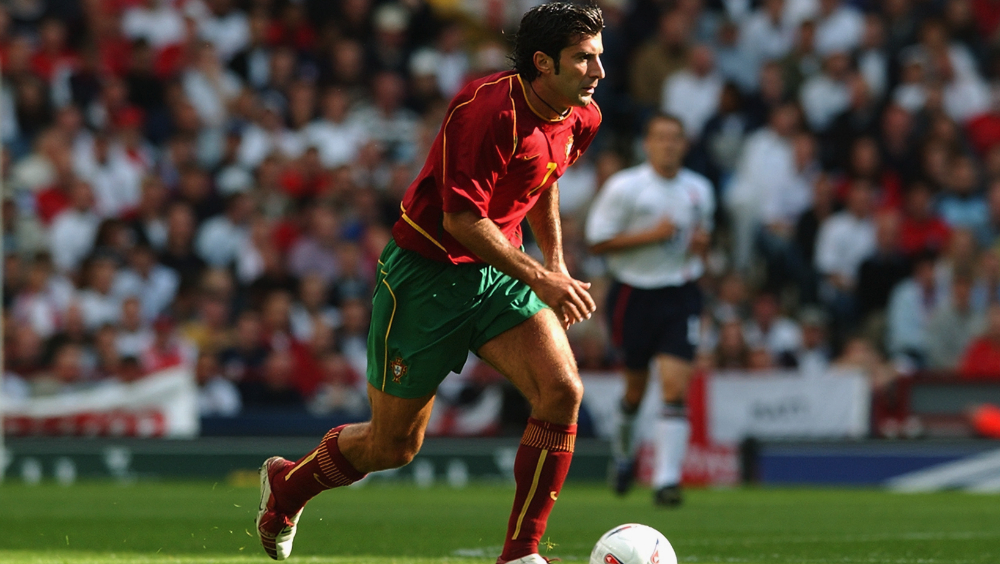 Figo was a serial assistor, racking up a more-than-respectable 190 across his 656-game career. Upon his retirement, he sat second in La Liga's all-time assist record with a grand total of 96; though that achievement has since been snatched from his grasp.
At the peak of his physical powers, Figo was quick and elegant, boasting close control, which made him a menace in one on one situations.
His array of skills (feints and stepovers) left defenders set to face him toiling away into the night in fear of having to go man-to-man against him.
Accustomed to challenging full-backs with his direct, skilful dribbling, the wide man had a fantastic turn of pace with the ball attached to his feet and would often leave opposing defenders in the dust.
Usually deployed as a winger in the earlier embers of a career, as his mobility decreased with age, a central role beckoned.
And having played more from a central hub during his time at Madrid, it was clear that Figo had versatility in his locker – often an overlooked aspect of his game. From the middle, he was able to orchestrate attacks in his side's build-up as he looked to build up goal scoring repertoire.
His supreme vision, intelligence and variance in passing made him the perfect playmaker.
Figo's Acrimonious Switch To Real Madrid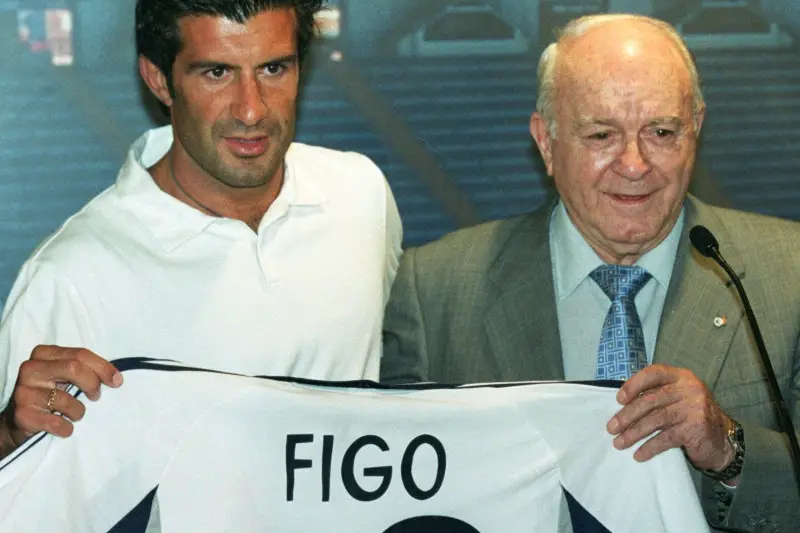 Switching from Barcelona to Real Madrid must sting for the Blaugrana faithful, right? You're right.
And they felt just that when Figo made a surprising move worth €62m to their rivals in the summer of 2000. The Spanish capital side met Figo's buyout clause in his Barca contract and, therefore, signed for a then world-record figure. But the trouble that was to succeed was unfathomable.
At one point before a deal was struck, he enjoyed high levels of admiration from the Barca fans and players alike after aiding the club to a flurry of honours, though a Champions League medal was lacking from his home cabinet.
As such, when Madrid came calling, he went. Upon his arrival, the clamour was twofold: he became the new focal point of the El Clasico derby but also marked the beginning of Florentino Perez's Galactico era.
The transfer squabble hit the peak of its powers when a pig's head was launched in Figo's direction during a contest with Barcelona at the Nou Camp.
Words like "Traitor", "Judas", "Scum" and "Mercenary" were displayed on his return to his former club and he was subject to merciless taunts throughout. A loud echoing of jeers began as Figo emerged out of the tunnel as 98,000 Barcelona fans made their feelings very well known.
It was a sight to behold and nothing like we will ever see again.
We doubt he was unnerved by the flurry of abuse – whatever its form – as he achieved his Champions League dreams while adding another two Spanish titles to his CV.
2000: The Year Of His Ballon d'Or Success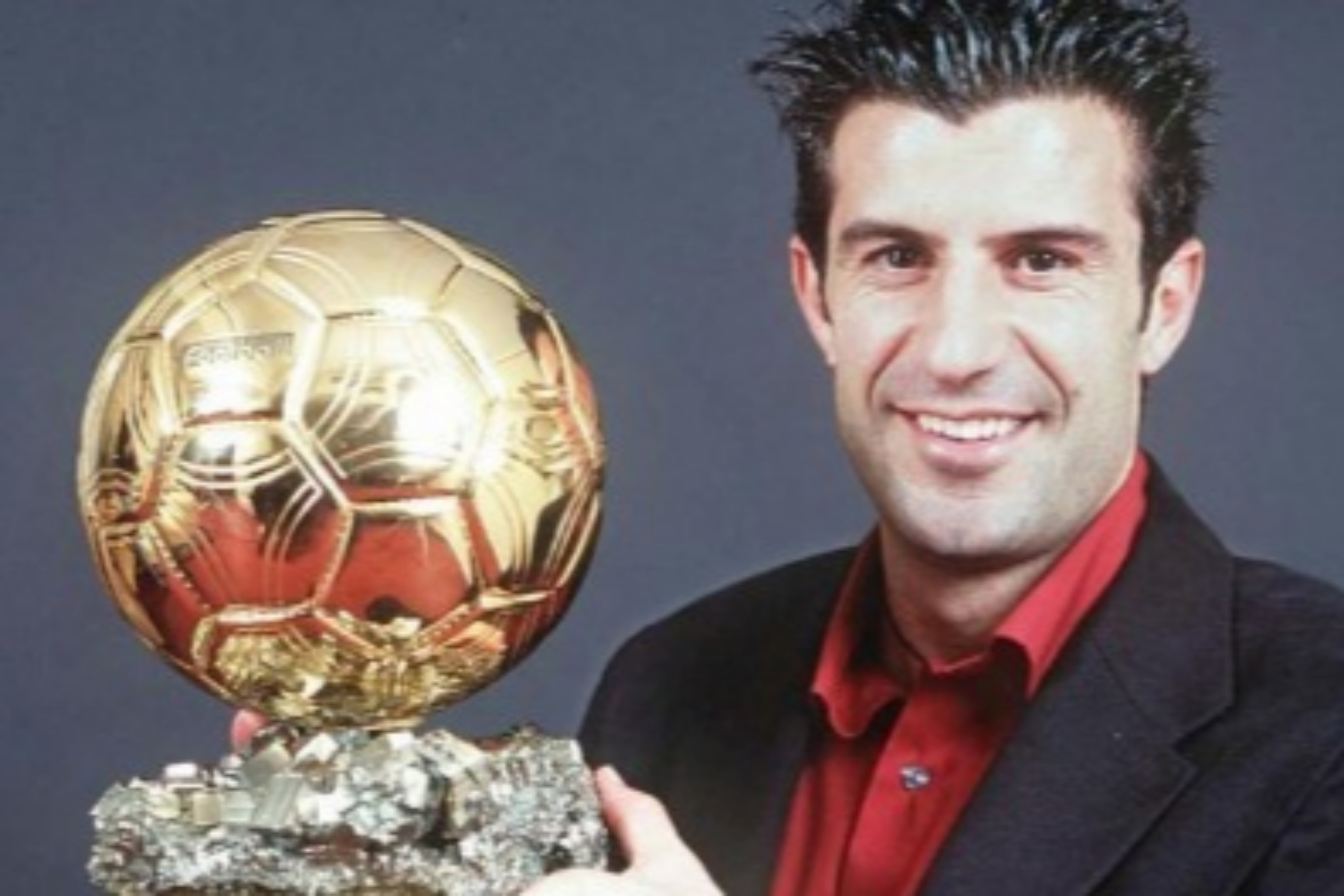 Following in the footsteps of Portugal's cult hero Eusebio, Figo became his nation's second winner of the coveted individual trophy. He also became the third play residing in the Madrid ranks to win, too, which earned him 'legend' status at the club.
The Portuguese superstar quickly became the best player in the world during his Camp Nou stint, though it was in Madrid where he picked up his first and only Ballon d'Or just a few months after his contentious transfer to a club where he won two La Liga titles, the Champions League, while his former club went four extensive years without tasting silverware.
Talk about rubbing salt in the wounds.
His Inter Milan Swansong
Once his Madrid contract reached its end, he managed to join Italian giants Inter Milan in 2005 as his former employers took a whopping hit as he left on a free transfer.
A move to the Serie A was always in his eyesight seeing as both Juventus and Parma were battling it out for his well-rounded services, though a dispute between the two suitors scuppered his chances of a switch to the beautiful country of Italy.
Jose Mourinho – Figo's fellow countryman – joined him in Milan and this reportedly pleased the player as the Portugal-inspired ranks at the club made him feel like he was at home.
The seasoned side man announced his retirement from his playing career on May 16, 2009 – but this did not dampen the mood at the club seeing as they won the 2008/09 domestic title on the same day.
Figo was handed the captain's armband as thanks for his loyal four-season service at the Nerazzurri on his send-off fixture and received a standing ovation when he made way for Davide Santon.
"I am leaving football, not Inter," Figo claimed after his final game against Atalanta.
"I hope to be able to help this club to become even greater also after my retirement. I will certainly work for Inter in the future on the club board. I never imagined that I was going to remain here for such a long time. What I will never forget is the love that I received since my first day here from my teammates and president Massimo Moratti. I will never forget it; Inter has given me the chance to start a winning cycle with some extraordinary people."
Upon his unfortunate exit, he continued his close work with Inter Milan, serving as an ambassador for the club across Europe, whereas he also is a board member of the Inter Campus charity project run by the club.
He was also present on the other side of the white line when Inter reigned victorious in the 2009/10 Champions League final.
Becoming Portugal's Star Man and England's Nemesis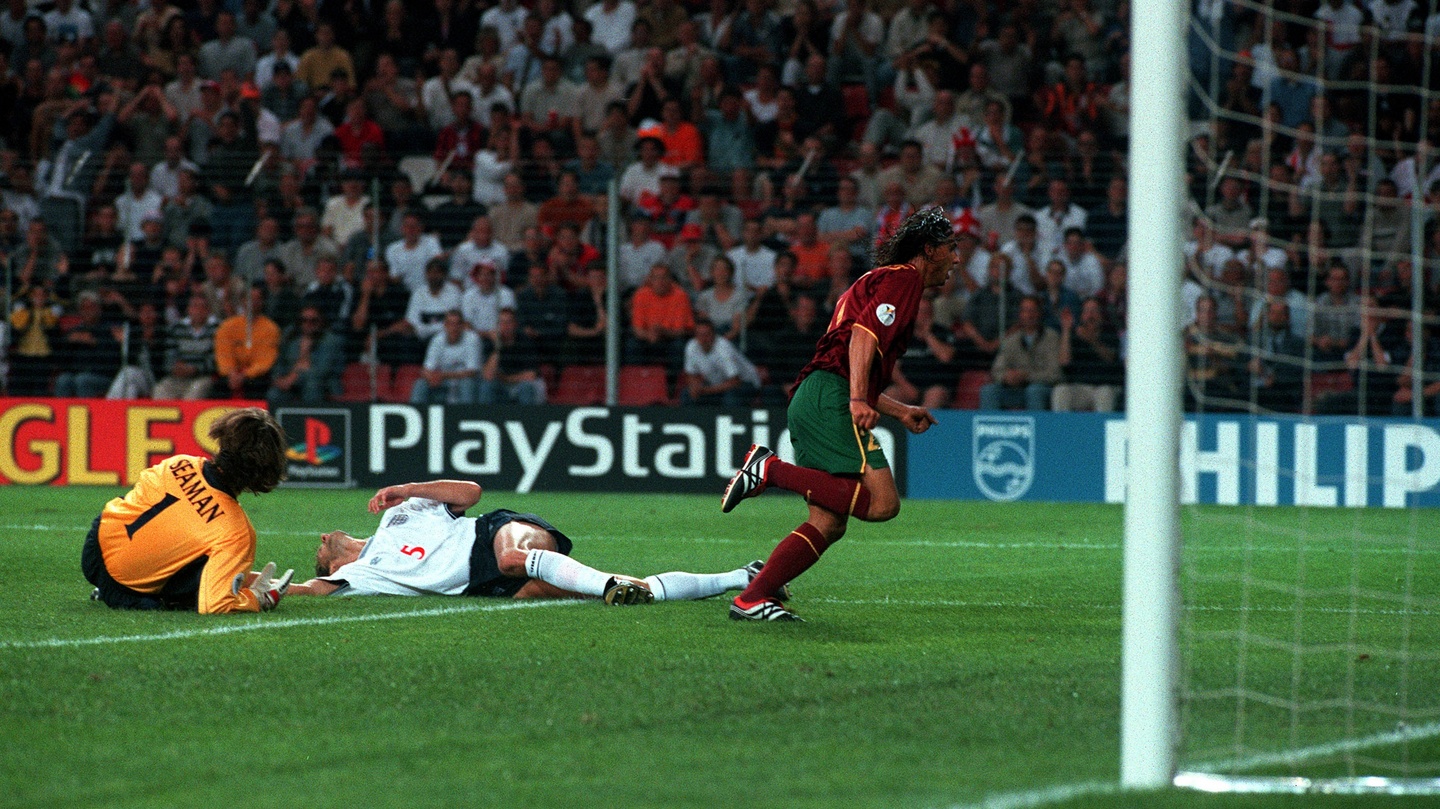 Not only domestically, but Figo became a household name thanks to his exploits on the international stage.
Despite not winning anything of note during his international career, there's no doubt his name is held in the same vein as your Eusebio's and your Rui Costa's.
During his stint as a Portugal international, he quickly became England's biggest foe as the Three Lions always knew they were in for a long day when they squared up.
Take his 25-yarder in Euro 2000 as the prime example as it spurred them on to complete a three-goal comeback from 2-0 down. Deflected or not – Figo regards it as the finest goal of his impressive career.
It was an absolute bullet and it left David Seamen rooted to the spot, but it wasn't the only act of ruthlessness that left a sour taste in the mouths of the England faithful.
Six years later at the 2006 World Cup, Figo captained Portugal to their best World Cup finish since 1996 and shoved England to the side in that process.
It may have taken penalties but Figo had done it once again, establishing himself as one of his nation's finest operators of all time, while becoming a repeating foe for those of an England persuasion.
FIFA Presidency Campaign
As part of the trials and tribulations of sport, there comes a time when a player has to call his time and hang up his boots.
What's next on the agenda is usually a managerial job or working in the media, either as a pundit or broadcast. But, that seemed too mainstream for the Portugal man as he set his sights on running against current postholder Sepp Blatter as FIFA President.
Endorsing him was Jose Mourinho and David Beckham, with his manifesto including a World Cup expansion to 48 teams and additional support and investment in grassroots football and national federations.
His campaign was short-lived, however, as he was understood to be a clear outsider compared to Blatter himself and the other two running candidates – Michael van Praag and Prince Ali bin Hussein – and withdrew as a result. It was stated that he also did not want to be given 'absolute power'.