Check out Part Two!
Rome, a capital basted in history, synonymous with victory. It would be here that the small town of Middlesbrough would attempt to build on their brave 1-0 win at home.  Sadly, the evening before would  mar the tie, through a senseless attack by a gang of Roma ultras at "The Drunken Ship" bar. Three fans were stabbed but would thankfully survive their injuries.
Boro would hope to take action on the pitch, with McClaren naming an unchanged side from the home leg, Roma would make 4 changes. Bovo and Chivu coming in for Pannucci (not the Italian dessert) and Cufre in defence, a young Roma icon Daniele De Rossi coming in for Kharja and Alvarez coming in for Tomassi. 
A Cagey Opening
It was a clear and cool evening in the Stadio Olimpico, with 33,000 in attendance. Roma were still expected to comfortably brush Boro aside, with many considering a swift turnaround a certainty. As the sides kicked-off, it was clear Roma were no longer taking Boro lightly, charging out the gates and looking to quickly nullify the away side's slender lead.
Half chances were created with Boro very much under the cosh from the get go. Despite Roma's pressure, the English side remained resilient, limiting Roma's sights on goal to pot shots and spurned free-kicks. Despite the so far brave defensive performance, with Boro showing the homeland of the Catenaccio a thing or two, Middlesbrough fans across the country could sense that something was going to give soon.  
In the 24th minute, Stewart Downing would uncharacteristically miss control the ball, giving fullback Bovo the chance to pounce. Without hesitation, Bovo released a fierce drive from 22 yards, fizzing past Boro's defenders; Schwarzer could do nothing but watch as the ball sailed past his helpless dive and rattled the crossbar, bouncing out for a goal kick. A warning shot from the Italian giants, and a lucky escape for the Boro.
Following this, the game would transform into a stalemate of fouls and stoppage for the next 5 minutes. Giving Middlesbrough a chance to re-focus. On the 32nd minute, following a long throw and an exchange of passes on the wing, Downing found himself on the wing, side by side with Kuffour. 
Goals Change Games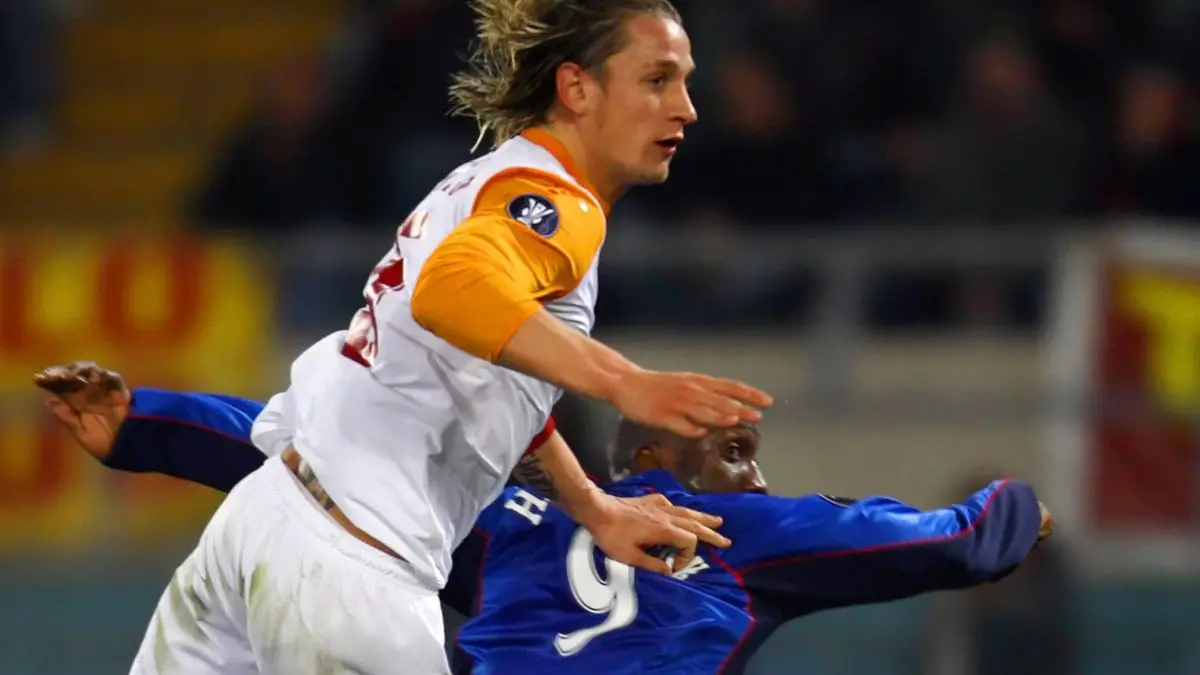 Seeing a gap, Downing didn't need any time to think as he measured a sweet, curling ball into the box, with pinpoint accuracy. The only man waiting in the middle was the talismanic Hasselbaink, so instrumental in their success both last season and this season so far. Downing's cross was so good, you couldn't have picked the ball up and placed it in a better spot for the Flying Dutchmen, who leapt and met the swerving ball, at the near side of the box, steering looping into the far corner past a flailing Curci.
Roma were staring once again at that familiar score line. It was 1-0 on the night, 2-0 on aggregate, and Boro had scored a crucial away goal. Roma were up against it, and would need to score 3 without reply in order to progress. Tongue in cheek chants of "We're just a small town in Europe", "Who are you, who are you?", "Are you Sunderland in disguise?" and "Easy, easy" would ring from the section of Teessiders that had made the trip to Rome.
As much as the chants were in jest, they caused a stirring amongst the Roma tanks. The beast had been poked many times and until now had shown little sign of retaliation. But no more could Roma be tested without reply. The beast would finally awaken, ready to destroy any intruders to their lair. With the ball on the deck after an exchange of head tennis and second balls, Roma began to play.
The Beast Strikes Back
Starting with Mexes, some neat passing play carved through the Boro midfield, breaking the lines with 4 swift incisive passes. De Rossi drove infield after receiving the ball from Mexes, finding Chivu on the right hand side of the Boro penalty box. As Chivu looked set to take the ball, Taddei made a darting run between the defence, with Chivu instinctively playing a slick first time ball to find him near just inside the box.
It was a simple cutback to Mancini, who had cleverly stepped off his man finding space. As he drew back his foot to hit it, first time, there was only one result. Mancini's shot drilled past Schwarzer from 11 yards, the ball  rising into the net. Parity on the night restored.
It was a slick penetrative move with only 4 touches between the Chivu, Taddei and Mancini. A gorgeous move that any team would be proud of, Roma had shown that ability all good teams have to break down a defence out of nowhere despite limited prior chances.
Desperate Times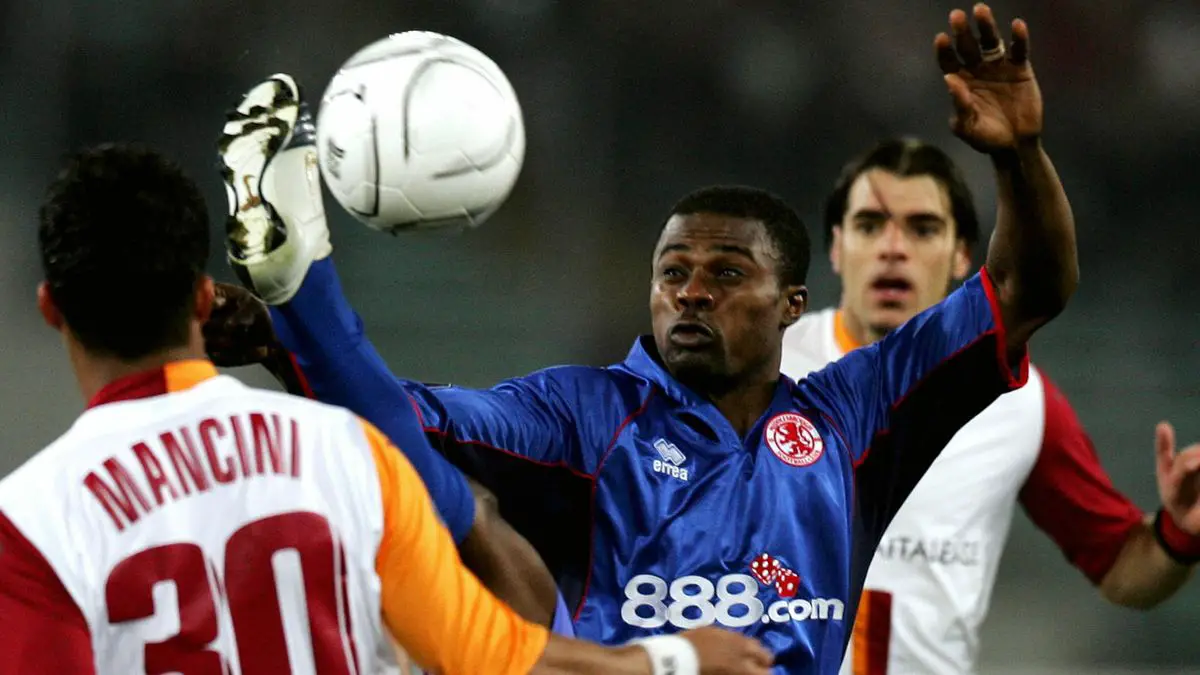 Middlesbrough would have to stay focussed, and barely a few minutes later with just a minute of stoppage time left, Yakubu almost made it 2-1, an aerial duel with the keeper left both Yakubu and Curci on the floor, leaving a Roma defender having to clear just a few yards away from goal.
Half time would come, both sides well and truly up for the game. Roma needed 2 now, Boro were braced for a tough second half, they'd played well and been a threat going forward, but Roma had had the best of the match so far. All that was certain, was Roma would come out swinging.
A barrage of chances would start the second half off, a deflected Mancini shot would mercifully end up straight at Schwarzer. De Rossi would find himself free in the box, with time to control and shoot from just 8 yards out, only the big Aussie in front of him. His shot would be lacking in power, Schwarzer sprawling to his right to tip it wide. It was a brilliant save, but in truth a poor finish. It really looked like it could be Boro's day.
Rash Decisions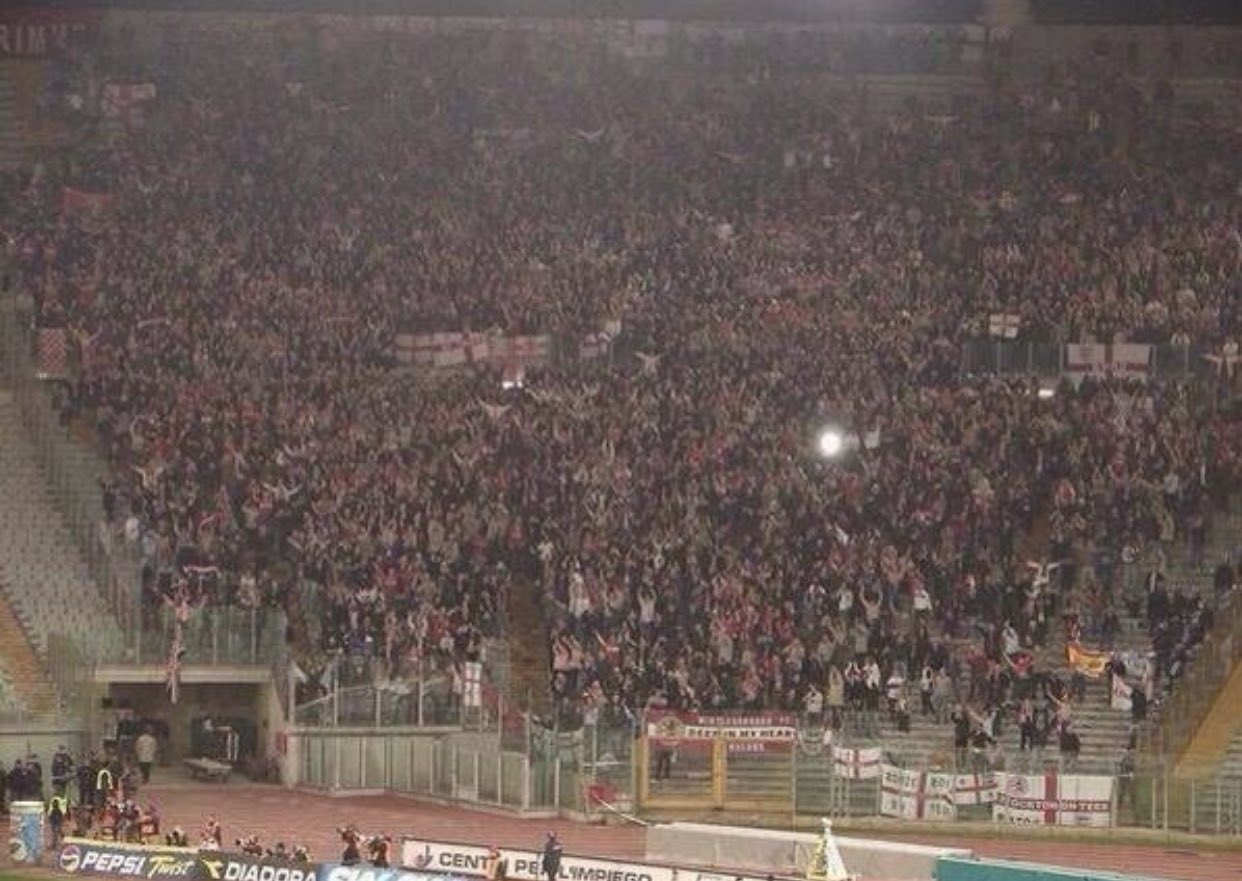 With the game looking dicey, Yakubu was taken off at the 60 minute mark, Ray Parlour coming on, as Boro prepared to dig in deep. It would ironically be the very sub brought on to see out the game, Parkour who would give Roma a way back into the game. A late challenge on 17 year old Okaka by Parlour would leave the ref no choice but to point to the spot. 
A penalty, and with 25 minutes to go, there was still so much time for Roma  3rd, to complete a legendary comeback. Mancini stepped up, sending Schwarzer the wrong way, and slotting to the keeper's left. 2-2. Nerves were now in full flow, with the prospect of a famous win slipping away from them.
In another universe, it may well have gone that way, but, with the 3,500 away fans in glorious voice, passionately cheering on their club, the team would gain the confidence and strength to stay firm.
Resolute defending followed, Boro once again nullifying Roma, giving the Italians a taste of their own medicine. Freekicks in good positions cleared, crosses defended and long balls claimed, the next 15 minutes would play out exactly as Middlesbrough would have wanted.
A Moment of Terror
There were still twists to be had however. With 81 minutes gone, Roma increasingly desperate and resorting to pumped balls into the box, a high looping cross on the half-volley was sent flying into the air. Headed down, despite two Boro defenders challenging for the ball, it would fall to the ground 10 yards out from goal. With Two Roma players trying to get the ball out from their feet, an on rushing Christian Chivu would steam in, drawing his foot back to unleash a surely unstoppable shot on goal. 
Middlesbrough fans across the country felt their heart briefly stop. Every fan in the stadium collectively took a sharp inhale, every player in the box stopped and turned towards the ball, staring helplessly. Every player except Chivu… And Queudrue, McClaren's half time substitute. 
Reading the game brilliantly, spotting the fullback steaming in, Queudreu would react like a gazelle hearing a twig snap in the underbrush, hurling himself to the ground in front of Chivu, blocking what looked to be a certain goal. It was a rash block, messy but entirely legal, as the ball cannoned off the Frenchman's outstretched legs, Chivu following through and tumbling over the Boro left-back.
He played the ball. No penalty. That felt like the moment, arguably the biggest chance of the game so far, and like any famous Boro win, a piece of heroic defending or goalkeeping would prove to be the crucial moment. Boro would once again keep them out, and with chances limited against this resolute North-East side, there wouldn't prove to be much more to trouble Boro hearts and minds.
Away Goals Rule!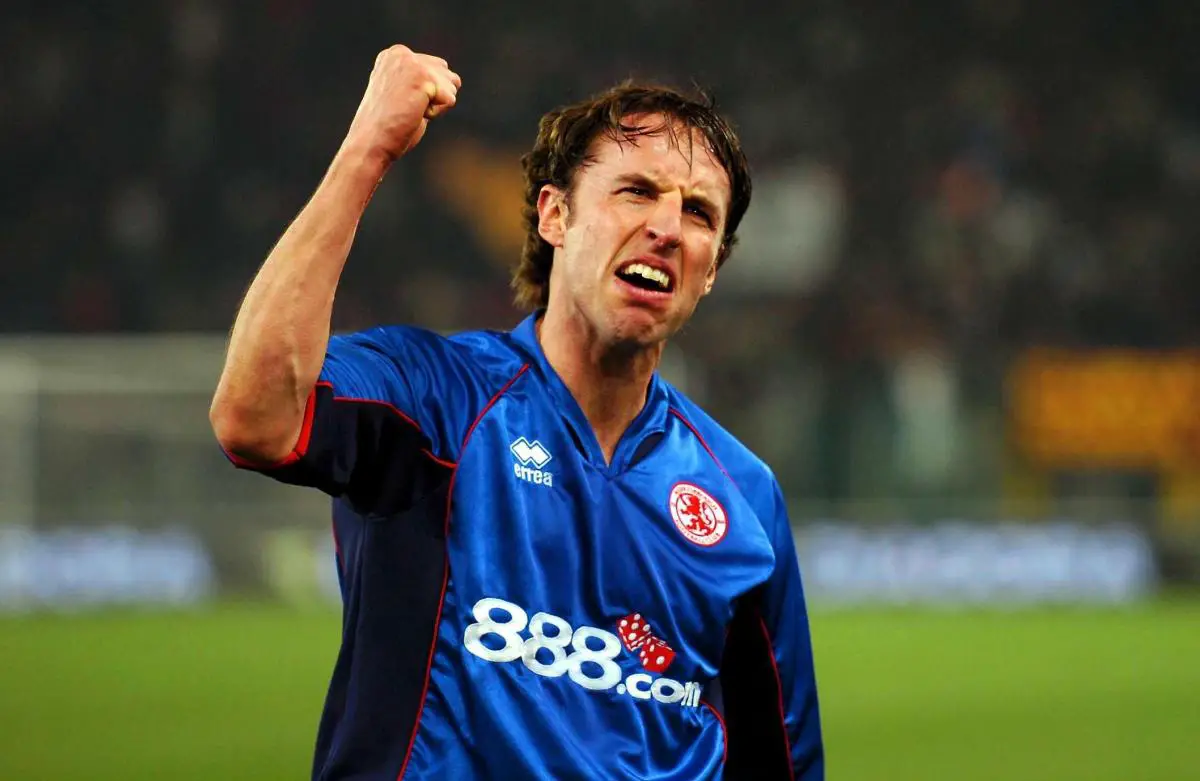 Deep into injury time, with tempers flaring, and Roma perhaps feeling aggrieved at the lack of a penalty from the earlier Queudrue, block Mexes would receive a red card, following a second yellow due to pushing Stewart Downing. It was a tad harsh, but not a minute later, the incident would be completely forgotten, as referee Orvebo blew the whistle on the biggest night in Middlesbrough's history.
They were going to the Quarter final. They would  face a Basel side that was certainly beatable. There was pandemonium in the away end as the away fans roared like there was no tomorrow, Southgate emphatically punching the air, Downing arms outstretched to the side drinking in a once in a lifetime atmosphere. As a young boy, his dad would cycle him to Pallister Park so he could play football, and here he was now instrumental in Teesside's biggest triumph. They had gotten through on away goals, beating the Italians so famed for grinding out results at their own game.
Revel in the first of two of comebacks that are among Football history's greatest in part 4: Lighting Strikes at The Riverside!
Written by Oscar Bowerman