Before Zidane, there's Miguel Muñoz, the man who gave his heart for Real Madrid and led them to arguably their greatest decades. In spite of Real Madrid being the biggest and best football club in the world, the greatest manager in the history of the club is little known outside of Madrid.
We will briefly talk about his magic as a player for the Los Blancos, and then we'll move up to his dominance as their coach!
Early Childhood And Career
Miguel Muñoz was born in the Salamanca neighborhood of Madrid on January 19, 1922. His father worked as a tailor, and Miguel spent much of his boyhood as his apprentice. The best part of his day was when he managed to sneak away to play football.
Originally, Muñoz played for a variety of junior teams throughout the city of Madrid, but Real scouts did not notice him. As a professional footballer, he spent his first few years with Logroñés before joining Racing Santander in 1944. Celta Vigo gave the young Muñoz a top-flight opportunity after two more solid seasons with Racing Santander.
Muñoz made his breakthrough with Celta Vigo, helping the club to reach the Copa del Generalísimo final in 1947. [1]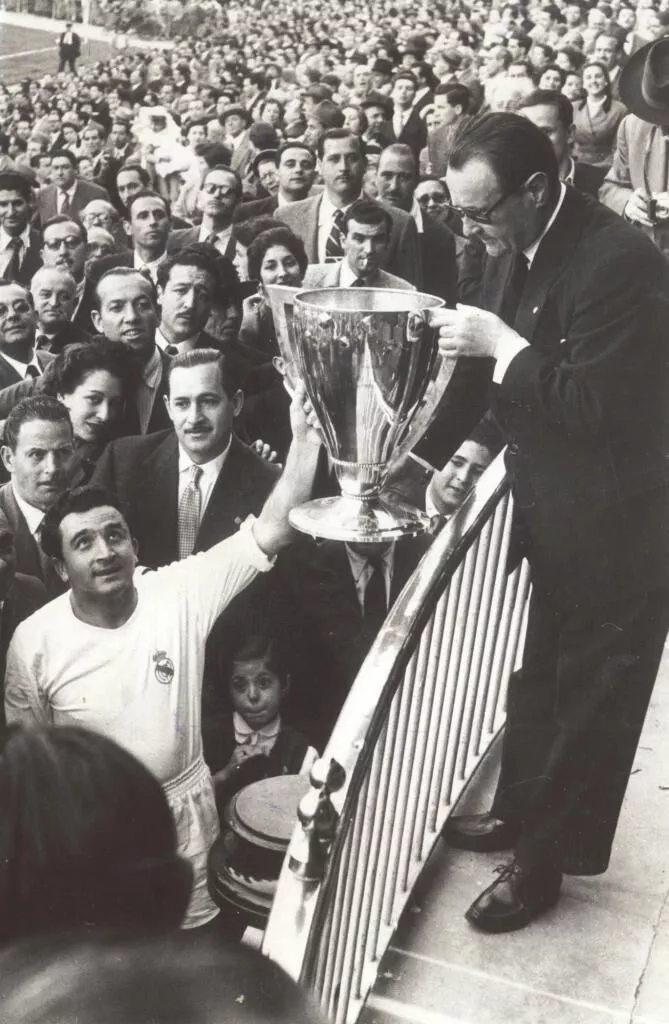 Miguel Muñoz Joining Real Madrid
Together with the great Pahiño, they managed to help Los Celestes fight for the league title and finish 4th in La Liga and play in the Copa del Generalísimo final, where Miguel scored in a 1-4 defeat against Sevilla. That opened the possibility for them to be noticed by soon to be the best club in history.
Both players joined the Whites in the 1948-49 season, setting the beginning of the Original Galácticos era joining the likes of Alfredo Di Stefano, Ferenc Puskas and Paco Gento.
He became the first Real Madrid captain to win the European Cup at the Parc des Princes stadium in Paris on 13 June 1956. [5] For Madrid fans, it was the beginning of an illustrious era.
Playing alongside legendary players like Alfredo Di Stéfano, Marquitos, and Rial, Miguel managed to win 4 La Liga domestic league titles, 3 European Cups, and 2 Copa Latina ones with his hometown club.
Miguel's most iconic moment for the club during his 10 years as a player was scoring their first-ever European goal in the dying moments of their match against Servette in 1955.
Moving Into Coaching
At the end of season 1957/1958, at 36 years old, he retired as their captain, after winning 3 European Cups back to back. He kept his good ties with Real Madrid and first coached Plus Ultra (their second team, known today as Real Madrid Castilla) before beginning his 14 years old spell with the first team. Could he repeat his success?
In February 1959, Muñoz assumed temporary control of the first team after Luis Carniglia fell ill. Then in April 1960, the Santiago Bernabéu board asked Miguel once more to over temporary charge as Fleitas Solich had been sacked.
Barcelona was on route for a second consecutive European victory and they were favorites to break Real's European dominance of 4 successive European Cups. The teams met in the semi-final, with Madrid winning 6-2 on aggregate to advance to the historic final at Hampden. [2]
Real won 7-3 over Frankfurt with four goals from Ferenc Puskas and a hat-trick from Alfredo Di Stefano, showing the real attacking power of the Muñoz side in 1960.
Miguel Muñoz became the first coach to win the European Cup as a player and a manager by collecting Madrid's fifth European Cup. A record that was later repeated by greats such as Johan Cruyff, Carlo Ancelotti, Zinedine Zidane, Frank Rijkaard, and Pep Guardiola.
During the golden period of 1955-60, Madrid had switched between 7 coaches, but after the final, Muñoz was entrusted with the first-team duty for good, and he more than lived up to the expectation. Los Blancos have won La Liga five times in a row, making them the only team in football history to do so (a record that is yet to be broke).
For his 14 consecutive seasons in charge of the club, he won 2 European Cups, 1 Intercontinental Cups, 9 La Liga championship titles, and 2 Copa de Españas.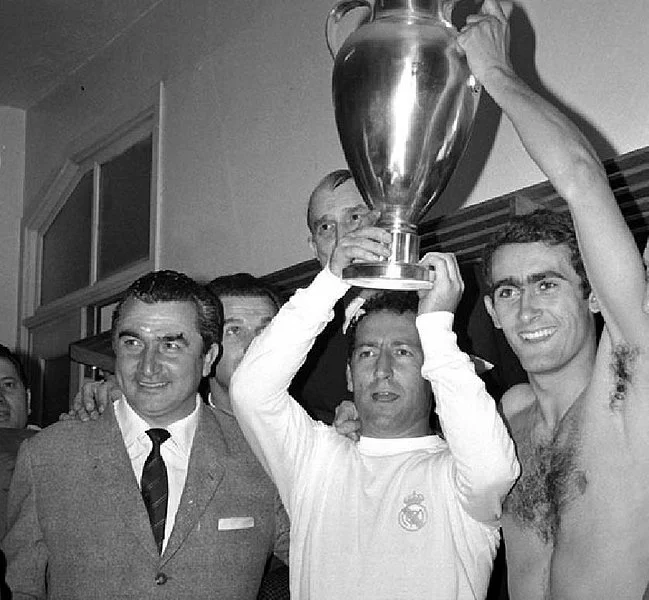 Real Madrid Watershed Moment In the 60s
After conquering Europe in the '50s, Madrid's collapse was becoming apparent throughout Europe, despite its lack of visibility at home. Barcelona avenged their previous year's defeat by overcoming Madrid to reach their first-ever European final in 1961.
Real returned to the final in 1962 but were defeated 5-2 by Eusébio's Benfica. The following season, they were particularly humiliated, losing in the preliminary round against Anderlecht.
The year 1964 was a watershed moment in the club's history and Miguel Muñoz's managerial career. Madrid had once again advanced to the European Cup final, where they would meet Inter Milan. [3]
Muñoz was infatuated with Inter full-back Giacinto Facchetti. He set up his team to oppose the Italian's barrage of offensive runs, despite significant opposition from the club.
Real lost 3-1 because Facchetti did not break during the game. Since Miguel took over, tensions had been building among him and the crucial players of the team. Despite initially pushing the club to recruit Muñoz, Alfredo Di Stéfano became his harshest critic following the 1964 final defeat.
During the European Cup final, there was an infamous moment midway through the game when Muñoz instructed Alfredo Di Stefano to "f**k off" according to the player. Di Stefano recalled that at that moment, he found out the real personality of Muñoz. [4]
The enormous emotional burden and the formidable challenges of this European competition had made Miguel want to leave the club but his resignation was rejected by the Santiago Bernabéu board. This increased the tension between the manager and the directors, and he went to do whatever he wanted.
He benched Di Stefano against Atletico Madrid the following game without explaining why and recommended that he should retire.  Alfredo Di Stefano departed for Espanyol at the end of the season.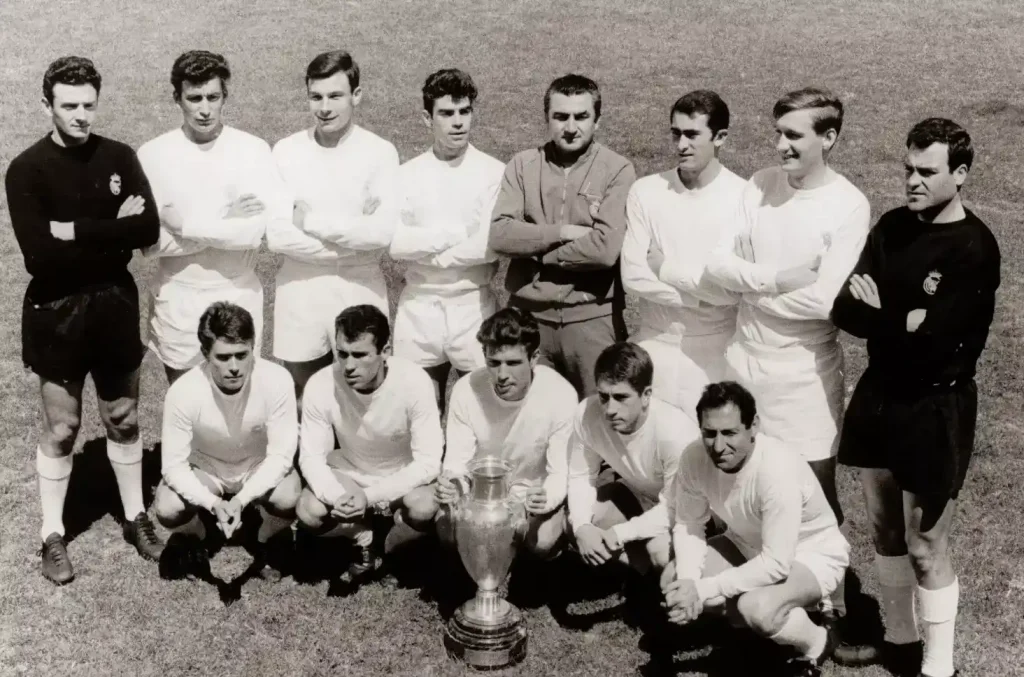 Rebuilding Real Madrid
Miguel Muñoz was given the monumental task of rebuilding the team with new, younger players that would fill out the shoes of their legendary predecessors. That, combined with the Spanish Football Federation's two-year restriction on transfers of foreign players, made recruitment more challenging than ever.
Stuck into the position, Muñoz decided to do the job and slowly build a team of young promising players. Amanico Amaro and Ignacio Zoco joined potential academy products Manuel Valáquez, Pedro de Felipe, and Ramón Grosso, who had arrived from Deportivo and Osasuna two years previously. Muoz added Pirri from Granada in 1964. [4]
Real destroyed two of the past's ghosts in 1966's European campaign, Anderlecht in the quarterfinals and Inter in the semis. In the final, they faced eastern Europeans Partizan Belgrade, who took an early lead before Madrid fought back, with Amanico, the semi-final hero, equalizing before Fernando Serena scored the winner six minutes later.
The 1966 European Cup win was Muñoz's crowning achievement and Madrid's most stunning cup victory to date. Real was thought to be out of the race against their European opponents. Helenio Herrera, Inter boss, and long-time European rivals had booked Inter's hotel for the final before the semi-final versus Real.
"Madrid was resurrected!" he asserted. This new team went on to win three consecutive La Liga titles in the 1966, 1967, and 1968 seasons.
How Many Trophies Did Miguel Muñoz Win
As a player, Miguel won 9 trophies including 3 consecutive European Cups and four La Liga league titles.  As Real's most decorated coach, he won 14 trophies with a looping 352 wins in 595 games (59.16% win ratio).
That's the sum of the three coaches after him (José Mourinho, Vicente del Bosque & Leo Beenhakker) who have 362 wins combined during their reigns over Real. This included nine La Liga league titles, two European Cups and the Intercontinental Cup.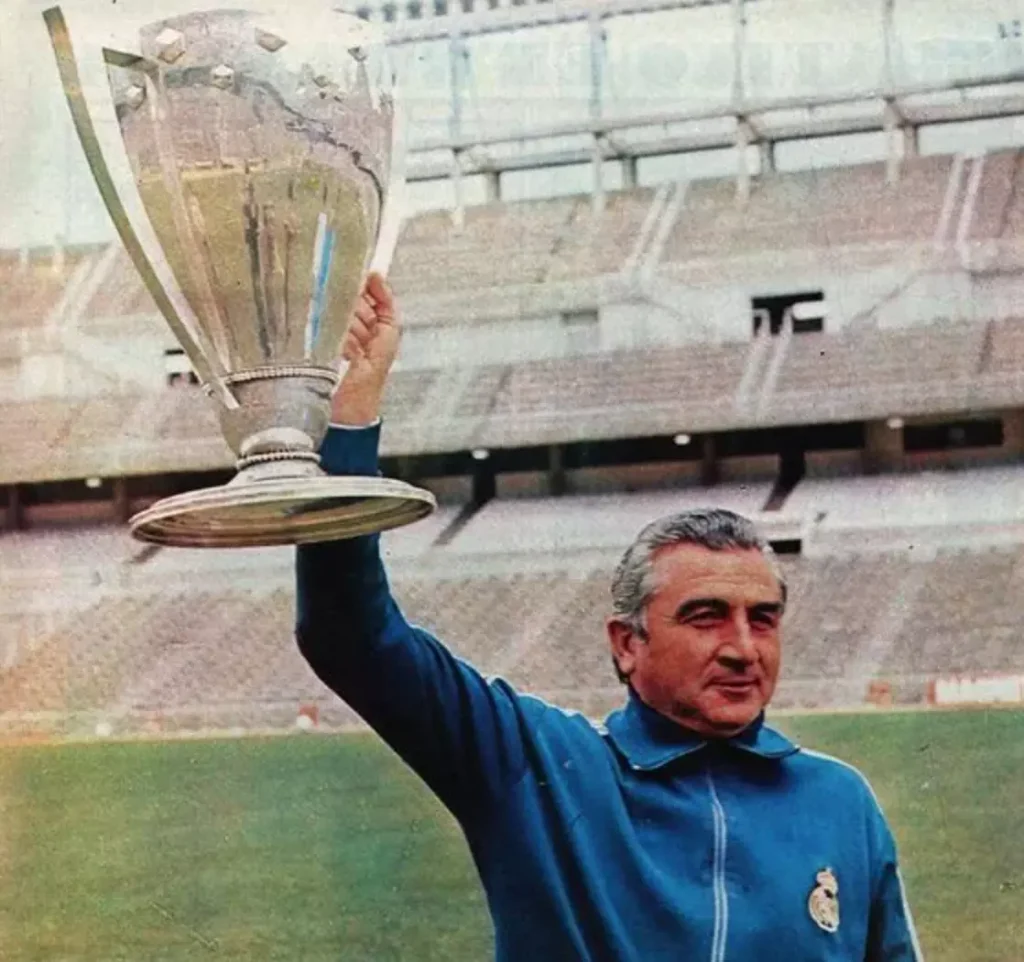 Miguel Muñoz Other Coaching Stints
In 1982, after Spain was eliminated from the FIFA World Cup group stage, Muñoz took over the national team after seven seasons managing Granada CF, UD Las Palmas, and Sevilla FC. Muñoz previously had been in charge of four games with the national team in the late 1960s on a temporary basis.
Spain finished second in Euro 1984. They reached the quarter-finals of the 1986 World Cup before Muñoz retired in 1988. Unfortunately, Muñoz died two years after leaving his post in Spain, in July 1990, at the age of 68.
Following his death a week later, he was buried with the team's flag draped over his casket at Madrid's La Almundena cemetery.
References:
[1], [2], [3], and [4]: https://thesefootballtimes.co/2017/12/01/in-celebration-of-miguel-munoz-real-madrids-greatest-manager/
[5]: https://www.realmadrid.com/en/about-real-madrid/history/football-legends/miguel-munoz-monzun
Images:
Nationaal Archief Fotocollectie Anefo (Main Image)
https://www.marca.com/en/football/real-madrid/album/2020/05/15/5ebe7b2f46163ffa948b457b_16.html
https://soccerfootballwhatever.blogspot.com/2017/08/miguel-munoz.html
https://www.realmadrid.com/en/news/2021/05/11/fifty-fifth-anniversary-of-clubs-sixth-european-cup-triumph
https://www.managingmadrid.com/2020/5/29/21272587/analysing-miguel-munoz-the-ye-ye-era