Saying the statement 'Nottingham Forest European Cup winners' will get young kids looking at you strangely. They could never imagine those words going together in a sentence.
The team from the East Midlands are one of four English teams to have won the world's biggest club competition. Two English clubs have won the European Cup/UEFA Champions League back-to-back, Nottingham Forest being one of them.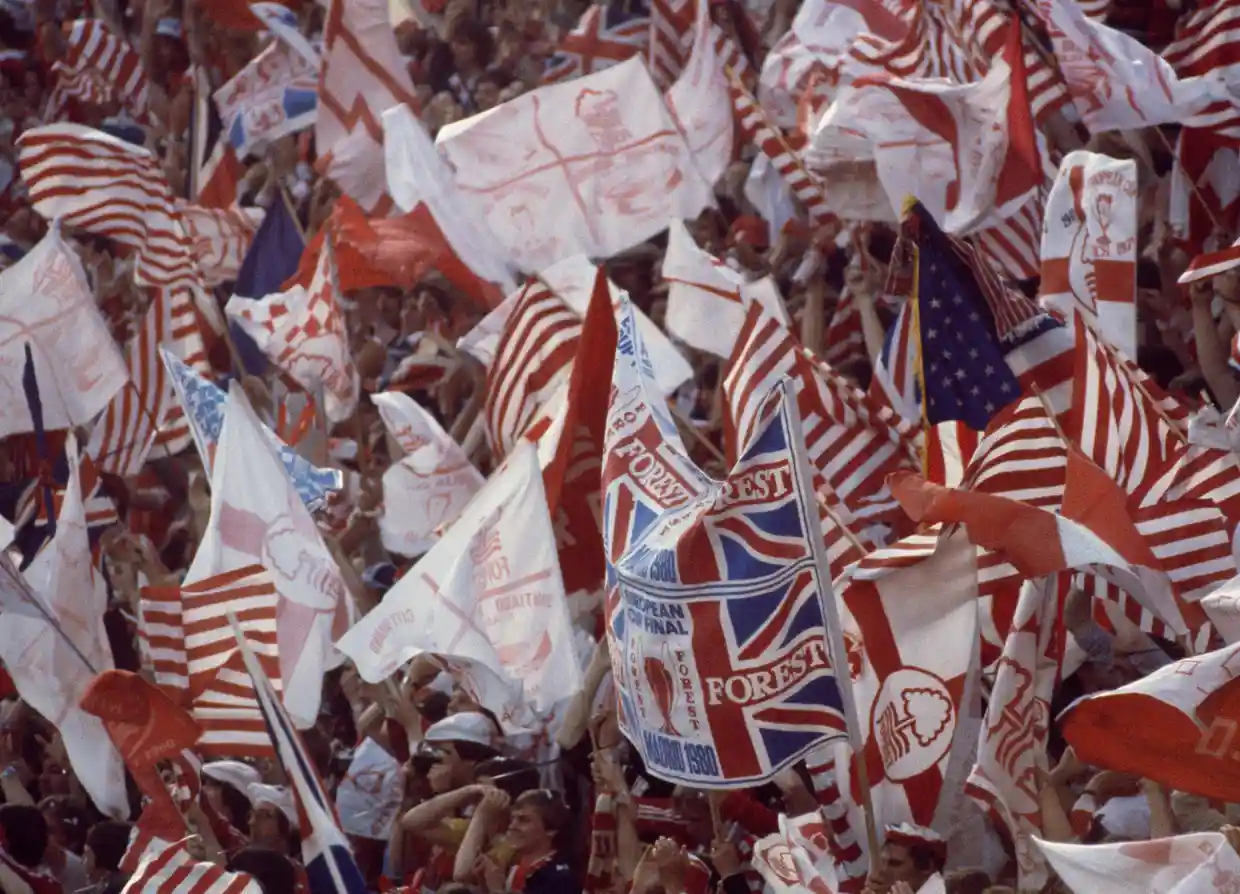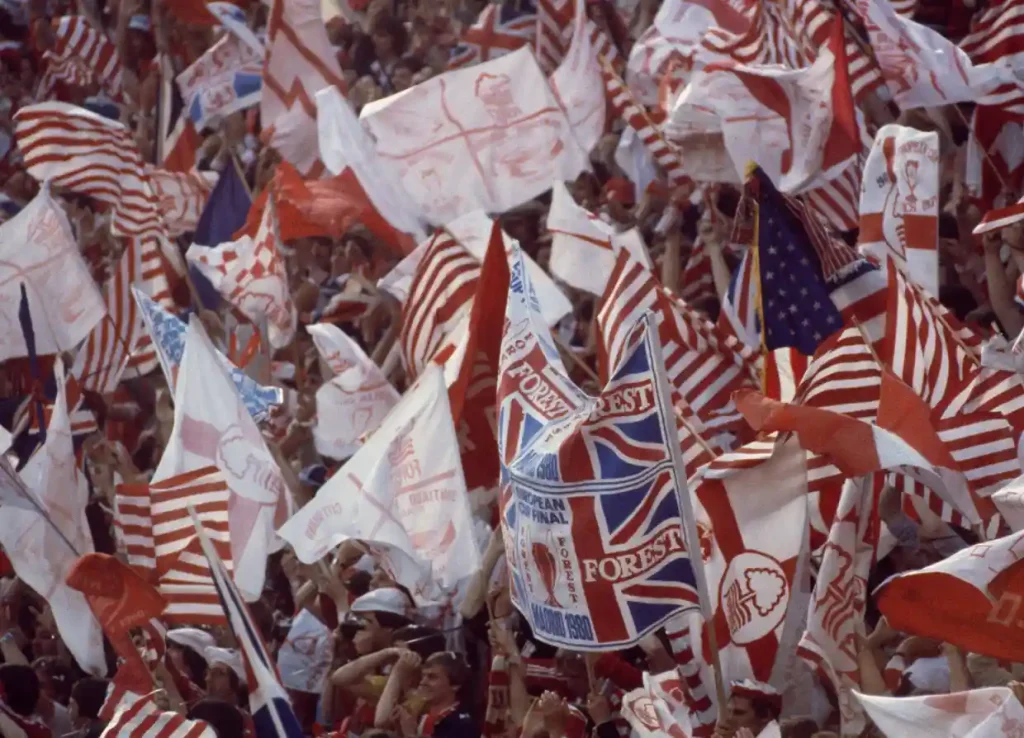 Nottingham Forest 1979 European Cup Winners Journey
Nottingham Forest's 1979 European Cup victory undoubtedly fell within the most significant period in the club's history.
Forest was written off after drawing holders Liverpool in the first round. The first leg was at The City Ground, and it quickly emerged that Brian Clough's men had no intention of sticking to the script.
A Garry Birtles goal shocked Liverpool, who tried to get back into the game only to be continually denied by Archie Gemmill, Larry Lloyd, and Kenny Burns. Peter Shilton made two saves from Kenny Dalglish before Colin Barrett, who had nearly scored earlier in the game, put Forest 2-0 up with a magnificent volley from a Tony Woodcock nod-down.
Barrett was unavailable for the second leg, so Frank Clark came into the side. Despite the two-goal deficit, Liverpool was still expected to progress.
However, Forest's defense continued its exemplary form, holding their opponents to a 0-0 draw, thus securing their passage into the second round. It was a result that sent shockwaves through the football community.
Their domestic season was progressing equally well. They were on a long unbeaten run in the First Division, and a League Cup campaign was taking shape.
AEK Athens Was The Next Enemy
The Reds' next European meeting was with AEK Athens, a club they had drawn 1-1 in a pre-season friendly earlier that year. In the first leg, Forest applied plenty of pressure and came away with a 2-1 lead.
The match's hero was the 35-year-old Clark, who played a pivotal role in both goals. The home leg was barely a contest as Forest ran out 5-1 winners. Now through to the quarter-finals, their impressive form in Europe was being complimented by a phenomenal season on home soil. In December, they reached the landmark of 42 league games unbeaten.
Sadly, that was ended when Forest returned to Anfield, and Liverpool seized the opportunity to avenge their European exit. A significant moment in the season came when Clough signed Birmingham City's Trevor Francis for £1m – although Clough maintained that the agreed fee stood at £999,999!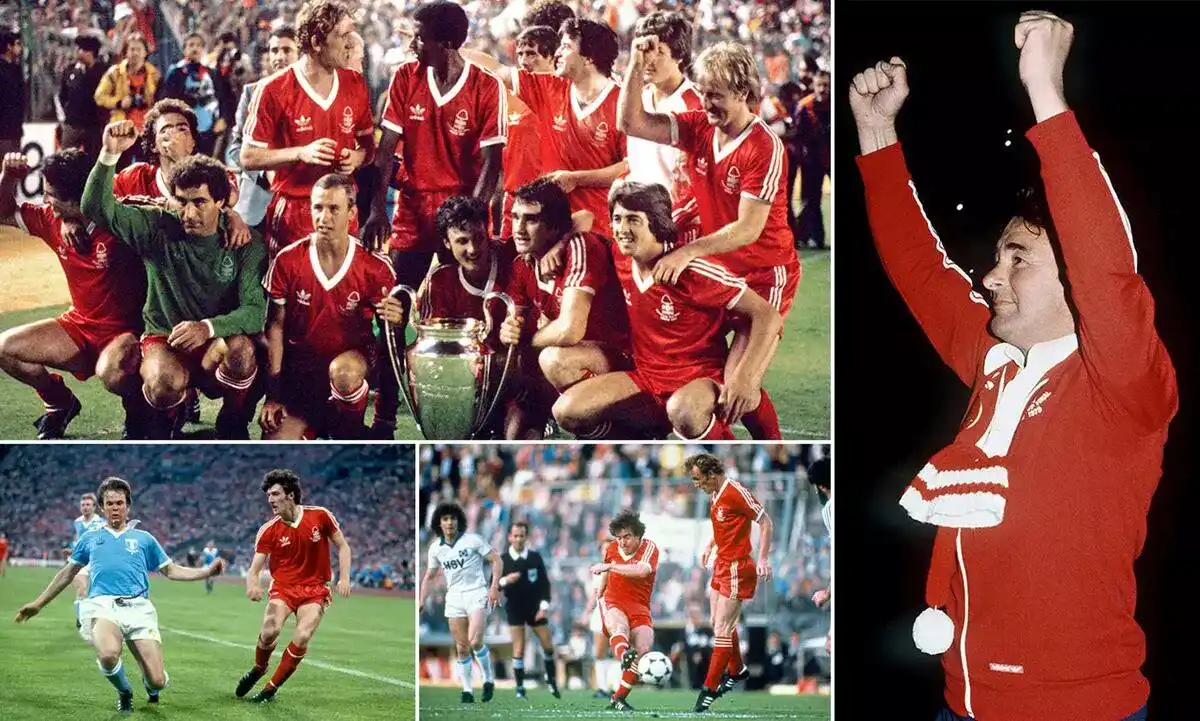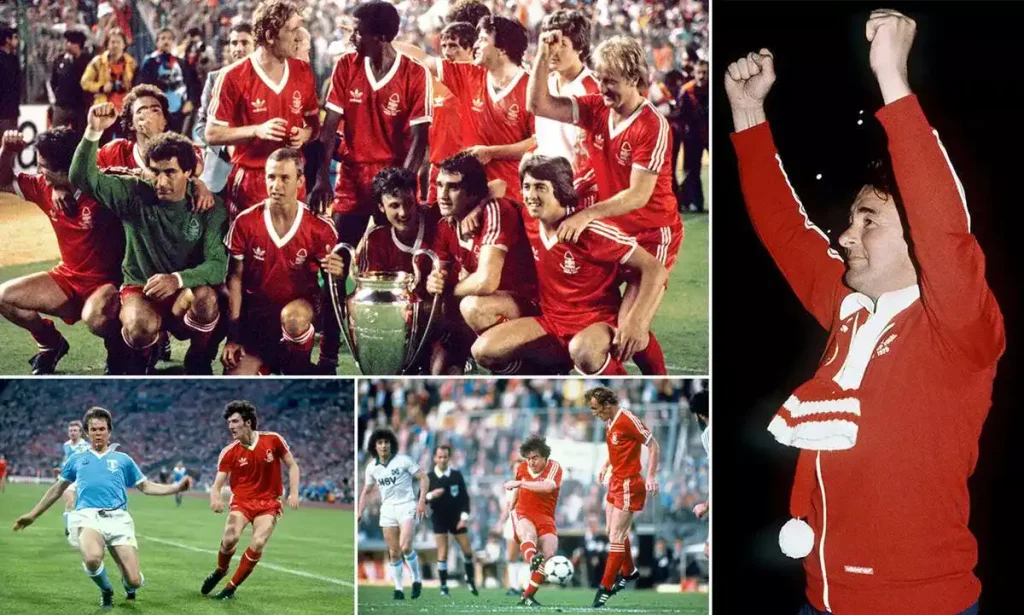 The Quarter Final Match Versus Grasshoppers
Grasshoppers of Zurich proved tough opponents as Forest returned to European action. They went ahead in the first leg through star striker Claudio Sulser before The Reds turned the tie on its head.
Goals either side of halftime from Birtles and John Robertson (pen) gave the home side the lead, but Shilton had to be at his best to prevent Sulser from leveling with 15 minutes left.
The prospect of a nervous affair in Switzerland was looming large until Gemmill and Lloyd scored late to make it 4-1 – a practically unassailable scoreline. This proved to be the case in Zurich, where, despite going 1-0 down to a Sulser penalty, a Martin O'Neill equalizer ended the scoring to put Forest into the final four.
In between the two ties came a League Cup final against Southampton. The Saints carried a lead into halftime, but a memorable second-half performance from Birtles – in which he scored two excellent goals – helped Forest to reach a 4-2 victory. The Reds became the first English club to retain the trophy successfully.
The Semi-Finals Against The German Champions
Forest's fine league form continued, meaning they were confident ahead of their semi-final against FC Cologne. The first leg, at The City Ground, got off to a bad start when the Germans went ahead after just six minutes. A 19th-minute tap-in made it 2-0, and it looked like the dream was over.
Clough's side was defiant, however, and fought back magnificently. Birtles and Ian Bowyer leveled before a rare diving header from Robertson put the home side ahead, sending the 40,000-strong crowd into raptures.
Cologne then brought on Yasuhiko Okudera, who scored a late equalizer to swing the balance back in the visitors' favour. In the European Cup, no team had ever won away to secure a place in the final. The Germans were so confident of progression that they had already printed tickets and booked their hotel in Munich.
Their complacency, however, was misplaced as they failed to make home advantage count in the first half. Forest went ahead in the 65th minute when a Robertson corner found its way to Bowyer, who stooped low to score past the formidable Harald Schumacher.
From then on, Forest were forced to defend in numbers. They did so brilliantly, and their performance was typified when Shilton produced an amazing save in the final minute to send The Reds through.
Ian Bowyer said of his goal: "I remember it very well. It was a standard move. The perfectly-placed corner from Robbo, Garry's (Birtles) flick, and, surprisingly, a lot of space to knock it in.
"When I look at the pictures now, what strikes me is how young we all look. We always thought we'd win. I can't remember having many doubts. But it was Peter's save at the end got us to the final- I remember that and the goal."
In the league, Liverpool beat Forest to the title by eight points. Nevertheless, it was The Reds' second-best league season ever.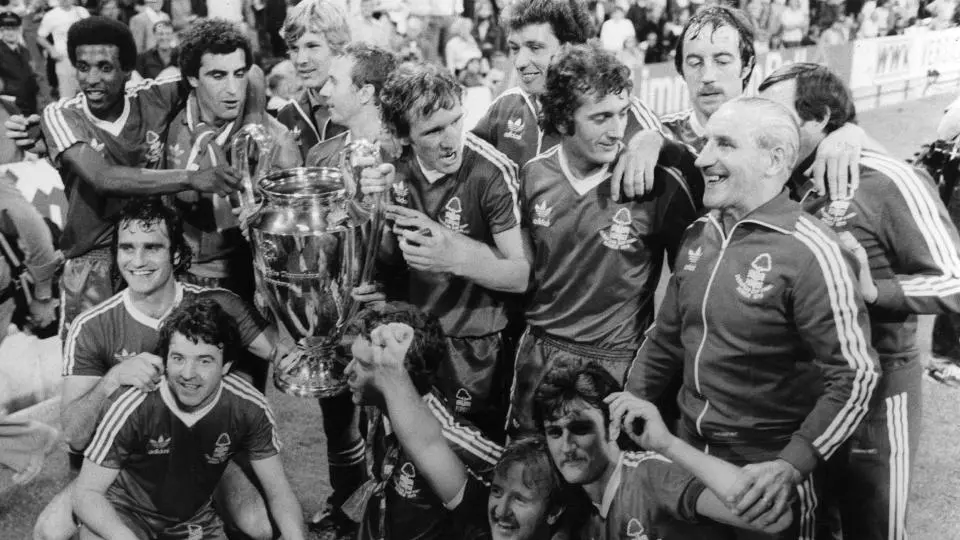 The 1979 European Cup Final
Date: May 30, 1979
Nottingham Forest European Cup Winners Venue: The Olympic Stadium, Munich
£1 million man Francis made his European debut at the expense of O'Neill as Forest faced up to Malmo in the biggest game in their history. The Swedish side had six injured players, which forced them to adopt a defensive approach.
Nevertheless, they managed to hold out until just before halftime when Robertson dribbled and crossed superbly for a fully-stretched Francis to head home at the back post. It was to be the only goal of the game.
Clough said that Robertson's cross was the most satisfying moment in his managerial career: "When I sit in my garden and close my eyes, I can still see that moment in Munich when Robertson made his move."
"Peter Taylor stiffened beside me and grabbed my arm. Robertson is not far from the corner flag. There are half a dozen Malmo players in the box. Trevor Francis is hurtling towards the far post, and Robbo sends over the perfect cross. 1-0. Pass me the European Cup. Thank you."
Back in Nottingham, thousands of fans celebrated what was a monumental achievement.
Nottingham Forest European Cup Winners In 1979
Nottingham Forest European Cup Winners Starting Team: Peter Shilton, Viv Anderson, Larry Lloyd, Kenny Burns, Frank Clark, Trevor Francis, John McGovern, Ian Bowyer, John Robertson, Tony Woodcock, Garry Birtles.
Substitutes Not Used: Chris Woods, David Needham, Martin O'Neil, Archie Gemmill, John O'Hare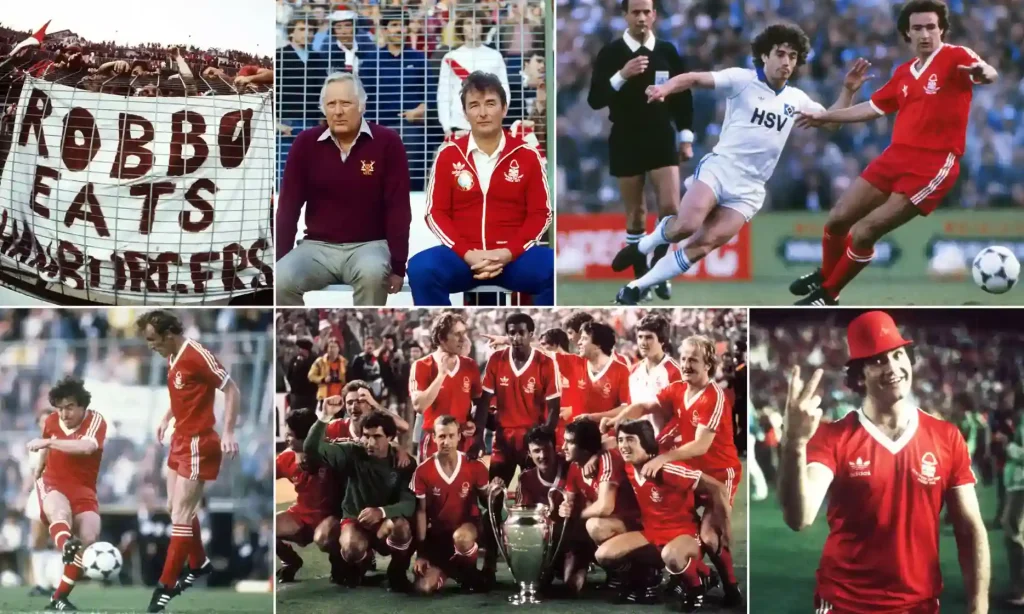 Nottingham Forest 1980 European Cup Winners Journey
For Nottingham Forest to win the European Cup once was beyond supporters' wildest dreams. To retain the trophy the following year was pure fantasy.
But it remarkably transpired as Brian Clough's team, who had stunned the rest of Europe in 1978-79 by winning the glittering prize in Munich, went on another magical journey – this time to Madrid.
The campaign had a relatively low-key start compared with the spectacular meeting with Liverpool in the first round of the previous year's competition. When the draw was made for the first round, Forest continued where they left off in Munich, facing Swedish opposition.
Facing Swedish Opposition Again
Oesters Vaxjo, of whom little was known outside of Scandinavia, had beaten Malmo, Forest's final victims in Munich, to the Swedish title, and they were to be the first opposition for Clough's men.
And the Swedes showed little respect for Forest's newly-acquired European reputation when they visited The City Ground for the first leg.
In fact, for an hour, they repelled Forest's constant pressure, and it needed Peter Shilton to produce an inspired save from Peter Nilsson to prevent the visitors from taking a shock lead.
But the frustration evaporated when Ian Bowyer, whose goal against Cologne had taken Forest to the previous year's final, thumped home a cross by Tony Woodcock. Bowyer added another with a deflected shot 13 minutes later, and a two-goal cushion was thought to be enough for the return in Sweden.
They were given a jolt, however, when a mistake by Viv Anderson let in Mats Nordgren to trigger an uneasy spell for Forest, but they held out, and substitute Gary Mills set up a goal for Woodcock to ease them into the second round.
Next Up Arges Pitesti
If Oesters Vaxjo were an unknown quantity to Forest before they met, they were even less familiar with Romanian champion Arges Pitesti, who they met in the second round.
The only information instantly available was that Pitesti had beaten AEK Athens, Forest's second-round opponents from 1978-79, in the first round of the competition. As more information filtered through about Pitesti, it became evident that they were not the best of European travelers.
So it proved as Forest raced into a two-goal lead in the first 16 minutes of the Nottingham home leg with efforts by Woodcock and Garry Birtles. Despite ending the game with ten men, Pitesti showed resolve to keep the tie alive for the return, where Forest faced a hostile crowd and a side out to create a shock.
Their hopes diminished when Forest, capitalizing on their brisk start to the game, stretched their lead when Ian Bowyer grabbed his third campaign goal after Larry Lloyd got his head to a John Robertson corner.
Forest stretched their lead – and effectively put the tie to bed – when Woodcock's cross from the by line was turned in at the far post by Birtles. Pitesti reduced the deficit on the hour following a Barbulescu penalty given for one of Kenny Burns' less offensive challenges, but it was a case of too little too late.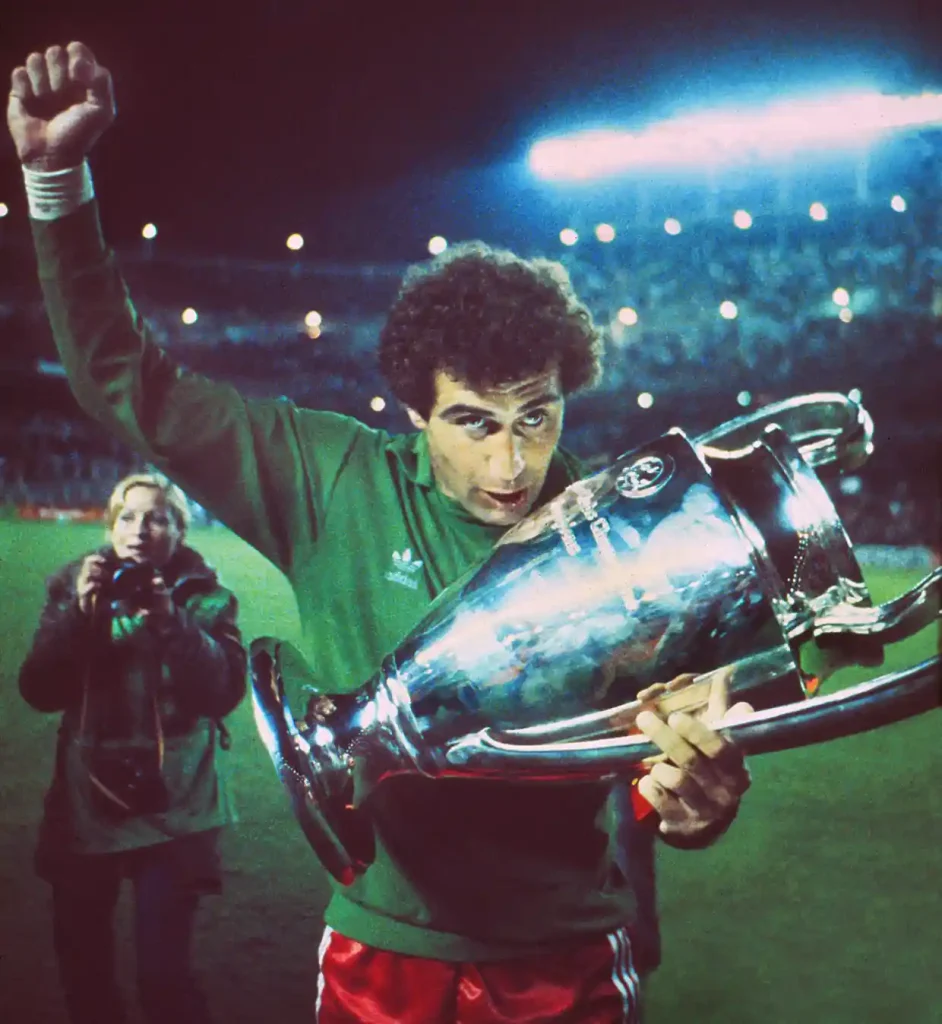 Behind The Iron Curtain In The Quarter Finals
Much more formidable opposition awaited Forest in the quarter-finals in the shape of a Dynamo Berlin side who had won the East German League by seven points the previous season and lost just one game in 26.
They were regarded as a formidable, no-nonsense outfit. They underlined that reputation in the first leg at The City Ground, where Forest struggled to reveal the creativity that had epitomized their play under Brian Clough.
And Forest's prospects of going to the semi-finals looked bleak when the talented Hans Jurgen Riediger stunned the crowd into silence by giving the Germans a lead they held and almost added to on the night.
So Forest set off for Berlin trailing 1-0 and on the back of a 1-0 defeat by Wolves in the League Cup final the previous Saturday. Not the best of preparations. But on a bitterly cold night behind the Iron Curtain, Nottingham Forest produced one of its finest displays to turn the tie on its head.
It was a personal success story for Trevor Francis, criticized for his performance in the final against Wolves but producing one of the finest individual displays seen in a Forest shirt.
Francis, a constant menace throughout the game, put Forest ahead on the night after 16 minutes, and before halftime, the England striker had put Clough's men ahead in the tie and seen Robertson add a third from the penalty spot.
Berlin pulled a goal back from a Frank Terletzki penalty, but Forest was in no mood to allow their efforts to go to waste and stood firm in the face of more German pressure to reach the semi-finals.
Semi-Final Against Ajax Amsterdam
Past European masters Ajax stood between Forest and a second successive European Cup final, and Francis again played an influential role. The first leg was in Nottingham, and Forest set about their task with the kind of flair and determination bound to lead to an opening.
It arrived in the 31st minute when a Robertson corner dropped invitingly for Francis to drive the ball past Ajax keeper Pete Schrijvers.
After the hour, Forest added to their lead with Francis in the spotlight again. His overhead kick looked destined for the net until Cees Zwamborn handled it, and Robertson kept his customary cool to score from the spot.
Despite continued pressure, Forest failed to add to their deserved lead, but they were frightened when Shilton had to make a brilliant save to deny Soren Lerby. Clough was happy with the lead Forest took to Amsterdam a fortnight later, even though he argued a case for them needing the added insurance of a third goal.
How Ajax set about the return leg in front of a 60,000 crowd in the Olympic Stadium confirmed his feelings. The Dutch champions laid siege to the Forest goal, but with Burns at his stonewall best and Shilton making crucial saves, the visitors held out until the 66th minute when Lerby headed home.
It sparked further frenzied pressure, but despite losing their record of not losing an away leg in the European Cup over two seasons, Forest held out to take their place in the final against Kevin Keegan's Hamburg.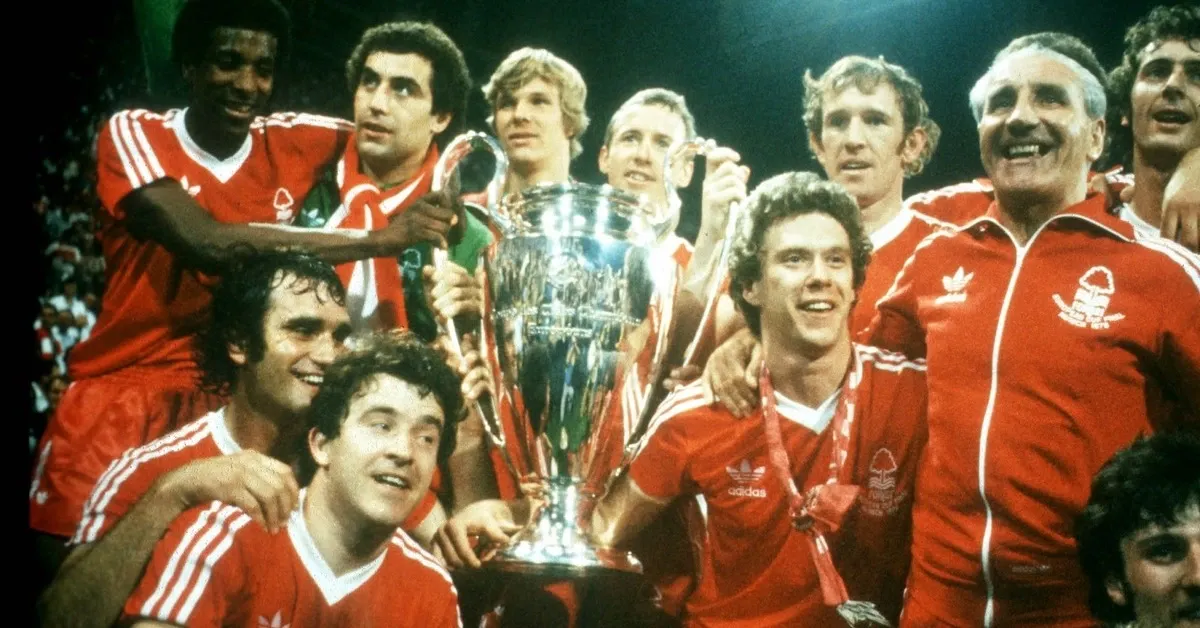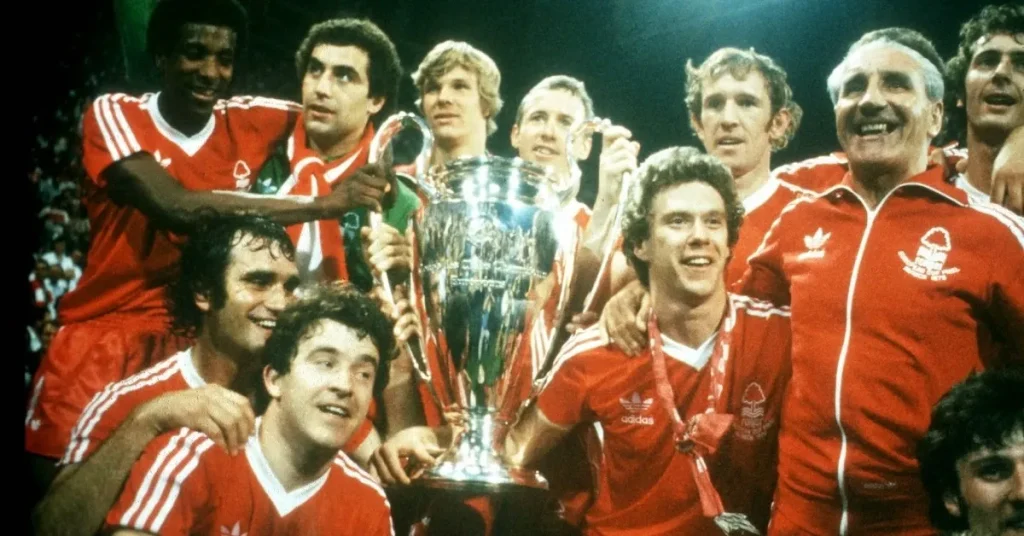 The 1980 European Cup Final
Date: 28 May 1980
Nottingham Forest European Cup Winners Venue: Santiago Bernabéu, Madrid
Although they went into the final as defending champions, neutral observers rated Forest as the underdog against Hamburg.
One of the main reasons for that was the absence of the injured Francis, who had made such a massive contribution in the quarter and semi-finals.
With Stan Bowles walking out on the squad before the final, Francis's spot was up for grabs, and it went to Mills after Clough and Peter Taylor had second thoughts on an initial plan to play Burns in the attack.
The absence of Francis meant that Forest played with only the ever-willing Birtles in an attacking role, inviting the Germans to build up wave after wave of attacks at the start.
But in the 20th minute, Forest plundered the goal that was to see them retain the trophy for a second year.
This time the goalscoring glory went to John Robertson, who picked up a ball in midfield, took a return ball from Birtles, and squeezed a right-foot shot wide of Hamburg keeper Rudi Kargus into the corner of the net.
The Germans were temporarily floored. They picked up the attacking tempo once more to question Forest's resolve but with Burns and Lloyd, whose place in the final had been in doubt because of injury, standing firm Forest resisted everything Hamburg had to offer.
The sight of Keegan going deeper and deeper to try and ignite a response was a further inspiration to a Forest side who refused to waver as they ran down the clock.
As Hamburg became devoid of ideas, Birtles might easily have added a second goal. Still, one was enough, and for a second successive year, John McGovern was the proudest player in Europe as he lifted the magnificent trophy.
Nottingham Forest European Cup Winners In 1980
Nottingham Forest European Cup Winners Starting Team: Peter Shilton, Viv Anderson, Larry Lloyd, Kenny Burns, Frank Gray, Martin O'Neill, John McGovern, Ian Bowyer, John Robertson, Gary Mills, Garry Birtles.
Substitutes Used: Bryn Gunn, John O'Hare
Substitutes Not Used: Jimmy Montgomery, David Needham