Paul Breitner played professional soccer for the German national team as a midfielder and left-back. In addition to being named in the World Cup All-Time Team, Breitner was also considered one of the best players of his generation.
He formed a defense partnership with Franz Beckenbauer and Berti Vogts for his national team. When playing for Bayern Munich, he developed a deadly midfield partnership with Karl Heinz Rummenigge.
A team member that won the 1974 FIFA World Cup. He made 48 appearances for West Germany. A second World Cup final appearance came in 1982 when he scored, making him only one of four players to score in two different finals. The others are Pelé, Vavá and Zinedine Zidane.
With an afro hairstyle that used to flap proudly in the breeze, Paul Breitner agreed to sit down with the History Of Soccer lead writer and tell the story of his crucial role in West Germany's charge past Holland in 1974 and his 1982 journey.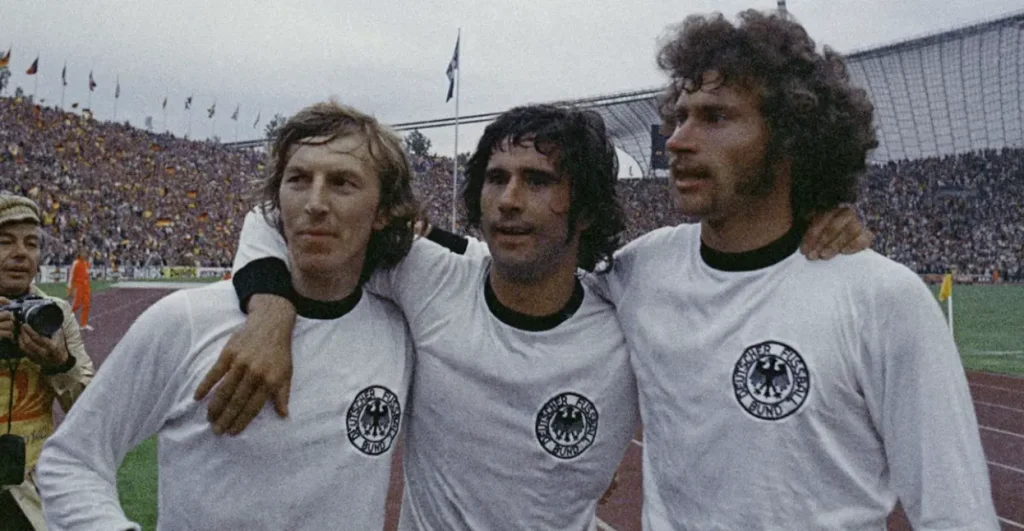 Paul Breitner Interview
You were a very successful World Cup performer. How would you describe the World Cup experience and winning the tournament in 1974?
Paul Breitner: In terms of my personal life, it made a great deal of difference because the 1974 World Cup, the first tournament here in Germany, shaped the future course of my life. As a result of our win, especially because I scored a penalty in the Final, my life has been different from how it would have been without the World Cup and if we hadn't won.
I didn't take part in Argentina in 1978, so the 1982 World Cup competition in Spain rounded off my career. I played for Real Madrid from 1974 to 1977, and the main reason I returned to the Germany team was that the World Cup was hosted in Spain.
I'd spent three wonderful years there with my family. I also rediscovered a hunger for success – and we did at least make it as far as the Final.
1982  World Cup And The Italians
Let's talk about Spain 1982 for a moment. How was that World Cup experience for you, and what was it like in the Final? How did it feel at the time, going down by a relatively narrow margin?
Paul Breitner: In the 1982 World Cup Final, we suffered a resounding defeat; there was nothing narrow about it. We lost 3-1 to Italy, but I suppose it was on the cards.
On Thursday night, we had to play France in the semi-final in Seville. It went to extra time and a penalty shoot-out, but we were determined to fly back to Madrid that night.
As a result, we only arrived at our hotel at six the next morning and had our 'evening' meal on Friday at 6.30 am. Unfortunately, thanks to a worker's strike and some other problems, there was nothing to eat or drink at the airport in Seville.
So there we were on Friday morning, eating our dinner, our supper from Thursday. We all knew we'd have no chance at all against Italy two days later unless we scored the first goal. Perhaps we'd be able to sit on our one-goal lead for the rest of the match by packing our defense.
But otherwise, we knew we'd have no chance at all if the Italians scored the first goal. They'd comfortably come through their semi-final against Poland on Wednesday. They were well-rested, and we were utterly exhausted. So we went into the Final with realistic expectations, and then it turned out exactly the way we'd feared it would.
Like all previous World Cups, the Germany team started badly. That was how it was when we won the trophy in 1974, and that was how it was in 1978. It's always been that way for Germany at these international tournaments.
German teams always try to apply the brakes at the start of a tournament and then improve from match to match. It's a conscious decision not to peak in the first round against teams we should normally beat anyway, but gradually reach peak form for the second phase, the last 16, and then go as far as possible.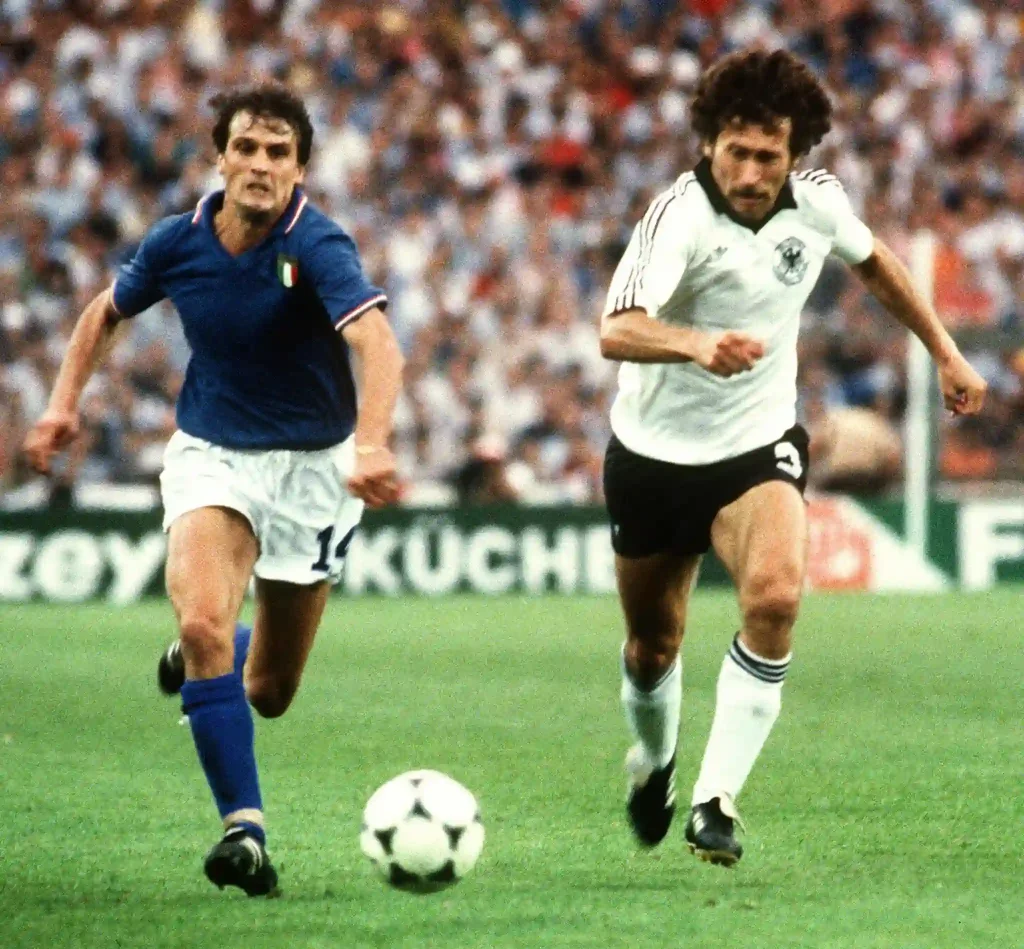 That's how we approached Spain in 1982. True to form, we lost 2-1 to Algeria, but then we beat Chile 4-1, and after that, there was that infamous game against Austria in Gijon, although I'd prefer not to comment on that.
After 70 minutes, if a game is over as a contest or both teams are satisfied with the result, then maybe it's time to take it easy until the final whistle. But we made a fundamental error: we started taking it easy just before half-time, and naturally, that was a terrible mistake.
That error dogged us for the rest of the tournament. All the matches that followed were played under a cloud, which only really went away in Seville after we leveled things at 3-3 in extra time in our semi-final against France. We won on penalties.
We redeemed ourselves with that match because we showed everyone what we were capable of. Our semi-final against France was probably one of the five best, most exciting games in the history of the World Cup, and it meant that we were rehabilitated.
Our national team was indeed no worse than the Italian team in terms of performance and ability, but we were no longer capable of winning the trophy after the semis.
So your defeat was mainly attributable to physical factors?
Paul Breitner: Yes, there were physical reasons. We were all too tired, all suffering from fatigue, and we simply couldn't keep up with the Italians. After the Italians took the lead, we could never rouse ourselves again. We lacked the strength to shift up a gear or two.
Can you remember anything particular about the Italian team? Would you single out any of the players or any area of the team? Were they a physical side?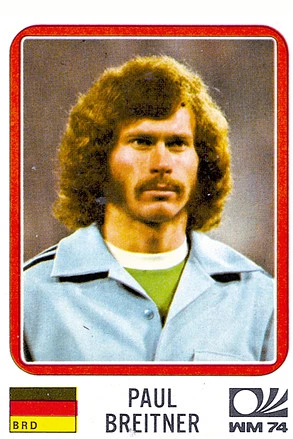 Paul Breitner: No, they weren't a formidable team. The Italian soccer team wasn't overly physical. You didn't see the concealed fouls that southern European teams often resorted to in decisive matches, the sort of game they were infamous for.
No, they were a team that played tight soccer. The team was well-balanced, and, like the Germany team or Bayern Munich, it was built around one player for many years, in this case, Paolo Rossi.
He went from one brilliant display to another, and it probably isn't too much to say that the Italian team wouldn't have had a chance of reaching the semi-finals or even the quarter-finals without him. He made goals out of nothing like Gerd Muller, and he was the most crucial factor in the Italians' World Cup win.
But it was a pretty good team, in any case, a balanced team that played well, played good soccer But there was nothing special about it, at least in this tournament. The only exception was Paolo Rossi.
Are you saying they were a team with only one truly outstanding player?
Paul Breitner: Yes, and the Italian team had a sense of togetherness, a team spirit you don't usually or normally find in a southern European squad. Perhaps all the players realized they couldn't win unless everyone forgot about his own thing, forgot about putting himself in the spotlight and maintaining a high profile.
Unfortunately, many of today's Spanish, Italian and Portuguese players still have a fundamental problem: they often don't care about the result. They want to show the crowd and the TV viewers how they can outplay their marker three times per square meter.
They would like to take the ball, thump it, and head off to the showers while shouting: "Did you see me? I'm the greatest!" This Italian national team was completely different.
They all suppressed the urge or forgot about putting themselves in the spotlight, at least for the duration of the cup competition. The result was a team that acted, thought, worked, and played almost like a Germany team, putting personal considerations aside to pursue team success.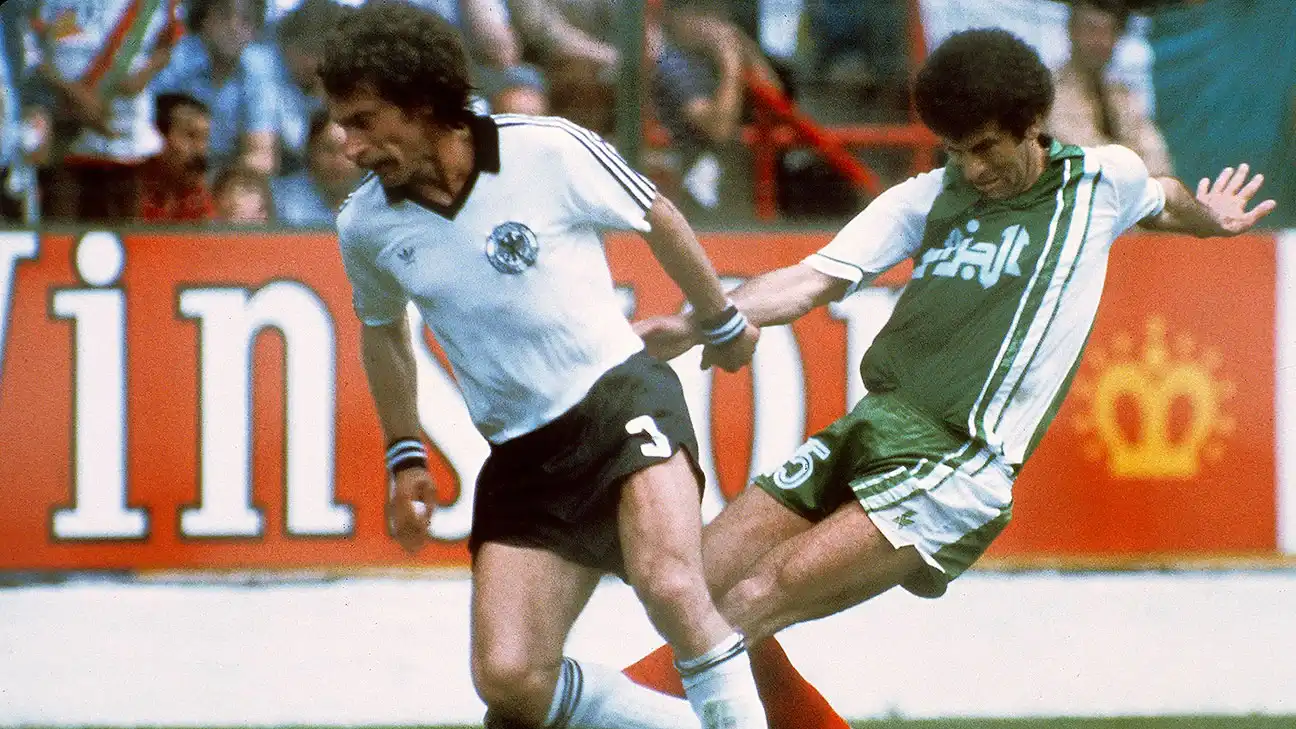 Most Challenging Teams / Players
Who would you say was your most challenging direct opponent at a FIFA World Cup finals?
Paul Breitner: As long as I was in shape, I never really had any problems with other players throughout my soccer career. I am one of those players who did not pay too much attention to his opponent in the next match.
I just wasn't interested in what was unique about the other side. When I was still very young, a coach once said to me: "You know what: the more you concentrate on your opponent, the more you think about him, the less mental power you have left to concentrate on yourself."
Forget about it. It'll only hold you back. If you're in good shape, your opponent should be worrying about you, adapting himself to you. That applies to individual players and the whole team. And if you have a bad day, you have no chance anyway, and knowing too much just reduces that tiny chance further.
It only gets in your way. When I played as a defender, I sometimes had opponents who were simply better than me on the day. As a midfielder, from 1974 to 1981 in Real Madrid, for example, if the other coach sent a player to mark me, a watchdog bent on ruining my game, I sometimes wasn't able to prove I was superior and came off second best.
In one game, I have always believed that we beat a fundamentally superior team. It was the best team in the competition. I meant Poland in 1974. We beat Poland 1-0 in the semi-finals in Frankfurt. It was a very wet day, and I'm confident we wouldn't have beaten the Poles if it hadn't been for the conditions.
The Polish national team was just as perfectly structured as our team in 1972, which was a team with a true symbiosis between artists, technical players, fighters, sloggers, youth, old hands, and experience. It was a perfectly harmonious blend that produced simply fantastic football.
In 1974, the Polish team had a similar makeup, but some of the players couldn't handle the appalling conditions. I always call them fair-weather soccer players. We won that game because of this.
At that competition, they were better than Germany, Holland, Brazil, or anyone else that I can recall. They were the best in 1974.
People are always talking about the solid Dutch team, but we hear little about the Poles.
Paul Breitner: That's right. It's the same with the penalty I scored in the Final. People always assume that was my most important goal.
I scored three goals at the 1974 tournament, and the most important was the first goal in our first match, against Chile in Berlin. I scored the opening goal, and that was the fundamental reason we made the next round and why we grew together into a team.
Without that first goal, I would never have scored the penalty. I don't like speculating, talking about what would have happened if. But if I think about the 1974 World Cup, about the best team, I don't think about the Final.
Of course, we won, and the Dutch were runners-up. The Dutch think they were the best; they believe they were better than us and deserved to win because they were better. What they forget, in my view, is that the best national team lost in the semi-finals and that was Poland.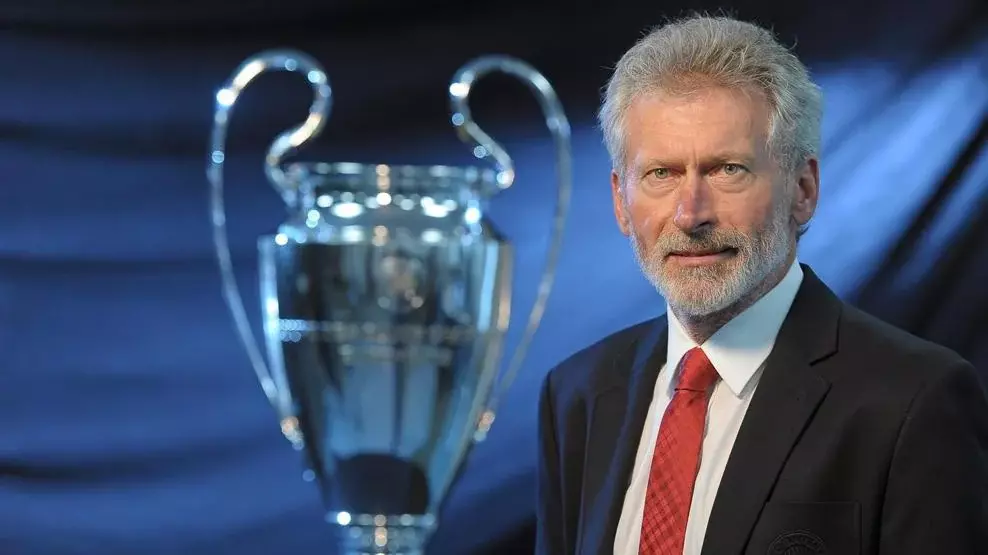 Host Nation
In 1974, what was the mood in Germany?
Paul Breitner: Playing as the host nation, and with the Final in Munich being almost like a home game for you [as a Bayern Munich player], the pressure must have been tremendous. It was Gerd Muller who said: "We didn't notice the pressure. We were shielded [from it]."
You can look at it in two different ways. First of all, when you've played for Bayern Munich, you're always under pressure, but the word pressure didn't exist for us. Pressure is just an excuse many people use to talk their way out of a situation.
If you want to play for Bayern Munich, you have to understand one thing right from the start. You have to win every single game if it's at all possible. That means you always have to do a good job, just like in any other walk of life. For me, that isn't pressure.
The national team is no different. I couldn't say I was under pressure to win the international tournament because it was what I expected of myself. In addition, I must say we didn't notice much pressure in 1974.
There wasn't so much hysteria; soccer hadn't become what it is today, with global interest, a never-ending open-air concert, a 24-hour happening of the type we experience in every stadium nowadays.
We've seen a gigantic spectator boom over the past few years, not because the soccer being played is so good but because people have different expectations now.
It's the young people most of all, they require togetherness, live the World Cup feeling, be a part of it, and party together. It wasn't like that at all back then. The situation was more sober. We wanted to win.
Of course, we realized that this was a significant event in the country. But when we were preparing, we were locked away at the Malente sports academy, and we weren't very aware of the unique atmosphere and the mounting hysteria ahead.
Media saturation surely does not apply to soccer. People cannot get enough soccer, can they?
Paul Breitner: There can't be too much, you know.
People are always saying: "There's too much soccer on TV."
Paul Breitner: No, I said 30 years ago that I hoped the time would come when we had 24 hours of soccer a day. In Germany, there are between 35 and 40 million soccer fans, and at least 20 to 25 million who spend all their spare time, day in and day out, talking and thinking about the game.
Then, when they get home, they switch on the TV and want to see more soccer, not political discussions, not talk shows, and not even soap operas.
Like in many other countries, soccer is the main priority after the satisfaction of basic needs such as food, drink, family, and work. It is the first, second, third, fourth, and fifth most important thing, leaving everything else way behind.
Recently, the media have started to take it seriously. And if you think about the millions of unemployed in Germany, soccer is the best leisure pursuit you can imagine. This is the way it has to be seen.
As a way of winding down, forgetting about the world's problems?
Paul Breitner: Yes.
East Germany Defeat
How did you feel about the defeat against East Germany? Did the team feel like they'd let people down, or was that not the case?
Paul Breitner: Not we didn't, no. That 1-0 defeat in Hamburg was a letdown, just like any other defeat would be a letdown. But it was nothing special because we, the players, didn't read any special significance into the match.
Most West Germany players are not interested in politics, and in 1974 the GDR was effectively a foreign country for us, especially for those who didn't have friends or relatives in the GDR. As a Bavarian without any family in the GDR, I always said, "I can't really relate to that" if anyone started talking about their brothers or sisters in the East.
In any case, the history I was taught at grammar school stopped in 1918. It was as if there was nothing after that. People didn't want to talk about it.
Looking at it that way, you say that my brothers and sisters were the Austrians and Swiss – I could relate to them. As for the people in the GDR, we occasionally came across them when playing for Bayern in the East.
But that was just like being in Moscow, Kiev, Prague, Budapest, or anywhere else in the East for an international or a European Cup match. So, this game against the GDR was nothing special, not a duel between brothers of the type hyped up by the media, just a regular international that we happened to lose.
We lost our third first-round game because we just hadn't sorted out the right team and also because, as individuals, we hadn't found the form we needed to beat the GDR at that stage. It was just that the officials, and of course the public, read much more into that game than the players.
So you are saying that the players were not overly affected by that result. Was it simply forgotten and you moved on to the next game, or did it affect the tournament as a whole?
Paul Breitner: It certainly had quite an effect. The defeat left us in no-man's land. We were forced into the realization we were still a long way away from being a good team, a long way away from having the right blend in our team, and a long way away from the correct line-up.
In the night and the day after our 1-0 defeat to the GDR, there were some crucial talks between Helmut Schon and Franz Beckenbauer, and then between Helmut Schon and some players. The result was a necessary and effective restructuring, and we suddenly went from a 50 percent performance to 90 percent against Yugoslavia in Dusseldorf.
That defeat had an immediate effect, but that had nothing to do with the fact it was the GDR. It was losing the way we did. Many of the players were deeply ashamed because we were rubbish as a team and individuals. It wasn't a performance worthy. We simply couldn't bow out of the competition on that note.
That was why we had to react immediately, do justice to ourselves, and find the light at the end of the tunnel. If we hadn't, we wouldn't have been able to look ourselves in the face. There was a real danger Yugoslavia would boot us out of the tournament.
We couldn't let that happen. So we did something we'd already learned at Bayern in the early 1970s. After stamping on the ground a few times, we said, "Now it's time for things to change."
We didn't just do it for show, to build our confidence. We had a quick look at ourselves until we reached the point where we said: "Right son, that was rotten – we need to change something fast." That worked for us, and that's how we grew into a team with the correct fundamentals for winning.
Paul Breitner Best World Cup Goals
You scored a superb goal against Yugoslavia. Was it your best, or was one of the others better?
Paul Breitner: It was undoubtedly the goal I enjoyed most. This is what I think nowadays about my goal against Chile: I came up against a goalkeeper who was half-asleep and who only woke up when a shot from 30 meters was past him and in the top right-hand corner.
It was a great goal but a total hit-and-hope effort. That shot took so long to reach the net. I watched the ball and kept my fingers crossed, hoping that it would go somewhere in the direction of the goal or perhaps even into the net.
The goalkeeper only dived when the ball hit the back of the net. That was an important goal, but the goal against Yugoslavia was fantastic.
When the Netherlands took an early lead in front of your home crowd during the Final, how did you feel? That must have been a terrible shock.
Paul Breitner: Yes, but a home crowd in acFinal? That's a bit of an exaggeration, and the atmosphere was not like that at all. Looking at the stands, you could see that orange was the predominant color. Many tickets seem to have found their way to the Netherlands supporters somehow.
You can't talk about home advantage in a World Cup Final. OK, it was undoubtedly important, that penalty after only a minute. Johann Neeskens put the Dutch 1-0. That was certainly an essential point for us in winning the match. After they'd scored, all the Dutch did was try to make us look ridiculous.
The Dutch should have followed up. Seeing his opponent on the ropes, a boxer must carry on attacking and finish him off. But the Dutch didn't seem to understand, didn't seem capable of understanding what an advantage they had over us.
Instead, they gave us a five-minute pause, a spell, when we got to grips with the new situation and overcame our disappointment, grief, and anger. They didn't notice that we were gradually working our way back into the game, starting to outrun and outfight them.
You could say that our two goals in the first half, my penalty after 25 minutes and Gerd Muller's goal just before half-time, were a logical consequence of the Dutch team's carelessness and arrogance. We noticed they were letting us back into the game and that suddenly we were in with a real chance.
We had an opportunity to seize it. It was only at half-time that the Dutch realized what had gone wrong and tried to react. But soccer has laws of its own, and their opportunity has passed.
Of course, it's an exaggeration, but you might say that we could still be playing today, and the Dutch still wouldn't have scored a second goal.
How did you experience the penalty situation? You took the ball, put it down on the penalty spot. There were rumors that you just grabbed the ball and shot. What is your version of events?
Paul Breitner: Before our first match in the tournament, we had talked about who would take a penalty if one was awarded. Nobody wanted to. Gerd Muller had missed a few in the Bundesliga. There was just nobody who said: "OK, I'll do it."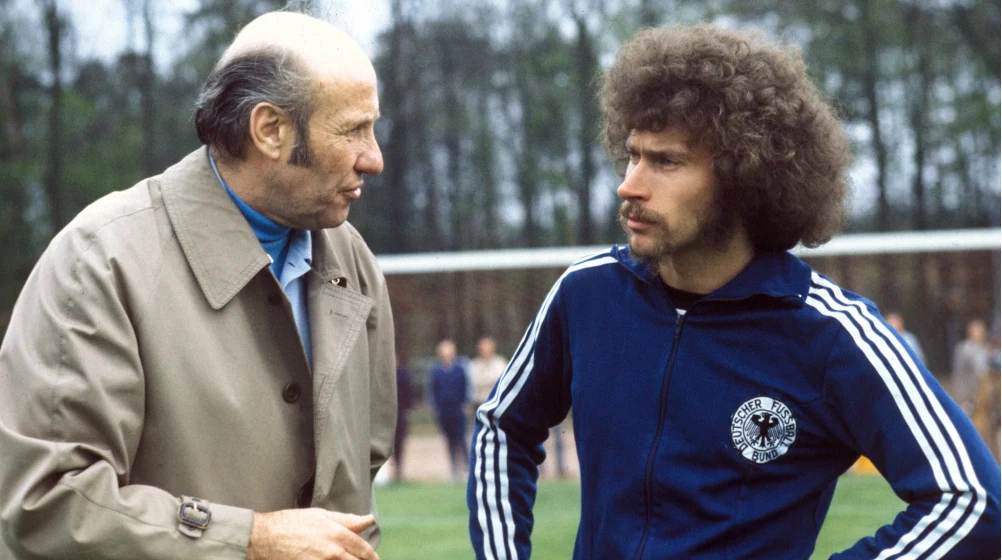 Wolfgang Overath?
Paul Breitner: No, nobody, no one wanted anything to do with it. At the national team training camp in Malente, we talked about penalties before the first match with Chile, but no one volunteered. The discussion wasn't my concern, but I didn't understand what they were talking about.
They were all crossing their fingers and hoping we didn't get a penalty, so they didn't have to face the situation. Finally, I said: "If I could, I'd take five penalties every match. I want to win the World Cup." It happened again before the Final.
Uli Hoeness had converted a penalty against Sweden, but he missed one against Poland in the semi-final, and we were in the same position again.
The kick-off was at 4 pm in the afternoon and we had a team meeting at 11 am in the morning. Once again, Helmut Schon asked us: "Well, gentlemen, what are we going to do if we're given a penalty?" And no-one came forward, no-one at all. I watched the situation, and something must have clicked inside me and just said "Do it!" without understanding what had happened.
The meeting ended with Helmut Schon saying we could talk about it again in the changing room. I couldn't believe it was happening. We couldn't figure out who would take the penalty kicks only five or ten minutes before kick-off at the Final. So Helmut Schon asked the question again, still finding no takers.
In the end, he said: "OK, if we're awarded a penalty, we'll have to decide on the spot." The coach and team captain often decide on a penalty-taker in advance. But you can't nominate one individual in an important match, in a World Cup Final. You can't just give someone the responsibility.
He would go to pieces. He needn't even start his run-up. He'll never find the net. I've been over the situation time and again, and I've put it down as something I can't possibly understand. It must have been like this.
At the moment when the ref blew his whistle, what I'd been thinking for weeks came to the surface: "OK, if you're in good form, then you've got to take the responsibility."
I felt good, so I went over, fetched the ball, and placed it on the spot. Everything around me seemed normal. I learned to concentrate absolutely in critical moments from very early on, using autogenic training.
I'd also made an important observation – someone who approaches a situation like that intending to become a hero is destined to become the biggest loser.
So I put the ball on the spot without any conscious thought. Later, Wolfgang Overath told me he had come up to me and asked: "Hey Paul, are you going to shoot?" I must have said: "Get out of the way. I'm going to bury it."
I started my run-up, and I saw the keeper making a sidestep, offering me the right-hand side from my perspective. I thought he would dive to the right when the time came. That movement would leave the left-hand side completely open because he would have shifted his weight, and I'd only have to slot the ball home.
It was said afterward that I had steely nerves and was clinical. But it wasn't like that: I wasn't clinical and didn't have nerves of steel. It was completely deliberate. It was a situation, a moment when I needed absolute concentration.
You can't think about what you're doing, the positive and negative consequences either way. If you did, you'd just run up and trip over your own feet from sheer terror.
That's what we saw with Johan Neeskens. He looked as if he'd sliced his shot, and was all over the place. He wasn't prepared for that penalty kick in the first minute. He didn't strike the ball cleanly at all. In my case, it was a moment I knew I could deal with.
It was just like a film, and I was only really back in the game when the ball was in the net, and the Dutch were about to kick off again.
You once talked about seeing it on the television for the first time and thinking, "What have I done"?
Paul Breitner: The Final was on Sunday afternoon, and it was about 8 am on Monday when my wife and I got home from various celebrations. So I was lying on the sofa in the living room, trying to sober up and switch on the TV.
At 10 am they were showing the Final on Austrian TV. So I had one eye on the match, and then suddenly the ref gave us that penalty.
I watched myself walking out of the picture, coming back from the left just afterwards with the ball, and walking up to the penalty spot. I came out in a cold sweat and felt sick in a fraction of a second. I was finished. I switched off the TV, went out into the woods, and walked for maybe half an hour or three-quarters of an hour.
"I just can't believe it," I said to my wife. That was the moment when I finally realized what I'd done. At that moment, all those thoughts about what might have happened, what madness it had been, started buzzing through my head.
You mentioned that you felt the Dutch would not have scored another goal even if the match had gone on for days. At what point did you feel the match had been won?
Paul Breitner: After I'd scored from that penalty and the referee had blown his whistle again for the restart, the whole team sensed the turbo-like effect of equalizing. I wasn't the only one convinced we were going to win after that.
So it wasn't after you went 2-1 up?
Paul Breitner: No, it was the equalizer.
At any rate, after 90 minutes or so were up, the referee blew to end the game. Imagine hearing the final whistle and thinking: "We've won the Cup! The whole world is looking at us. We've done something extraordinary!"
There are certain situations involving joy and grief no outsider can share. Well, I can try to describe what I felt at that very moment. I'm not a man who believes that happiness is a drawn-out experience. I concentrate on moments of happiness, although it was a moment that took its time coming.
From the beginning of the second half, I'd been looking at the clock every two or three minutes, but it wasn't ticking on as I'd expected. The last 15, 20 minutes were madness. If I looked at the clock twice, I still saw the same minute.
And then there was the moment when the ref blew his final whistle. I can't describe it, even for my wife or family. I know that no one can understand what it was like. When I'm giving someone my condolences, I can perhaps feel 70, 80 percent at most of what they must be feeling, and it's the same with a moment of absolute joy. It was an incredible moment.
I had an indescribable feeling of happiness and genuine pleasure. I was so satisfied. I must have thought: "All that training when you were young, training every day for five long years, whatever the weather. This is your reward." I had rewarded myself for all that effort.
World Cup Trophy
What did you feel at the moment when you held the trophy for the first time?
Paul Breitner: The great moment of joy had already passed, the moment when the referee blew the final whistle. You fall into the arms of the man nearest to you, two or three of you dance for joy. Those are the moments that matter.
Then you cool down, and you just don't take in the official Trophy ceremony. Holding the cup in your hands is nothing like the feeling when you hear the final whistle.
Does this bring back any memories?
Paul Breitner: I have two trophies from the DFB at home, two miniature replicas. I never played for certificates, medals, or even this trophy, but just for myself, for the feeling of winning, playing well, giving people value for their money, doing justice to this partnership with the fans and spectators, and doing so my job well.
You don't need a cup to give you the feeling you're a world champion. It's an external symbol that some people need. There are many people it's important for, but it isn't so crucial for me as a player. I just don't know what I was feeling when I held it for the first time. The final whistle was even better.
What about the Trophy itself? Is it what you'd expect of a Trophy?
Paul Breitner: I've been a member of football clubs for almost 50 years, and I've never seen a stunning trophy.
Paul Breitner Facts and Figures
Full Name: Paul Breitner
Birthdate: 05/09/1951
Birthplace: Kolbermoor, West Germany
Playing Career:
Bayern Munich 1970–1974
Real Madrid 1974–1977
Eintracht Braunschweig 1977–1978
Bayern Munich 1978–1983
Total Appearances: 369 matches, 103 goals
International Career:
West Germany 1971–1982 (48 matches, 10 goals)
Club Honors:
Bayern Munich
1971–72, 1972–73, 1973–74, 1979–80 and 1980–81: 5 Bundesliga Titles
1970–71 and 1981–82: DFB-Pokal Winners
1973–74: European Cup Winners
Real Madrid
1974–75 and 1975–76: La Liga League Champions
1974–75: Copa del Rey Winners
West Germany National Team
1972 UEFA European Champions
1974 FIFA World Cup Champions
1982 FIFA World Cup Runners-Up
Individual Honors:
1971–72, 1972–73, 1978–79, 1979–80, 1980–81, 1981–82, and 1982–83: Bundesliga Team of the Season
1972: UEFA European Championship Team of the Tournament
1974: FIFA World Cup All-Star Team
1981: Germany Footballer of the Year
1981: Ballon d'Or Runner-Up