Once you reach the dizzying heights of nationwide fame, the only way is down, more often than not. Paul Gascoigne had the world at his feet during the 1990s, but escapades off the pitch always overshadowed what this generational talent had to offer on it.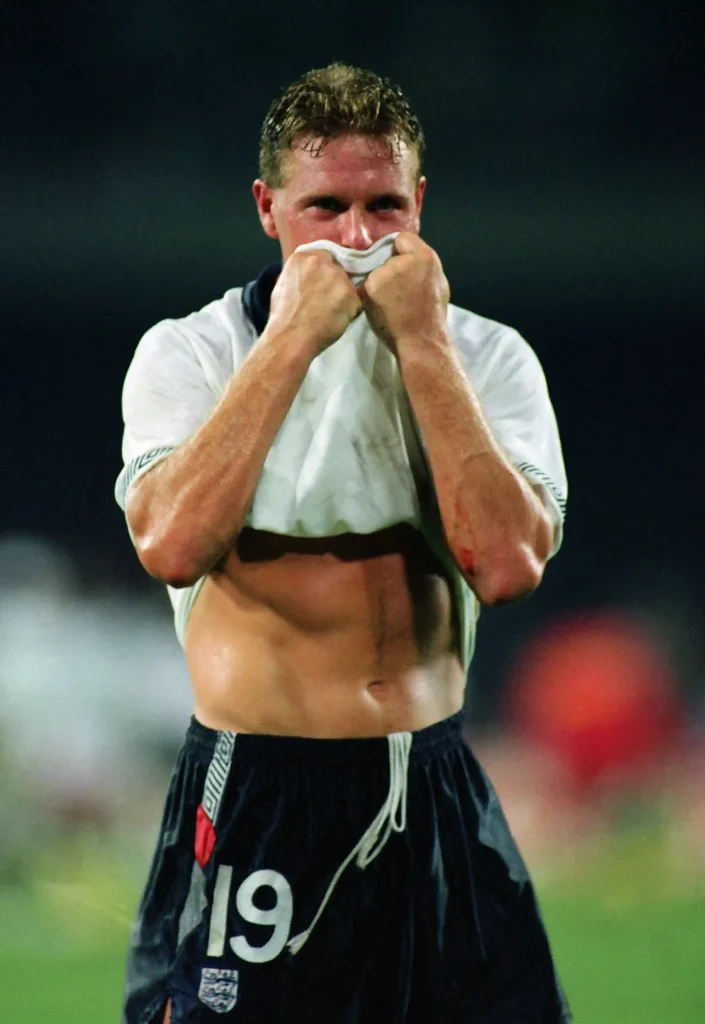 Becoming Gazza
Paul John Gascoigne went from the chubby schoolboy who joined Newcastle United in 1980 to the man who captured the hearts of a nation while playing for England.
The Gateshead-born midfielder began his youth career at Newcastle, the team he supported, at age 13.
Paul 'Gazza' Gascoigne signed schoolboy forms with his boyhood heroes in 1980 and made his first team debut under Jack Charlton as a substitute against Queens Park Rangers in April 1985 after skippering the youth side to FA Youth Cup glory a few months earlier.
Paul Gascoigne skills and all-action performances quickly saw him nail down a regular place in the first team. He eventually became the new hero of the Gallowgate after Chris Waddle, and Peter Beardsley left for new pastures.
The Geordie's fiery temperament often landed him in hot water with the referees, but that didn't stop Newcastle United legend Jackie Milburn describe him as "the best in the world."
In 1988, with Newcastle United struggling on and off the field, a British record transfer fee from Tottenham Hotspur was too good to turn down, and Gazza was off to White Hart Lane.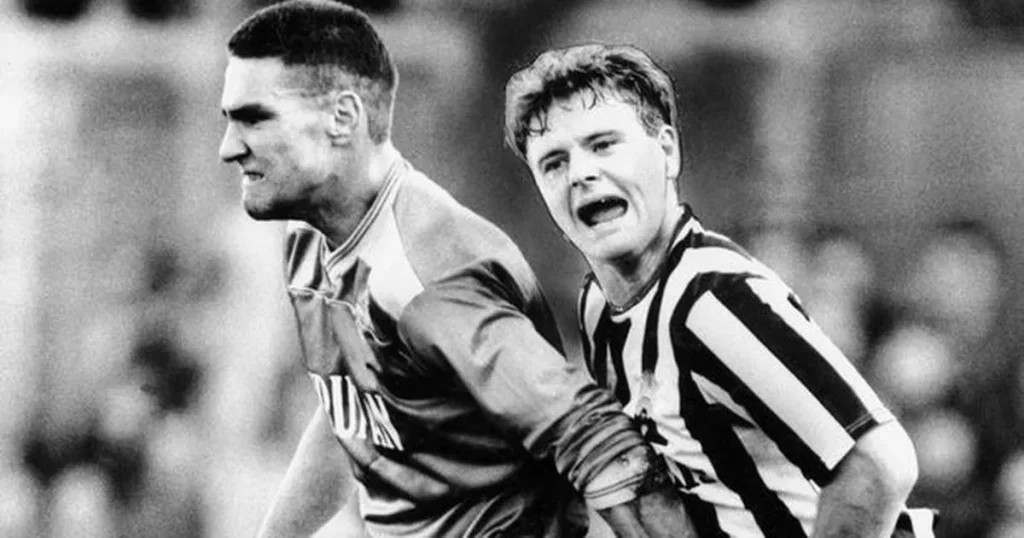 Moving To London
The former England footballer went on to show the rest of the country what United's fans had known for years. Gascoigne scored seven goals in 37 appearances for Tottenham Hotspur in the Premier League during his first season at White Hart Lane. Despite finishing third in 1989–90, Tottenham still trailed Liverpool by 16 points. [8]
Although he struggled for consistency, it is evident that this young midfielder was one of a kind. With incredible ball control and the creativity to match, "Gazza" found himself on the plane to the Italia 1990 World Cup as a 23-year-old (the youngest on the team). Before long, Paul Gascoigne was a regular in the England team.
Coming off a dark decade that saw English clubs expelled from European competition for five years following the Heysel disaster, England desperately needed some positivity. Paul Gascoigne duly delivered.
He dazzled the Premier League with his flicks and tricks, recorded essential assists, and led the Three Lions on a deep run that ended in the semis against West Germany.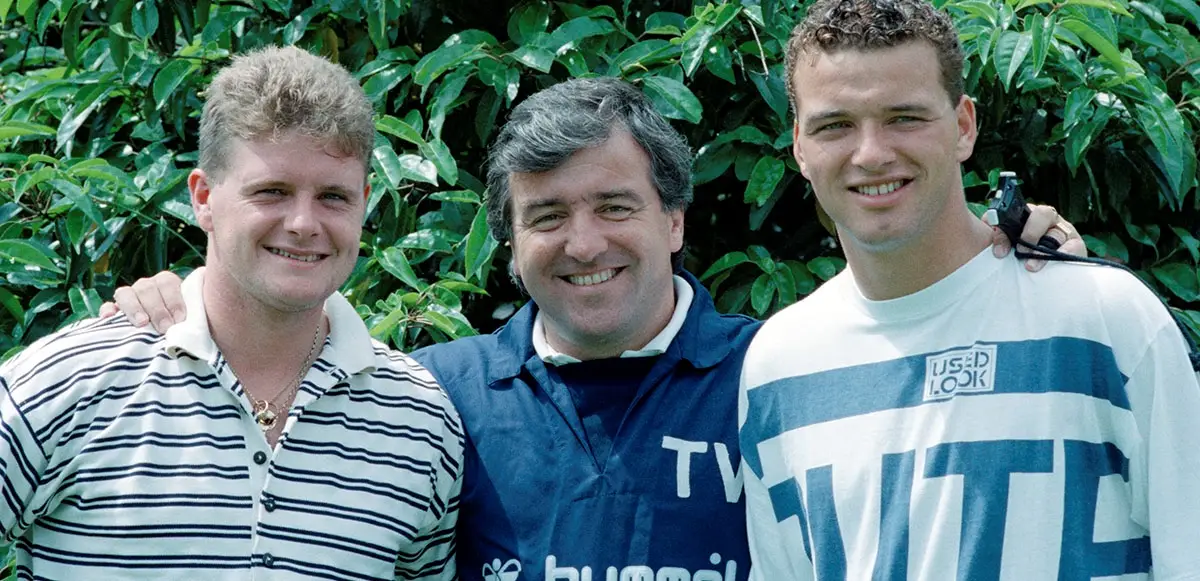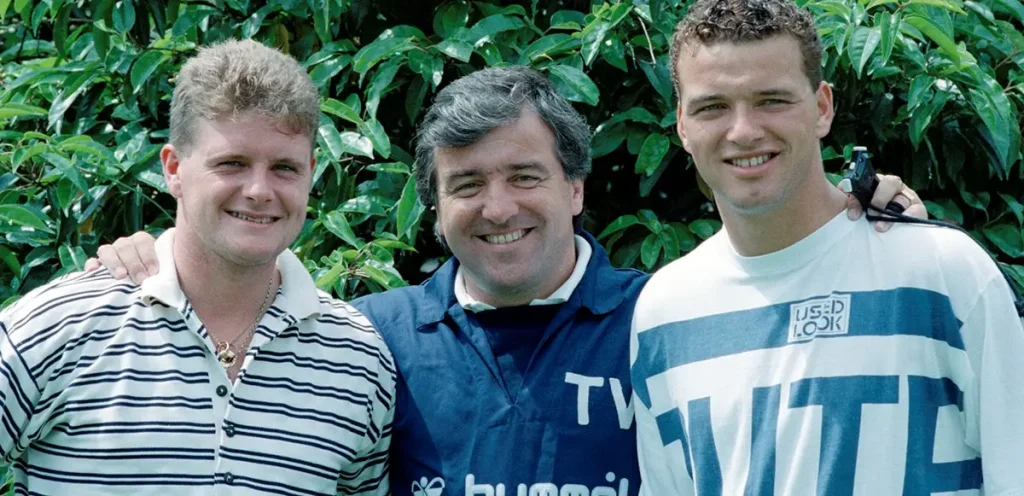 Spurs Icon
Paul lit up the tournament with some dazzling displays as the three lions reached the 1990 World Cup semi-finals, but it was in that game with West Germany that Paul 'Gazza' Gascoigne became a legend.
A foul on Thomas Berthold earned him a booking that would rule him out of the final – Gascoigne began crying, and the rest is history.
Despite the exit, a heartbroken Paul Gascoigne had cemented his place as a national hero, and English soccer experienced a major surge in popularity thanks to his exploits.
The whole nation went 'Gazza mad' on his return to England, and grounds up and down the country were packed to the rafters wherever Tottenham Hotspur played.
Tottenham reached the FA Cup Final in 1990–91, with the Premier League star the first name in the PFA Team of the Year. Gascoigne's contract with Lazio had already been agreed to when Spurs faced Nottingham Forest in the FA Cup final. Tottenham would receive £8.5 million from the deal. [17]
The England footballer ruptured his right cruciate ligament 15 minutes into the FA Cup final after committing a dangerous knee-high foul on Gary Charles. Gascoigne was to leave the match on a stretcher. Spurs went on to win the Cup in extra time. [9]
In late 1991, Paul Gascoigne suffered a further knee injury at a nightclub on Tyneside, which forced him to miss the remainder of the 1991–92 Premier League season. [10] Throughout 1991, the tabloid press was dominated by the saga over Gascoigne's proposed transfer to Lazio. [1]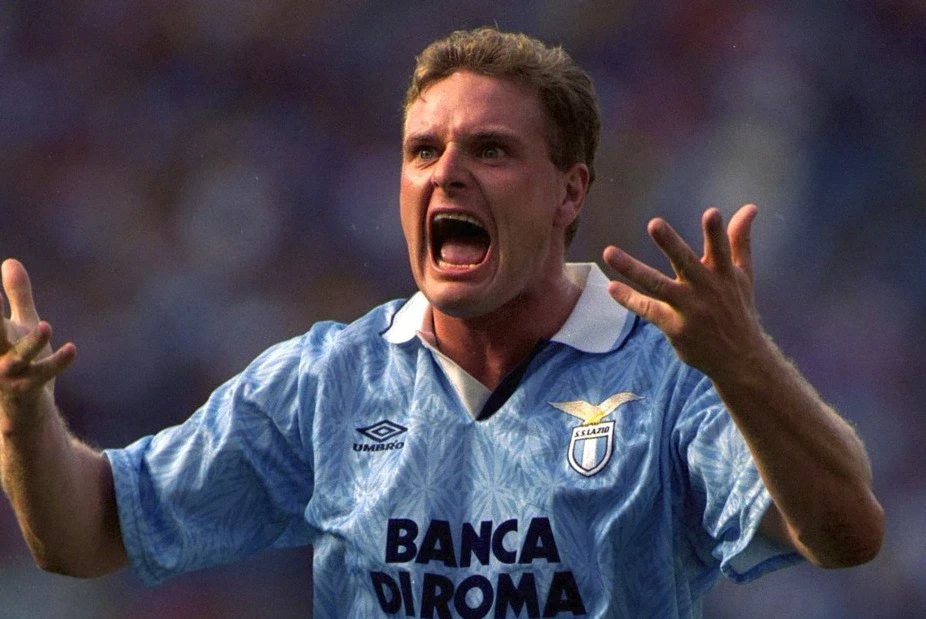 The Italian Job
Lazio eventually signed Gascoigne for £5.5 million. As well as being televised in Italy and Britain, he made his Serie A debut against Genoa on 27 September 1992. [11]
After failing to settle in Italy and being slammed by negative media attention, the England footballer punched reporters numerous times and belched down a microphone on live television. [12]
In his first season at the Stadio Olimpico, Paul Gascoigne was well received by the club's fans, even though he had previously been injured for a year. However, in the Rome derby against Roma, he scored an 89th-minute equalizer to endear himself to the Lazio fans.
During international duty in April 1993, Paul Gascoigne broke his cheekbone and played the remaining games in Serie A wearing a mask. For the first time in 16 years, Lazio qualified for the European competition by finishing fifth in the campaign. [13]
When Dino Zoff told Gascoigne he had to reduce his weight by 13 kg before the 1993–94 Serie A season, Gascoigne went on an extreme weight loss diet and lost the extra weight.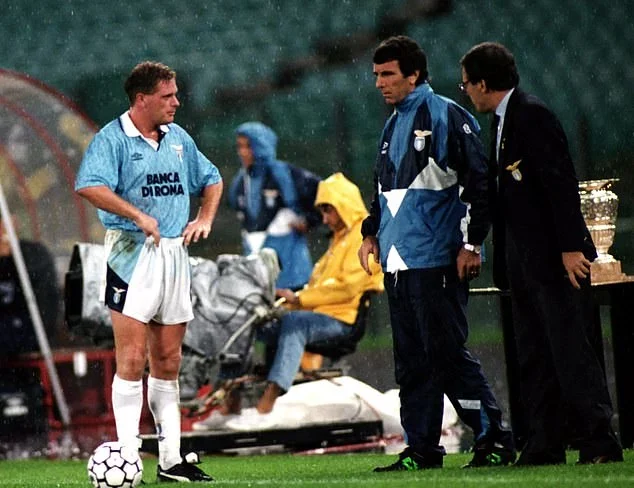 At the end of the 1994-95 season, both the club and the former England footballer decided to part ways due to his dissatisfaction with the new coach, Zdeněk Zeman's stern fitness approach after he broke his leg in training in April 1994. [14]
Nevertheless, his popularity never waned. Paul Gascoigne was hero-worshipped in Italy after signing for Lazio and then at Glasgow Rangers, where he helped the Ibbros side dominate the Scottish game between 1995 and 1998.
The Ibrox Adventure
Paul Gascoigne made an immediate impact at Ibrox. In the Old Firm fixture at Celtic Park, he scored a goal after running almost the full length of the football pitch to get on the end of a pass. [2] It seemed that Walter Smith signing for a club record fee of £4.3 million was a good investment. [18]
Glasgow Rangers won the Scottish Premier Division. Additionally, they won the Scottish Cup, beating Heart of Midlothian 5–1 in the final at Hampden Park after knocking out Celtic. [3]
SFWA Footballer of the Year and PFA Scotland Players' Player of the Year was awarded to Paul Gascoigne for his 19 goals in 42 appearances across all competitions.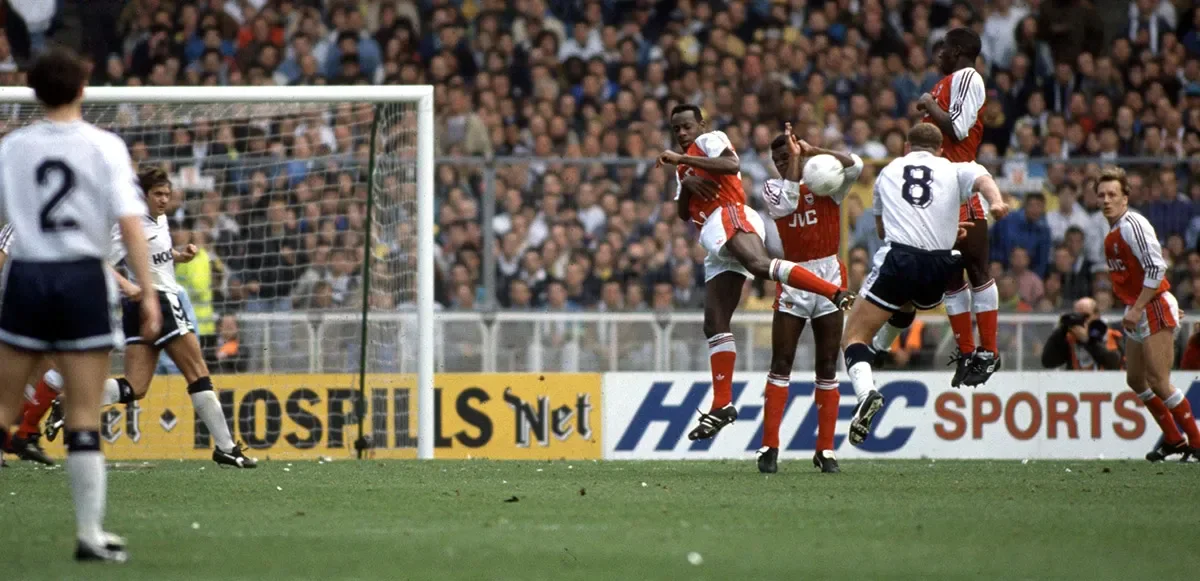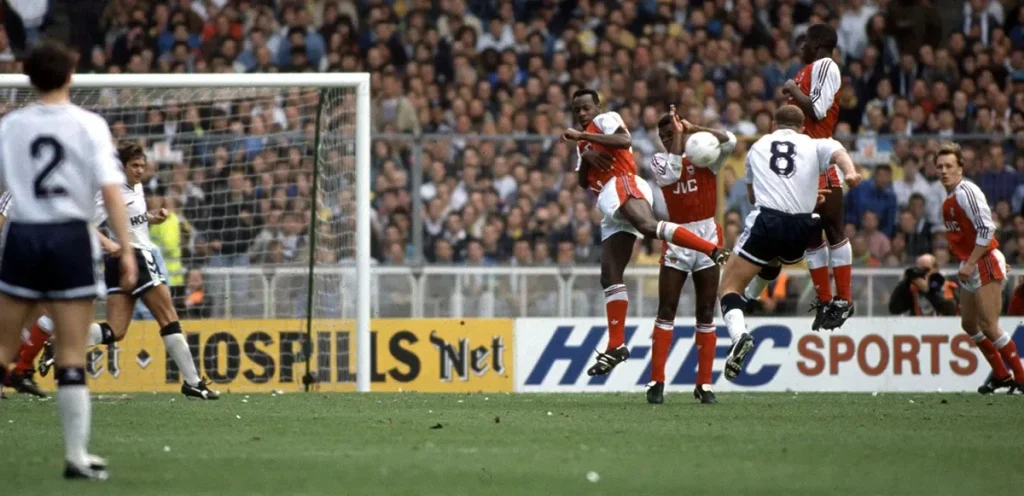 Paul Gascoigne Made The Scapegoat
Loved by teammates for his bubbly personality and cheeky sense of humor, the former England footballer soon had the gaze of the British press firmly fixed on him, and he didn't help himself by indulging in rather unsavory practices involving plenty of alcohol.
Things came to a head in the buildup to EURO 1996. By that point, Gascoigne had become a scapegoat for the English national team shortcomings. As part of Gazza's birthday celebrations, members of the England squad went on one of their typical booze-filled nights out in Hong Kong.
News of this extravaganza involved being tied to a dentist's chair soon reached the press, and Paul Gascoigne was forced to shoulder the blame.
Eventually, the British public turned on their former hero. In a survey by the Mirror newspaper, 86 percent of readers believed that Gascoigne should have been dropped from the England squad.
After a worrying start to EURO 1996 on home soil, things clicked into gear in England's second game against Scotland. With the Three Lions 1–0 up, Paul Gascoigne produced his chef-d'œuvre, flicking the ball over a defender's head before scoring.
During the now-iconic celebration, Paul 'Gazza' Gascoigne referenced the infamous dentist's chair. However, he had redeemed himself, and the Mirror newspaper later apologized. A rejuvenated England team reached the semifinals but was knocked out on penalties by eventual winners Germany.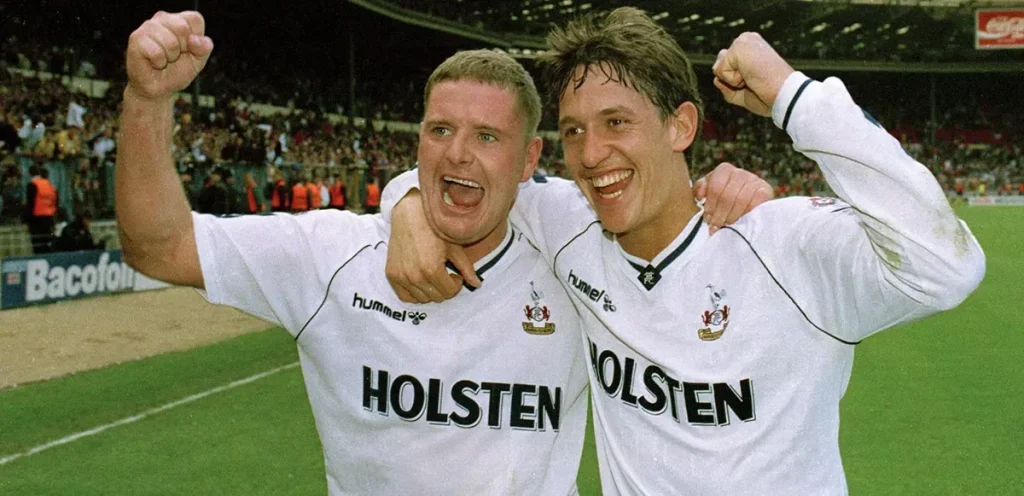 Produced Once Again
In 1996–97, Glasgow Rangers won their ninth consecutive league title, with Gazza scoring 17 goals from 34 games. A hat-trick against Kilmarnock and another against Motherwell completed Gascoigne's goal-scoring feats for the season. [4] The manager and assistant became increasingly concerned about Gascoigne's alcoholism this season.
Brief spells at Middlesbrough, Everton, and Burnley followed. After an unsuccessful spell in China with Gansu Tianma, Paul took his first steps on the coaching ladder after taking on a Boston United player-coach role.
Unfortunately, Paul Gascoigne's health deteriorated as his alcohol problems plagued his career until his retirement in 2004. Yet, for all his flaws, Gazza was arguably the most talented player England has ever produced. The indelible former England footballer left on soccer should always be remembered with great fondness. 
Personal Life Of Paul Gascoigne
His rollercoaster private life has dominated the front pages of newspapers almost as much as his sporting prowess. With 57 caps for England and 10 goals to his name, the 55-year-old was considered one of his generation's best players.
Gazza has suffered from alcoholism and depression since retiring from top-flight football. Gazza admitted in his autobiography that he headbutted in wife Sheryl and threw her to the ground during an argument in October 1996 that resulted in a broken finger.
His alcohol addiction became so severe that former England footballer was admitted to a private clinic in 1998 after a series of spectacular binges.
Paul Gascoigne's long-term health was threatened when he was hospitalized with pneumonia in January 2005. December 2005 brought more trouble. After leaving his post as Nationwide Conference North club Kettering Town manager, Gascoigne was arrested for an alleged assault outside a Liverpool hotel.
During his 40th birthday celebration in Gateshead, Tyne, and Wear, Gascoigne suffered a perforated stomach ulcer that required emergency surgery in May 2007.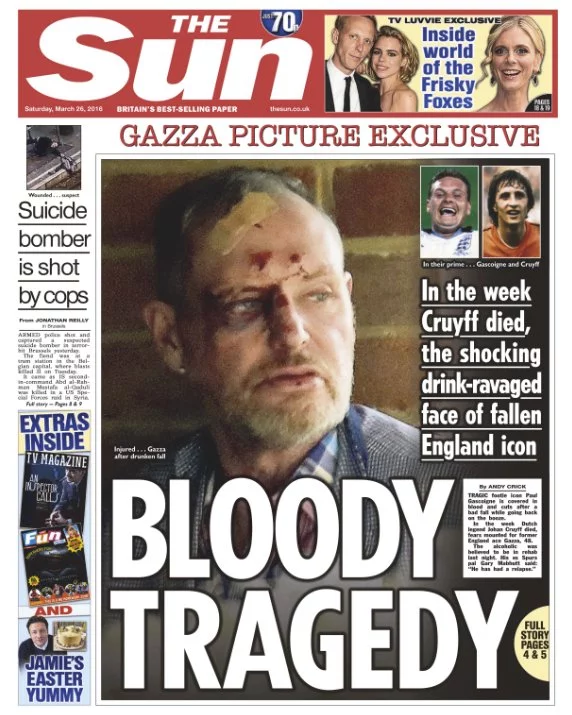 Mental Health Challenges
After an incident at the Malmaison Hotel in Newcastle upon Tyne in February 2008, Paul Gascoigne was sectioned under the Mental Health Act. [5] A protective custody order was issued to prevent him from harming himself. [20]
After the former England footballe overdosed on alcohol and drugs in an apparent suicide attempt, he was sectioned again in June and hospitalized in September. [15]
A drunken driving arrest was made against Gascoigne in October 2010. A Newcastle upon Tyne magistrates court later found Paul Gascoigne to have been over the limit by more than four times.
Gascoigne was arrested for cocaine possession one day after he was warned he could face prison for drunk driving. [21]
In July 2013, Paul Gascoigne was arrested at Stevenage railway station for being drunk and disorderly and assaulting a railway guard. Having harassed an ex-girlfriend and assaulted a photographer in October 2015, he was fined and made the subject of a restraining order. [16]
In January 2017, Gascoigne's spokesman confirmed that the former England footballer had entered a rehabilitation center to remain alcohol-free. British Transport Police made an arrest at Durham railway station for alleged sexual assault on a train in August 2018.
England's Most Gifted Playmaker
The former England footballer will always be remembered for his creativity, athleticism, and technical ability.  The passing accuracy, striking ability, and heading ability of Paul Gascoigne made him capable of both scoring and setting up goals.
In addition to his dribbling skills, Paul Gascoigne had pace, physical strength, balance, and excellent dribbling skills, which allowed him to beat opponents, protect the ball, and withstand physical pressure. [6] 
He is widely regarded as the most naturally talented English footballer of his generation, according to the National Football Museum. [19]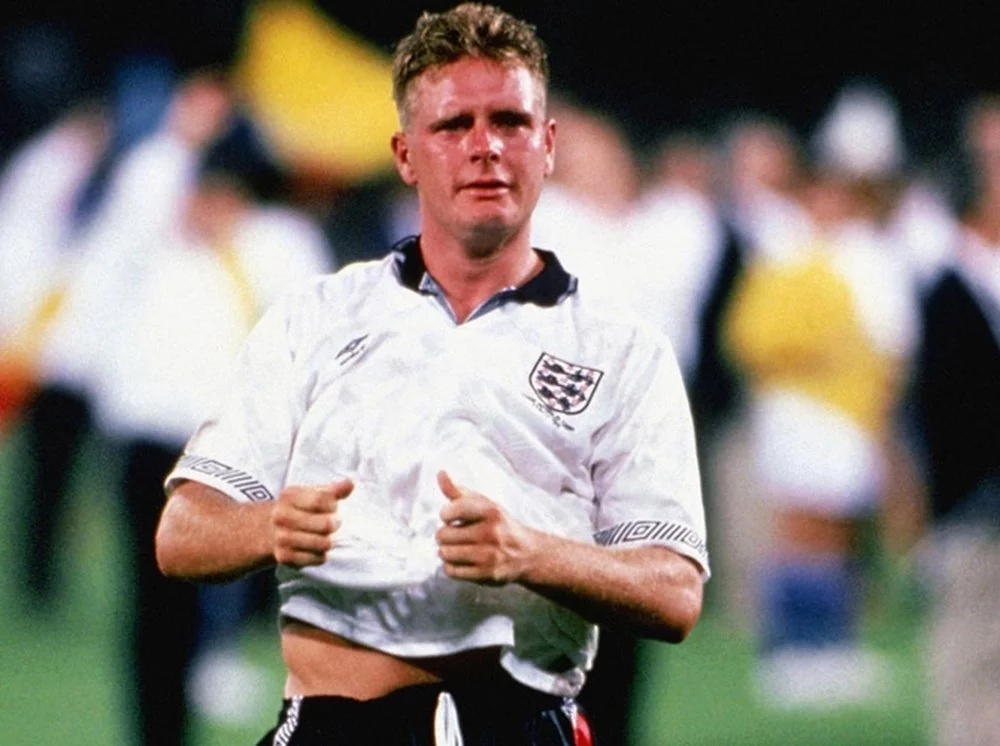 Paul Gascoigne Stats, Facts, And Figures
Full Name: Paul John Gascoigne
Birthdate: 27/05/1967
Birthplace: Gateshead, England
Club Playing Career:
Newcastle United 1984–1988
Tottenham Hotspur 1988–1992
Lazio 1992–1995

Glasgow Rangers

1995–1998
Middlesbrough 1998–2000
Everton 2000–2002
Burnley 2002
Gansu Tianma (China) 2003
Boston United 2004
Total Appearances: 388 matches, 83 goals
International Career:
England National Team 1988–1998 (57 national team appearances, 10 goals)
Managerial Career:
Club Playing Honors:
Newcastle United
1984–85: FA Youth Cup Winners (Captain)
Tottenham Hotspur
Glasgow Rangers
1995–96 and 1996–97: Scottish Premier Division Champions
1995–96: Scottish Cup Winners
1996–97: Scottish League Cup Winners
Individual Honors:
1987–88: PFA Young Player of the Year
1987–88 and 1990–91: PFA First Division Team of the Year
1990: FIFA World Cup All-star team
1990: BBC Sports Personality of the Year
1996: UEFA European Championship Team of the Tournament
2002: English Football Hall of Fame Inductee [7]
References:
[1], [2], [3], [4], [5], [6], and [7]: https://en.wikipedia.org/wiki/Paul_Gascoigne
[8], [9], [10], [11], [12], [13], [14], [15], and [16]: https://peoplepill.com/people/paul-gascoigne/tc/film-tv/
[17], [18], and [19]: https://kids.kiddle.co/Paul_Gascoigne
[20] and [21]: https://xinermed.cl/wp-content/uploads/n6meb/siviglia-lazio-gascoigne-9fa1f5
Images:
www.goal.com/en-ae/news/gazza-release-date-how-to-watch-bbc-paul-gascoigne-documentary/blt529becba1b94bb9f (main image)
Getty Images
www.leeds-live.co.uk/best-in-leeds/gigs-clubs/leeds-united-gazza-vinnie-jones-15114697
www.tottenhamhotspur.com/the-club/history/legends/paul-gascoigne/
twitter.com/classicshirts/status/904730248461377536/photo/1
Action Images
Bob Thomas / Getty Images
www.marca.com/en/football/international-football/2016/03/26/56f6f1d7268e3e8f4a8b4657.html
AFP