Peter Schmeichel is widely considered one of the greatest goalkeepers of all time, but is the Great Dane Manchester United's greatest ever keeper? As a goalkeeper, he was known for his hulking physique, rapid reflexes, saving pivotal spot-kicks, and scoring the odd goal, and he had a bear-like roar that commanded his teammates.
The large, strong, and physically imposing goalkeeper from Denmark, with a large frame and a long reach, was surprisingly athletic and agile for someone his size. Known for his "star jump" saves, a technique he reportedly developed from playing handball, he will be remembered for his ability to cover the goal.
Peter Bolesław Schmeichel began his career playing for junior team Høje-Gladsaxe, based in a suburb of his hometown Copenhagen. His first match came on August 7, 1972, at eight years old.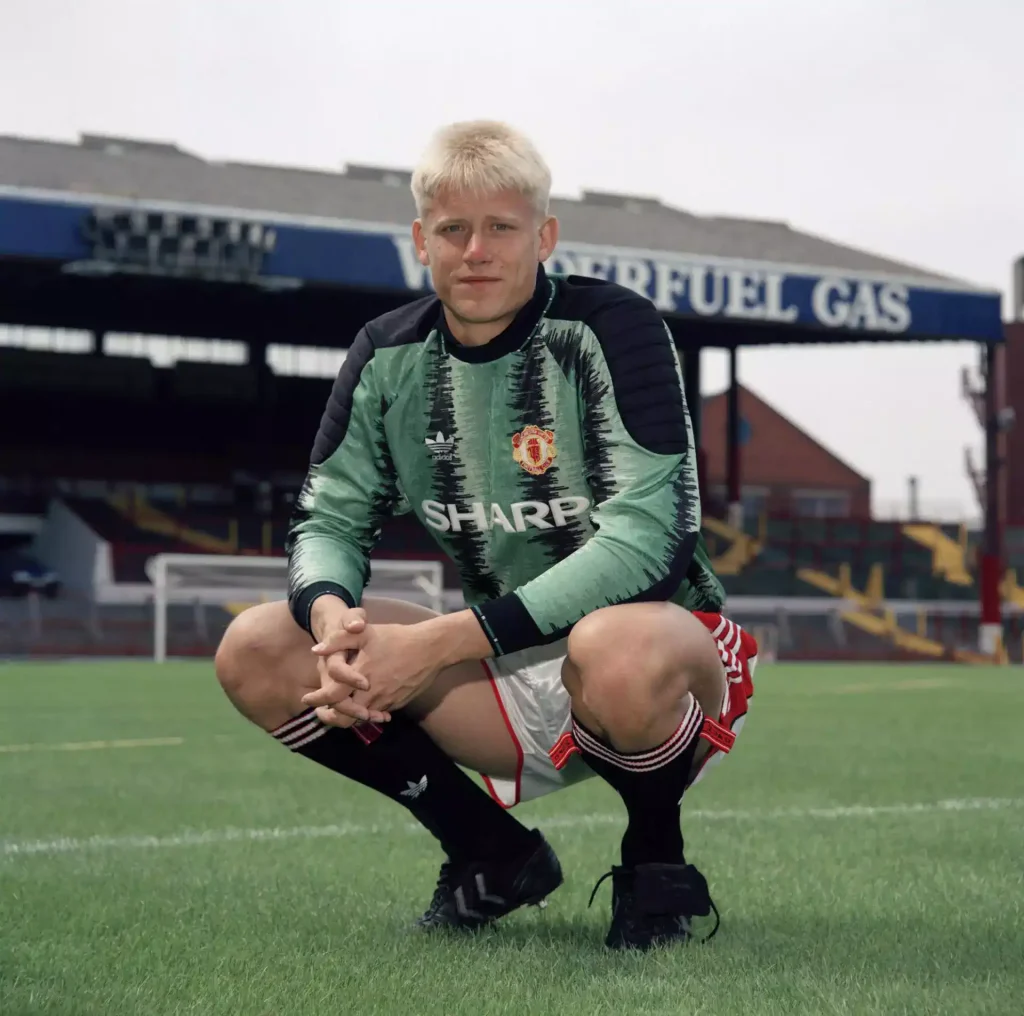 Following two and a half years of being unbeaten, Peter Schmeichel was approached by Hero, a soccer team a few divisions above Høje-Gladsaxe, that boasted one of the largest youth football schemes in Denmark. Peter played senior football for Gladsaxe-Hero BK after Hero merged with Gladsaxe.
Meeting His Mentor
In Svend Aage Hansen, the first-team coach at the club, Schmeichel met his first mentor, and Hansen became his father-in-law. In 1981, Gladsaxe-Hero was already relegated from the Danish Third Division with three games to play.
Hansen promoted Peter Schmeichel and six youth team members for a game against Birkerød. Gladsaxe-Hero lost 1-0, but Schmeichel received positive reviews in the local press, and at the end of the season, Hansen explained his plan for the future.
The Danish goalkeeper spent two more seasons with Gladsaxe-Hero before moving to Hvidorve, playing for Denmark's national team, and eventually having a successful career abroad.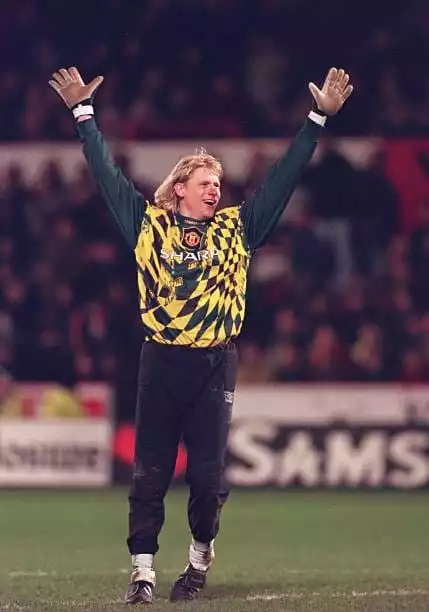 Intimidating Physique
The goalkeeper's intimidating physique could explain Svend Aage Hansen's confidence in Schmeichel at an early age.
Peter Schmeichel is 6 foot 4 inches tall and weighed over 16 stone during his playing days, so he had to wear specially made XXXL football shirts. The following season Gladsaxe-Hero only needed to avoid defeat against Stubbekøbing to prevent relegation from the Danish National League.
Gladsaxe-Hero won the match after Schmeichel played one of his best games. Hansen's daughter Bente ran onto the pitch during the celebrations and hugged the Denmark goalkeeper. The two ended up going out as a couple and eventually married.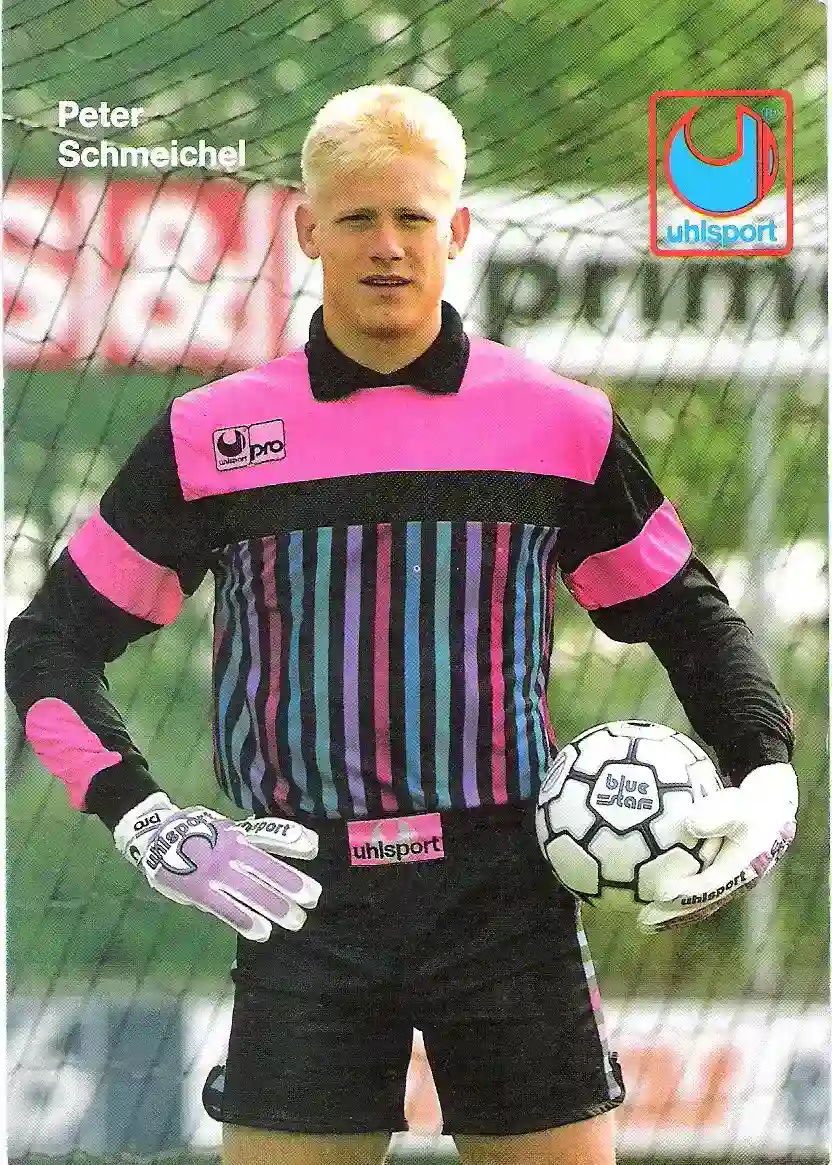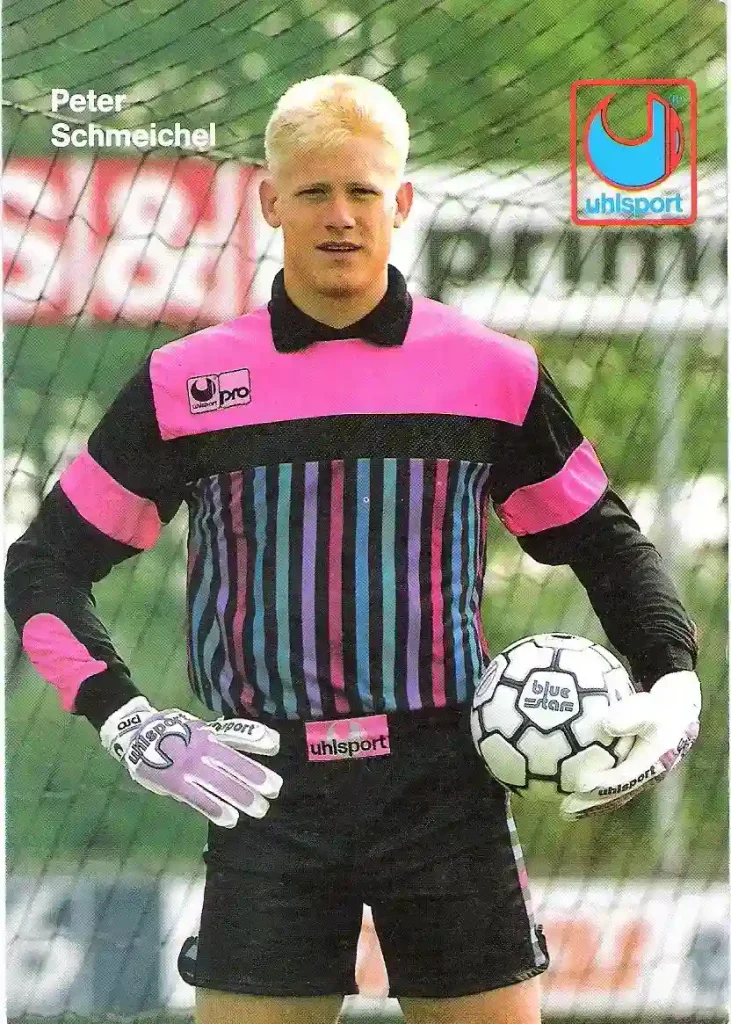 New Pastures
In 1984, after playing 46 matches for his hometown club, Peter Schmeichel signed for Hvidorve, who had won the Danish Championship three years earlier. A move to the Danish First Division was a big step for the young goalkeeper. Unfortunately, however, the club was relegated in Schmeichel's first season.
The club bounced straight back to the Danish First Division the following season, and impressive performances earned Schmeichel a move to Brøndby in 1987. He won the Danish league in his first season with Brøndby and was selected in Denmark's EURO 1988 squad, eventually becoming their number one goalkeeper at the tournament.
Peter Schmeichel won four championships in five seasons at Brøndby. In his final season with the club, Brøndby reached the semi-finals of the 1991 UEFA Cup, where a last-minute Rudi Voller goal eliminated them against the Italian club, Roma.
After the tournament, Schmeichel was voted 10th in the World's Best Goalkeeper poll.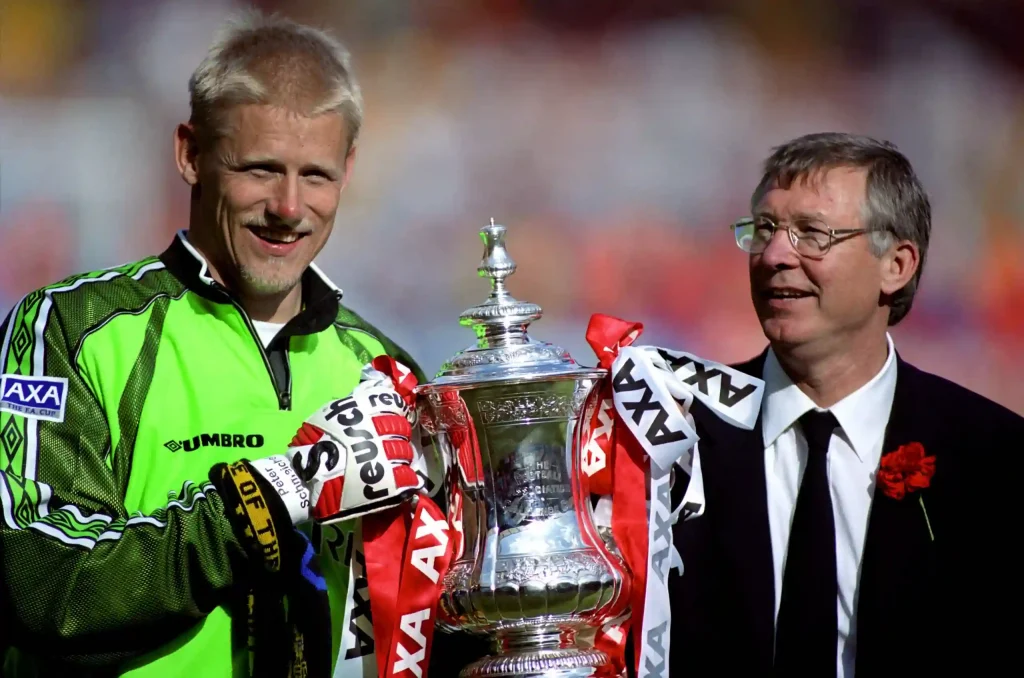 Manchester United Goalkeeper
Manchester United bought Peter Schmeichel for £530,000 in the summer of 1991. This was a fee that Sir Alex Ferguson described in 2000 as "the bargain of the century."
The Red Devils finished as league runners-up in Schmeichel's first season. The club won the League Cup for the first time in its history. Peter Schmeichel's greatest success that year was on the international stage. He was terrific between the goalposts when the Denmark national team sensationally won the European Championships in 1992.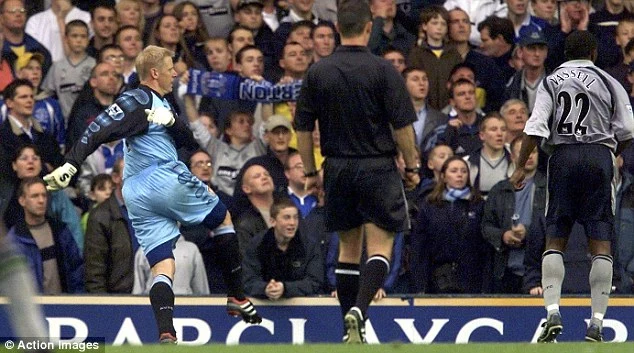 EURO 1992 Championships
As a first-choice goalkeeper, he started EURO 92 – which Denmark's national team went on to win. In the semi-final, he saved Marco van Basten's penalty. The match ended 5-4, and the Danish national team prepared for the final.
They defeated the reigning world champions Germany 2-0 in the Euro 1992 final. The German team comprised the likes of Andreas Brehme, Matthias Sammer, Stefan Effenberg, Thomas Hassler, Karl-Heinz Riedle and Jurgen Klinsmann. The great Dane made an amazing one-handed save still shown in highlight packages thirty years on.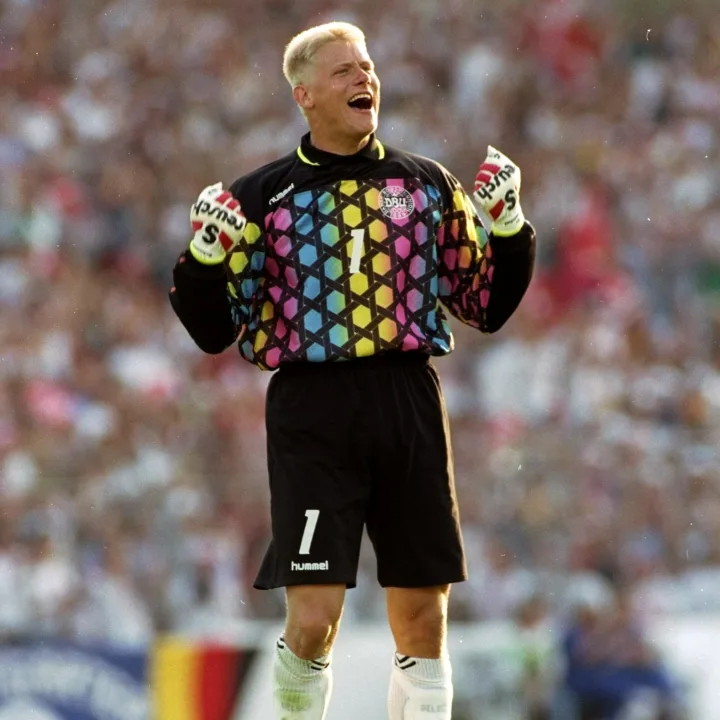 Important Saves
A string of crucial saves on the way to national glory earned him the 'World's Best Goalkeeper award in 1992. During the 1992/93 Premier League season, Peter Schmeichel kept 22 clean sheets as United won their first league title in 26 years.
The Great Dane was again named the 'World's Best Goalkeeper' again in 1993. In January 1994, Schmeichel fell out with Alex Ferguson following a game against arch-rivals Liverpool where United squandered a 3-0 lead to draw 3-3.
After this row, Fergie contemplated selling the goalie, but he changed his mind after overhearing Schmeichel apologizing to his teammates for losing his temper. Schmeichel and Manchester United retained their Premier League title at the end of the season.
Ending On A High
His Manchester United career ended on the highest note possible in 1999 as they won the Treble – the Premier League, FA Cup, and Champions League. Against Arsenal in the FA Cup semi-final, Peter Schmeichel saved a penalty kick by Dennis Bergkamp in the last minute. The match went into extra time as a result.
Who could forget Ryan Giggs' dramatic winner when he unveiled that hairy chest in the celebrations. Peter Schmeichel captained Manchester United in the Champions League final against Bayern Munich in the absence of the suspended Roy Keane.
The Germans were leading 1-0 as David Beckham prepared to take a corner kick in the match's dying moments. The Danish national teamkeeper sprinted up to the corner and made his presence known to the Bayern defenders.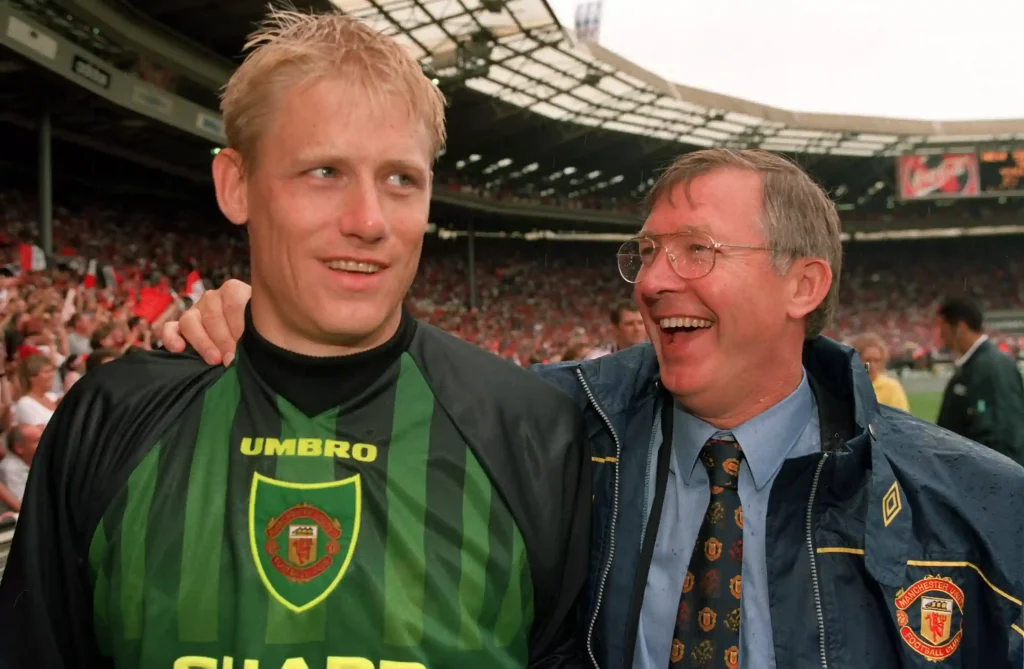 The Big Goalie's Coming Up
In one of the best commentating moments, Ron Atkinson informs us that "the big goalie's coming up." Peter Schmeichel confused the Bayern Munich penalty box, and Teddy Sheringham equalized for United.
The Big Dane stayed back when United won a second corner seconds later, and Ole Gunnar Solskjaer stabbed home the most incredible winner for the Red Devils. Schmeichel was shown cartwheeling gleefully in his area in one of the most iconic Champions League moments: United had reached the promised land!
Following Schmeichel's departure, Manchester United experienced difficulty replacing him, going through several high-profile keepers, including Fabien Barthez, Tim Howard, and Roy Carroll.
During his 310 Premier League appearances for Manchester United, Aston Villa, and Manchester City, Schmeichel kept 128 clean sheets.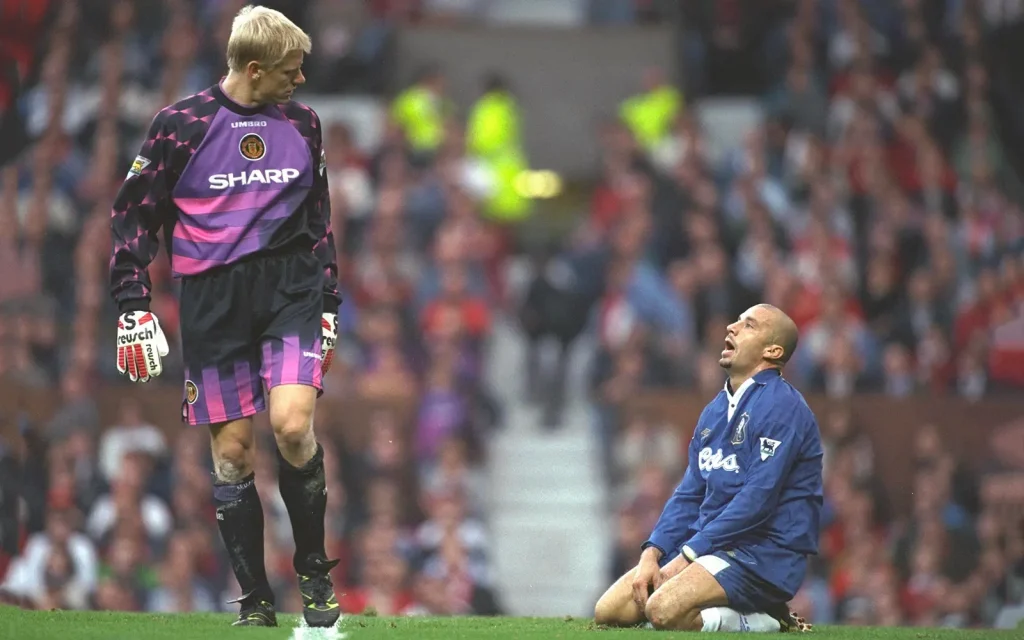 Slower Pace
Eventually, Manchester United purchased Edwin van der Sar, whom Sir Alex Ferguson considers the best goalkeeper to have played for the club since Peter Schmeichel. At the end of the 1999 season, Schmeichel left the English game, searching for a slower football pace.
The grueling 60-game season schedule, which came with playing for one of the biggest clubs in the world, threatened to undermine his high standards at the age of 36. He won the Portuguese League with Sporting Lisbon in his first season, the club's first title in 18 years. He play two seasons at Sporting CP and made 55 appearances.
Peter Schmeichel chose to move on again when his contract expired in 2001. However, he shocked the footballing world by returning to England to sign for Aston Villa.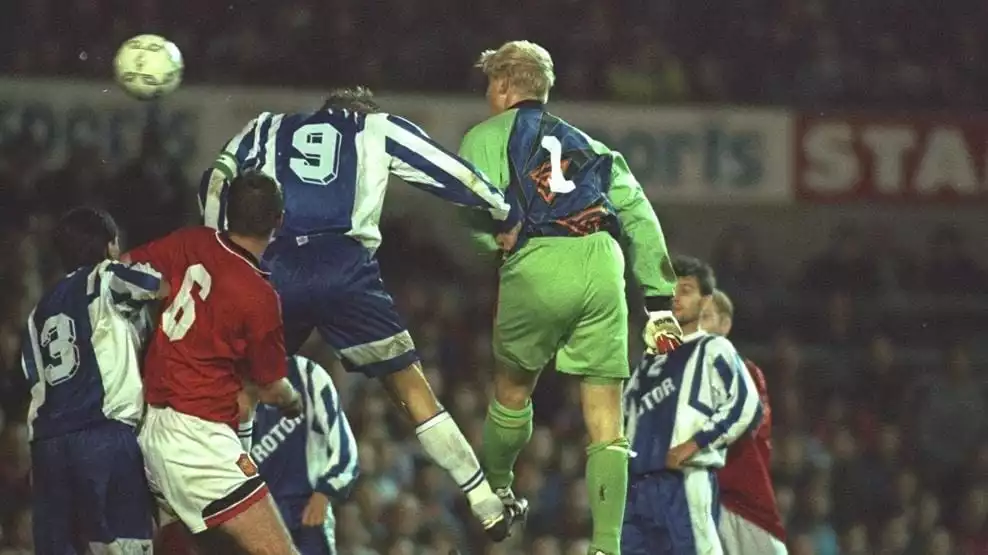 First Goalkeeper To Score In The Premier League
He became the first goalkeeper to score in a Premier League game, netting for Aston Villa in a 3-2 defeat at Everton in October 2001. This is a feat repeated only twice; by Brad Friedel and Paul Robinson.
He failed to complete a whole season with Villa due to a clause in his contract that stipulated he would play every game if fit. Following this disagreement, as he became the no.2 goalkeeper behind Peter Enckelman, Aston Villa and Peter Schmeichel agreed to terminate his contract allowing him to leave. He made 29 appearances.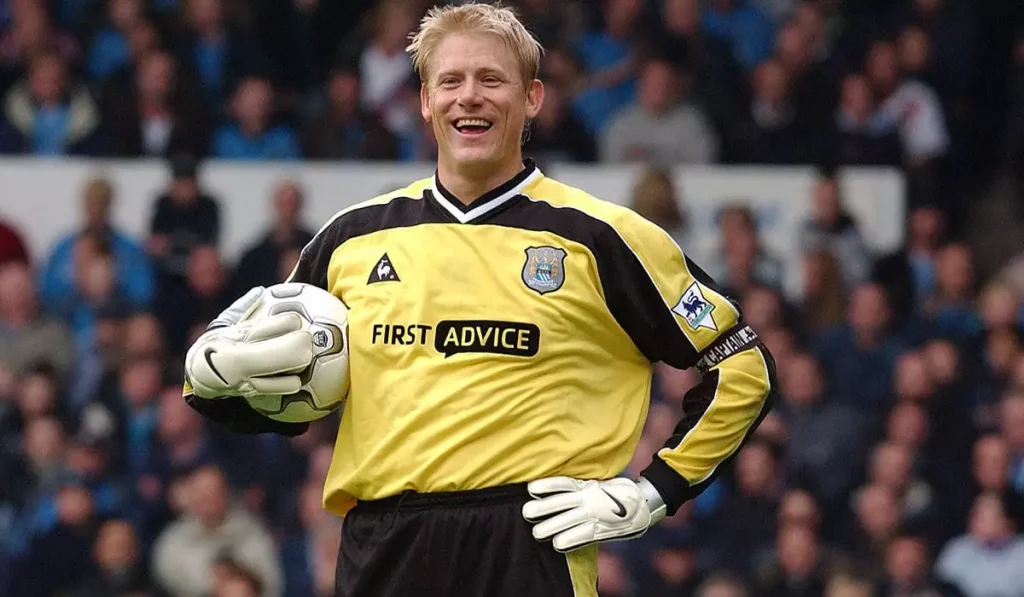 Joining The Arch Enemy
The biggest shock was yet to come as Peter Schmeichel would join United's city rivals. The Great Dane played out his final season with Manchester City. Schmeichel's record in Manchester derbies is exceptional in that he was never on the losing side.
In the 2002-03 season, Kevin Keegan's City drew at Old Trafford and won the last ever Maine Road Manchester derby 3-1. Peter Schmeichel won four Danish Championships, one Danish Cup, five Premier Leagues, three FA Cups, one League Cup, one Portuguese Championship, one Champions League, and the 1992 European Championship.
Despite turning out for Manchester City, United fans still hold him close to their hearts after eight years at Old Trafford glittered with success. Former Manchester United right-back and now Sky TV pundit Gary Neville once famously displayed his fierce loyalty to the Red Devils as he refused to shake the hand of Peter Schmeichel as he turned out for Manchester City.
Peter Schmeichel career came to an end after 29 appearances for City. He officially retired from playing.
Manchester United's Greatest
Ahead of his testimonial this year and after a few mellowing years, Gary Neville named Peter Schmeichel as goalkeeper in his top United 11. He said he chose the Denmark goalkeeper ahead of Edwin van der Sar because Schmeichel spent more years at Old Trafford.
Peter Schmeichel should rightly go down as United's greatest goalkeeper. Although Van Der Sar reached three Champions League finals in four years with Manchester United, Schmeichel was a massive figure for the Red Devils as they went through a transitional stage in the nineties.
His intimidating size, attacking threat, and how he organized and often shouted at his defense establish him as Manchester United's most outstanding ever goalie. "He is a giant figure in the history of Manchester United" – Sir Alex Ferguson.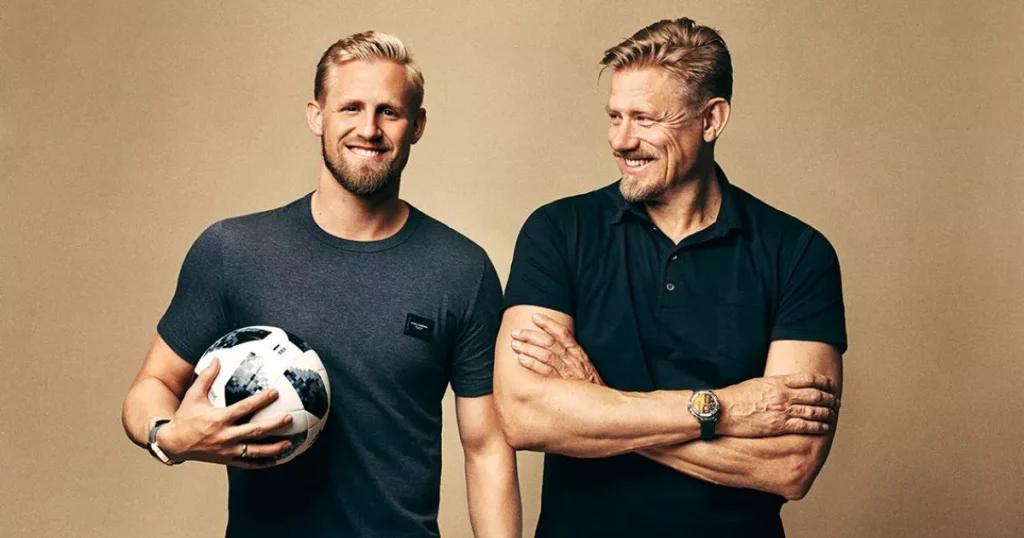 A Regular Goalscorer
Peter scored nine career goals during his long career. In June 2000, he scored an international goal in a 2-2 friendly draw with Belgium.
In September 1995, he also scored in Manchester United FC's UEFA Cup first-round match against SC Rotor Volgograd, rising to head in Ryan Giggs' right-wing corner. United still lost on away goals despite salvaging a 2-2 draw.
He once scored for Aston Villa when Schmeichel became the first goalkeeper to score a Premier League goal in a 3–2 defeat away to Everton. The Danish first division is where he scored the majority of his nine career goals.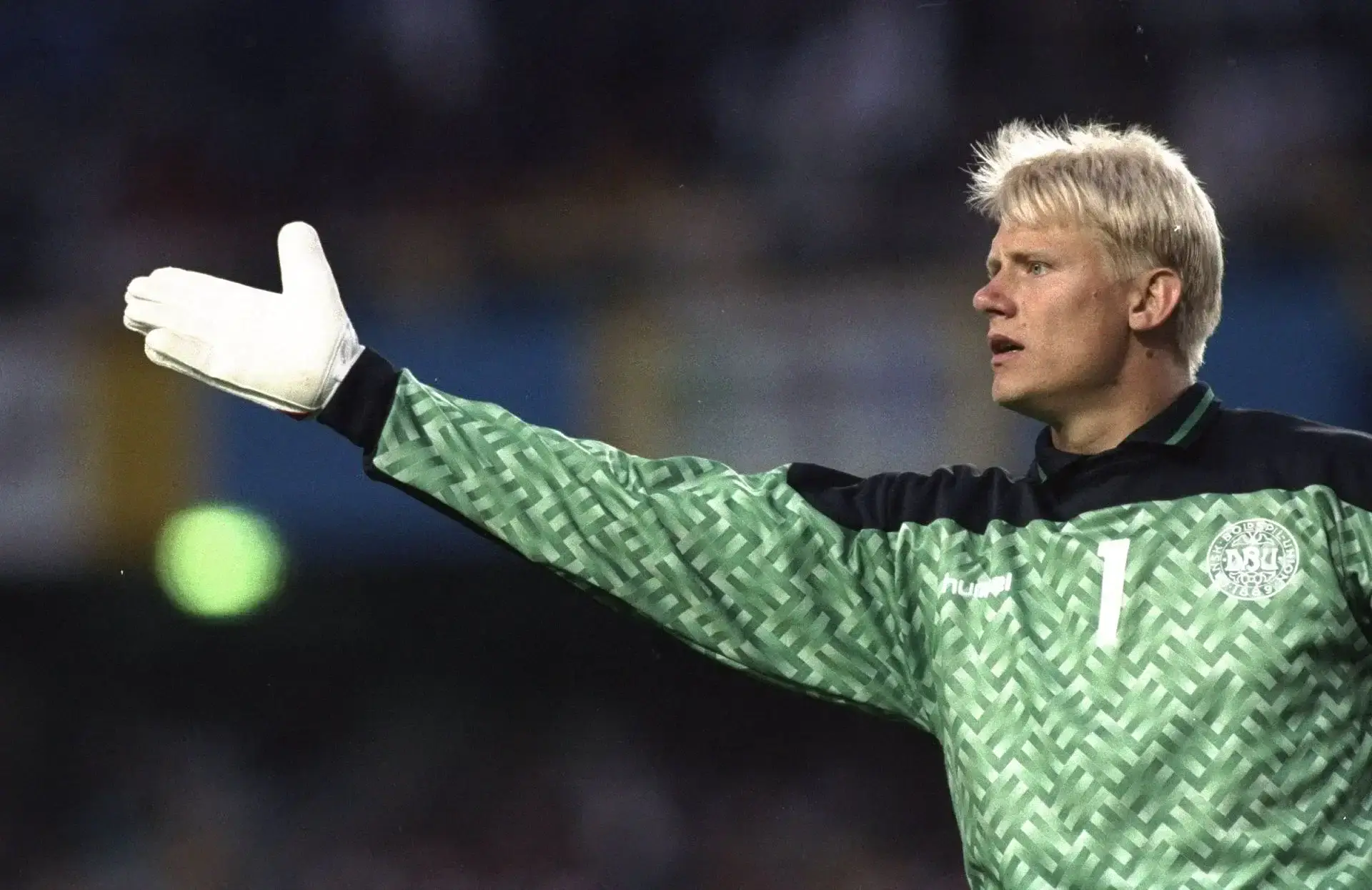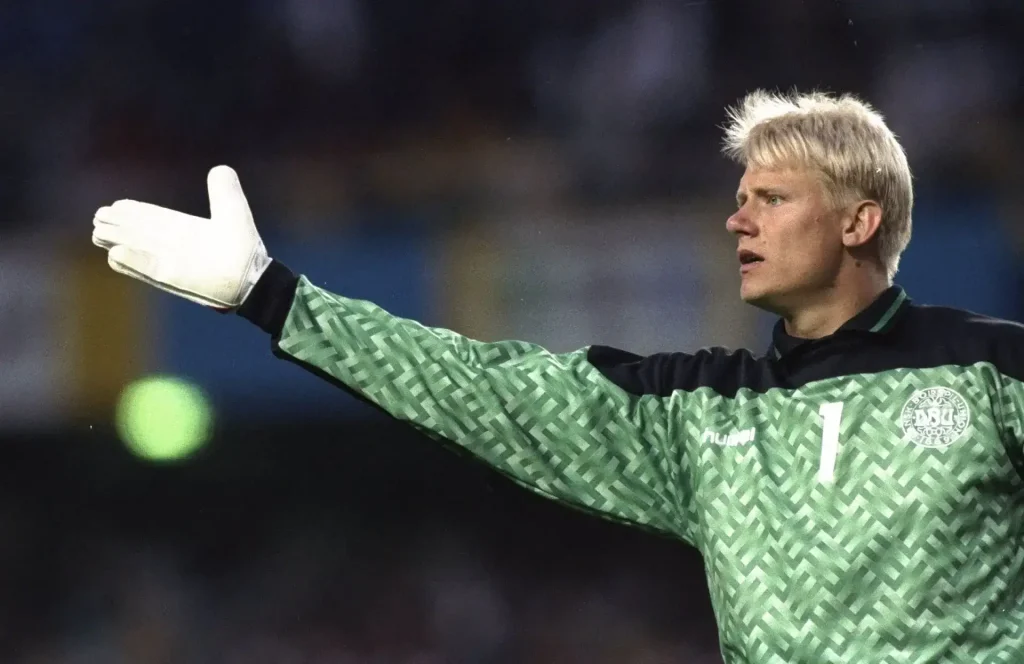 Peter Schmeichel Facts And Figures
Full Name: Peter Bolesław Schmeichel
Birthdate: 18/11/1963
Birthplace: Gladsaxe, Denmark
Playing Career:
Gladsaxe-Hero 1981-1984
Hvidovre 1984–1987
Brøndby 1987–1991
Manchester United 1991–1999
Sporting Lisbon 1999–2001
Aston Villa 2001–2002
Manchester City 2002–2003
Total Appearances: 648 games, 9 goals
National Career:
Denmark (129 appearances, 1 goal)
Playing Honors:
Brøndby
1987, 1988, 1990, and 1991: Danish Superliga Champions
1988–89: Danish Cup Winners
Manchester United
1992–93, 1993–94, 1995–96, 1996–97, and 1998–99: Premier League Champions
1993–94, 1995–96, and 1998–99: FA Cup Winners
1991–92: Football League Cup Winners
1998–99: UEFA Champions League Winners
1991: European Super Cup Winners
Sporting Lisbon
1999–2000: Primeira Liga Champions
2000: Supertaça Cândido de Oliveira Winners
Aston Villa
2001: UEFA Intertoto Cup Winners
Denmark
1992: UEFA European Championship Winners
Individual Honors:
1992: UEFA European Championship Team of the Tournament
1992, 1993, and 1998: UEFA Goalkeeper of the Year
1995–96: Premier League Player of the Season
1997–98: UEFA Club Goalkeeper of the Year
2001: Honorary Member of the Order of the British Empire (MBE)
2003: English Football Hall of Fame
2007: PFA England League Team of the Century (1907 to 2007)
2022: Premier League Hall of Fame
Interesting Facts About The Denmark Goalkeeper
In his playing days, Schmeichel was 6ft 3ins tall and weighed 16st 7lbs (105kg). Due to this, he needed XXXL goalkeeping jerseys!
Since his eight years at United and his two appearances for City, Schmeichel never lost the Manchester derby; he went unbeaten in all appearances.
When his team was losing, Schmeichel often went up for corners. This led him to score nine goals throughout his career. He is the first goalkeeper to score in the Premier League after scoring a volley for Villa and a header for Manchester United in the UEFA Cup.
As a tribute to the legendary keeper, a Great Dane dog named Schmeichel appears in Coronation Street, a hugely popular soap opera set in Manchester.
In addition to being Peter Schmeichel's son, Kasper Schmeichel is also a professional goalkeeper who played for the likes of Leeds United, Leicester City and the Danish National team.
The Arsenal striker Ian Wright accused Schmeichel of racism after a match against Arsenal in November 1996. At the end of the game, Schmeichel and Wright confronted each other after having a number of controversies during the game. A police investigation into the incident followed the game, where Schmeichel was accused of making a racist remark.
In addition to being a regular analyst on Match of the Day, Schmeichel worked as a pundit for the BBC after retiring.
As a soccer goalkeeper, he was also noted for his ability to read the game, his ability to distribute the ball with his feet, and his ability to launch fast counter-attacks with throws and kicks that were long and accurate.