A former professional player and current manager, Pia Sundhage, hails from Sweden. In addition to playing as a forward for most of her career, Sundhage also played as a midfielder and sweeper for the Sweden national team.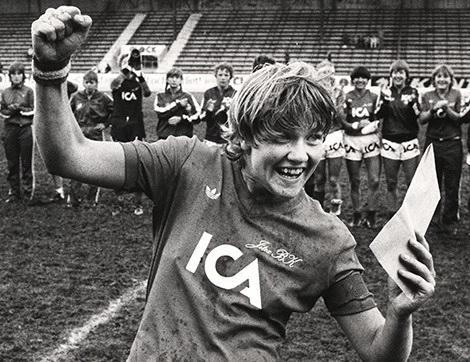 Playing Career Of Pia Sundhage
In 1978, Sundhage moved from Ulricehamn to Falköpings KIK after playing youth football with IFK Ulricehamn. The following year, she joined Jitex BK for three years before joining Östers.
Pia Sundhage returned to Jitex BK in 1984, while she split time between Stattena IF, Lazio, and Jitex BK in 1985.
From 1990 until 1996, Sundhage played for Hammarby IF DFF.
The Swede served as player-coach for the Hammarby club from 1992-1994. She also coached Sweden's Youth National Teams for eleven years from 1990-2001, coaching the U-16s, the U-19s, and the U-21s.
During her time at Jitex BK, she won four Damallsvenskan championships and two additional Svenska Cupen. With Hammarby IF DFF, she also won two Svenska Cupen.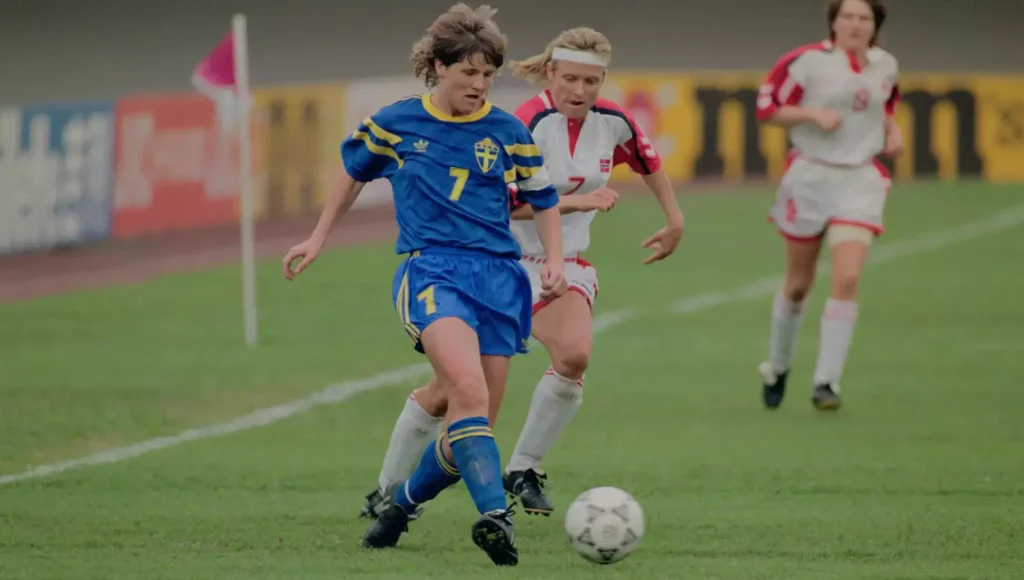 International Playing Career
A legendary player in Sweden, she played for her country in the 1991 and 1995 Women's World Cups and the 1996 Olympics. She scored four goals for Sweden at the 1991 Women's World Cup, helping the Swedes to a third-place finish.
She scored one goal in the 1995 Women's World Cup (against Germany) and played every minute of all three matches at the Atlanta Olympics.
She captained the national team for many years, playing 146 international games while scoring 71 goals, for years a record she held with another Swedish legend, Lena Videkull until passed by forward Hanna Ljungberg in 2008.
Pia Sundhage debuted for Sweden at age 15 in 1975 against England and ended her 22-year international career at the 1996 Olympics in a win against Denmark. She led Sweden to the first European Women's Championship in 1984, scoring the winning penalty kick against England to give her country its only European title.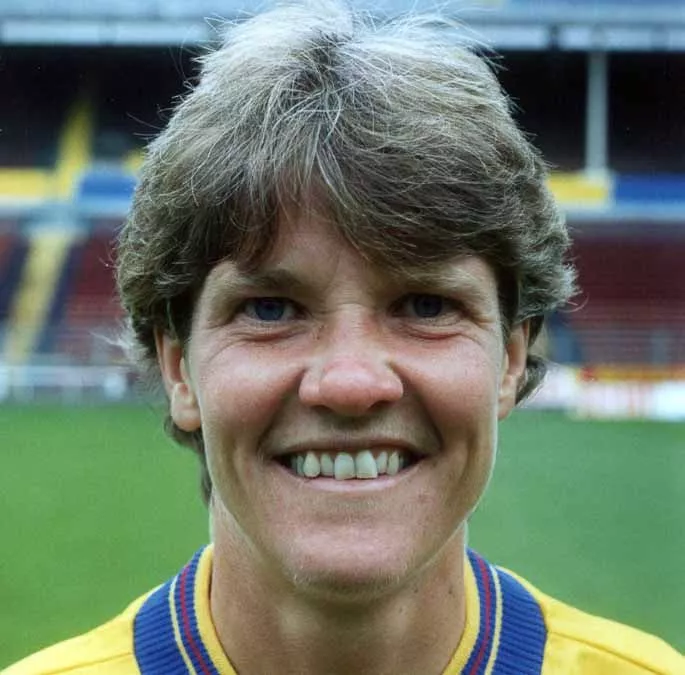 She also helped Sweden earn two silver medal finishes and one bronze at the European Women's Championships.
During her international career, Sundhage played against the United States numerous times, including matches at the 1991 Women's World Cup and the 1996 Olympics. In 2000, she finished sixth in the voting for FIFA Women's Player of the Century.
She served as a scout for Sweden during the 1997 European Championships, the 1999 FIFA Women's World Cup, the 2003 FIFA Women's World Cup, and the 2000 Olympics.
Pia Sundhage has also worked for FIFA on its Technical Study Group staff for the 2004 FIFA U-20 Women's World Championship in Thailand.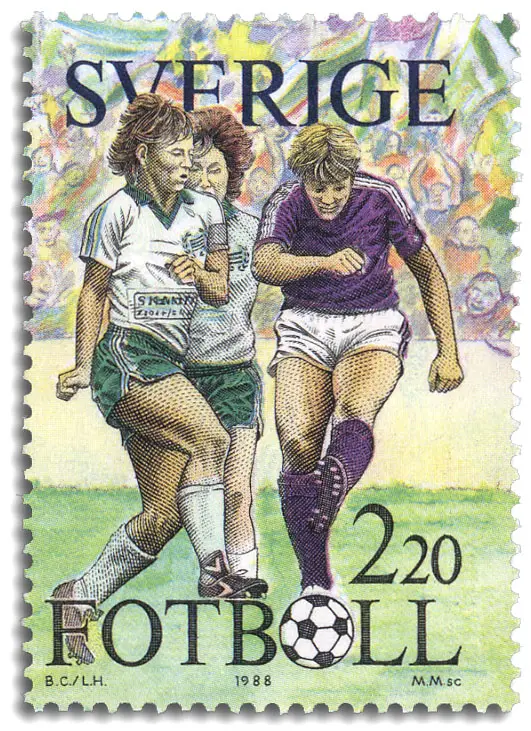 Coaching Career Of Pia Sundhage
From 1992 to 1994, Sundhage coached Hammarby IF DFF as a player/manager. After that, she joined Vallentuna BK (1998-1999) and AIK Fotboll Dam (2000) as an assistant before moving across the Atlantic to work for the Philadelphia Charge of the Women's United Soccer Association.
Her career culminated with the Boston Breakers, where she won the WUSA Coach of the Year award and was named league champion. Upon the folding of the WUSA, the coach returned to Scandinavia to take on different coaching roles.
Pia Sundhage became head coach of the United States women's national soccer team in November 2007. The USWNT named Sundhage their sixth head coach, bringing a playing and coaching resume with extensive international experience.
In 2008, she led the USA to championships in five different tournaments. They were:
Algarve Cup
CONCACAF Olympic Qualifying Tournament
Four Nations Tournament
Peace Queen Cup
Summer Olympics
The team won 33 games and set records for the best winning percentage and most wins under Sundhage.
Although Women's Professional Soccer (WPS) reduced the U.S. team's schedule for 2009, Pia Sundhage still managed a 7-0-1 record and only allowed one goal. Her two-year record with the U.S. team heading into 2010 stands at 40-1-3, a winning percentage of .943, the best for any coach in U.S. history.
From 2008 to 2012, Sundhage coached the USA women's national team to two Olympic gold medals and a silver medal at the World Cup. In addition to winning two Olympic gold medals and finishing in second place at the 2011 World Cup, Sundhage left the team with an overall record of 91–6–10.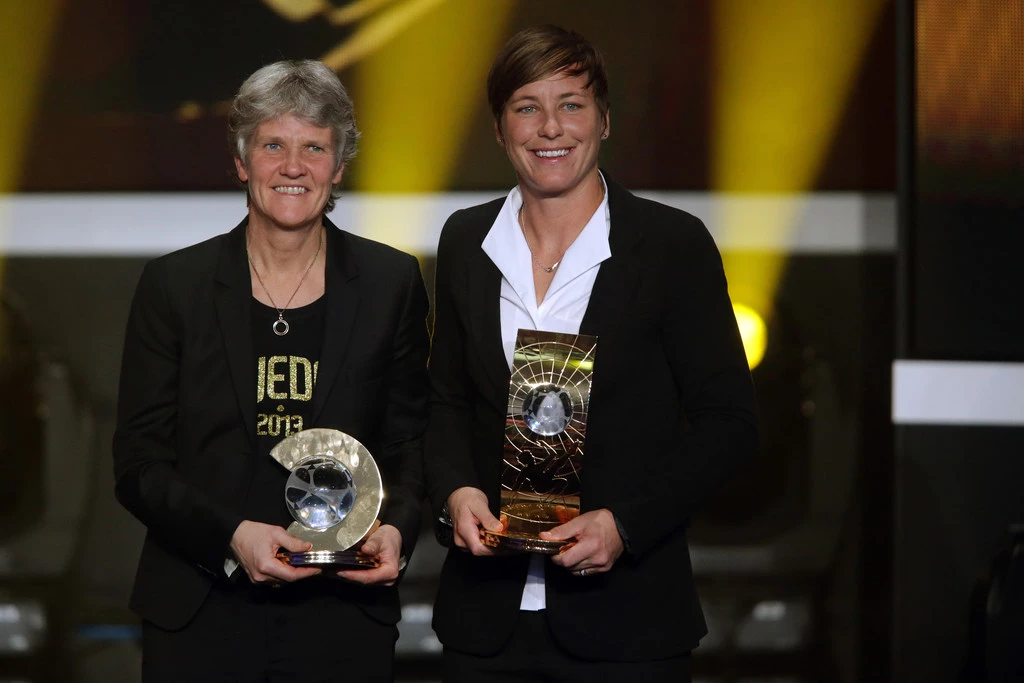 Coaching In The USA
One of the most respected coaches in the women's game and widely regarded as one of the world's all-time greatest female players during her international career that spanned 22 years, Sundhage was the USA's first foreign coach and second female coach.
During the three years of the WUSA's existence, Sundhage served as an assistant coach for the Philadelphia Charge during the 2001 and 2002 seasons before becoming the head coach of the Boston Breakers in 2003.
She led the Breakers, a team that had not made the playoffs in its first two seasons, to the regular season championship and its first playoff berth. During the 2004 Olympics, Pia Sundhage served as a scout for the USA.
Before joining US Soccer, she served as an assistant coach of the Chinese Women's National Team during the 2007 FIFA Women's World Cup in China.
Since leaving the USWNT, the Swede was the coach of the national women's team for five years. She had two years with the U-17 national team in Sweden before being appointed as the Brazil Women's National Team manager in 2019.
Pia is now preparing the Brazil Women's national team for the 2023 World Cup.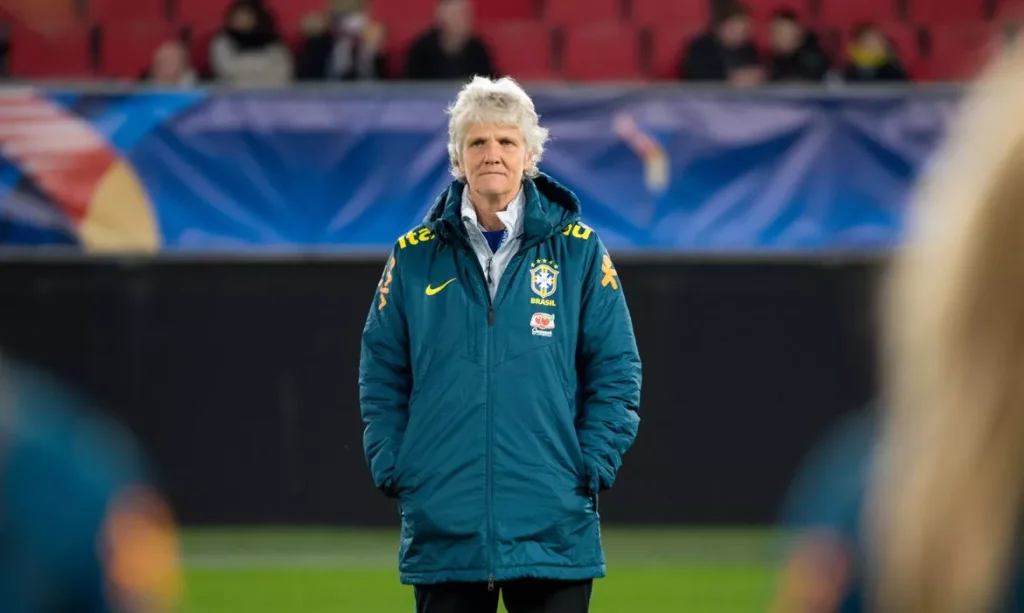 Popular Sports Figure
Already a popular and well-known sports figure in Sweden before she took the job with the USWNT, after guiding the USA to the Olympic gold medals in Beijing, Pia Sundhage received numerous awards and accolades in her home country and made appearances on several TV shows.
Her Olympic triumph even promoted heated debate and analysis among columnists and fans in Sweden about whether she should be named to coach the Swedish Men's National Team, which had just failed to qualify for the World Cup.
She even finished high in a fan poll about who should be the next coach, and the idea of her coaching the men with famed Swedish coach Sven-Goran Eriksson was even bandied about in the Swedish media.
Pia Sundhage Stats, Facts And Figures
Full Name: Pia Mariane Sundhage
Birthdate: 13/02/1960
Birthplace: Ulricehamn, Sweden
Playing Career:
Sweden WNT (1974-1996)
Falköping KIK (1978)
Jitex BK (1979-81, 1984, 1985, 1987-89)
Östers IF (1982-83)
Stattena (1985)
Lazio (1985)
Hammarby (1986, 1990-96)
Playing Honors:
1979, 1981, 1984, and 1989: Swedish Club Champion
1981, 1984, 1994, and 1995:Swedish Club Cup Winner
European Women's Championships:
1984 (Gold)
1987 (Silver)
1989 (Bronze)
1991 (Quarterfinals)
1993 (Quarterfinals)
1995 (Silver)
FIFA Women's World Cup:
1991 (Bronze)
1995 (Quarterfinals)
Coaching Career:
Sweden Youth National (head coach U-16/U-19/U-21, 1990-2001)
Hammarby (player/coach, 1992-1994)
Vallentuna (assistant coach, 1998-1999)
AIK (assistant coach, 2000)
Philadelphia Charge (assistant coach, 2001-2002)
Boston Breakers (head coach, 2003)
Kolbotn (head coach, 2004)
KIF Örebro (head coach, 2005-2006)
China PR Women's National Team (assistant coach, 2007)
U.S. Women's National Team (head coach, 2008-2012)
Sweden Women's National Team (head coach, 2012-2017)
Sweden U-17 Women's National Team (head coach, 2018-2019)
Brazil Women's National Team (head coach, 2019-present)
Coaching Honors:
USA Women
2008 and 2012: Summer Olympics (Olympic Gold Medals)
2011: FIFA Women's World Cup (runners up)
Other Tournaments:
2003: WUSA Regular Season
2008 and 2011: Four Nations
2008, 2010, and 2011: Algarve Cup
2008: CONCACAF Olympic Qualifying
2008: Peace Queen Cup
Sweden Women
2016: Summer Olympics (Olympic Silver Medal)
Brazil Women
2022: Copa América Femenina
Individual Honors:
2003: WUSA Coach of the Year
2012: FIFA World Women's Coach of the Year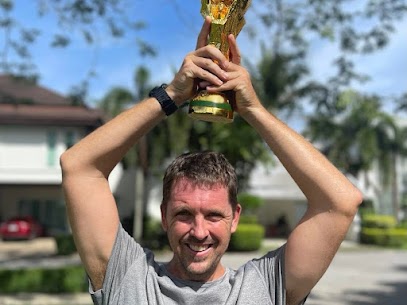 Rhett is an Australian-born, globe trotter who is a UEFA 'A' Licence Soccer Coach. With his family, he has traveled and coached soccer in more than 30 countries, while attending World Cups, European Championships, and some of the biggest local derbies in the world!