The history of the Portsmouth Ladies FC commences in 1914, although they did not officially form until 1916. Unusually, and perhaps unique for this period in history, some of the Portsmouth Ladies FC players may have had some soccer experience before the outbreak of World War 1.
On 19 March 1914, two charity games were held for a Royal Navy disaster fund. The first was between men's teams representing the Royal Yacht Alexandria and artists appearing in the 'What a Game' Company at the King's Theatre.
The second match was a women's game between Lady Artistes at the King's Theatre and a 'Local Ladies' team organized by Mr. Len Lellett of the Royal Yacht Alexandria.
The game itself proved popular, attracting a crowd of over 5,000 spectators. It was novel enough to attract coverage in the Portsmouth Evening News, Leeds Mercury, and the Daily Record in Scotland. The Local Ladies won 5-1, with the show's star being Miss Anscombe, who scored four goals.
She would emerge as one of the star performers of the Portsmouth Ladies FC.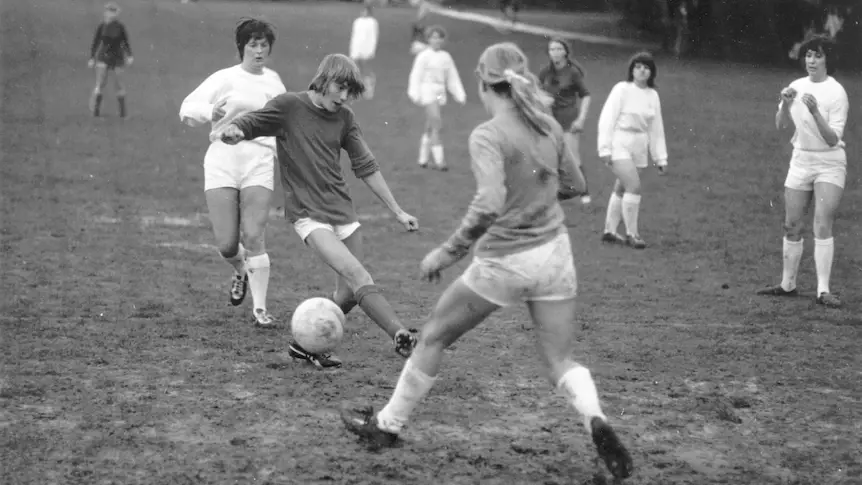 Formation Of Portsmouth Ladies FC
Before the formal founding of the Portsmouth Ladies FC in December 1916, several women's games provided the impetus to form the club. On 30 August 1916, a crowd of 1,000 spectators saw Portsmouth Football Club
The Portsmouth FC women players beat the Hippodrome Ladies at Alexandria Park. Miss Anscombe scored a hat-trick and "was greatly applauded for her tricky head and footwork." The same teams played as part of a Sports Gala organized for the 'Our Wounded Heroes' Fund at the North End Recreation Ground.
This daylong event contained many activities, including boxing displays, military performances, athletic events, musical concerts, and exhibits such as a 4.1 inch gun from the famous German ship SMS Emden. Around 30,000 people were estimated to have attended during the day.
The Portsmouth FC Ladies then played two games against the Post Office Ladies on 25 October and 2 December 1916, winning 2-0 and 3-0 respectively. These games seem to have provided the impetus for the creation of a more formally constituted club.
On 14 December 1916, the Portsmouth Evening News announced that "it was decided to form a club known as the Portsmouth Ladies FC."
Mrs. Langdon (wife of Councillor T. Langdon) was elected Hon President. Miss Elsie Courtney was announced Hon Treasurer and Miss Ada Anscombe Hon Secretary. Miss Courtney had played in goal for the Post Office ladies.
Her inclusion suggests that the Portsmouth Ladies FC were now picking players on a more representative basis from across the available women's teams in the area. This new team became the first women's club in Hampshire.
Ada Anscombe – Goal Scoring Teenager And Secretary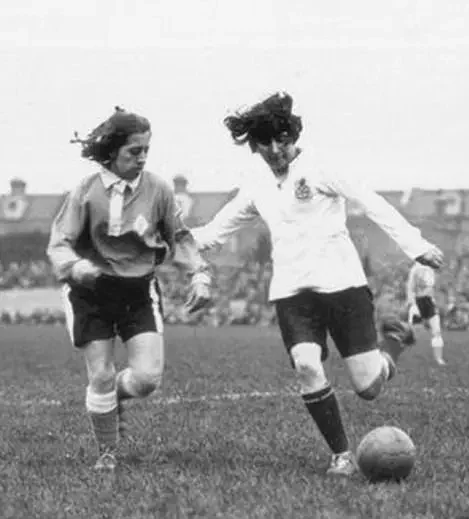 The provision of the secretary's address for Miss Anscombe allows us to identify her in the 1911 census as Ada Lucy Anscombe of Bertie Terrace, Asylum Road, Milton, Kingston, and East Southsea.
She was then aged 12, so she was only 15 when she appeared for the Portsmouth FC ladies in 1914 and still a teenager at the club's formation.
She lived with her parents and was the second youngest of seven children aged between 9 and 23 years old. Her father was a foreman bricklayer, making him a member of the skilled working class.
Sadly, what motivated this teenage working-class girl to take part in women's football and what factors helped her excel at it remains a mystery.
Female opponents seem to have been scarce, for there was only one further recorded game against Basingstoke Ladies on 9 April 1917. It attracted over 3,000 fans at Fratton Park, who saw a very one-sided 11-0 win for the Portsmouth FC Ladies.
Again Ada Anscombe was to the fore, scoring nine goals, with the Hampshire Telegraph approvingly noting that she "possesses the 'soccer' talent, and generally succeeded in scoring when she broke away, threading through the opposing defense; in quite the accepted fashion."
Mixed Matches Against Men
The Portsmouth FC women seem to have lacked further female opponents to play. A newspaper report in July 1917 stated that although they had issued a challenge to face any other women's team, only Basingstoke had taken up the offer.
As a result, the Pompey ladies were forced to find games against male opponents, playing at least 14 games between May and December 1917.
They became something of a touring side, as most games were played away from Fratton Park. Strictly speaking, when these games took place with FA-affiliated teams, they did so contrary to the FA's 1902 ban on mixed games.
These games against male opponents took place under rules designed to emphasize women as the 'weaker sex.' For example, male outfield players had their hands tied behind their backs, while male keepers had to keep one arm within their jumper and kneel for penalties.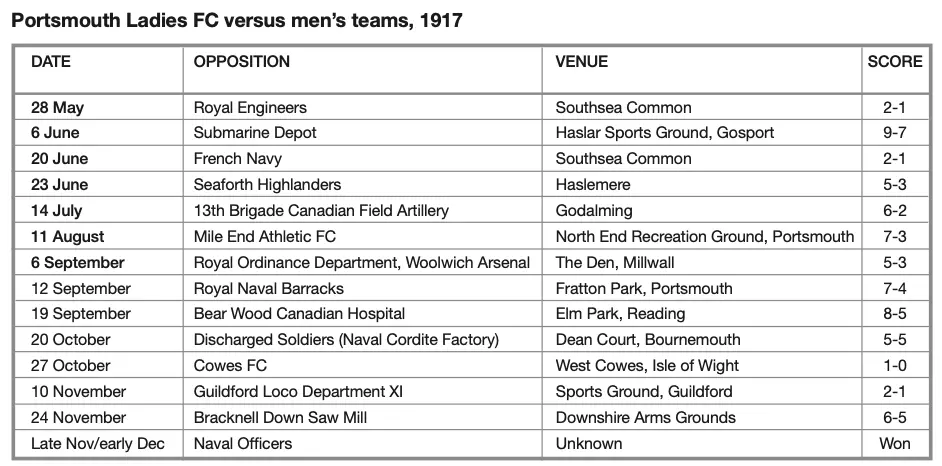 Southern Championship
The final section of the Portsmouth Ladies FC activities saw the team return to playing female opposition. From December 1917 to October 1918, they played the Southampton Ladies (Government Rolling Mills) side at least seven times.
However, on Christmas Day 1917, they suffered their first loss, 4-0, at The Dell in a game that attracted a gate of £73.
On 26 January 1918, they suffered a further loss, going down 4-1, again at The Dell, before a 'large crowd.' This game was notable for the away support that accompanied them in 50 Canadian NCOs and a pipe band from Bramshott Camp.
After the match, both the players and their Canadian friends were treated to a tea and dance. Again, the pipers were providing the musical accompaniment.
Did you know FA decided to ban females footballers in 1921?
There then seems to have been a series of matches organized for a silver cup known as the Southern Championship. The Surrey Advertiser carried a report of the deciding game at Guildford, which was chosen as a neutral venue after two draws.
Before a reasonable attendance, Portsmouth Ladies FC won 3-2 to take the cup and winners medals.
Their final game seems to have been at Fratton Park, where they drew 2-2 with Southampton Ladies on 12 October 1918.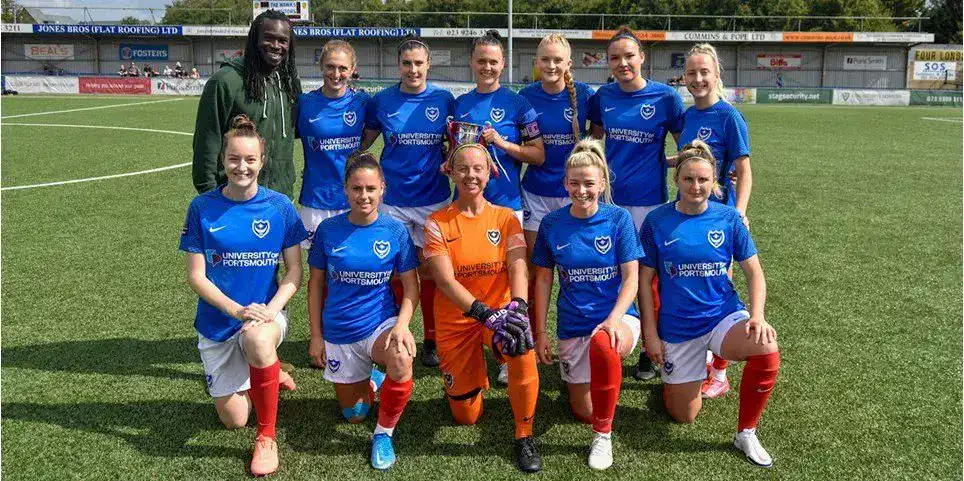 Portsmouth Ladies FC Today
Now known as Portsmouth Women FC, the club was restarted in 1987. They joined the Southern Region League and currently play in the FA Women's National League South. They no longer play their home games at Fratton Park and now play at JMC Stadium.
Although women's soccer is as popular as ever in the UK, the current team is not attracting attendances that they did in 1914-18.
Images:
https://www.bbc.com/news/uk-england-tyne-48745653 (main image)
Getty Images
https://www.thefa.com/womens-girls-football/history
Tweets by DavidKnowlesy