Few players divided opinions quite like Roberto Baggio. He was beloved by some, and hated by others. He was unquestionably talented yet rarely utilized to his full potential. Baggio was one of the best forwards in soccer to set foot on a pitch, but his legacy has unfairly been tarnished by one particular blemish.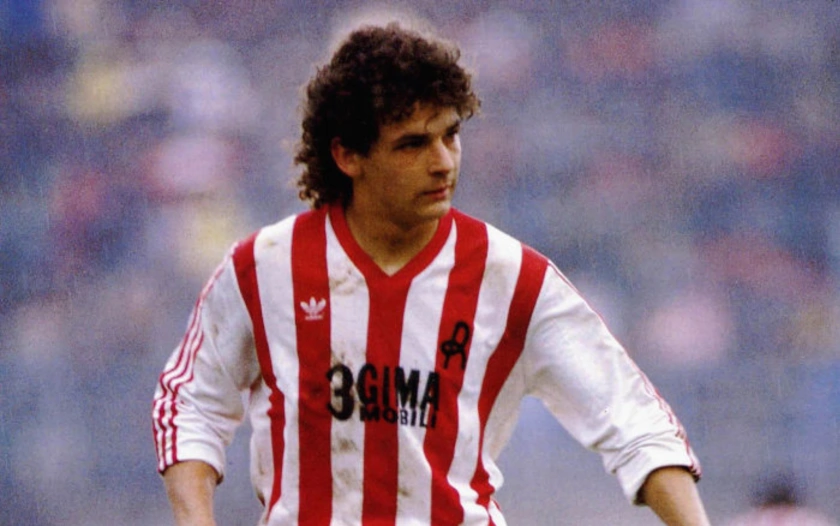 How Good Was Roberto Baggio
"Il Divino Codino" was a footballing genius: an inch-perfect ball passer, a free-kick specialist, and a sensational dribbler. In his heyday, Roberto Baggio, the footballer was unstoppable, seemingly capable of rounding any number of defenders before finishing in style.
Who will ever forget his goal against Czechoslovakia at Italia 90 when he took on and beat the whole Czech defense? Venerated as a demi-god at Fiorentina, rioting broke out in the streets of Florence the day Roberto signed for Juventus.
He was voted European Footballer of the Year in 1993 after leading Juventus to triumph in the UEFA Cup (Union of European Football Associations Cup). He followed that up with an outstanding display at World Cup USA 1994, taking the Squadra Azzurra virtually single-handedly to the World Cup Final, scoring five of his side's six goals from the second round on.
The pony-tailed maestro's career has also been punctuated with disappointments and injuries, but he has always bounced back with undying self-belief. "I've never had to resurrect my career because my career has never been over," says this never ruffled Buddhist.
Legend has it that the Pope once told Roberto Baggio, "you are my greatest challenge."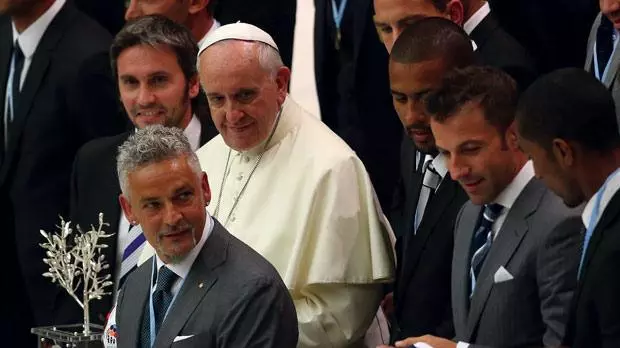 Early Years Of Robert Baggio
The future Italian football star was born in Caldogno on February 18, 1967. The young Italian began to play in his hometown team, Caldogno, and then moved to Lanerossi Vicenza, who played in C1 at age 13.
In the youth teams of Lanerossi Vicenza, he immediately stands out with dizzying numbers. He scores as many as 110 goals in 120 appearances by adding up all the years of youth at Vicenza.
In the 1984/85 season, he joined the first team and helped Lanerossi to reach Serie B by scoring 12 goals in 29 games. Then, on May 5, 1985, the first tile of Baggio's career arrived: an injury to his right knee that compromised his meniscus and anterior cruciate.
This injury kept him off the soccer field for more than a year and made him go through a deep personal crisis. The injury came, among other things, a few days after the signing of the contract with Fiorentina; In fact, Viola had bought him from Vicenza for 2.7 billion lire.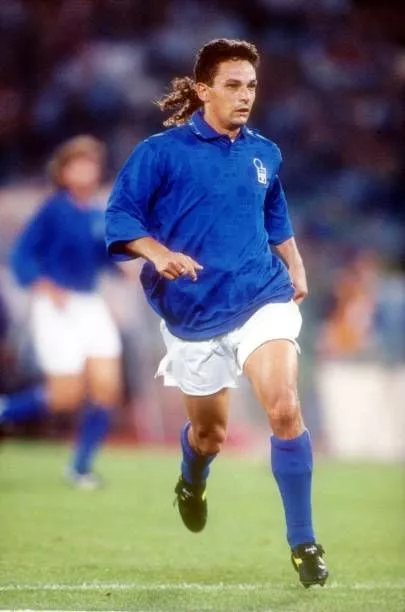 Roberto Baggio At Fiorentina
On 21 September 1986, he made his Serie A debut with the Fiorentina shirt, only to get his knee injured again a week later, an injury that forced him away from the fields for the whole season.
In the 1987/88 season, Roberto Baggio returns to Fiorentina's disposal and plays a fantastic season, leading the Florence team to navigate the top parts of the standings.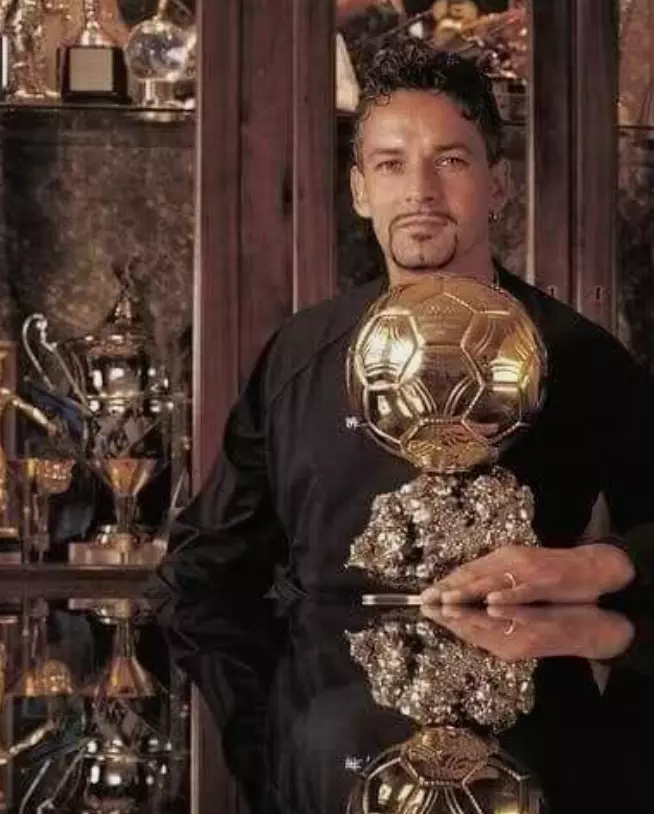 Fiorentina kept the faith and was handsomely rewarded. After regaining his fitness, Baggio became one of Serie A's deadliest players, earning the nickname Il Divino Codino (The Divine Ponytail).
In the following years, he was called up to the national team for the first time (1988) for a friendly match and won the Bravo Trophy, awarded to the best Under-23 of the tournament.
In 1990, the soccer player led La Viola to its first UEFA Cup final, where hated rival Juventus defeated them. He was selected for the World Cup in Italia 1990 with the Italy national team, scoring a masterpiece goal against Czechoslovakia and giving memorable Baggio's performances, culminating with the Italian third place in the home World Cup.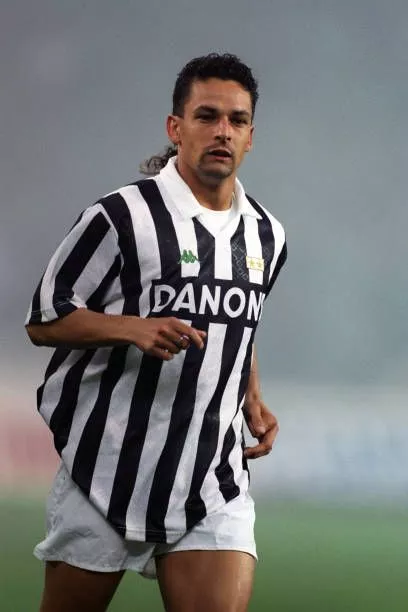 Juventus Record Signing
In May 1990, the ponytail striker was bought by Juventus for the record amount of 25 billion Lire (£8 million), causing many riots in the Viola football fans, who did not want to lose their symbol.
As shown by various anecdotes, Baggio struggled to let go of his commitment to Viola. For example, at the presentation conference at Juventus, Baggio refused to wear a Juventus scarf in front of the press.
After a difficult start to life in Turin that left many Juventus fans questioning his commitment, he eventually came good and hit his peak. Roberto Baggio was renowned for his eye for goal, but his most iconic asset was his free-kick technique.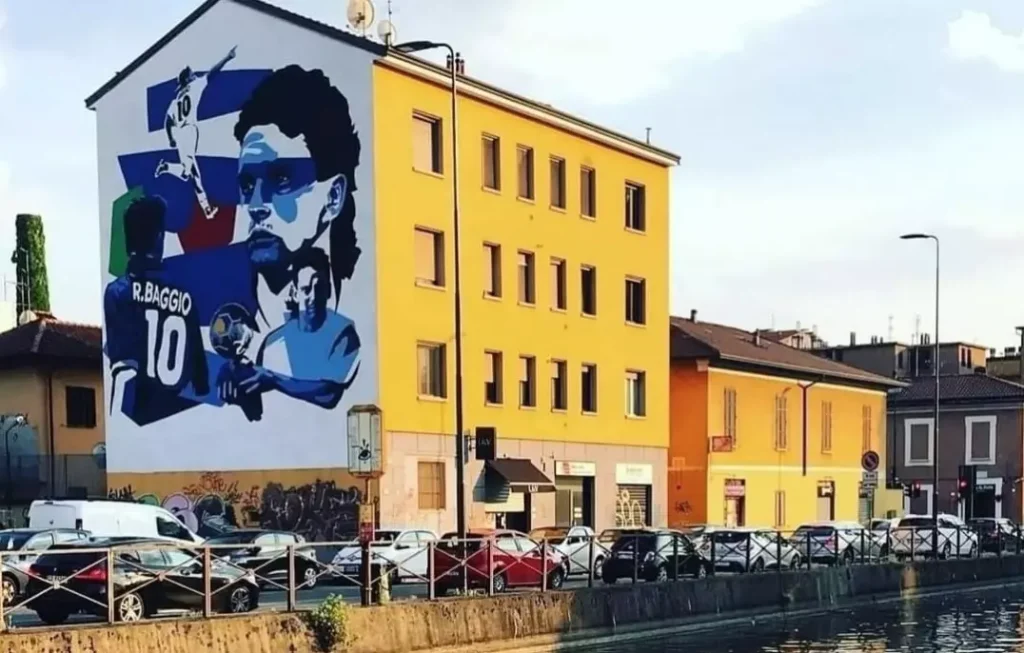 The years at Juventus are, for him, the years of consecration. In 5 seasons (from 1990 to 1995), the forward scored 78 goals and won a Scudetto league title, an Italian Cup, a UEFA Cup, the Golden Ball, and the FIFA World Player.
Despite all his victories and goals, injuries marred him even in the Juventus years, and between 1992 and 1995, he spent several months away from the soccer fields.
His absence favored the explosion of another extraordinary phenomenon: Alessandro Del Piero.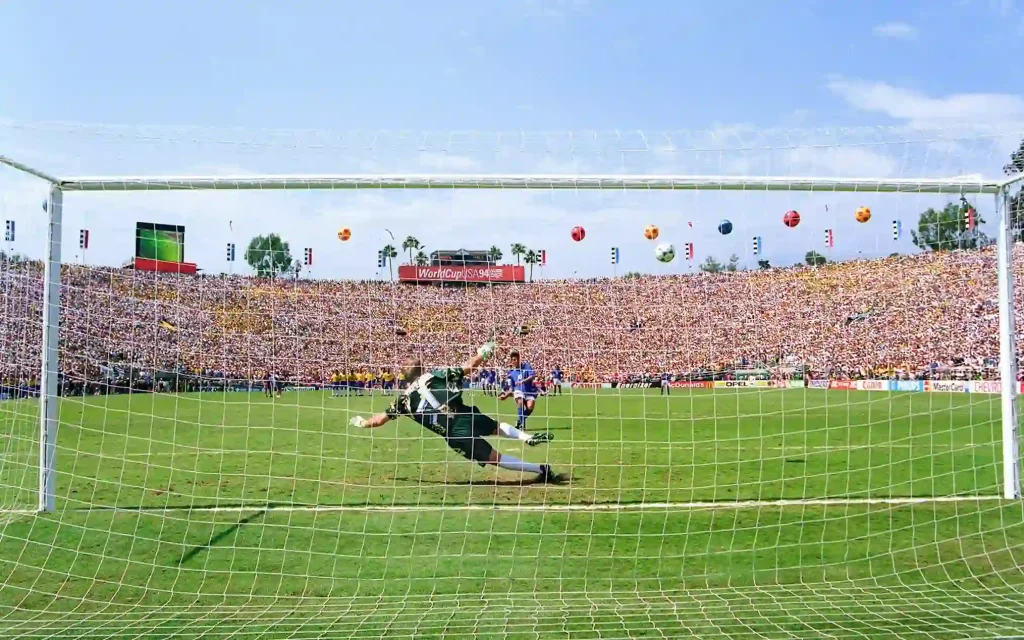 1994 World Cup Player Of The Tournament
Il Divino Codino carried his form into the 1994 World Cup, scoring five goals. He was named the player of the tournament and led Italy to the final. However, these accolades mattered little after what transpired in the showpiece game.
After a grueling 120 minutes in the California heat, he stepped up to take the decisive penalty. However, instead of being his usual composed self, he smashed the ball over the crossbar and handed Brazil its fourth World Cup.
The Italian fans blamed him for giving the World Cup to the Cariocas. They quickly forget that he dragged the Azzurri to the final, scoring the decisive goals in the round of 16 against Nigeria, in the quarterfinals against Spain, and in the semifinal against Bulgaria.
After the World Cup, Roberto Baggio said, "Only those who have the courage to throw them miss penalties."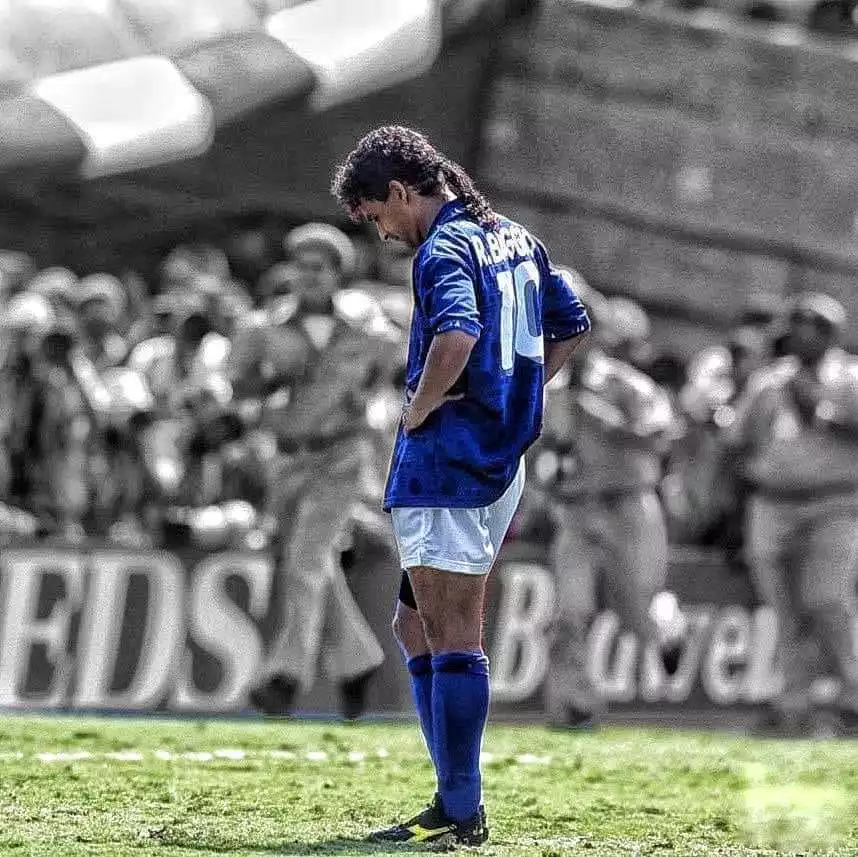 Winning Scudetto With AC Milan
Roberto Baggio soon suffered another devastating injury and was deemed surplus to requirements by new Juventus coach Marcello Lippi.
AC Milan took a punt on him, but he was regarded as a luxury player and saw his game time dwindle. The AC Milan adventure starts immediately with the victory of the Scudetto, the second in a row for Baggio, one of the six players to win the Serie A Scudetto two seasons in a row with two different teams.
Despite this, AC Milan will suffer significantly from the coaches' diatribes. First Fabio Capello, then Tabarez and Arrigo Sacchi.
In the summer of 1997, Fabio Capello returned to the San Siro bench and let Roberto know that he had no intention of including him in his technical project.
The AC Milan club was forced to sell him, while Baggio strongly wanted to stay.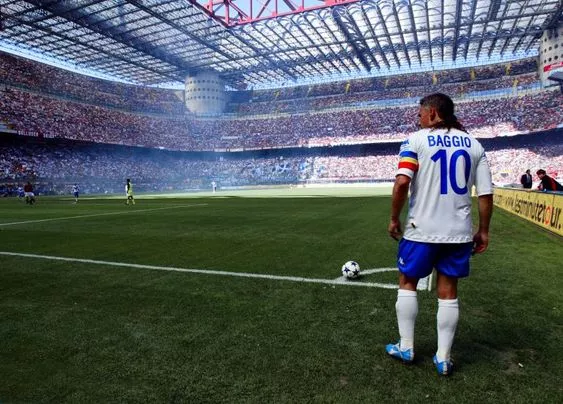 Roberto Baggio And Bologna
Finally, Baggio agrees to join Bologna. His surprising decision to join Bologna turned out to be a wise move. At the age of 31, the divine ponytail enjoyed the most prolific season of his career.
With 22 goals in 30 games, which earned him the call-up to the 1998 World Cup in France. Even in the season at Bologna, he has misunderstandings with Mister Ulivieri, especially when the coach decides to keep him out in the match against his former team, Juventus.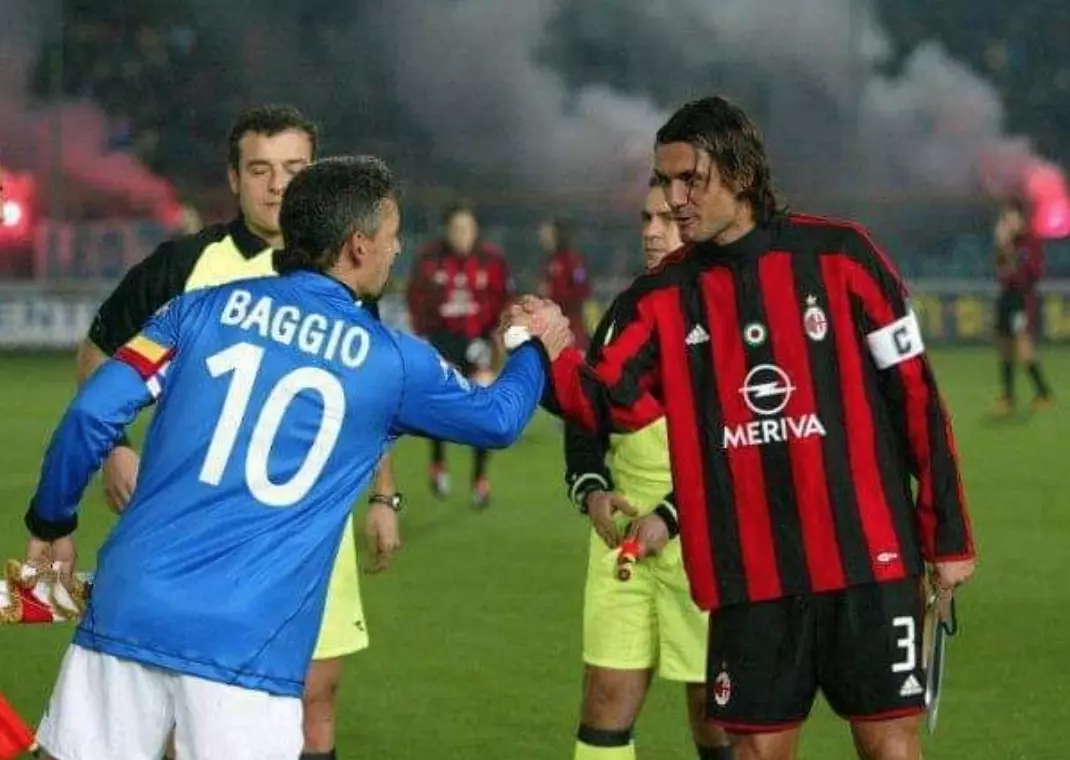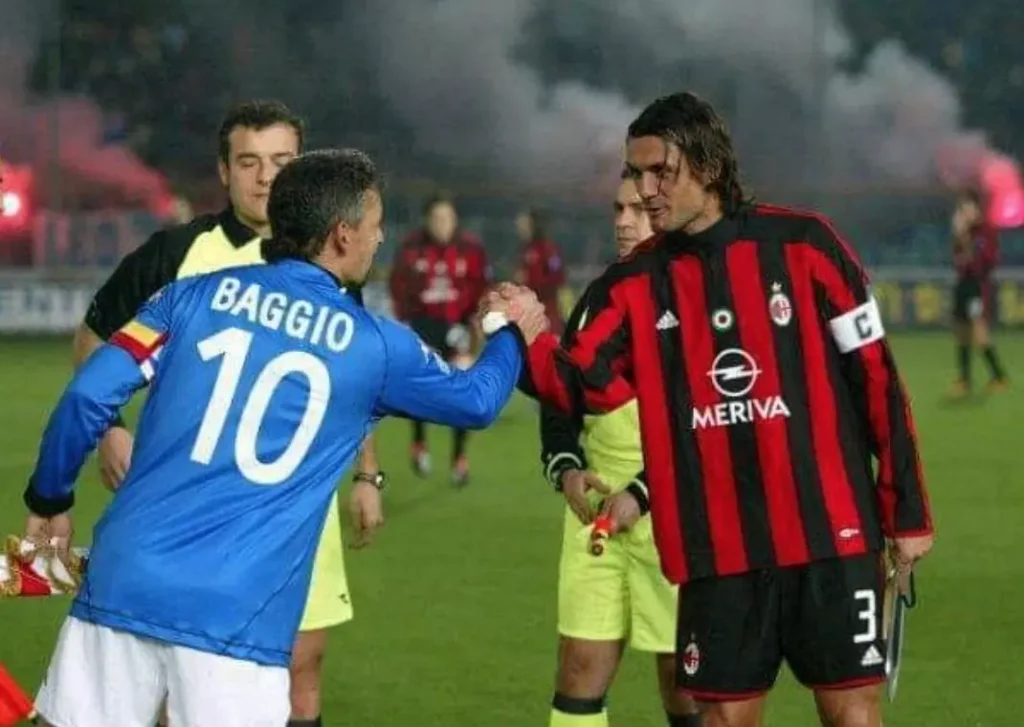 Two World Class Number 10's
The squad had two strong "number 10s" in the 1998 FIFA World Cup: Baggio and Del Piero. Too similar to play together, they create a relay for the duration of the World Cup.
Baggio produced goals and assists but was unable to avoid the elimination of the Azzurri at the hands of France at the quarter-final penalty, even though he had scored the first penalty.
After this elimination, he becomes the first Italian player to have scored in 3 different world championships.
The summer after the World Cup goes to Inter Milan, where his first season is characterized by ups and downs due to the alternation on the bench of 4 different coaches (Simoni, Lucescu, Hogdson, and Castellini).
His brace against Real Madrid in the Champions League is famous. In the second season, Marcello Lippi arrives, with whom Baggio has consistent arguments. Fitness issues continued to plague him. It spelled the end of Baggio's time with Italy's elite clubs. For this reason, he decides to leave the Nerazzurri.
In his last match, he scored a brace against Parma, which allowed Inter to qualify for the next Champions League.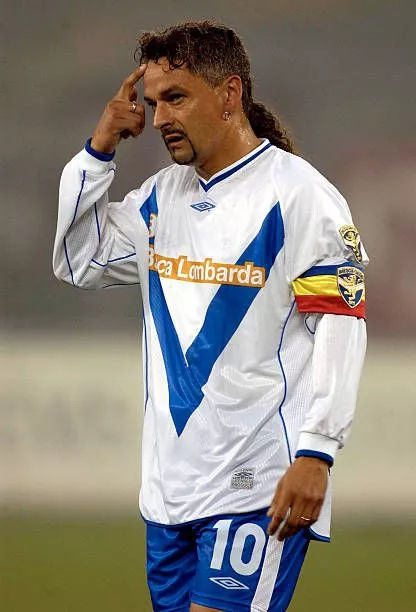 Roberto Baggio's Final Years
After two disastrous seasons at Inter Milan and the consequent non-call-up to the 2002 World Cup, Roberto Baggio signs for Brescia despite receiving offers from many prestigious European clubs.
His real redemption came with lowly Brescia, where he recaptured his form and remained one of the best players in Serie A until the age of 37.
The divine ponytail played at Brescia for five seasons, during which he kept the team in Serie A and made it participate in the Intertoto Cup. The former Italian international scored 45 goals in 95 appearances.
In his farewell match against Milan, the stadium pays homage to him with a standing ovation, and Brescia withdraws their number 10 shirt as a tribute to the striker.
Despite the constant setbacks, Robert Baggio was one of the most prolific Italians ever to play the game. One can only imagine the heights he could have reached had he been allowed to flourish properly.
Roberto Baggio Facts, Figures, And Stats
Full Name: Roberto Baggio
Birthdate: 18/02/1967
Birthplace: Caldogno, Italy
Playing Career:
Vicenza 1982–1985
Fiorentina 1985–1990
Juventus 1990–1995
AC Milan 1995–1997
Bologna 1997–1998
Inter Milan 1998–2000
Brescia 2000–2004
Total Appearances: 490 (220 goals)
National Team Career:
Italy 1988–2004 (56 appearances, 27 goals)
Roberto Baggio Debut Matches
Serie C1 – 06/05/1983 LR Vicenza – Piacenza 0 – 1 [1]
Italian Cup – 31/08/1983 LR Vicenza – Palermo 1 – 0
Serie A – 21/09/1986 Fiorentina – Sampdoria 2 – 0
European Cup – 17/09/1986 Fiorentina – Boavista 1 – 0
Italian National Team -16/11/1988 – Italy – Holland 1 – 0
First Goals
Serie C1 – 03/06/1984 – LR Vicenza – Brescia 3 – 0
Italian Cup – 26/08/1984 Empoli – LR Vicenza 4 – 2
Serie A – 10/05/1987 Napoli – Fiorentina 1 – 1
European Cup – 22/11/1989 Fiorentina – Dynamo Kiev 3 – 0
Italy National Team – 22/04/1989 Italy – Uruguay 1 – 1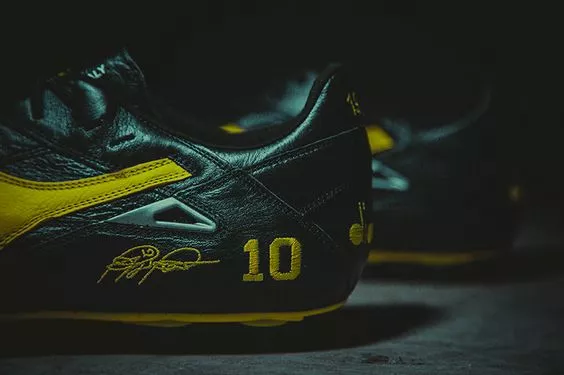 Playing Honors
Juventus
1992–93: UEFA Cup Winner
1994–95: Serie A Champions
1994–95: Coppa Italia Winners
AC Milan
1995–96: Serie A Champions
Italy National Team
1994 FIFA World Cup: Runners-up
1990 FIFA World Cup: Bronze Medal
Individual Honors:
1985: Guerin d'Oro (Serie C best player)
1990: Bravo Award
1993: Ballon d'Or Winner
1993: World Soccer's World Player of the
1993, 1994 and 1995: Onze de Onze
1993: FIFA World Player of the Year
1994: Ballon d'Or Runner-Up
1994: FIFA World Cup Silver Ball
1994: FIFA World Cup All-Star Team
2000 and 2002: FIFA XI
2011: Italian Football Hall of Fame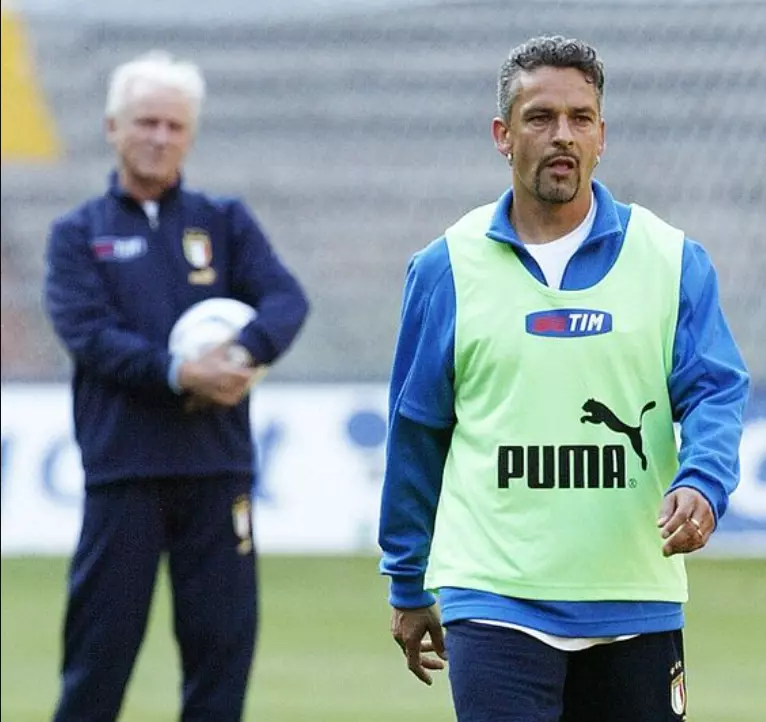 Commonly Asked Questions
In Which Year Did Roberto Baggio Score His First Goal For The Italian National Team?
Baggio made his international debut in November 1988 against the Netherlands, assisting with Gianluca Vialli's match-winning goal. The first goal he scored for Italy came against Uruguay in a friendly on 22 April 1989.
When Did Baggio Retire?
The famous Italian forward retired from professional soccer in 2004 at 39.
What Happened To Roberto Baggio?
After retiring from professional soccer, Baggio became involved in various philanthropic endeavors and worked as a coach. For three years, he was the president of the technical sector of the Italian Football Federation.
What Is Roberto Baggio Doing Now?
The legend is currently retired and is enjoying his post-playing career. He spends most of his time in Argentina at a ranch.
How Old Is Roberto Baggio?
The former Fiorentina, Juventus, and Milan player is now 56. He turns 57 on 18 February 2024.
Did Roberto Baggio Win A World Cup?
Roberto Baggio played for the Italian national team in three World Cups: 1990, 1994, and 1998. Italy reached the final of the 1994 World Cup, but they lost to Brazil in a penalty shootout, with Baggio missing the decisive penalty kick. So, unfortunately, he did not win a World Cup trophy.
What Is Roberto Baggio's Net Worth?
It is difficult to accurately determine Roberto Baggio's net worth, as it is private. However, Baggio had a successful playing career and is widely considered one of the greatest players of his era. He played for several top clubs and earned significant money from his professional soccer career and endorsement deals. In addition, after retiring from soccer, Baggio has likely made income from his various philanthropic endeavors and any coaching or other professional endeavors he has undertaken.
References:
[1]: www.rsssf.org/players/baggiodata.html
[2]: www.igotbiz.com/directory/soccer-browse-4568.aspx
Images:
www.twitter.com/ilovemadeitaly/status/1157352943546445826 (main image)
www.cultofcalcio.com/stay-strong-zaniolo-and-think-of-roberto-baggio/
Getty Images
www.facebook.com/Footballgoldenera/photos/a.2071168306446717/2698755393688002/?type=3
www.goaldentimes.org/roberto-baggio-100-vintage-photos/
www.fifamuseum.com/en/blog-stories/blog/why-the-lottery-that-is-penalty-shoot-outs-were-introduced-2610606/
www.pinterest.com/pin/411305378474413863/
www.pinterest.com/pin/699043173386268351/
@manuelgiando / Twitter
www.footy-boots.com/diadora-x-roberto-baggio-football-boot-78267/