Cruyffian ideals permeate every aspect of the game, but few players have oozed Total Football quite like Ruud Gullit. The majestic Dutchman dominated in an era defined by great defenders, and he paved the way for an entire generation of world-class offensive players.
On the soccer field,  the multi-faceted "Black Tulip" played a starring role in the Netherlands' 1988 UEFA European Championship win and was no less influential in helping Arrigo Sacchi's legendary AC Milan become European club champions on two occasions.
Off it, he has performed a number of high-profile roles, from passionate and innovative coach to TV pundit, reggae singer, and he was president of his country's joint bid with neighbors Belgium to host the 2018 FIFA World Cup.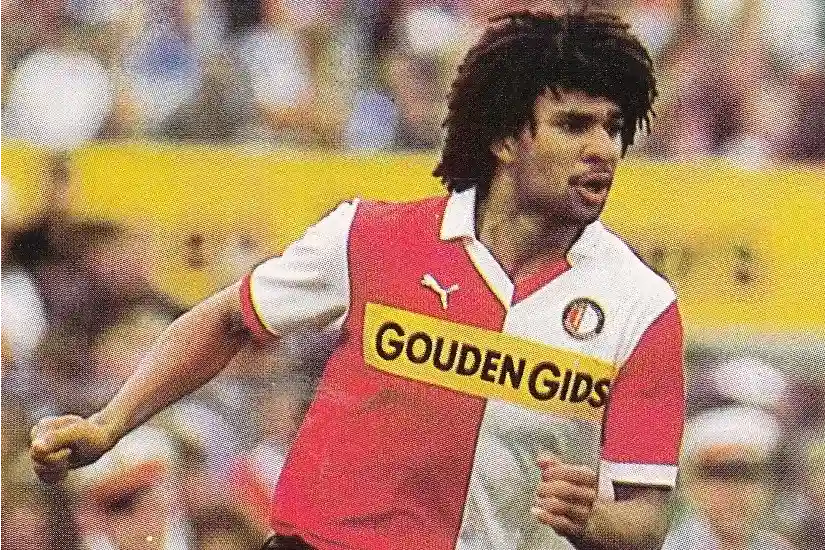 Ruud Gullit Rapid Rise To Fame
Learning the tricks of his trade in the streets of Jordaan, the Amsterdam suburb where he was born and brought up playing street football while perfecting his football skills. He was an imposing attacker who started out as a sweeper.
The young Gullit made his professional debut with Eredivisie side HFC Haarlem at just 16 years old.
A colleague of the Koeman brothers, Edwin and Ronald, in the national youth team, the talented teenager forged a reputation as a goalscoring libero in his three seasons with the club, scoring an average of one goal every three games.
The youngster impressed, and after playing an instrumental role in Haarlem's recovery from relegation, he helped the club qualify for the UEFA Cup, the predecessor of the Europa League, for the first and only time in its history.
The Dutch footballer of the year inspired form earned him a move to Feyenoord, where he got to play alongside Johan Cruyff. After a successful time in Rotterdam, which saw him take on an increasingly attacking role, Gullit was snapped up by PSV Eindhoven, with another trophy-laden stint in the cards.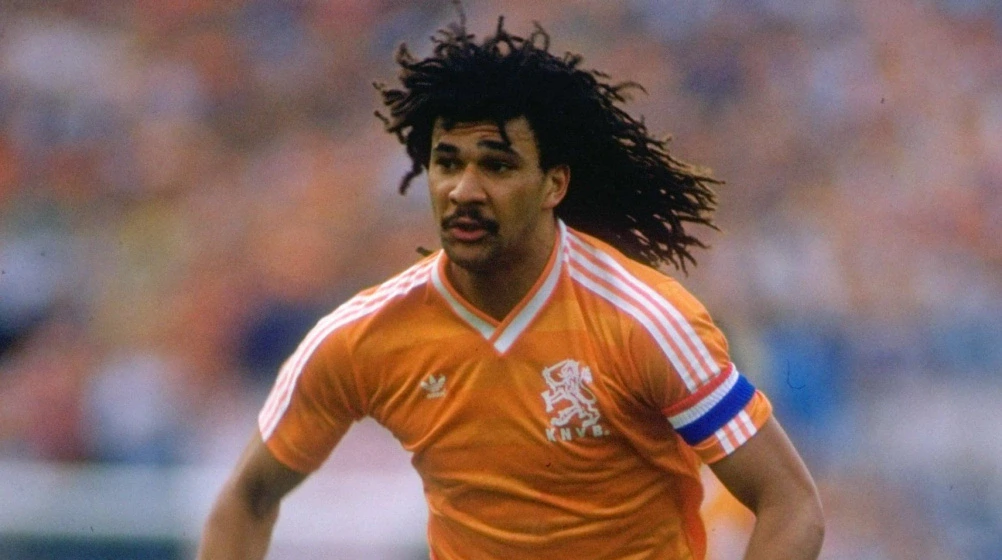 Winning Trophies
Joining up with Johan Cruyff among others, Ruud Gullit showed his remarkable versatility on the big stage, slotting seamlessly into a more advanced playmaking position despite measuring in at over 6'1".
In scoring 40 goals in 101 appearances during his stay, he made a sterling contribution to Feyenoord's 1984 league and cup double.
Voted Dutch Player of the Year that season, the dreadlocked phenomenon quickly moved on in search of a fresh challenge, signing for domestic rivals PSV Eindhoven. Such was the impact he would make over the next two seasons that he became a truly global star of the game.
The scorer of 54 goals during a hugely productive spell at the Philips Stadion, Gullit collected two more Eredivisie winners medals, not to mention another Player of the Year accolade and the 1987 Ballon d'Or. He was also named European footballer of the year.
His prodigious skills and good looks demanded an even bigger stage, which was presented to him that same year when he completed a big-money move to Italian aristocrats AC Milan.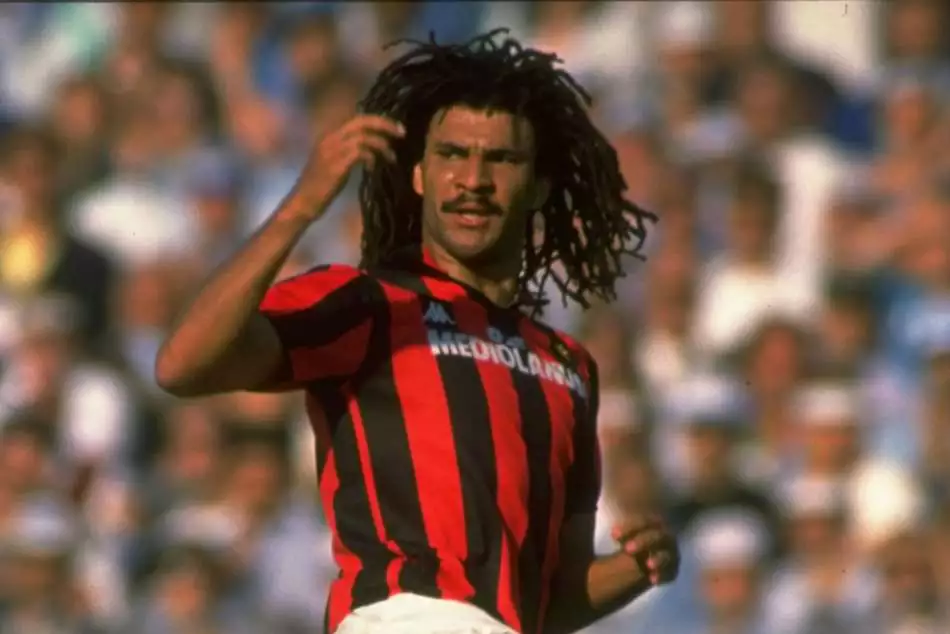 Becoming A Rossoneri Legend
In 1987, he signed for AC Milan for a world-record fee. Seeing that the Rossoneri were undergoing a Dutch revolution, acquiring Marco van Basten that same season and Frank Rijkaard the following year, it was the right move.
Ruud Gullit won the 1987 Ballon d'Or off the back of his prolific last season with PSV Eindhoven. After taking some time to acclimate to his new surroundings, he became unstoppable despite going up against the meanest defenders Serie A had to offer.
The physical but exceptionally technical forward helped AC Milan win its first Scudetto in almost a decade.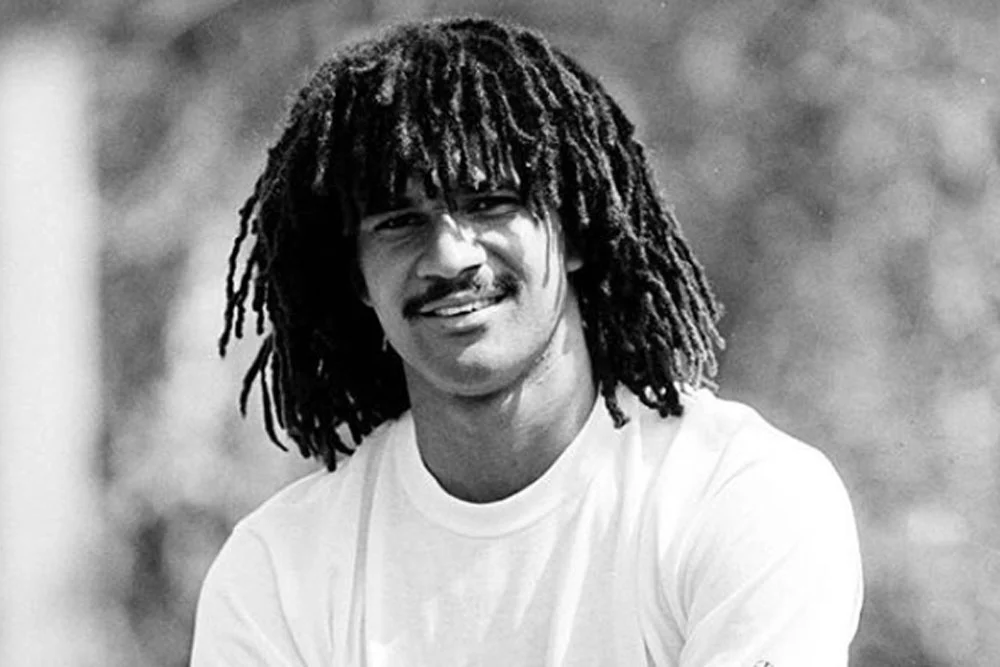 Voetbal Hero
The world class footballer tremendous form also translated to the international stage. At the 1988 European Championships in Germany, the free-spirited Ruud Gullit captained the Oranje to its only piece of silverware to date, knocking out host nation West Germany in the semi finals before breezing past the Soviet Union.
The world soccer player of the year fell out of favor with Dutch football coach Rinus Michels after he suggested that he should step down and let Johan Cruyff lead the team to the 1990 World Cup. He was removed as being the Dutch captain over this.
His rise to prominence heralded a new golden age of Dutch attackers. With Dennis Bergkamp, Patrick Kluivert, Roy Makaay, and Ruud van Nistelrooy, a new breed of world-class offensive players were already waiting in the wings, ready to dominate Europe.
Milanese Magic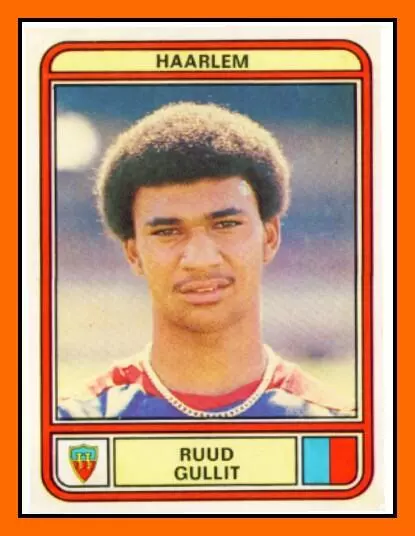 His hunger for silverware unsated, he formed a high-class triumvirate with compatriots Marco van Basten and Frank Rijkaard, a childhood friend of his from Amsterdam, and set about the task of conquering Italy and Europe with Milan.
Inspired by the blueprint laid down by Ajax in the 1970s, Rossoneri coach Arrigo Sacchi fashioned a side that had no equal.
Their 1989 European Cup triumph came in spectacular style, Ruud Gullit and company dished out a memorable 5-0 defeat to Real Madrid in the semi-final at the San Siro before putting four unanswered goals past Steaua Bucharest in the final, the flamboyant Dutchman scoring two of them.
That European title was successfully defended the following year, with Bayern Munich and Benfica their respective victims in the semi-finals and final.
Gullit's exertions had begun to take their toll, however. Exhausted after a hard season, he made little impression at the 1990 World Cup Italy, and when Marseille ended Milan's continental reign in 1991, Sacchi's formidable empire started to crumble.
Further disappointment came a year later when Denmark ended the Dutch national team European Championship defense in Sweden with a shock penalty-shootout win in the semi-finals.
Recurring injuries ultimately robbed the European footballer of his explosiveness, but he managed to prolong his career by playing in a more withdrawn role. Finally, in 1993, he left AC Milan as one of the greatest to have ever donned the famous red and black.
New Ventures
Increasingly sidelined at AC Milan, a flagging Gullit sought fresh inspiration by decamping to Serie A adversaries Sampdoria, rediscovering his powers to such an extent that Silvio Berlusconi was moved to lure him back to the San Siro.
The return was but a fleeting one, however. Within a matter of weeks, the Dutchman was back in Genoa and in among the goals again.
Another new challenge presented itself in 1995 when he brought an end to a distinguished eight-year association with Italian football by signing for Chelsea, then a mid-table English Premier League side with designs on reaching the big time. It did not take long before he became player manager.  In this first season as manager, Chelsea won the FA Cup.
In between times, he played his last game for the Dutch national team after a feud with national coach Dick Advocaat caused him to withdraw from the team in the build-up to USA 1994.
Becoming The Boss
Filling the vacancy created by Glenn Hoddle's appointment as England boss, Ruud Gullit took over as player-coach at Stamford Bridge, leading the Blues to FA Cup in 1997.
Despite taking the ambitious Londoners to fourth place in the table, he was sacked the following season and decided to end his playing career.
After a single campaign in the Newcastle United hot seat, he resigned in August 1999, disenchanted with the game and vowing never to take another coaching position.
Former employers Feyenoord persuaded him to change his mind in 2004, with a further managerial stint with Los Angeles Galaxy following in 2007, Gullit leaving both jobs within 12 months.
Having since devoted his energies to the unsuccessful Dutch-Belgian bid to host the World Cup, Gullit embarked on another adventure, moving to Chechnya to become the coach of Terek Grozny.
His time in Russia was short-lived, and he has since spent time as a television pundit, as well as hosting successive FIFA Ballon d'Or Galas.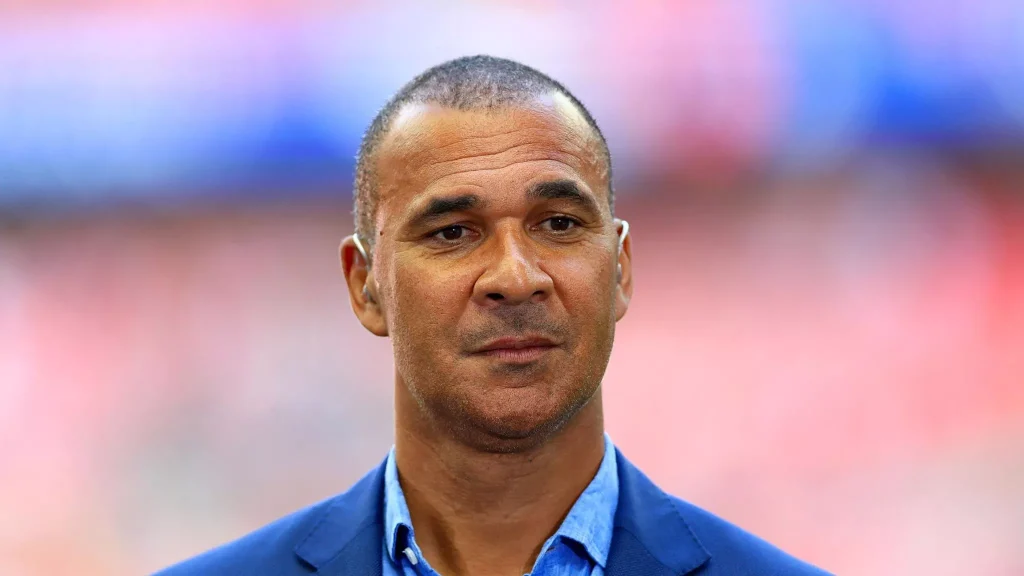 Interesting Facts About Ruud Gullit
Gullit dedicated his 1987 Ballon d'Or award to Nelson Mandela, who was still imprisoned on Robben Island at the time.
Performing with the reggae group Revelation Time, Gullit reached No.3 on the Dutch music charts in 1988 with the protest song Anti-Apartheid.
The Dutch footballer moved to Italian club AC Milan in 1987 for what was a world-record fee at the time, surpassing the deal that took Diego Maradona from Barcelona to Napoli in 1984.
Gullit's third and current wife is Estelle Cruyff, the niece of Dutch legend Johan. The pair wed in 2000.
Football legend George Best considered Ruud Gullit a finer player than Diego Maradona: "He has all the skills, he's not afraid to do things with the ball and he looks as if he's enjoying every second of it. By my reckoning that's what makes him an even better player than Maradona." [1]
Ruud Gullit's eventful and highly successful career as a player and coach has taken him from Haarlem to Milan, London, Los Angeles, and, most recently, the Chechen capital of Grozny.
Ruud played professionally for 19 seasons. During his career, athleticism was his dominant attribute, as he combined strength, speed, and technique to great effect.
Gullit is a Feyenoord fan.
He first appeared during the 2014–15 season as a studio pundit on BBC's Match of the Day.
Ruud Gullit Playing Career And Honors
Full Name: Ruud Gullit (His birth name was Rudi Dil)
Birthdate: 01/09/1962
Birthplace: Amsterdam, Netherlands
Playing Career:
HFC Haarlem 1979–1982
Feyenoord 1982–1985
PSV Eindhoven 1985–1987
AC Milan 1987–1994
Sampdoria 1993–1995
Chelsea 1995–1998
Total Appearances: 470 games, 174 goals
International Career:
Netherlands National Team (66 appearances, 17 goals)
Managerial Career:
Chelsea (player-manager) 1996–1998
Newcastle United 1998–1999
Feyenoord 2004–2005
Los Angeles Galaxy 2007 – 2008
Terek Grozny 2011
Playing Honors:
HFC Haarlem
1980–81: Eerste Divisie Champions
Feyenoord
1983–84: Eredivisie Champions
1983–84: KNVB Cup Winers
PSV Eindhoven
1985–86 and 1986–87: Eredivisie Champions
AC Milan
1987–88, 1991–92, and 1992–93: Serie A Champions
1988–89 and 1989–90: European Cup Champions
1990: UEFA Super Cup Holders
1990 Intercontinental Cup Holders
1992 and 1994: Supercoppa Italiana Cup Winners
Sampdoria
1993–94 Coppa Italia Trophy Winner
Netherlands National Team
1988 UEFA European Championship Winners
Managerial Honors
Chelsea
Individual Honors:
1984 and 1986: Dutch Footballer of the Year
1987: Ballon d'Or Winner
1988: Ballon d'Or Runner-Up
1988 and 1992: UEFA European Championship Team of the Tournament
1991: FIFA XI
1995: AC Milan Hall of Fame
References:
[1]: https://en.wikipedia.org/wiki/Ruud_Gullit
Images:
https://en.wikipedia.org/wiki/File:Ruud_Gullit_1983_(cropped).jpg

https://www.iffhs.com/legends/19
https://www.fotmob.com/news/z82wsf1f1toe10smypgyk9rs1-on-this-day-in-sport:-the-most-fouls-in-an-nba-game,-gullit-joins-milan


https://www.skysports.com/more-sports/other-sports/news/34214/11212574/ruud-gullit-launches-his-own-esports-fifa-academy