The feat of Arsenal Football Club in avoiding defeat in their 38 English premiership matches during the 2003-04 season has rightly been acclaimed as a marvelous achievement, but not a soccer world record. This is not a unique achievement in senior British soccer as five other clubs that have previously passed through a season without meeting with defeat in league competition.
In England, Preston North End was undefeated in 18 Football League games during the 1888-89 season, and Liverpool (as a Division Two club) in 1893-94.
While in Scotland, Glasgow Celtic (1897-98) and Kilmarnock (Division Two, 1898-99) both avoided defeat in league matches throughout a season.
However, standing head and shoulders above this comes the feat of Glasgow Rangers in the 1898-99 season when they won all 18 Scottish League games, creating a unique soccer world record that still stands today.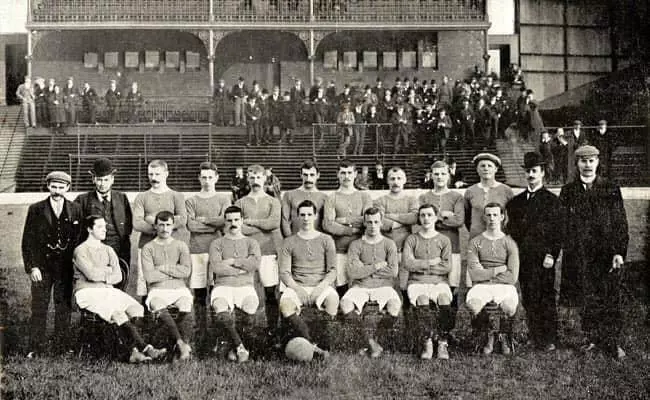 1898-99 Season
Even though Glasgow Rangers had yet to win the Scottish League title outright, they began the 1898-99 season as firm favorites in some quarters, mainly because of their excellent record in cup competitions in recent years.
Scottish Sport, for example, spoke of "The consistent excellence of the Ibrox Park team during the past two seasons," which placed them above their immediate rivals.
The squad for the new campaign showed a mere handful of changes. Out went Robert Glen (to Hibernian), Peter Turnbull (to Millwall), Tom Hyslop (to Stoke) and, Andrew McCreadie (who had spent most of the 1897-98 season on the injury list).
Newcomers were the Sharp brothers from Dalziel Rovers, John Campbell and John Wilkie (from Blackburn Rovers) and, Finlayson from Inverness Caledonian. However, the first-choice selection was mainly made up of existing players. Only Campbell regularly featured in the line-up, although another newcomer, James Miller from Elgin City, was added to the squad in December.
The Favorites
There were only four teams with realistic prospects of winning the title: Rangers, Celtic, Hearts, and, Hibernian, the remaining effectively also-rans. The first big test came in their third fixture against Hearts at Tynecastle. A strong opposition side was overcome, albeit with some difficulty.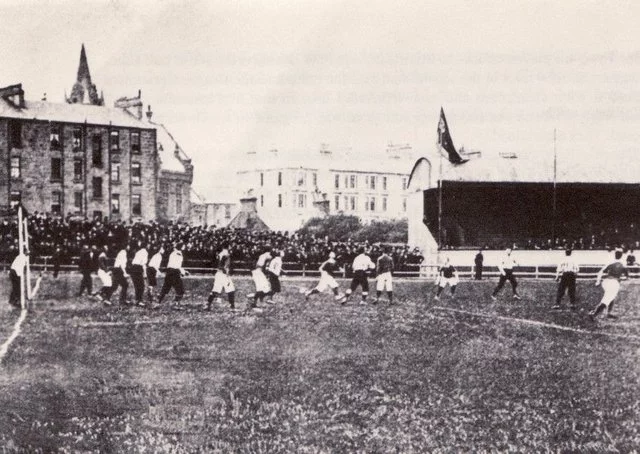 The fifth match saw the Light Blues (as Rangers were known) establish a new record for consecutive wins from the start of a season. St Bernard's were despatched with ease.
The following Saturday, Rangers faced the biggest hurdle of all, a trip to Parkhead, home of reigning champions Celtic and football ground on which they had yet to register a Scottish League victory.
A 4-0 win surpassed perhaps even their wildest dreams, and when Hearts were defeated in the return game, the newspapers were already predicting the title race was all but over – even though the season was barely six weeks old.
Defeat in the Glasgow Cup final by Queen's Park was merely a temporary setback. On 19 November came perhaps the most controversial of all 18 victories. Rangers visited Easter Road to play Hibernian, who themselves still harbored outside hopes of the title.
A tense, hard-fought match was reaching its final minutes when a home defender appeared to impede John Campbell as he sought the winner. The referee awarded a penalty and, Neil slotted the ball home to bring the Light Blues a 4-3 victory.
Home fans attacked the hapless official on the pitch, but the 100 percent record stood. [3]
Successive Victories
After winning 8-0 at Clyde, the team set a new record for consecutive victories in the Scottish League, but their run nearly came to an end at Ibrox against St Bernard's. [4]
The visitors led 1-0 up to the 60th minute and were 2-1 in front with ten minutes remaining until John Campbell got to work netting four goals in quick succession to leave the home side as comfortable winners.
Few serious hurdles were remaining. St Mirren, too, nearly caused an upset at Ibrox, leading twice and narrowly missing out on a draw when they had an equalizing goal disallowed. Celtic were beaten for a second time, despite their efforts, a 3-1 deficit at half-time proving insurmountable.
When Clyde was defeated 3-0 at Shawfield Rangers, this win secured the only 100 percent record in senior soccer in England and Scotland to date.
There were several factors present that assisted Rangers to their soccer world record. The first was that the Scottish League season effectively ran for the first half of the campaign only. The plan was to complete the program by early January, before the Scottish Cup and the annual representative fixtures.
As a result, teams played a mixture of cup football interspersed by regional supplementary leagues such as the Glasgow, East of Scotland, and, Western Leagues. By telescoping the league fixtures and avoiding the disruption of cup football (except for the Glasgow Cup).
It avoided the worst weather in the early New Year when heavy, almost unplayable pitches might lead to injury.
This was certainly the case for Rangers, whose line-up was only occasionally affected by relatively minor injuries during the league campaign, but who were then forced to field many reserves in the second half of the season following injuries and international call-ups. Nevertheless, the club's feat in winning the title without dropping a single point was remarkable.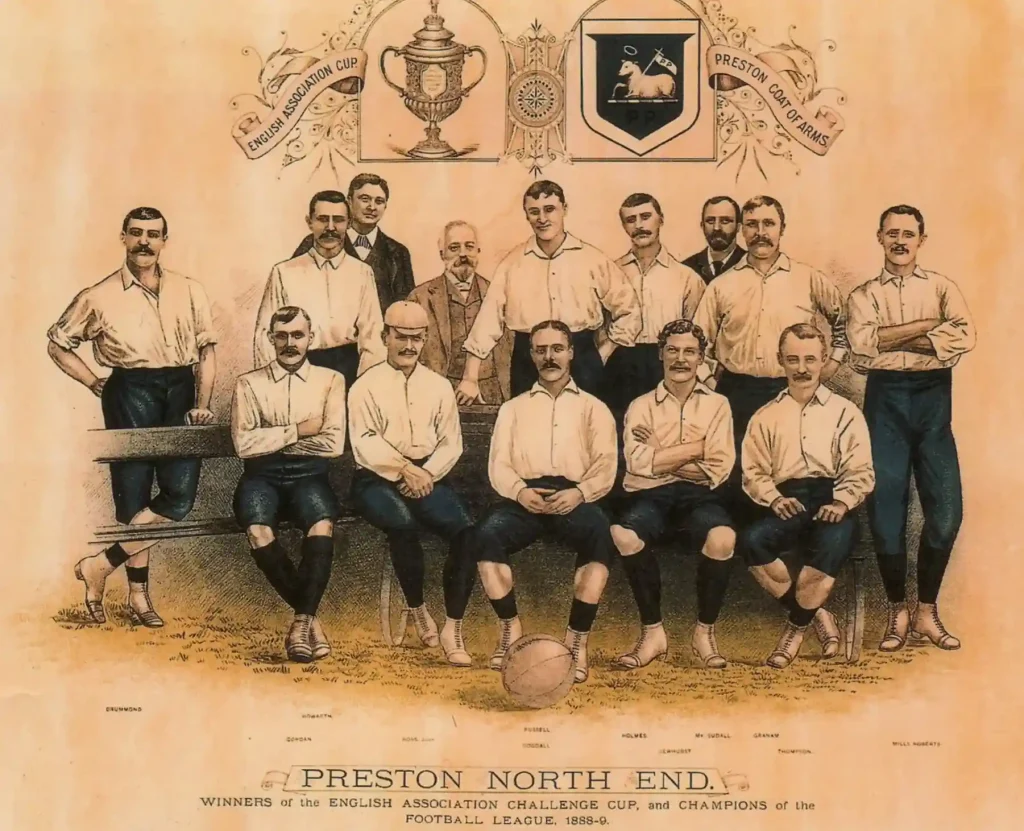 Soccer World Record Comparisons
Contemporaries compared Celtic's unbeaten league record of 1897-98 and with the Preston North End team that had won the inaugural Football League title in 1888-89, also avoiding defeat. Preston had created something of a sensation with their unbeaten run and had achieved the 'double' by winning the league title and the FA Cup and this without conceding a goal.
In league competition, the two were perhaps matched, for although Rangers played 18 games as opposed to the 22 games played by North End, the two had similar 'winning margins' of 10 and 11 points, respectively. Preston, too had one or two narrow squeaks, notably when gaining a 2-2 draw at Blackburn in early January.
Both had the fortune to complete their fixtures relatively early (Preston's last league match was against Aston Villa on 9 February).
Both had excellent all-around seasons: Rangers may have won a single trophy, but they reached three cup finals (Scottish Cup, Glasgow Cup, and Glasgow Charity Cup) and were runners-up to Celtic in the supplementary Glasgow League. Both teams were met with several defeats in friendly games, and neither did particularly well in fixtures against teams from across the border.
Preston fell to Cambuslang, Queen's Park and, Celtic while Rangers were defeated by Liverpool, Millwall and, Aston Villa. Both teams relied heavily on Scots: six of the Preston North End team that won the FA Cup were Scots, and another had played in Scotland.
A Soccer World Record
That is perhaps where the comparisons end. The Glasgow Rangers team of 1898-99 was renowned principally for winning matches and laying the foundations for a run of success that saw them dominate the Scottish League, for this was the first of four consecutive championships.
Preston, in contrast, was not only of significance for their winning of trophies. They were considered the greatest of all teams to practice the 'combination' style of soccer.
How would either team fare against modern premier league giants such as Arsenal?
Modern commentators tend to stress how much faster and technically complex the game has become and therefore consider that nineteenth-century teams would have little chance of success. However, it is to consider the two in light of the nature of soccer today.
Should there be a contest under nineteenth-century conditions, with a much greater emphasis on the physical side of the game? Particularly concerning goalkeepers who dare not hold onto the ball unless the great sides such as Preston and Rangers would indeed hold their own in exceptional circumstances.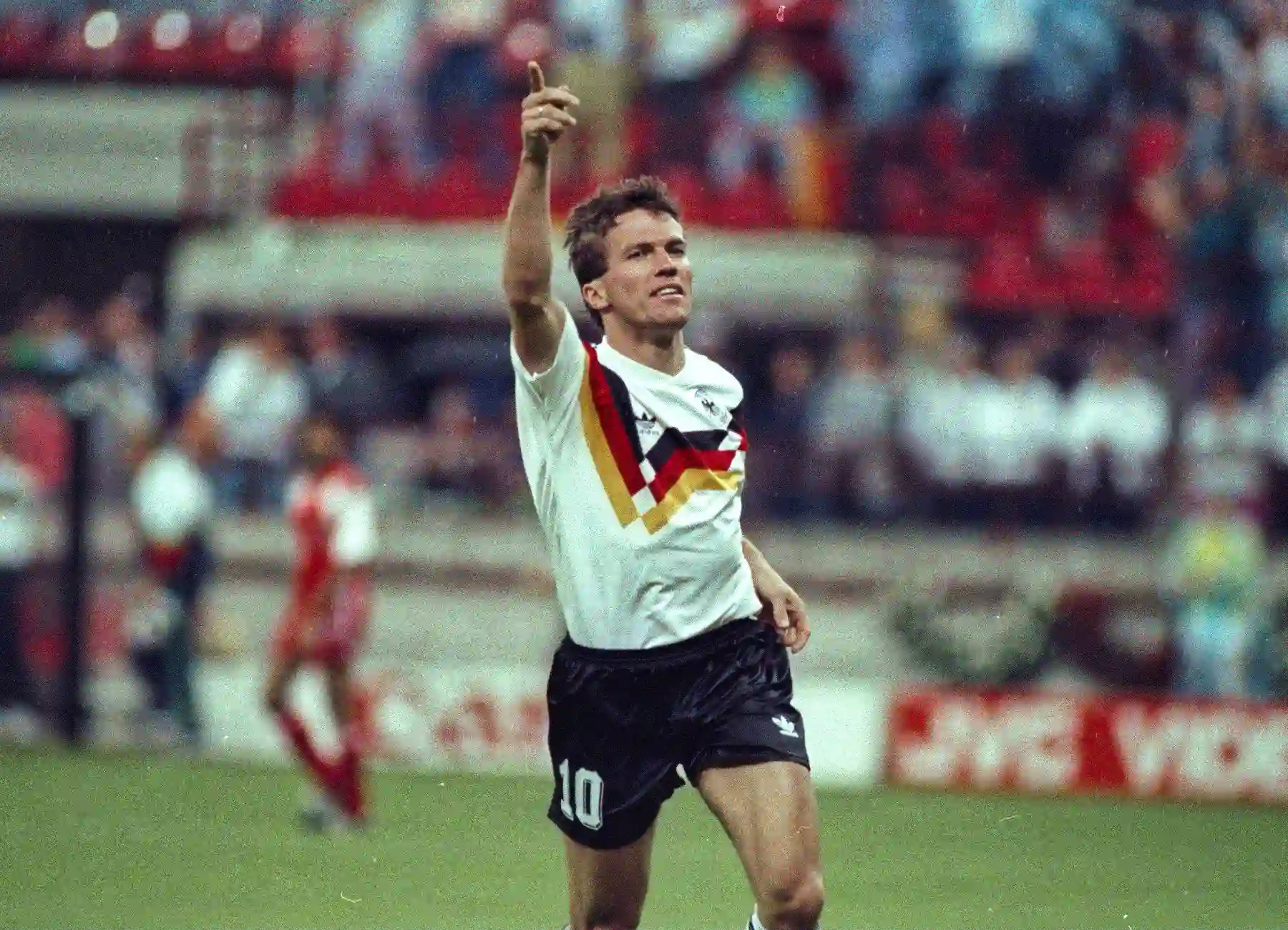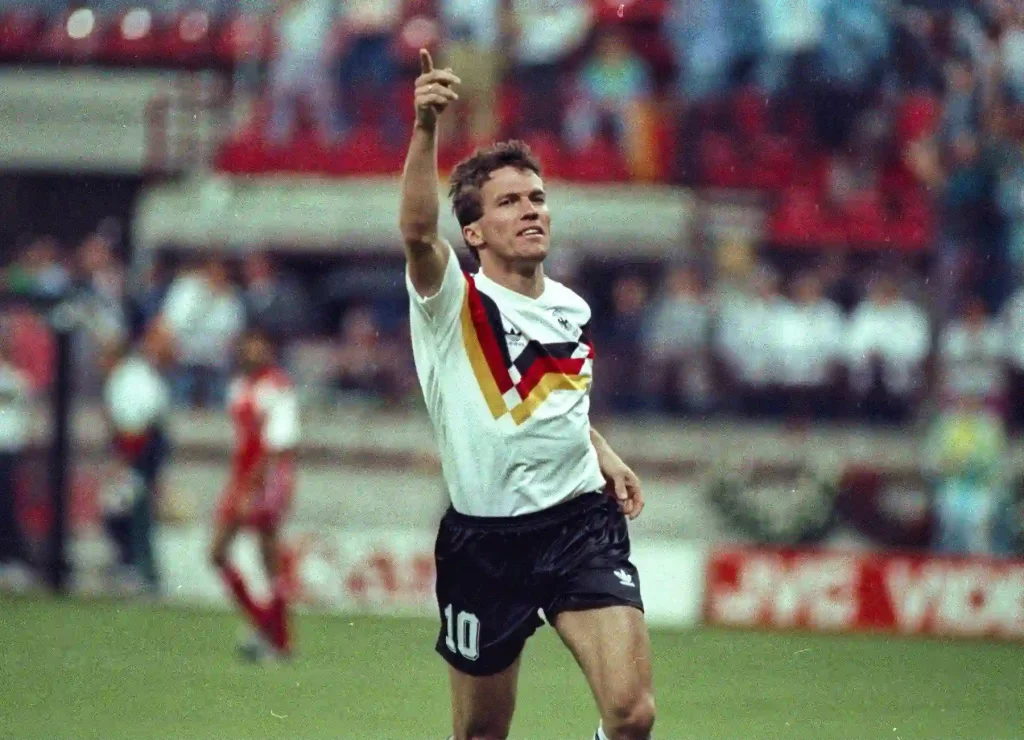 Crazy Football Stats
Here are ten crazy football world records that you probably don't know.
Did you know that Roger Ceni is the highest goal-scoring goalkeeper of all time, with 131 goals in 1237 appearances? A dead-ball specialist, he is considered one of the best in Brazil in a career that spanned over 25 years and won 20 major trophies.
The soccer world record for most official goals for a single club is Lionel Messi, who scored 672 goals during his seventeen years at FC Barcelona. In his best season, Messi scored 50 La Liga goals in 2011-12. In all competitions, he finished the season off with 73 goals. Most players don't even achieve that many in their career, let alone one season.
The world's all-time goalscorer is World Cup star Pele with 1284 goals in 1315 games (including friendlies). His goals/games ratio 0.98. FIFA regards him as the greatest soccer player of all time. With 77 goals in 92 games, Pelé is Brazil's top goal scorer of all time.
Australia's Archie Thompson holds the Guinness world records for the player with the most goals scored in an international match. He scored 13 goals in a 31-0 win over American Samoa on 11 April 2001 as part of the 2002 FIFA World Cup match.
Tommy Ross held the record for the fastest hat trick, which he scored against Nairn in the Scottish fifth division in 1964 when he scored three goals in 90 seconds. However, the English Sunday league of Sheffield's Rawson Springs versus Meadowhall (7–1) match saw Alex Torr hat-trick a hat-trick in 70 seconds, breaking his Guinness World Records. [1]
Lothar Matthäus has played the most World Cup matches. (25 world cup appearances) Matthäus also holds the record of playing in five FIFA World Cups (1982, 1986, 1990, 1994, 1998), more than any other outfielder in men's football, until the 2018 World Cup, when Mexico's Rafael Marquez equaled his record. [5]
Ilija Pantelić holds the world records for the first goalkeeper to score a hat trick. He scored a hat trick in 1963 against NK Trenjevka in the first division of Yugoslavia. After that, Pantelić moved to France and made over 200 in the first division.
Panagiotis Pontikos holds the world record for scoring the most goals in a league match. The Cyprus third division match between Olympos Xylofagou and SEK Agiou Athanasiou was won by Panagiotis Pontikos 24-3. Pontikos scored sixteen of the twenty-four goals.
The 1950 World Cup Final held at the Maracanã stadium holds the world records for the highest attendance at a soccer match. The official attendance was 199,854. According to unofficial estimates, there were 210,000 spectators in the stadium.
Croatian seventh division team NK Dracice Dakovo defeated NK Zrinski Drenje 10-0 on 9 November 2016 thanks to Stjepan Lucijanic's fifth consecutive hat-trick. [2] In those five matches, Lucijanic had scored 20 goals and currently holds the soccer world record for the most consecutive hat tricks.
References:
[1] and [2]: https://en.wikipedia.org/wiki/List_of_footballers_who_achieved_hat-trick_records
[3] and [4]: https://www.klotho.com/strategic-rule-breaking-time-wasting-to-win-soccer-6/
[5]: https://vocal.media/cleats/lothar-matthaeus-a-member-of-the-fifa-100-list-of-the-greatest-living-football-players
[6]: https://www.gitesabran.fr/2022/12/26/analysis-of-successful-offensive-play-patterns-by-5/
Images:
https://en.wikipedia.org/wiki/File:Rangers_FC_Gallant_Pioneers.jpg (main image)
https://scottishfootballmuseum.org.uk/resources/news/the-season-of-1898-99/
https://www.scotsman.com/sport/football/old-firm-story-when-fans-joined-forces-riot-1473665
https://www.football-stadiums.co.uk/articles/first-ever-football-matches/
https://www.fifa.com/tournaments/mens/worldcup/1990italy/news/matthaus-was-afraid-dropping-the-cup-514069