There are many professions where the proverbial baton is passed from generation to generation, and soccer is no exception. And when it comes to sons emulating their fathers' success, the case of the Chapuisat family is as fine an example as any. Pierre-Albert Chapuisat won 34 caps for Switzerland in the late 1970s and early 1980s, but he could not even dream that his son Stephane Chapuisat would become one of the greatest professional footballers ever to pull on the Nati colors.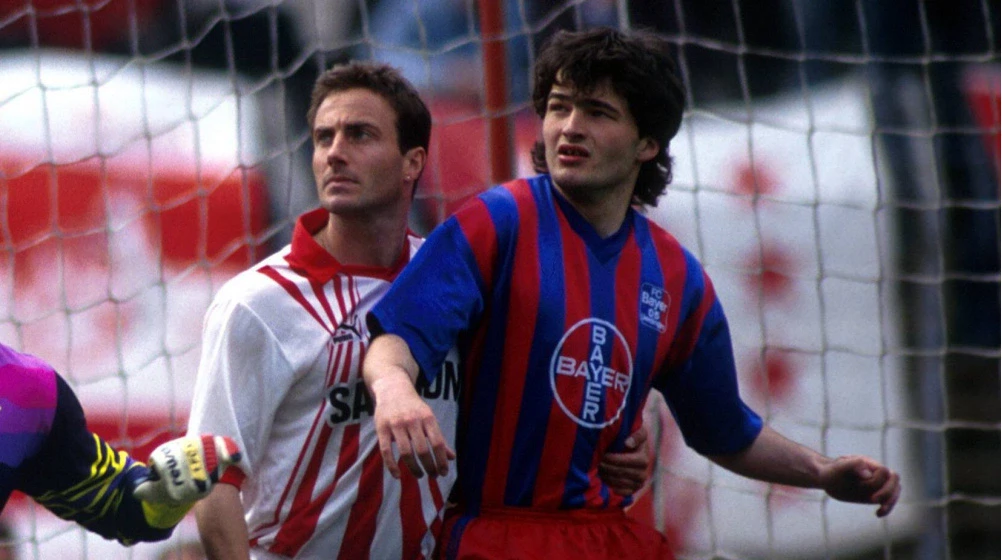 Stephane Chapuisat Idol
"My father was my idol, and it was always my ambition to play for the national team," said Stephane Chapuisat in an exclusive interview with The History Of Soccer. The four-time Swiss Player of the Year not only fulfilled that dream but also claimed UEFA Champions League, German and Swiss league championship, and FIFA Club World Cup winners' medals during a distinguished professional career.
Stéphane Chapuisat's soccer journey began in 1987 with Lausanne Sports, where before long, he was topping the goalscoring charts and establishing himself as a crucial part of the Switzerland national side. These exploits saw 'Chappi' snapped up by German outfit Bayer Uerdingen in 1991, where he attracted the attention of Ottmar Hitzfeld, then-coach of Bundesliga powerhouse Borussia Dortmund.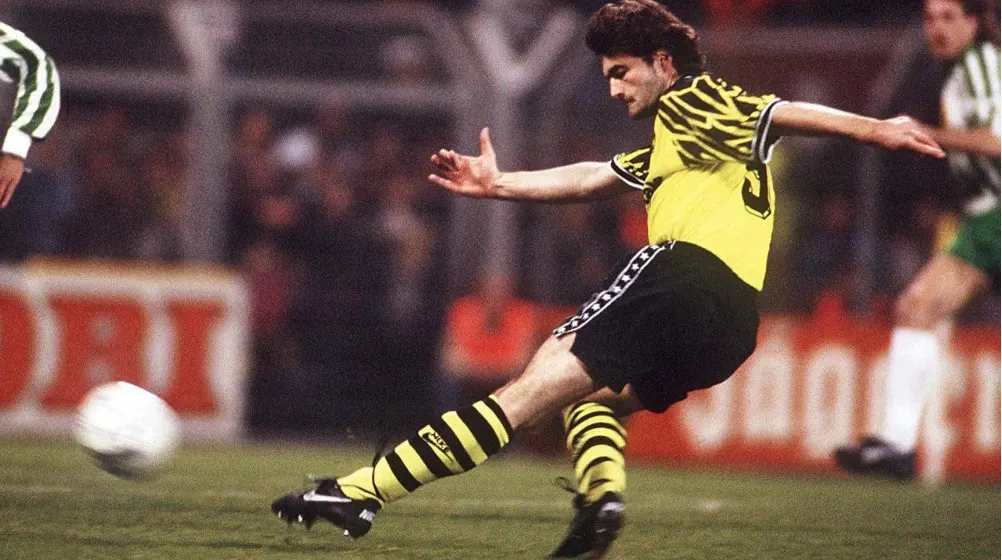 Unforgettable Moments
Under the 'General' tutelage, Stephane Chapuisat won two German championships and, most significantly, the 1997 Champions League. Having notched an impressive 106 goals in 228 Bundesliga appearances with Borussia Dortmund, the forward ranks among the most prolific imports in Bundesliga history.
Nonetheless, Stéphane Chapuisat played down the suggestion that he might be the greatest Swiss soccer player of all time: "It's not my place to say, and I can't say it matters to me. I had a fantastic time in Germany with Borussia Dortmund, and that's the most important thing." The former attacker has many more treasured memories from his time with the Yellow-Blacks.
Still, the goal he scored to fire his team into the semi-finals of the 1997/98 Champions League stands out in particular: "The quarter-final against Bayern Munich was an unforgettable night. It was an all-German affair, and I can still remember that goal like it was yesterday."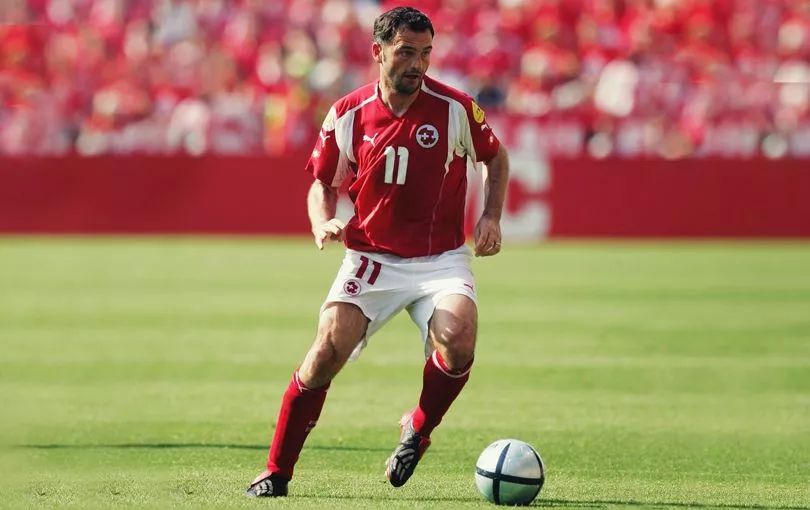 First Swiss Title
Upon returning to Switzerland, Stephane Chapuisat won his first Swiss league title in 2001 during three years with Grasshopper Zurich before further stints at Young Boys Bern (2005-05) and Lausanne Sport (2005-6) finally brought his lengthy career to a close. In 1992, 1993, 1994, and 2001, he was voted Swiss Footballer of the Year four times.
He was also a part of the Switzerland national team at the 1994 FIFA World Cup in the United States, 1996, and 2004 European Championships. The latter tournament would prove his final bow on the biggest stage as the prolific goalscorer announced his international retirement, having amassed 103 caps and 21 goals at the highest level.
Stéphane Chapuisat says the times he looks back on with the most pride are his title-winning days with Borussia Dortmund: "It is a special feeling to win a title. Nothing is better than celebrating a trophy with your teammates." The former Bundesliga domestic league star also boasts an honor that very few soccer players worldwide can, immortalizing his image on a stamp. "That was a long time ago, and I'm not quite sure why it happened," laughed Stephane Chapuisat. "I don't have them anymore. Soccer players are always moving from one city to another, so either I've lost them, or they're sitting in a box somewhere."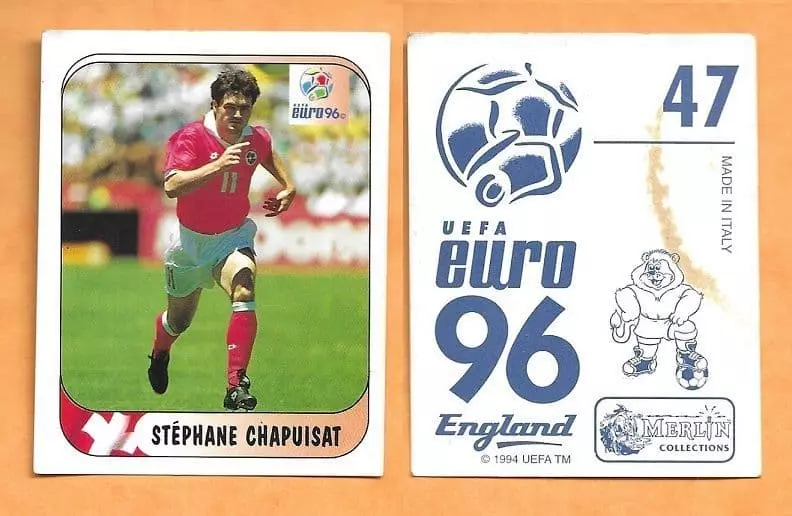 Stephane Chapuisat Today
In 2007, two years after his official retirement, Stephane Chapuisat was appointed as a FIFA ambassador for SOS Children's Villages: "It's was a great honor to be asked. I've spent time in a village in South Africa, and I'm going to try and visit another one this year. I attend many events that take place in the region such as football matches and films – it's all about the kids really, there are loads of different activities organized for them."
Now that his FIFA duties have ended, Chapuisat has been working as the Sporting Director at Young Boys Bern. "I love being involved in the beautiful game. Occasionally I help the outstanding players at Young Boys Bern, so I put all my experience to good use. My main focus was being the Sporting Director and helping to move the club forward. Now I've stepped aside and focused on scouting."
Although he enjoyed his part-time role on the training pitch, the Swiss footballer categorically ruled out any plans to become a head coach: "I'm not interested in that," said the former number nine, who also denied any yearning to go back to his playing days: "I play for the veteran's team, and that's enough for me. I had 20 great years at the top, but now my time is up."
Facts And Figures
Full name: Stéphane Chapuisat
Birthdate: 28/06/69
Club Career:
1986–1987: Malley
1987–1990: Lausanne
1991: Bayer Uerdingen
1991–1999: Borussia Dortmund
1999–2002: Grasshoppers
2002–2005: Young Boys
2005–2006: Lausanne
Total: 262 goals in 547 senior club appearances
National Career:
1989–2004: Switzerland – 103 appearances – 21 goals
Club Honors:
Borussia Dortmund
Bundesliga Champions: 1994–95, 1995–96
DFB-Supercup: 1995, 1996
UEFA Champions League: 1996–97
Intercontinental Cup: 1997
Grasshoppers
Swiss Super League: 2000–01