Celtic vs. Rangers, Everton vs. Liverpool, Arsenal vs. Spurs are just some of today's biggest inter-town rivalries. If history had turned out differently, there might have been another: Sunderland AFC vs. Sunderland Albion. Sunderland Albion Football Club was one of the many soccer clubs that flourished briefly in the 1800s only to fold before firmly establishing themselves in the football world.
Their rivalry with Sunderland AFC was one of the bitterest local feuds in the modern history of soccer. At the same time, the involvement of big business interests and spectator violence is suggestive of more modern times. This article will examine the early development of the association game in the Sunderland area, the Sunderland Albion emergence, and the club's subsequent demise.
In common with most of England, it was the rugby version of football (Sheffield Rules) that initially flourished in the country's northeast. James Allan arrived in Sunderland to take up a teaching post after graduating from Glasgow University. He found no club playing under association rules in the area. Allen, therefore, became a member of the Sunderland Rovers Rugby Club.
In 1879 he joined with several other schoolmasters to establish the Sunderland & District Teachers' Association Football Club. The club was renamed Sunderland AFC in October 1880 when it became an open organization, welcoming members from all professions.
Sunderland's Premier Team
The new outfit soon established itself as Sunderland's premier association football team, entering the FA Cup for the first time in 1884-85. They appear to have espoused professionalism with the arrival of two players from Scotland in 1885. While soccer had taken off in Middlesbrough and Newcastle, it was somewhat slow to emerge on Wearside.
It was not until the end of the 1880s that the round ball game established pre-eminence locally. So dramatic was the rise in popularity that by 1889 there were over 200 soccer clubs in the area.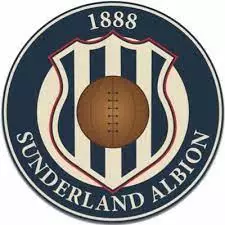 Sunderland AFC flourished, continuing to import players from north of the border (as did many of the early professional clubs in the north of England).
Still, this policy was often at odds with the rule that players should have been born locally or lived within six miles of the club headquarters for the previous two years.
There was also an element in the game that opposed both professionalism and importing players from other areas. The Wearsiders came up against such opposition in the FA Cup third round in 1887-88 when they were drawn to play Middlesbrough, then a prominent amateur club.
After achieving a 2-2 draw on Teesside, they proceeded to win the replay 4-2, only for their opponents to make a formal protest with the Football Association because three Sunderland players, Monaghan, Hastings, and Richardson, were professionals.
Objections from defeated clubs were the standard fare at the time. Morpeth Harriers had protested over another Sunderland player following their first-round FA Cup tie earlier in the season, and a replay had been ordered.
However, on this second occasion, Sunderland, although not proven to have played professionals, was nevertheless disqualified from the competition on a technicality that they had paid the players' train fares to and from Dumfries.
Although eliminated from the FA Cup, there was no further punishment, suggesting the offense was not considered particularly serious.
Nevertheless, a group of Sunderland officials insisted on taking the issue to a full FA Council, lost their case, and found they had to pay full costs. This created considerable dissent within the club. As a result, James Allan was replaced as treasurer by Samuel Tyzack.
The football club now appeared to be in the hands of a triumvirate of wealthy businesspeople: Robert Thompson and James Marr, both prominent in the local shipbuilding industry, and Samuel Tyzack, whose interests were in iron founding and coal.
Formation Of Sunderland Albion
James Allan almost immediately severed his connections with Sunderland AFC and established a new club, Sunderland Albion Football Club. His actions have led one observer to describe him as, "That commonplace figure in association football, the man who starts a team to showcase his talents." Hendon's Blue House Field would become their home for the next five seasons.
The fiasco over the Middlesbrough appeal was undoubtedly the catalyst that led to the split. Still, the fact that James Allan took several players with him (including the three Scottish players involved in the protest) suggests a broader issue and a general concern over the efficient running of the football club. The relatively sudden involvement of big business interests may also have alienated some.
After all, only a few years previously, this had been an organization that restricted its membership to schoolmasters. Perhaps the deciding factor may well have been a feeling that Sunderland was spending beyond its means and therefore apparently doomed to failure.
Although accounts were produced showing a surplus of £13 on the season, there were fears that their financial situation might cause them to lose their Newcastle Road ground to building developers. It should be noted that splits within clubs were not uncommon at this time.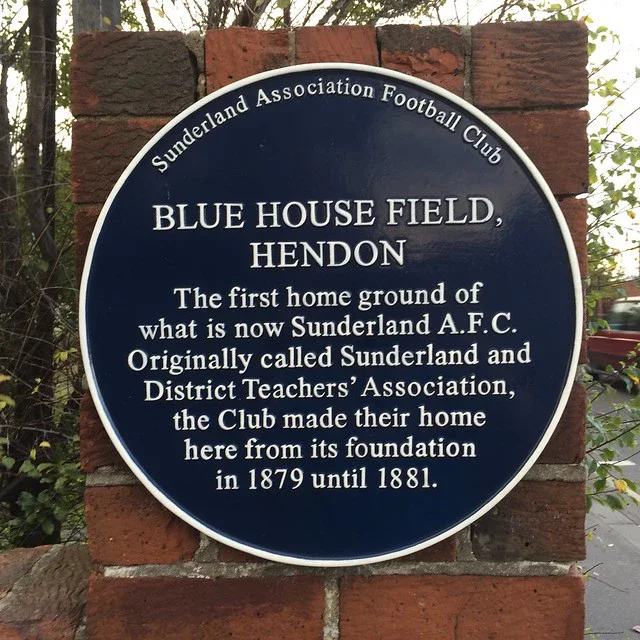 The following year dissident members of Middlesbrough FC established Middlesbrough Ironopolis, while in 1892, Liverpool Football Club was established as an offshoot of Everton following a division in the ranks.
The new club soon became a significant rival to the parent organization and went unbeaten in the early months of the 1888-89 season. Sunderland, too, had not been inactive and once more filled their ranks with Scottish imports.
One irony relating to the bitter local rivalry between the two was that virtually all the players with both clubs were Scottish, and few local men got a look in at first-team level.
However, the turning point came towards the end of 1888 when the two local rivals were drawn to meet each other in both the FA Cup and Durham Challenge Cup competitions.
Controversially, Sunderland withdrew from both competitions rather than face James Allan and his newcomers.
Publicly they announced their decision was because of "the demoralizing effect of Cup competitions," but not even contemporaries believed this. The Athletic News correspondent thought it might be due to a fear of being expelled from the competitions as they had so many Scottish imports that they would be unable to fight off any protest.
It has been suggested this was a deliberate tactic designed to prevent their rivals from developing a solid financial position. However, the clubs did meet in two bitter-friendly matches, with the receipts going to local charities.
Sunderland AFC won both matches to confirm their superiority. The second match ended in further controversy when a disputed goal led to violent scenes afterward.
Their First Loss
The 2-0 defeat suffered by Sunderland Albion was, in fact, their first-ever loss, for their playing record up to Christmas of that year was an impressive played 17, won 14, drew 2, lost 1. This was perhaps the zenith of their fortunes, although they defeated Birtley to win the Durham Challenge Cup that season.
James Allan resigned as secretary in December 1888. Whether it was because of that first defeat or whether the pressure of work is not recorded – but he still retained a strong interest in the Albion team, although he was no longer at the helm.
Both Sunderland AFC and Sunderland Albion Football club applied for membership to the Football League in 1889-90, but neither was successful.
Therefore, Sunderland continued to play a mixture of friendly matches against top-class opposition interspersed with cup ties, and Albion joined the new Football Alliance, effectively an independent second division – although their isolated geographical position meant that they were forced to pay half of all visiting teams expenses.
Recruiting From Scotland
An expensive team was assembled, mainly consisting of top-class Scottish players, and ground improvements were made, but results were rather patchy. The team eventually finished in third place in the Football Alliance with attendances averaging around 4,000. Somewhat less than their rivals across town, who had 1,500 season ticket holders.
The senior club sought to confirm their local superiority with an aggressive policy of buying up as much Scottish talent as possible, thus beginning the assembly of their famous squad known as 'The Team of All The Talents.'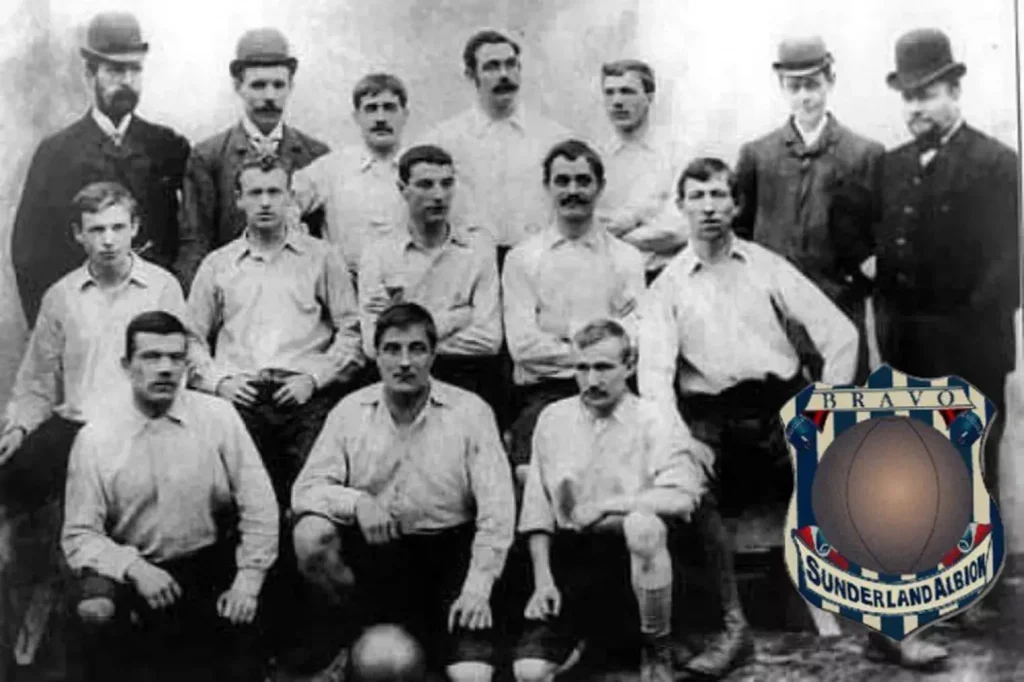 Sunderland Albion Financial Trouble
Sunderland Albion was already beginning to suffer financial problems. In March 1890, the Sunderland Albion Football & Athletic Company Limited re-established themselves as a limited company, comprising 1,500 shares at £2 each.
The two teams again applied for membership to the Football League in 1890-91. Sunderland AFC was successful, replacing Stoke FC in the premier competition. Albion had previously been the junior of the two clubs, but this was a real body blow. Sunderland had to agree to pay some of the costs of visiting clubs, and it would be worth it.
Sunderland Albion FC continued in the Football Alliance and entered their first team in the Northern League as they sought to maximize their income with visits from local opposition. Attendances were up considerably for the first half of the season, and there were early gates of 8,000 for the visits of Sheffield Wednesday and Darlington.
Support fell dramatically after the team was knocked out of the FA Cup, even though they were unbeaten at home in 20 competitive games and finished runners-up to Stoke in the Alliance League. A substantial loss of £748 was recorded, and the future looked somewhat dismal. To raise additional income, the football club allowed Sunderland Olympic to play at The Blue House Field when Albion was playing away.
The Nail In The Coffin
Sunderland Albion FC withdrew from the Football Alliance in 1891-92. Financial restrictions dictated that the recruits from Scotland that summer were primarily inexperienced men, and the 1891-92 campaign was disappointing both in terms of results and attendances.
A further loss of £643 on the season made the deficit in two years almost £1,500. Albion's poor financial position seems to have prompted attempts at reconciliation with Sunderland AFC, and the teams met twice towards the end of the campaign, with the senior club winning 6-1 at Hendon and 8-0 at Newcastle Road.
Nevertheless, the funds raised by Sunderland Albion FC were insufficient to persuade the directors to carry on. That summer, it was resolved to wind the club up. In a final irony, Sunderland AFC celebrated their first Football League championship of 1891-92 on the same evening as Sunderland Albion admitted defeat as the directors made their decision to close down at a hotel just a short distance away.
Sunderland Albion FC essentially failed because they entered a commercial war with Sunderland AFC and did not have the resources to match their opponents. Sunderland was bankrolled by wealthy businessmen willing to pay for success and unconcerned about comparing expenditure to income. Running a professional soccer club at any level was an expensive business, even at this time.
Albion was trying to compete with one of the wealthiest and ultimately most successful clubs in the country considerably reduced their chances of survival. Had they wished to lower their ambitions, they might have survived much longer. Indeed, their attendances were higher than most Alliance clubs, but even by the day's standards, expenditure was high.
They might still have survived they received the financial backing that Sunderland AFC enjoyed. However, Sunderland Albion's major shareholder was a local brewery, and they failed to attract men of substance such as Robert Thompson, Samuel Tyzack, and James Marr to their cause.
Sunderland AFC benefited from the local rivalry, and the threat to their existence prompted them to spend their money wisely on developing both the team and the Newcastle Road stadium.
'The Team of All The Talents' which dominated the Football League in the early 1890s (Football League Champions in 1891- 92, 1892-93, and 1894-95), was the outcome of this local rivalry and might never have been assembled had it not been for the presence of Sunderland Albion.
The Athletic News aptly summed up Sunderland Albion's fate on 15 August 1892:
"The conclusion is irresistibly forced upon one that there is no room for two expensive professional teams in Sunderland, and it is quite in accordance with the Darwinian theory of the survival of the fittest that the Albion, being the weaker of the two, should go to the wall."