Since hosting the inaugural FIFA World Cup in 1930, the competition has witnessed players grace the tournaments at different stages of their soccer careers. The FIFA World Cup has also seen young and old players spectacularly find the net on the grandest stage of world soccer. Below, we chronicle the 10 oldest soccer players to ever score in the FIFA World Cup finals.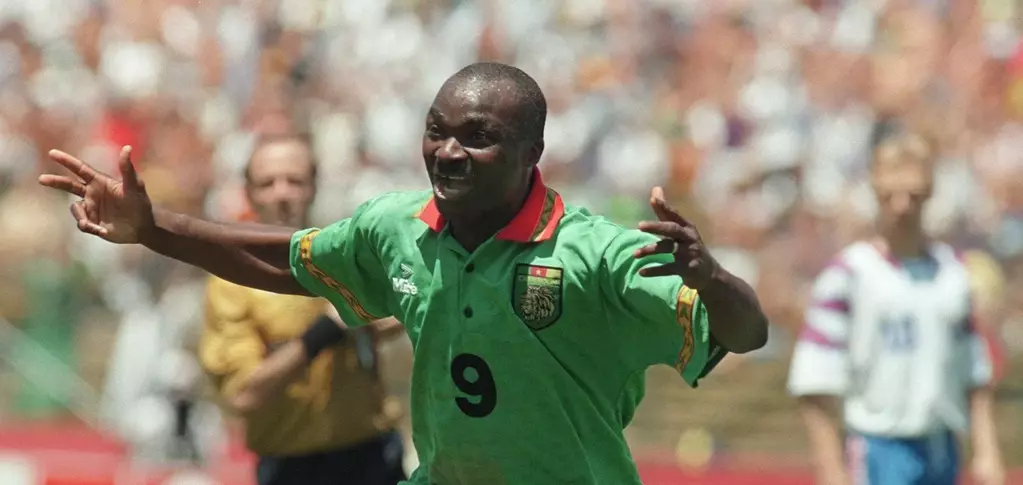 1. Roger Milla (Cameroon) – 42 years, 39 days – Russia – 1994
At 42 years and 39 days, legendary Cameroon attacker Roger Milla remains the record-oldest soccer player to score at a FIFA World Cup finals tournament.
Roger Milla had already played at two previous WC finals, retired from the national team, and came out of retirement at the behest of the then-Cameroon president Paul Biya. The 46th-minute goal came from inside the penalty box, with Milla pulling one goal back after Russia had stormed into a 3-0 half-time lead.
Milla's goal against Russia was a mere consolation as Cameroon lost their final World Cup group game 6-1. The game also saw Russia's Oleg Salenko score five goals, which remains the most goals a player scored in a single World Cup match.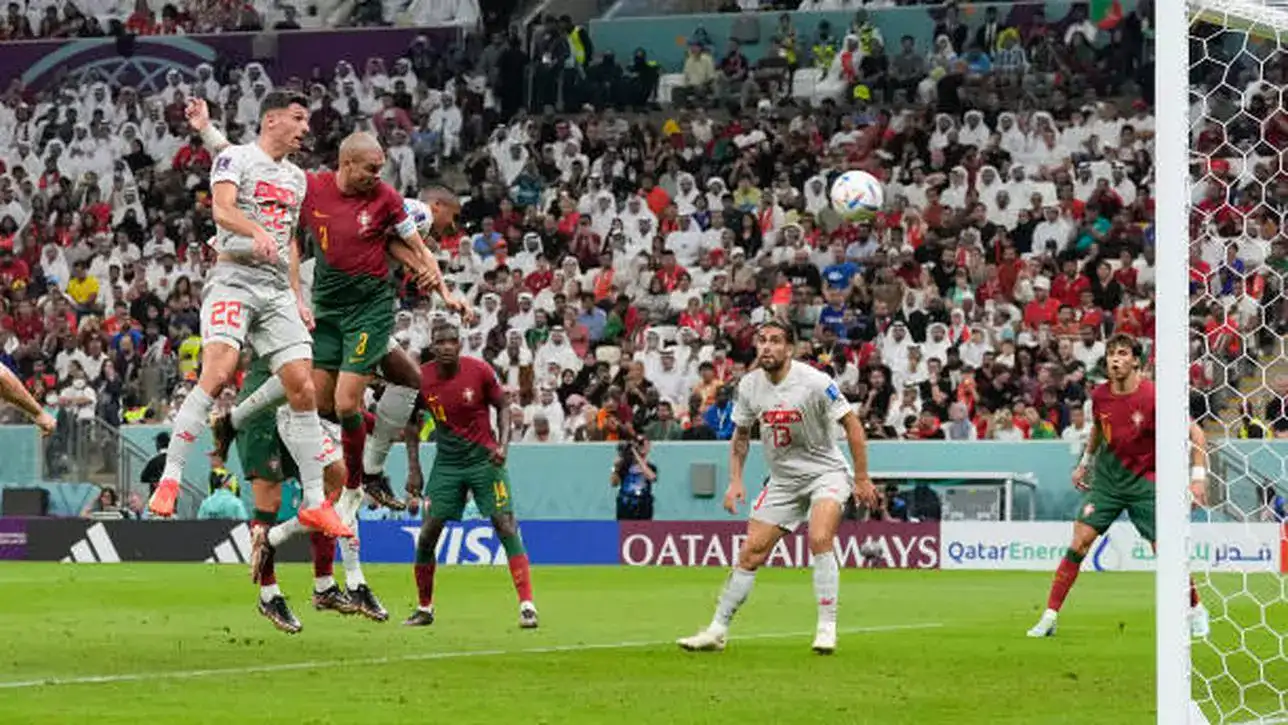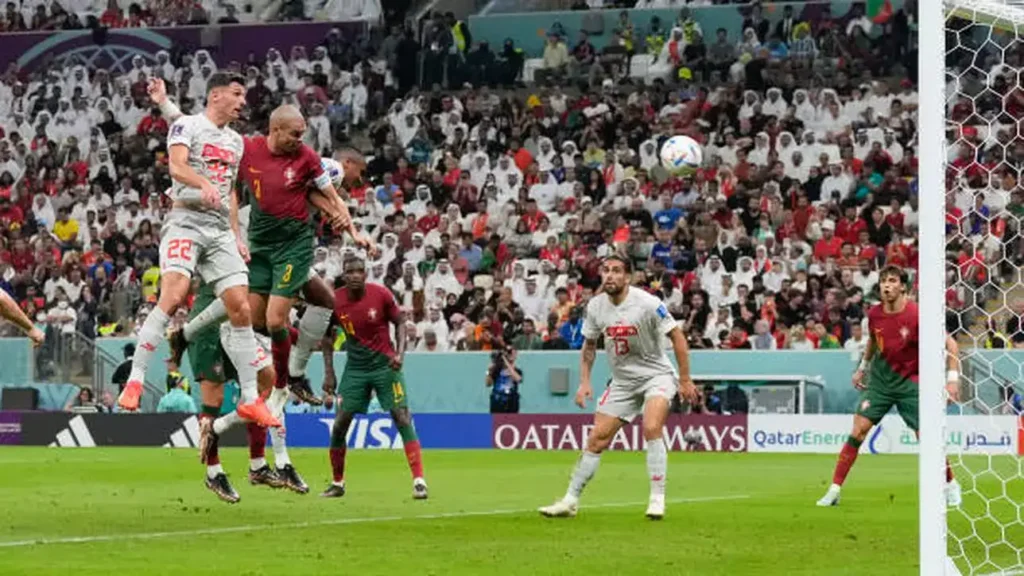 2. Pepe (Portugal) – 39 years, 284 days – Switzerland – 2022
On 6 December 2022, Portugal played Switzerland in one of the most entertaining round-of-16 fixtures at Qatar's first-ever winter World Cup finals. With a prestigious place in the tournament quarterfinals at stake, Portugal burst out of the blocks firing to take a 2-0 lead into the break.
The second goal, scored on 33 minutes by veteran defender Pepe, was history-making. Beyond putting much-needed daylight between his team and hard-battling Switzerland, the goal made Pepe the second-oldest World Cup goalscorer of all time. And the oldest player to ever score in the knockout stages.
His history-making goal came when he headed in a Bruno Fernandes corner against Switzerland to double their lead in an eventual 6-1 triumph at the Lusail Stadium. The defender ranks as one of the game's best of his generation.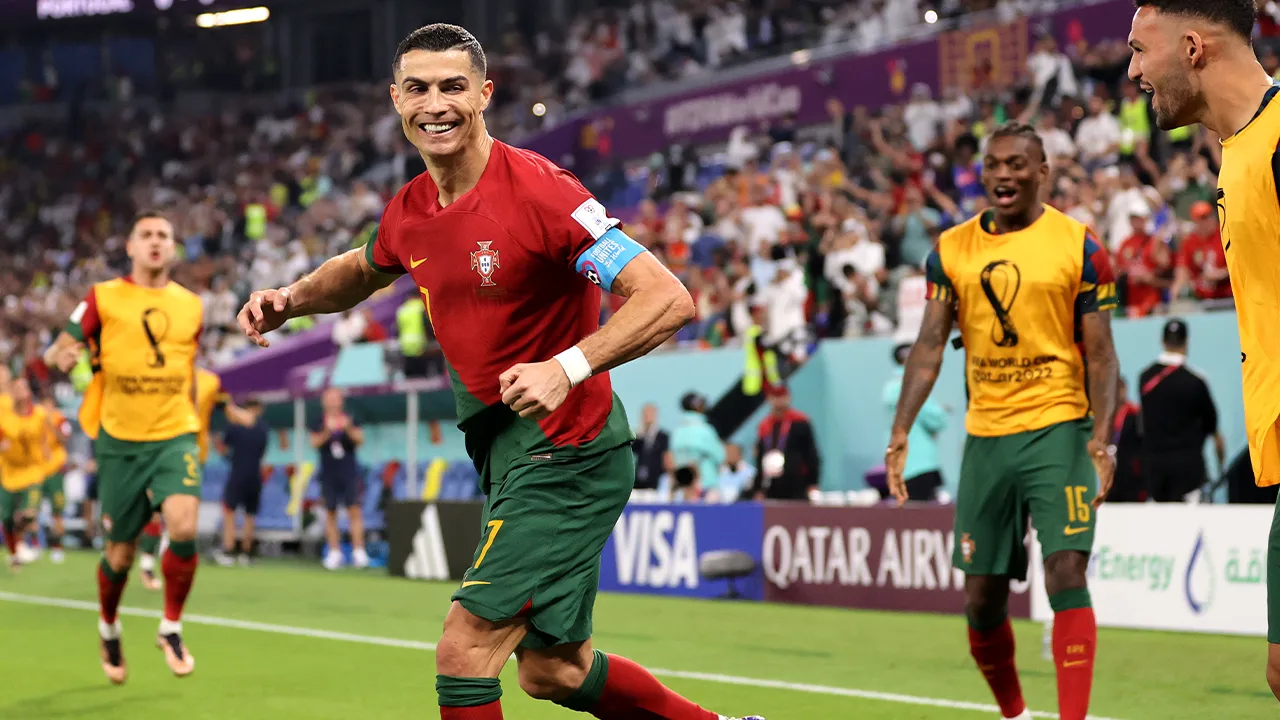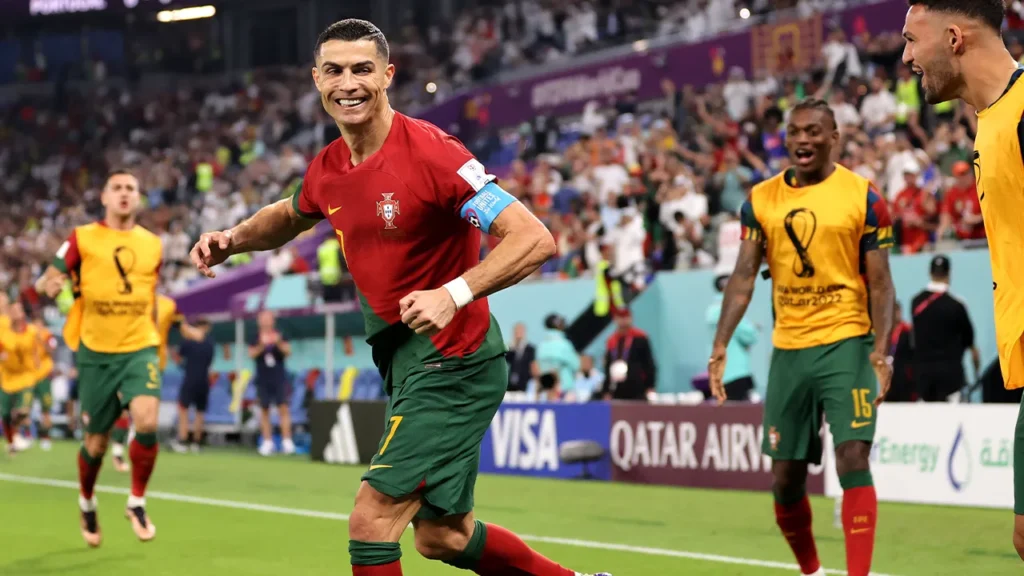 3. Cristiano Ronaldo (Portugal) – 37 years, 295 days – Ghana – 2022
Cristiano Ronaldo has played many games in his career, 1106 games so far, and scored hundreds of memorable goals. But his strike against Ghana in the 2022 FIFA World Cup earns him a spot on this list.
The goal, Portugal's third in an end-to-end 3-2 victory over the Black Stars, saw Cristiano Ronaldo convert from the penalty spot in his country's Group H opening match at the Qatar tournament.
The 65th-minute penalty goal broke the duck of a hitherto cagey game, cementing Ronaldo's name in world soccer folklore and setting his country on the way to qualifying for the knockout stages.
At 37 years and 295 days on the matchday, Cristiano Ronaldo became the second oldest player to score at the FIFA tournament finals, only to be usurped by teammate Pepe in their round-of-16 game against Switzerland. Cristiano Ronaldo became the first player to ever score in five World Cup finals tournaments.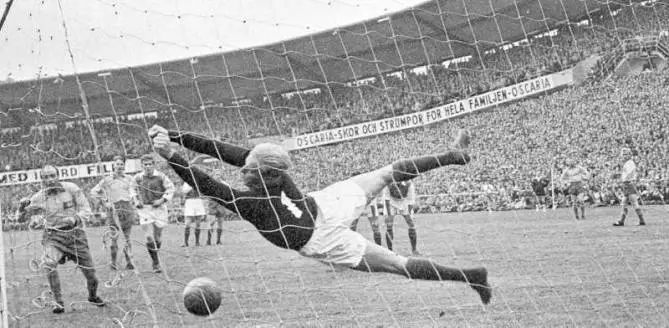 4. Gunnar Gren (Sweden) – 37 years, 236 days – West Germany – 1958
For over three decades, former Swedish attacker Gunnar Gren held the record for the oldest goalscorer at a FIFA tournament. That changed when Cameroon's Roger Milla came out of international retirement to score his maiden World Cup goal against Romania at Italia 1990
Aged 37 years and 236 days, the Swedish marksman had scored his only goal against West Germany at the 1958 FIFA World Cup held in his home country. The goal, which came in the semi-finals, helped the host nation qualify for their only final match before losing 5-2 to a Pele-inspired Brazil in the tournament showpiece.
Gunnar Gren is revered among the greats of Swedish football, playing a crucial role in the Swedes winning the soccer gold medal in the 1948 Summer Olympics in London. He also had a fruitful stint with Italian giants AC Milan, and his semi-final match-winning goal eliminated defending champions West Germany.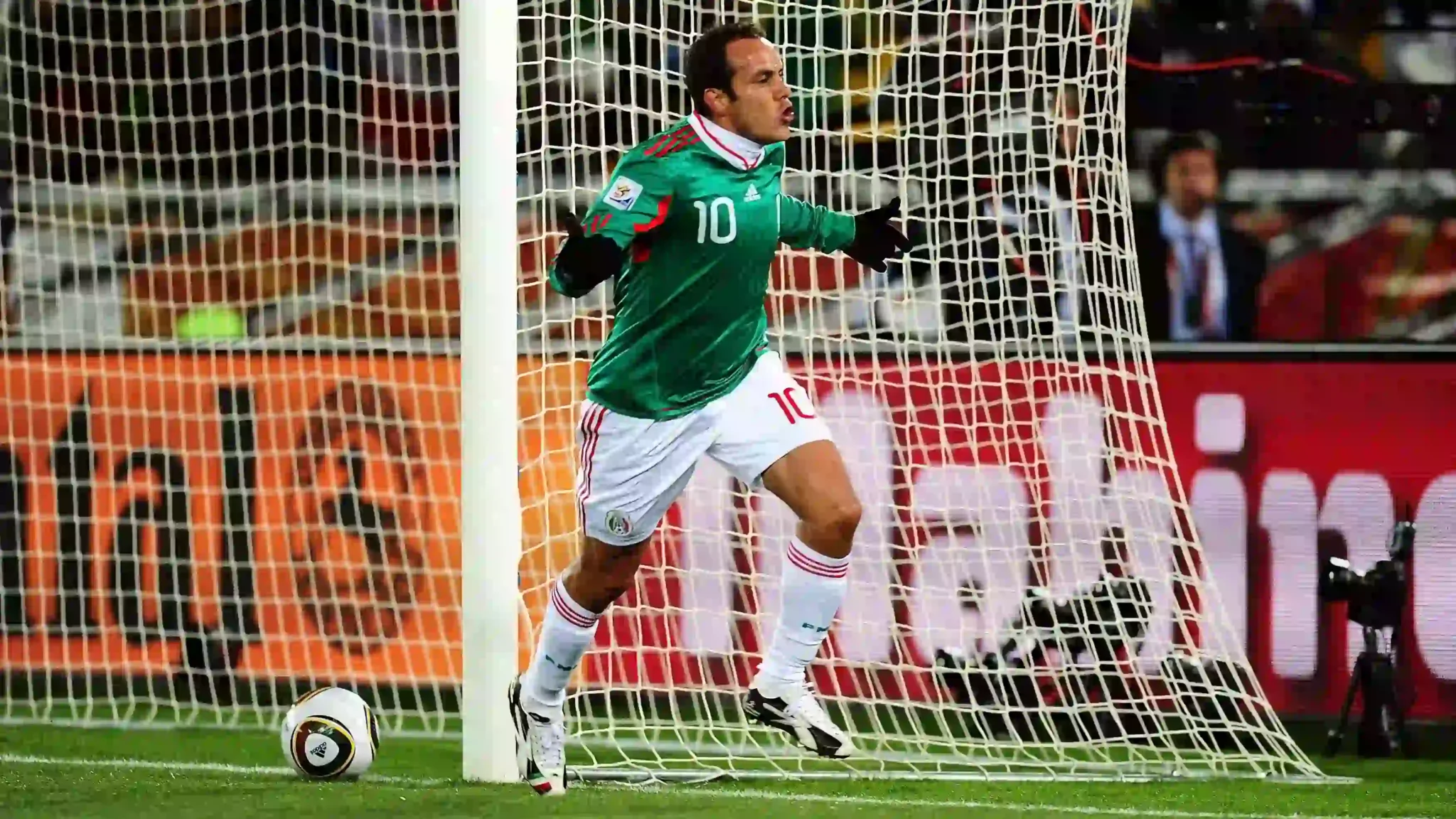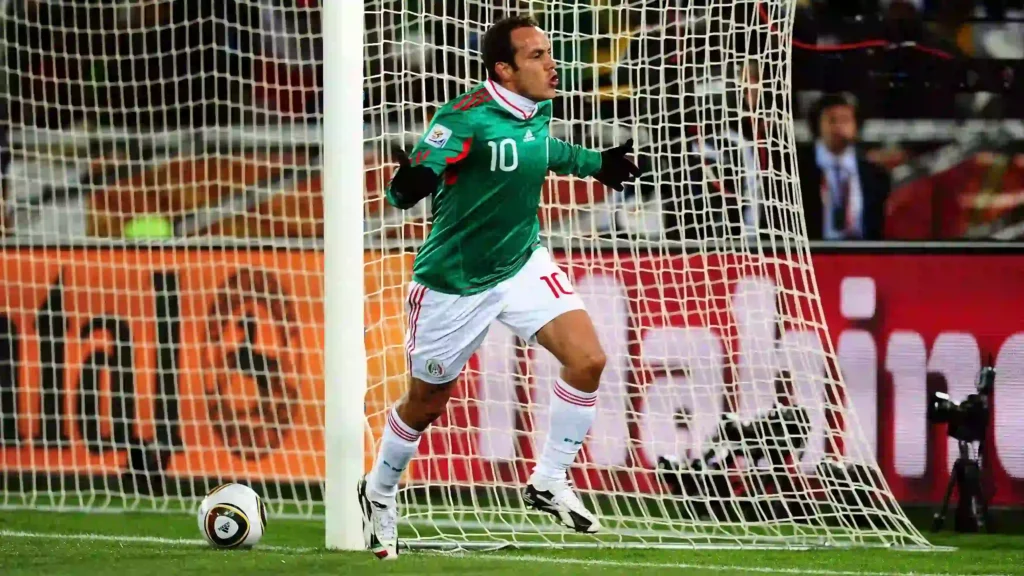 5. Cuauhtemoc Blanco (Mexico) – 37 years, 151 days – France – 2010
Cuauhtemoc Blanco is one of the most-capped soccer players for the Mexican national team, scoring 38 goals in 119 appearances for his country. The centurion was the first Mexican player to score in three different FIFA World Cup finals tournaments, setting the record in South Africa 2010.
Branco had also scored vital goals at 1998 and 2002 FIFA World Cup tournaments, placing him in the elite company of only two other Mexican players to ever score in three separate editions. these are Javier "Chicharito" Hernandez and Rafael Márquez.
That goal, a 78th-minute strike from the penalty spot, helped seal a memorable 2-0 win over France, eliminating the European powerhouse. At the ripe old age of 37 years and 151 days, Blanco did not abandon his trademark lengthy run-up to a penalty kick, coming from outside the 18-yard box to bury his spot kick to the goalkeeper's right.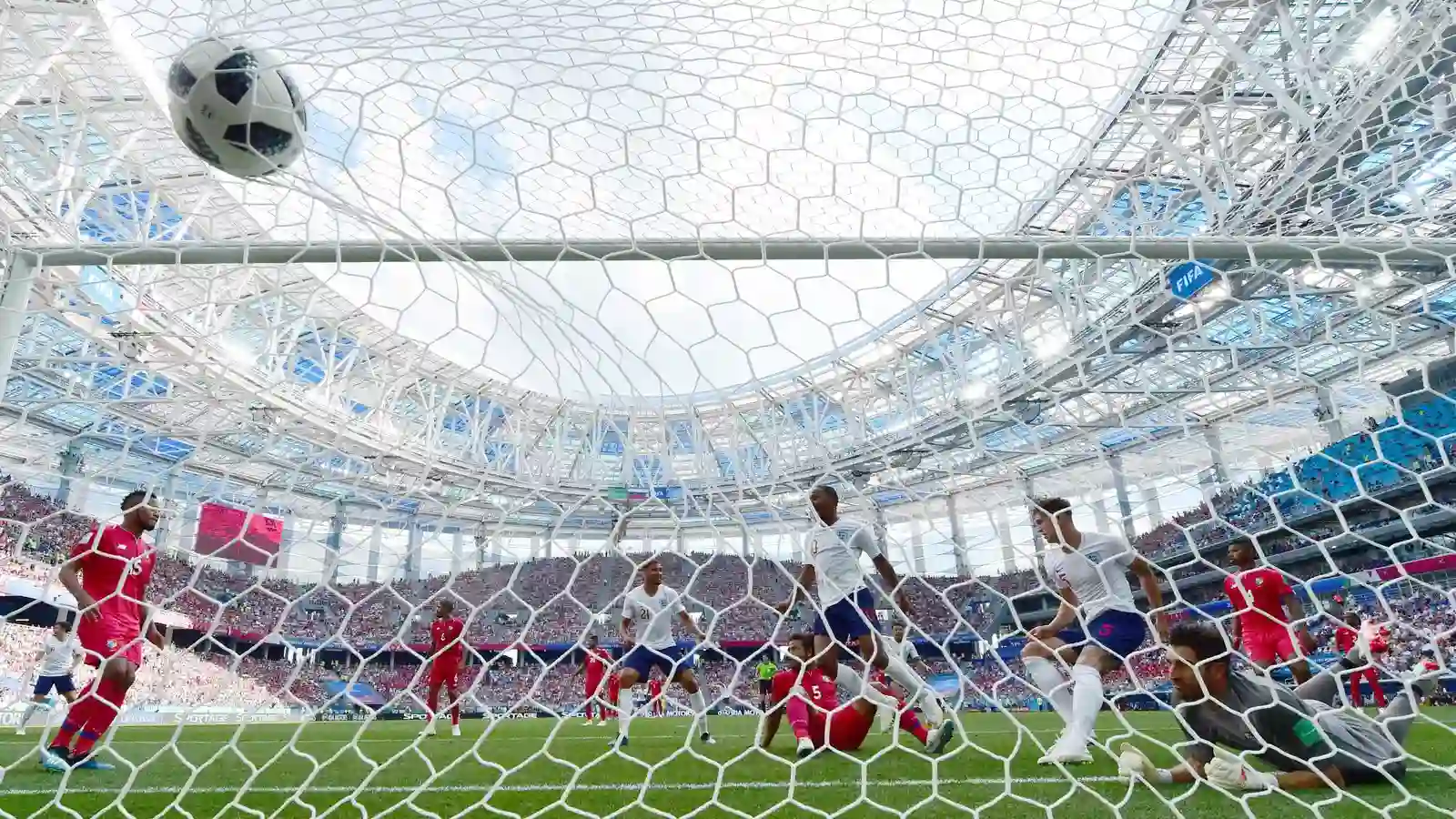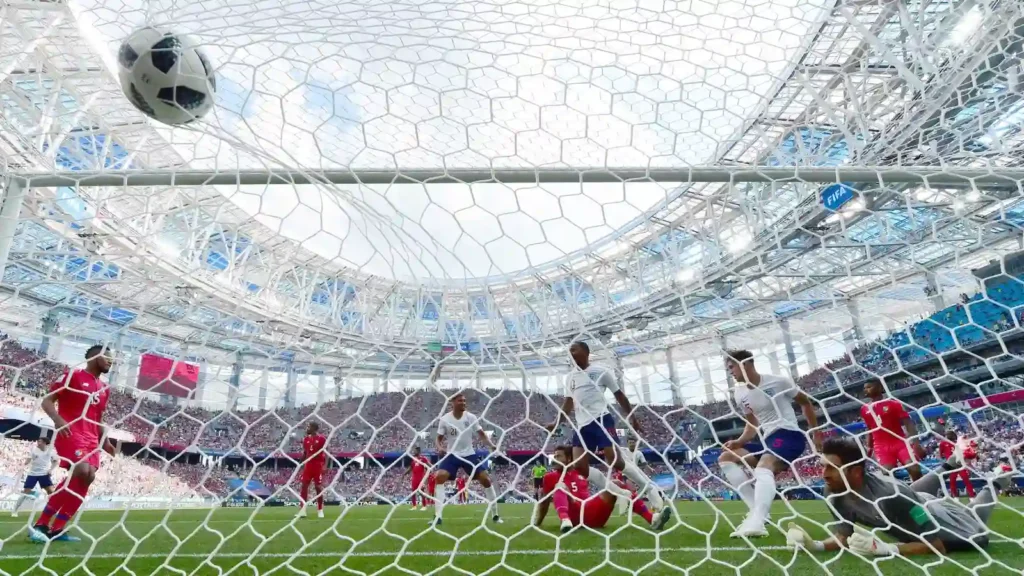 6. Felipe Baloy (Panama) – 37 years, 120 days – England – 2018
Felipe Baloy cemented his place in mundial history during the 2018 World Cup held in Russia. Aged 37 years and 120 days, the defender slid in to convert a fierce left-sided free kick and notch Panama's first-ever goal in the FIFA World Cup finals.
The captain's 78th-minute goal versus a resurgent English team was nothing more than a scant consolation, with the North Americans losing the game 6-1 to the eventual semi-finalists.
Though Baloy earned 103 international caps for his country and scored four times, the goal against England at the World Cup is impressive considering the circumstances. The captain was used sparingly in Russia, making only one substitute appearance that lasted the final 21 minutes on the pitch.
It's all he needed to make history, with this goal making him the fourth oldest soccer player to score a World Cup goal at the time.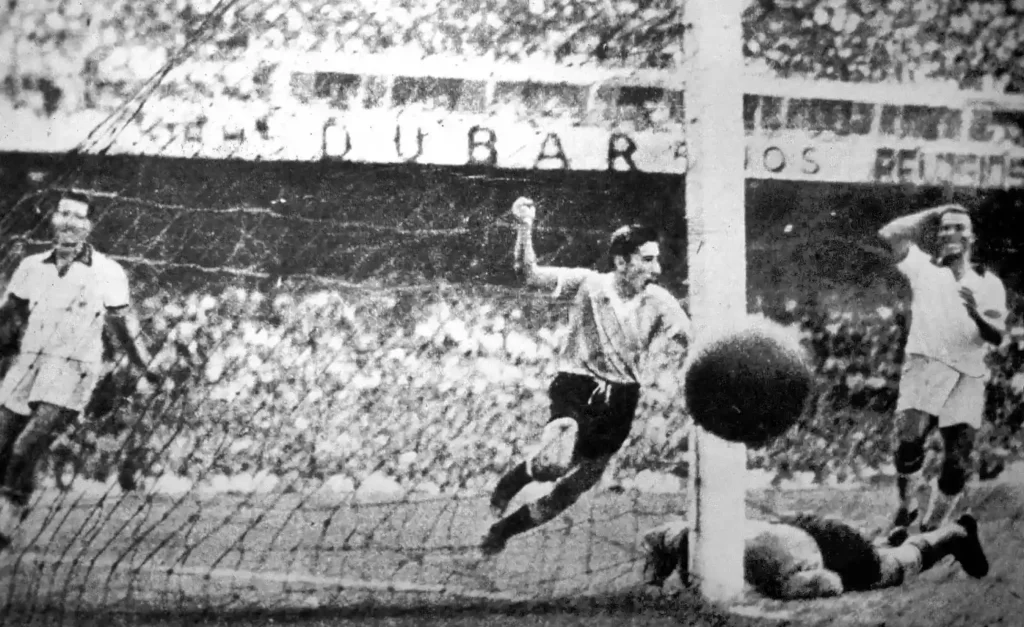 7. Obdulio Varela (Uruguay) – 36 years, 279 days – England – 1954
Uruguayan holding midfielder Obdulio Varela may not be a household name, but soccer's history books remember his contributions to the game. He captained Uruguay to the 1950  trophy in Brazil, defeating the host nation in the tournament final.
Varela is considered one of the finest national team captains of all time, but not for his goalscoring prowess. Indeed, he only scored two goals at the World Cup, with his final strike in June 1954 coming in a 4-2 win over England in Switzerland, where he injured himself while celebrating and, therefore, never played another tournament match afterward.
However, the goal also wrote him into soccer folklore by making him one of the oldest goalscorers at the FIFA World Cup. His country won the quarterfinal tie 4-2 against the English to book a semi-final slot. Uruguay never lost a match with Varela involved.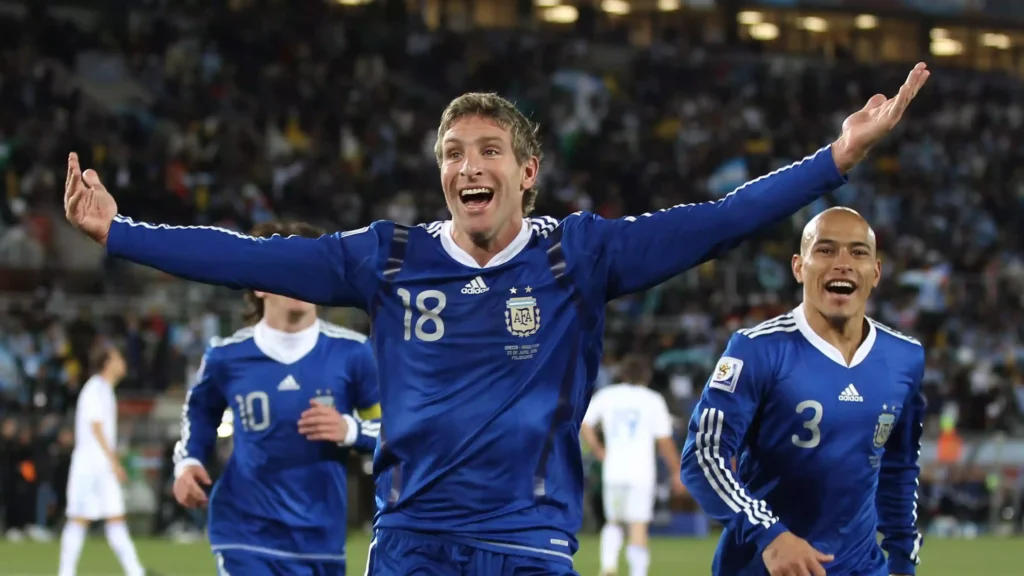 8. Martin Palermo (Argentina) – 36 years, 227 days – Greece – 2010
Despite his limited success in Spain, Martin Palermo is a legend in Argentine soccer. He scored boatloads of goals for top domestic clubs Estudiantes and Boca Juniors, finishing his club career with approximately 250 goals.
Despite winning a small number of international caps, Palermo was dutifully prolific for the Argentina national soccer team. The striker only played 15 times for his country, La Albiceleste, but he scored a staggering 9 international goals.
This short international career is notable for two fetes: he missed three penalties in a 1999 Copa America game against Colombia, which excluded him from the national team for a decade.
He returned to the fold at the 2010 World Cup in South Africa and was subbed on in the second half versus Greece and scored the goal that won his country the game. That goal secured his place on this list.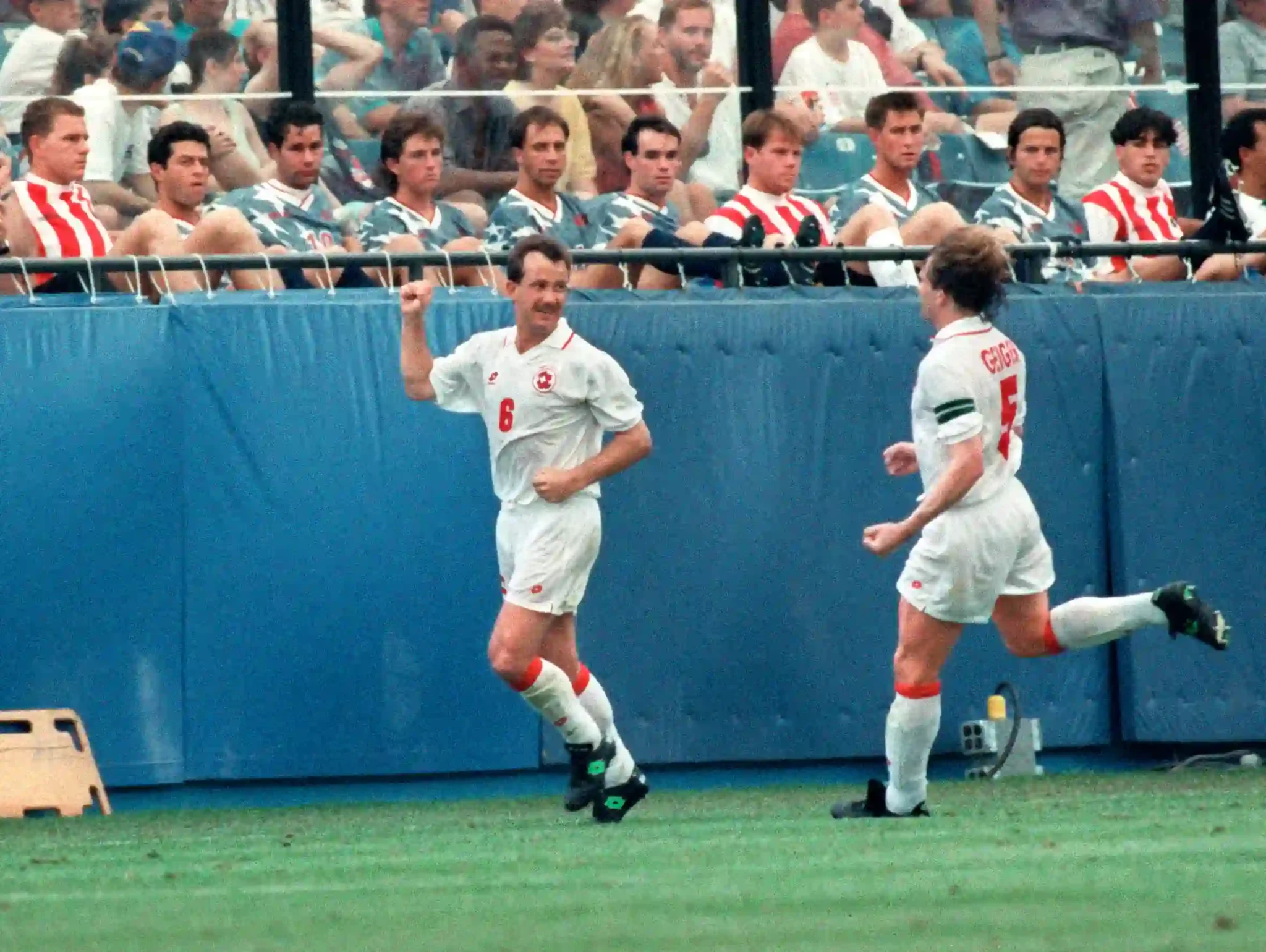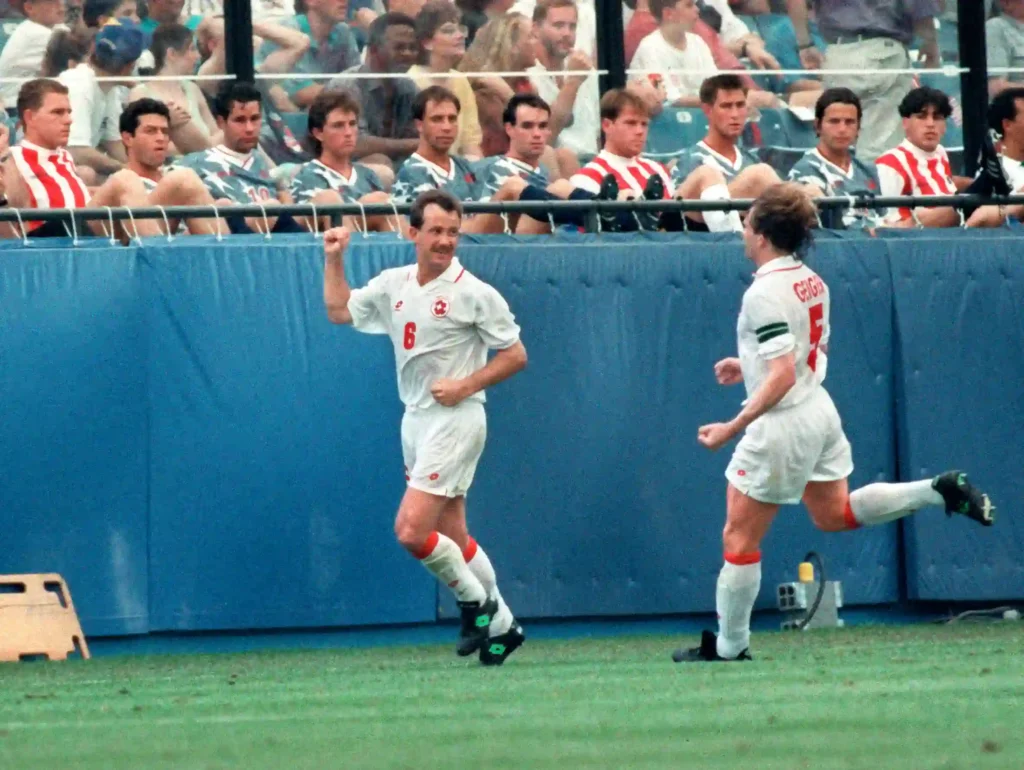 9. Georges Bregy (Switzerland) – 36 years, 152 days – USA – 1994
Forward Georges Bregy won 54 international caps for the Swiss national soccer team, scoring 12 times. As part of Switzerland's 1994 World Cup squad, Bregy scored a 39th-minute golazo against the United States in their final Group A match.
The host went on to equalize in the second half, ending in a 1-1 draw. However, Bregy's opening goal, a beautifully curled free-kick from the edge of the box, earned the Swiss a vital point to ensure both sides qualified for the knockout stages. It also earned Bregy a spot in soccer folklore.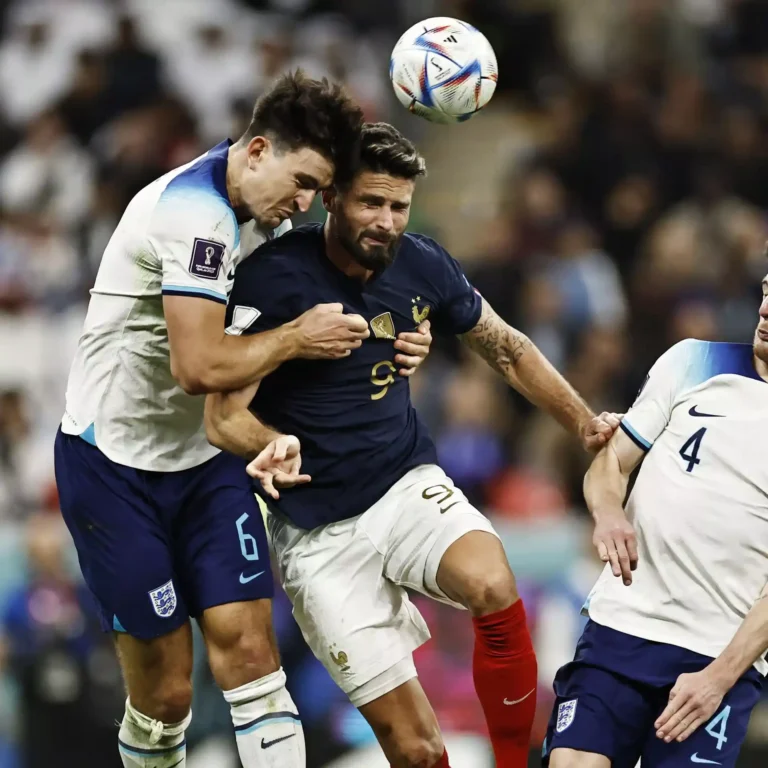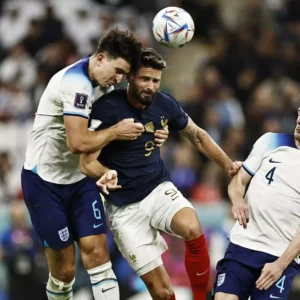 10. Olivier Giroud (France) — 36 years, 71 days – England– 2022
Olivier Giroud's second-half goal against England at the 2022 FIFA World Cup in Qatar nudged him into the top 10 oldest goalscorers at the FIFA WC finals tournament. The vastly underrated marksman converted a glancing header beyond a desperate Jordan Pickford dive, settling the quarterfinal contest in favor of his team.
In his third FIFA World Cup, Giroud netted the winner in a 2-1 victory over England, securing passage to the semi-finals. Giroud had come close to re-establishing France's lead a minute earlier after a Harry Kane penalty had canceled out Aurelien Tchouameni's worldie.
In the 77th minute, Olivier Giroud, the all-time leading goalscorer for the French national soccer team, beat a trio of English defenders to nod in the winner.
The goal, his fourth of the tournament, made him the joint-second topscorer alongside Argentina's Julian Alvarez and one goal behind leading marksmen Leo Messi and teammate Kylian Mbappe.