Since its inception in 1960/61, the UEFA Cup Winners Cup has been regarded as UEFA's third most important club competition until it was abolished after the 1998/99 season.
After 39 seasons, the tournament was discontinued and absorbed into the UEFA Cup after the final edition in 1998-99.
It was initially known as the European Cup Winners' Cup but was renamed the UEFA Cup Winners' Cup in 1994.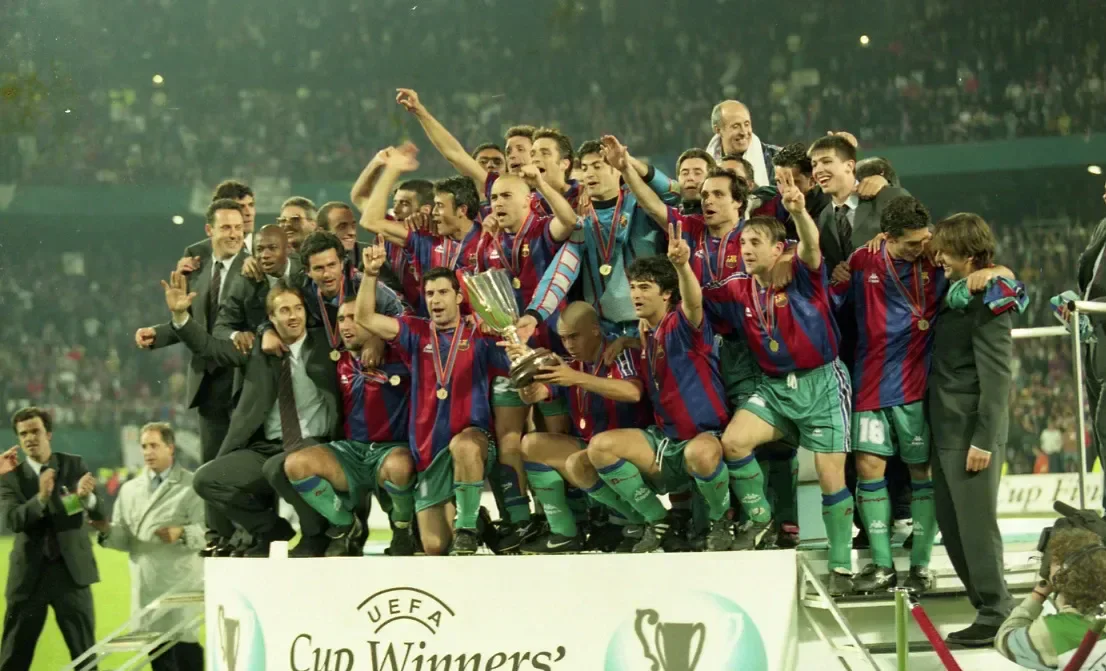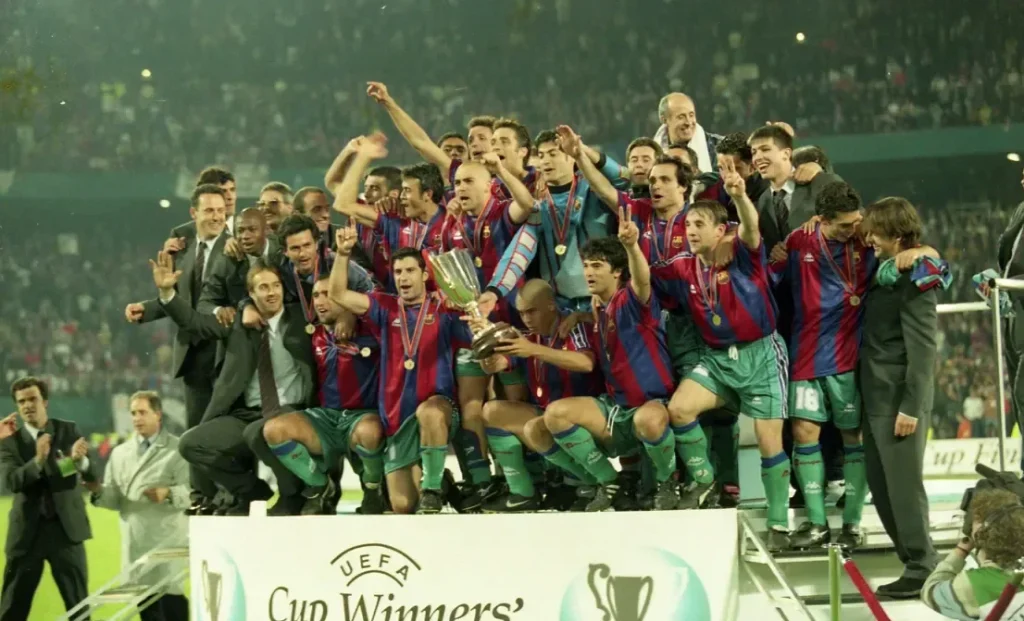 Parallel Competition
The proposal suggested a competition modeled after the European Cup, involving national cup winners rather than league champions, which could run alongside the European Champions Cup. The competition was launched in 1960, with the UEFA Executive Committee taking responsibility for its organization the following season.
The UEFA Cup Winners Cup has always been a knockout competition, with two-legged home and away matches until the single match final at a neutral venue. Its first two-legged final was the only exception.
With 32 teams competing in four knockout rounds before the final, the tournament runs yearly from September to May.
It was decided that the competition would be run parallel to the European Champion Clubs' Cup.
Cup Winners Finals
The participants were generally Europe's domestic cup winners and the previous season's holders. Just like the English FA Cup, the champions of domestic cup competitions were eligible to participate in this seasonal European football tournaments
However, if the cup winners also won the national championship, they would compete in the European Champions Clubs' Cup (or UEFA Champions League), so the cup runners-up would replace them in the Cup Winners' Cup.
Fiorentina Triumph
Ten clubs entered the inaugural competition, with a preliminary round used to reduce the field to eight quarter-finalists. Italian side AFC Fiorentina emerged victorious, defeating Rangers Football Club, from Scotland, over two legs to become the first Italian side to win a European trophy.
It was a well-attended tournament, and the media and public responded positively.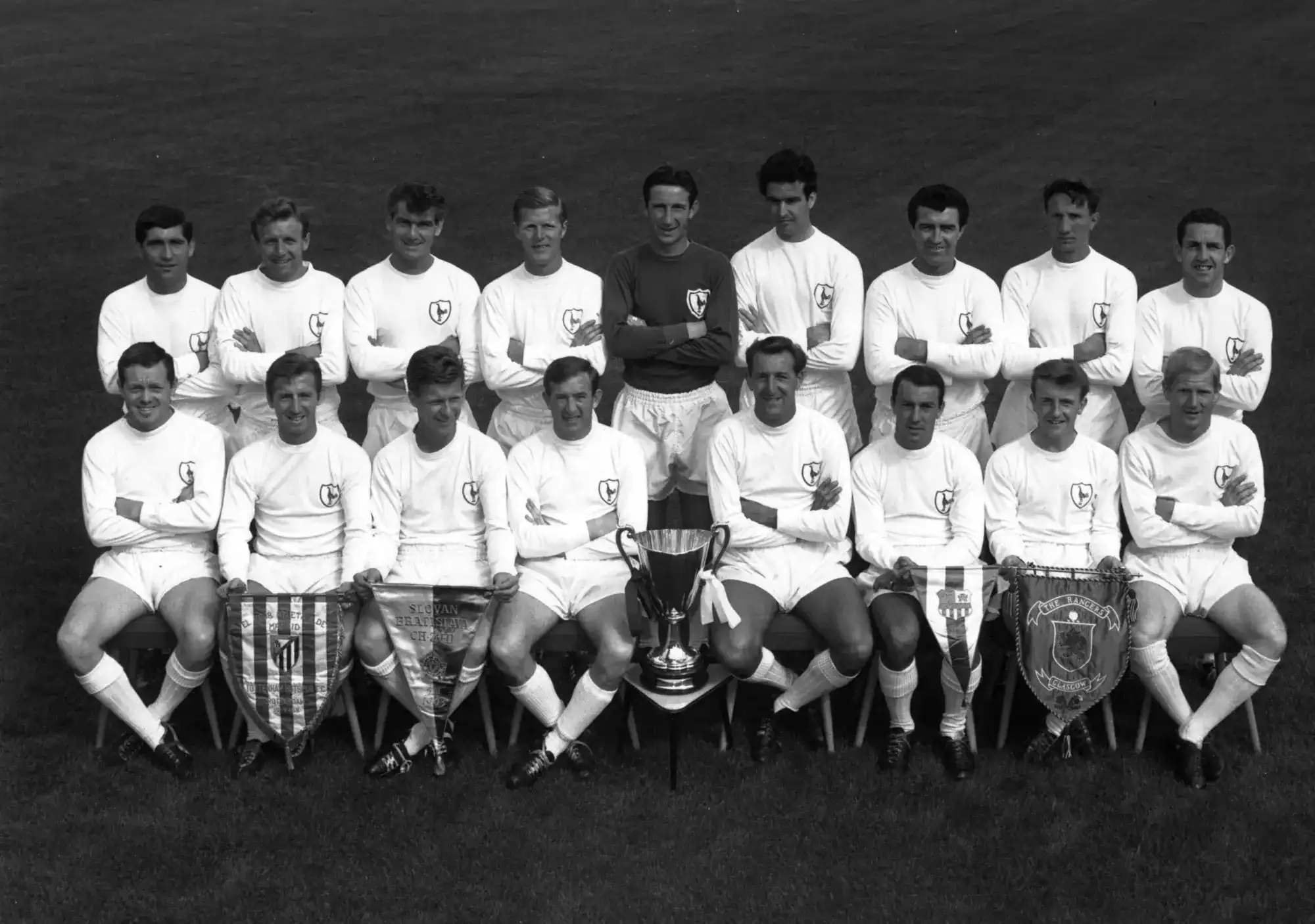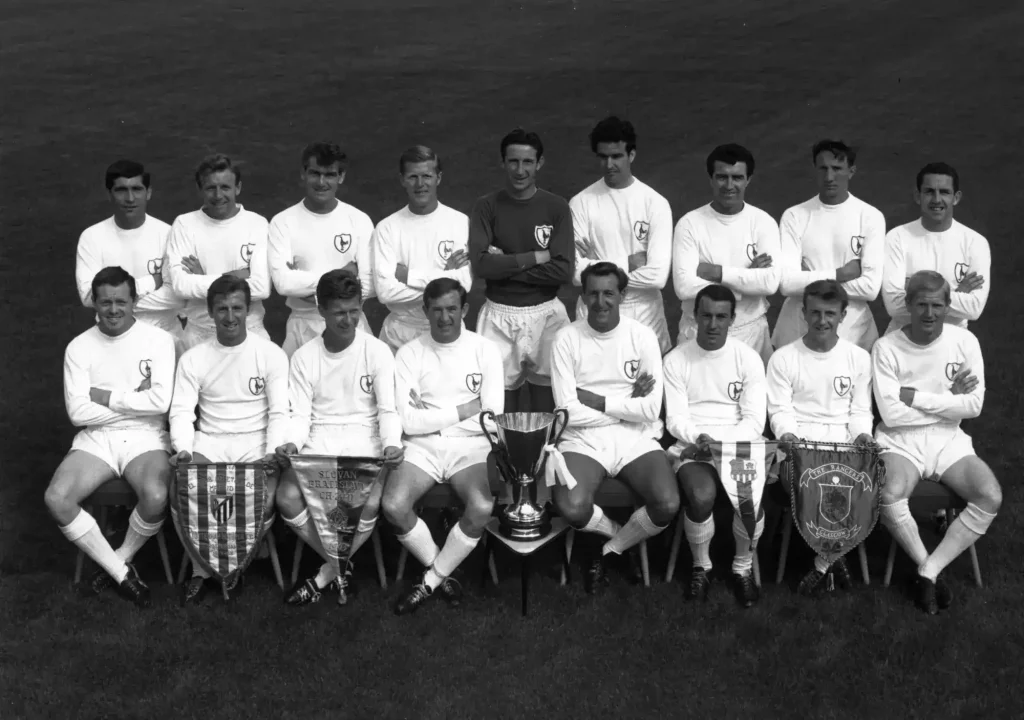 Atletico Madrid Success
UEFA ran the tournament for the second season of 1961–62, and all clubs eligible to enter accepted the invitation.
From 1962 the final was played as a single match, but it still took Club Atlético de Madrid two games to overcome Fiorentina, who had again reached the last in the second year.
The two sides played out a 1-1 draw at Hampden Park, forcing a replay four months later in Stuttgart that the Spanish side won 3-0.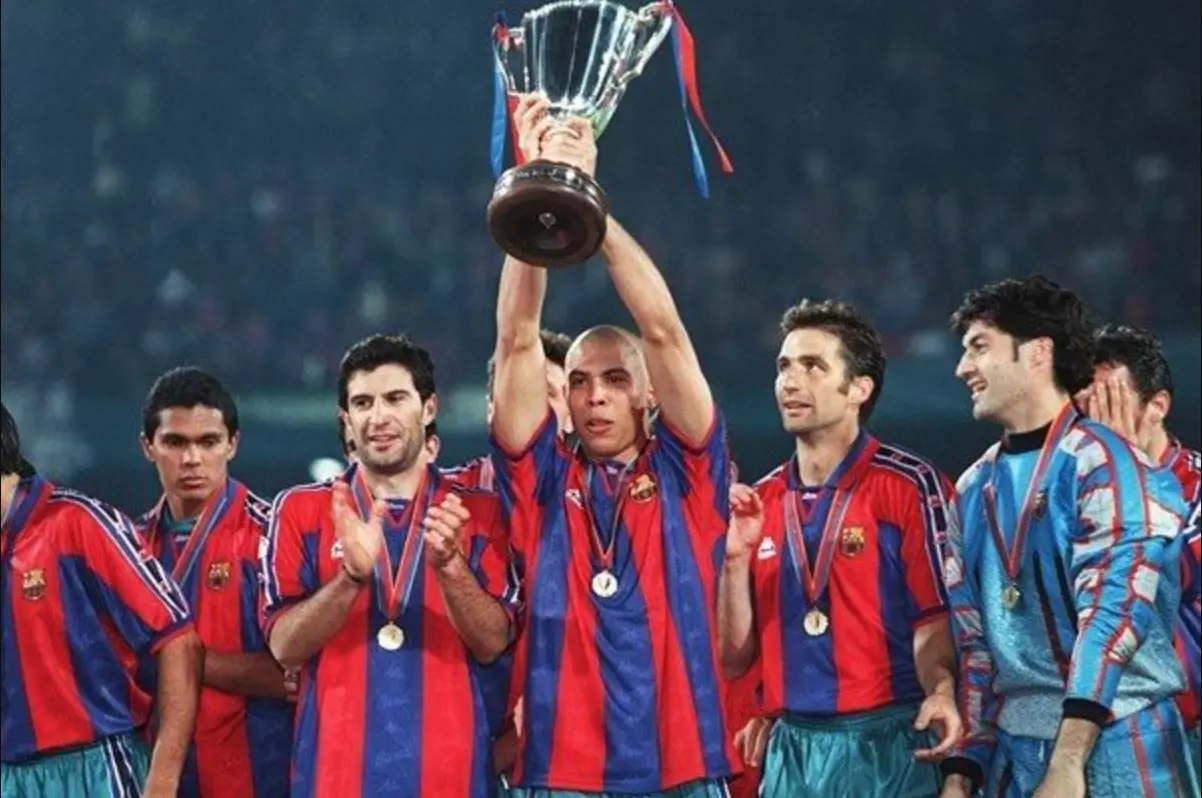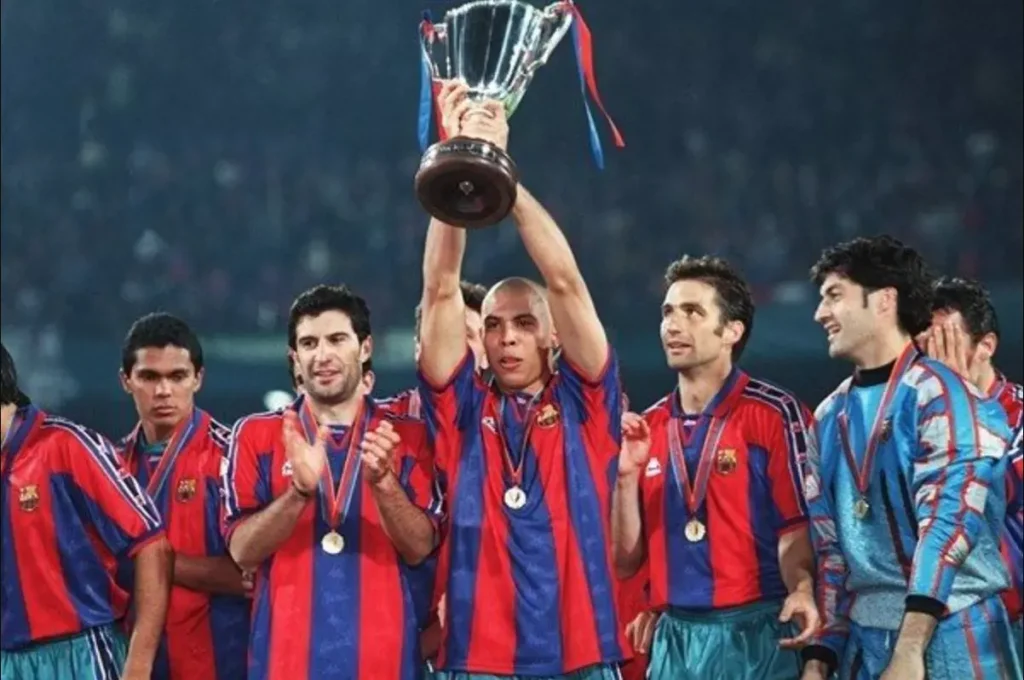 Four-Time Winners Of The UEFA Cup Winners Cup
FC Barcelona was the most successful side to compete in the Cup Winners' Cup, winning the competition on four occasions in 1979, 1982, 1989, and 1997. In addition, they were runners-up in 1969 and 1991.
AC Milan, RSC Anderlecht, Chelsea FC, and FC Dynamo Kyiv were twice victorious. UEFA continued to own the Cup Winners Cup trophy itself, but replicas were allowed to be made by clubs that won the tournament.
Atlético Madrid, Glasgow Rangers, and Arsenal played in three finals, won one and lost two.
England has the most winners with eight titles, Spain and Italy teams won 7 titles each.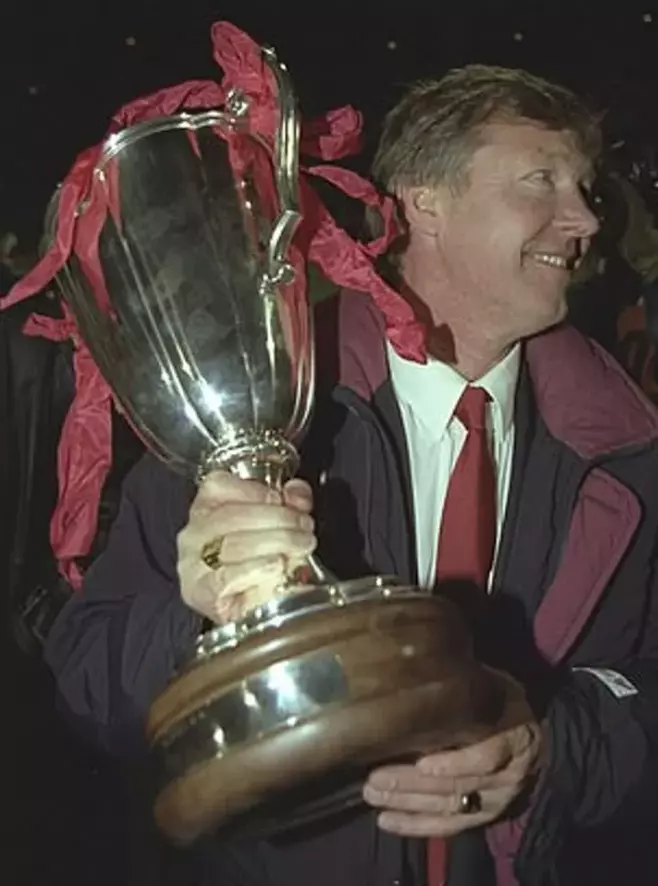 Competition Overhaul
The Cup Winners Cup's prestige and standing began to decline after UEFA Champions League (Old European Cup) was established in the early 1990s.
As the Champions League expanded in 1997 so that more than one team from the highest-ranked member associations could enter, the Cup Winners' Cup became noticeably inferior.
Amid far-reaching overhauls to UEFA's club competition structure, it was decided that the last Cup Winners Cup competition would occur in 1998/99.
Italian club Lazio were the last winners, defeating Spain's RCD Mallorca in the final at Villa Park in Birmingham. After the competition was abolished, the prize for senior domestic cup-winners became a place in the UEFA Cup.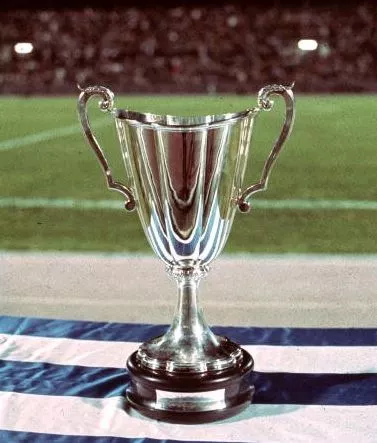 UEFA Cup Winners Cup Winners List By Year
| Season | Winners |
| --- | --- |
| 1960-1961 | ACF Fiorentina |
| 1961-1962 | Club Atlético de Madrid |
| 1962-1963 | Tottenham Hotspur |
| 1963-1964 | Sporting Clube de Portugal |
| 1964-1965 | West Ham United |
| 1965-1966 | Borussia Dortmund |
| 1966-1967 | Bayern Munich |
| 1967-1968 | AC Milan |
| 1968-1969 | SK Slovan Bratislava |
| 1960-1970 | Manchester City |
| 1970-1971 | Chelsea |
| 1971-1972 | Glasgow Rangers |
| 1972-1973 | AC Milan |
| 1973-1974 | 1. FC Magdeburg |
| 1974-1975 | Dynamo Kyiv |
| 1975-1976 | RSC Anderlecht |
| 1976-1977 | Hamburger SV |
| 1977-1978 | RSC Anderlecht |
| 1978-1979 | FC Barcelona |
| 1979-1980 | Valencia CF |
| 1980-1981 | FC Dinamo Tbilisi |
| 1981-1982 | FC Barcelona |
| 1982-1983 | Aberdeen |
| 1983-1984 | Juventus |
| 1984-1985 | Everton |
| 1985-1986 | FC Dynamo Kyiv |
| 1986-1987 | AFC Ajax |
| 1987-1988 | KV Mechelen |
| 1988-1989 | FC Barcelona |
| 1989-1990 | Sampdoria |
| 1990-1991 | Manchester United |
| 1991-1992 | Werder Bremen |
| 1992-1993 | Parma |
| 1993-1994 | Arsenal |
| 1994-1995 | Real Zaragoza |
| 1995-1996 | Paris Saint Germain |
| 1996-1997 | FC Barcelona |
| 1997-1998 | Chelsea |
| 1998-1999 | Lazio |

The Last UEFA Cup Winners Cup
Pavel Nedved's late strike clinched Lazio their first European trophy as the Italian side overcame RCD Mallorca to win the last final of the UEFA Cup Winners' Cup 2-1 at Villa Park, Birmingham.
With extra time looming, the Czech midfielder hammered in a superb volley nine minutes from time to give the big-spending Roman team the silverware and finally break the deadlock against a battling RCD Mallorca side.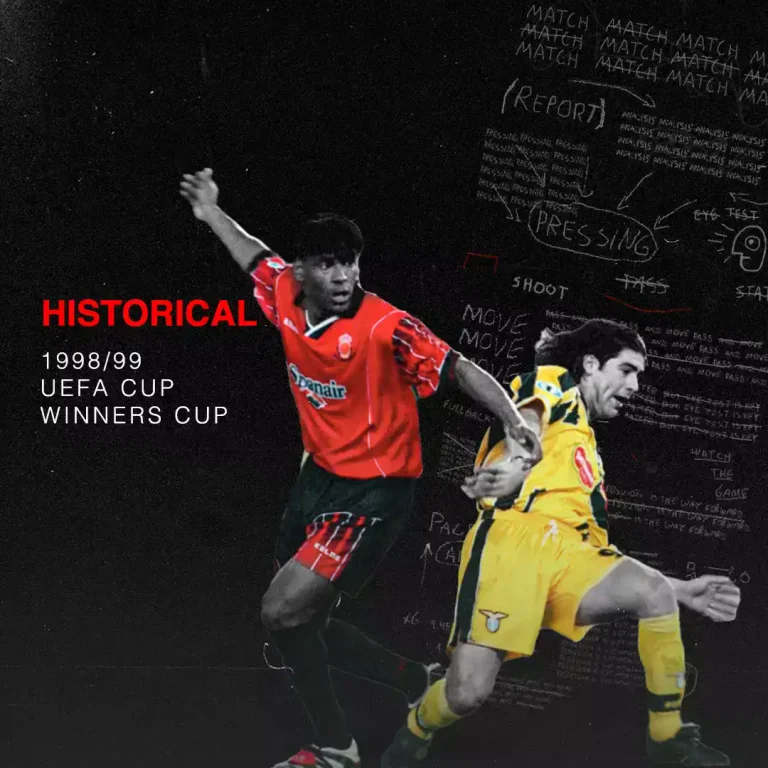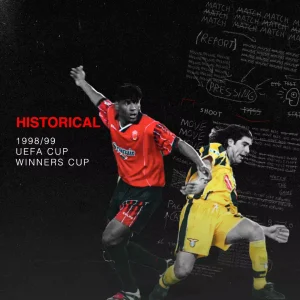 Nostalgic Occasion
The final was a nostalgic occasion in the wake of UEFA's decision to end the UEFA Cup Winners Cup, which had kicked off in 1960/61.
This 39th climax to the competition was a hard-fought affair. However, it gave Lazio ample compensation for their 3-0 defeat against FC Internazionale Milano in the previous season's UEFA Cup final in Paris.
Mallorca, enjoying considerable success at the time in the Spanish championship, was certainly not disgraced in losing their first European final.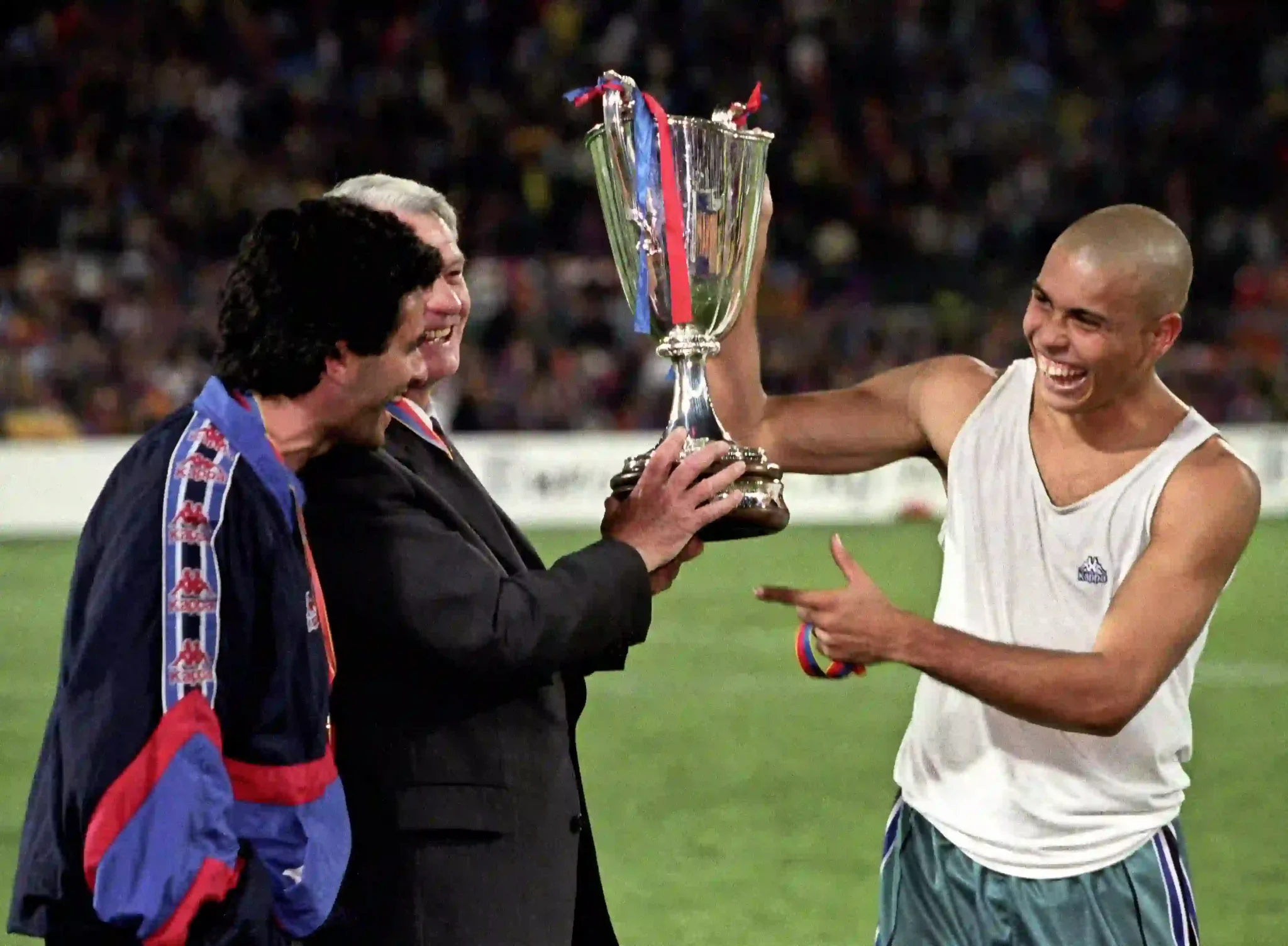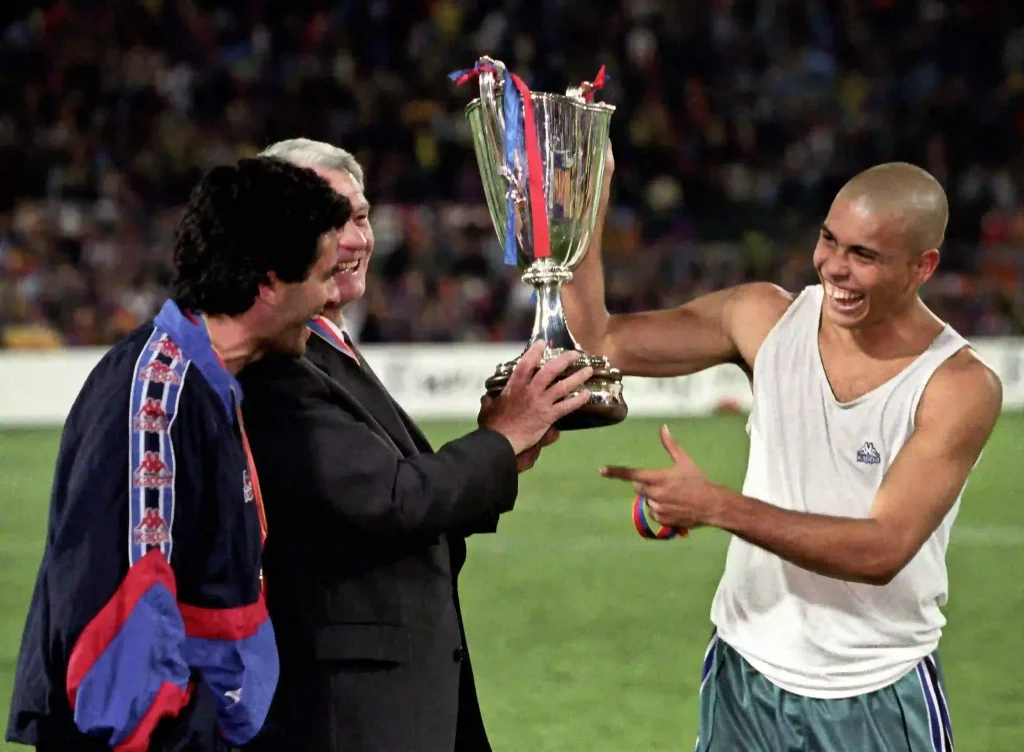 Hard Work
Lazio nearly went out of the competition at the first hurdle against Swiss side Lausanne-Sports but advanced on the away goals thanks to a 2-2 draw in the second leg in Lausanne.
Belgrade's FK Partizan also proved to be durable opponents in the second round, Lazio finally squeezing through 3-2 aggregate, all of the goals coming in an action-packed second leg in Rome.
Greek side Panionios NFC proved less of a problem in the quarter-finals. Lazio eased through 7-0 on aggregate.
Lazio used their ability to strike away from home in the semi-final, drawing 1-1 with FC Lokomotiv Moskva in Moscow before battling out a goalless draw at home to reach the last UEFA Cup Winners Cup final.
Genk Defeated
Mallorca edged past Scottish side Heart of Midlothian FC 2-1 on aggregate in the first round and then narrowly eliminated KRC Genk thanks to a 1-1 draw in Belgium followed by a goalless draw at home.
Croatian side NK Varteks proved stubborn opposition in the quarter-finals, but Mallorca hit form in front of their fans after a 0-0 first-leg draw, winning 3-1 to reach the final four.
A place in the final was assured by defeating Chelsea. Mallorca dug out a 1-1 draw in London before a single goal sent them into their assignment with Lazio.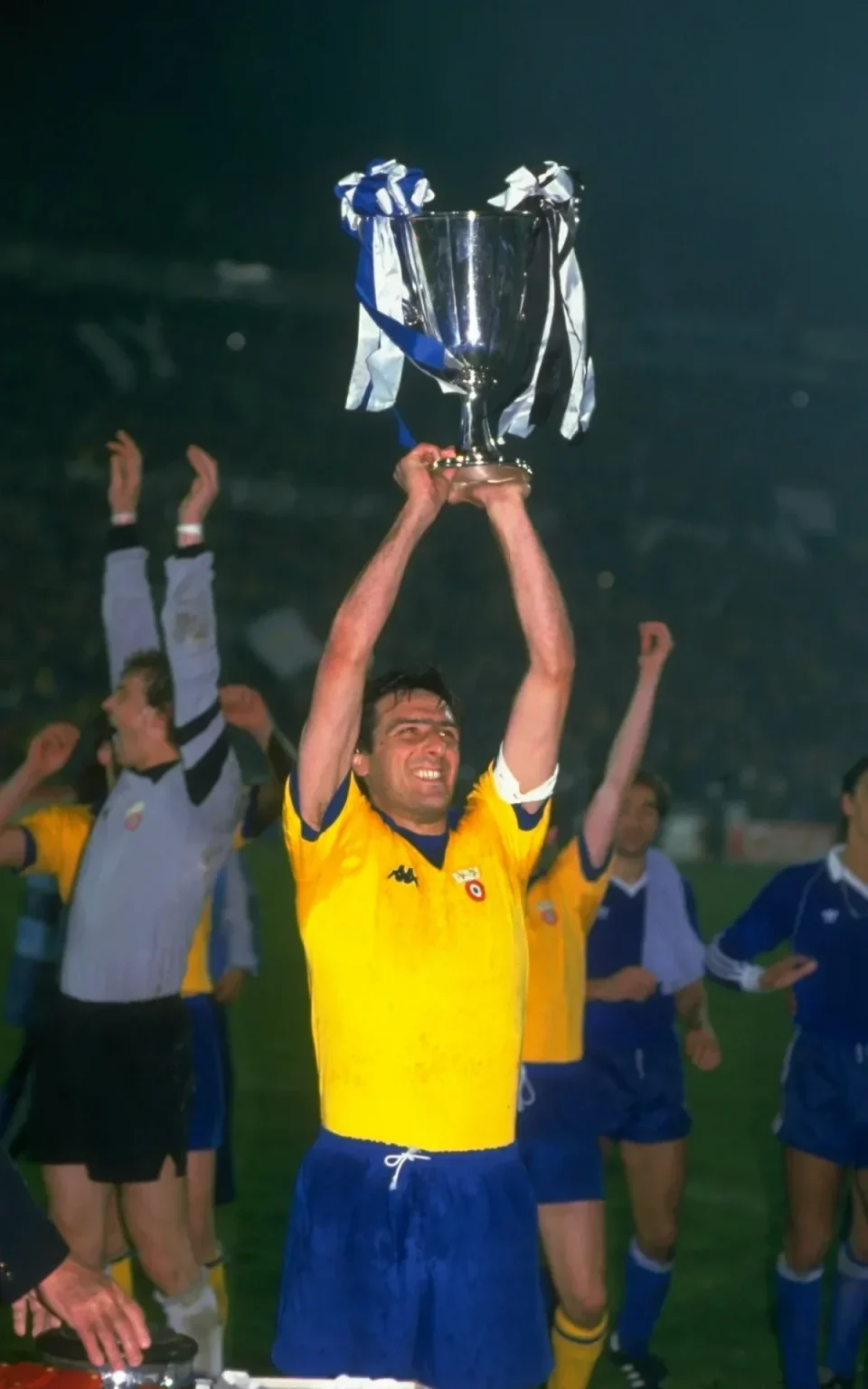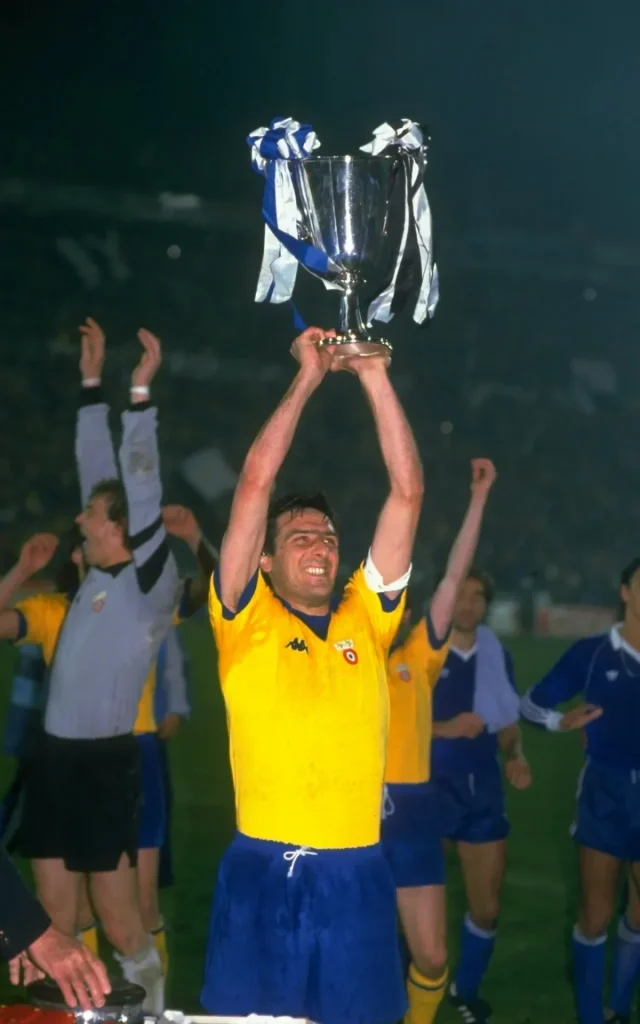 Vieri Goal
The final began promisingly. Dangerous Lazio forward Christian Vieri gave Lazio the lead after only seven minutes with a looping header.
Only four minutes later, Mallorca drew level. An unmarked Dani received a cross from Jovan Stankovic and steered the ball beyond Lazio goalkeeper Luca Marchegiani.
Following the goal, Mallorca gained a man advantage and pressed with a man advantage after Vieri was taken off to be treated for a head injury.
Both clubs had further chances before the interval, but the defenses took over after the break – until Pavel Nedved's late intervention.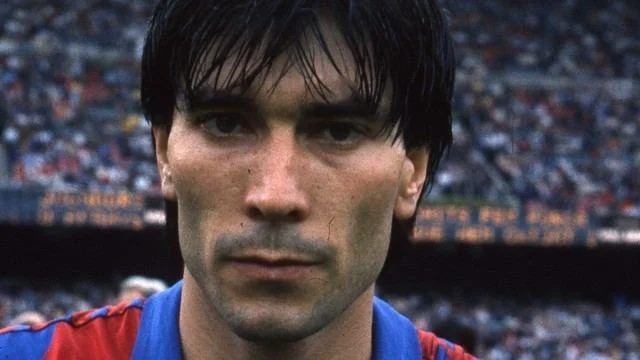 Which Player Won The Most UEFA Cup Winners Cup Trophies?
Francisco Jose Carrasco Hidalgo, also known as Lobo Hidalgo, came through the La Masia youth team system and played 262 matches for FC Barcelona. He won the trophy three times in 1978–79, 1981–82, and 1988–89. and goes down in history as the player winning the most victories
The most memorable victory was the 1978-79 final against Fortuna Dusseldorf, where FC Barcelona was 4-3 after extra time.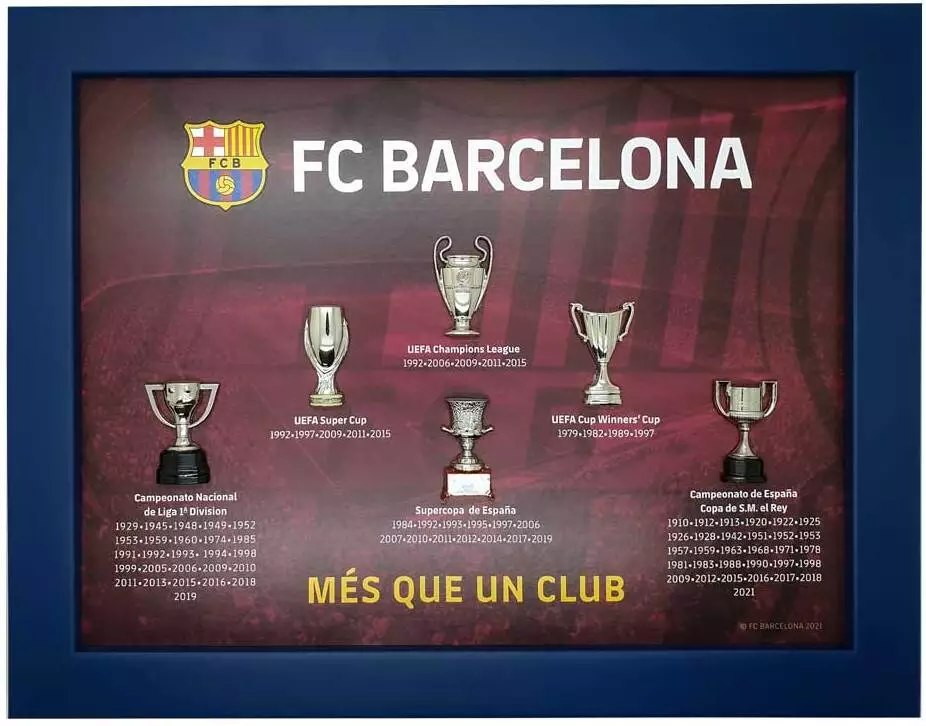 UEFA Cup Winners Cup Records
Most Appearances: Cardiff City (Wales) 14 times appeared in the competition
Most Final Appearances: FC Barcelona (Spain) 6 times
Most Goals In One Season: Lothar Emmerich 14 goals (1965-66)
Most Goals Overall In UEFA Cup Winners Cup: Rob Rensenbrink 25 goals, then Gerd Muller 20 goals
Most Goals In Final: FC Barcelona 4–3 Fortuna Dusseldorf (1978-79)
Most Goals In UEFA Cup Winners Cup Match: Sporting Lisbon 16–1 APOEL (1963-64)
Biggest Two-Legged Comeback: Leixoes 7-6 La Chaux-de-Fonds. Leixoes was 2-6 down after the first leg to win 5-0 in the second leg (1961-62)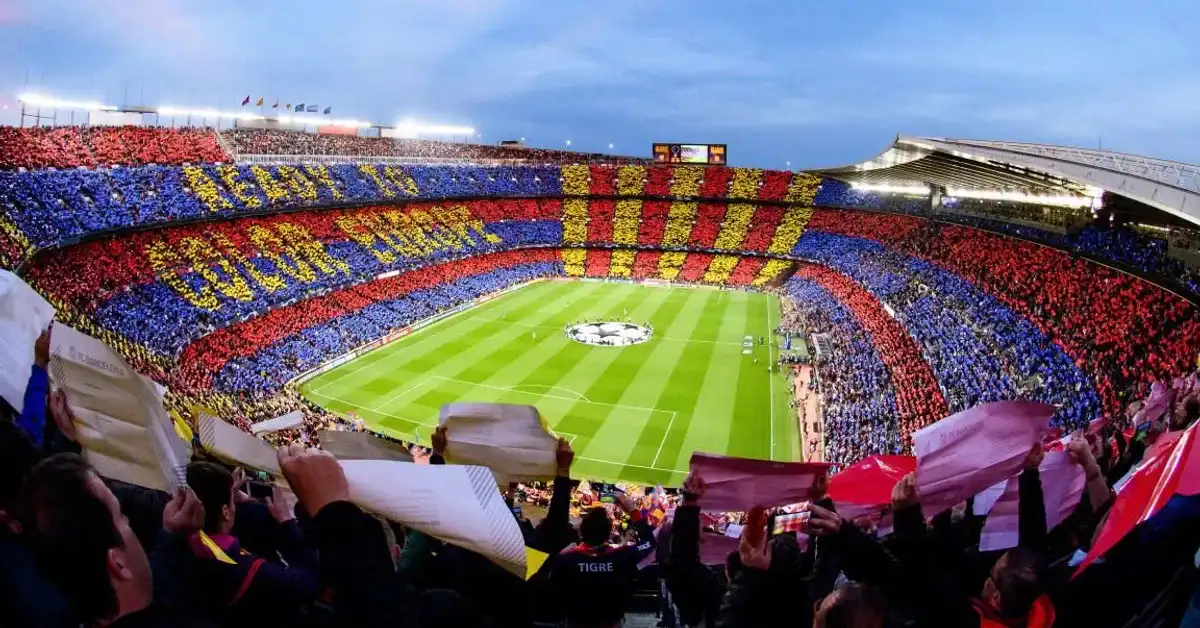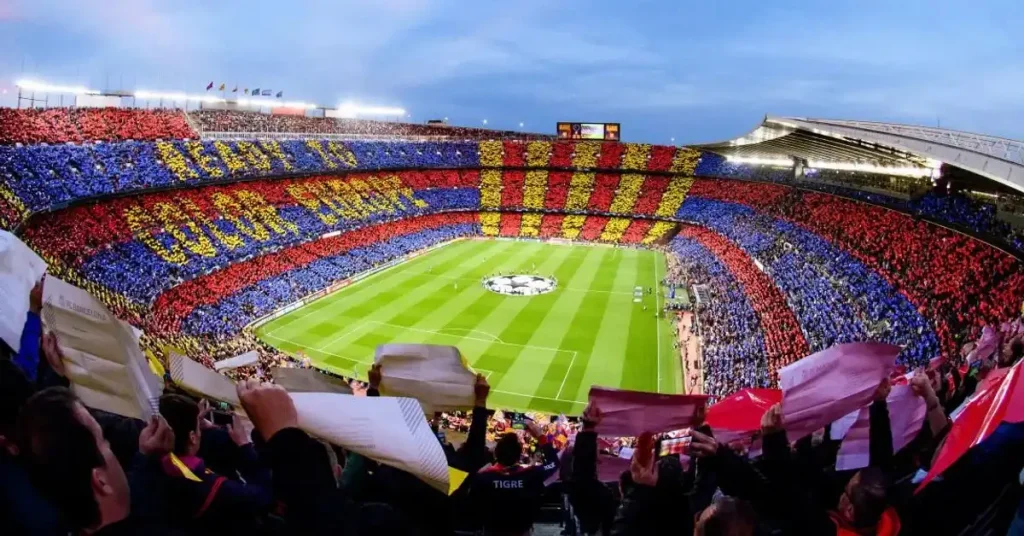 Four Managers Have Won The Competition Twice:
Sir Alex Ferguson in 1983 (Aberdeen) and 1991 (Manchester United)
Nereo Rocco in 1968 and 1973 (Milan)
Johan Cruyff in 1987 (Ajax) and 1989 (Barcelona)
Valeriy Lobanovskyi in 1975 and 1986 (Dynamo Kyiv)