This name Vinnie Jones may well cause a few sniggers and certainly, look significantly out of place compared to other soccer legends. Yet, legendary status shouldn't be attributed solely based on pure footballing ability, which was fortunate for Vincent Jones since he lacked much of that.
During his 15-year career at the top, he achieved hero status and notoriety in equal measure. His behavior caused his teammates and supporters to rabble while enraging opposition supporters; he courted controversy and had difficulty staying off the front page. You either loved Vinnie, or you hated him.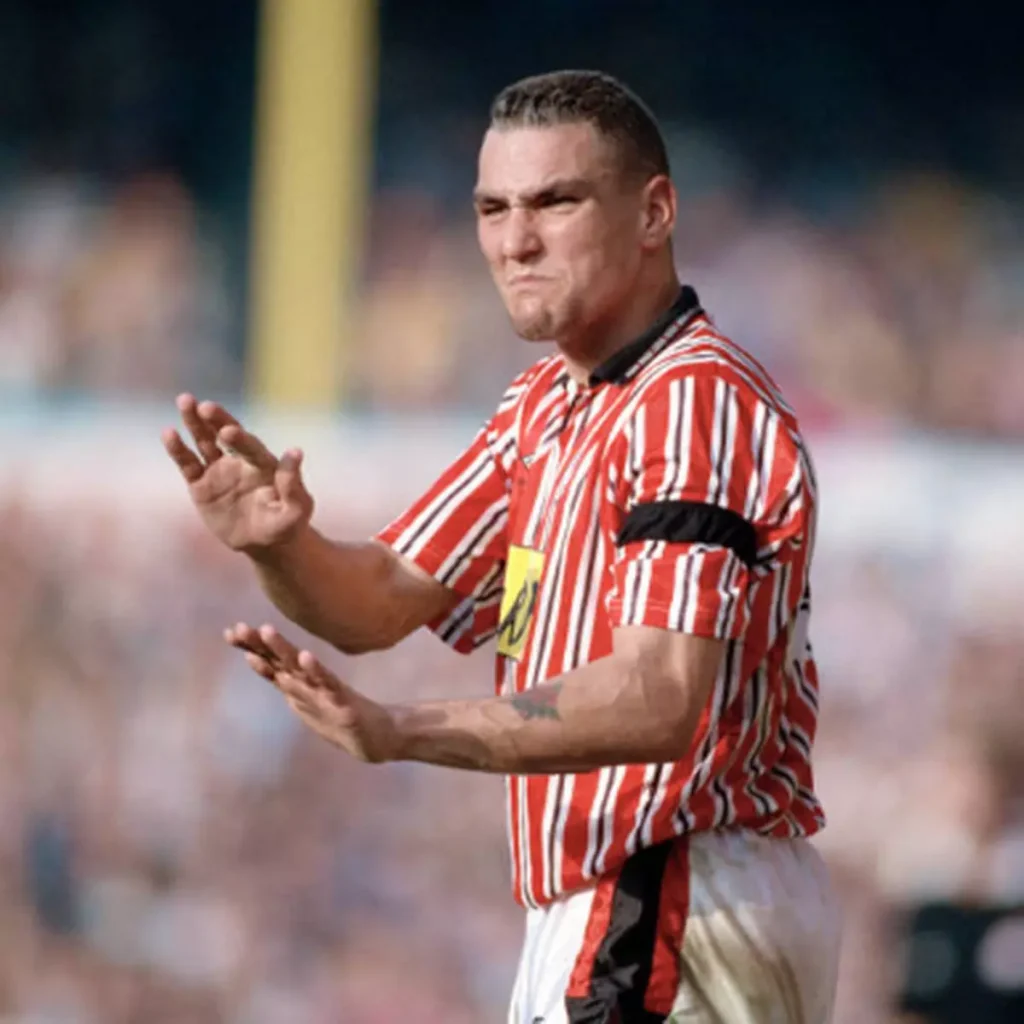 The Crazy Gang
Vincent Peter Jones, born in Hertfordshire in 1965, earned his living carrying bricks on construction sites. Wealdstone was a nonleague soccer club in 1986 when he was spotted by Wimbledon Football Club, which had just completed a meteoric rise to the top tier of English football.
The tough-tackling and no-nonsense style of Vinnie Jones proved perfect for a little club punching above its weight, who soon became a thorn in the side of many illustrious opponents.
Jones became the spiritual leader of the 'crazy gang', a group of notorious footballers for their antics on and off the field.
Wimbledon's style of play won them no fans except their own, but they didn't care; they plowed the points on a tight and often muddy Plough Lane.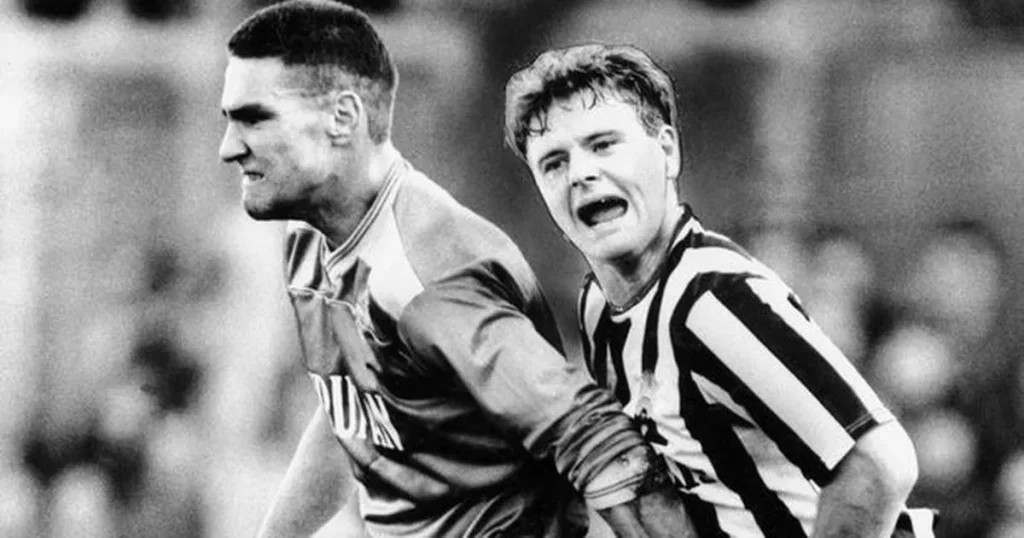 Vinnie Jones And Gazza
He nullified the playmakers with crunching tackles and aggressive snarls, pulling the midfield strings in his inimitable manner.
At the heart of Newcastle's midfield on February 28, 1988, strutted a fresh-faced Paul Gascoigne, the new darling of English football.
When the incident resulted in one of football's most infamous images, Vinnie Jones relished the challenge ahead. The bigger they came, the harder they fell, and Gazza retreated into his shell.
Jones had taken the first step towards legendary status by sending shockwaves and delight through the world's football media, and he was back at it again a few months later.
1988 FA Cup Final
Wimbledon made it to the FA Cup Final the same year. However, they had no hope of beating a mighty Liverpool side bidding for their second league and cup double in three years.
The football purists also didn't want them to succeed, seeing it as a battle between good and evil. They should have known better.
A Laurie Sanchez header and a Dave Beasant penalty save helped Wimbledon win 1-0 in front of 100,000 spectators at Wembley Stadium.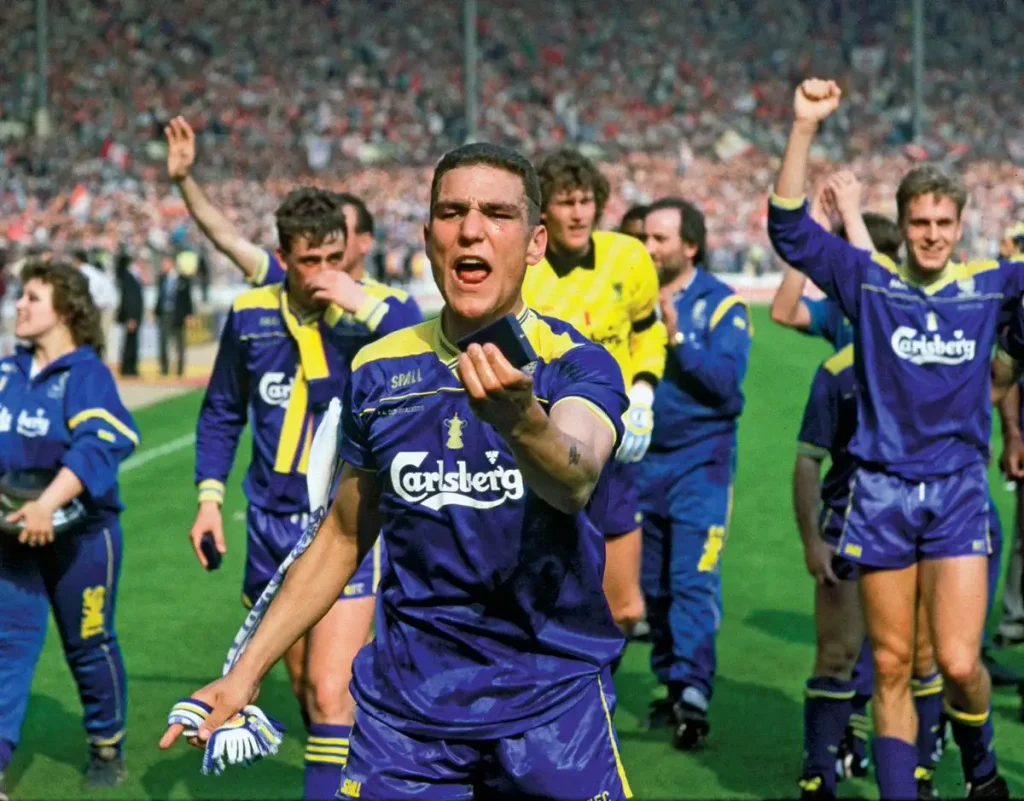 Getting Under The Skin
A few sweet nothings were whispered in Kenny Dalglish's ear by a confident Vinnie Jones before the match at Wembley as part of a significant Crazy Gang psyching out strategy, as it was later revealed.
As soon as the match began, he focused on and aimed for fellow hardman Steve McMahon, figuring no referee would dare show him a red card so early in a FA Cup final.
It was true, not a single yellow was produced, and Wimbledon continued to stranglehold them in the first half.
Moving North
Other clubs noticed Vinnie Jones after his football career and exploits. For example, during Leeds United's promotion push in 1989, a more subdued Vinnie contributed significantly to their promotion to the Premier League.
Jones, an almost ever-present, finished the season with a mere four yellow cards to his name. Locals idolized him and took him to their hearts, but his manager left him out the following year in favor of an emerging David Batty.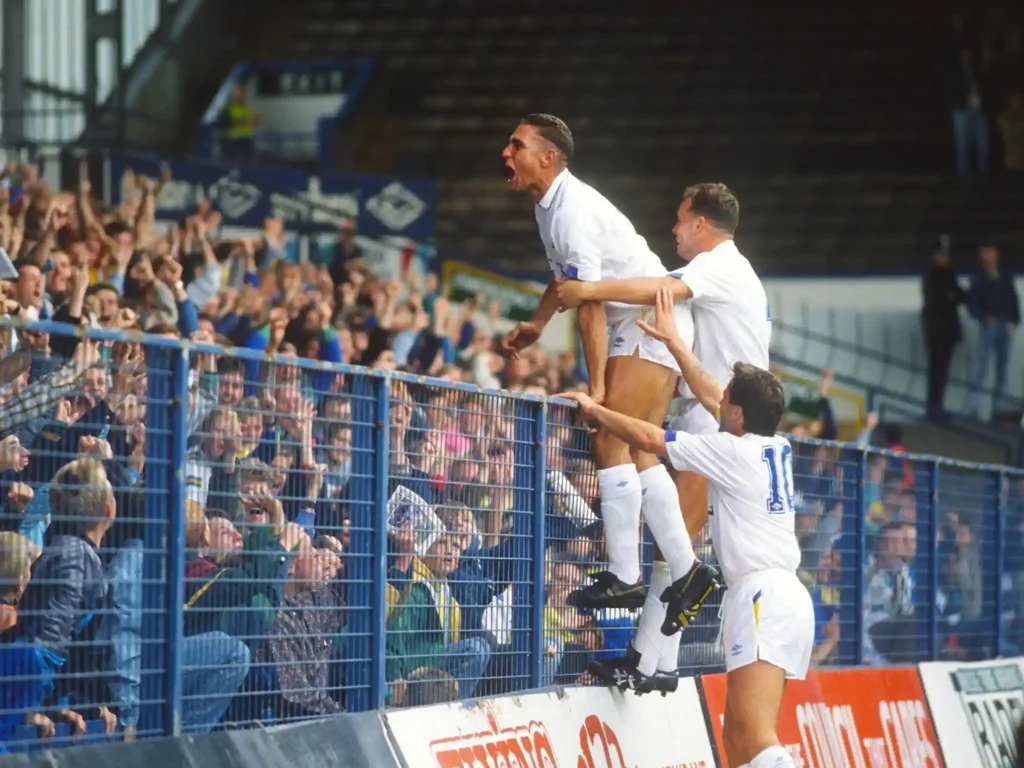 Jones moved to Sheffield United before returning to London to play for Chelsea in 1991-92. A few seconds after kickoff, he upended Sheffield United's Dane Whitehouse and earned himself yet more fame, recording the fastest booking in a football match.
Despite this, he became a fan favorite again at Chelsea before returning to the crazy gang (though with different personnel) in the newly formed Premier League, now sharing Selhurst Park with Crystal Palace.
Dead Ball Specialist
Although he retained the combative physical side he was known for, Vinnie Jones had matured as a player. While playing for Wimbledon, he showed an eye for a pass and some deadly dead-ball deliveries that kept them in the top flight.
As an international footballer, he won nine caps for Wales.
Vinnie regularly appeared before the FA disciplinary committee and was banned often. He received 12 red cards during his football career, but more could have been.
'Soccer's Hard Men,' a video he aired in 1992, got him in trouble and forced him to take a six-month break from the sport.
There was never a time when Vinnie Jones was out of the headlines.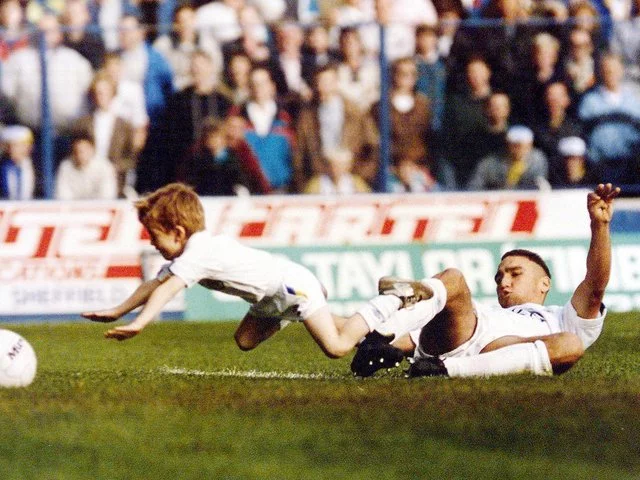 Publicity Machine
He attracted publicity like no other footballer of his day, apart from possibly Eric Cantona, another player who turned to acting at the end of his career.
While many were dismissive of his qualities and critical of his methods, no one could doubt his commitment to the causes he represented.
Especially at Wimbledon, where he, as the most notable member of the crazy gang, did more than anyone to upset the odds and keep the club in the top division for so long. In little doubt, either was the acclaim he received from the fans of all the clubs he represented.
The media and the pundits loved to tag him as the bad football boy who epitomized the game's ugly side, and he gave them plenty of ammunition.
But to a typical working-class fan, he was one of them. Always giving a 110% who never shirked a challenge or failed to chase a lost cause; to them, he was a legend.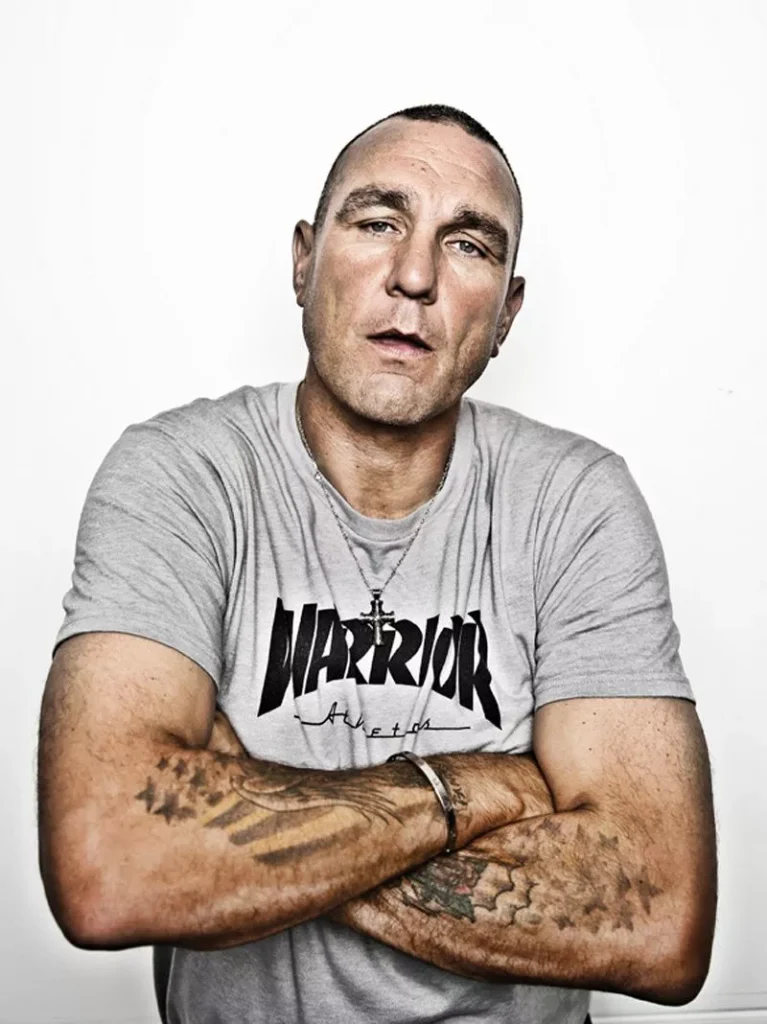 Vinnie Jones Acting Career
Vinnie Jones turned to performing and acting after retiring from football in 1998, capitalizing on his tough image. The former Welsh soccer player is often stereotyped as a violent criminal and thug.
Beginning with Lock, Stock, and Two Smoking Barrels, the British actor appeared in movies such as Snatch, Gone in 60 Seconds, Mean Machine, and Juggernaut in X-Men: The Last Stand.
Vinnie Jones Facts And Figures
Full Name: Vincent Peter Jones
Birthdate: 05/01/1965
Birthplace: Watford, England
Playing Career:
Wealdstone 1984–1986
IFK Holmsund 1986
Wimbledon 1986–1989
Leeds United 1989–1990
Sheffield United 1990–1991
Chelsea 1991–1992
Wimbledon 1992–1998
Queens Park Rangers 1998–1999
Total Appearances: 446 Games, 36 Goals
National Team Career:
Playing Honors:
Wealdstone
1984–85 Alliance Premier League Champions
IFK Holmsund
1986 Division 3 Mellersta Norrland
Wimbledon
Leeds United
1989–90 Football League Second Division Champions
Personal Honors:
Played As The Following Characters In His Film Career:
Bullet Tooth Tony – Snatch
Big Chris – Lock, Stock and Two Smoking Barrels
Joe Ballard – Hijacked
John Kendrick – MacGyver
Mad Maynard – Eurotrip
Isaac Vincent – Mind Games
Danny Meehan – Mean Machine
Sebastian Moran – Elementary
Bernard O'Mahoney – Origins
Ricky Dorsey – Sargon
Michael Price – Decommissioned
Wimbledon of the First Division signed the 21-year-old Vinnie Jones in 1986, paying Wealdstone £10,000 for him. He thus became a full-time professional footballer.
Leeds United paid Wimbledon £650,000 for Jones' transfer in June 1989.
He was signed by Dave Bassett, former Wimbledon manager, for Sheffield United in September 1990 for a transfer fee of £700,000.
Chelsea purchased Jones for £575,000 the following year.
Wimbledon re-signs Vinnie Jones for £625,000 in his second stint at the club.
Vinnie Jones is remembered for grabbing Paul Gascoigne by the testicles during a league game for Wimbledon against Newcastle United in October 1987.
As Gascoigne claims, Jones uttered the iconic line, "It's just you and me today, fatty," before the incident in the tunnel pre-match. I'm not playing football, and neither are you".
Currently, he is the club president of nonleague football team Soham Town Rangers.
Celebrity Big Brother 7 featured Jones as a housemate in 2010.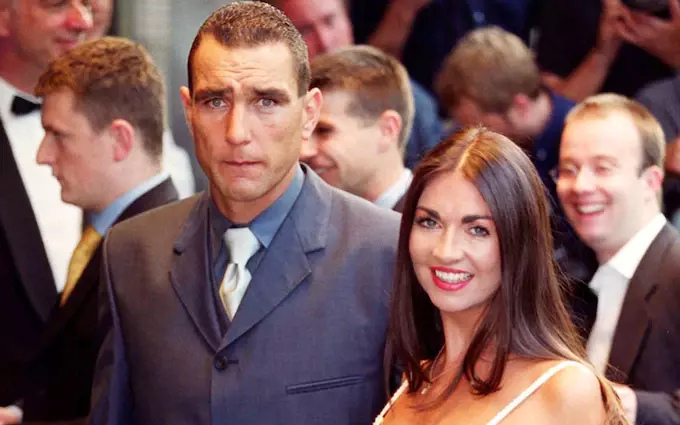 Skin cancer was found below Jones' eye in 2013. He received treatment. His wife died of skin cancer in 2019.
In November 1997, Jones was convicted of assault, actual bodily harm, and criminal damage against a neighbor. In another incident, he slapped a passenger and threatened to kill a cabin crew member while drunk on an aircraft.
An 80-hour community service order was given to him in addition to a fine of $1,100.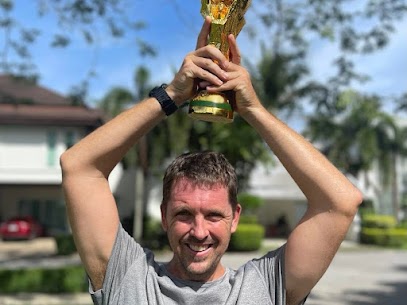 Rhett is an Australian-born, globe trotter who is a UEFA 'A' Licence Soccer Coach. With his family, he has traveled and coached soccer in more than 30 countries, while attending World Cups, European Championships, and some of the biggest local derbies in the world!