In 1999, Northampton Town Football Club dedicated a garden of memory to those football players who had lost their lives in the First World War. The centerpiece was a memorial to Walter Tull, a player of Afro Caribbean descent who became a British Army war hero.
Early Life
Tull was born in Folkestone, Kent, on 28th April 1888. The father of Tull was Daniel Tull, and the mother was Alice Elizabeth Palmer. Barbados was the home of his paternal grandfather, who was a slave.
A school in Folkestone called North Board School, now known as Mundella Primary School, was where he began his education.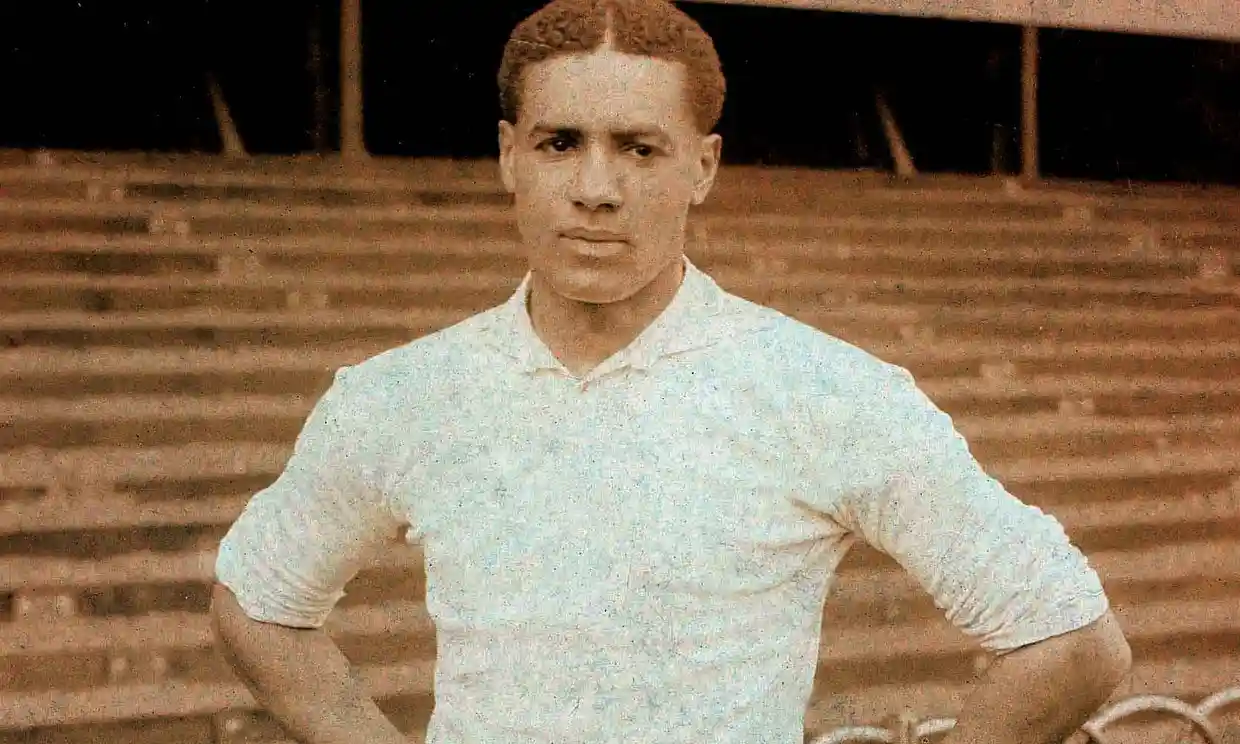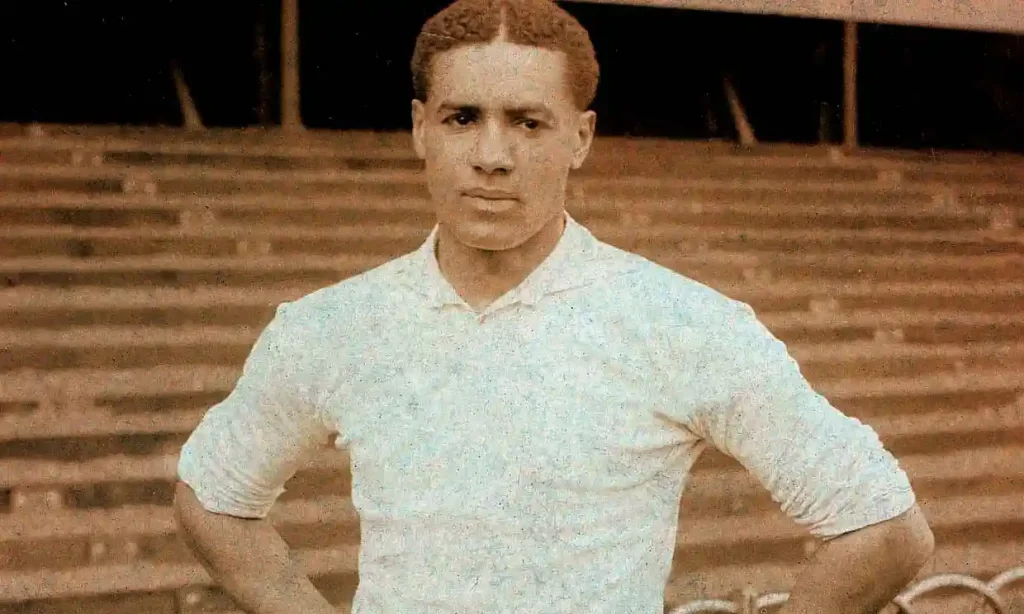 Walter Tull was known to have spent much of his young life in a children's home in London after his mom died at the age of seven.
This is a moving story of a young man born in Folkestone who was destined to break the barriers of racism in the worlds of soccer and the military.
Unexpected Loss For Walter Tull
Walter's father, Daniel Tull, moved from the West Indies to England, where he married a local girl. However, the family of six found their young lives disrupted by the early death of their mother.
Carpenter Daniel Tull died shortly after getting remarried, leaving his new wife Clara as stepmother to a large family. Walter was nine years old at the time.
With help from the local Methodist church, Walter Tull and his brother Edward were cared for in a children's home in Bethnal Green in East London.
Two years later, his brother Edward was adopted by a dentist and his wife from Glasgow. Walter was left without a family after Edward moved to Glasgow.
Despite other problems, not least the adoption of his beloved brother, Walter Tull found life in the home amenable. The future black officer settled on training as a printer and followed his love to play football in the orphanage football team.
His performances attracted the attention of local amateur club Clapton. Within months, Walter Tull established himself as a first-team player. In the FA Amateur Cup final against Eston United, he made his debut as an inside forward.
In 1908-1909, he led Clapton to three titles: the Amateur Cup, the London Senior Cup, and the London County Amateur Cup.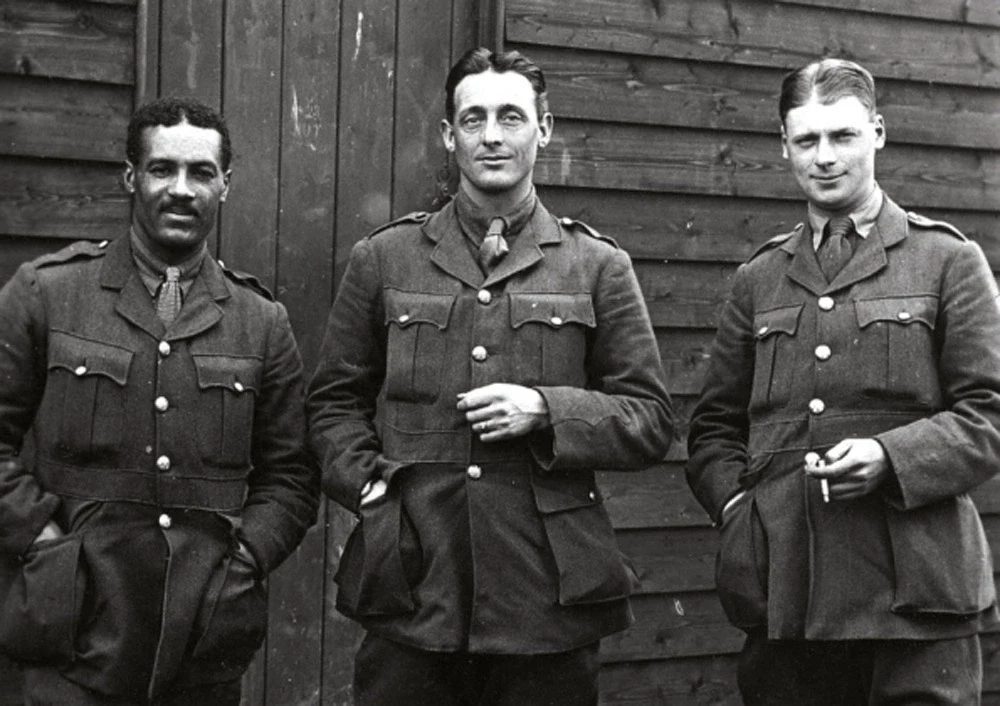 Walter Tull Moves To Tottenham Hotspur
Tottenham Hotspur was now monitoring the situation and signed Walter Tull in 1909. Walter became the second black professional footballer in the English top division and the first outfield player.
The first black professional player in England was Arthur Wharton, a goalkeeper from Ghana. The Preston North End and Sheffield United star had been a star for 20 years before Walter made his debut.
His first appearances for his new club were on their tour of South America in June.  Tottenham Hotspur was newly promoted to the First Division and undertook a preseason soccer tour before the 1909-10 season.
Victories were recorded against Liga Uruguaya (8-0), Argentinos (1-0), Liga Argentina (4-1), Rosario (9-0), and Alumni (5-0), with the only setbacks coming against English rivals Everton (2-2, 0-4).
Tours of this kind were uncommon but not unknown. Southampton Football Club visited South America in 1904 with some success, while Nottingham Forest toured in 1905, winning all eight games played.
Different Climate
The Argentine sides pitted themselves against the visitors, while the large ex-patriot community enjoyed seeing the English teams.
Although he suffered from heatstroke, Walter Tull enjoyed the experience. He wrote to Mr. Morgan, an official at the children's home, "I shall be happy to get home again, despite the interesting voyage we are having."
At the start of the new season, Walter Tull made his First Division debut at center-forward, keeping his place in the side. The game away to Sunderland ended in a 3-1 defeat. Nevertheless, Walter secured his position until an away game versus Bristol City.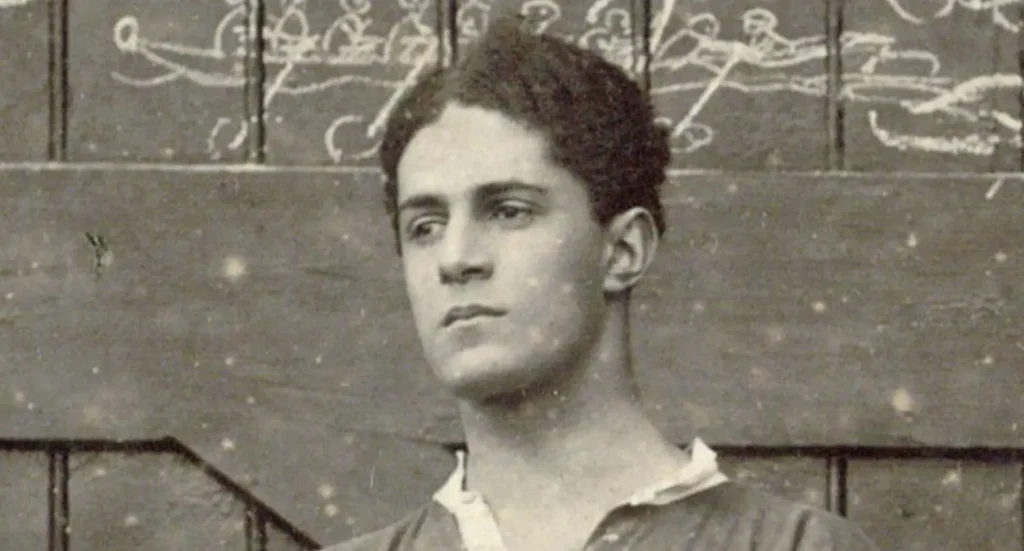 Racism In Bristol
The game was remembered not for the quality of the football but for a torrent of racial abuse aimed at Walter Tull. It was characterized as "lower than Billingsgate" by a newspaper reporter for the Football Star.
Due to Bristol's reputation as a slave port in the 18th and 19th centuries, dockers and locals are blamed for this unforgivable attack. Whatever the reasons, it was an awful assault on a mild, intelligent and dedicated young man.
Although there is no evidence that Walter's confidence and form were affected, he rarely appeared in the first team again. His White Hart Lane career came to an end after ten appearances.
Phil Vasili in Colouring Over the White Line puts the blame squarely on the shoulders of the Tottenham Hotspur directors, who were embarrassed by the Bristol City debacle.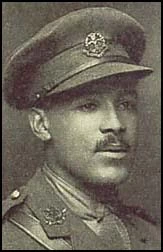 Northampton Town FC
Spurs' loss proved to be Northampton Town's gain. The Cobblers were an ambitious Southern League side managed by Herbert Chapman, an ex-Tottenham Hotspur player.
He had no doubts about Walter Tull's background or ability. After a slow start, Walter played 12 games for his new club, scoring an impressive nine goals in his first season.
It was around this time Tull moved to live in Rushden. Rushden was a small market town dependent on the shoe trade, as many were in Northamptonshire. Walter moved initially to lodge with the parents of team-mate Eric Tompkins.
Tompkins himself was no mean footballer, appearing in the first schoolboy international for England against Wales.
However, Walter shared a love for cricket with Eric, and both turned out for Rushden Cricket Club. Walter Tull was no slouch with the ball in hand.
Walter Tull Finding His Feet
The following season Walter was converted to wing-half, which he made his own. The lack of pace several past coaches had noted was not evident in the midfield role. From now on, Walter Tull barely missed a game other than for injury.
The first Northampton Town player to enlist to fight played 98 of the 114 games leading up to the outbreak of World War One. There has been much speculation, but for the First World War, Walter Tull would have signed for Glasgow Rangers in Scotland.
Walter's brother Edward Tull Warnock, now a successful dentist in Glasgow, apparently knew one of the Glasgow Rangers directors and alerted him to Walter's progress at Northampton Town.
According to the family, Edward's ambition was to reunite his brothers, sisters, and stepmother in Scotland.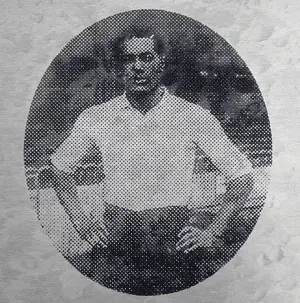 Joining The British Army
As soon as war broke out, Walter Tull volunteered and joined the 17th Battalion of the Middlesex Regiment (the Footballer's Battalion) of the British Army. His soccer career continued briefly as he represented Fulham in the wartime London League.
Soon Walter was posted to the Western Front in Northern France. During the Battle of the Somme, Walter participated in combat between October and November of 1916.
A total of 420,000 British soldiers were killed during this four-month battle. He survived the ferocious trench warfare only to develop trench foot and shell shock, which forced him to return home to England to recuperate.
When Walter Tull regained his fitness, he returned to France to find that his comrades were scattered. Until he was given leave to go home for Christmas, Walter was alone once again.
The future commanding officer discovered the mud, "Everywhere, miles of sapping mud," and the boredom, "This is a very boring place. Even though one is supposed to be resting, most soldiers prefer the excitement of being in the trenches to the relative inaction of being in reserve."
Football Wartime Matches
Football helped counteract the boredom as many makeshift games were played. One such recorded in the Rushden Echo saw the men of Kettering and Wellingborough play those from Rushden and Clipstone.
Soccer became an essential feature of the men's free time and was often seen as a galvanizing force for others. There are many references to officers bringing out a football when the time came to attack an enemy trench.
Most famous perhaps was Captain Nevill of the Surrey Regiment leading his men against the Montauban Ridge on the Somme. Sadly Nevill was killed, but the Daily Mail newspaper captured the heroics in verse:
On through the hail and slaughter where gallant comrades fall, where blood is poured like water, they drive the trickling ball.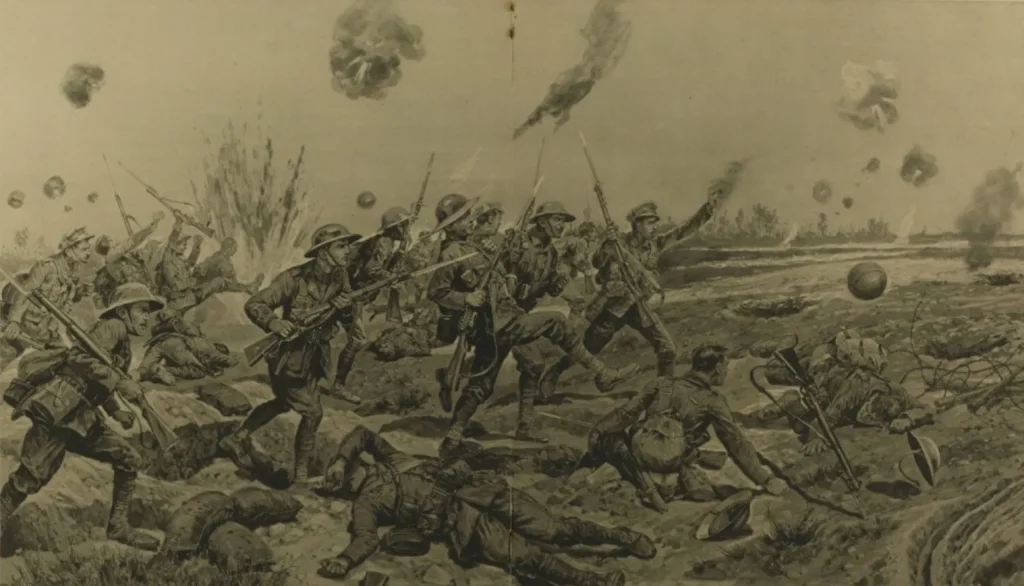 Becoming An Army Officer
After the casualties mounted, the promising NCOs were targeted as replacements.
Walter Tull, by now a sergeant, was unusually considered. Black officers did not command white troops. This was despite regulations that stated officers had to be of "pure European descent".
Walter Tull was commissioned in recognition of his service on the Somme. At least two black officers were already serving in the British Army Medical Corps before he was appointed as the first black infantry officer. However, this was a remarkable achievement!
As a newly promoted second lieutenant, Walter Tull was posted to Italy on the Italian Front with the 23rd Battalion of the Middlesex Regiment. He saw action at the Battle of Piave, where his bravery led to a mention in despatches.
A report praising Walter for his courage and leadership abilities was sent back by his commanding officer, Major General Sir Sydney Lawford.
A military cross recommendation was made for him, but he never received it, perhaps because it would have embarrassed the British Army if a black officer received such a medal.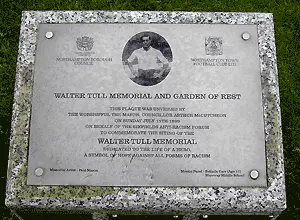 Fighting On The Western Front
A few months later, the first black combat officer was posted back to the Western Front in France. Walter, the first black officer in the British Army to lead men, was killed in action by a German bullet during the second Battle of the Somme in March 1917.
Walter Tull's body was carried back by colleagues, including Private Tom Billingham, a footballer who played in goal for Leicester Fosse before the war.
As machine gunfire intensified, the recovery operation was abandoned. Walter's body was never found. His only memorial is his name on a wall at the Faubourg-Amiens War Cemetery.
The Rushden Echo reported his loss and noted, "The deceased sportsman was an officer and a gentleman every inch of him."
Forever Remembered
Walter Tull may have been lost, but his memory lives on.
Not only in the garden mentioned above of remembrance: a road outside Northampton Town Sixfields Stadium has been renamed Walter Tull Way, and the probation offices in Northampton town center are named in his honor.
It is Walter's influence and example that will live on in the future. Not just young footballers. Not just young black people. Everyone!
It took an extraordinary person to surmount class and color barriers and establish themselves at the highest level in early twentieth-century Britain.
Former Prime Minister Tony Blair once said that Walter Tull was." A beacon of courage whose life is an inspiration." There could be no finer epitaph. This is the forgotten story of a footballer and war hero.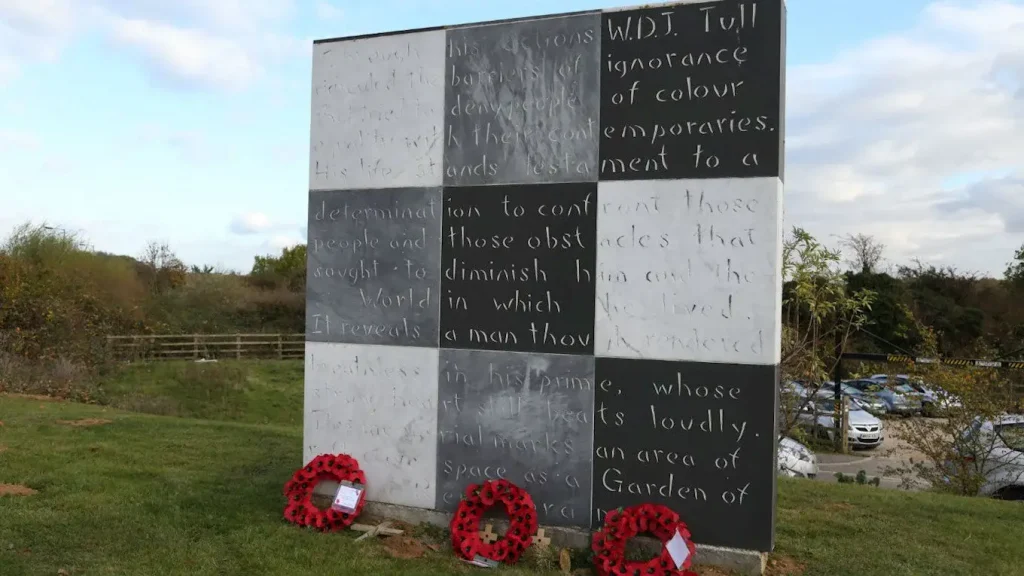 Walter Tull Facts, Figures And Stats
Full Name: Walter Daniel John Tull
Birthdate: 28/04/1888
Birthplace: Folkestone, United Kingdom
Died: 25/03/1918
Playing Career:
Tottenham Hotspur 1909–1911
Northampton Town 1911–1914
Total Appearances: 115 games, 11 goals
Other Interesting Facts
Walter Tull was recommended for the Military Cross but has yet to receive it.
A Walter Tull Memorial Cup was held between Tottenham Hotspur and Glasgow Rangers on 28 July 2004. Dado Prso and Nacho Novo scored the goals to win the Cup for the Rangers over Spurs 2–0.
The second Walter Tull Memorial Cup was played in 2022 between Glasgow Rangers and Tottenham Hotspur.  This time Spurs won the Walter Tull trophy.
The National Football Museum inducted him into its Hall of Fame in 2021.
He was the third person of mixed heritage to play in the top tier of the Football League, following Arthur Wharton and Willie Clarke.
As part of the introductory First World War six-coin set, the Royal Mint issued a £5 coin honoring Walter Tull in 2014.
The former Northampton Town player was single, and several of his siblings had no children.
The Royal Mail released six special stamps to celebrate the centenary of the end of the First World War in 2018.  One of these stamps featured Second Lieutenant Walter Tull.