2015 FA Cup Final Score: Arsenal 4-0 Aston Villa
Date: Saturday 30th May
Venue: Wembley Stadium
Attendance: 89,283
Referee: Jon Moss
Teams:
Arsenal
Wojciech Sczcesny, Hector Bellerin, Per Mertesacker (C), Laurent Koscielny, Nacho Monreal, Francis Coquelin, Santi Cazorla, Aaron Ramsey, Mesut Ozil, Alexis Sanchez, Theo Walcott.
Manager: Arsene Wenger
Goal Scorer/s: Walcott 40', Sanchez 50', Mertesacker 71' and Giroud 90'.
Aston Villa
Shay Given, Alan Hutton, Jores Okore, Ron Vlaar, Kieran Richardson, Tom Cleverley, Fabian Delph, Ashley Westwood, Charles N'Zogbia, Jack Grealish, Christian Benteke.
Manager: Tim Sherwood
Goal Scorer/s: None
The 134th FA Cup Final
The 2015 FA Cup Final was the 134th final of the competition.
Wembley Stadium hosted the match contested between Arsenal and Aston Villa on Saturday 30th May.
During the 2014/15 season Arsenal won 22 games in total, drawing nine times and losing on seven occasions to finish 3rd in the Premier League. Aston Villa ended up finishing 17th in the Premier League having registered ten wins, eight draws and 20 losses.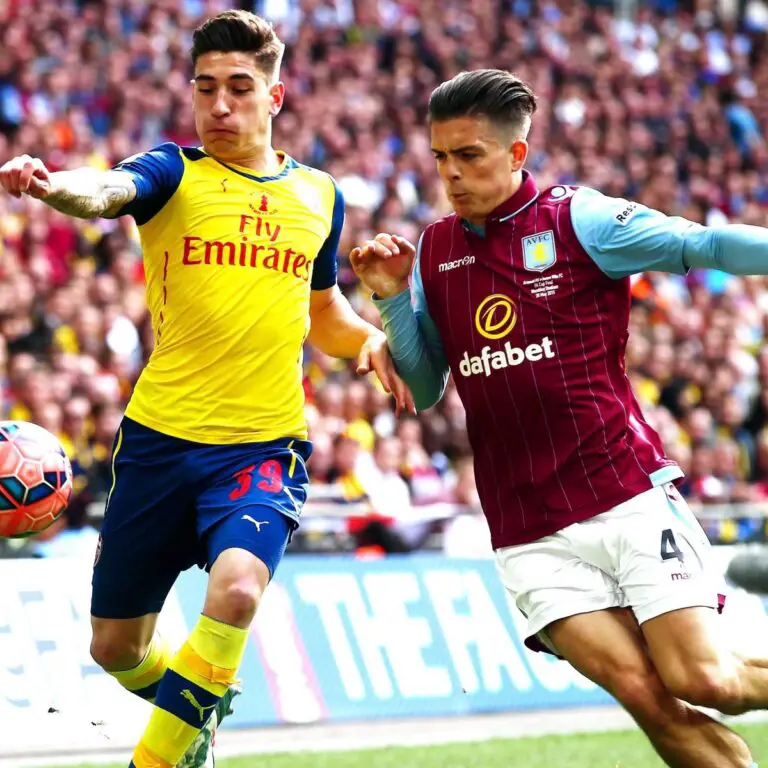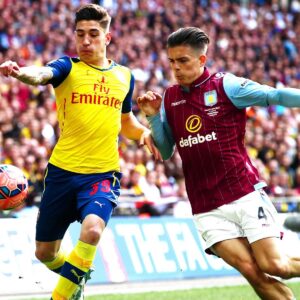 Arsenal's run to the final saw them beat Hull City in the third round, Brighton in round four and Middlesborough in the fifth round. They defeated Manchester United in round six and then beat Reading in the semi-finals.
Aston Villa reached the final having defeated Blackpool in round three, Bournemouth in the fourth round and Leicester City in round five. They beat West Brom in the sixth round and were victorious against Liverpool in the semis.
Match Report
In the eighth minute, Cazorla's low shot from inside the Aston Villa penalty area was blocked by Hutton. From the second of the resulting corners Koscielny headed wide of the goal.
Richardson's 13th-minute cross was then punched clear by Szczesny to deny Benteke an opening goal.
Mesut Özil's 20th minute pass found Ramsey inside the Villa penalty area but his shot sailed high over the Aston Villa crossbar.
Midway through the first half, Özil crossed to Walcott who prodded the ball towards goal from close range but it was defended by a sliding tackle from Richardson.
In the 28th minute, Francis Coquelin worked the ball to Ramsey who drove into the Aston Villa penalty area but his shot deflected off defender Vlaar and was caught by Given.
With five minutes of the half remaining Arsenal found a breakthrough. Full-back Monreal crossed from the left to Sánchez who headed back to Walcott to strike on the volley and give the Gunners a 1–0 lead!
In the 50th minute, Alexis Sánchez made it 2-0 after striking the ball into the roof of the Aston Villa net to double his side's lead.
Just over ten minutes later Per Mertesacker scored their third goal with a header from a Cazorla corner.
As the game drew to a close, Villa's Gabby Agbonlahor was then brought down on the edge of the Arsenal area and attempted to claim a penalty but referee Jon Moss was uninterested. The Aston Villa forward was then booked for his protests.
In the third minute of stoppage time, Oxlade-Chamberlain's pass found Giroud who flicked the ball into the Aston Villa goal to make it 4–0. The referee blew the final whistle and with it Arsenal secured their 12th FA Cup to become the most successful team in the competition's history!
Facts
Arsenal were playing a record nineteenth FA Cup final – surpassing Manchester United.
Of these finals, Arsenal had won eleven, a joint record with Manchester United.
Arsenal's most recent defeat in the final was in 2001, losing 2–1 to Liverpool.
This game was Aston Villa's eleventh final, of which they had won seven.
Arsenal and Aston Villa had previously been drawn together 10 times in The FA Cup with the Gunners winning seven and the Villains three.
2015 FA Cup Results
Semi Final
Reading 1–2 (a.e.t.) Arsenal, Aston Villa 2–1 Liverpool
Sixth Round
Bradford City 0–0 Reading, Replay Reading 3–0 Bradford City, Aston Villa 2–0 West Bromwich Albion, Liverpool 0–0 Blackburn Rovers, Replay  Blackburn Rovers 0–1 Liverpool, Manchester United 1–2 Arsenal
Fifth Round
West Bromwich Albion 4–0 West Ham United, Blackburn Rovers 4–1 Stoke City, Derby County 1–2 Reading, Crystal Palace  1–2 Liverpool, Aston Villa 2–1 Leicester City, Bradford City 2–0 Sunderland, Arsenal 2–0 Middlesbrough, Preston North End 1–3      Manchester United
Fourth Round
Cambridge United 0–0 Manchester United, Replay Manchester United 3–0 Cambridge United, Blackburn Rovers 3–1 Swansea City, Southampton      2–3 Crystal Palace, Chelsea         2–4 Bradford City, Derby County 2–0 Chesterfield, Preston North End 1–1 Sheffield United, Replay       Sheffield United 1–3 Preston North End, Birmingham City 1–2 West Bromwich Albion, Cardiff City 1–2 Reading, Tottenham Hotspur 1–2 Leicester City, Sunderland 0–0 Fulham, Replay Fulham 1–3            Sunderland, Manchester City 0–2 Middlesbrough, Liverpool    0–0 Bolton Wanderers, Replay Bolton Wanderers 1–2 Liverpool, Bristol City 0–1 West Ham United, Aston Villa 2–1 AFC Bournemouth, Brighton & Hove Albion 2–3 Arsenal, Rochdale 1–4 Stoke City
Third Round
Cardiff City 3–1 Colchester United, Charlton Athletic 1–2 Blackburn Rovers, Rochdale 1–0 Nottingham Forest, West Bromwich Albion 7–0 Gateshead, Blyth Spartans 2–3 Birmingham City, Rotherham United  1–5 AFC Bournemouth, Huddersfield Town 0–1 Reading, Tranmere Rovers 2–6 Swansea City, Bolton Wanderers 1–0 Wigan Athletic, Millwall 3–3 Bradford City, Replay  Bradford City 4–0 Millwall, Derby County 1–0 Southport, Brentford 0–2 Brighton & Hove Albion, Fulham 0–0 Wolverhampton Wanderers, Replay Wolverhampton Wanderers 3–3 (a.e.t.) (3–5 p) Fulham, Leicester City 1–0 Newcastle United, Cambridge United 2–1 Luton Town, Barnsley 0–2 Middlesbrough, Preston North End 2–0  Norwich City, Doncaster Rovers 1–1 Bristol City, Replay Bristol City 2–0 Doncaster Rovers, Dover Athletic 0–4 Crystal Palace , Sunderland 1–0 Leeds United, Queens Park Rangers 0–3 Sheffield United, Aston Villa 1–0 Blackpool, Manchester City  2–1 Sheffield Wednesday, Southampton 1–1 Ipswich Town, Replay       Ipswich Town 0–1 Southampton, Stoke City 3–1 Wrexham, Yeovil Town 0–2 Manchester United, Chelsea 3–0 Watford, Arsenal 2–0 Hull City, Burnley 1–1 Tottenham Hotspur, Replay Tottenham Hotspur 4–2 Burnley, AFC Wimbledon 1–2 Liverpool, Everton 1–1 West Ham United, Replay West Ham United 2–2 (a.e.t.) (9–8 p) Everton, Scunthorpe United 2–2 Chesterfield, Replay Chesterfield 2–0 (a.e.t.) Scunthorpe United.