Sara Whalen has one of the richest tales in all of American soccer, and if it's not always a happy story – a devastating injury finished her career at 26, she nearly died in the aftermath, and she still harbors "feelings of sadness" in how it all played out – the former US Women's National Team defender has found resolution and peace through her growing family and a rewarding career in psychology.
The versatile Long Islander, who could play nearly every position and gave her best service as an attacking right back, was a pivotal player, mainly off the bench, as the US conquered the world – and the affection of their countrymen and women – in 1999.
Sara Whalen slowly fell away from the National Team after Tony DiCicco's departure as head coach. She was finished playing when the Women's United Soccer Association, America's first women's professional league, went under in 2003.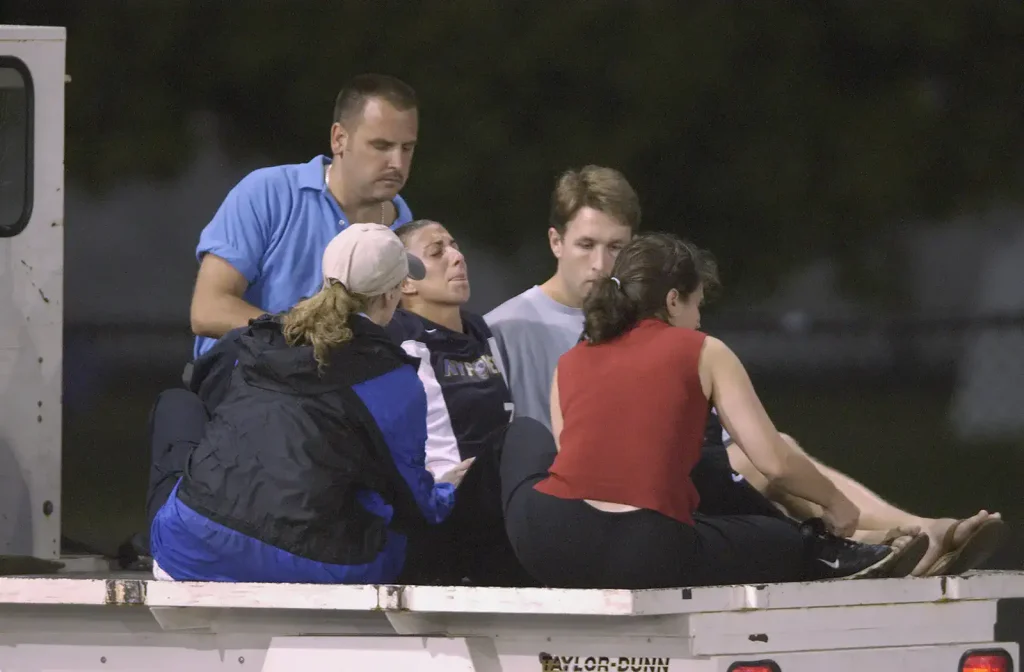 Sara Whalen Injury
On June 26, 2002, in a game against the Carolina Courage, Whalen tore her ACL and MCL in a collision with German international Birgit Prinz. This occurred just after recovering from a broken rib.
Whalen had surgery and noticed her knee was infected shortly after. During her second surgery, Whalen had a severe allergic reaction and nearly died. The doctors realized that the infection was in one of the screws within the ligament of her knee and had to be removed.
By the end, Sara Whalen underwent five surgeries and had to move ligaments from her right to left knee to repair her injury.
"I'm somewhat satisfied, but I will always wonder what would have happened had I not suffered those injuries, but I think we all have that, right? Like: What if?" said Whalen, now Dr. Sarah Hess. "I'm certainly proud of the person I am. Because it was such a different life than what I'm living now – I'm not at all connected to the soccer community anymore – it feels like I'm different.
And I have to remind myself it's not two different people constantly. It's just different phases of the same person going through different things. Sometimes it feels hard. It depends on what capacity I'm thinking about it."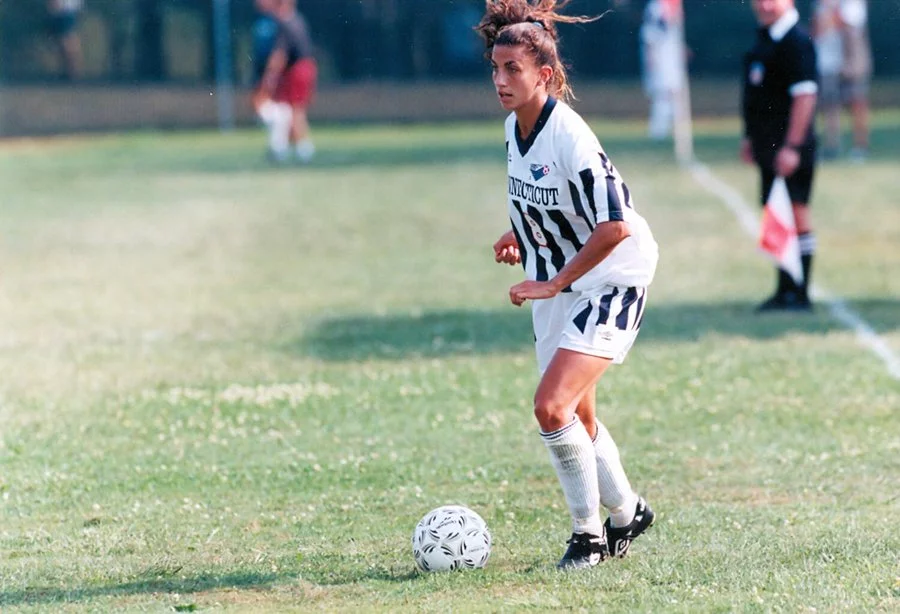 International Debut
Whalen received her first call-up to the National Team as a University of Connecticut freshman, made her international debut two years later, in 1997, and played three games at the 1999 Women's World Cup – Sara Whalen was on the field at the finish and spent the penalty kick shootout fretting that she might have to take a shot.
She also was on the roster but did not play at the 2000 Sydney Olympics, where the US won silver medals. Her contributions were often undervalued; in 1999-2000, she scored or assisted nearly 1.5 goals every 180 minutes she was on the field.
"On a team with great athletes, Sara Whalen was one of the best. Tremendous acceleration," DiCicco said. "She was one of those players in the same vein as Tiffeny Milbrett or Mia Hamm, almost faster with the ball… I think Sara had incredible qualities, and she was an outstanding attacking player."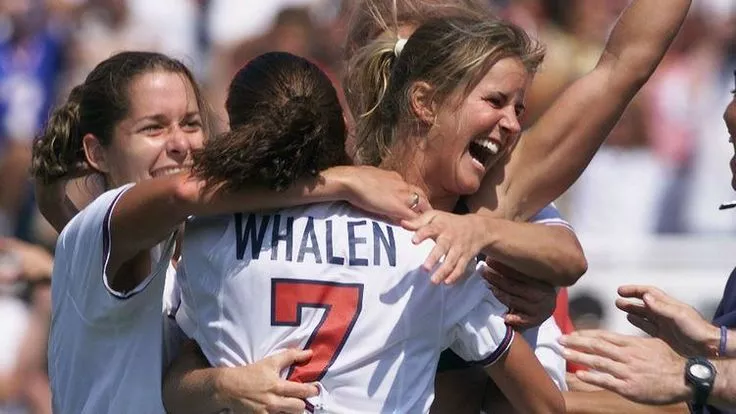 Playing In A World Cup
DiCicco chose her for the 1999 team after a 7-0 rout of Japan in Atlanta seven weeks before the World Cup began.
"Sara Whalen picked up the ball on the defensive half of midfield, near the center circle, and beat two or three players," DiCicco said. "Now she's in against the backline. She pushed into space, ran by them, and buried the ball into the far-side netting. That was what I was looking for."
It was a memorable month, with the US women taking on iconic status – Whalen was on the cover of Time and Sports Illustrated after the US triumph – and she only realized how big the team had become when they filled the Rose Bowl for the final and then "were on 'Letterman' and in Manhattan and doing all those things; that was shocking."
The relationships with her teammates are what she carries with her.
"Having so many like-minded individuals who were so incredibly talented working toward the same goal and also, at the same time, just being girls, being women." she said. "Such great companionship. I remember staying in hotel rooms and coloring and dyeing my hair and painting our nails, which sounds really trivial, but those are the things that stick with me."
Whalen came on for Michelle Akers at the start of overtime in the title game against China at the Rose Bowl – "I had the feeling that Sara Whalen would get free out on the flank, which she did," DiCicco said – and spent the shootout to decide the champion standing next to defender Kate Sobrero, her closest friend on the team, "literally saying, like, 'Oh my God, what if it gets to me. Oh my God!'
"Then, when Brandi Chastain scored the decisive kick, it was like the most exciting thrill. Honestly, I can't describe it. I've never run a faster 40 yards in my life, and I ran fast 40s. I went from midfield to the penalty box in half a second.
After the Women's World Cup, Whalen says she "never really got her stride back."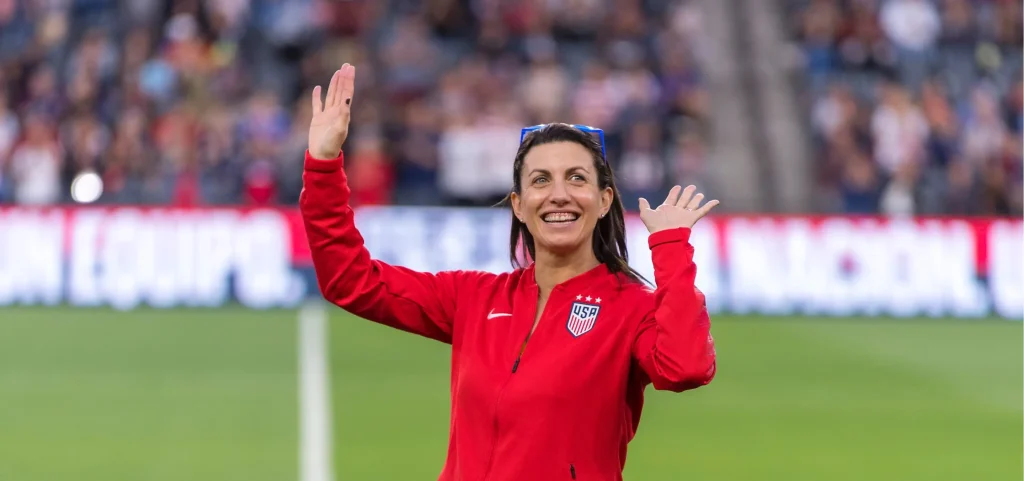 2000 Olympics
"The Olympics was a challenging time for me, which is something I don't generally share because I think people want to hear that it was amazing and exciting," she said.
"Being in Australia was awesome, and being part of the big show was awesome, but anything soccer-related… I had a tough time. I felt pretty depressed while I was there. I felt like I was working hard at practice, but I didn't feel I could do anything to get off the bench."
She stepped away from the National Team soon after, then started rebuilding her confidence and her game with the New York Power in the WUSA.
She had a solid first season, began the second year even better, and started thinking about National Team call-ups again. Then two injuries in succession and the second one – torn knee ligaments, including the ACL – changed everything.
"Unfortunately, my recovery didn't go as well as I hoped," Sara Whalen said. "And by the time I could walk, it was a year and a half later, and I had moved on."
There were complications. She had a post-surgical infection, and then an allergic reaction to the flush used to clean out the knee – her heart stopped, and "it was a tough 10 minutes … very close to being a very, very bad situation."
Sara Whalen Runs New York Marathon
Whalen underwent extensive rehabilitation, had seven surgeries in all, and came out of it barely able to walk. However, she finally took control of her rehab and, within six months, was running in the New York Marathon.
"The marathon is one of my greatest accomplishments," she said. "That's after all of my knee surgeries were done, and I had gone to probably four or five rehab places, and none of them could get me doing anything more than a slow walk.
And I felt devastated. I tried everything and couldn't get my knees working in the capacity I needed. I certainly didn't need to be a soccer player anymore. I didn't need to be a professional athlete. I just needed to be able to jog or run or pivot."
She got there by just running, one minute the first day ("It hurt like hell"), then two minutes the second day, and three the third. After that, she worked up to 20 minutes, "and then I felt if I can jog 20 minutes, I can jog longer." As a result, Sara Whalen finished the 2004 New York Marathon in four hours.
"I am seriously beyond proud of myself for that. That was a great, defining moment for me."
After Soccer 
Whalen had majored in psychology at UConn, and she resumed her studies while rehabbing, getting her Master's at Fordham and then her doctorate at Fairleigh Dickinson. She now works at a Connecticut group practice, "mostly with children, families."
Her athletic background, and the struggles she went through with her injury, have helped in her career.
"Having gone through that and felt feelings of depression, anxiety, eating issues – whatever those issues – I went through it all as far as playing at a high level and the pressure there and also losing the most amazing thing in your life," Whalen said.
"I can relate to these kids. And soccer helps me get in with my male clients because they get impressed to know that I'm not just some woman trying to make them feel happy, but I get it, and I'm a pretty tough chick.
"I love my work. When I can feel helpful, it's amazing. To make a kid feel better, what's more, awesome than that?"
Sara Whalen and her husband, Jon Hess – a former professional lacrosse player — have three children: Tucker, Casey, and daughter Remy. They're providing a path back to soccer.
"My son likes to play," she said. "I coached his team in the fall and had a blast. That's the first time I've been involved in soccer at all. It's painful for me to be involved, which is why I [haven't been], but I coached Tuck and loved it. I loved interacting with the kids. I loved watching them play."
Is there further involvement in soccer as time goes on?
"Probably only in however much my kids want me. I'd love to coach them," she said. "But do I want to get my coaching license and be a real coach? I don't know about that. I'm just having fun now with it, but we'll see how it goes. You never know.
"The sadness could continue to fade away, and I might want to be involved in another capacity. But right now, gonna take it slow."
Sara Whalen Stats
Full Name: Sara Eve Whalen (Sara Eve Hess)
Birthdate: 28/04/1976
Birthplace: Natick, Massachusetts
College Career:
Connecticut Huskies 1994–1997
Club Career:
Long Island Lady Riders 1997–1999
New York Power 2001–2002
International Career:
United States Women's National Team 1997–2000
Total Appearances: 65 matches (7 goals)
As a member of the US Women's Team at the 2000 Sydney Olympics, Sara Whalen won a silver medal. Their final game resulted in a 3–2 loss to Norway.