Carli Lloyd is a former US Women's soccer player who retired in 2021 after winning two World Cup finals and two Olympic gold medals with the national team. [4]
The highlight of her career was scoring three goals (known as a hat trick) in the opening 16 minutes of the 2015 Women's World Cup final between the United States and Japan that caught the attention of the soccer world. [7]
As a member of the USWNT national team, Carli Lloyd played in 316 international matches, the second-most of any player. While playing for the United States women's soccer team, she scored 134 goals, third-most in team history, and added 61 assists.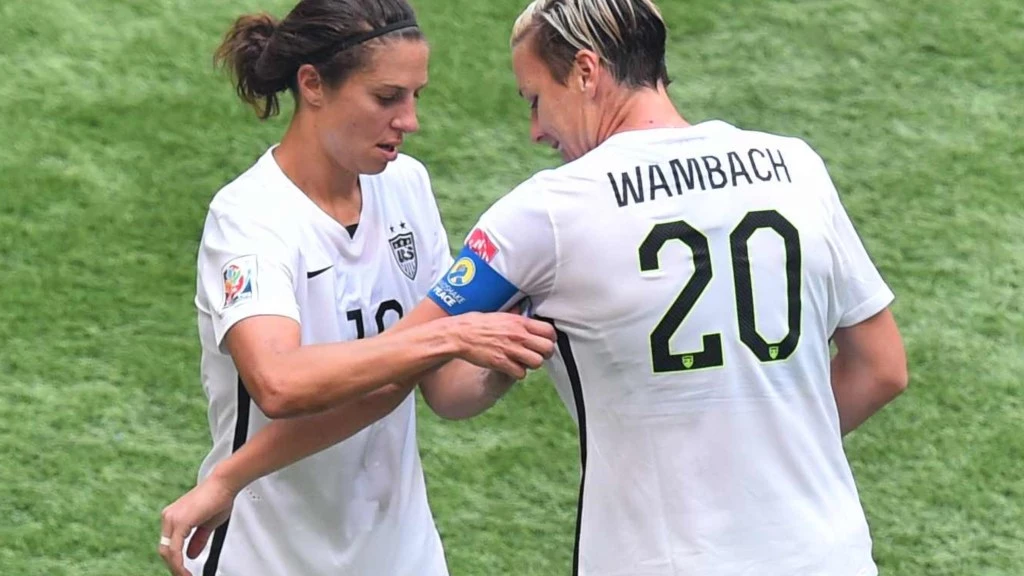 Her Early Years
Carli Lloyd was born July 16, 1982. She grew up in Delran, New Jersey, where she would play pickup soccer games with the Turkish boys who live in the town. Growing up, she was very athletic and played basketball, softball, swimming, and golf. However, soccer was always her number one passion.
Carli had a brother named Stephen, and a sister, Ashley. She attended Delran High School before going to Rutgers University between 2001 and 2004.
She earned a bachelor's degree in Exercise Science and Sport Studies. [6] Lloyd married her high school sweetheart Brian Hollins in November 2016. [8] They still reside in South Jersey.
In 2017 President Obama named Carli a member and Co-chair of the President's Council on Fitness, Sports, and Nutrition. Carli Lloyd published a best-selling memoir in the fall of 2016 titled "When Nobody Was Watching." [5]
Carli serves as a mentor and mental toughness coach for her former youth club, the Medford Strikers.[9]
Carli and James Galanis, president of Universal Soccer Academy, started working together in 2003. James designed a program specifically to turn her into the best player in the world.
His ability to continuously create an environment to challenge her and help her improve is astonishing. He also is a master in the psychological components of the game.
As a result, James has turned Carli into a player with a strong mind that can thrive in pressure situations. Now retired from international soccer, Carli Lloyd now runs her soccer clinics to support the next wave of US soccer stars.
Rutgers Scarlet Knights
Her soccer career began at Rutgers University, where she played for the Scarlet Knights from 2001 to 2004. For four years in a row, Carli Lloyd made the All-Big East first team.
It was the first time a Rutgers athlete had done so and she finished her collegiate career as the school's all-time leading goalscorer with 50 goals. Carli graduated from college with a bachelor's degree in Exercise Science and Sport Studies.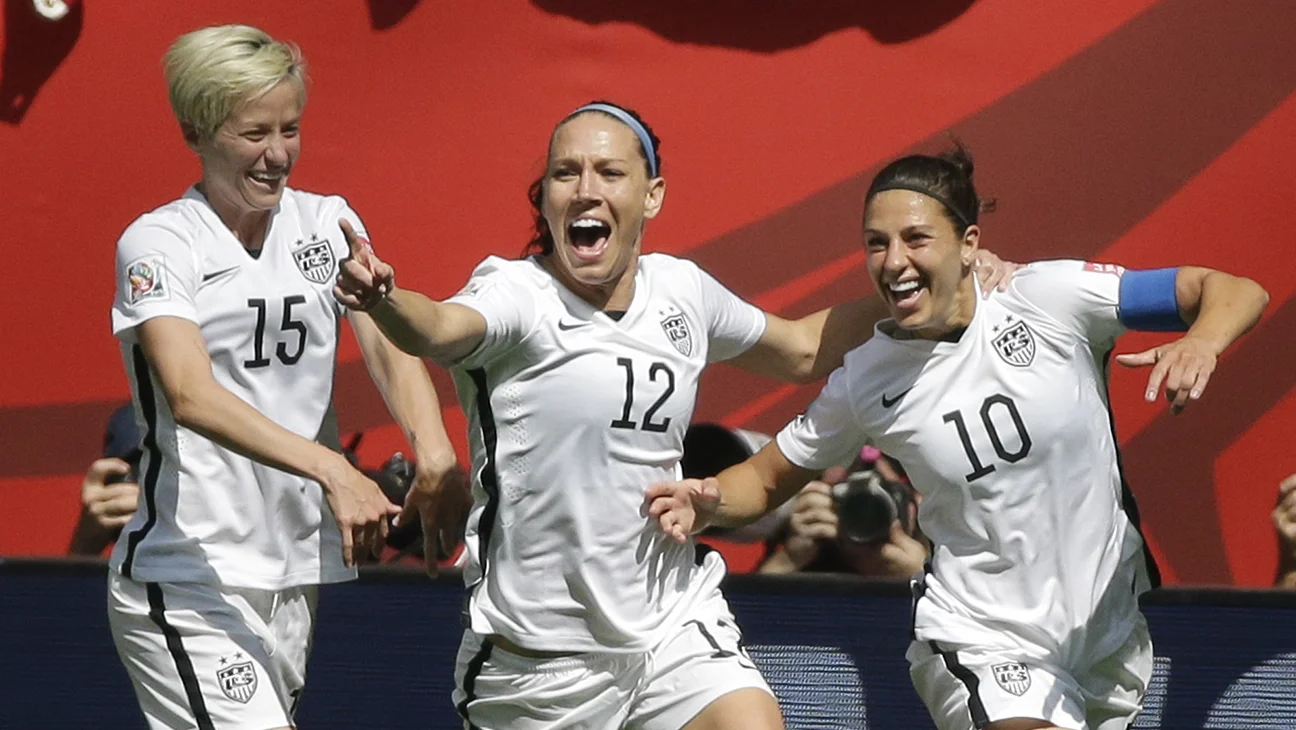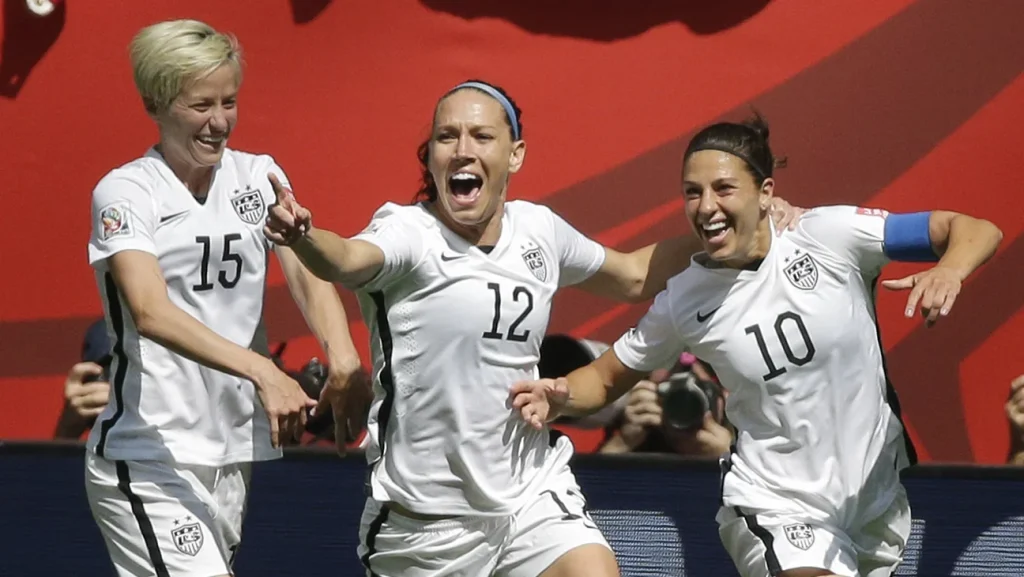 Women's Professional Soccer In USA
In that time, she played for Chicago Red Stars, Sky Blue FC (later known as NJ/NY Gotham), Atlanta Beat,
Western New York Flash
, and Houston Dash. [1] Carli had two stints at Sky Blue in 2010 when she had her most serious career injury breaking her ankle.
Her second stint for Sky Blue was between 2018-21. Lloyd joined Manchester City on loan in 2017. Lloyd scored a game winning goal in the FA Women's Cup final while at Manchester City and finished second in the WSL Spring Series.
Carli Lloyd In The US National Team
Lloyd played with the United States under-21 team before making the leap to the national team at the age of 23. She won four consecutive Nordic Cup titles as a member of the under-21 team between 2002 and 2005 in Finland, Denmark, Iceland, and Sweden. 
Lloyd made her USWNT debut on July 10, 2005, against Ukraine. Her first international goal came against Taiwan on October 1, 2006. [2] A 6–1 win against New Zealand marked Lloyd's first brace for the national team.
Lloyd competed in her first FIFA Women's World Cup tournament in 2007 and won the bronze medal. In the five games she played at the tournament, Lloyd started three of them.
Carli Lloyd established her position in the team ahead of the 2008 Beijing Olympics, starting in all 35 games. During the final against Brazil, she scored the game-winning goal in overtime to help the USA win gold.
2011 Women's World Cup
Carli started every match for the USA. After a 2–2 draw in the World Cup final, the U.S. went to penalty kicks with Japan. Lloyd mishit the ball over the crossbar along with two teammates who didn't convert their penalty kicks.
Her focus was now on the London Olympics, so there was no time to be disappointed. The four goals she scored helped the USA reach the final. Again, it was Japan in the finals and she scored both American goals in the team's 2–1 victory to bring home the gold.
Carli scored six goals during the 2015 FIFA Women's World Cup. In recognition of her role in leading the United States to a record third World Cup title and its first since 1999, she received the Golden Ball as the tournament's best player. Lloyd became the first female player to score a hat trick in a World Cup final. [3]
Carli Lloyd was not in the starting lineup for the final at the 2019 World, which was disappointing. Throughout the tournament, she scored three goals. Megan Rapinoe, one of her former teammates, won the Golden Ball and Golden Boot awards.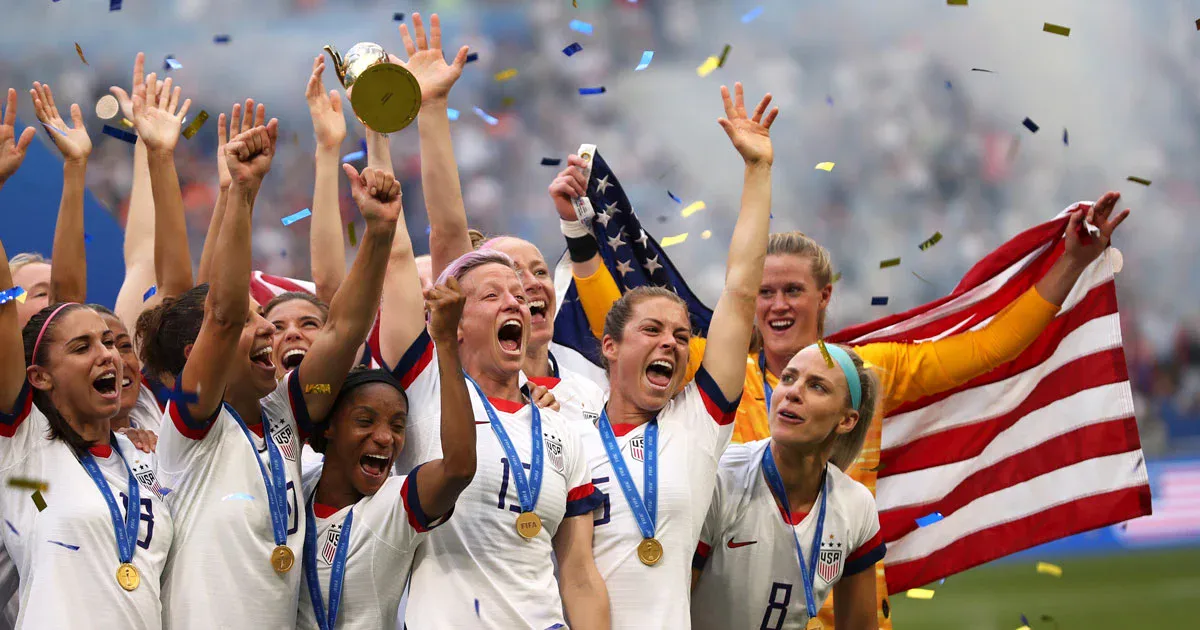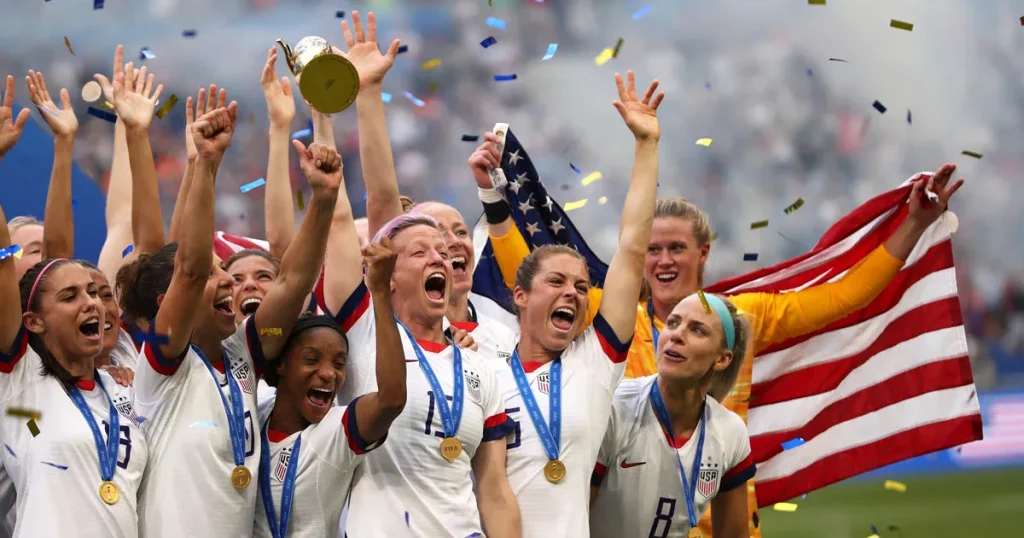 Final Tournament And Retirement
Lloyd became the third player in history after Kristine Lilly and Christie Pearce to earn 300 caps in a friendly match against Sweden in April 2021. The 38-year-old veteran was still performing well heading into the 2021 Olympic Games.
The four time olympian broke the record for the most Olympic Games goals when she scored twice against Australia in the bronze medal match. The record is now 10 goals.
In the wake of the Olympics, Lloyd announced her retirement from soccer in 2021. In addition to winning the United States Soccer Female Player of the Year award twice, she has also received the FIFA Women's Player of the Year award twice.
In her 17 year career, Lloyd was a two time gold medalist and two time World Cup winner.
Her accomplishments and career in soccer are unique. Lloyd's achievements on the field are something all aspiring national team players should strive for.
An Interview With Carli Lloyd
After the announcement of her retirement, the History Of Soccer team was fortunate to interview the successful Carli Lloyd.
How did you become interested in soccer? Did you always think you would play at the professional level?
Like many kids, everywhere I went, I carried a soccer ball with me. But, I didn't think I could make it as a professional until my college years. Then, in my senior year, I realized I could play pro and teamed up with my trainer, James Galanis of Universal Soccer Academy.
He developed a plan to reach the next level, and I stuck to it and kept working to achieve my goals.
What's your most memorable moment on the field?
It would have to be my second goal against Japan in the 2012 Olympic gold medal game. It turned out to be the game-winner, and winning that goal medal was for sure the most memorable moment of my career.
What was it like playing soccer at the Olympics?
It's an indescribable feeling. Knowing that the entire world is watching and being among the world's greatest athletes is what athletes dream about. So to be able to experience that was truly special.
Aside from the competition aspect, what makes the Olympic experience so memorable?
It was a unique experience to meet other athletes in the Olympic Village and hear and share stories of the sacrifices they made to get there. I also really enjoyed taking in the experience of watching other events and touring the host cities and the village.
What kept Carli Lloyd motivated as an athlete?
My secret has been that I have one of the best environments in the country at the Universal Soccer Academy, where I can always go to improve my game continuously. I am blessed that I'm in an ongoing program designed to keep me motivated and to improve. No one can do it by themselves, so having a great support system is invaluable.
Do you have a message you would like to send out there for other female athletes?
We are blessed with so many opportunities as female athletes due to Title IX, and it's fantastic that young girls can aspire to reach their highest athletic goals and have female role models along the way.
If you have a dream of becoming a professional athlete, it can be done. It will undoubtedly take hard work and sacrifice, and you will surely hit obstacles along the way, but if you want it bad enough, you can achieve it.
What have you learned from your soccer career that you apply to other areas of your life that other people can take away from?
Two important lessons I have learned are never to give up and always try to outwork people.
What do you enjoy doing when you're not playing soccer?
I love shopping! It's my release sometimes. I also enjoy watching movies and hanging out with my husband, Brian.
Big thank you to Carli Lloyd for answering our questions and we wish her the best for the next phase of her incredible life.
Carli Lloyd Data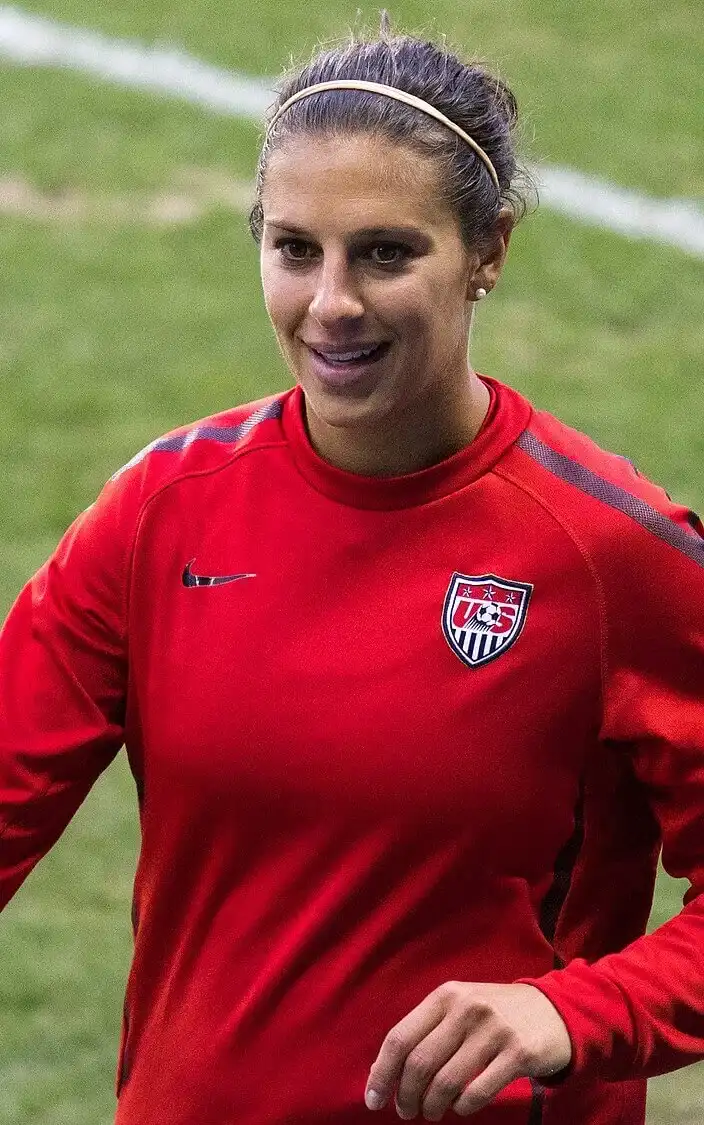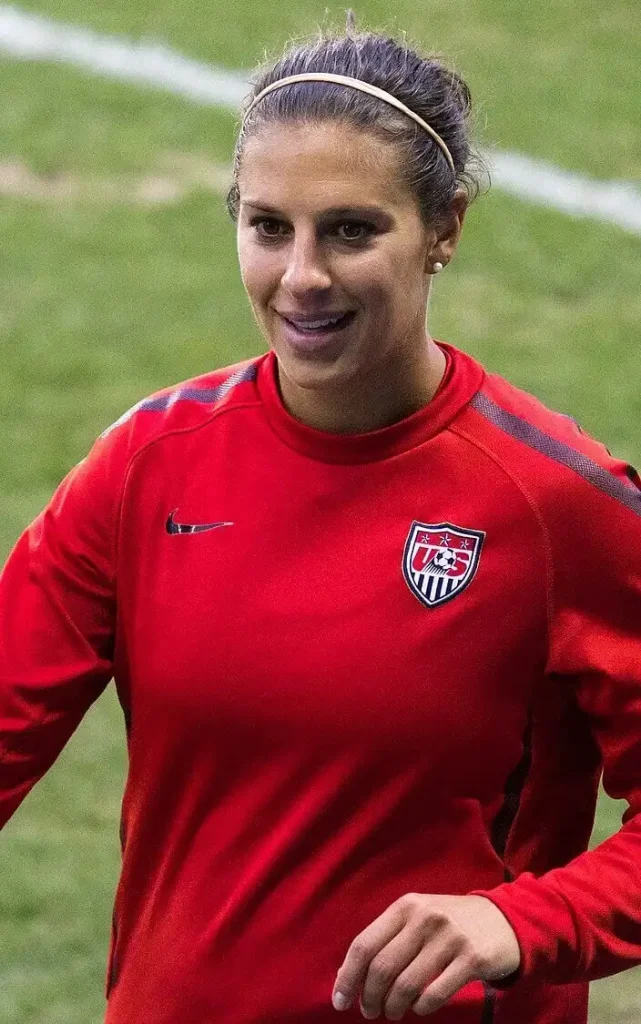 Born: July 16, 1982
Height: 170cm (5 foot 7 inches)
Hometown: Delran, New Jersey
Position: Center Midfielder
International Debut: July 10, 2005, against Ukraine
Best Moment: Winning the 2015 World Cup
Most Significant Influence: My trainer, James Galanis – Owner of Universal Soccer Academy
Career Highlight: Winning the 2012 Olympic Gold Medal
Major Achievements
US Soccer Player of the Year
World Cup winner x 2
World Cup Golden Ball Winner
FA Cup Champion (Manchester City)
CONCACAF Women's Player of the Year
References:
[1], [2], and [3]: https://en.wikipedia.org/wiki/Carli_Lloyd
[4] and [5]: https://www.uniondemocrat.com/sports/article_fdc7e6fa-fefd-11eb-994a-8b9fca2bac37.html
[6]: https://www.thefamouspeople.com/profiles/carli-lloyd-32036.php
[7]: https://famousbio.net/carli-lloyd-2864.html
[8]: https://athlonsports.com/world-cup/carli-lloyd-uswnt
[9]: https://www.aaespeakers.com/keynote-speakers/carli-lloyd
Images:
Nicholas Kamm/AFP/Getty Images
Elaine Thompson/AP Photo
https://www.washingtonpost.com/graphics/2019/sports/soccer/usa-women-world-cup-history/
https://en.wikipedia.org/wiki/File:Carli_Lloyd_USA_vs_Can_Sep17.jpg